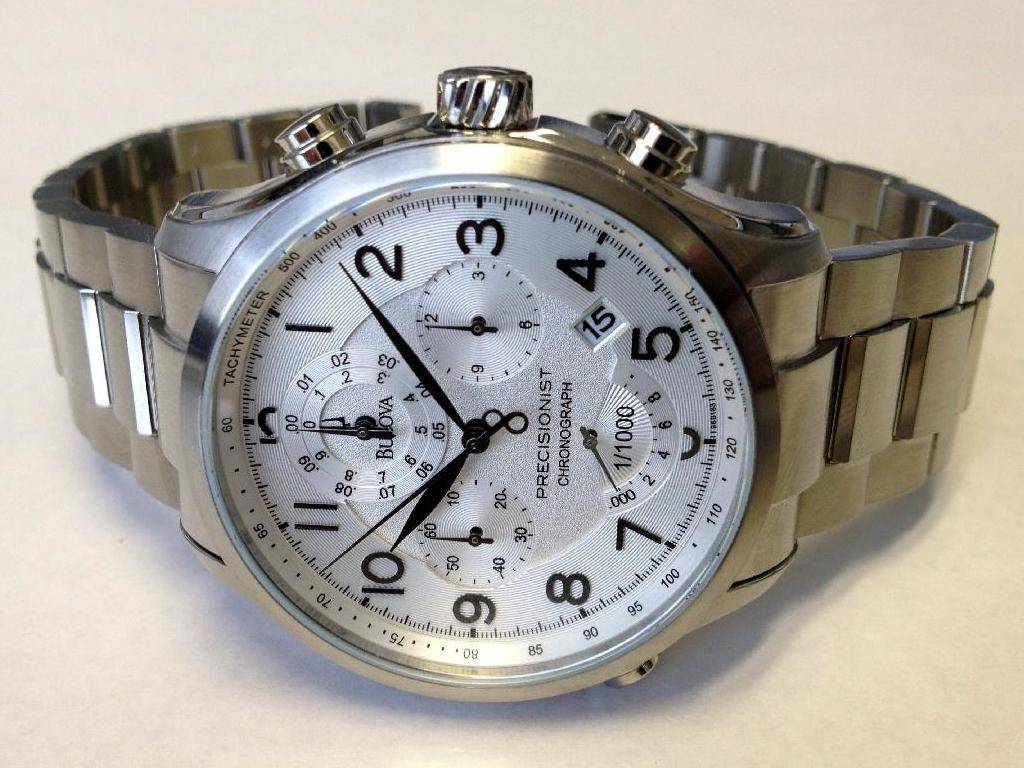 For some people the main selling point of a watch will be the design, for others, it will be the comfort or practicality of a timepiece. With Bulova Precisionist collection, the clue is in the name. Models in this line feature a Quartz movement like you have never seen before. Capable of keeping time with a mere 10-second-loss a year, Bulova claims this is the world's most accurate watch.
Now, the American watchmaker really needs no introduction – timepieces from this brand are known for their detailed design and reliable mechanisms. The model we are reviewing today is definitely a watch deserving of the attention it's receiving. It's a chronograph with plenty of exciting things about it – with a price tag that won't stretch your budget beyond reason. Here's a closer look at Bulova 96B183 Precisionist Chronograph.
> > > Click here to see ratings, reviews, specifications and prices on Amazon < < <
Unprecedented Accuracy
What sets this watch apart from other chronographs on the market is its unbelievable accuracy. I've never been a massive fan of Quartz watches, as they lack the complexity and craftsmanship which grace the automatic timepieces. Still, if a Quartz movement is unique enough, I'll happily consider it. The Precisionist movement offers just that; a distinct, unparalleled accuracy. You won't be able to achieve this level of reliability with any mechanical or Quartz movement on the market, with an exception of atomic-clock synched movements.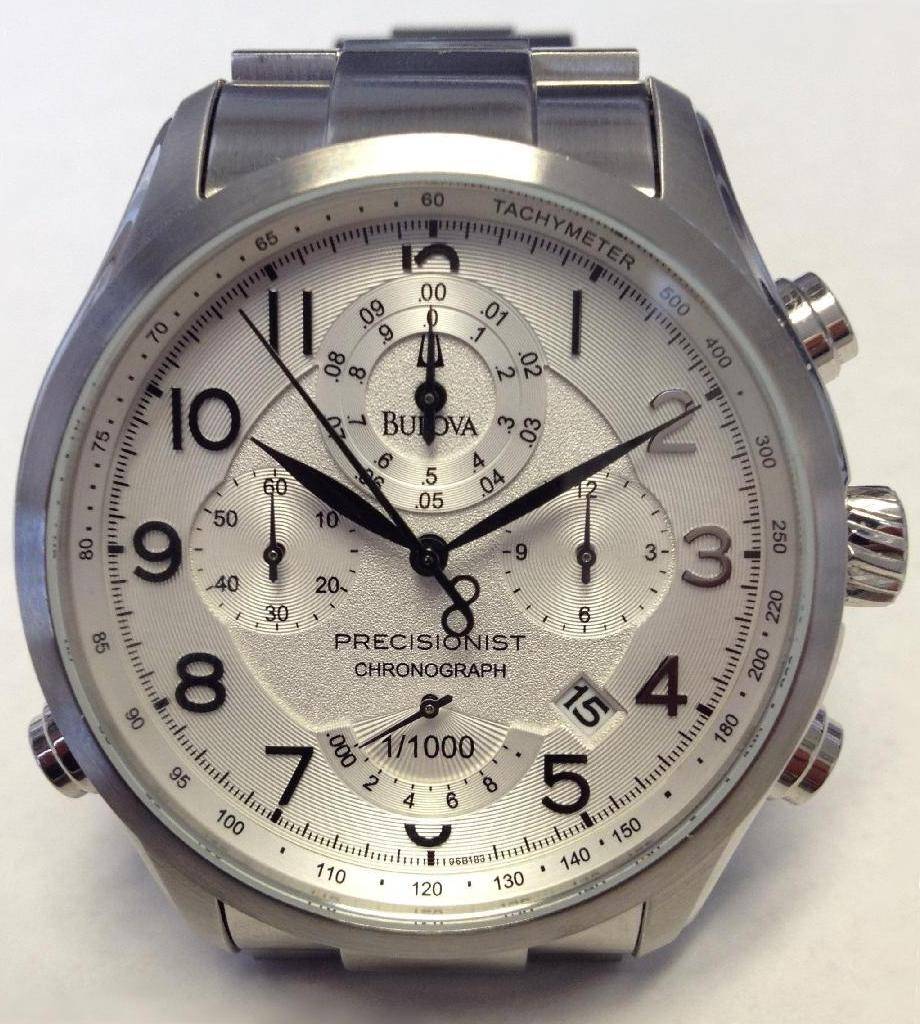 Bulova has really gone above and beyond in achieving this, mostly by using the three-pronged crystal which is capable of producing a vibrational frequency of 262.144 kHz, the highest of any watch in the world. This in-house torsional resonator movement is three times more accurate than your typical Quartz and offers resistance to gravitational error, making it far superior to any mechanical timepiece out there. For all of you obsessed with superb time-keeping, these specs are bound to give you goosebumps.
96B183 Dial Design
The mechanism propels quite a few functions, and you have your four complications at the compass points as well as your standard three black leaf hands. A really nice detail is the signature floating seconds hand. The sweeping motion of it is something I've never seen before and really just a joy to look at. Unfortunately, due to redesign efforts by Bulova, you are likely to be deprived of the standard tuning fork logo at 12 o'clock on the 96B183.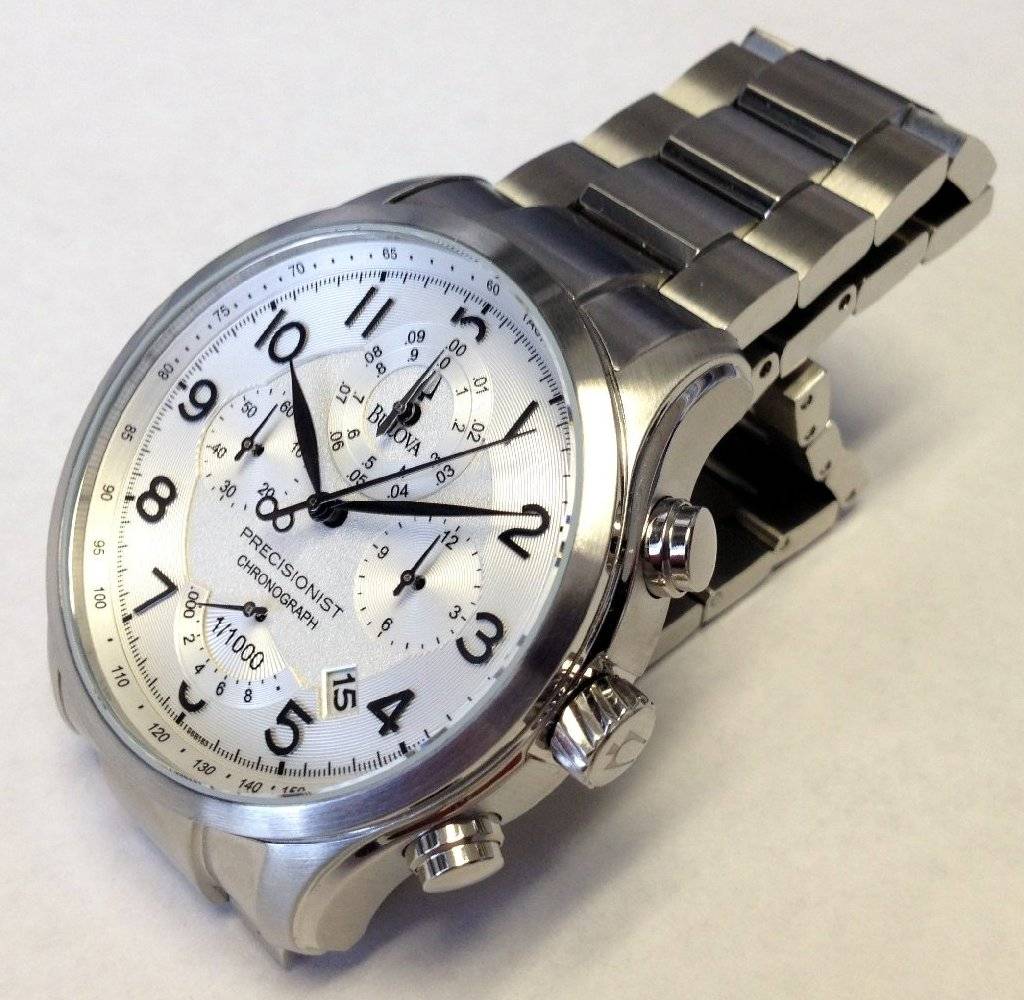 > > > Click here to see ratings, reviews, specifications and prices on Amazon < < <
I find the symmetry of the face layout very appealing and legible, despite the numerous elements on the face. You could argue the dial design is a little boring, but I feel like it goes well with the watch's veracious character. After all, the Precisionist is meant to be timing things and provide you with information, hence its purpose-built design leaves little space for aesthetical improvisation.
The two sub-dials at 3 and 9 both feature a pattern of silver rings which you will also find on the 12 o'clock subdial and around the hour numerals. Notice the pattern actually distorts the numbers a little bit which is a nice touch. You also have your tachymeter scale around the edge of the dial and the date complication between 4 and 5 o'clock. Design-wise, nothing fancy, for sure, but again, the Precisionist is here to measure, not to bedazzle.
Chronograph Magic
You won't fully experience the Precisionist's charm until you flip it into the Chrono mode. This is when the dial truly comes to life. Upon pressing the pusher at 8 o'clock, the watch will go into timing mode. The seconds hand will set itself to zero, ready for your next press. Once you kick it off again, it will, along with the register at 12 o'clock, start timing.
Note that there are two rings at 12 o'clock, one for 1/10th of a second and the other for 1/100th of a second. You may be wondering why the 1/1000th of a second isn't firing? Well, it would simply go back and forth too fast. Instead, the register hand springs to its position as soon as you stop the chronograph, marking the decimal point. You will know how long your steak takes to cook to a thousand of a second. Wow.
Case and Bracelet
As for the built quality, Bulova didn't let us down. The pushers require a firm click and won't kick off the timing mode by accident. Also, the stainless-steel bracelet matches the case and is surprisingly comfortable, with the deployment clasp holding it firmly in place.
It's a shame the protective glass isn't sapphire crystal, but rather domed mineral. This will significantly reduce the watch's impact and scratch resistance, but hey, you couldn't really expect more for the price.
Final Thoughts
All in all, considering it often retails below the $300 mark, this watch is a bargain. Sure, it's not the most compelling in design, but it's well-built, comfortable, and extremely accurate. So accurate, in fact, that it just might be the world's most reliable watch. For those who are looking for such an interesting addition to their collection, Bulova 96B183 Precisionist is certainly a must-have chronograph.
> > > Click here to see ratings, reviews, specifications and prices on Amazon < < <