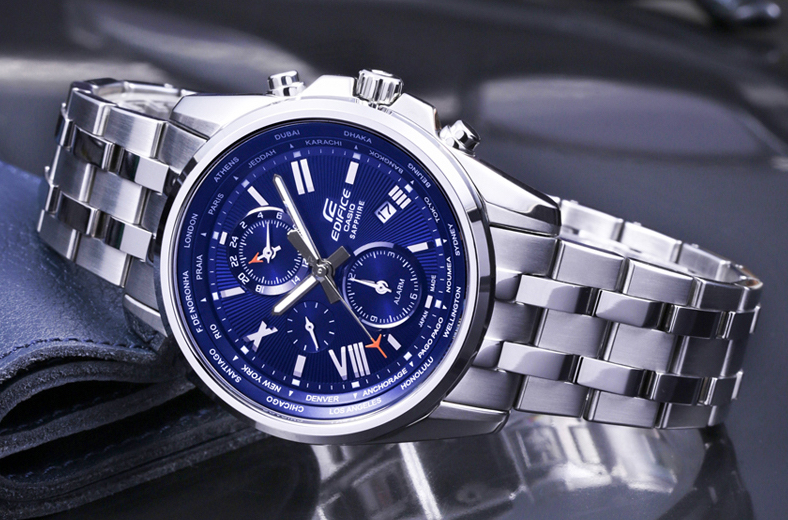 Since 1946, Casio has kept us on our toes waiting for the next innovative watch to come out of their production line. This Japanese watchmaking mogul has been shaping the way in which we use devices, starting with their introduction of the ten-key number pad they graced the world's first electric calculator with.
When folks at Casio switched their focus onto wristwatches, the first quartz watch, Casiotron, has rapidly swept the market. Ever since then, the brand has been building on their innovative spirit to produce some of our favourite timepieces – Casio G-Shock, Enticer, and Edifice being only a few examples. The latter collection, Edifice, has attracted plenty of attention with new arrivals quickly establishing themselves as key players in the men's watch market.
Today we're having a look at the World Time model – Casio Edifice EFB301JD-2A. The watch with a price tag that will leave you wondering how in the world is so much exciting stuff crammed into such an affordable timepiece. Here we go.
> > > Click here to see ratings, reviews, specifications and prices on Amazon < < <
Edifice Dial Design
First things first, the Edifice World Time is, even from an objective point of view, splendid-looking. This snazzy watch embodies that masculine, neat design Casio has perfected throughout the years. The navy-blue dial features a multi-layered design with a rich, symmetrical layout. The sunburst, linear pattern on fades as lines make their way towards the center, giving the dial an interesting vibrancy. Notice how those lovely large Roman numerals match the silver shine of the hands and bracelet. I've always found that the blue dial brings the best out of a lovely-looking watch and the World Time advocates this.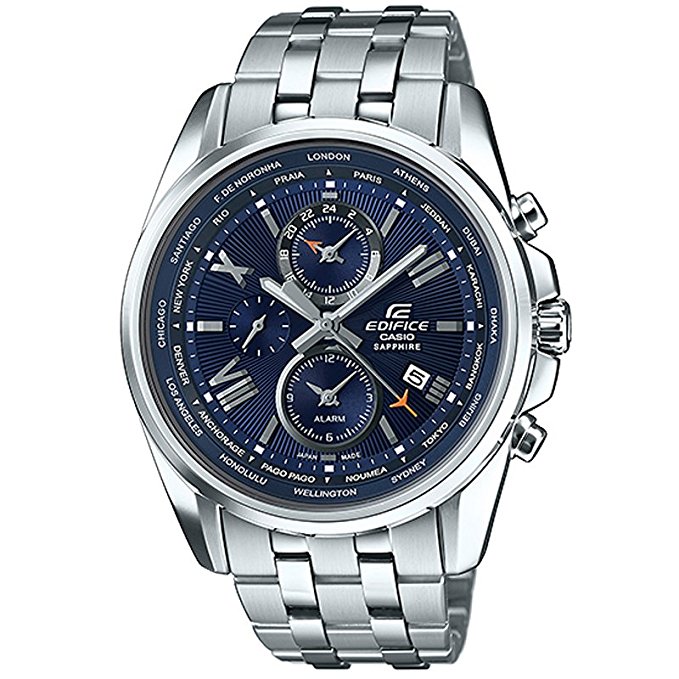 > > > Click here to see ratings, reviews, specifications and prices on Amazon < < <
Even though there are clear implications of this being a sophisticated watch, there is also a sporty touch visible to it. Reasons behind this being the italic logo and orange accents on the tips of second and subdial hands. The look is then complemented by the hefty stainless steel bracelet, crown guards, and the side pushers.
World Time Function
The World Time isn't made solely for fashion lovers, though. It's made for travelers. If you're a frequent flyer or are conducting your business around the world, this watch will quickly become your favourite piece. The double inner bezel contains 24 city names that you can set the center hand to. Comes in handy as you don't have to manually set the time according to the local time.
You also have your date display window in white at 4 o'clock and the Chrono subdials at 12 and 6 o'clock. Yes, on top of all, it's a Chronograph.
Stainless Steel Case and Bracelet
The affair is enclosed in a 42mm large stainless-steel case, with a water resistance of reasonable 100 meters. On a small wrist, the watch may appear overpowering – a saddening notion for all those skinny-wristed Casio lovers, including myself. For simplicity reasons and to fit every budget, Casio hasn't included a rotating bezel on this model, but it's probably better off this way. There is, however, scratch-resistant anti-reflective sapphire crystal on top of the face. This addition will provide you with that added protection and durability you will cherish.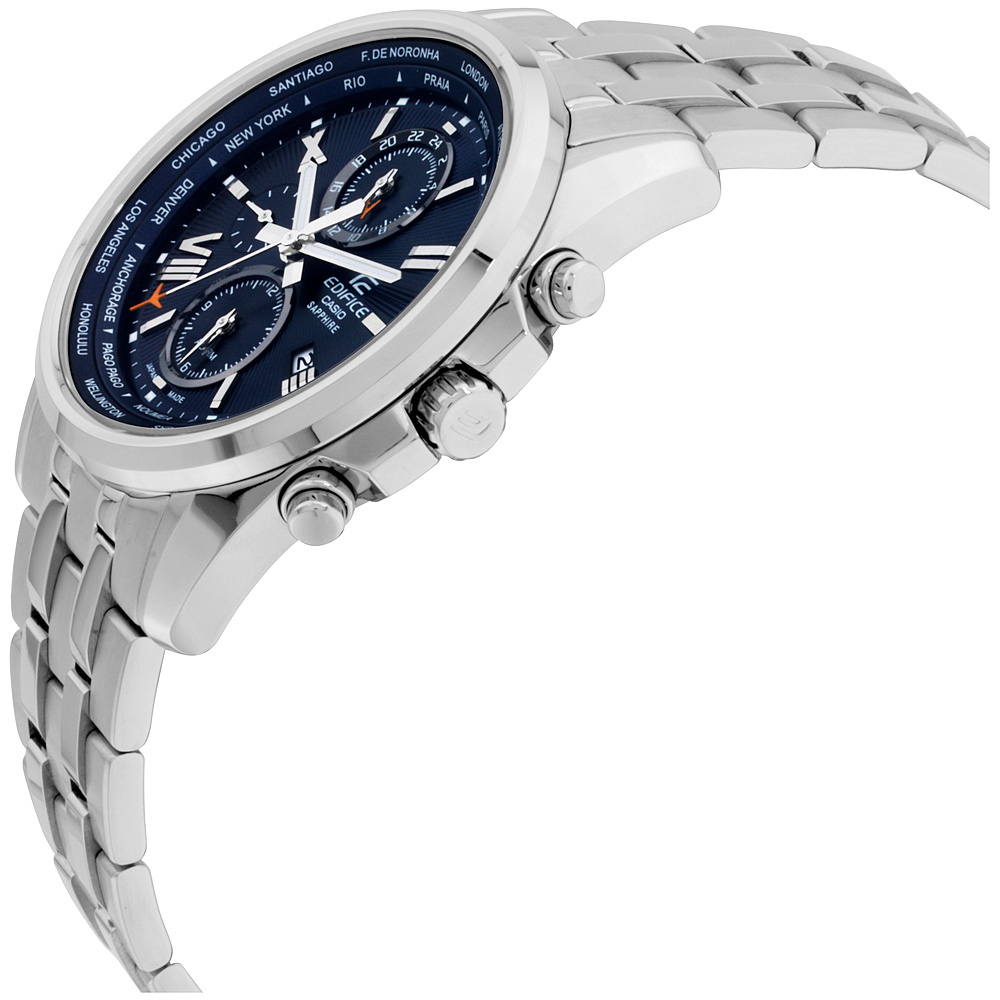 The bracelet that comes with the watch is a heavy-steel, in-house unit. There's a lovely interlinked design and the overall comfort is satisfactory, too. You even get a nice subtle logo on the fold-over clasp. For the price, you will have a hard time finding a bracelet that matches its quality on the market.
Quartz Movement
As you're aware, this attractive chronograph is propelled by Quartz. Not as fancy as an automatic movement, I know, but you still get a decent accuracy of +/- 20 seconds a month and lower maintenance costs. If you're really fussed about the precision and reliability, you might want to have a look at the Bulova Wilton Precisionist I have recently reviewed.
Operating the World Time
The functions might be a bit of pain to get the hang of at first, but take your time. Adjusting the time is achieved by pulling the crown all the way and turning it clockwise to set the time. To adjust the date, pull the crown to the middle position and turn clockwise. Same goes for setting the alarm, but you also need to press the bottom pusher to set it.
Final Thoughts
All in all, the Edifice EFB301JD-2A is an affordable, modern, well-built watch with simple chronograph functions, decent reliability and a cool feature of adjusting to local time zones of 24 worldwide cities.
If you're lucky enough you can bag this timepiece for under $250, which is outstanding value for money. You get a beautiful Edifice Chronograph (though without the Bluetooth function) from a reputable watchmaking brand. A watch that, as a reliable, sturdy runner provides a great basis for starting your collection.
> > > Click here to see ratings, reviews, specifications and prices on Amazon < < <