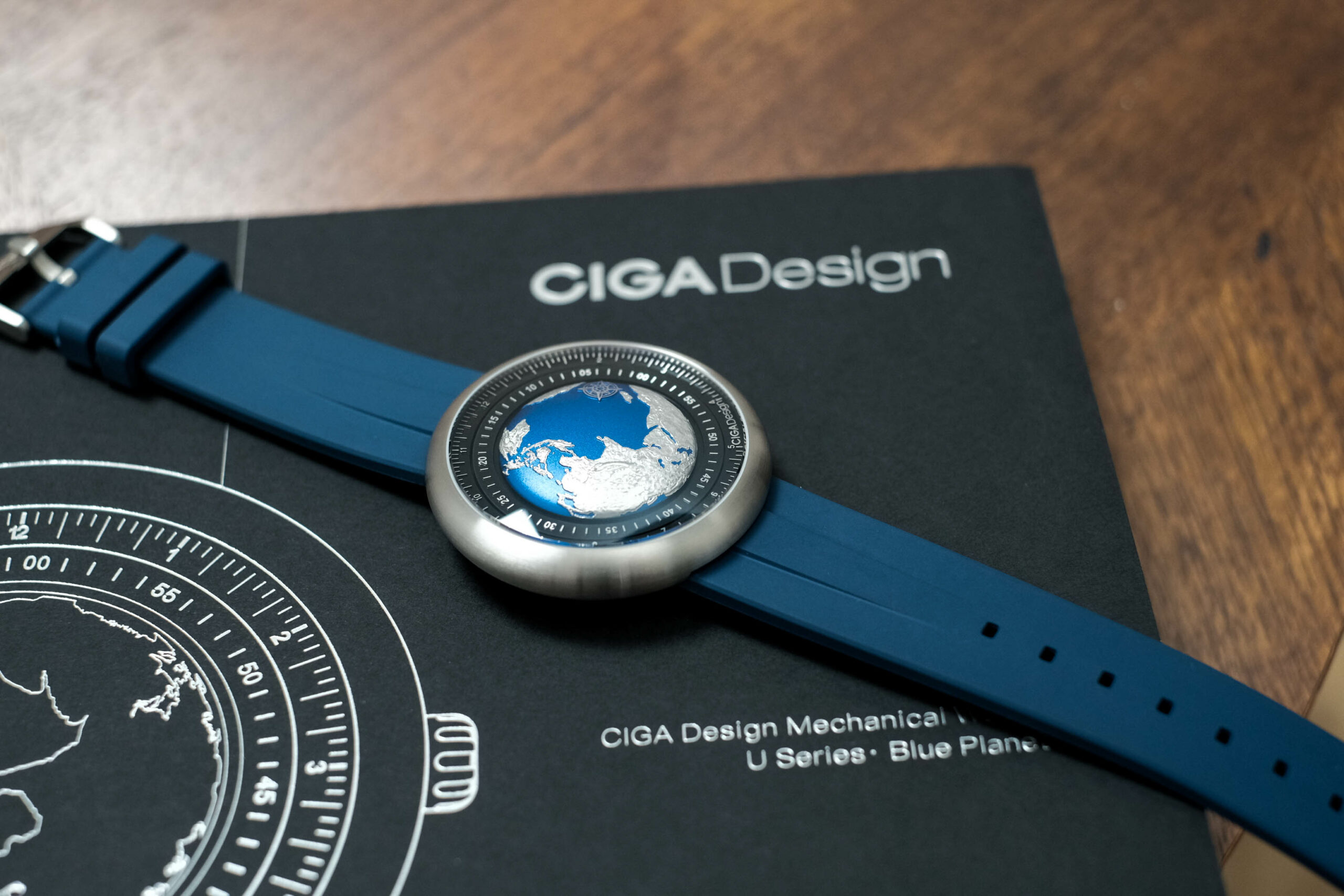 If you know me, you know I love microbrands. Established watch manufacturers can put out some gorgeous timepieces. If you've ever held a Audemars Piguet, you know how fine the craftsmanship is. But old-school watchmakers tend to fall into established patterns. They have a certain vision of what a watch should be, and that's what they design.
As a result, many automatic watches look the same to a casual observer. If you're a watch fanatic, you can easily spot what makes any given timepiece unique. But no matter how you cut it, big watchmakers tend to be pretty conservative.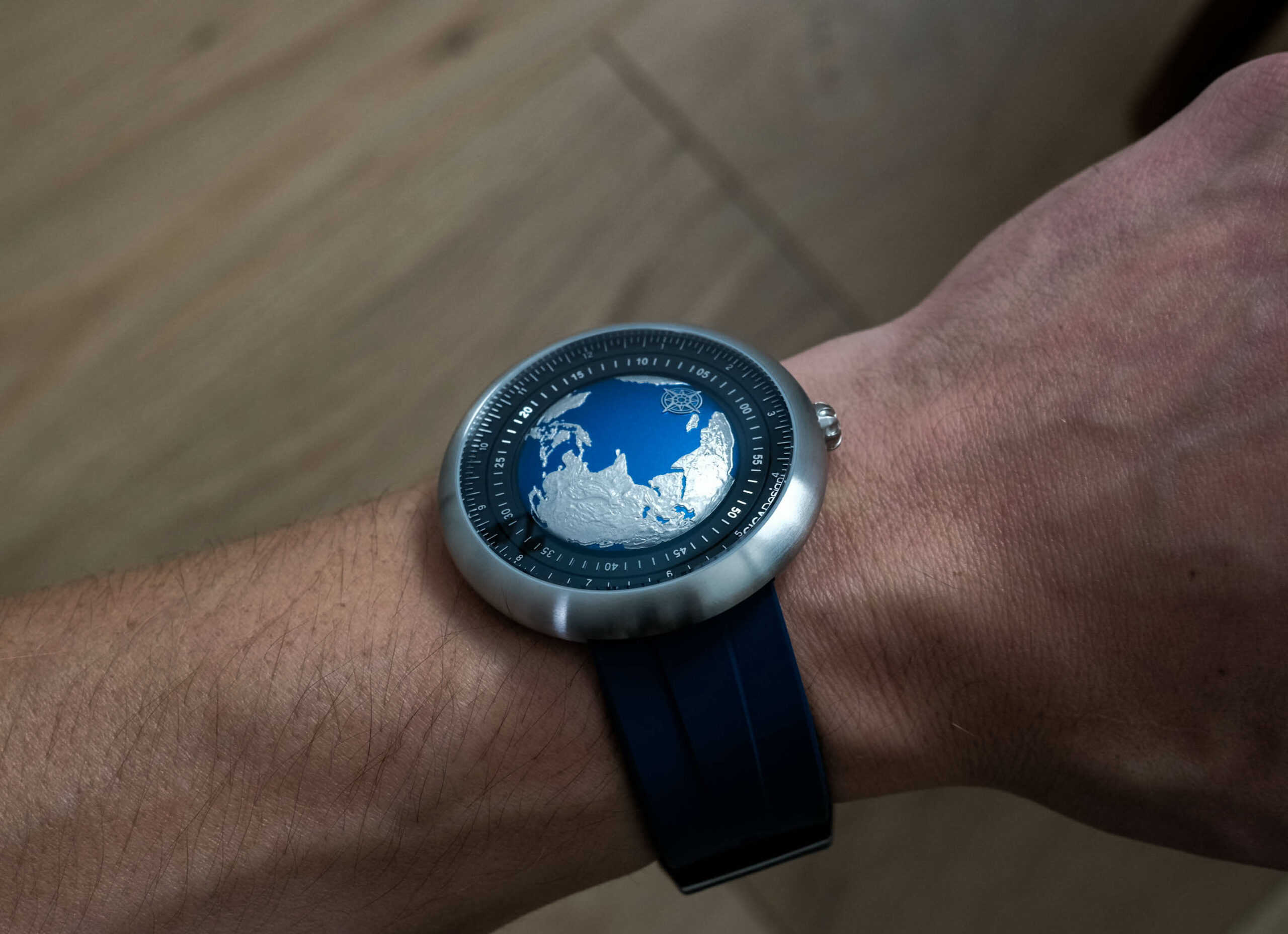 Microbrands, on the other hand, are famous for thinking outside the box. This is perhaps most true of Ciga Design. Founded in 2012, this company is known for their unique, unorthodox designs. For example, we once reviewed their Z-series, a watch where virtually every part is skeletonized.
The Ciga Design Series U Blue Planet Watch is, if anything, even more unorthodox. It doesn't have any hands! But once you know how it works, it's an effective and attractive timepiece. It's also a great conversation starter. Here's what I thought about this watch.
A Unique, Earth-Inspired Dial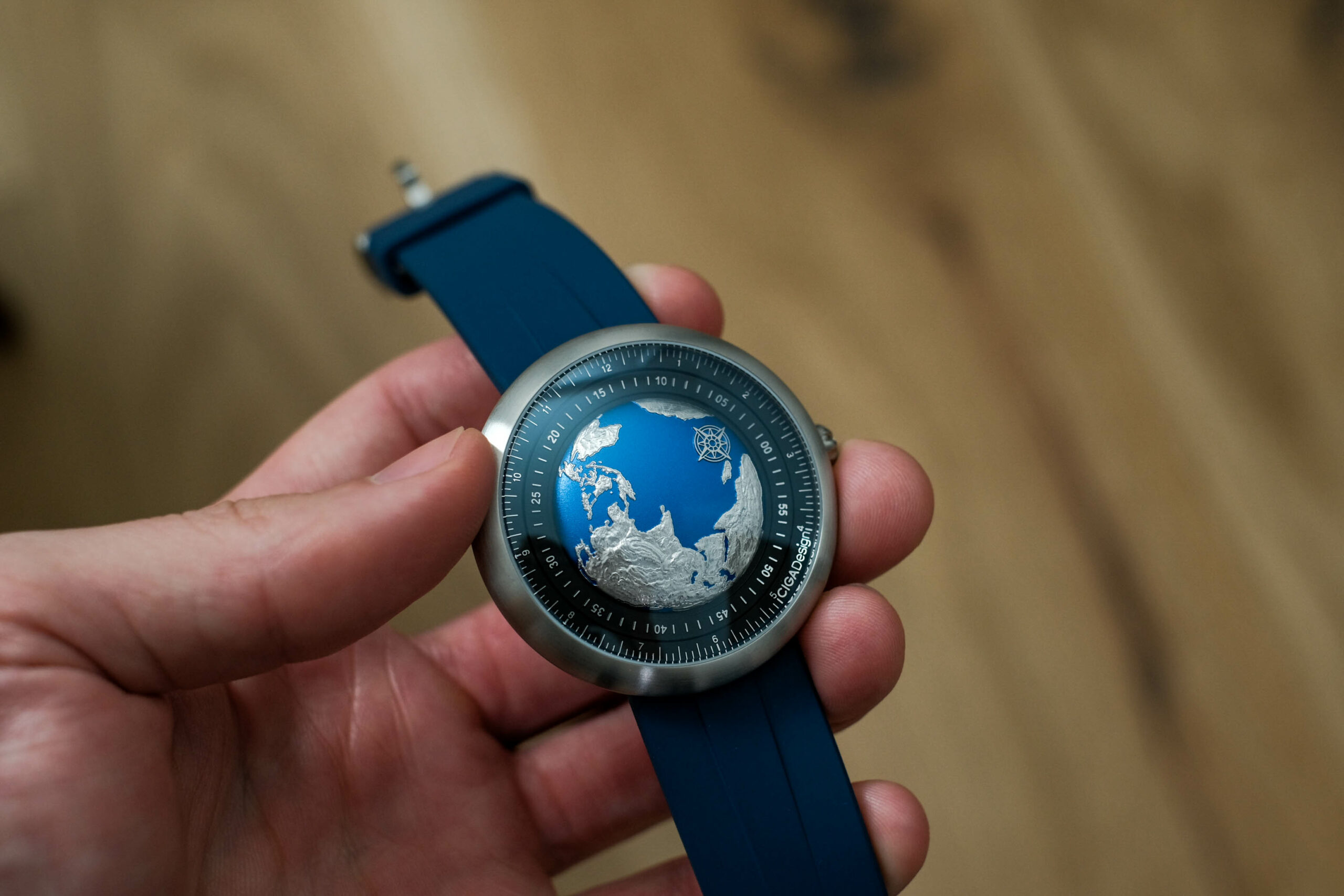 The dial of this watch doesn't look like a watch dial at all. At first, it looks like a decorative piece of jewelry, or maybe a fancy compass. But when you look a little bit closer, things start to make sense.
The main portion of the dial consists of a partial globe, centered on the Indian ocean. It's actually slightly domed, mimicking the curve of the Earth. The ocean is a deep, brilliant blue, and the land forms are silver. The land is even texturized, with mountain ranges built in all the appropriate places. Between Madagascar and Antarctica is a compass rose, which is what makes it look like a compass. But it's actually a single indicator that points to the current time. With a single indicator, you'll see both the hour and the minute.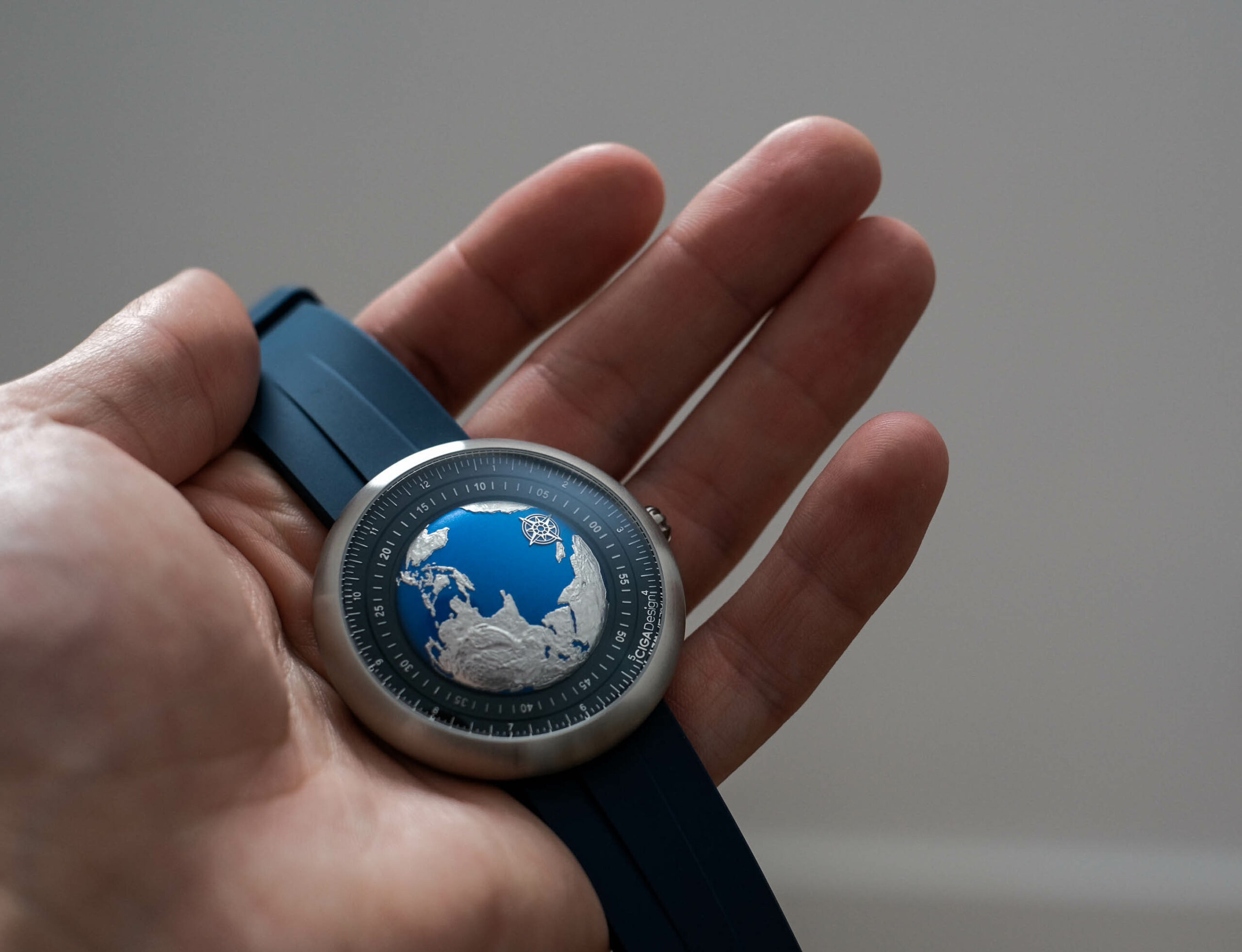 Ciga Designs achieves this with a set of dual indices. The outer index sits just inside the bezel, with white markings on a black background. This is the hour index, and each hour position is marked with an Arabic numeral. There's even a set of hashes, with fine hashes at the five-minute positions and longer hashes at the fifteen-minute positions. The inner index is also white on black, but it shows minutes instead of hours. There are hashes at the one-minute positions, and Arabic numerals every five minutes.
The hour index is fixed, and the compass rose rotates to point to the time. Meanwhile, the minute index rotates counterclockwise. This ensures that the correct minute mark is always in front of the pointer.
An Elegant Case
The case has a diameter of 46mm, providing a medium-large wrist presence. It's totally round, with curved edges and a bezel that sits flush with the rest of the case. It's also rounded at the edges. When viewed from the side, it looks like an oval, not a rectangle. There aren't even any lugs. The strap secures to a pin inside the watch body, so the design is nothing but curves. The screw-down crown at 3 o'clock is knurled to make it easy to grip, and doesn't protrude overly far.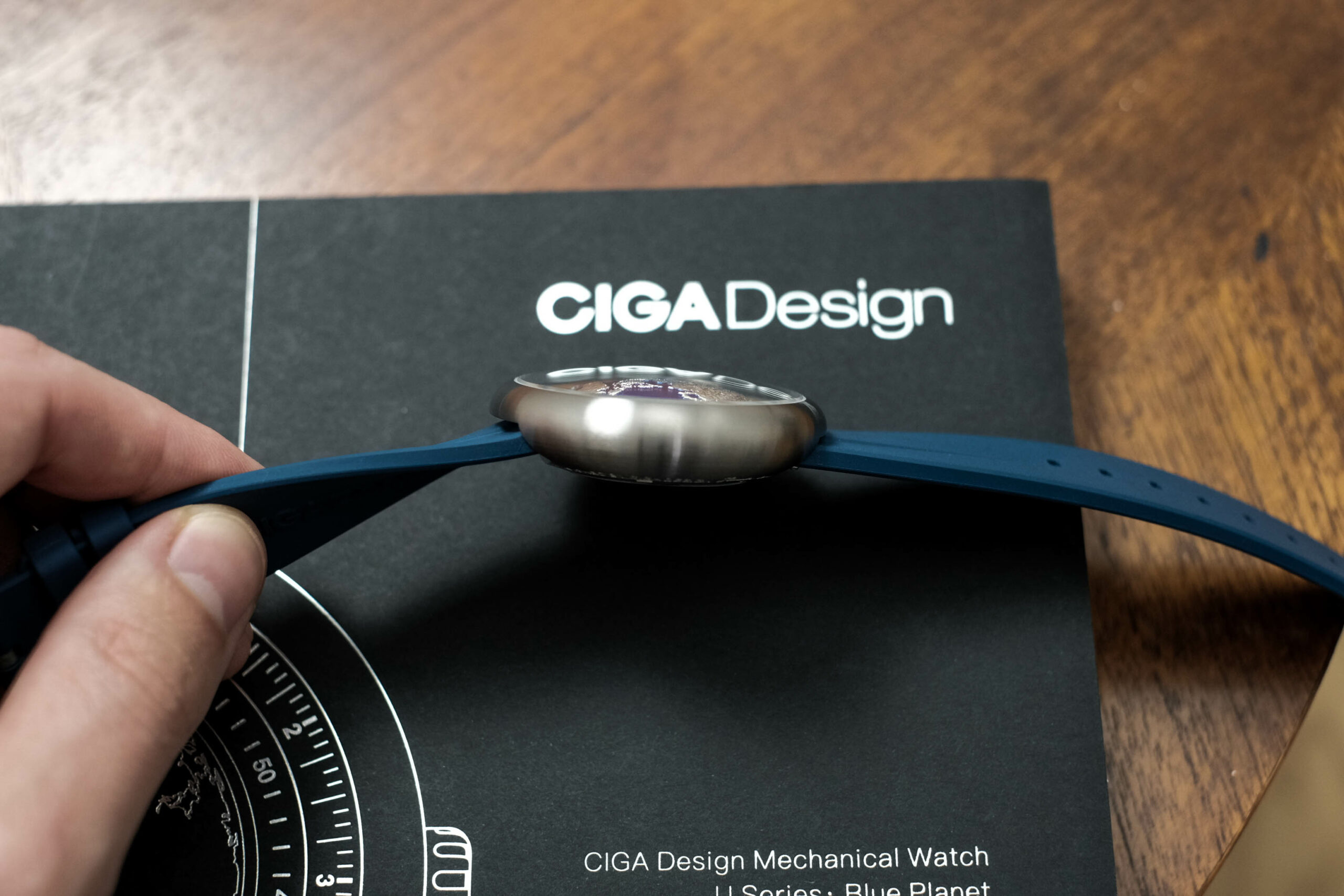 The crystal is made from sapphire, and has an extreme curve on the top. This completes the watch's oval profile, and further enhances the three-dimensionality of the dial.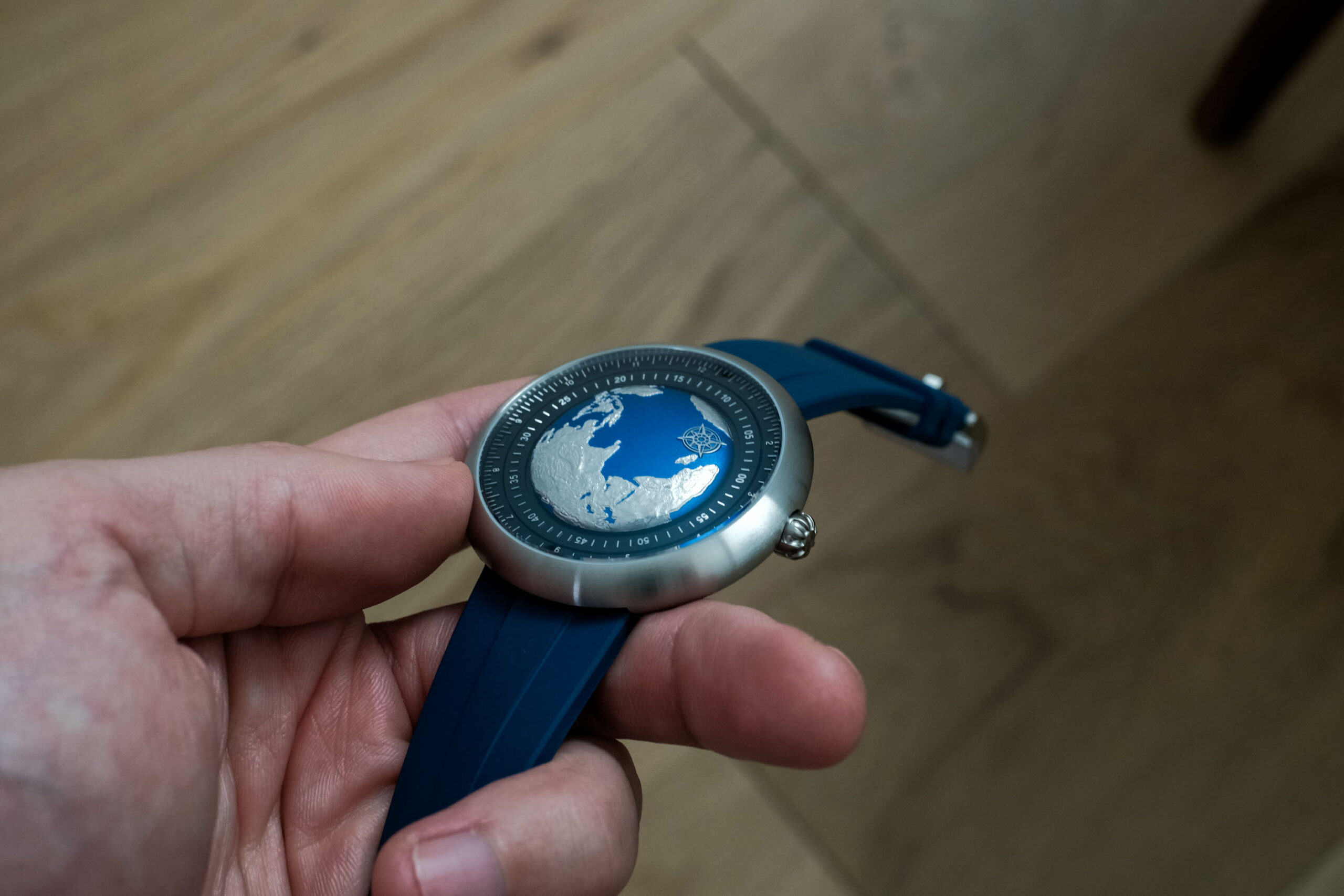 You can order the Series U Blue Planet in titanium or stainless steel. The titanium version is a bit more costly, but it's significantly lighter, weighing only 2.55 ounces. The stainless steel version is noticeably heavier, at 3.37 ounces. Both versions are water-resistant to 30 meters. You can wear the watch in the shower, but that's about it.
Movement, Strap, and Extras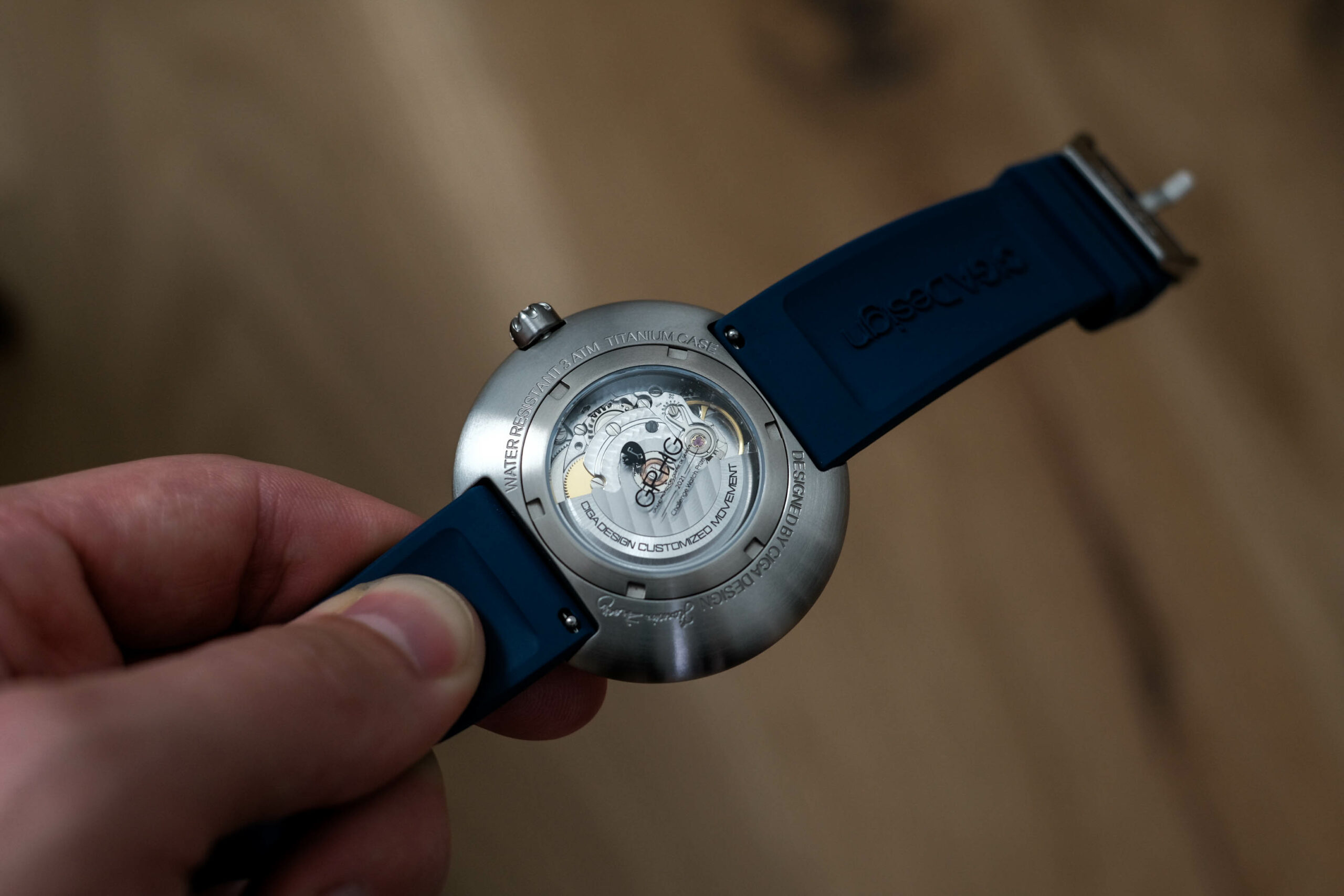 The Series U Blue Planet uses a proprietary Ciga movement. Considering the design, that's not surprising. It would be tough to source another movement with these exact functions! Even so, it seems to perform pretty well. The 30-jewel movement is rated for -15±30 seconds per day. That's not exactly chronometer-grade, but it's good enough for a watch that's primarily designed as a fashion piece.
The strap is a deep sea blue, which matches the color of the blue on the dial. It's engineered from a food-grade fluorine rubber, and it's both comfortable and flexible. I liked the strap and it felt good on my wrist. The lugless design would make it harder to change should that become necessary. But it seems pretty durable, and it would take some serious abuse to snap it.
Ciga Design says that the watch case is "eco-friendly" and "a combination of perceptual and rational." It's a cardboard box. Don't get me wrong – it's an attractive, well-designed box, but it's a box.
For more information visit the official Ciga Design website here.