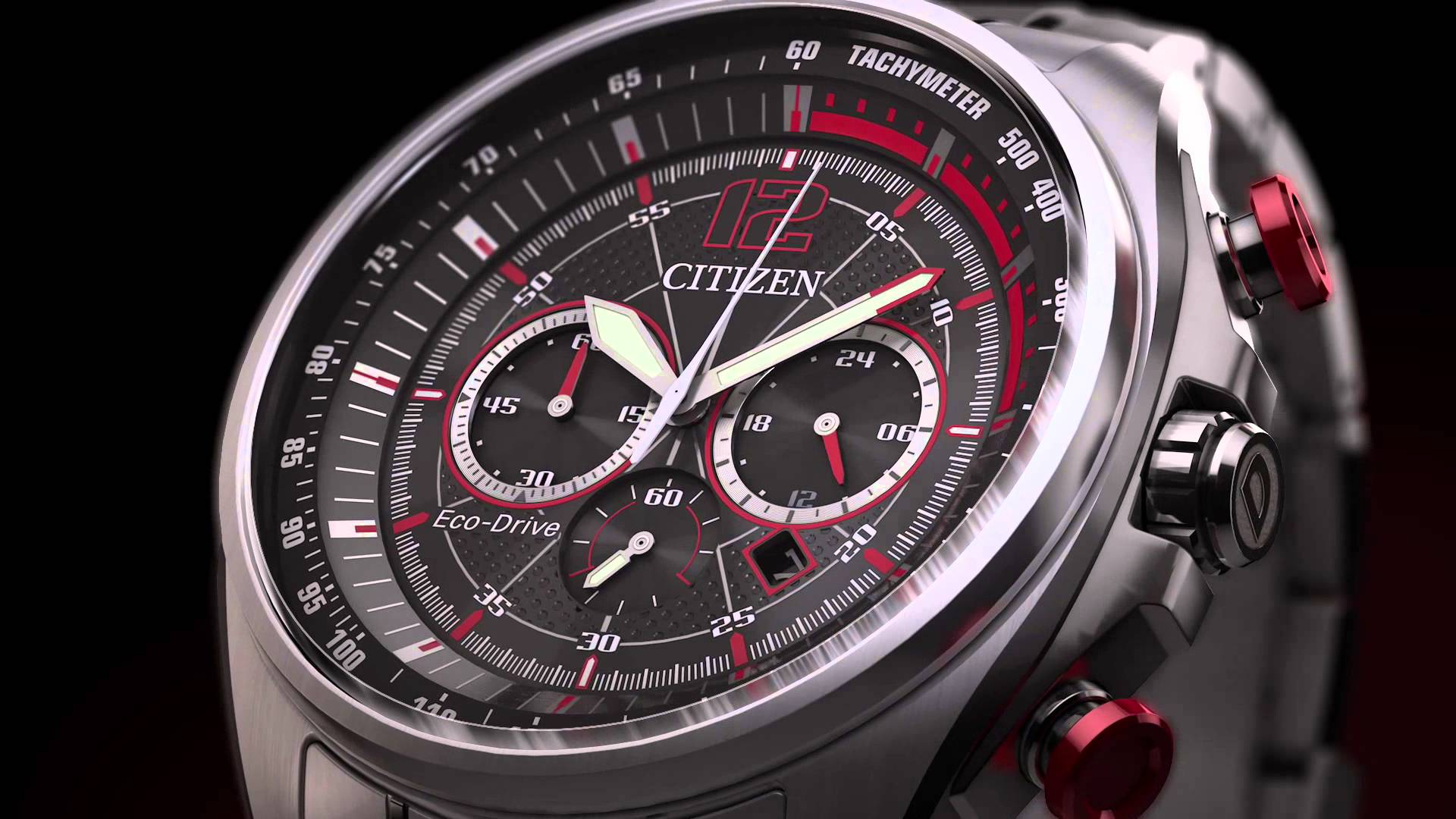 Citizen uses the word "powerful" twice in its 36-word description of the CA4190-54E WDR (let's just call it the WDR for the rest of the review, shall we?), so it's not exactly a mystery what sort of audience they are trying to appeal to with this watch. With enough red and black on the dial to make a Chicago Bulls fan blush, the WDR is a sporty watch with a substantial dose of technical details thrown in. Add the tachymeter and chronograph functions into the mix, and you have a perfect motorsport watch, even if Citizen doesn't market it as such. Not to mention, few sports are more "powerful" than those of the automotive variety. So, ladies and gentlemen, start your engines and let's see how she drives.
> > > Click here to see ratings, reviews, specifications and prices on Amazon < < <
Sturdy Case
Citizen has designed an attractive case for the WDR, with a squared-off top and bottom and a nice, thin bezel. The most striking features on the case are the red pushers above and below the crown. These pushers are used for operating the chronograph function, a feature of this watch's movement that is measured by the long white hand and 60-second subdial on the dial. More on the use of the chronograph below, let's stick to the case for now.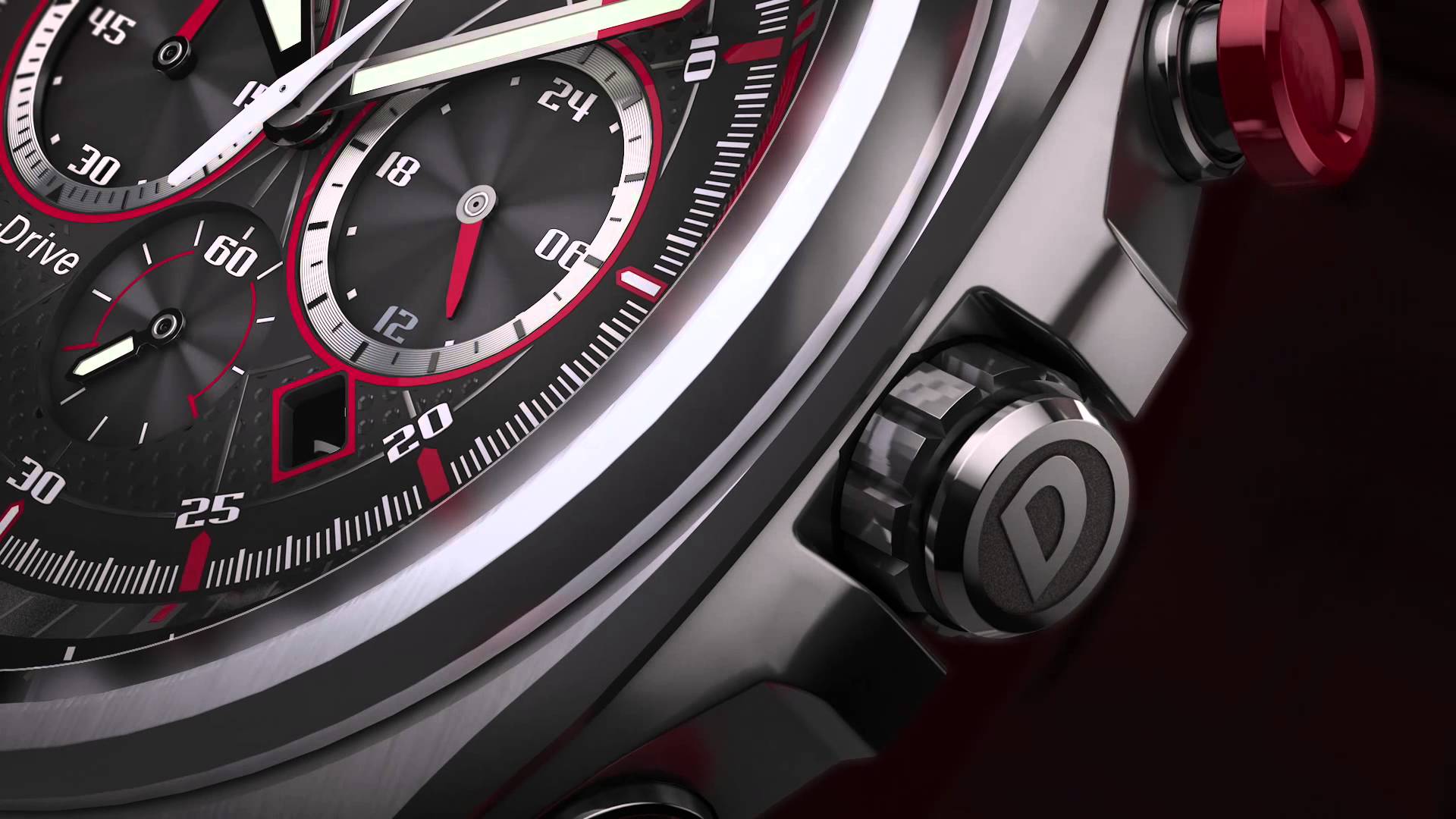 The stainless-steel case is rather large, measuring 43.5 millimeters wide. With a water resistance rated to 100 meters, you can take the WDR along while you shower, splash, or swim. Heck, you can even snorkel with this baby, so there is indeed some functionality behind the aggressive looks of the watch.
Dial
Okay, this is obviously a very busy dial, but notice how Citizen uses a nice, clear layout to make it easy to get accustomed to reading. We have the three main hands, the hour, minute, and 1/5 second chronograph hands, which rotate around the center of the dial. The hour and minute hands are luminous, although they are a little smaller than I would prefer on such a large and busy dial. Pressing the top pusher will activate the chronograph hand, ticking off the seconds as the chronograph subdial keeps track of the elapsed minutes, up to 60 at a time. Two other subdials sitting prominently on the dial measure 24-hour time as well as seconds (keep in mind there is not a large second hand on this watch, so you will rely on the small subdial for that function).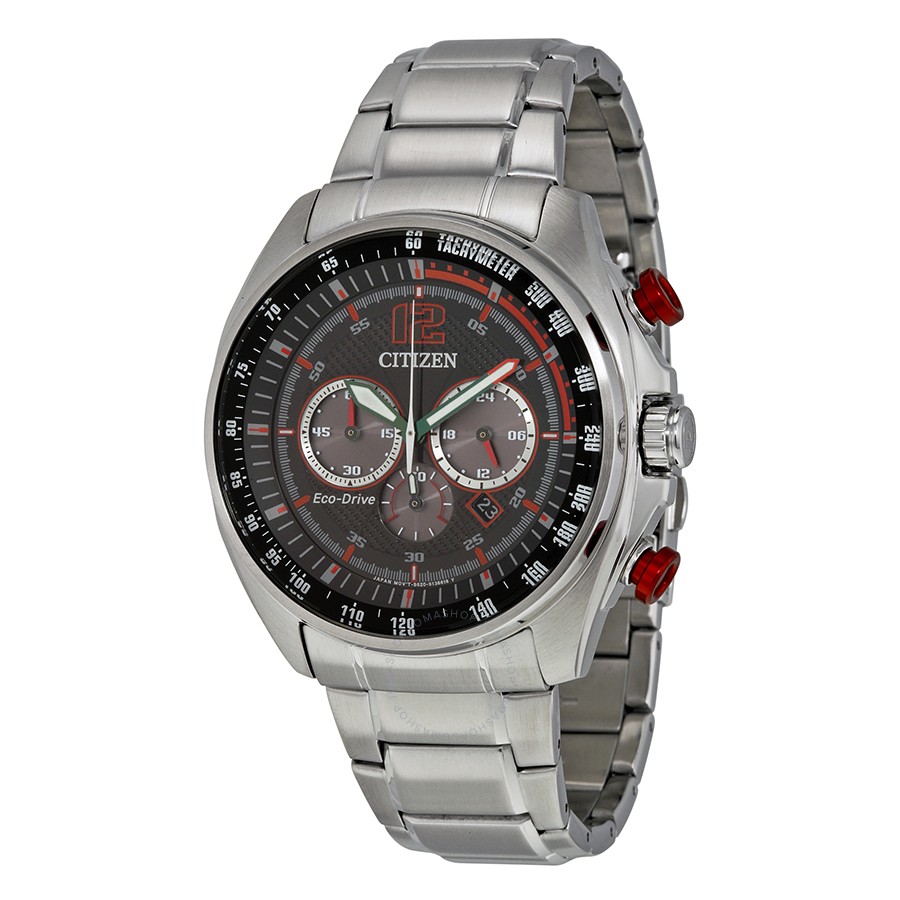 > > > Click here to see ratings, reviews, specifications and prices on Amazon < < <
The only hour represented in Arabic numerals is the red-and-black 12, which sits proudly atop a mesh-patterned charcoal- gray insert on the dial, looking remarkably similar to the numbers on a jersey. If we want to continue the Chicago Bulls theme mentioned earlier, the most recent player to wear #12 for the Bulls is Kirk Hinrich, so if you are a fan of his (and who isn't?!), then this watch is a must-have for you. Date functionality is provided via a white-on-black date field that sits just under the 24-hour subdial, at a jaunty 45-degree angle.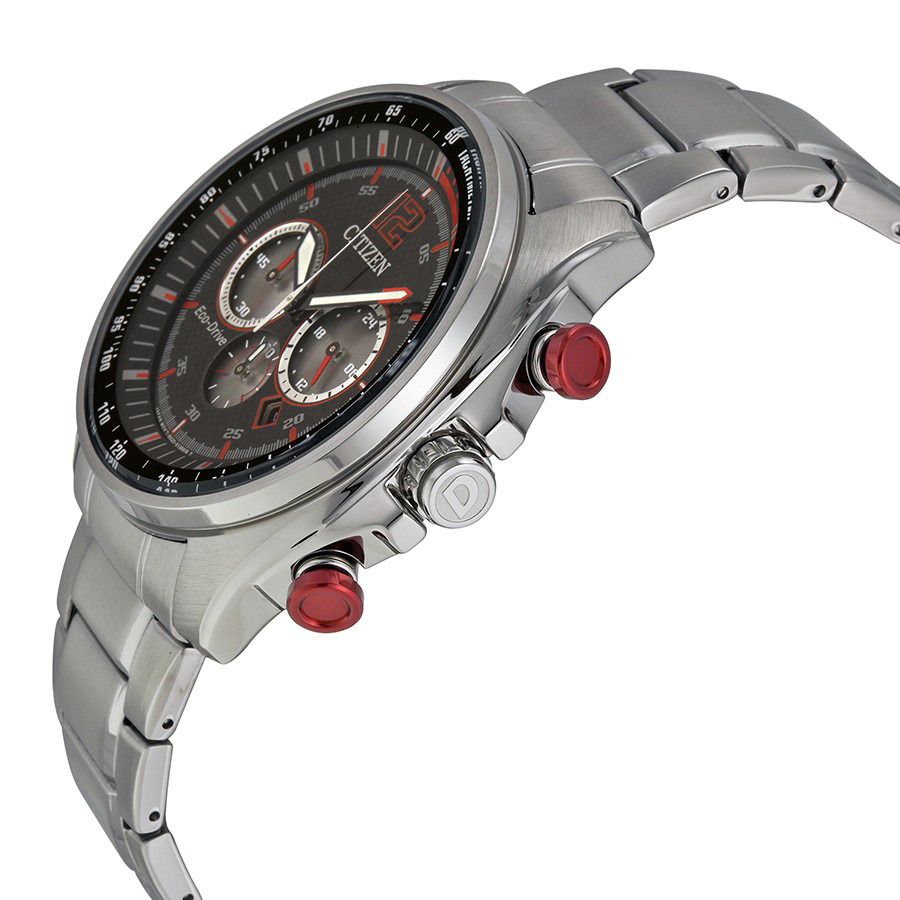 A tachymeter function is displayed on the inner bezel to aid in your speed and distance calculations. Inside the tachymeter, there are two other sets of hashmarks; one for the chronometer and one displaying minutes in increments of 5 as well as sub-second markers. At this price, there is no disappointment that the crystal is mineral rather than sapphire.
CA4190-54E Movement
The WDR uses Citizen's famous Eco-drive technology, which uses the sun or any other light source to power the movement, so unless you are a vampire you needn't worry about running out of juice. This model uses the Eco-Drive B620 movement, to be exact. This movement's accuracy is rated to within ± seconds per month and it features a 9-month power reserve when fully charged (taking into account 1-hour of chronograph use per day). It will also give a warning when the power is getting too low; the second hand will start moving in 2-second intervals. At this point, the watch will last for about 8 days before failing.
Bracelet
Stainless-steel with fold-over clasp, the WDRs's bracelet is a decent match for the watch, with a 3-across link design. Double push buttons release the bracelet's clasp. This bracelet appears plenty long for most people, so anyone with smaller wrists will have to remove a couple links to create a good fit.
Final Thoughts
I believe we have adequately covered the Citizen CA4190-54E sporting intentions. Aside from that theme, the WDR appears to be another high-quality offering from Citizen. With a $295 MSRP (but look for deals, because they're out there), this watch has plenty of fun pieces and high-quality mechanical features to justify the price. With the holiday season fast approaching, it would be prudent to mention this would be a great gift for any friend or family member wanting a manly automotive- or sports-themed watch.
> > > Click here to see ratings, reviews, specifications and prices on Amazon < < <