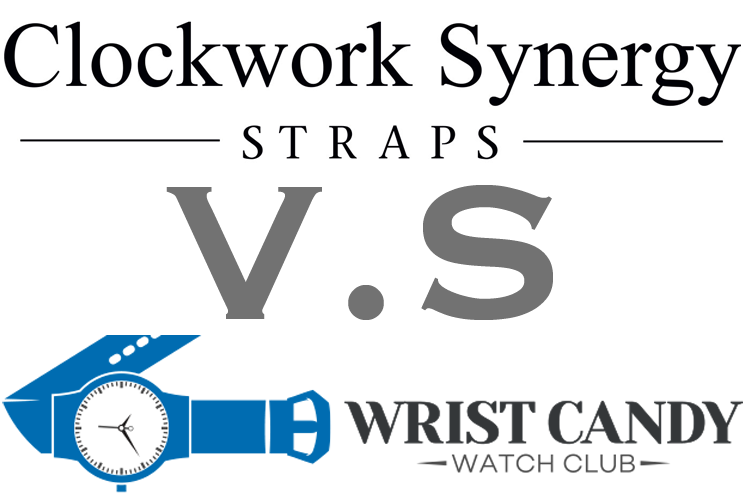 Clockwork Synergy
Clockwork synergy is an E-commerce based brand. They are located in Ellicott city, MD. They specialize in selling watch bands that are durable, and can be matched with various outfits.
Clockwork Synergy has Various styles of straps and bands you can choose from. One style is NATO. Nato is made up of 6 different sub-styles which are classic, premium, heavy, leather, RAF, and Perlon. You do have a greater variety of straps as you are able to choose the strap to be made of 1 or 2 pieces, which could have extra stitching to meet your needs. Depending on your style of strap, it may come with 2, 3, or 5 rings. The Straps are woven with Ballistic Nylon threads, Leather, Or perlon. The ballistic Nylon thread is water resistant and also takes much longer to wear out than many other bands. They come in multiple colors and could have very interesting designs on them. Each band ranges from 7.87" to 12" in length. The widths vary from 13mm to 28mm depending on the style. Each strap also comes with 11, 13 or 15 holes. When purchasing the band(s) you might also get the choice of what color buckle you want. The price of these bands range from $12 to $22. I feel for all these options you are getting a steal. These bands are very customizable and fit various wrist sizes.
Another style that Clockwork Carries are Leather bands. When buying these bands you have the choice of Dapper, Rally, Croco, Lizard, and Gentlemans. Each band is made up of its own type of leather. Some of these include Vintage, Ostrich, aged, buffalo, suede, bomber, or washed leather. These may come with full, sided, or bottom stitching. They also could have a perforated design. Each of these leather bands comes with quick release pins. These pins allow you to take the band right off with the with a little switch at on the bottom side of the band. Each Style comes with various different colors, and stains of leather, as well as stitching that may be colored to. Each band varies in length from 100mm/65mm to 125mm/80mm. They can also vary in width from 12mm to 28mm depending on style. They can also come with 7 or 8 holes. With these bands you also get the choice of buckle color at checkout. These bands are a bit more expensive and can range from $14.95 to $34.95.
Yor are also able to get bands that are specified for your watch. This includes bands for your apple or smart watch, and for brands such as Tag Heuer, Bell & Ross, SevenFriday, Philip Stein, and TechnoMarine.
At Clockwork Synergy they also offer a 60 day hassle free warranty. As well as one year warranty on all nylon bands and straps.
Wrist candy watch club
Wrist Candy Watch Club is an E-commerce brand. They specialize in selling Watch Straps and Bands of various different sizes and styles. They are a more affordable way for anyone to buy bands and change up the look of there watches.
Wrist Watch Candy Club specializes in selling 5 different types of bands. These include NATO, Perlon, Leather, Canvas, and Combination.
The NATO straps are available in 3 different lug sizes. These are 18mm, 20mm, and 22mm. Each strap is 11.5" long and 1.25mm thick. Each strap has 10 holes to buckle into. They are placed higher up on the strap then a normal strap which allows it to be worn on smaller wrists. Each strap is made up of a premium nylon. In my opinion these NATO straps are softer and more breathable compared to various other straps. The stitching in the strap was a bit on the looser side. I believe the stitching could have been tighter. The rings in the strap were very nice. They were a 316l Stainless steel. When put next to the straps from ClockWork synergy, I noticed that the rings were thinner. For extra security the rings are stitched into the strap, then they are heat sealed. On the wrist the Straps looked very nice and sophisticated. They were very soft and breathable, while being able to retain quality and durability. One of my biggest complaints is how much more limited Wrist Candy Watch Club's selection is compared to Clockwork Synergy.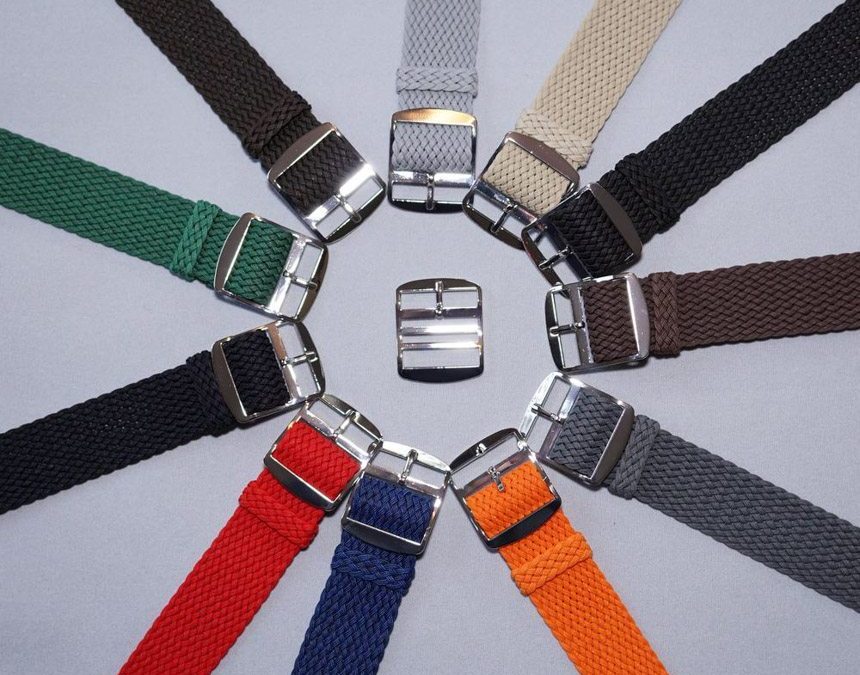 Moving on to leather. Their are not many options for leather either. You only have the choice between 10 straps compared to Clockwork where you have the choice between 100+ Straps. You are able to pick between 1 and 2 piece straps although you are not able to get the same colors for the 1 piece and 2 piece. They use 2 different types of leather. These are Horween Chromexcel(This is supposed to age nicely) and Regular leather. They come with One buckle and Two loops. These straps can come with stitching at the top, bottom, sides, or full. All of the Leather bands are able to fit fat spring bars. One feature I do appreciate is that all of the leather bands are tapered at the buckle, and/or at the lugs. These leather bands are designed to be worn with almost any outfit. They are sporty yet sophisticated.
They also sell Canvas and Combination straps. Both of these styles are nice. The Canvas straps are all full body Canvas, which comes in only 3 colors. They all have a unique stitching design. The Canvas covers both the front and back of the strap and comes in 2 pieces. The combination straps come in either leather and canvas or leather and leather. They come in 5 different colors and are 1 piece. I believe that if you want a strap with canvas, you should stick with canvas as both the canvas and combination and similar in design.
At Wrist Candy Watch Club, there is a 15 day return period. Although the bands must been unused. There's also a 15% restocking fee and a $3 shipping charge.
Quality and Opinion
I feel that the NATO straps from Clockwork Synergy are very well made. The material is strong and rugged. The ballistic Nylon feels strong and durable. After wearing these straps, taking them on and off multiple times a day, swimming with it, and playing sports with it. I feel it is very well built. It doesn't really fray. All the stitching is still intact. The buckle and loops are also very strong. From banging in to desks and walls. They have not bent or really even scratched. They are still in place. The Nylon is tight around them to allow minimum movement and so the Nylon wont wear. When i received each band they were nicely packed up in a plastic wrapping and placed in a Clockwork Synergy branded box.
I feel that the Leather Straps have a very sophisticated look, while being able to be pulled off on a sporty watch. I ordered the dapper leather straps. When they arrived they were nice and stiff. It took a few days to break in the band. The plus side about this is once it was broken in you could not really see signs of wearing where it was broken into. Once broken in I felt that the leather was more flexible all around but still able to maintain excellent strength. I have been able to use these bands on multiple occasions. From everyday wear to use with dress clothing I feel the dapper leather is for someone who only needs one band to suit them. The leather bands were also packed up nice and neatly, wrapped in plastic and put in a signature case.
Thoughts on W.C.W.C
My thought is that the NATO straps from Wrist Candy Watch Club were also nice. They had nice designs and colors. The Nylon had a more firm, but at the same time a much more softer feel. They were very breathable, but on the thinner side. The Stitching I felt wasn't as strong either. I felt that the loops were able to jiggle and move around a lot more than Clockworks. The Band has held up much better than I expected. I've also used them for everyday use and feel that these are better for someone who wants a more luxurious strap than a casual sporty strap. I didn't think that The Packaging wasn't anything spectacular.
I felt that the leather and Combination straps were also very casual to. I felt that they weren't too classy and are meant for someone who would wear this to work or to go out to dinner in. I ordered the Combination straps. When i got them, they were nice and flexible. I also thought that they were very thin and could easily tear. I was wrong though. I have used these on multiple occasions too. This has held up while playing golf, and working out. I have not yet seen a tear. The Leather has a nice soft feel to it and has excellent strength. I do feel these straps are more for casual wear. I would recommend this for someone who goes out a lot and likes to keep it casual.
My opinion on which is Better
In my opinion Clockwork Synergy is a better brand to go with In terms of selection. I feel that their NATO straps were meant for more physical activity, while Wrist Candy Watch Club's were meant for more casual formal wear. Clockworks straps were somewhat able to maintain their shape better as well as stay stronger, and retain their durable for a greater period of time. The straps came in at a cheaper price. Compared to Wrist Candy Watch Club's leather straps. I feel that Clockworks leather lacked in quality of material.
In my final decision I would choose Clockwork over Wrist Candy Watch Club because of the greater variety of Straps and Bands. Not Material wise( I would choose Wrist Candy Over Clockwork). My other reason is that Clockwork does have a better Return Policy. If you do buy straps but dislike them, at Wrist Candy Watch club, you only have 15 days to return the band. When being returned the band must be in unused condition. You will also have to pay restocking fees. At Clockwork you get a hassle free 60 day return period with free returns. This means that even if you wear the band or strap in those 60 Days you still are able to return it.
To have a closer look at Clockwork Synergy visit their official website here.
If you're more into Wrist Candy Watch Club you can visit their official website here.