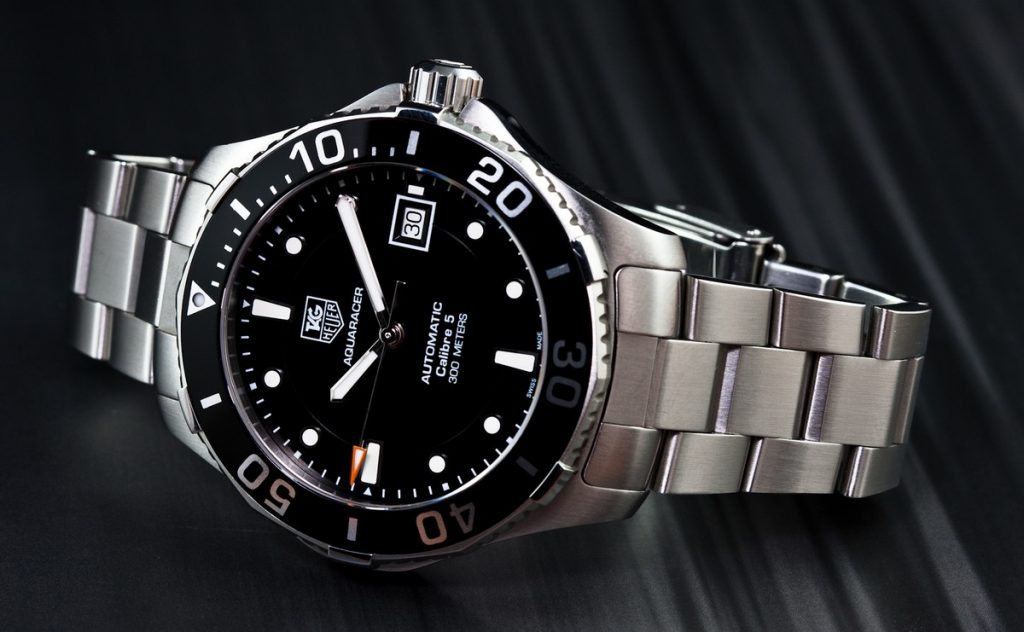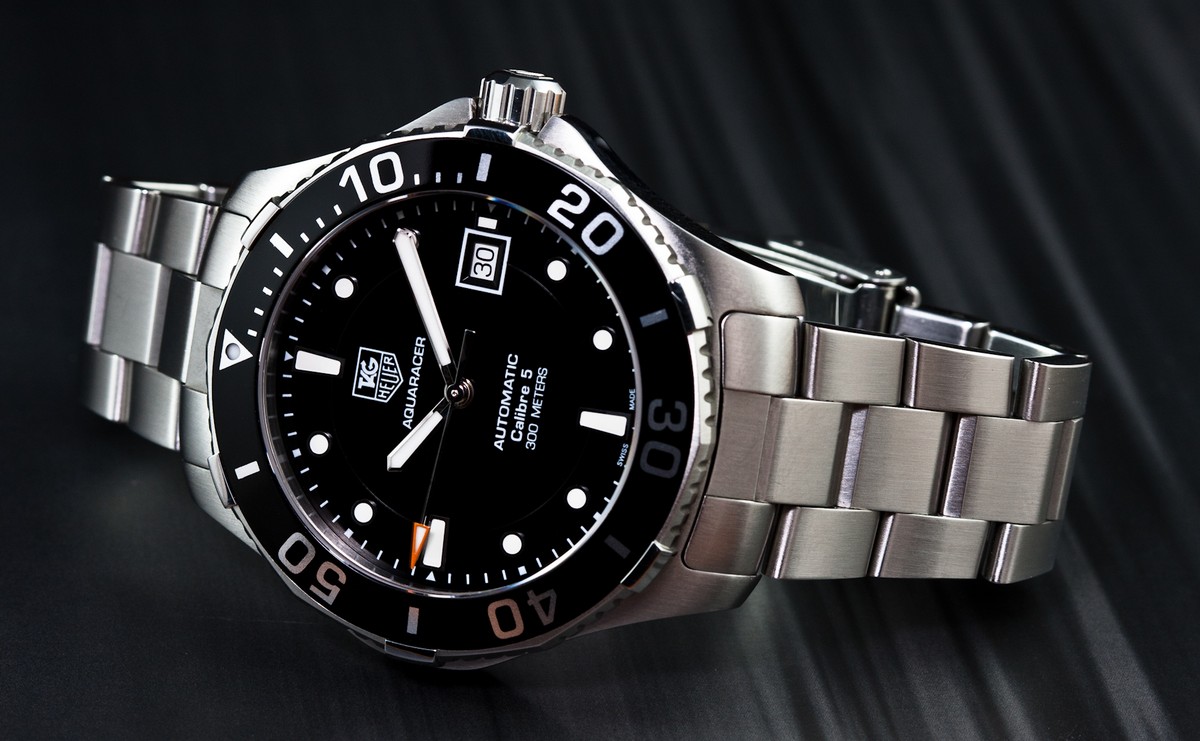 It's not just about telling the time these days; often a watch is more of a fashion statement and a timepiece used to express class. Tag Heuer brings this sporty and stylish piece to the market, offering that fashion statement people crave nowadays. The Tag Heuer Aquaracer WAY111A.BA0928 watch caters to those with a sense of adventure; especially those with a passion for any kind of water sport. Putting it simply, if it's style and adventure you're looking for, then this watch is a great option.
> > > Click here to see ratings, reviews, specifications and prices on Amazon < < <
WAY111A.BA0928 Design & Functionality
At first glance the Aquaracer WAY111A.BA0928 looks like a simplistic, traditional watch from the world famous watchmakers. On a deeper look, nothing could be further from the truth; with detailed design and construction to hidden features, this watch really does live up to its name of Aquaracer.
The main attraction has got to be the stunning 41mm stainless steel case, the beautifully round face is surrounded by the multi-directional bezel; something which I forgot existed on watches these days. However, I have to agree that it is a great addition to this watch; offering great style factor and ease of use to those who want to use it on a daily basis. The interior is finished with a black face, contrasting to the white index markers and luminous hands ticking away.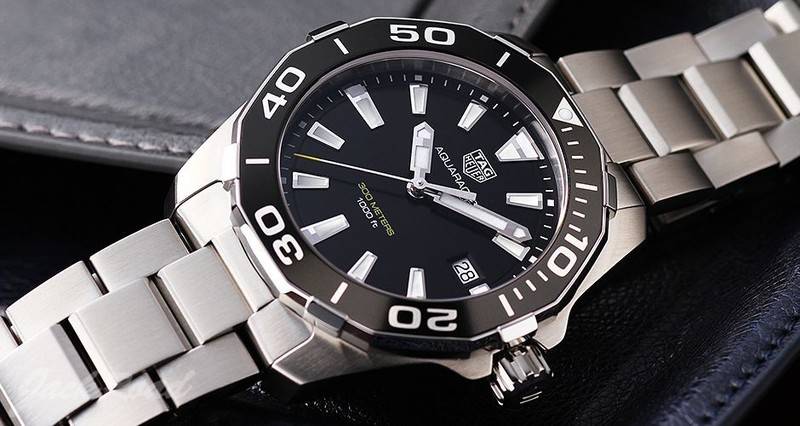 > > > Click here to see ratings, reviews, specifications and prices on Amazon < < <
Within all this mastery is probably the reason you are reading this review. The Aquaracer isn't named that for nothing; giving users the chance to dive to the depths and not have to worry about ruining their pride and joy. Although this isn't a professional diver's watch, Tag Heuer does offer a water resistance of 300 meters which is 1000 feet, perfect for going for a dip in the pool or a swim in the lake. For added protection this piece has a sapphire crystal, scratch resistant face, even better news for those with an adventurous lifestyle.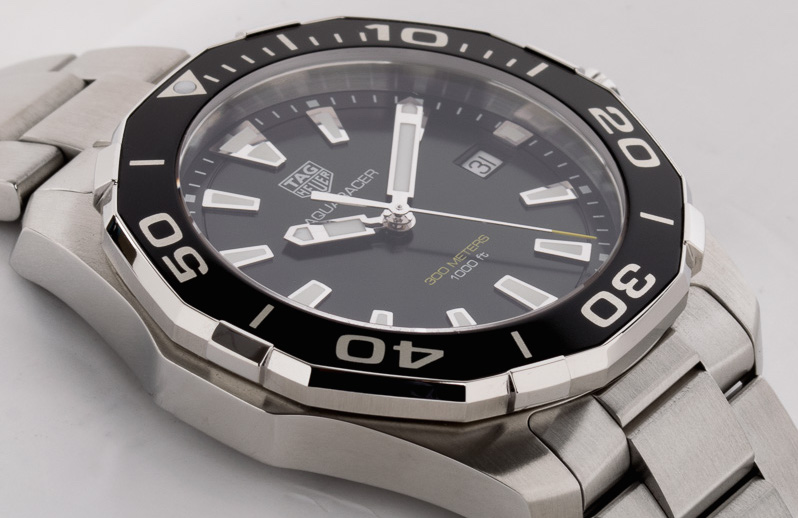 Saying that you don't have to be adventurous to purchase this watch – far from it. The Aquaracer WAY111A.BA0928 is designed and built to suit a variety of tastes; and as mentioned, if you are looking for a watch that offers style and class, you're on the right track. The good news is that this sporty styled timepiece doesn't come with a sporty-inspired strap; instead, it comes with a stainless steel bracelet, offering that traditional feel we are all so used to. The comfortable bracelet gets even better with the easy to use deployment clasp; especially useful when you need to take your watch on and off frequently.
Added features such as the date display, marked at the 3oclock position make this model that extra bit special; the tiny detail of being able to quickly tell the date does make an impact and is always something I enjoy seeing in a watch.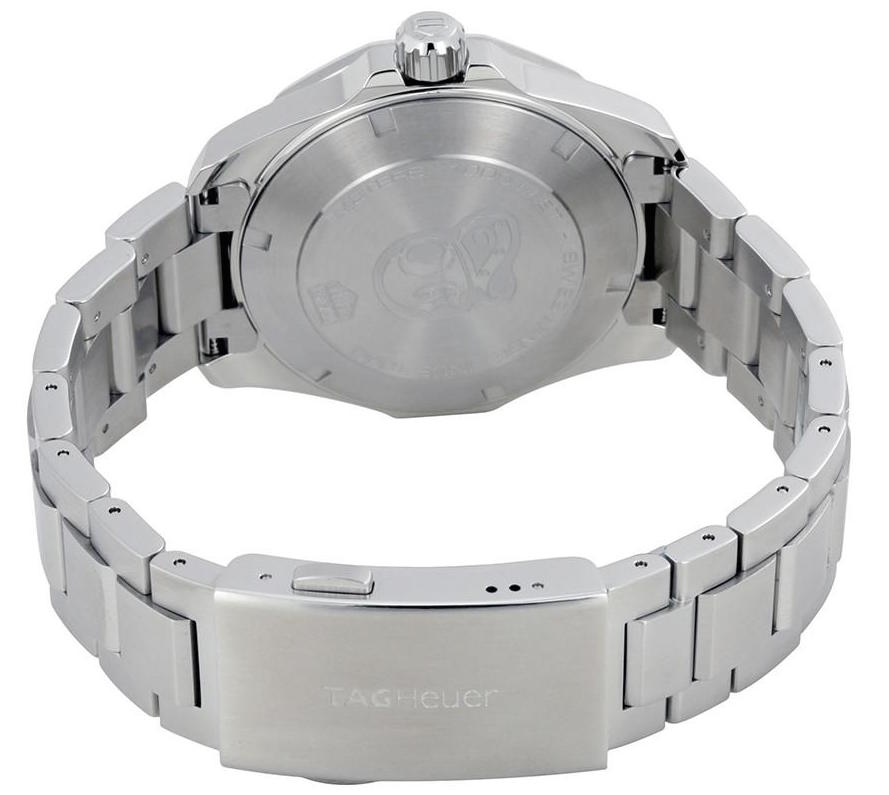 Does it suit you?
If I am being honest; the Tag Heuer Aquaracer WAY111A.BA0928 watch is definitely something I could see myself wearing on a regular basis. It ticks all the boxes; it has a great design, easy to look at but stuffed with useful features, especially the 1000 feet of water resistance – no need to worry about getting this one wet. Tag Heuer have continued their impressive form in watchmaking, providing extremely high-quality time pieces at reasonable price points. You can be wearing the Aquaracer for around $1,500, which for a watch of this standard is a bargain in my opinion. To conclude, this comfortable and stylish watch gives those who can afford it, a fantastic luxury and the chance to own a watch that will last them a lifetime.
> > > Click here to see ratings, reviews, specifications and prices on Amazon < < <