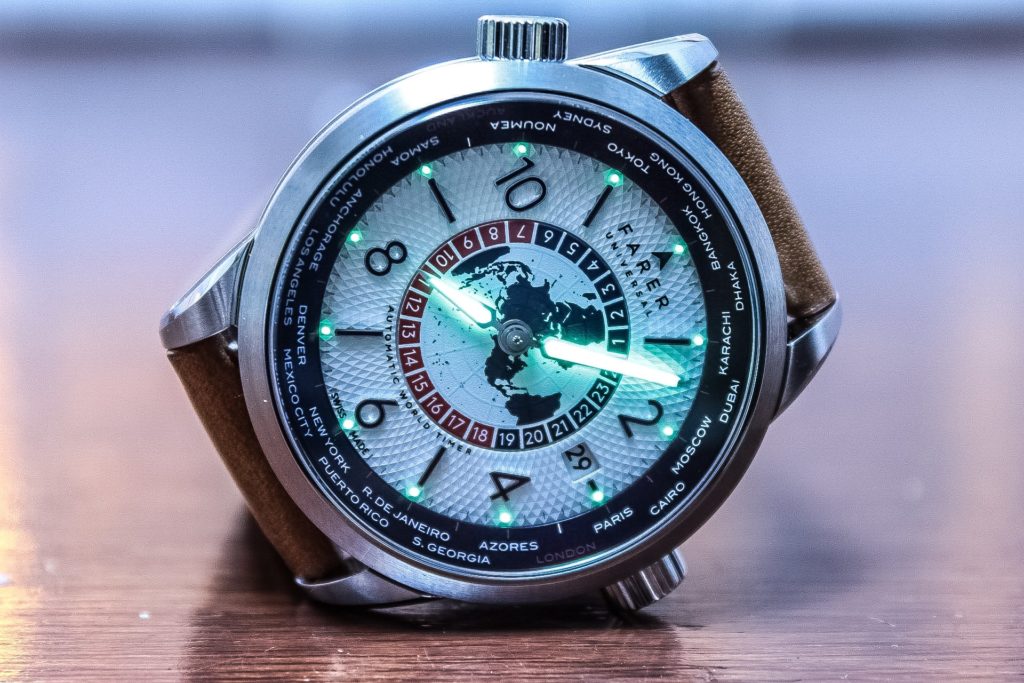 A lot of micro brands in the watch world are cranking out homages, unoriginal designs and cheaply made sub-par watches, but not Farer. They started in 2016 and are producing some of the best looking watches in the business; from Quartz and hand wound models to GMT's, chronographs and the newly released world timer range.
Farer's collections of watches are named after iconic British explorers and vessels that perfectly define the true spirit of Farer: ambition beyond the ordinary.
They take inspiration from the halcyon era of watchmaking, when bold colours and contrasting textures were combined, and the Markham certainly lives up to that;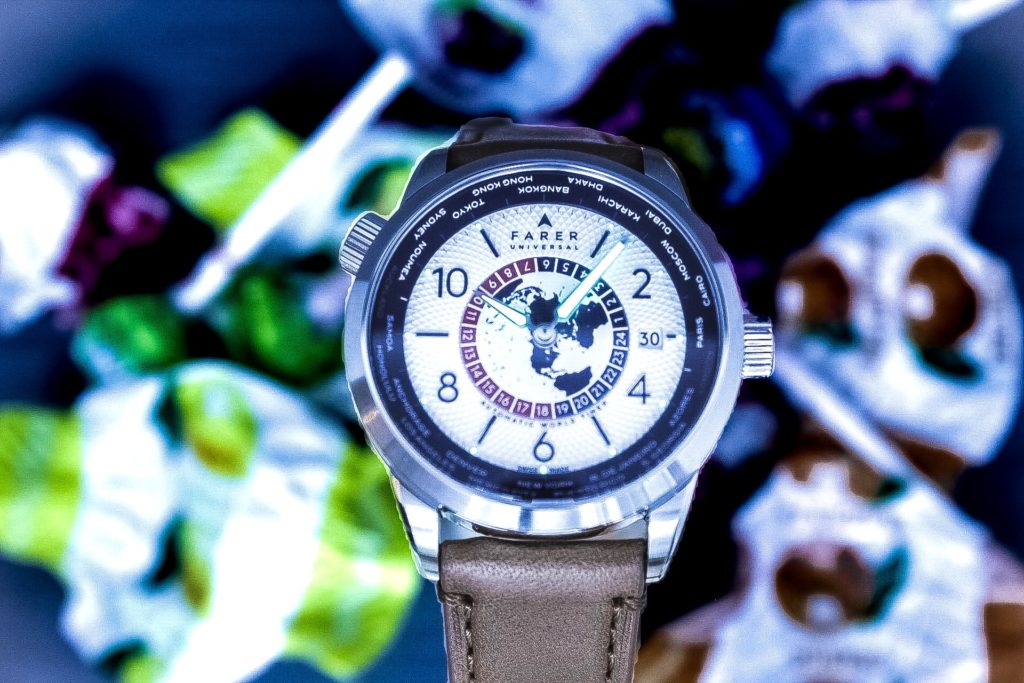 Named after Admiral Sir Albert Hastings Markham who was a British explorer, author and officer in the Royal Navy. In 1903 he was invested as a KnightCommander of the Order of the Bath and he is also remembered for designing the flag of New Zealand.
Coming in at an excellently sized 39mm, 11mm thick and a compact 45mm lug to lug, this watch will sit pretty on any wrist. 316L high grade stainless steel is used and it is expertly finished in all parts of the case. From the brushed bezel with polished edge, polished side outline and inner lugs to the micro-blasted case side cut-ins.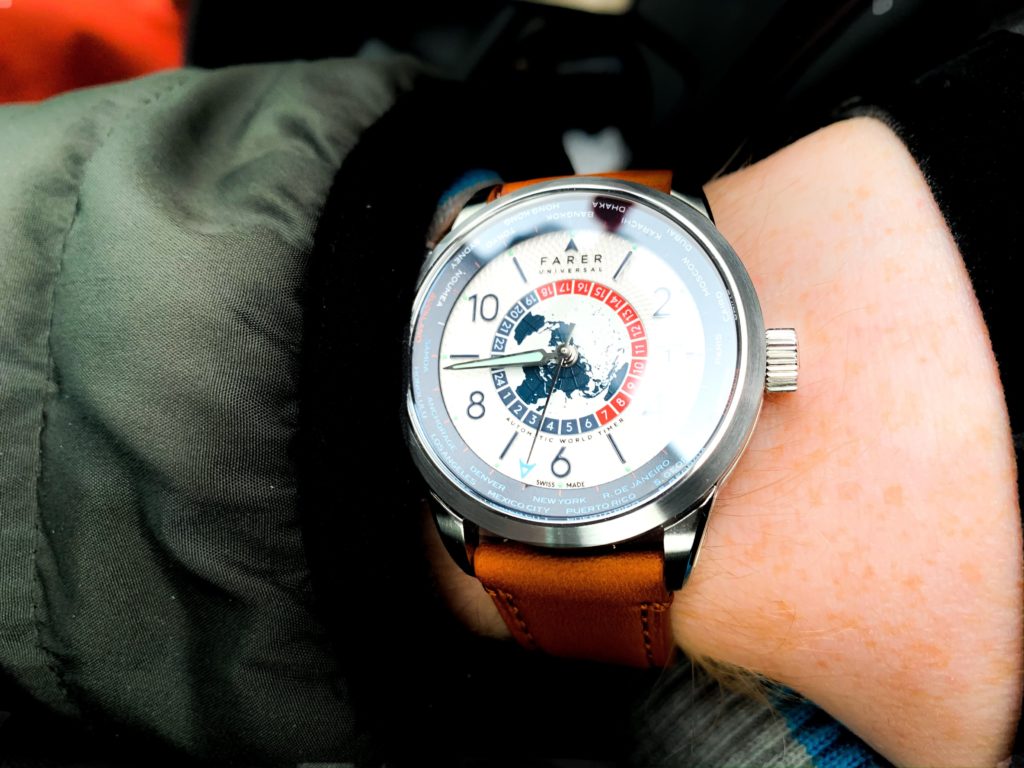 The internal bezel is a silky blue colour clearly displaying each of the 24 cities featured on this watch. Inside of that is the base plate, which has great depth to it thanks to the 3 dimensional micro piqué design used here. At the centre of the dial is the engraved globe, which is blue and white to provide maximum clarity on this exquisite dial. Over 40 manufacturing processes went into the dial on the Markham, I'm sure that this dial will please those people who hate the thought of a micro brand and wouldn't give one a second glance.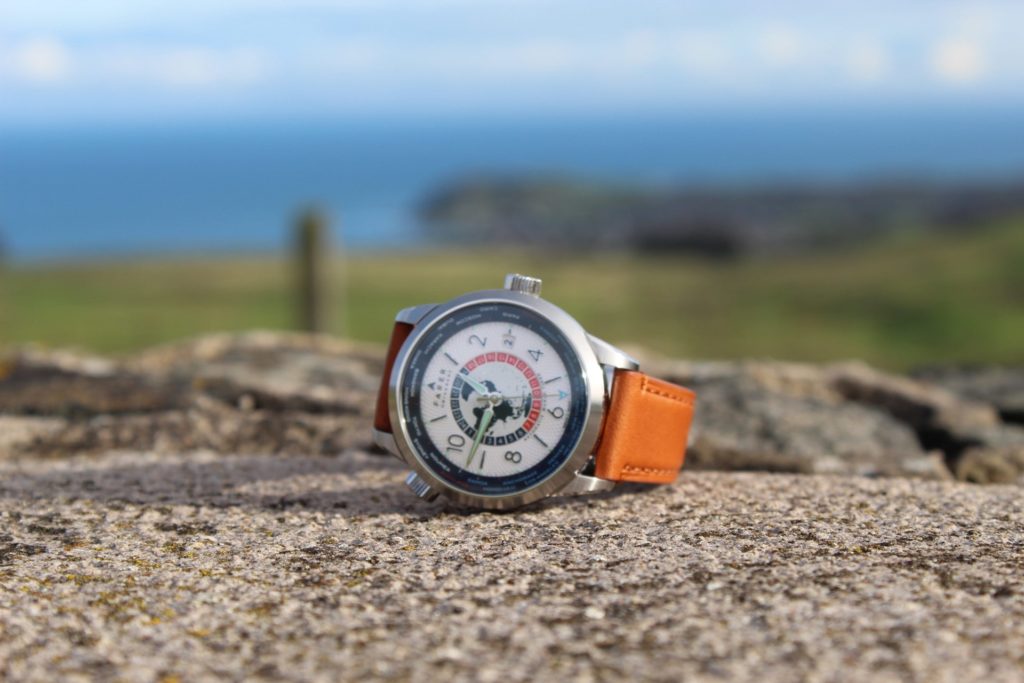 The alpha style hands used are mirror-edge polished-steel filled with a green Grade A SuperLuminova, which provides an extremely pretty and bright glow that goes on and on. The beautiful polished-steel seconds hand sweeps smoothly and features the signature 'A' of Farer at the tip of it.
This watch features two crowns, as you would expect. One offset at 10 used to control the cities on the internal bezel that winds very smoothly and provides a satisfying but quiet click when each city sweeps past the 6 o'clock marker. The other crown is the traditional 3 o'clock crown and as well as the normal features it is used to control the 24 hour disk.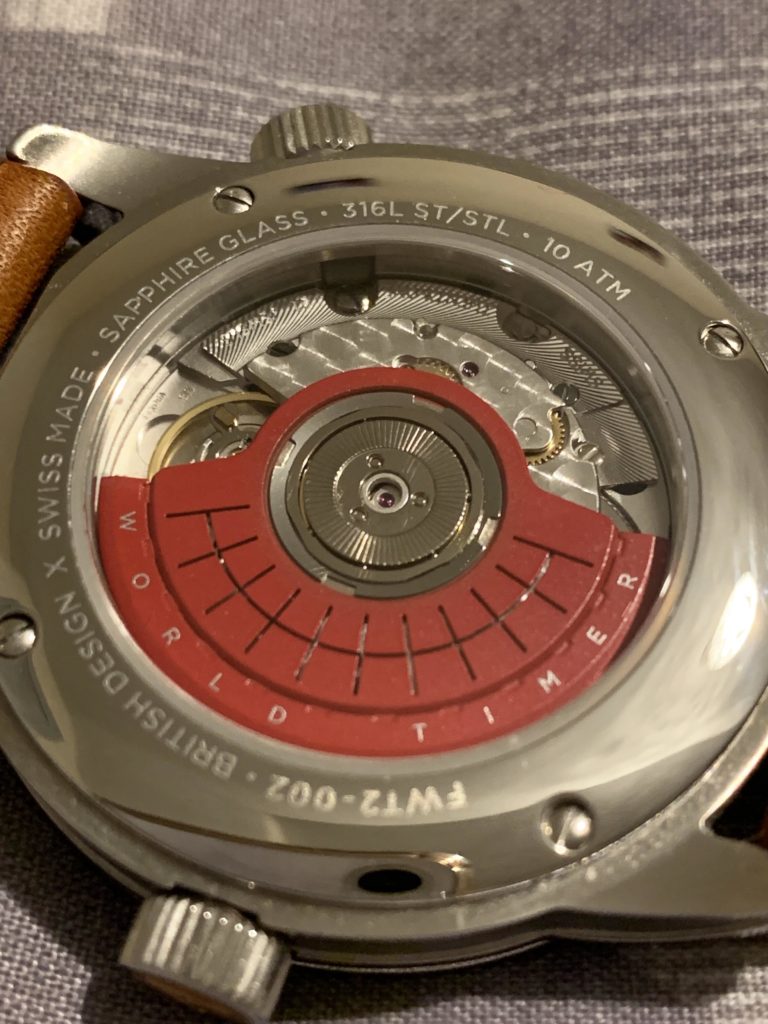 The Markham runs on the top grade, increasingly rare ETA 2893-1, which runs at 28.800 beats per hour to provide a smooth sweeping seconds hand, and a fantastic power reserve of approximately 48 hours.The movement is beautifully exhibited on the back of the watch through a flat sapphire crystal and Farer's love of bold colours shows as their own bespoke rotor is finished in matte red and delicately features a line cut design. But, I found the power reserve to be less than 48 hours. I put the watch back in the watch box and much to my annoyance I lifted it out around 36 hours later only to realise that it had stopped, so, power reserve not living up to expectations.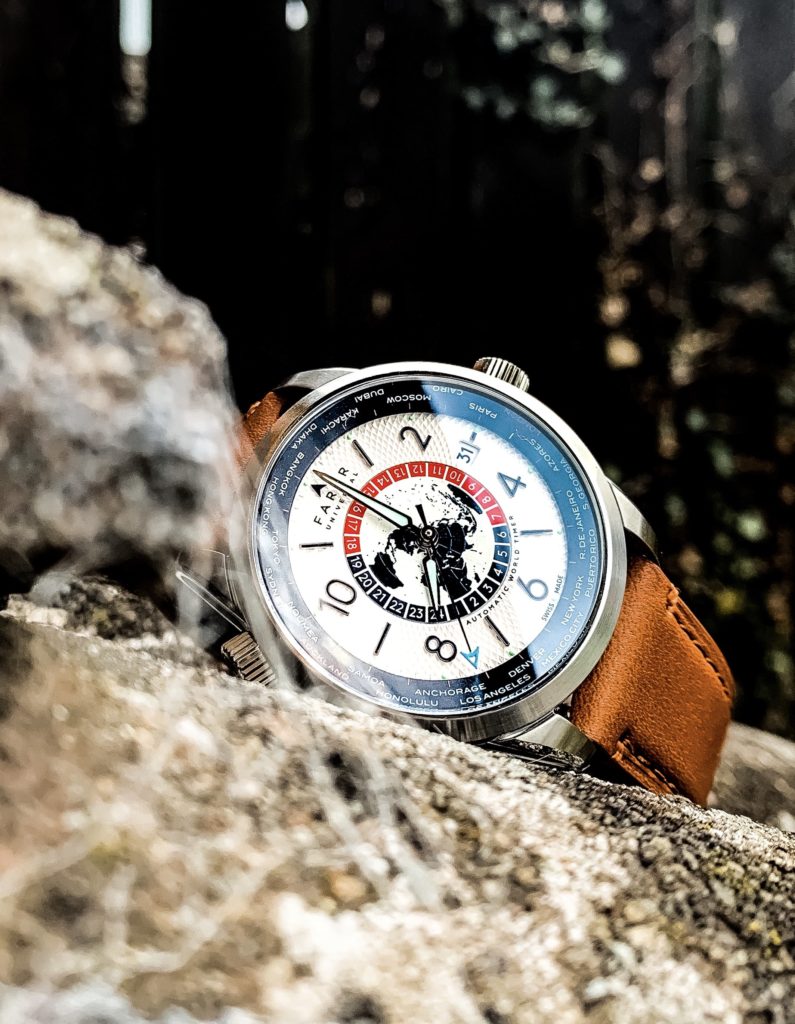 On the wrist this watch slips easily under the cuff, and equally goes well with a shirt or a more casual look. It has 100 metres of water resistance, this may seem a lot but it doesn't make me confident enough to have it around water, so when I have to do mundane household chores this watch is taken off the wrist and safely set down.
As for negatives with this watch, I can only find one, and that is that the tan leather band that is supplied, although beautiful in its own right is rather stiff. But that is only one small negative in an otherwise exceptional watch.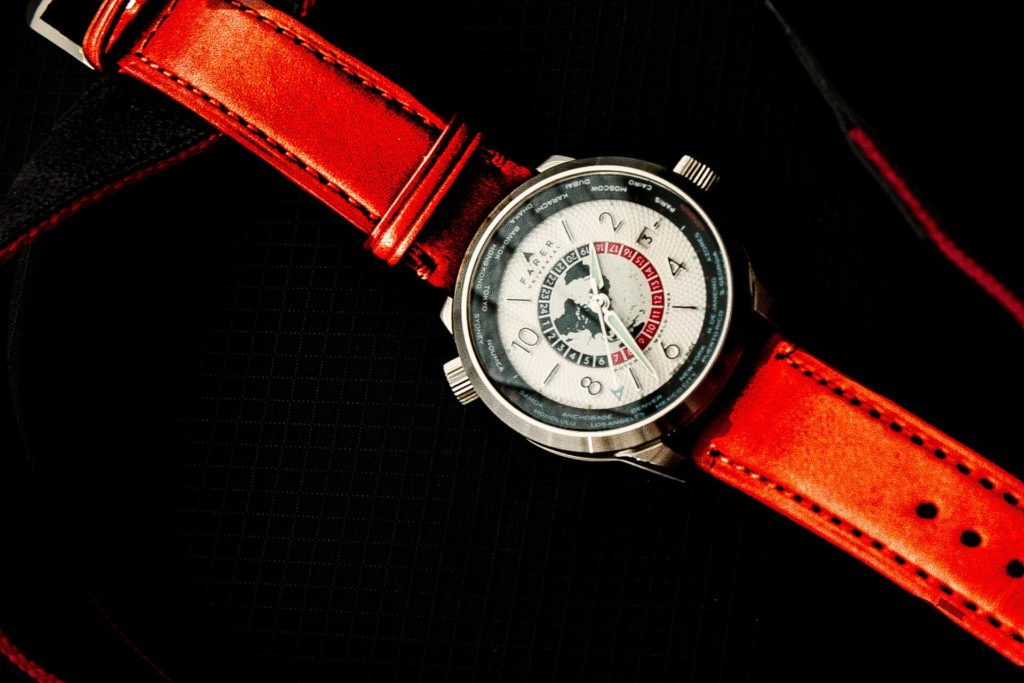 I made a snap decision to buy this watch as soon as I seen it was released and managed to get number 2 of 100 (very annoying that number 1 had been taken), but it was by no means a cheap decision. This watch is an eye watering (for me anyway) £1295, I did have a discount code handy so I managed to get the final price down.
Do I regret my decision? Absolutely not, Farer is a brand I've had my eye on ever since I started my relatively new watch journey and this watch is an exceptional offering and so pleasing on the eye. I love looking down at my wrist, it brings a smile to my face and when a watch can do that then that's a special feeling.
The life of a modern watch collector so often consists of buying affordable watches, falling in love with them, quickly falling out of love and selling. Rinse and repeat. But not with this watch. This is a keeper for me!
To have a look at more specs and the full line of Farer watches you can visit their official website here.