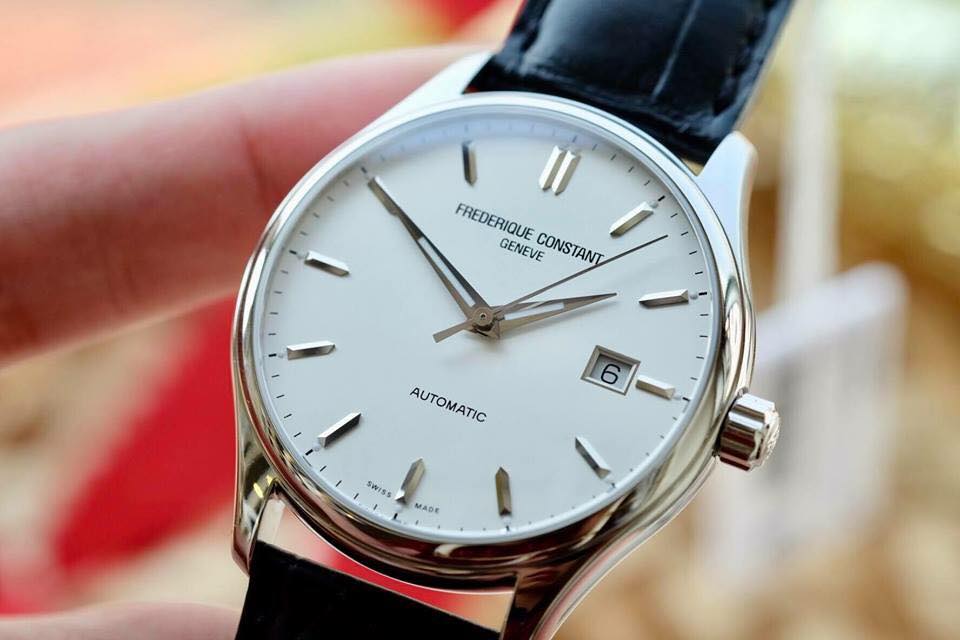 The Frederique Constant FC303S5B6 Automatic is a dress watch with a classic design. It also has powerhouse of a movement, making it both functional and stylish. For a simple watch, there's a lot to discuss about this timepiece.
> > > Click here to see ratings, reviews, specifications and prices on Amazon < < <
FC303S5B6 Design
The FC303S5B6 pays homage to the classic Patek Philippe Calatrava dress watch and that's very apparent in its elegant design. At 39mm in diameter, this watch is on the smaller side of modern styles, so it's perfect for an understated dress watch on just about any sized wrist. The sapphire crystal has a slight convex dome to it, but at only 10mm thick you'd have no problems wearing it with a dress shirt. The stationary bezel and case are stainless steel, which is engraved on the back with the Frederique Constant brand name and logo in addition to "Geneve" marking its Swiss origin.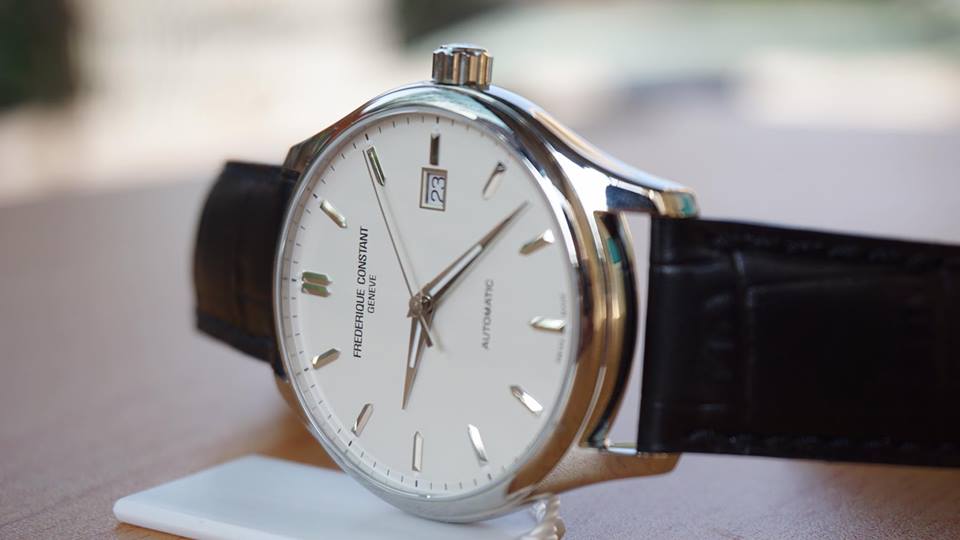 On the dial, the stainless steel look of the case and bezel is carried through with the silvered stick hour markers applied to the face. Twelve o'clock is indicated by double stick markers. Like the pitched dauphine hour and minute hands, the hour markers also have a pitched texture to them, catching the light from any angle. The cone shaped sweep second hand reaches to the outer rectangular edge of the hour markers and adds some simple, interesting detail to the design.
The face itself is a silver-tone white that goes nicely with the other silver elements of the watch and gives it a warm look. At three o'clock is a date display with a silver frame. Around the outer edge small black stick markers denote the minutes and seconds. Every five minutes, the markers are slightly bolder in order to make it easier to read. Also in black, in a classy all caps font, the words "Automatic" and "Swiss Made" are written in addition to the same text that's engraved on the back. In all, the text isn't overbearing and doesn't distract from the simple design, but it is somewhat redundant to have both "Geneve" and "Swiss Made" printed on the dial.
Movement and Features
The movement on this watch is a FC-303, which is an automatic movement based on the SW200-1, which is in turn a clone of the ETA 2824-2. The ETA 2824-2 has stood the test of time and is somewhat the standard that many automatic movements are based on. In order to reduce wear on the rotor, it's mounted on five ball-bearings which helps the watch to run smoothly for a very long time. Frederique Constant took ETA's movement and made it their own by adding an extra jewel for a total of 26 jewels, but whether or not the extra jewel is really necessary or just a marketing ploy is up for debate. Regardless, this Swiss made movement keeps excellent time, running -5 to +15 seconds per day. It also has a 38 hour power reserve, which is nice because in all likelihood, you're not going to be needing a dress watch every day.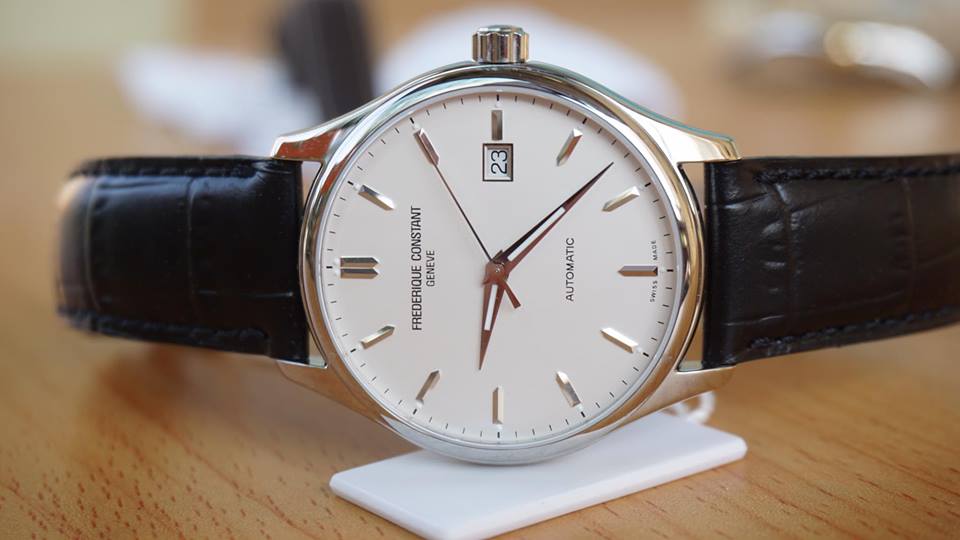 > > > Click here to see ratings, reviews, specifications and prices on Amazon < < <
For when it does need to be wound, the crown is push/pull. It's also scalloped shaped, which looks great but can make it more difficult to get a good grip on it in order to wind the watch. Some owners of this watch have also noted that winding it is hard and sounds like something is grinding, raising some concerns about letting the watch wind down all the way. Part of this could be due to the double gaskets on the crown, which help make it water resistant to 165 feet.
A great feature about the FC303S5B6 is the luminescence. A lot of dressy events are dimly lit and you'd be able to easily read this watch in the dark. There are lum dots above the hour markers, with double lum dots at twelve o'clock. The hour and minute hands also have a rectangular luminosity inlaid that blends well with the white tone of the face when it's not dark.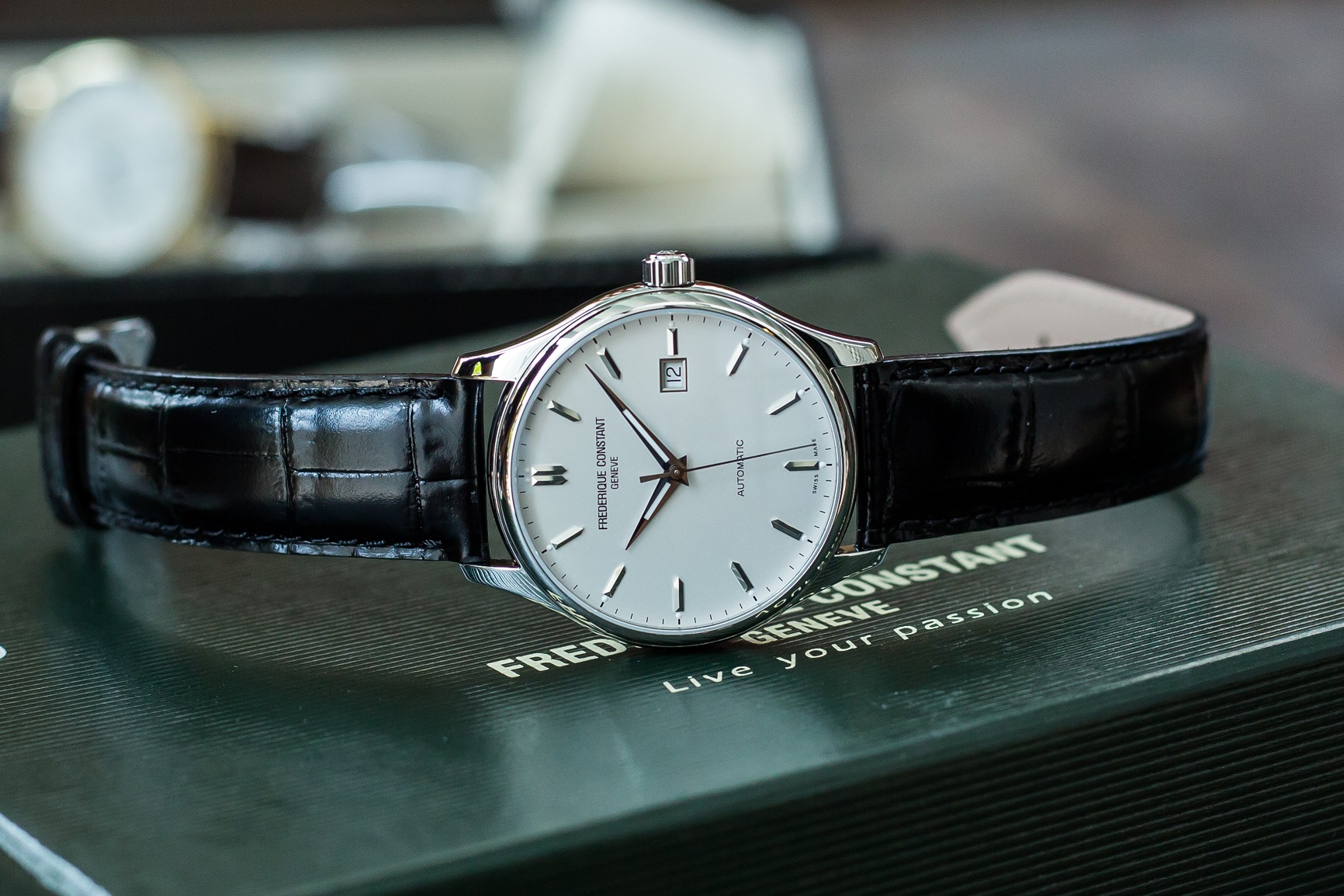 By far the biggest complaint about this watch is the stock strap that comes with it. It's a black alligator leather strap with an Ardillon Buckle and apparently it's very stiff and uncomfortable. It can be shaped to your wrist after a while, or easily replaced since it's a fairly common size at 20mm wide. The lug width is the same, although they aren't very long and are slightly curved, which make the watch seem smaller than its actual size.
Conclusion
There are a couple of weak points to this Frederique Constant FC303S5B6, but they're more like minor annoyances than major problems. It's a relatively inexpensive dress watch, especially considering the quality movement within, so having to spend a little extra on a different strap wouldn't be a huge deal. If you're looking for an elegant, timeless looking dress watch, this one is definitely worth considering.
> > > Click here to see ratings, reviews, specifications and prices on Amazon < < <