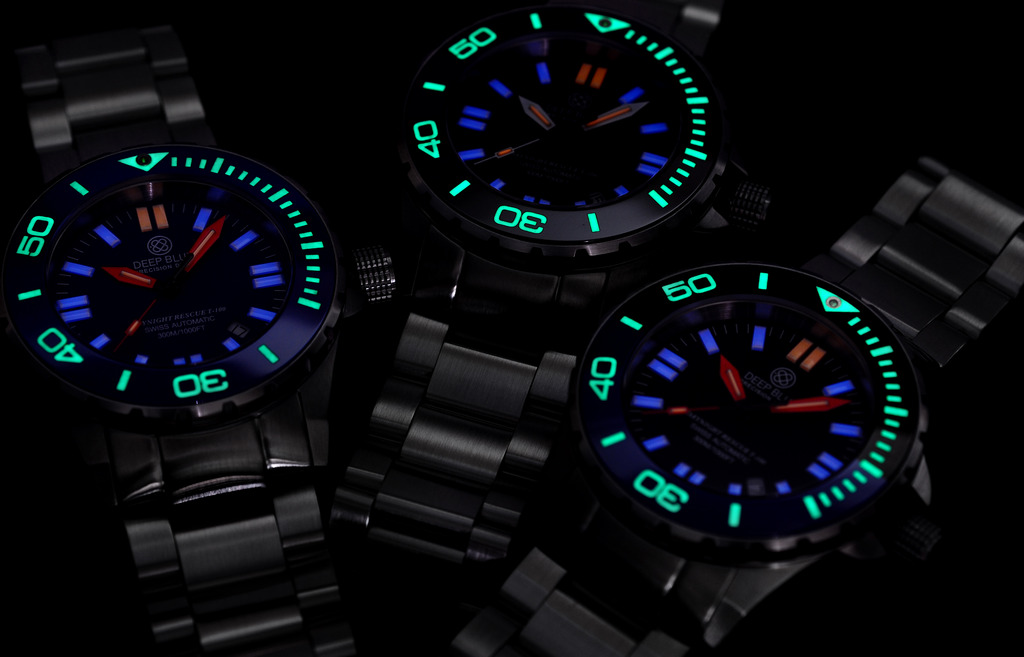 Watch enthusiasts expect a lot from their timepieces. Self-winding movements, water resistance, chronographs. But what about illumination? For some, this can often be an overlooked feature. That is, until you're riding your bicycle at night or fumbling about during a power outage. If you don't want to rely on moonlight or streetlamps to illuminate your watch dial, we've compiled a list of five quality watches with excellent illumination at an affordable price.
Comparison Chart
Analog Lume Watches
Size
Movement
Water Resistance
Price Point
Seiko SRP715

Check Price
43mm
Automatic
330 Feet
$$$$
AVI-8 AV-4052

Check Price
45mm
Japanese Quartz
165 Feet
$$$
Citizen AT9010-52E

Check Price
43mm
Japanese Quartz
660 Feet
$$$$
ORIENT EM75006W

Check Price
45mm
Japanese Automatic
660 Feet
$$$
Tissot PRC200

Check Price
42mm
Quartz
660 Feet
$$$$$
Seiko SRP715 Japanese Automatic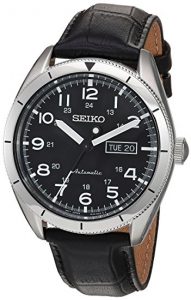 First on our list is a Seiko, the SRP715. This is a military-style watch with a classic, no-nonsense appeal. The stainless steel, 43.5 mm case truly shines against the smooth ebony dial. At 12.7 mm in thickness, and with a flat Hardlex window, this watch is not going to bulge from your wrist like a tuna can.
Each of the hours (except 3) is marked with an Arabic numeral, and a narrower concentric ring displays the military time. The recessed window at three o' clock shows both the date and the day of the week.
Oddly enough, the ridged bezel on the SRP715 bears hour markers, yet it is stationary, so there is no apparent function other than aesthetic appeal.
The band is genuine leather calfskin with a complementary dual tone, smooth black on top and a more textured tan on bottom. As with most bands of this type, it will take a little breaking in. Turn your gaze from the 22 mm band, past the sturdy brushed-steel lugs, and you'll find an exhibition caseback showcasing the 24-jewel 4R36 automatic movement. The movement boasts 21,600 vibrations per hour for unbeatable precision. It can also store approximately a 41-hour power reserve.
What about the lume?
The SRP715 offers excellent illumination. Both the hour markers and the hands are lumed. When we say hour markers, we mean the stick indices, not the numerals themselves, but that doesn't make the dial any less easy to read. The hands glow a brilliant green, although the only part of the second hand that is illuminated is its circular counterweight.
Seiko boasts the use of a proprietary luminous paint called LumiBrite. It is brighter and longer-lasting than other types of lume and is free of radioactive substances.
AVI-8 Hawker Hunter AV-4052-03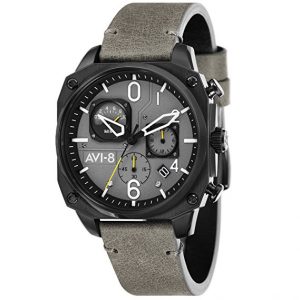 Our next selection is the Hawker Hunter AV-4052-03. AVI-8's aircraft-inspired watches never fail to impress with their clever and highly functional dials. Each pays homage to a specific aircraft, particularly from the World War II era.
The AV-4052-03 evokes the look and feel of the Hawker Hunter, a seminal jet aircraft of the Royal Air Force. This may not have been the kind of watch a pilot actually wore, but the complications on the dial recall the cockpit and instrument panel of the real-life fighter plane.
The watch case is marine-grade stainless steel—more or less square, with the corners angled off. This encloses a typical round dial with a mineral window. The case is 45 mm across and 12 mm thick, so it does present a substantial wrist presence.
The dial on this watch is simply fascinating. First of all, it's deep and multi-layered. The outermost chapter ring slopes in to a considerable depth. The overall effect may remind you of an altimeter or heading indicator—or any of the round, recessed instruments found in a military aircraft. The minute markers along this chapter ring are painted on, while the applied hour markers slot into grooves along the circumference.
For reasons probably known only to AVI-8 and bona fide pilots, the only numbers on the dial are 0, 1, 2, 4, and 6. We're not sure what bit of aviation esoterica this refers to, but the layperson can easily envision a fuel gauge or air speed indicator. Like the other hour markers, these are applied and are quite thick and bold.
The Hawker Hunter also features a few complications on the dial. At three o' clock you have a military time subdial, and between four and five o' clock is your recessed date window. The remaining subdials are the chronograph. Touch the topmost button (by two o' clock) to set the Japanese quartz chronograph in motion. The subdial at six o' clock ticks the seconds, while the subdial at ten o' clock tracks the minutes with a slow sweeping motion. This is a retrograde chronograph, so when you reach ten minutes, the minute counter will reset to zero.
What about the lume?
This watch has plenty of fine details to discuss, but you came here to learn about watches with good illumination. So let's talk lume. First, it's worth noting that the minute and hour hands are skeletonized, so reading the hour or the various subdials is rarely a problem. However, only the hands are illuminated, so getting the precise time in the dark might be a challenge.
Citizen AT9010-52E Eco-Drive Silvertone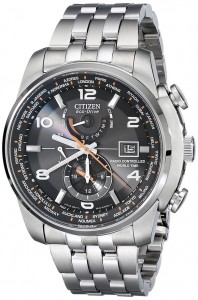 Our next watch is definitely heavy on the complications, but it's a compelling piece that looks a lot more expensive than it really is.
The Citizen AT9010-52E is a large watch, 43 mm across, and it needs to be that big to fit all the subdials and complications. Of course, this is an Eco-Drive watch, so one of the default selling points is its solar-powered movement. But there's a lot more to this watch than solar power.
Perhaps the most noteworthy feature is the atomic timekeeping technology. The AT9010 is radio-synched to world time—as long as you're not storing the watch in a lead-lined bunker, it will send out a signal every night and synch with an atomic clock, ensuring the most accurate time possible. It even knows what time zone you're in, so you never have to set the time manually.
The watch can synch with any of 26 world time zones. The time zones are indicated with both white text and high-contrast orange indexes along the outermost chapter ring. There are a couple of ways you can use this. If you're merely curious what time it is in another part of the world, you can simply count the number of markers between two cities. For instance, if it's 12:00 in New York, you can just count three markers down to Los Angeles and know that it's 9:00 there.
But what if you're a frequent traveler and want to be able to track two time zones at once? Maybe you live in New York but travel frequently to London. No problem. Pull out the crown again, hit the push-button at four o' clock, and then wind the crown until the second hand points to London. The subdial at six o' clock will then display London time while the primary dial displays New York time. Want to switch? Press the two push-buttons simultaneously. The main dial now shows the London time while the subdial shows the New York time.
What about the lume?
We've mentioned only some of the inspiring features of this tech-heavy watch, and the lume is frankly among the less exciting. Nevetheless, you will find that the hands on both the main dial and subdial are lumed, along with six dot indices along the outer chapter ring.
ORIENT EM75006W "MAKO XL"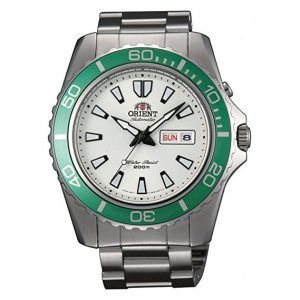 Let's now take a look at a big, sturdy dive watch from Orient. This "Mako XL" is actually a new take on previous iterations of the Mako line. And when we say it's big, we're not joking. The case diameter is 45 mm, and it's 13 mm thick. It tips the scales at close to 200 grams.
The Mako XL stands out with a bright dial, white with a glossy green bezel. It sports many of the features you'd expect of a dive watch: screw-down crown, screw-down caseback, and a stainless steel, unidirectional bezel. You may find this bezel difficult to rotate; you'll really have to apply some force between clicks. This could be a conscious design choice—you never want your bezel to slip when you're using it to track your elapsed dive time—but it might be annoying if you're not actually a diver.
The band is crafted to ensure the watch never slips off your wrist mid-dive and winds up in Davy Jones' locker—it has a fold-over clasp with a double push-button safety. The watch is water-resistant to 200 meters as well.
Orient has built this watch around their in-house 46943 automatic movement with 21 jewels. If you're interested, it vibrates 21,600 times per hour for reliable timekeeping.
Though it presents a bright, colorful façade, the Mako XL dial is clean and simple. The hour markers are applied stick indices, and the minute and hour hands are sharply-outlined arrows. The window at three o'clock displays the date in black and the weekday in red.
What about the lume?
The Mako XL has luminous minute and hour hands, and the applied hour markers are lumed as well. The hands are distinctly brighter than the hour markers, though.
Tissot PRC200 T0554171105700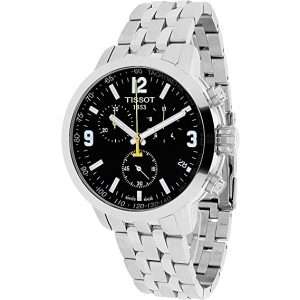 Our final selection is another dive watch, and this time it's the Swiss-made Tissot PRC200. This is a versatile watch you'll want to wear all the time, whether at work or play.
This timepiece has a quartz movement for unparalleled accuracy. The dial window is synthetic sapphire, so don't worry about scratches unless you take this dive watch into an ocean of cut diamonds. When you dive into good old H20, the watch is safe to 200 meters.
The PRC200 is moderately-sized, 42 mm across and 12 mm thick. The case and band appear to combine both smooth and brushed stainless steel textures. The 19 mm band has a fold-over clasp. It's a busy-looking bracelet with its profusion of tiny links, so you may be tempted to swap it out for something simpler and more solid-looking.
The dial on the PRC200 has some depth; the tachymeter along the outer rim slopes downward and is indexed up to 400. The main dial is bold and easy to read with Arabic numerals at 12, 3, and 9, and chunky stick indices for the remaining hours. The date window at four o' clock is small but readable.
In addition to a tachymeter, the PRC200 also has a chronograph function, actuated by the two push-buttons at two and four o' clock. The yellow second hand provides a high contrast against the black dial so you never lose track while you're keeping time.
There are three subdials on the PRC200. Unfortunately, they can be obscured by the thick, rectangular hands—in retrospect, it may have been preferable to incorporate skeleton hands to make these subdials more visible. The dial at ten o' clock is a thirty-minute counter; the dial at two o' clock tracks tenths of seconds, and the dial at six o' clock tracks full seconds.
What about the lume?
Consumer beware: if you receive a PRC200 with no lume at all, it's a fake. The genuine article has a bit of luminescence on the minute and hour hands (not much, but better than nothing), and each of the hour indices glows as well.
Final thoughts
Illumination and backlight are easily-overlooked watch features—until you need them. The watches on this list are all very different and present an impressive array of features, but every one has illumination you can count on. These aren't the only watches that shine brightly in the dark, but if you choose one from this list you can't go wrong.