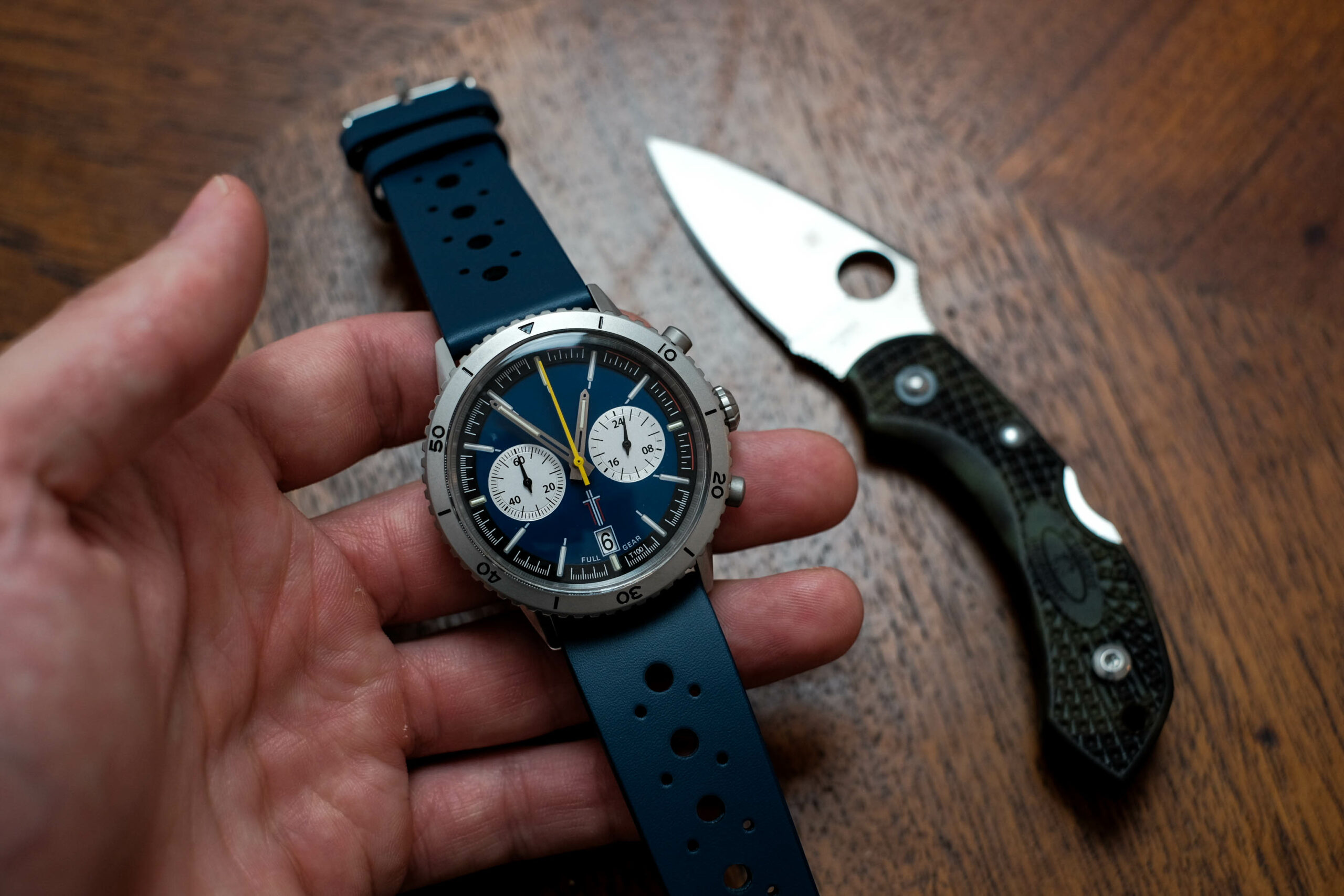 If you haven't heard of FullGear, I'm not surprised. This is a new brand, which was founded in Hong Kong in 2020. Like with many new watchmakers, FullGear's founders had worked in the watchmaking industry before setting off on their own to do something truly unique. In 2021, they launched their first watched, the Pioneer, which took customization to a new level.
When you hear about a customizable watch, you typically think of the ability to make minor tweaks. Maybe you can order a watch in different colors, or different straps, or with or without a display case. But FullGear's philosophy is a bit different. With their watches, you can choose all kinds of elements. You can customize the colors, the indexes, the hands, the illumination, and several other features using an online configurator. Once you've built your watch, FullGear builds it from the parts you've chosen.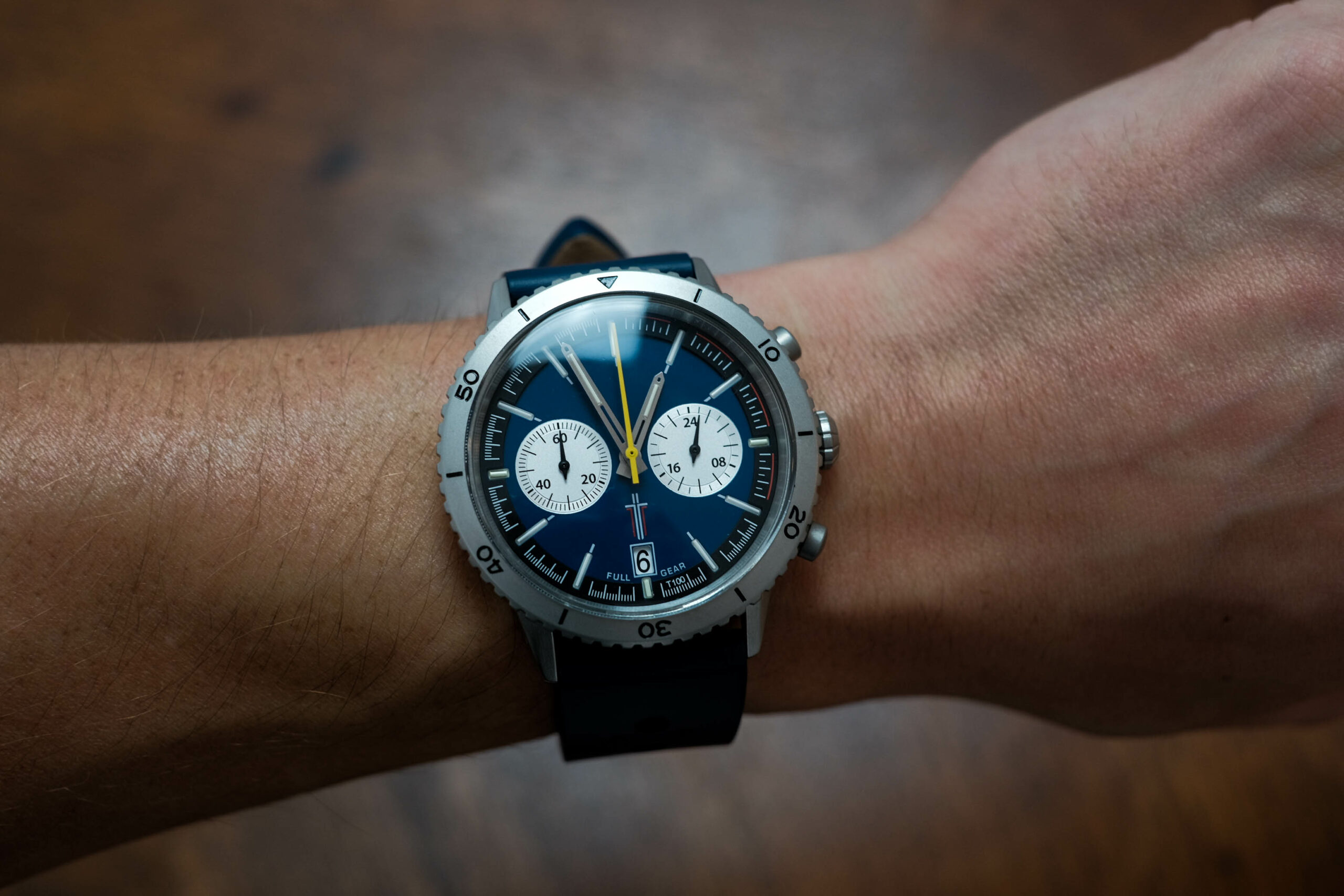 In August, 2022, FullGear has announced the release of their second watch, the Claymore which we have here. This is a medieval-inspired watch with a number of standout elements. It sports a narrow knurled bezel with minute hashes up to the 15-minute mark, and 5-minute hashes for the rest of the way. The crown at the right side is knurled and flared, and looks distinctly like a mace, with pushers above and below it for additional control. The case back is embossed with a full faced helmet with a large plume streaming around it.
This is a Kickstarter campaign that has only just launched. While FullGear expects to start shipping the Claymore in January of 2023, these things can change. I should also note that the current campaign is a private preview. In other words, the watch is still a prototype, and some things could change between the time I write this and the official campaign launch.
The Basics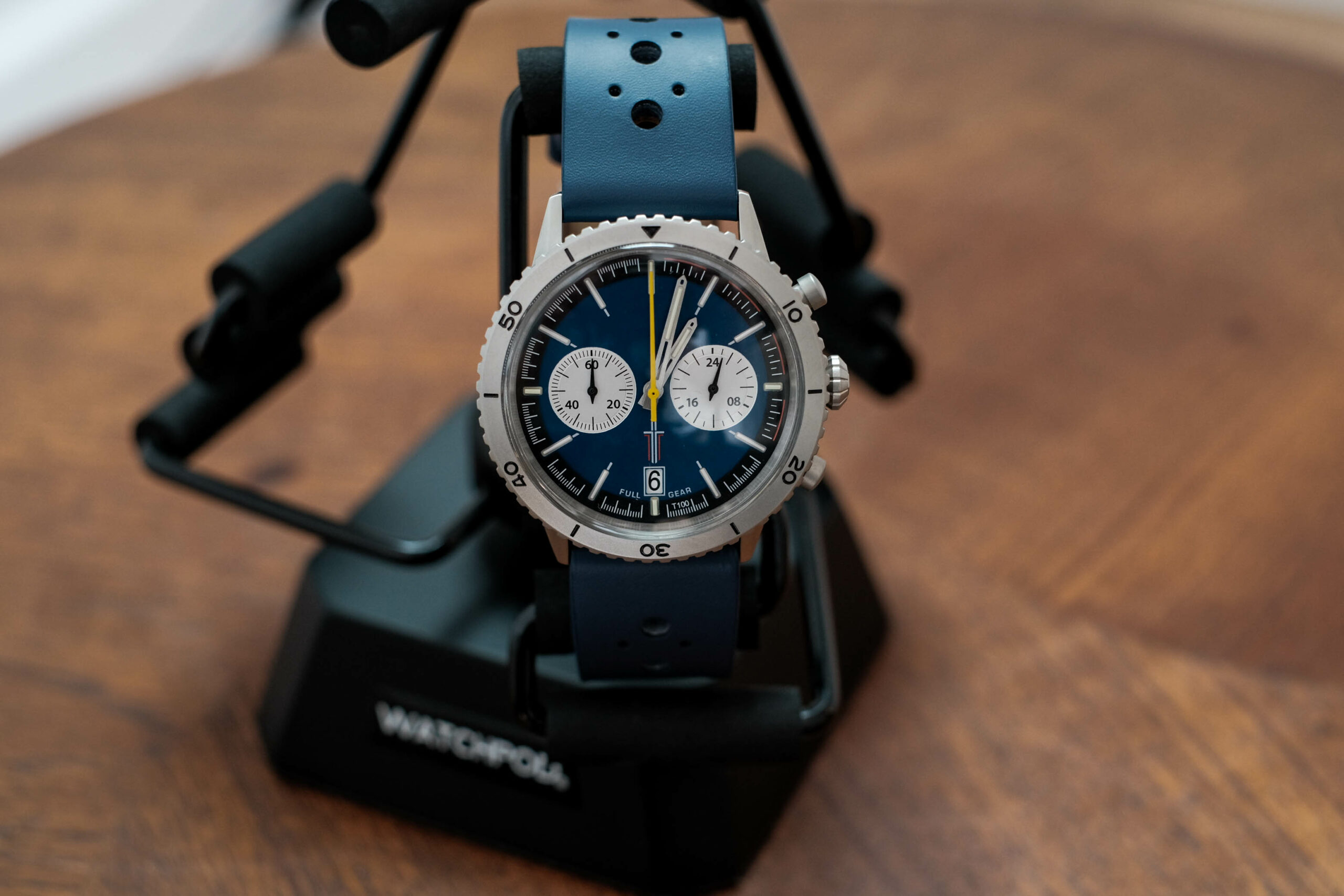 First things first. Let's talk about the core of the Claymore – the things that you can't customize. To begin with, the case is manufactured from a tough, corrosion-proof 316L stainless steel. It has a 42mm diameter, and measures 48mm from lug to lug. That's a generous amount of wrist presence, and the knurled bezel is narrow enough to leave room for a broad dial.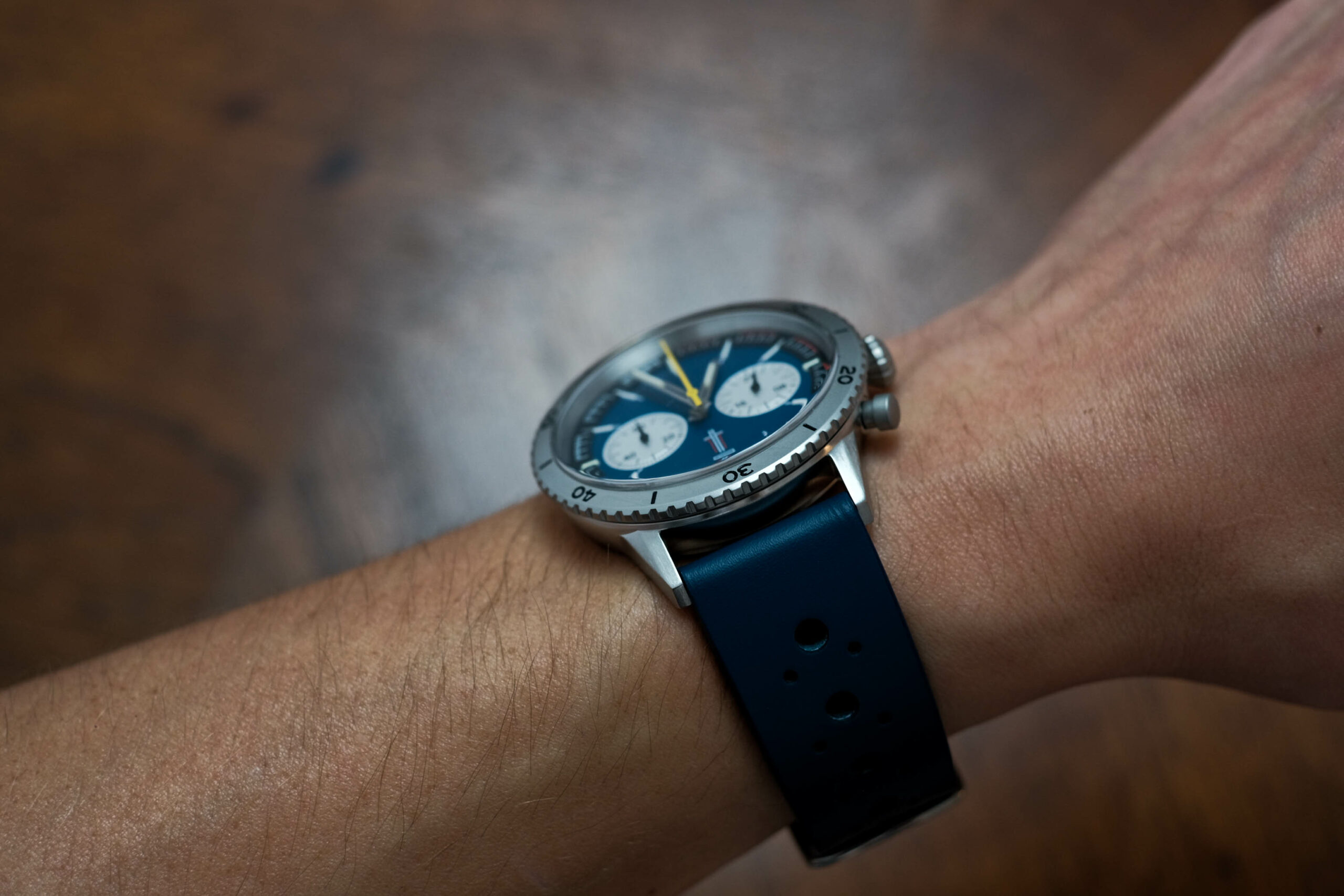 The sapphire crystal is slightly domed around the edges, which creates an attractive highlight and some minor distortion that won't interfere with your ability to read the dial. It's coated on both sides with an anti-reflective coating, which cuts glare to a minimum. The case is also rated for 50 meters of water-resistance. It's not a dive watch, but you can still take it swimming.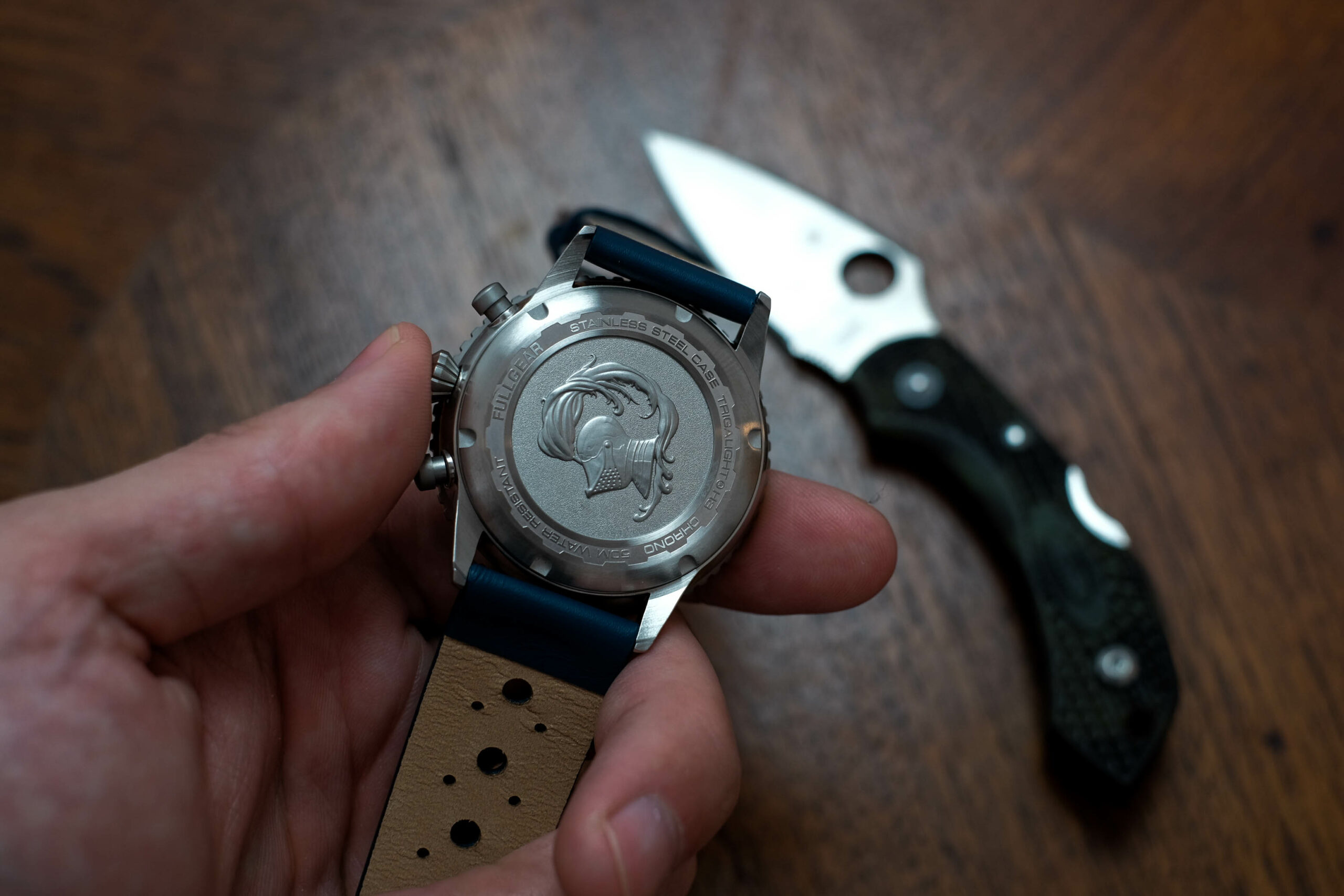 There are different strap options, but all of them sport a quick release. This makes them easy to take off and you won't have to struggle with them.
The chronograph-grade movement is accurate to +/- 20 seconds per month. One of the pushers will instantly return the second hand to zero, which makes it very easy to reset. That said, this is a Seiko quartz movement. While it's objectively more accurate than any mechanical movement, many people prefer mechanical movements for aesthetic reasons.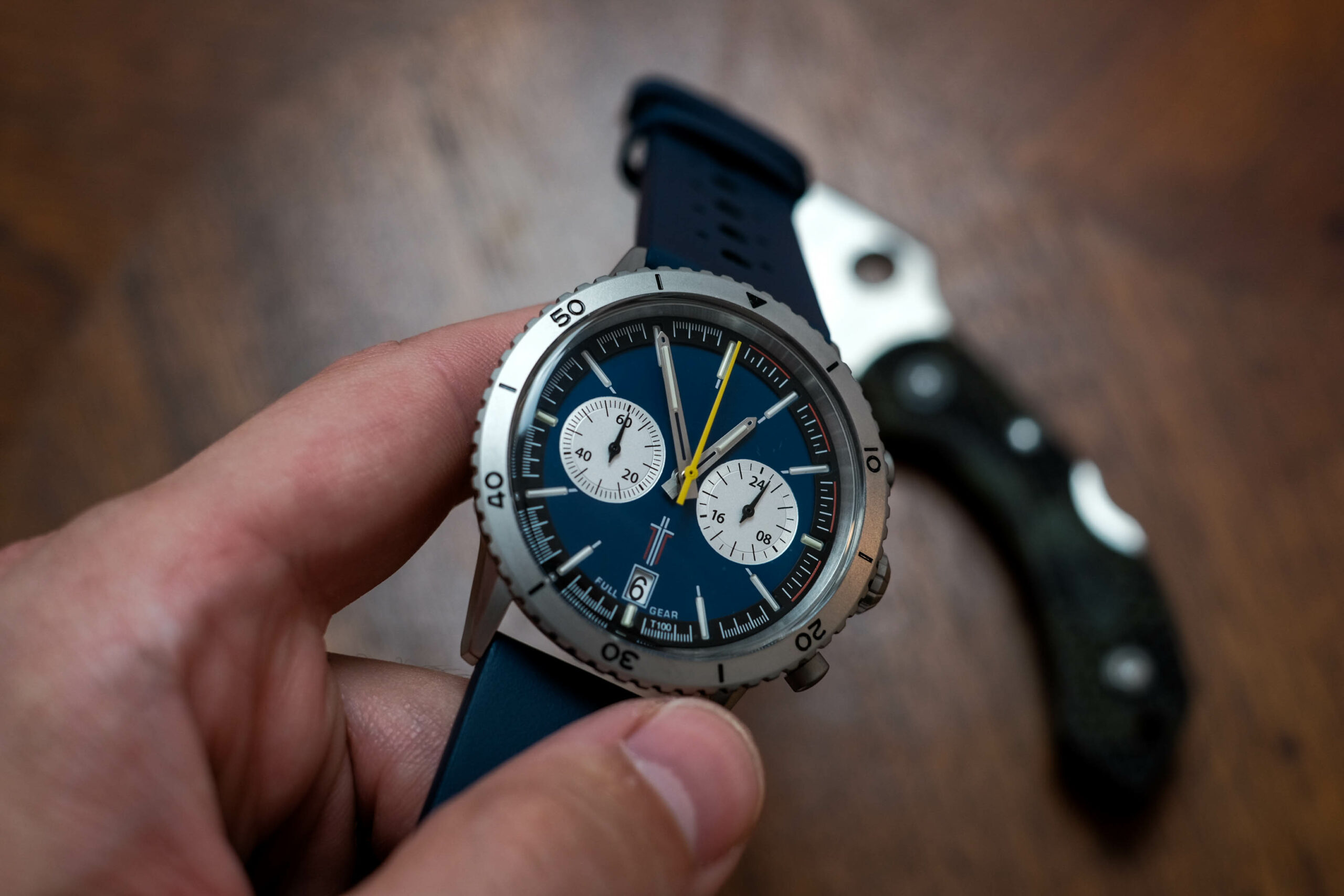 One last thing I should highlight is that FullGear uses tritium tubes in their watches instead of lume striping. Tritium is a radioactive material that's safe in small quantities, and it's popular for use in optics. Unlike lume striping, which requires periodic light exposure to "recharge," tritium tubes are always shining. On the downside, tritium disappears over time due to radioactive decay. After about 12 years, the tubes will have lost much of their brightness.
The Options
So much for what makes the Claymore the Claymore. Let's talk about what makes it your Claymore. To begin with, you get to choose the dial color. It's available in black, charcoal grey, dark green, cream, or deep blue. These are all matte tones, with a 60-second chronometer subdial at the left and a 24-hour subdial to the right. These will be black on the charcoal grey and green dials, grey on the ivory and black dials, and white on the blue dial. In addition, there's a cross emblem at 6 o'clock, positioned just above the date window. This will also be different colors depending on the dial.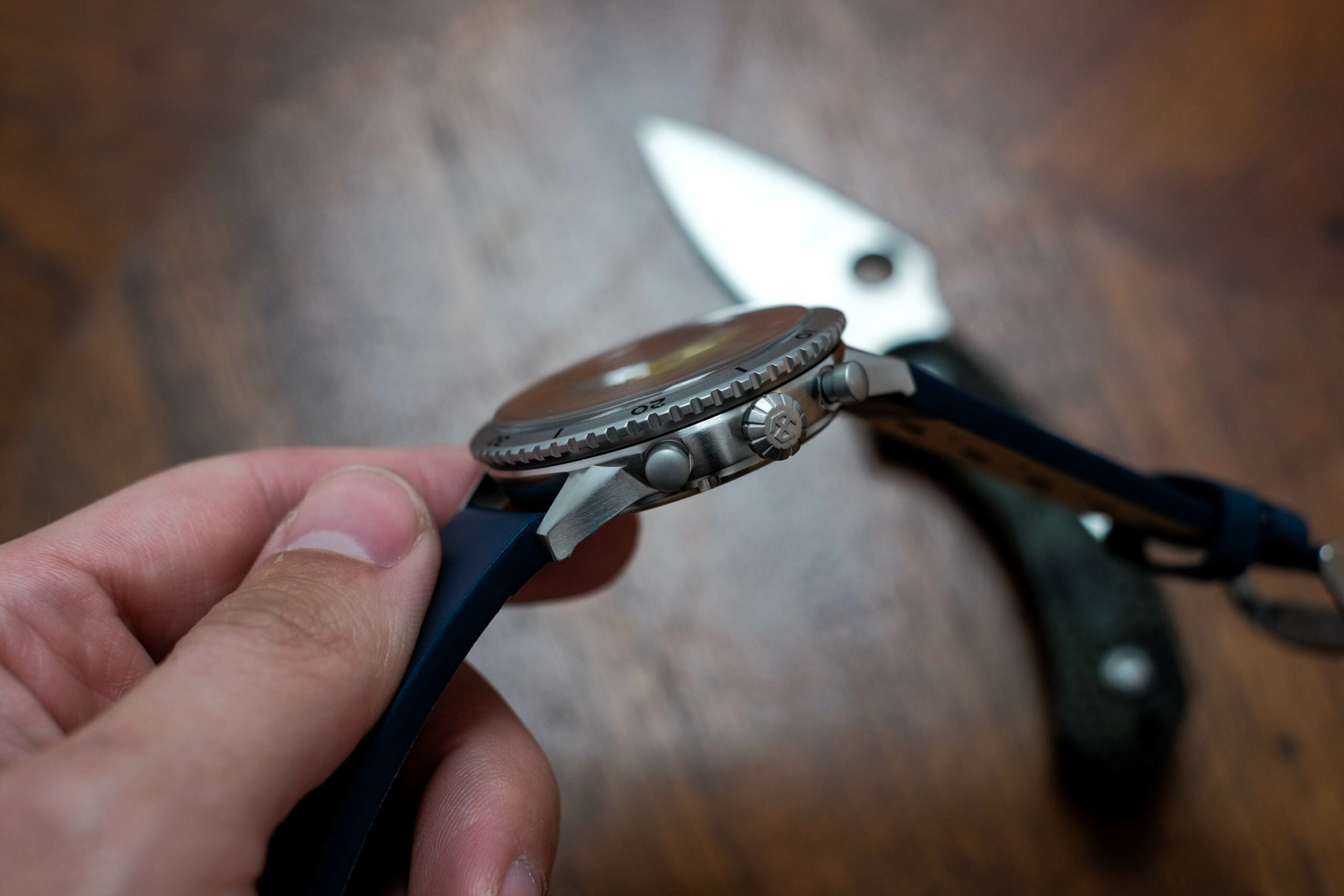 There's an outer ladder index around the circumference, with hashes at the minute marks and tiny hashes at the 0.2-second marks. At the 5-minute marks, larger tritium tubes are embedded in the surface. You can choose between a handful of colors. The hour and minute hands can be sword-shaped or spear-shaped depending on your preference, and you can choose the color of their tritium tubes. The second hand is long and slender, and is also customizable.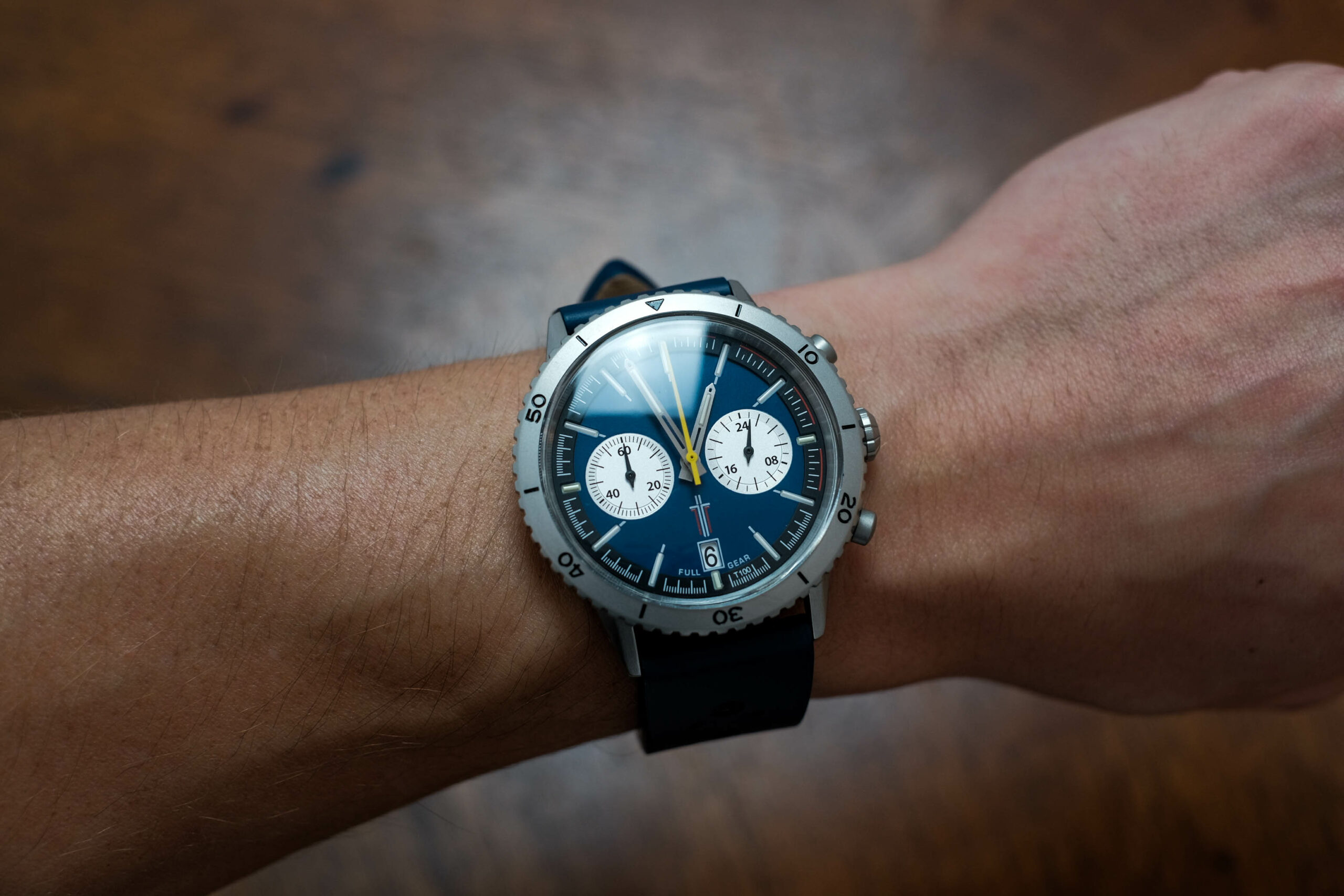 You'll have your choice of multiple colors of Italian leather, NATO, and canvas straps. You can even put a name or other short text on the dial.
More more information visit the official Fullgear website here.