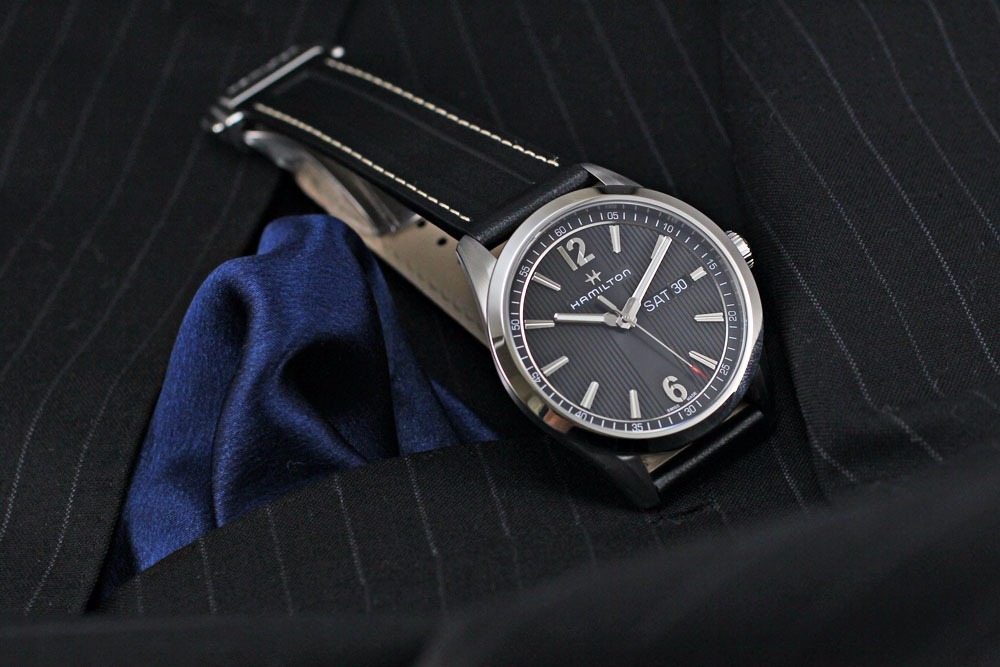 With towering stripes that stretch the length of the face to the conic drain cover design on the back, the Hamilton Broadway day date quartz H43311735 watch hits out with a sense of class and pizazz. This Broadway inspired watch gives an inspiring insight into the life of New York and looks like something you could see in a movie, and at such an attractive price you can get your own taste of Broadway staying exactly where you are.
> > > Click here to see ratings, reviews, specifications and prices on Amazon < < <
H43311735 Design
Straight away the recognizable pinstriped design grabs your attention and reminds me particularly of a 1950's gangster movie – albeit with slightly less violence and a lot more style and class. The internal design does a fantastic job of bringing focus to the stunning 40mm round case, highlighting the smooth red-tipped second hand which glides around the face.
> > > Click here to see ratings, reviews, specifications and prices on Amazon < < <
In terms of design, the H43311735 Broadway comes with the already mentioned 40mm face which is the normally accepted size these days, with people tending to show off their goods. This watch does a good job of doing that though – I appreciate the simplicity and understand the stylish aspect Hamilton are trying to achieve here. It's the type of watch people will ask you about, and considering its easy to use design, you can see why.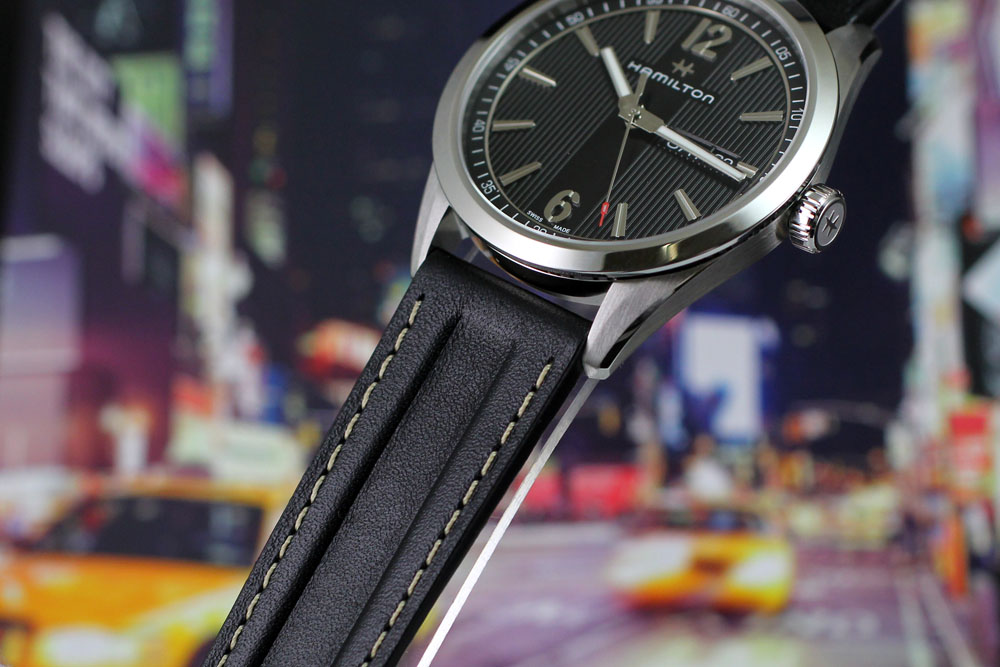 Features
For me, the date feature is something I really enjoy in a watch, and the H43311735 comes with the Day and Date feature – something which a few high-end brands still fail to add. It just adds to the simplicity and ease of use by being able to quickly glance down and be able to see what day and date it is, which – may I add, feels like a blessing with the busy lives we all lead nowadays.
By all means, this isn't the fanciest or best-polished watch ever. I do feel that the black leather strap may become easily worn if used daily and could become irritable after long periods of use. This may become a problem for some people and would struggle to pay the $400+ to become irritated by the strap. However, I do feel that the design wouldn't work as a whole without the black leather strap – I guess I am just fussy when it comes to the watches I wear.
The H43311735 – part of the Broadway collection is powered by Swiss Quartz, essentially meaning you don't have to wind the watch to get movement, and although designed like a 1950's watch, it certainly doesn't lack modern-day features. This piece has a water resistance of up to 50 meters, so it's probably best to avoid swimming with this one, although the occasional splash won't do any harm.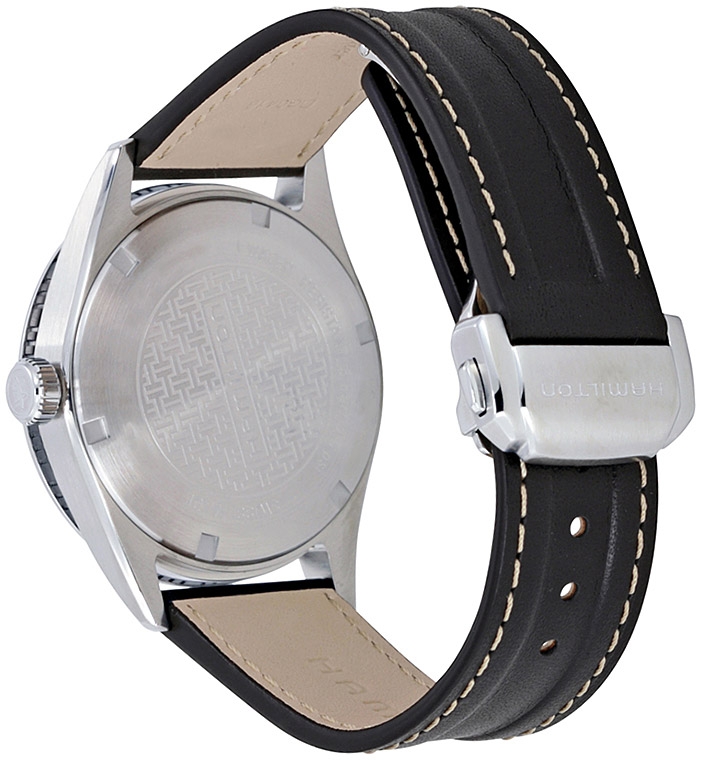 Is It For You?
As previously mentioned, the Hamilton Broadway H43311735 does seem to fall short on some areas and won't be winning any prizes for perfection. The deployment clasp, usually a handy feature to get the watch on and off easily, feels out of place and the stainless steel design stands out against the black leather strap. I would like to see something which blends in more and allows the watch to flow together.
Overall, I am impressed. It is part of the Broadway collection for a reason, and that's style. It gives working professionals a chance to continue with their busy lives whilst having a statement of style attached to their wrist. I am very keen on the pinstriped design and love how it reflects the skyscrapers in the city and of course the date and day feature which offers maximum user-friendliness. This is definitely one I will be keeping my eye on.
> > > Click here to see ratings, reviews, specifications and prices on Amazon < < <