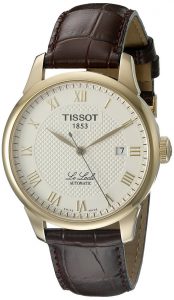 Even those without much knowledge of the luxury watch market have almost certainly heard of Tissot. Now part of the Swatch group, the brand remains at the forefront of aspirational Swiss watch design. This time, we´re reviewing one of their dress business or smart casual watches, the Tissot men's T41.5.413.73 Le Locle skeleton-back.
> > > Click here to see ratings, reviews, specifications and prices on Amazon < < <
Le Locle Automatic Movement
As expected, it comes with a reliable Mechanical movement, which is used in many of the Swatch group watches and is as accurate as can be expected at this price (worst case, +/- 15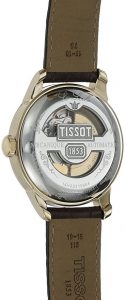 seconds p/month.) Even better, the skeleton back design on the T41.5.413.73 allows you to see the automatic movement at work too. It should be noted though that the battery life is reportedly not as extensive as other, more expensive, automatics and if you don´t wear it daily then you may wish to purchase a watch winder, or find an automatic watch with a longer power reserve. The manufacturer suggests that the watch has a 48 hour reserve, but we´ve heard reports that some customers have experienced problems after 24 hours without use, so be aware that you may need to wind it more frequently than you expect.
> > > Click here to see ratings, reviews, specifications and prices on Amazon < < <
Appealing Design
When it comes to appearance, then the watch comes into its own. The brown leather band is subtle but appealing, and the case is an attractively-tinted gold tone. Whilst the case is a little large for formal wear at 38mm, its size stops the watch being boring or plain, and it allows the textured dial and embossed Roman numeral markings to stand out. The absence of chronometers or other complications on the dial leaves the T41.5.413.73 looking clean and easy to read, and the subtle date window at the three o´clock position is well-sized and positioned. The second hand has a clean sweeping movement, and the remaining two hands have a luminous coating that makes this watch easy to use in all light conditions.
Although it should already be clear, the Le Locle T41.5.413.73 is designed as a dress watch, and so its features reflect this. There are no chronometer functions, no tachymeter, and although the watch is reportedly water resistant up to 30 meters, this essentially just makes it splash proof – keep it far away from any extensive or frequent exposure to water. It does, however, have anti-glare sapphire glass coating, so it should remain scratch resistant and easy to read for many years.
Excellent For Smart – Formal Wear
In short, we think this is an attractive formal watch, and one that is also ideal as a first watch or as a gift because it has a timeless appearance and reliable mechanics. As noted, the case is slightly large for very formal occasions, but large cases are currently fashionable and this size may soon become the new normal. What it is not, is a watch designed to sustain regular knocks or extensive outdoor activities, so bear this in mind and consider alternatives if you need something more practical. However, the Tissot men's T41.5.413.73 Le Locle skeleton-back watch is a nice choice if you are looking for a classic design that will not go out of fashion.
> > > Click here to see ratings, reviews, specifications and prices on Amazon < < <