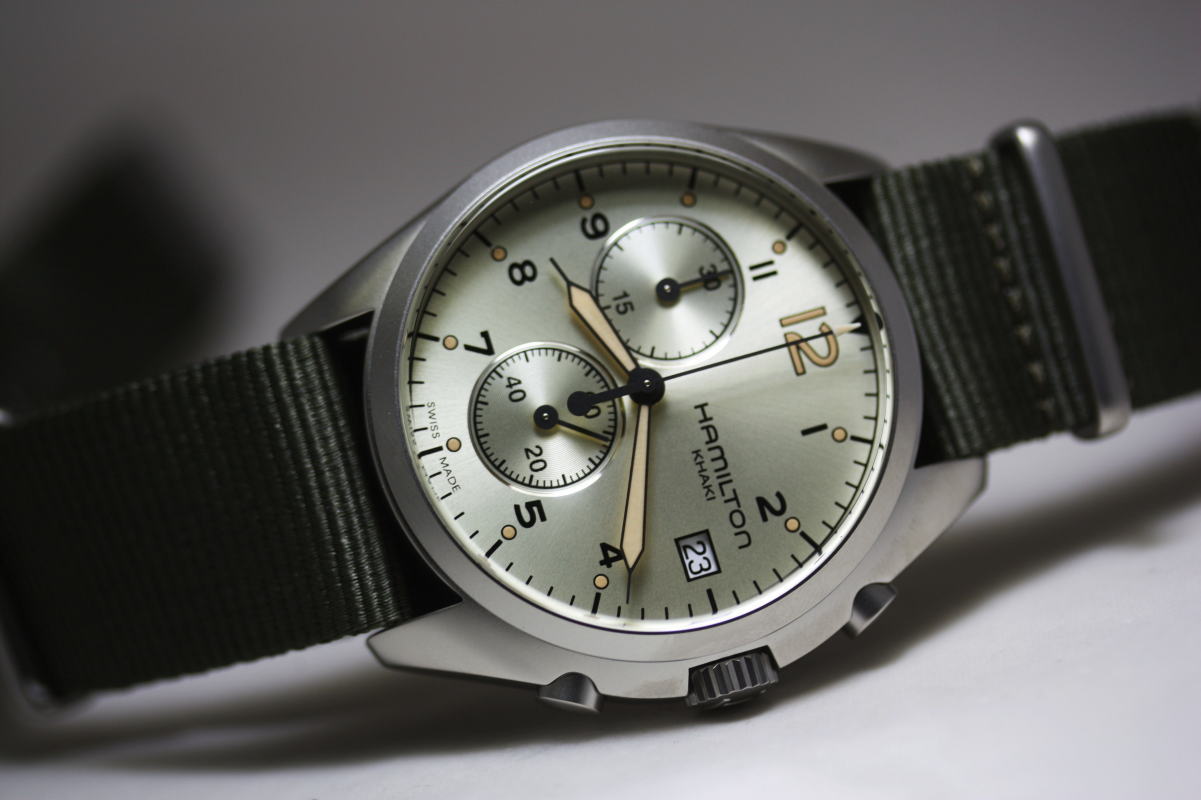 Having its foot in the aviation watch industry for over a decade, Hamilton has had plenty of inspiration to draw from when creating its Pilot Pioneer Chrono collection. Today we're shining the spotlight on the Hamilton H76552955 Pilot Pioneer, a more easily attainable Quartz chronograph in a classic aviator style that aims to revive the brand's timepieces created for the British Royal Airforce in the 70's. With its extensive military heritage at a modest price, this masculine timepiece is a collectible item while also being a daily wearer.
With examples going under $300 spanking new, this model is an affordable version of its Pilot Pioneer Automatic brother, mainly because of its inferior movement. However, that is not to say this model doesn't offer plenty of design and utility benefits that easily justify its price. In this price range, you will hardly find a chronograph of better build quality and with more history.
> > > Click here to see ratings, reviews, specifications and prices on Amazon < < <
Detailed Design
The dial on this watch features a spacious, simplistic design in a faded silver color. The round, stainless-steel case appears rather large on a wrist at its 41mm diameter, but this is to be expected from any military-styled watch. Also, the increased dial size means more space around the sub-dials and other elements on its surface. The sub-dials themselves are placed differently from their costly companions in the automatic collection. We don't quite fancy this unconventional positioning as it feels more awkward than innovative. Still, they do a great job in displaying and tracking 60 seconds and 30 minutes.
The Dial
The hands on the H76552955 are a complete U-turn from the original 70's design. Both the minute and hour hands have been completely changed to feature a Roman sword design with elongated tips for improved readability. The new hands design definitely strikes the right chords with their swords, unlike the old one which, frankly, felt rather disproportionate. On the plus side, the date display window is positioned at 3 o'clock where it should be (unlike the automatic version that has it at 4 o'clock) and features a simple day complication in a rectangular box.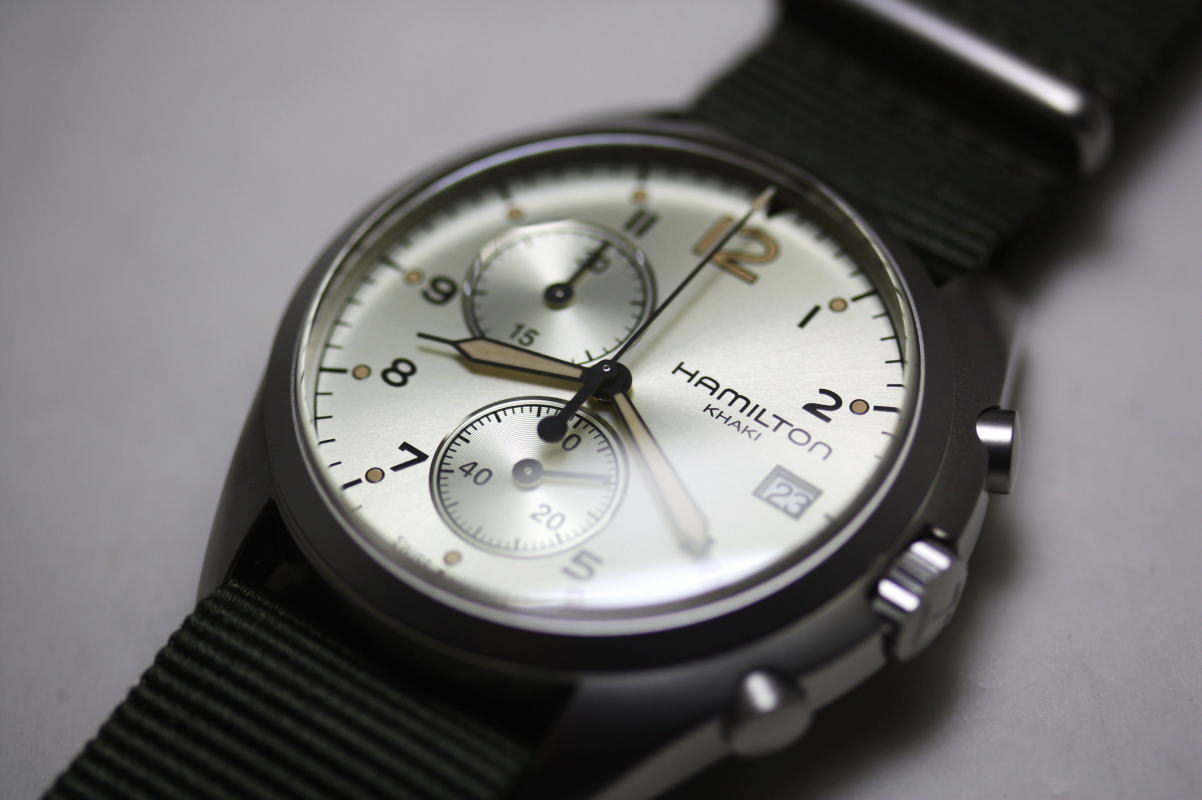 > > > Click here to see ratings, reviews, specifications and prices on Amazon < < <
The inside of the hands is painted in the emblematic khaki color, just like the inside of the 12 o'clock and the round indexes stretching around the outer trim. Other Arabic numbers are black and easily legible, with all numbers but 3, 6, and 10 on the face. A fixed, stainless-steel bezel with an H-engraved crown and two buttons encapsulates the dial quite stylishly and gives the watch that chunky, classic look.
Case-Back
On the back, an engraved circular inscription points out the watch is water-resistant to 100m and is guarded by a scratch-resistant sapphire crystal. Besides the notation there is nothing on the blank silver plate. You will also find references to the material of the case, country of creation and model number.
High-Quality Strap
The NATO canvas strap on this particular model comes in the military-favorite olive green and is a true classic. Hamilton could have just gone and picked up one of the popular strap models off the shelf, but they went above and beyond to design their own strap. And it is safe to say it not only looks appealing on its own but works perfectly with the dial design.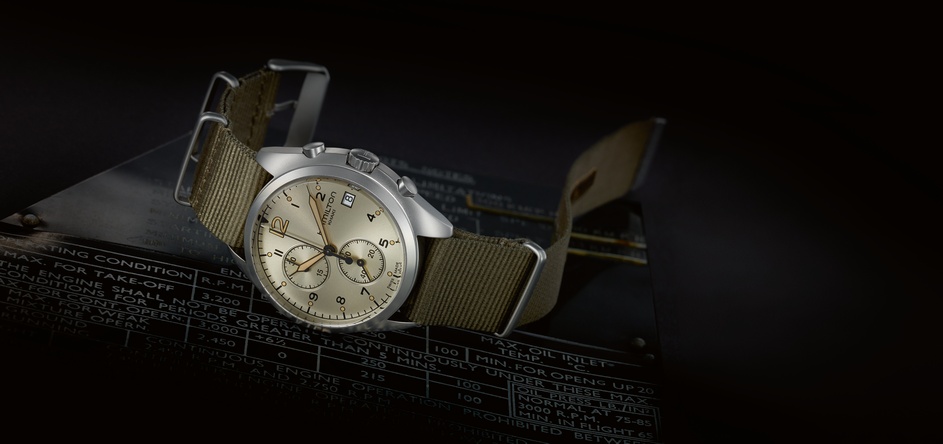 You can tell that the strap was built with longevity in mind. In efforts to reduce wear and tear in that area, an extra layer is added to the strip where holes are placed. Also, a metal end piece is placed on the strap to prevent rubbing and the engraved metal ring is finished in a bead blasted brush. This blasting technique produces a much more polished finish than sandblasting which has a coarser feel. The amount of detail Hamilton has put into it is astounding. With so many cheap NATO straps out there, this is a rare sight.
H76552955 Movement
Powered by Quartz movement, the H76552955 is quite precise and requires low maintenance. Expect to change your battery on the Pilot Pioneer once in every three to five years.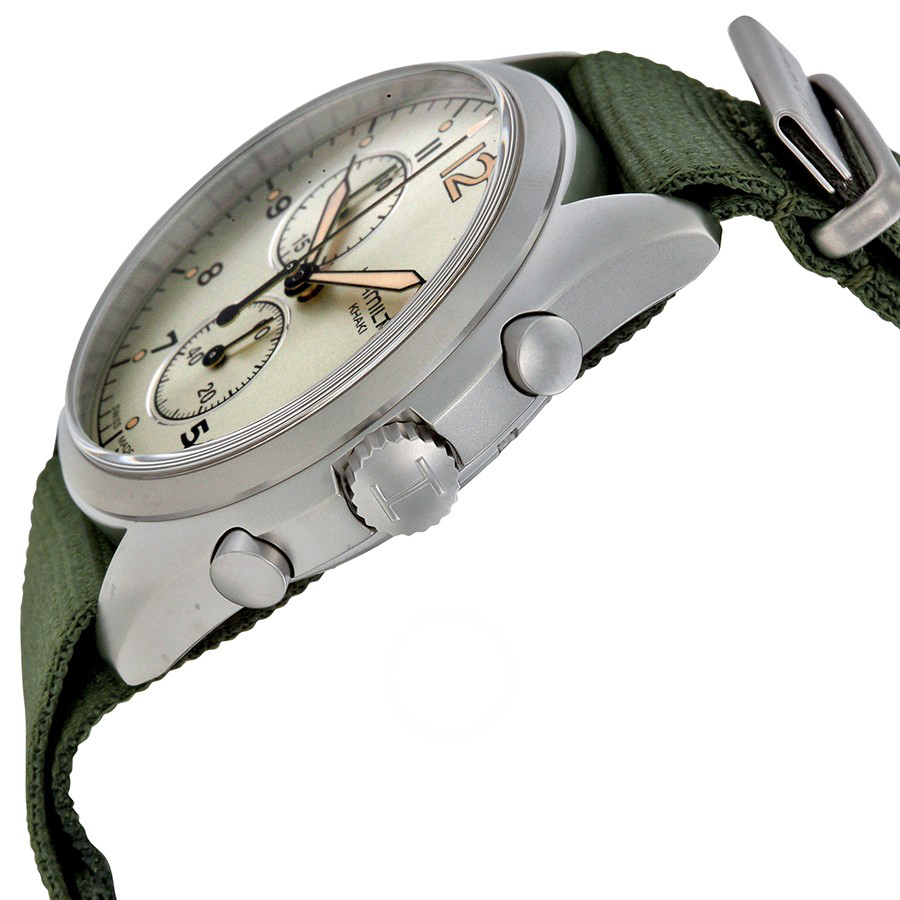 While it's great to have a watch that requires little to no maintenance and keeps time reliably, automatic watches are still far more desirable due to the craftsmanship factor involved. Therefore the automatic versions of the Pilot Pioneer are deemed more intricate and consequently more desirable.
Final Thoughts
To sum up, you don't wear the Pilot Pioneer to necessarily make a statement but to know you're wearing a piece of history that has been reconstructed to the finest detail. Yes, it is powered by Quartz rather than an automatic movement, but this accounts for a far lower price than its automatic peers, who feature an eye-stinging date display which this model has in a much subtler design. If you're excited about an idea of a Swiss-made chronograph at an economical price, Hamilton H76552955 is the one for you.
> > > Click here to see ratings, reviews, specifications and prices on Amazon < < <