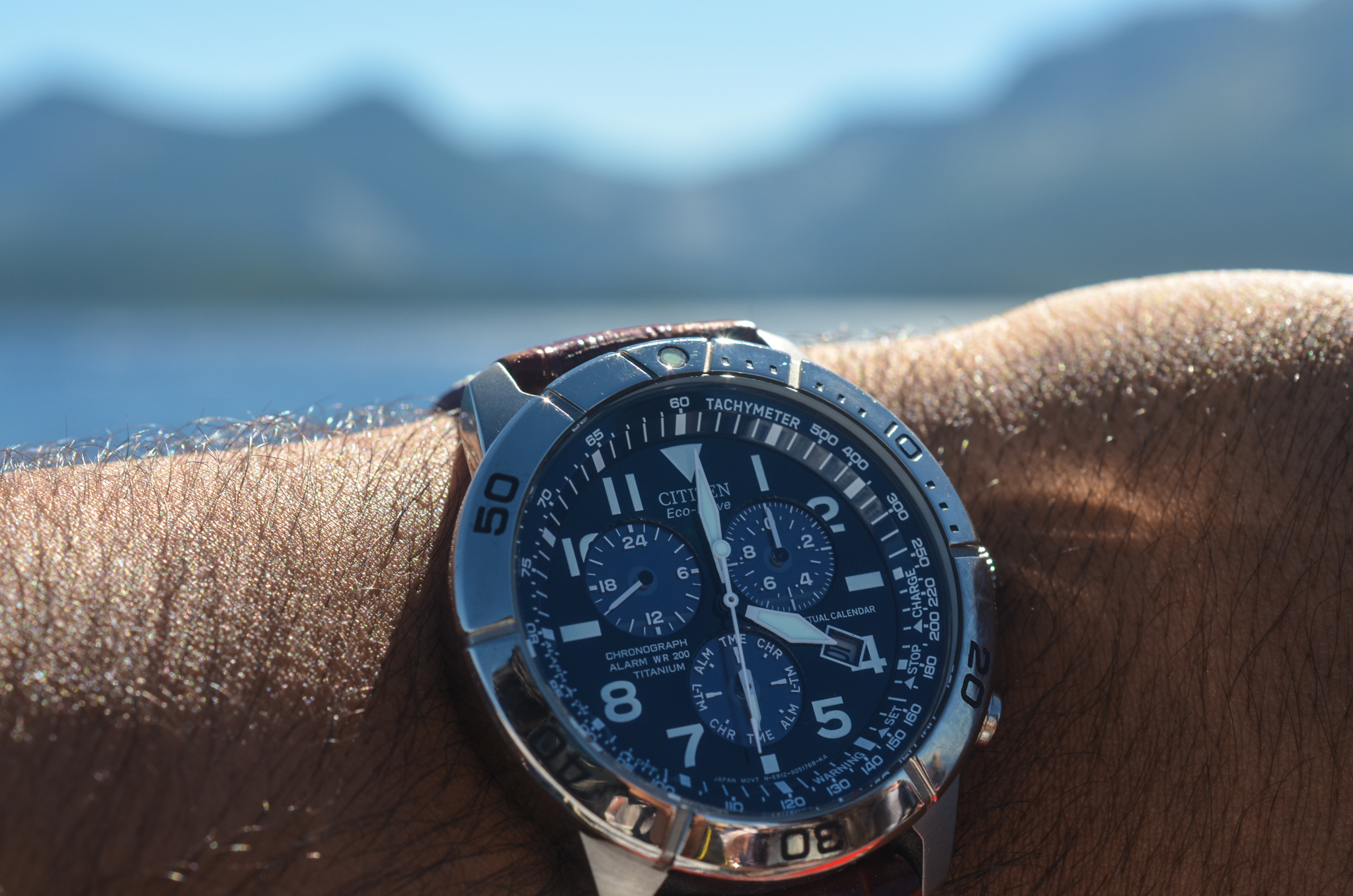 The watches within Citizen's Eco-Drive range have been built with all of the best elements and while the prices vary greatly you can easily purchase a classic, sophisticated watch for around $100 to $200. If you're looking for a watch that is fully loaded with functions, then you will need to pay more. This range caters to most budgets and their watches go up to around the $1500 mark.
The higher priced models are jam packed with features such as light level indicators, power saving function, alarm, chronographs and insufficient charge warning. The appearance is also improved upwards from the middle-priced models and are much more stylish.
The entire Eco-Drive range comes with a 6 month power reserve and solar powered technology. Regardless of whether the light is natural or artificial, it will convert the light into energy and keep your watch charged. A timeless watch that never needs a battery!
Lower-End Prices
The lower end of this range starts as low as $109 and while these priced watches may not be the most stylish, you cannot dispute that they are decent and will look good on any wearers wrist. These solar powered watches are typically around 36mm with gold or silver toned stainless steel casings and a leather strap with a standard buckle. If appearance is important you, you may not want a leather strap. As you start creeping up to the $149 mark, this is where the stainless steel bracelets begin.
The dials in this price range offer varying markers and a Japanese movement (E110 or E111). Of course, the low price reflects the type of crystal and here you are looking at mineral crystal. Although it is the cheaper option it does have one benefit over plastic crystals – when it takes a blow, it wont scratch as easily.
But how do these lower priced models measure up with performance? The water resistance may not be the greatest but it holds a 6 month power reserve, 3 hands and day-date indicator. A classic watch that offers practicality in its simplest form, everything you need without the fuss.
Middle and Top End
Citizens Eco-Drive middle range starts at around $845. If you are able to pay around $1000 for a watch then you will get all the added functions that offer a better performance level. For this price range, you will be loaded with a Power Reserve Indicator which allows the wearer to be notified of the charge level, Perpetual Calendar, Power Saving Function, Time Adjustment for around 40 time zones and better Water Resistance up to 333 feet.
The highest priced Eco-Drive watch is $1495 and the functions make the price worthwhile, as long as you will make use of them. For this price you will purchase a watch with the world's fastest signal speed (as quick as 3 seconds), an alarm, bezel with DLC (diamond like coating), two chronographs and doubled water resistance of up to 667 feet.
There is also a significant difference in terms of style. The middle to higher priced models deliver more on appearance and the casing is typically around 44mm. With all of those functions the dials can be somewhat overwhelming but as soon as you have learnt what everything does, the clock face becomes much more readable.
The more expensive models will include sapphire crystal over the cheaper mineral crystal. Sapphire crystals are much more desirable as they are scratch resistant and will only shatter under incredible impact.
Other notable differences are the movements and straps. When you splash out on the Eco-Drive range you will get more options with their Japanese movements and a stainless steel bracelet with double locking clasp rather than a standard buckle.