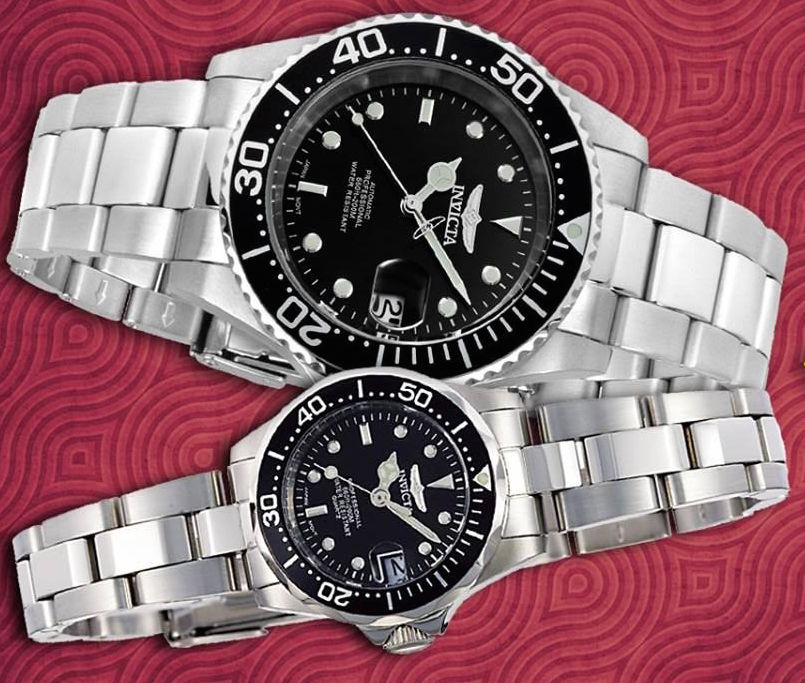 It's all about the beauty and style in watches today. Gone are the days of the traditional, rugged looking timepieces to be replaced by their technologically advanced siblings, bringing to life a new era in watchmaking.
Invicta is well known for producing extravagant and well-polished watches giving users the best of both worlds in terms of high-quality design and affordability. The Invicta Women's 8939 Pro Diver watch brings a traditional looking piece into the modern market with its slim lined design and useful built-in features, making it a popular choice.
> > > Click here to see ratings, reviews, specifications and prices on Amazon < < <
8939 Fashion Design
The silver-toned Invicta 8939 is covered in stainless steel, the obvious option, however, it gives the watch a sense of stability and durability, exactly what you need when using it for everyday life. The face is a little on the small side but still packs a punch in terms of its design and ability. The 25mm case encloses the black bezel which looks great and easy to read. The logo inspired hands are a nice little feature and show the thought that has gone into the 8939 Invicta, showing that every little detail matters. There is also a handy date window with a magnifier, always useful when you need to quickly see the date.
> > > Click here to see ratings, reviews, specifications and prices on Amazon < < <
This Pro Diver watch is powered by Japanese Quartz Movement, probably the best choice in terms of accuracy and pinpoint precision when telling the time. Japanese Quartz has managed to out rival that of the traditional Swiss movement and gives users a high quality and extremely accurate timepiece.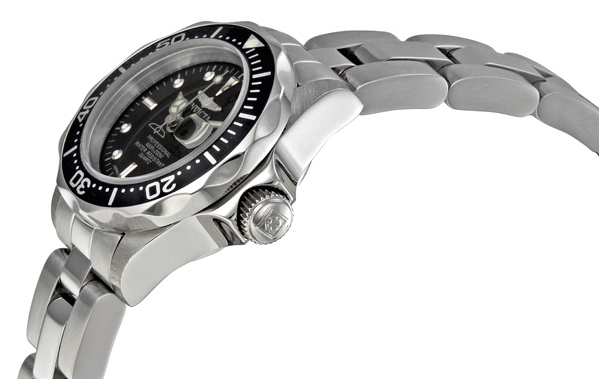 Features and Diving Capabilities
I suppose I better get to the exciting part and explain why the 8939 is in the Pro Diver Collection. Well, believe it or not, this piece has an excellent water resistance feature. It is capable of withstanding water to the depths of 200m or 660ft and is ideal for professional water activities and swimming. Although it is part of the Pro Diver Collection, this exact watch isn't suitable for diving any deeper and is certainly not recommended for going scuba diving. Perhaps a little misleading within its name, but nonetheless a watch that is more than useful to use in the water.
Alongside its water resistance feature, the Invicta 8939 has a trick up its sleeve. It has a shock resistant feature, meaning that you won't have to panic too much if you accidentally bash it or knock it against something during the day. I think this is a great feature and it's useful for those with a busy life with not much time to think about the well-being of their watch at all times.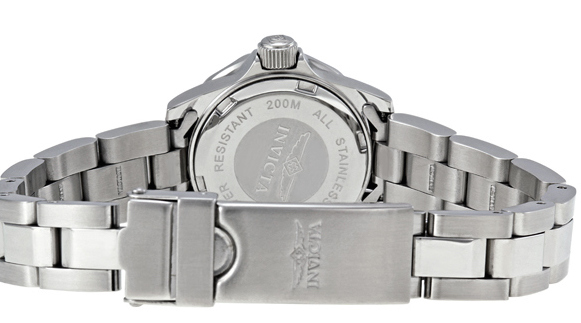 Is it for you?
Overall, the 8939 is sleek, modern and has some great features I wouldn't normally expect to see from a watch within this price range. Being part of the Pro Diver Collection I would have expected a higher water resistance, however, for the everyday user, reaching the depths of 660ft will be more than enough and therefore water shouldn't be an issue with this watch.
The Invicta 8939 Pro Diver, gives women the chance to look stylish and trendy with the stainless steel design. The 12 mm thick band feels comfortable enough on the wrist and weighing only 2 pounds it won't cause any hassle when using it every day.
With an attractive price, this piece is perfect for anyone looking for a simple and easy to use the watch and even better for those with an interest in water activities. It brings together all the great components of a simple watch and steps it up a notch.
> > > Click here to see ratings, reviews, specifications and prices on Amazon < < <