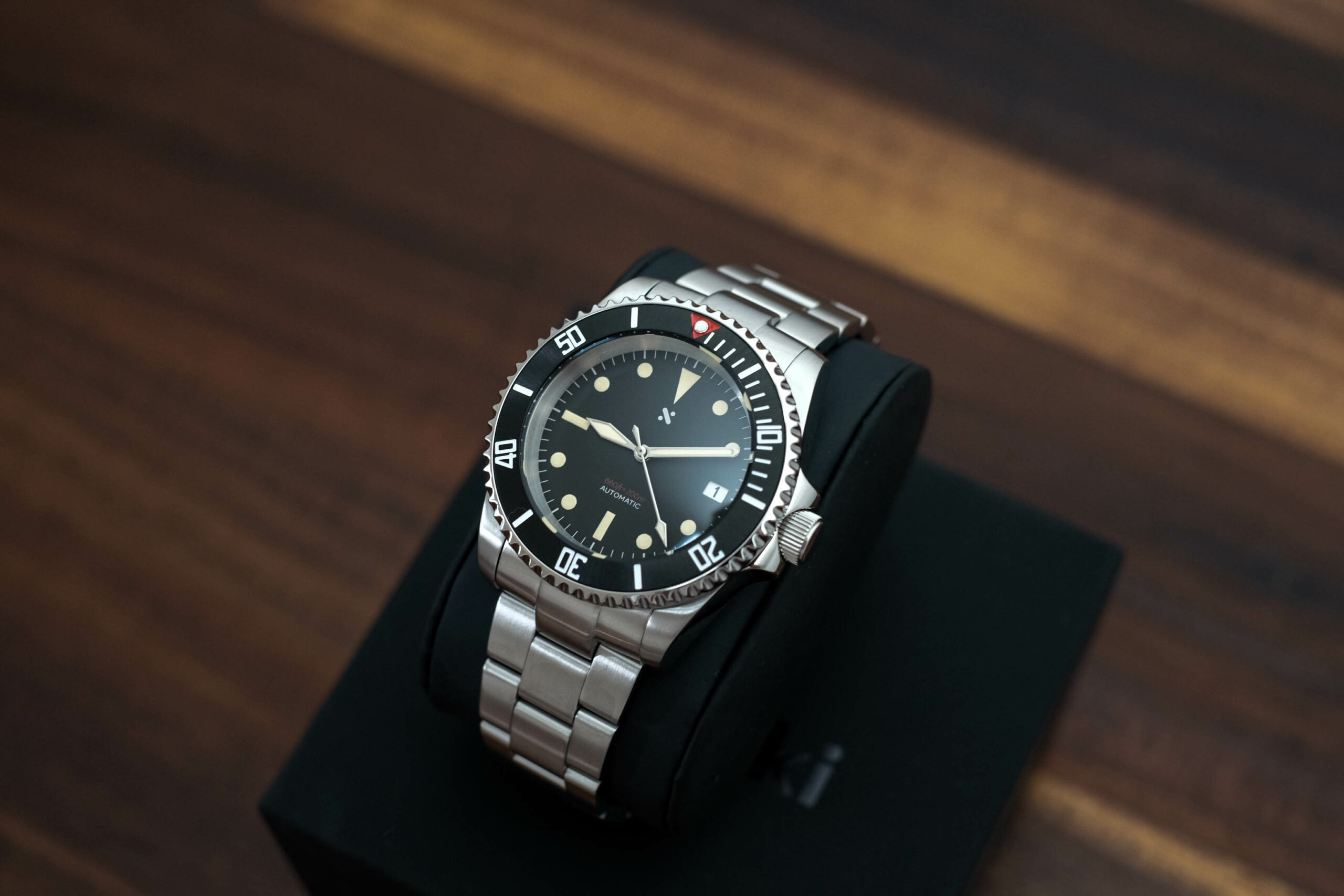 If you're looking for a timepiece that combines iconic design with modern functionality, and you enjoy customizing – then the Namoki NMK05 could well be the perfect watch for you. Made by namokiMODS, they are a company passionate about watches which include the ability for modding and customization.
This Namoki Vintage Sub offers a delightful blend of visual aesthetics that are sure to get plenty of compliments and envious gazes. Join us as we look a little closer at this stunning watch, along with the company that makes it.
Who are namokiMODS?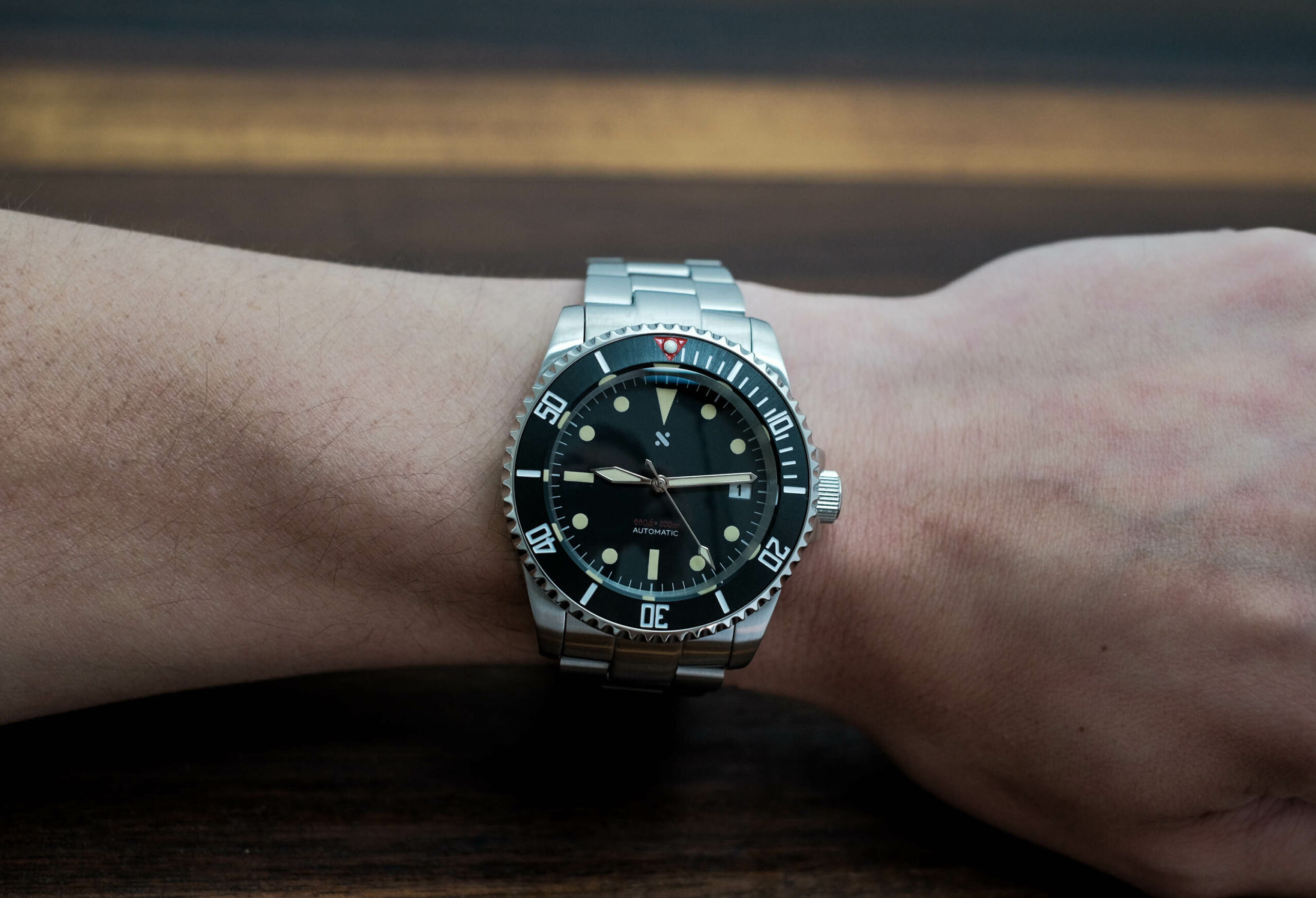 namokiMODS is a company not much different from many others out there. It was started by two friends who shared a mutual love of both beer and watches but it was the latter that led to the spark of a business idea.
Frustrated at the lack of modifications that could be made to traditional watches, they wanted to do something a little different. They decided to head full-steam into a joint venture which was all about beautiful timepieces and watch modding.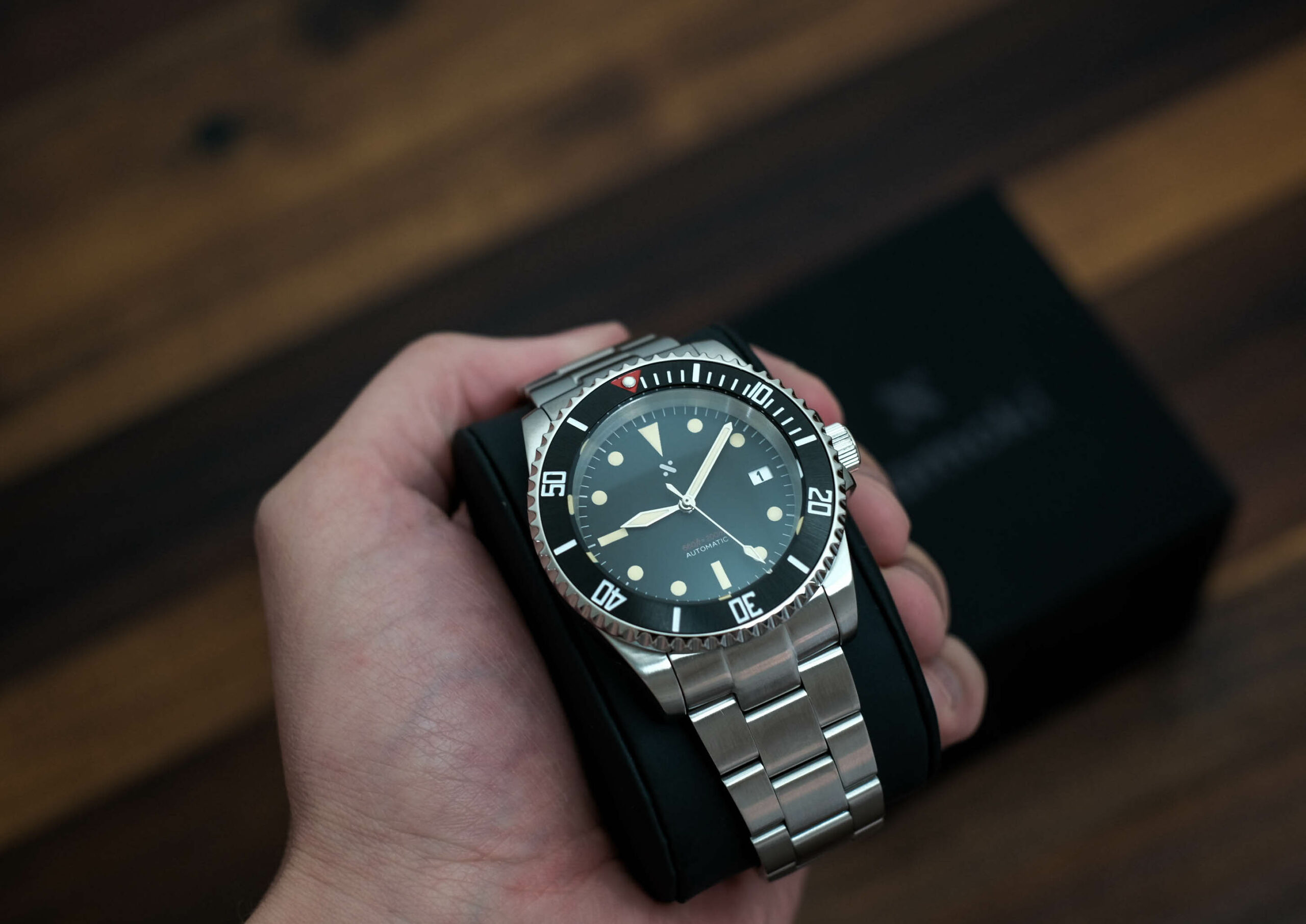 namokiMODS was soon born with the goal of not only making watches that could be modded but also making the process as simple as possible. The Namoki NMK05, a nod to the original Rolex Submariner, is one of many watches that proves they were right to chase their dream.
Namoki NMK05 Automatic Specs and Dimensions
As you may have guessed, the Namoki NMK05 is a watch that can be customized but the standard watch that you get is a stunning one. Let's have a look at all the features it has.
40mm Brushed/Polished Submariner SKX Case – The case design exudes a beautiful blend of both brushed and polished finishes, giving the watch both a sophisticated yet rugged appearance.
Clear AR Double-domed Sapphire Crystal – The domed crystal not only enhances the vintage appeal but also adds a touch of elegance. Its anti-reflective coating ensures excellent legibility and reduces glare.
NH35A from SII Hacking and Winding Movement – This reliable movement provides accurate timekeeping and allows for manual winding and hacking, offering convenience and precision.
Red T Sub Steel Bezel Insert – The inclusion of a red triangle on the black Submariner-style bezel insert pays homage to vintage dive watches, adding a classical touch.
Brushed Oyster Bracelet – The bracelet perfectly complements the case design and, most importantly, feels both secure and comfortable on your wrist.
As for its specification, the watch has a 40mm Case Diameter, 47.5mm Lug to Lug Diameter, 22mm Lug Width, and 16mm Thickness. That case height is quite high, which helps to give the watch an authoritative presence. And added to those specs, it's also water resistant to 200 meters.
Build Quality and Functionality
So, now we know all the facts, what are our thoughts on the Namoki NMK05? As one of the few customizable watches we've reviewed, we're quite impressed with it.
What we loved about the NMK05 was the attention to detail along with its overall build quality. Even though it can be modded, the crown, case, and bezel all have excellent workmanship. You can tell this comes from a company that has a passion for watches. They understand their clientele are most likely watch enthusiasts who appreciate the details.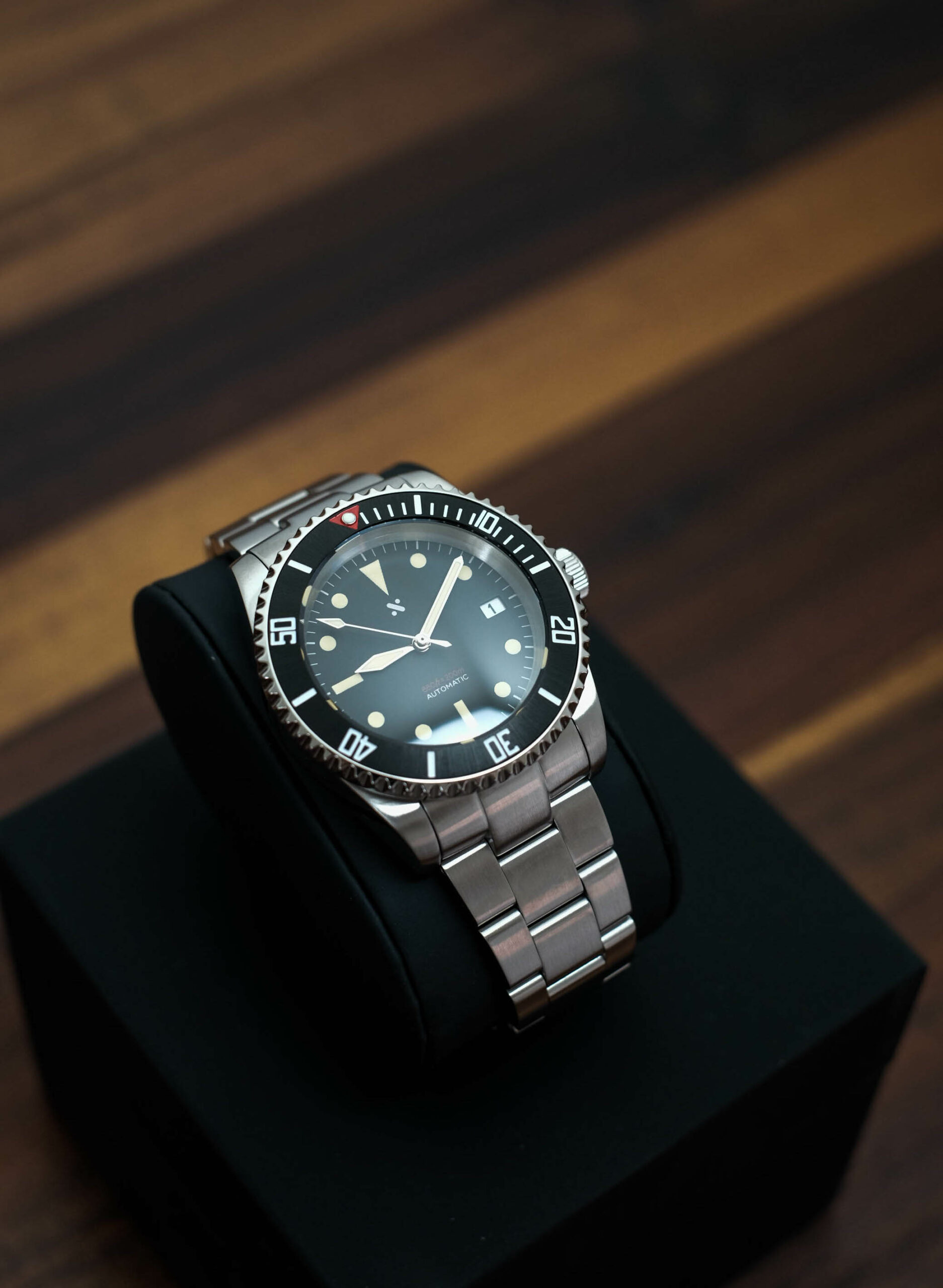 There is a fine line between being inspired and imitation, but this Namoki watch does it perfectly. You get nods to the classic Submariner with the likes of the red triangle on the dial, but this is very much still its own timepiece.
While we didn't see much of an issue, some owners have noted that the movement feels slightly loose when manipulating the crown. However, with this watch's affordable price point this is to be expected on a small fraction of production watches, and the beauty of Namoki is that you can always upgrade it.
The standout feature of the NMK05 has got to be the domed crystal. It does its main job of making the dial as legible as possible but has the added benefit of an elegant appearance as it plays beautifully with the light to add depth and retro character. The domes crystal is done well, and is what gives this watch it's nostalgic vibe when combined with the rest of the Submariner like aesthetic.
Versatility
A great selling point of this watch is its sporty versatility. It will compliment a wide range of styles whether you're heading off to a fancy dress-up event or something much more casual. Its classic style is going to be a perfect fit for any occasion in the same way that the Submariner has always been.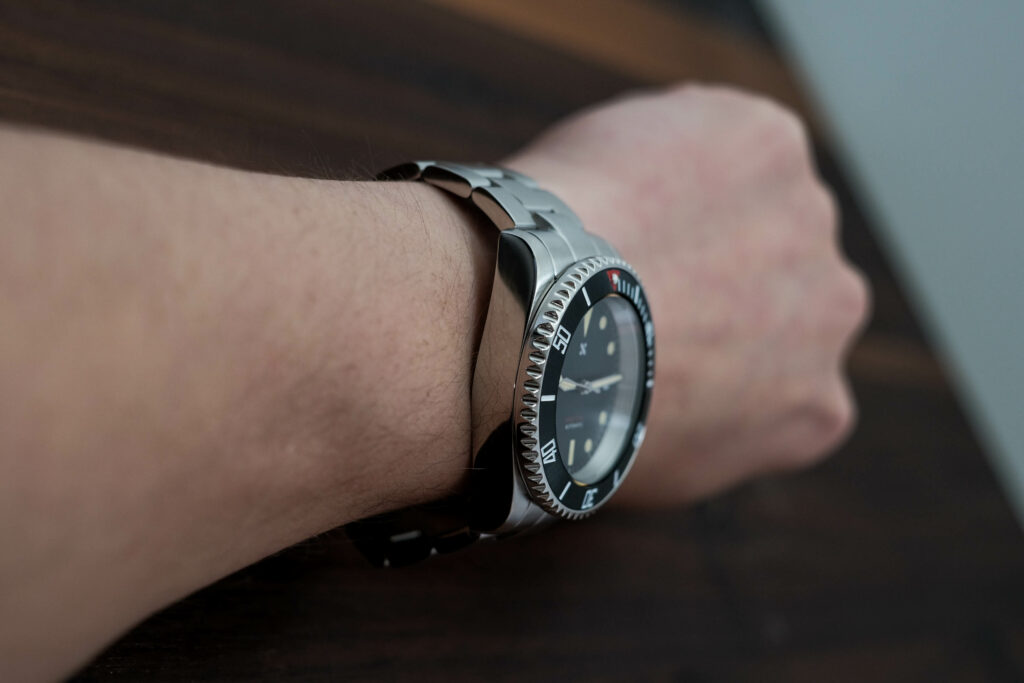 Due to the high case height, it's a watch that immediately grabs the eye. This one aspect is the largest difference from the original Sub, which happens to be quite slim due to the slimmer movement. The Namoki Sub has a strong presence on your wrist so if you were hoping for something subtle, you'll need to look elsewhere. That being said, it doesn't look garish or too showy.
Namoki NMK05 – Final Thoughts
The build quality of this Namoki is great considering the cost. It's ideal for those looking for a luxury watch without a luxury price tag. There is plenty of attention to detail here along with its quality craftsmanship.
That, added to its versatility, makes this a fairly desirable watch, especially for those excited at the prospect of being able to customize their own timepiece. Overall this well-crafted watch is highly recommended for those who love vintage divers but with a modern twist.
For more information you can visit the official Namoki website here.