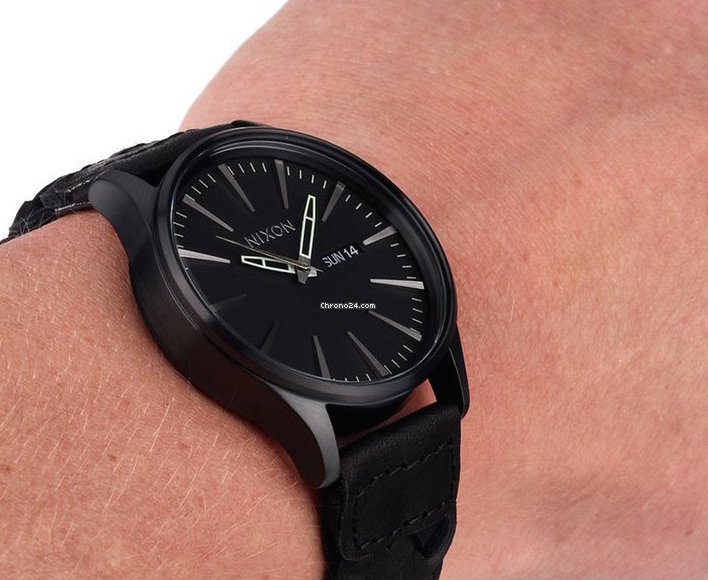 The first thing that struck me about the A105 is its simplicity. There is a quiet confidence that emanates from this timepiece. It isn't loud. It doesn't consciously seek to grab eyeballs. But it still manages to do so due to its understated elegance. And that is precisely what is appealing about this watch. Depending on the social events or functions you're going to be wearing this watch for, you can make an impact.
> > > Click here to see ratings, reviews, specifications and prices on Amazon < < <
Casual fashion watch
There's casual. And there's casual. When it comes to watch designs, one of the most abused categories or design designations is 'casual.' I can't say I blame watch brands, both large and small, for their eagerness to throw the term 'casual' around. After all, it is a catch-all term that covers a wide range of fashion, event, and lifestyle settings. You will need a casual watch if you're at a low key or ordinary meeting. Similarly, you'll need a casual watch if you're in a study hall or even doing very light exercise. There are just so many contexts covered by the term 'casual.' Accordingly, there's a big market for it.
Not surprisingly, watch brands have cranked out anything from aviation-style to marine watch-type models under the heading of 'casual.' Please. Of course, this mad dash for the casual watch market is enough to leave veteran watch industry observers with more than their fair share of cynicism.
I provide all this background because I am happy to report that the Nixon A105 Sentry 42mm Leather Watch truly lives up to its casual watch billing and categorization. In this particular situation, the product's description on the tin, so to speak, actually matches the product. Quite a feat considering how the 'casual' end of the men's watch market is evolving.
> > > Click here to see ratings, reviews, specifications and prices on Amazon < < <
A105 Sentry Movement Type
Let's face it, if this watch had the 'right' label, it could easily fetch twice or even three times its price. No joke. It has the 'casual watch' designation more than adequately covered. Featuring a stylish brown leather strap, classic lines, and blue accents, this watch would be quite pricey indeed. Still, Nixon has made this imported watch very affordable thanks to its quartz movement.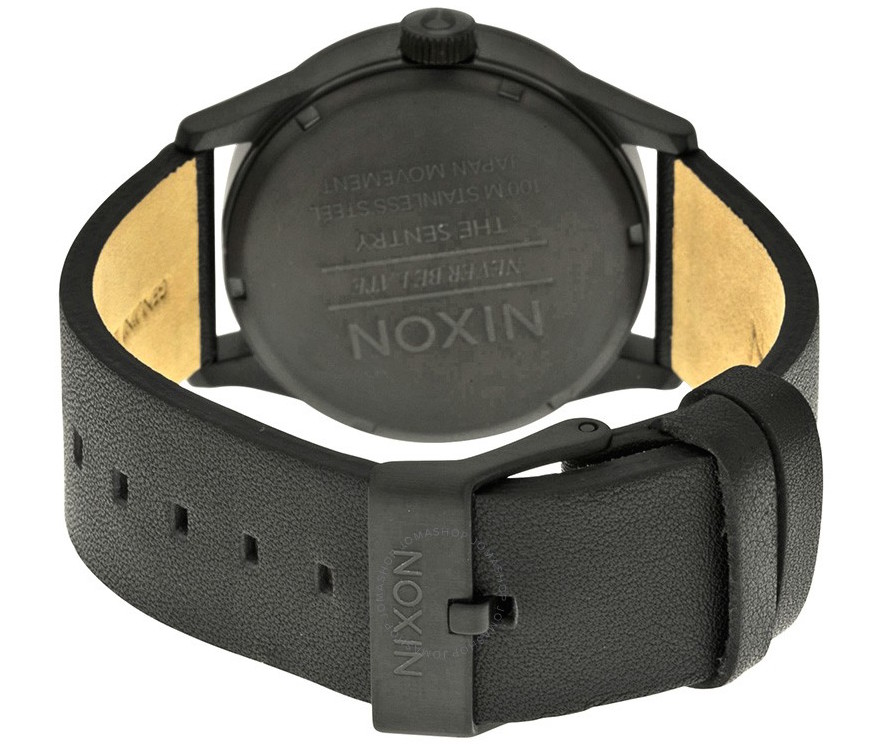 Keep in mind that the Nixon A105 Sentry doesn't feature your run-of-the-mill generic quartz movement. No, sir-it boasts of Japanese quartz. If you're kind of on the fence regarding quartz-powered watches, I really can't say I blame you. There are just too many stories of generic quartz-powered watches conking out on their owners-often at the worst times possible. Well, this model gives you quite a bit of peace of mind because it boasts of Japanese quartz. You get the low price of quartz with the quality assurance and precision of Japanese technology. Win/win, right?
Special Features: Second hand
Given this model's price and overall profile, it didn't have to feature a second hand. It could have easily gone with the typical minute and hour hand combo. But no… Nixon wants to pack this timepiece with as much value as possible. Besides, the second-hand does provide quite a bit of class. Usually, more upscale watches feature a second hand. Considering the understated elegance and quite confidence of the A105 Sentry, the second hand it features doesn't come off as 'busy' or 'trying too hard.' Indeed, it fits just right in.
Understated watch value
If you're looking to stand out from the crowd as far as your timepiece selections are concerned, you might want to consider the Nixon Men's A105 Sentry 42mm Leather Watch as your next casual watch purchase. Nixon isn't as universally known as other brands that have been around for a long time but given the value, this timepiece brings to the table, it might just be a matter of time until Nixon becomes a blockbuster brand.