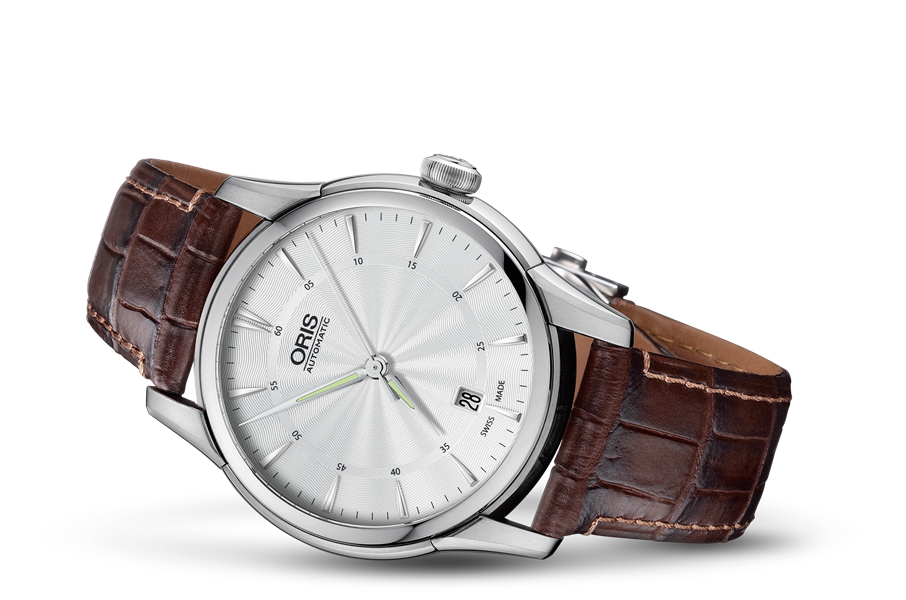 Perhaps the cleanest model of the Artlelier line is the Artelier 733-7670-4051LS Date, an elegant timepiece perfect for your everyday wear or nights out. While more popular brands who excel in dress watchmaking cost a pretty penny with prices easily stretching to $5000, this watch can be yours for under a thousand. Oris, commonly known for their popular sport's watches, is one of those brands that reminds us that a fine piece of Swiss mechanical watchmaking doesn't necessarily come with a hefty price tag.
The handsome Artelier Date fits beautifully on a wrist with its 40mm case and will be your best pick if you are looking for a slightly larger dress watch. Nowadays, it is considered trendy to wear larger watches as dress pieces of smaller diameters immediately make us think of the vintage watches from the 60's and 70's era. The case itself is made of stainless steel and so is the crown, with chunky lugs and bezels making the watch a great pick for anyone looking for that masculine edge on their timepiece. The watch is fastened with a dark brown leather strap which features a luxurious alligator pattern and a foldable clasp.
> > > Click here to see ratings, reviews, specifications and prices on Amazon < < <
The Design
Under the domed sapphire glass with reflective coating sits a wonderful guilloche-patterned dial, which truly is a work of art. I am a big fan of symmetric dials which are crafted to the finest detail and this design leaves no space for mistakes. The striking bulged hour markers in shiny silver polish are very legible and feature a pointy design. There are also printed minute markers in between that do a good job in matching the color. Everything on the dial is so assertive and sharp it almost seems as if the face of a watch is caged in a curved crystal to prevent you from cutting your fingers on any of the elements.
The Dial and the Back
The silver luminescent dauphine hands bring out that nice classic look in the watch and keep the time precisely due to the watch's quite unique 733 caliber. More on that later. The hands are filled with Superluminova C3, which is a popular pick among many brands which try to enhance their pieces with an extra legibility feature. The paint acts as a battery storage by absorbing the light during the day and then emitting it gradually in dark conditions. The great thing about the C3 is that it doesn't lose any of its properties as it ages. Also, it is chargeable by both the sunlight and artificial light.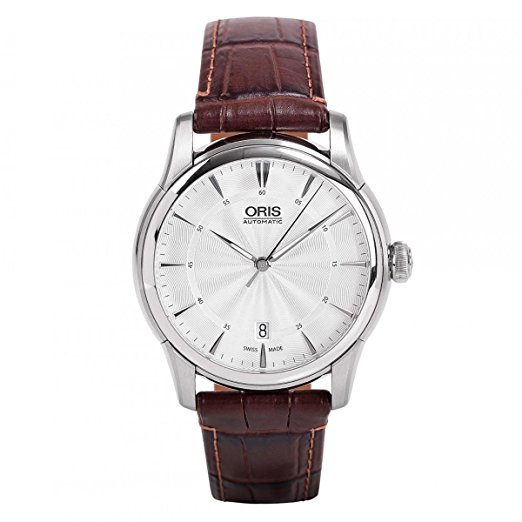 > > > Click here to see ratings, reviews, specifications and prices on Amazon < < <
On the wavy engraving of the watch's face is a circular collection of Arabic numbers referring to the minutes relevant to their position. Personally, I consider this detail unnecessary, but I admit it does break the guilloche pattern nicely giving it a bit of dynamic. Also, on the dial surface you will find an 'Oris Automatic' inscription and a Swiss-made reference. There are no complications as I feel should be the case with any watch apart form the recognizable and classy date complication featuring a day function in a vertical square. This adds symmetry to the Artelier 733-7670-4051LS and you'll find it on many other Oris dress dials.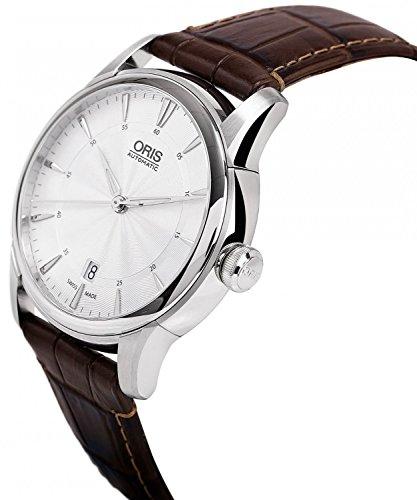 On the back is a transparent plate with a distinct red rotor and the model's material and features. I'm a sucker for watches that let you have a glimpse into the workings of a mechanism, especially when it's a Swiss-made automatic.
Artelier SW200 Movement
The mechanical movement that powers the Date is the ETA's 2824 main competitor – an Oris Caliber 733. The movement is essentially a reworked SW200, a base from Sellita that Oris has added a custom rotor to.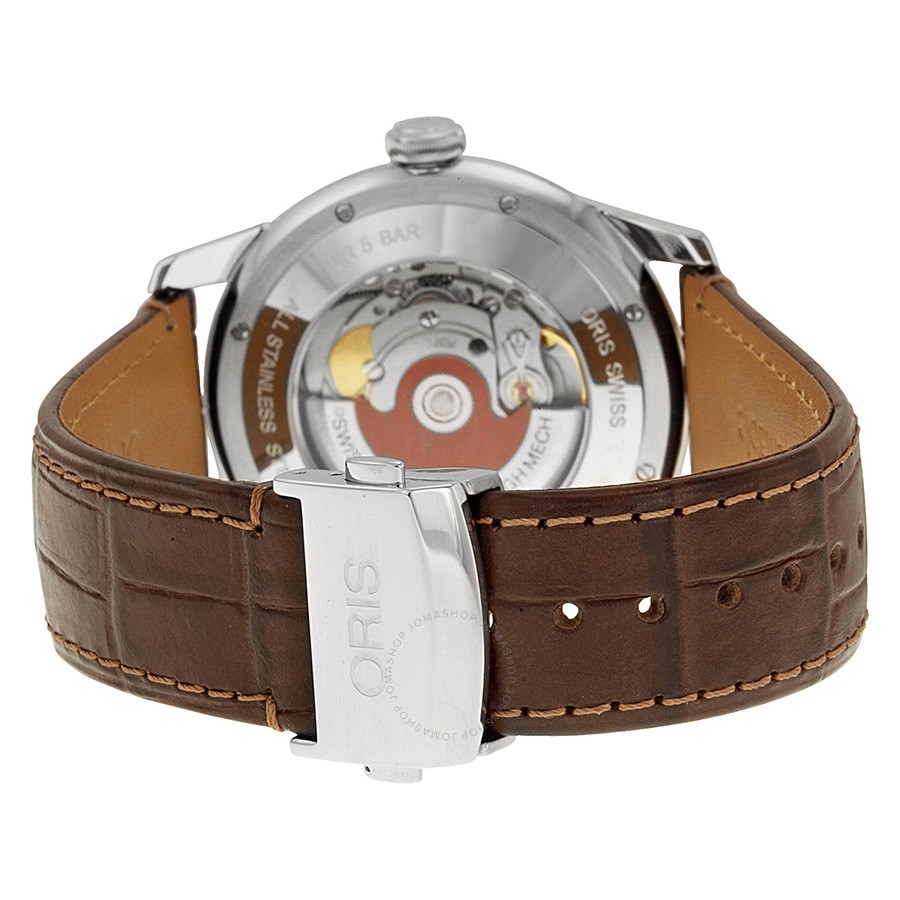 Many prominent watch brands are using it as an alternative to the ETA mechanism as it's more readily available and economical. Although it's a clone, don't for a moment think it's inferior to the original ETA. On the contrary, the results showcase otherwise – the SW200 had better timing in every position. Talk about Excellent Timing Accuracy.
The Strap
The strap this is supplied with is a dark brown leather, 21mm wide piece of luxury leather. You can't go wrong with brown on silver and the colors really compliment each other. The foldable clasp is a nice addition, too, as it means less wear and tear to the strap and less time required to put the watch on and take it off. More and more watch brands, likes of which include Tag Heuer and Tissot, are going with the foldable clasp and there are good reasons for that. Traditional buckles are not only time-consuming and less likely to cause damage to the material, but also don't hold the watch as securely on your wrist as foldable clasps do.
Final Thoughts
Oris really did a great job with the Artelier 733-7670-4051LS Date, even more so considering dress watches aren't their specialty. The case is so finely contoured that is up there with the classics and the strap is of high quality, too. Those after the mechanical timepieces will undoubtedly fall in love with the 733 caliber, an improved version of the classic ETA. From its heart to the skin, the Date is a fine piece of jewelry and a handsome addition to your collection.
> > > Click here to see ratings, reviews, specifications and prices on Amazon < < <