I imagine that wristwatches and aviation will be forever linked in some way. Ever since Louis Cartier designed a timepiece that could be worn on an aviator's wrist in 1904, there have always been a variety of aviator-style watches on the market. And it's clear why watchmakers are eager to keep the tradition alive. These watches usually make for attractive pieces that are easy to read and associate the manufacturer's products with advanced and exotic aviation machinery.
So Swiss manufacturer Oris is in good company then, as they maintain 4 collections of aviation watches. Their BC3 collection is on the more traditional and simple end of the design spectrum, compared to the other collects. These watches are styled for mostly casual and business casual settings and are offered in 16 configurations, with several choices of strap type, case finish, and dial color. We will examine the 73576414165MB variation for this review.
> > > Click here to see ratings, reviews, specifications and prices on Amazon < < <
Deep Navy Dial
The 73576414165MB 's dial is fairly straightforward, with a striking blue dial housed beneath an anti-reflective and scratch-resistant sapphire crystal. A 3-digit day window sits on top of the date window, and both are displayed in white-on-black at the 6 o'clock position. The white Arabic numerals are very large and really stand out against the dark background. While some modern aviation watches have gravitated towards increasingly complex dial designs, the simple layout on the BC3 is in keeping with the traditional Flieger style of easy-to-read aviation watches.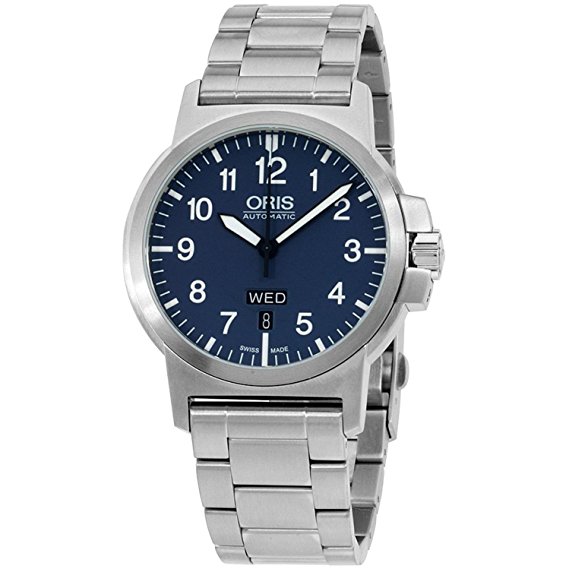 Large white sword-style minute and hour hands feature a thin black outline and are easily legible against the dark background of the dial. The second hand is black with a white tip, which, whenever I look at it, brings to my mind a magician's wand. Even though it's a minor detail, anyone who doesn't care for that look should consider the other BC3 variations that use blue second hands with white tips as they don't look quite so much like they should be casting spells. Both the numerals and hands utilize Superluminova pigments to glow brightly for hours after the lights go out, making it incredibly easy to use the watch in the dark.
Robust Case
Measuring 42 millimeters across, the round case is somewhat utilitarian looking. Rated as water resistant to 100 meters, you won't need to remove it for basic water activities like swimming or showering, but note that it is not a dive watch.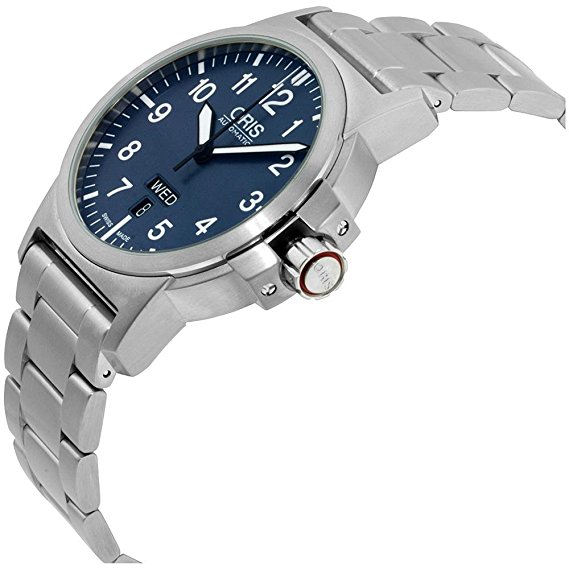 > > > Click here to see ratings, reviews, specifications and prices on Amazon < < <
A skeletal back showcases the unique red rotor on the Swiss-automatic movement. Several of the watch's more notable features are engraved around the circular back window as well, including "Stainless Steel Case" and "Sapphire Crystal." The thick bezel sits within the case and is devoid of any markings or text.
The substantial screw-down crown is quite large for the size of the case, with raised lettering spelling out the brand name on the outside. Large square crown guards emphasize the feeling of solidity, while visible screws on both guards contribute a somewhat rugged, mechanical aesthetic to that side of the watch.
Band & Bracelet Options
While the BC3 range also includes models with rubber, canvas, and leather bands, the 73576414165MB sports a stainless-steel band. The fold-over clasp uses a push button release. Like the crown, the clasp displays the Oris brand name. With the "Oris" name also found once on the dial and twice on the back of the watch, I wonder: are five logos too many for such a simple watch design? That's up to you to decide, but I certainly won't be asking for more. The 22-mm wide bracelet incorporates an unassuming yet handsome design, much like the rest of the watch.
BC3 Mechanical Movement
The BC3 line uses a Sellita-sourced automatic Oris Caliber 735 movement. 26 jewels are incorporated into the design in order to keep friction down and improve accuracy. This Swiss movement vibrates to the tune of a very respectable 4 Hz to maximize accuracy. This particular movement has been in production for well over 10 years and with those specifications, it should prove to be accurate and reliable for a long time to come.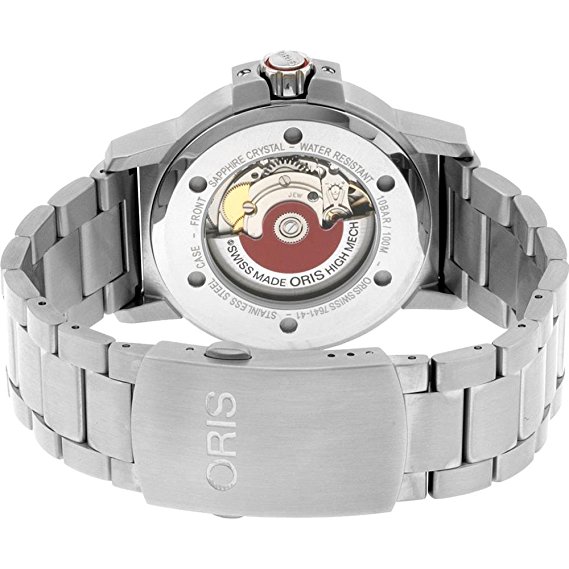 Final Thoughts
The simple, functional design of this watch means you won't be fussing with gadgetry or calling too much attention to yourself as you go about your daily routine. It's difficult to find much to criticize about this watch, with its solid array of features and attractive but modest design. Some shoppers might find the aesthetic too simple for their tastes, but for those seeking a simple watch that's neither too dressy nor overly technical, this Oris Aviation piece is sure to please. For a watch with these features, the MSRP is a reasonable $1450.
> > > Click here to see ratings, reviews, specifications and prices on Amazon < < <