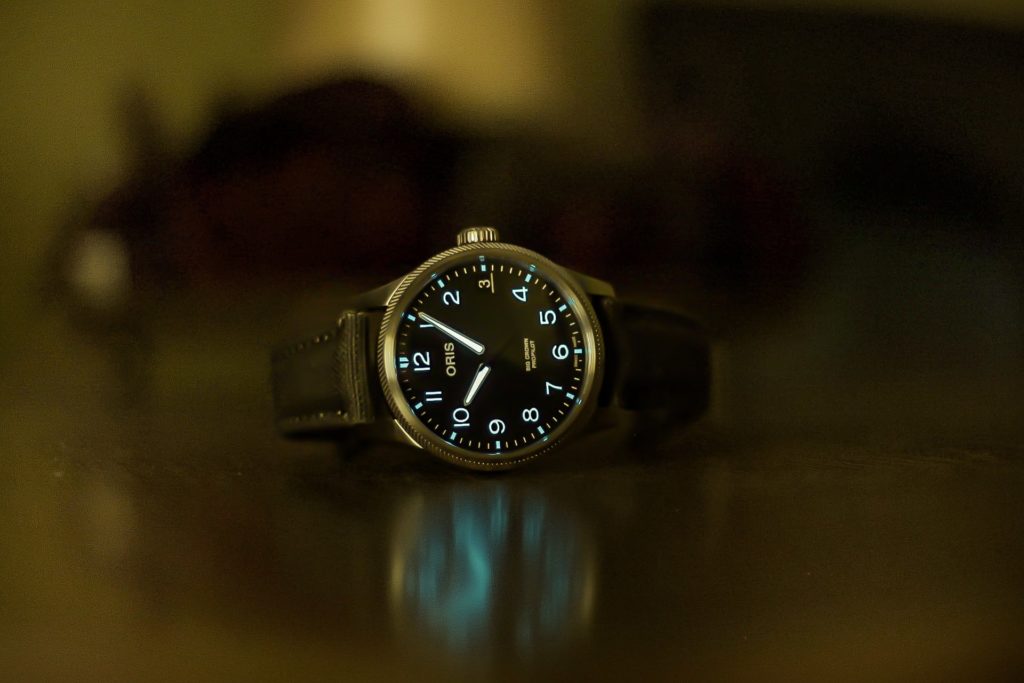 Oris was founded by Paul Cattin and Georges Christian in 1904 in the Swiss town of Holstein, they bought the recently closed Lohner and Co factory and in June of the same year the two men entered into a contract with the local mayor. The new company was named Oris after a nearby brook.
In 1938 Oris introduced its first watch for pilots, which had the big crown and pointer calendar that we all know and love Oris for nowadays. Fast forward to now and I'm proud to show off the newly redesigned Oris Big Crown ProPilot Big Date.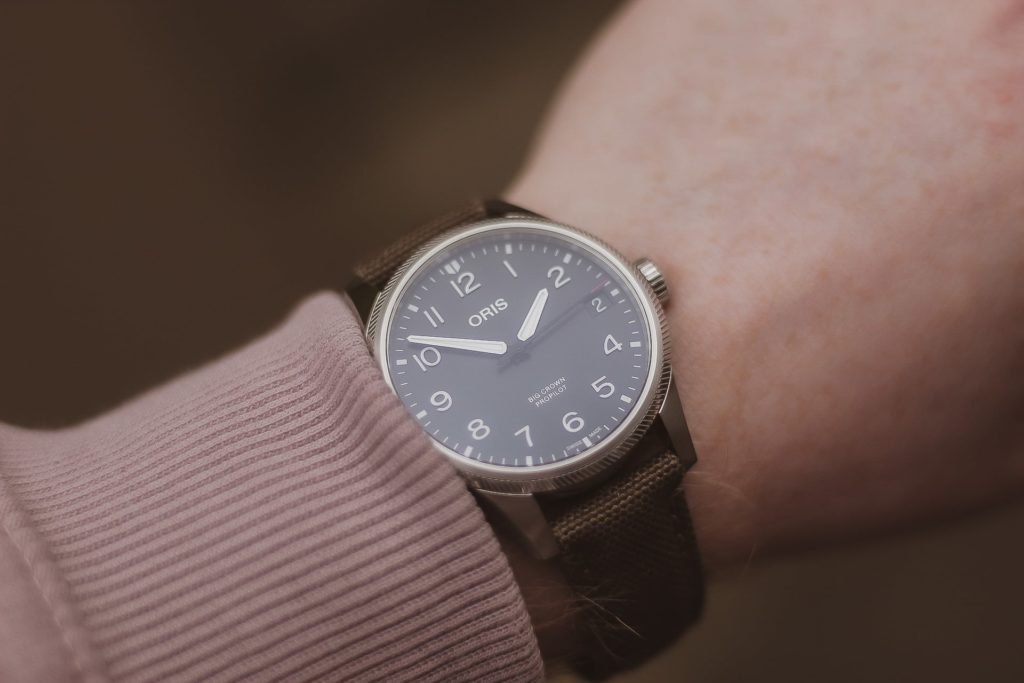 Measuring at a nicely sized 41mm in diameter and just over 12mm thick but as part of the redesign the lower side of the case features a bevelled edge to produce a re-worked slimmer case profile. When looking at the case side on the changes are subtle but noticeable and really does help to create a slimmer look.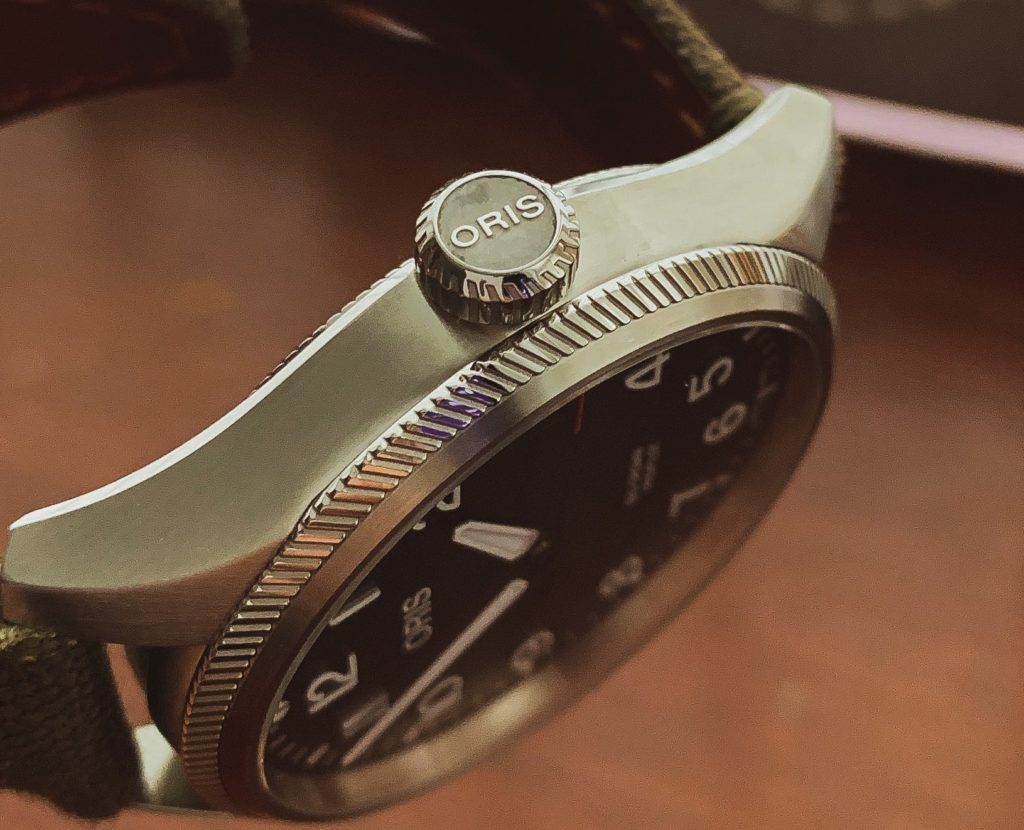 This leads me to another change; the crown. As you'd expect, given the name the crown is big but not oversized. In the same style as the case the crown is coin edged and very easy to grip and wind. A screw down crown gives the nice addition of 100m water resistance and when pulled out to the first position you have the date position, a wind of the crown and the date changes instantaneously and smoothly. The second position is the hour and minute hands which sweep round the dial beautifully and the seconds hand align perfectly as you would expect. The crown face itself has a sand blasted finish and the simple but beautiful Oris logo sits slightly raised on it with a high level of refinement (apart from one slight mark on the face of the crown). On some watches with larger crowns that I've worn before I found that they've dug into my hand and I've had to reposition the watch but not with the Oris, the crown is perfectly finished with no rough edges and sits very comfortably against my skin.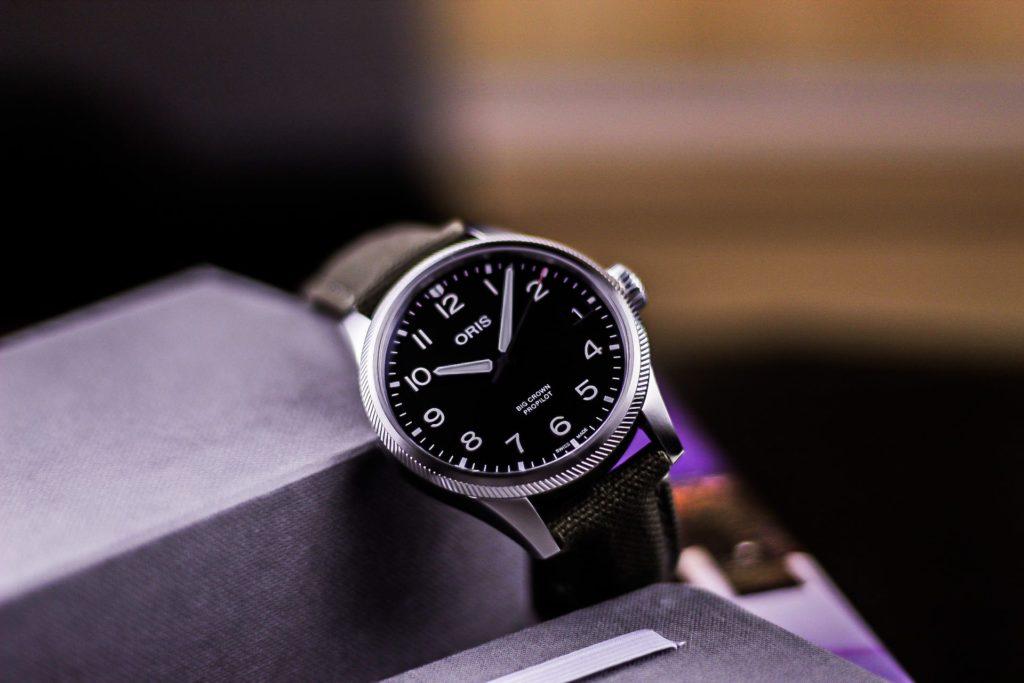 The 41mm slate grey dial is covered by a double domed sapphire crystal and has AR coating inside which is to be expected from a watch designed to be highly legible high in the sky. This watch does exactly what a watch should do; make it easy to tell the time, there's no additional unnecessary components on the dial to distract you.
The large white applied numerals are filled with Superluminova BG W9 Grade A and they shine a beautiful blue colour that I had never experienced with a watch before. This is by far the best lume I've ever witnessed in a watch, I charged it up with a UV torch and it was still showing hints of lume many minutes later. A white minute track circles the dial and the beautiful contrasting red tip of the black second hand sweeps round the dial magnificently.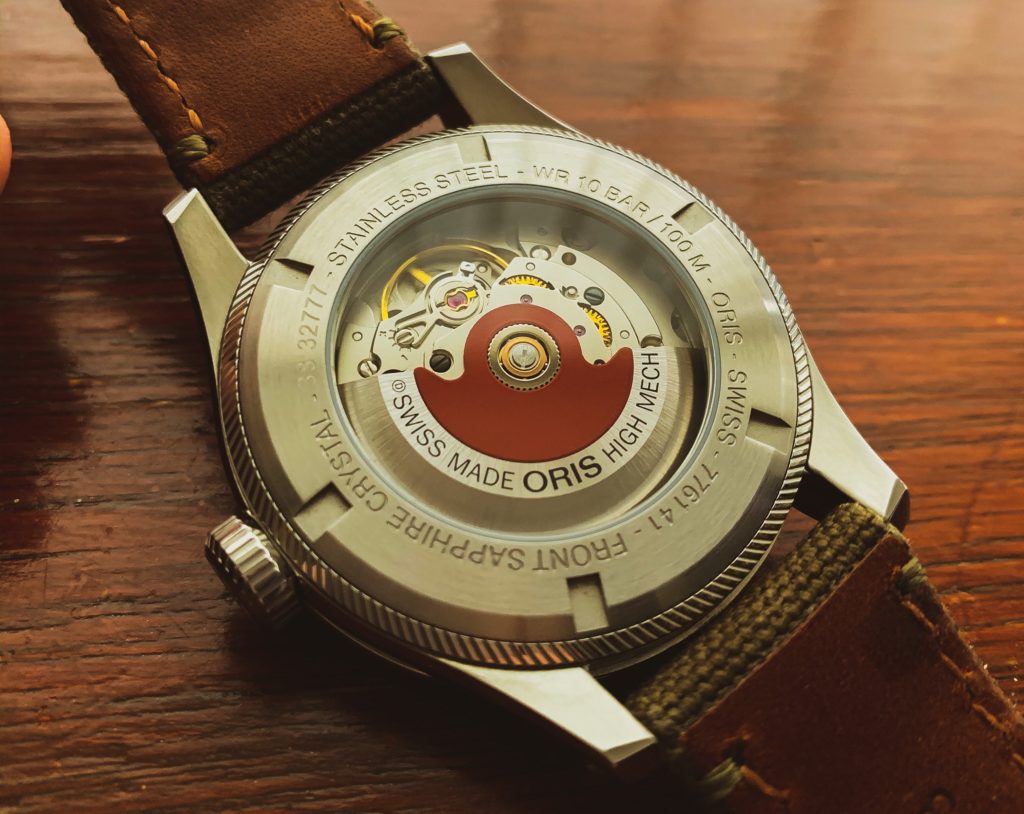 Flip the watch over and have a good look at the trademark Oris Red Rotor, this officially became a registered trademark in 2002, it symbolises Oris's philosophy: to produce high-quality, Swiss made mechanical watches with real-world functions at accessible prices. The Red Rotor proudly bares Oris's name and sits atop of the Oris 751 which is a base SW 220-1 which beats at 28,800 beats per hour and produces the wonderful sweep of the second hand. It has a power reserve of 38 hours and is a 26 jewelled movement.
I'm a relatively light sleeper and when I take my watch off at night I set it on my bedside table, but when I took off the Oris and settled down to sleep I found the watch to be rather loud and producing a slight ringing noise, I actually had to take the watch into another room and have done every night since then. I had a similar issue with the Farer Markham that I reviewed before. Not so big of an issue to put me off the watch at all but worth noting for anyone like myself who sleeps lightly.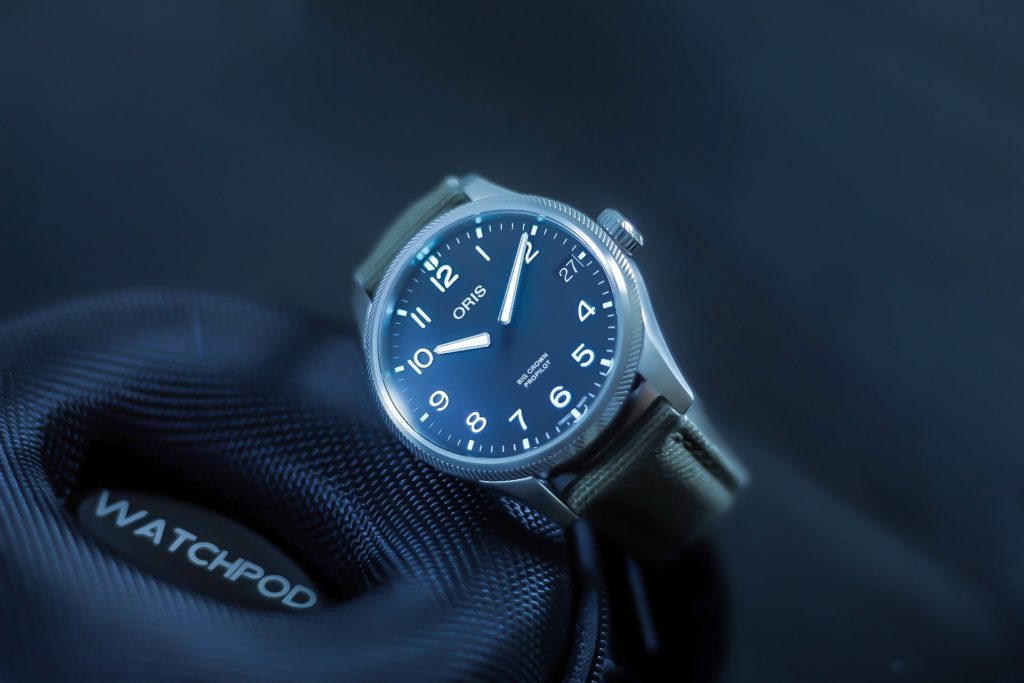 Another new feature on the redesign is the new system used in combination with the clasp which ensures that the watch lies flat against your arm and the beautiful olive textile strap does not get folded. It features an excellently manufactured 'lift' clasp system that felt absolutely secure and extremely comfortable. Whilst it was all of these things I did find that it had a two or three day bedding In period, in that I kept having to adjust the strap as it was loosening. After a few days I found that this stopped happening and the strap sat perfectly on my wrist without the need for adjustments.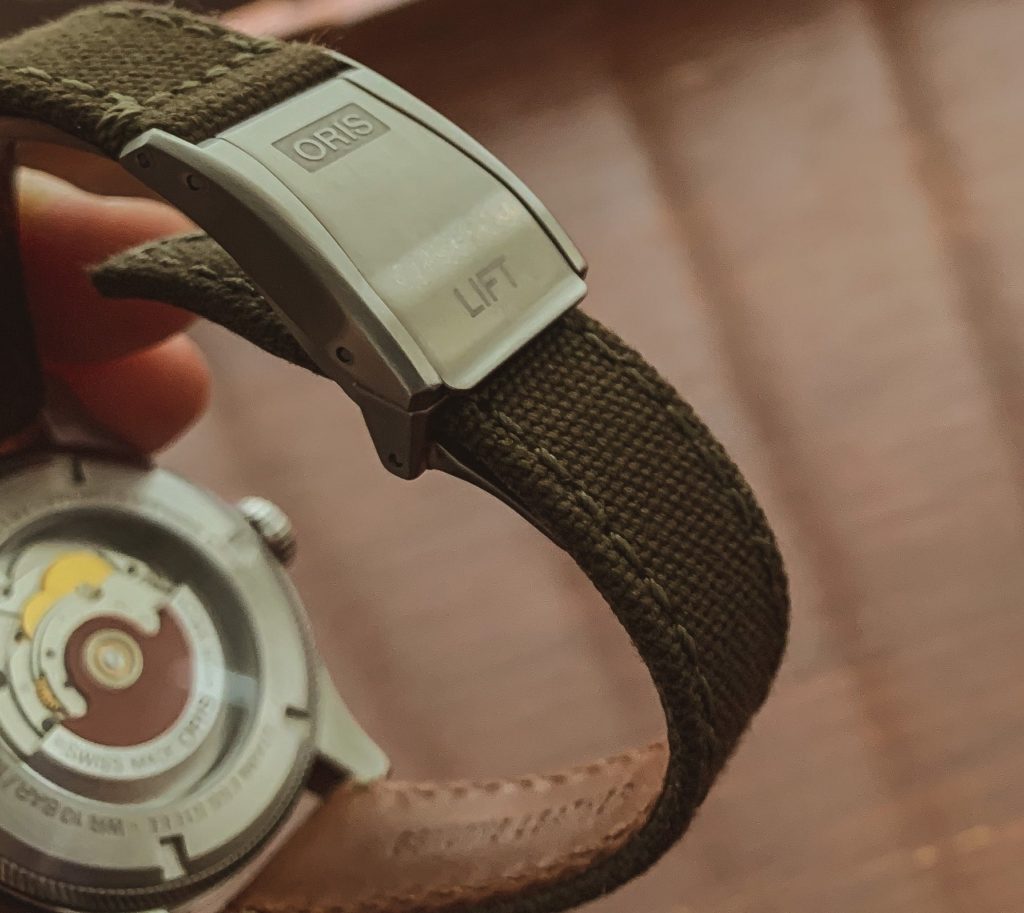 This watch really was a pleasure to have on my wrist, i enjoyed every second of it, with the added benefit for me of it being very photogenic.
In its most basic form it's a pilots watch and that might not appeal to a lot of people but when you look at it in more detail you really start to appreciate it for what it really is; a beautifully designed and manufactured form of art on your wrist.
To have a look at all of Oris' full range of watches visit their official website here.