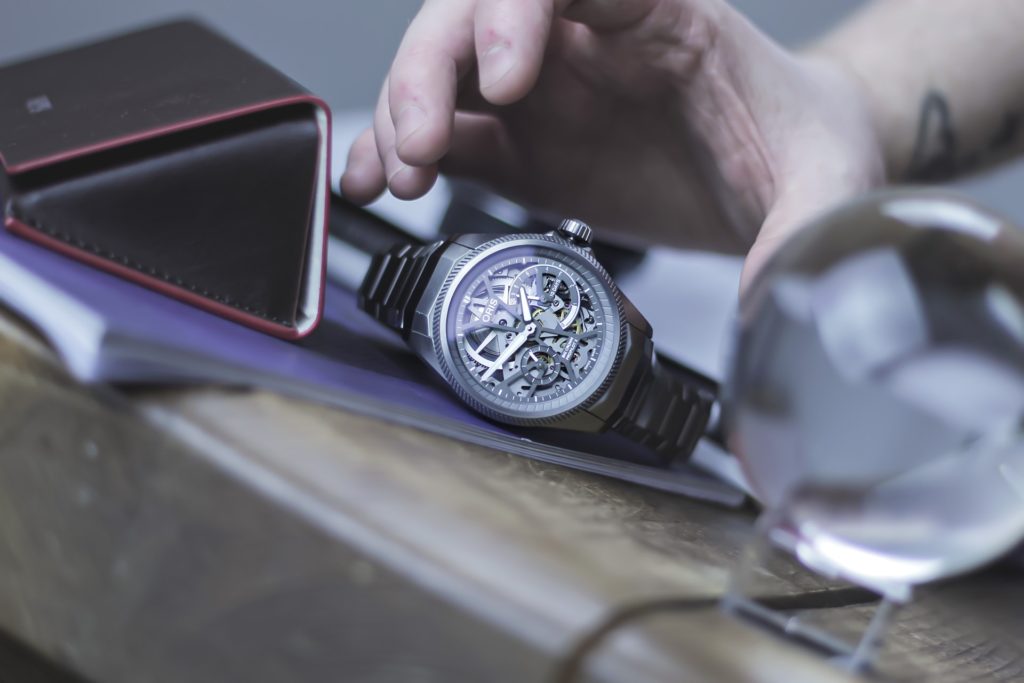 I have been lucky enough to review an Oris before for WatchReviewBlog, the beautiful Big Crown ProPilot redesign which was a pleasure to have a hands-on experience with. So to be given the chance to experience the ProPilot X is a big honour for me and something I'm incredibly excited to share.
Movement
There really is only one place to start with this review and that is the movement; the Calibre 115.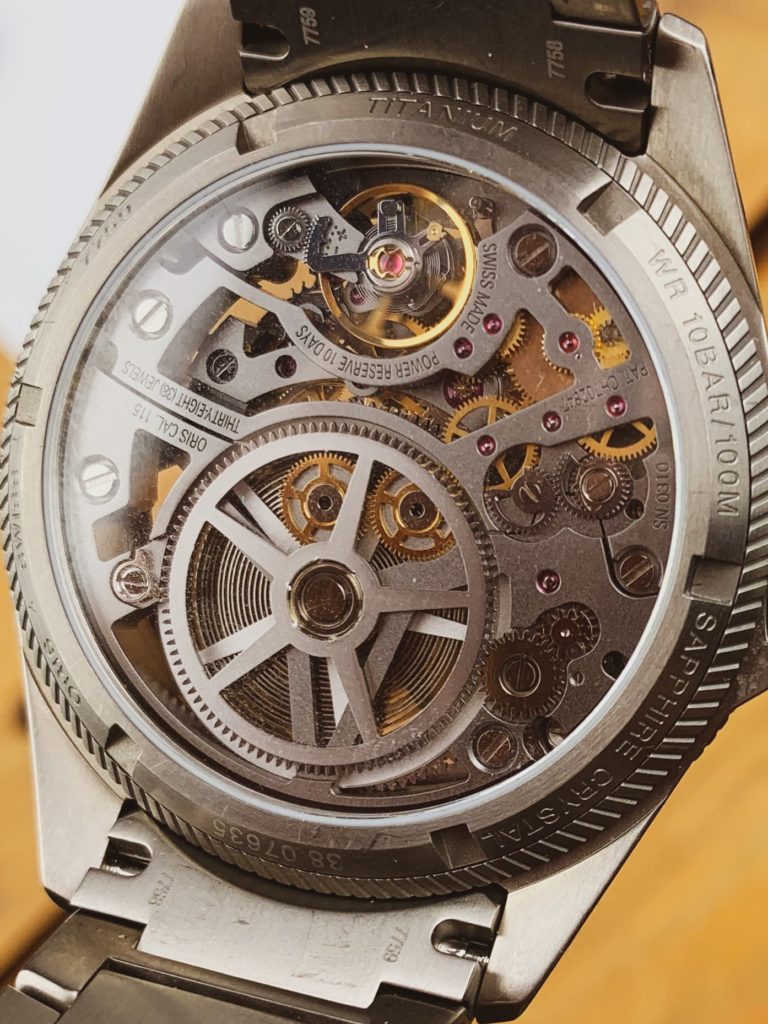 The Calibre 115 is a hand-wound movement that, when fully wound delivers a mammoth 10 days of power reserve, and that really is mammoth when you consider that most movements on the market promise around 42 hours or even less of power reserve. The reserve is possible and fuelled by a mainspring that is coiled in a single oversized barrel, which is clearly visible at the 12 o'clock position behind the Oris logo.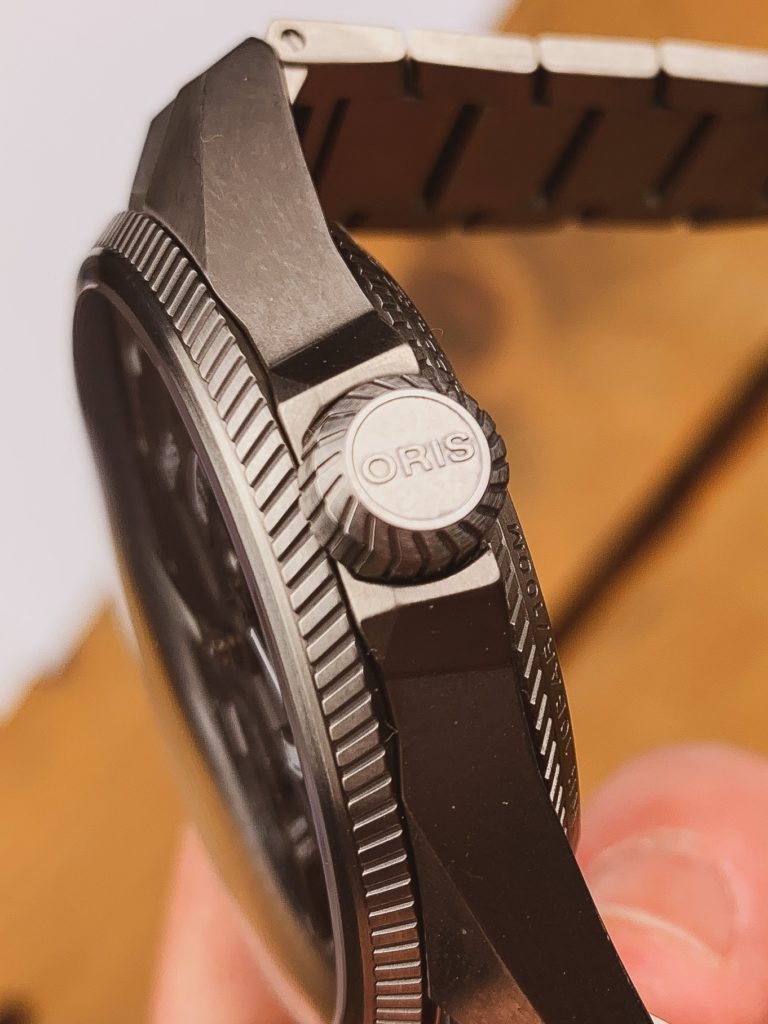 The power reserve is displayed through an Oris-developed and patented non-linear power reserve indicator at 3 o'clock that, at a quick glance provides you with enough information to know how much of the reserve you have left.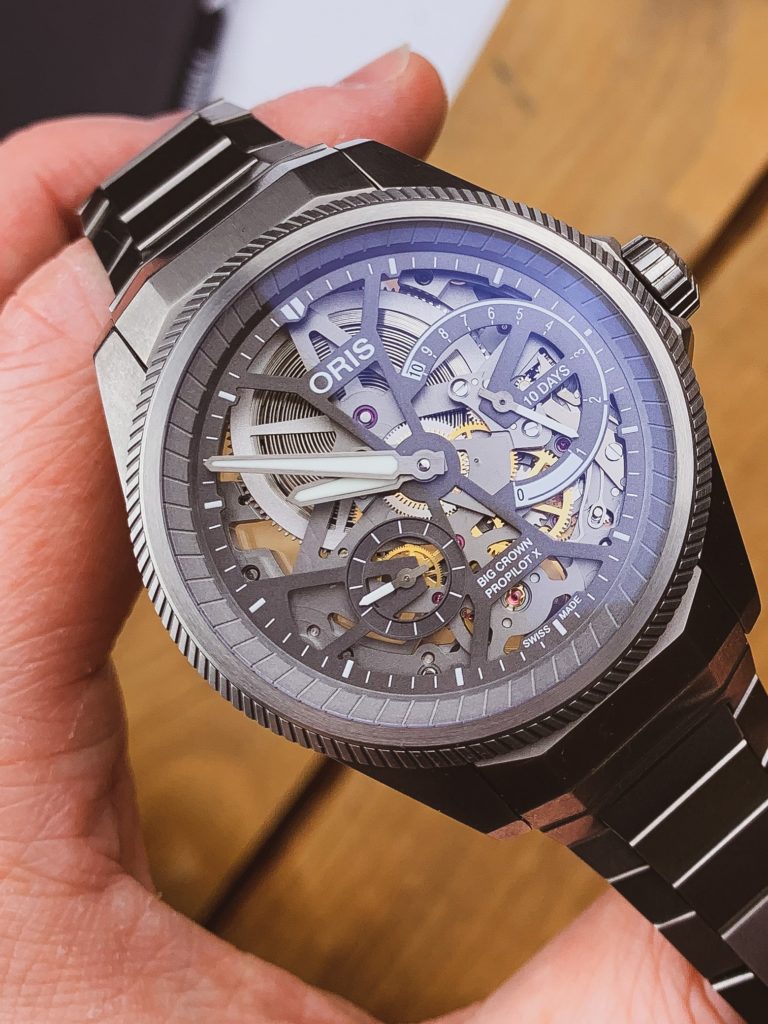 The movement can be admired from both the front and the back of the watch but flipping the watch over to the sapphire crystal case-back and you really are blown away at the beauty of the movement and can really appreciate the work that has gone into it. The completely in-house movement clearly shows off the main plate and the bridges, nothing is hidden here, Oris have gone all out with this one.
When I received the watch, the power reserve was drained, so I unscrewed the screw-down crown to the winding position and i wound the movement. A few minutes later and I was still winding, it felt like an eternity, but each wind was smooth, it was fun. Finally i reached the peak of the indicator and I could now happily leave this watch for over a week without the need to wind again.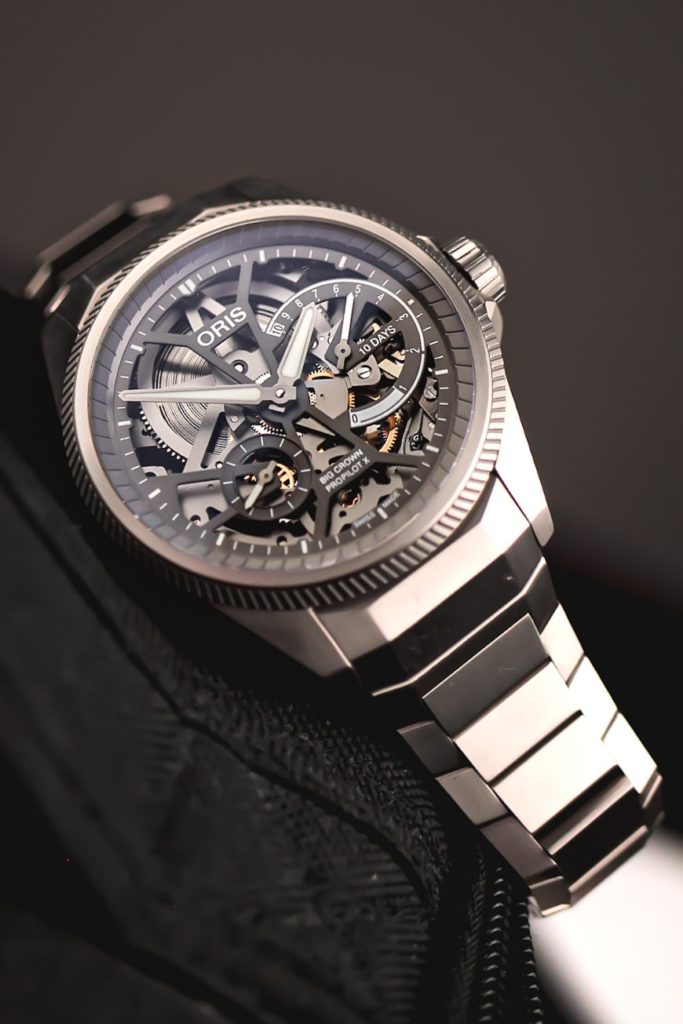 On a negative note, once the power reserve started to drain and it only had 1-2 days left the accuracy started to dip, and for me it dipped outside of Oris's parameters of +6/-4 seconds per day.
Final point on the movement, it has 38 jewels, beats away at 21,600 vibrations per hour and features a hacking seconds hand for precise timekeeping.
Dial and Case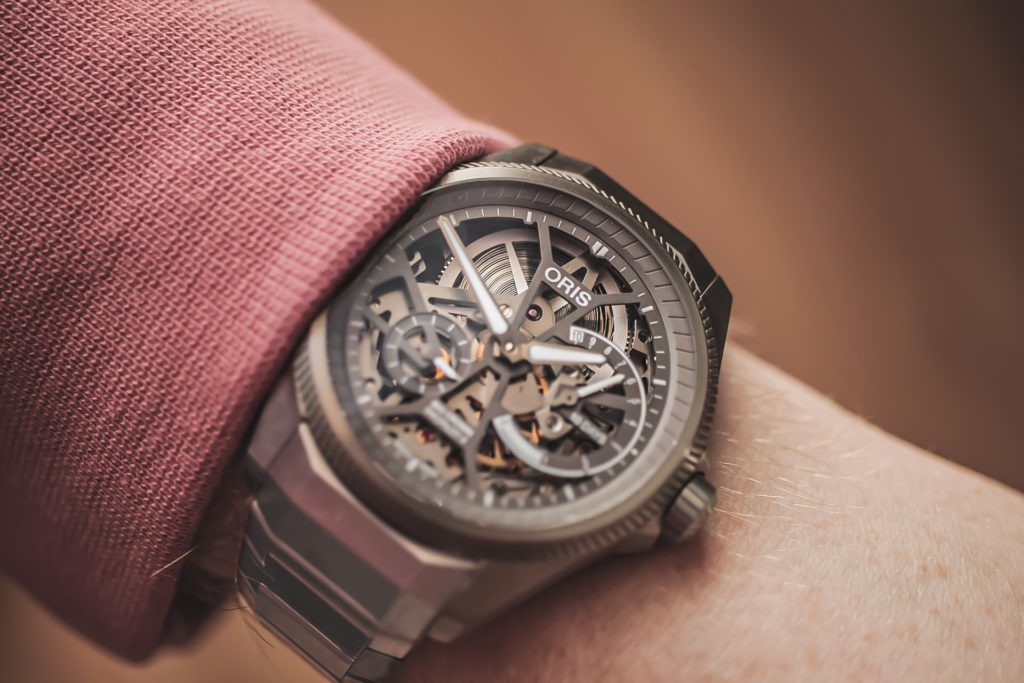 The watch is 44mm in diameter, a number that, to me sounds terrifying, and i was a little worried at how this would wear on my 7 inch wrists. But, thanks to the small and angular lugs and that it is only 12.8mm thick this watch wears smaller than that and really does feel great on the wrist. This watch also measure 51.6mm lug to lug which is compact enough for a 44mm diameter case. The sides of the titanium case are brushed nicely and features rivets and angles that give this watch a robust and modern feeling. The turbine inspired upper part of the case immediately makes you think of a fighter pilot and lets you know that this watch at its heart is a pilots watch.
But, a skeletonised pilots watch? How does that work? How is legibility?
I cant speak for how legible this watch would be thousands of feet up in the air, going at fast speed, but on the ground this watch is incredibly legible. The large white hands contrast against the galvanised grey background meaning that even at a quick glance you can easily tell the time. They are also filled with lume, a delightful blue lume that burns brightly and lasts a healthy amount of time. The dial features a minute track that surrounds the dial and also features that beautiful blue lume.
The small seconds display also stands out against the background and the small white hand sweeps smoothly around it, also remaining very legible with a touch of lume. And finally, that marvellous non-linear power reserve indicator, its large and it is bold, it proudly displays the 10 days, almost boasting at its capabilities.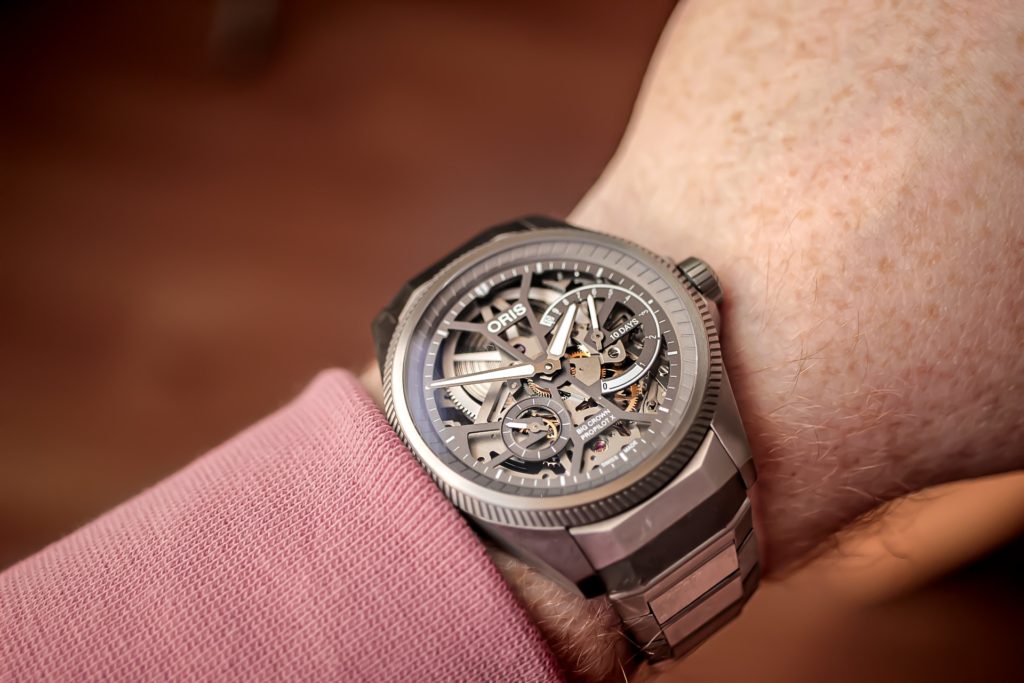 The dial is so complex and Oris are definitely showing off their engineering expertise with this one.
Bracelet
When i first discovered this watch the bracelet was the main attraction for me, a bracelet that I understand was a talking point on release and an opinion divider in the watch community, and I'm not sure why.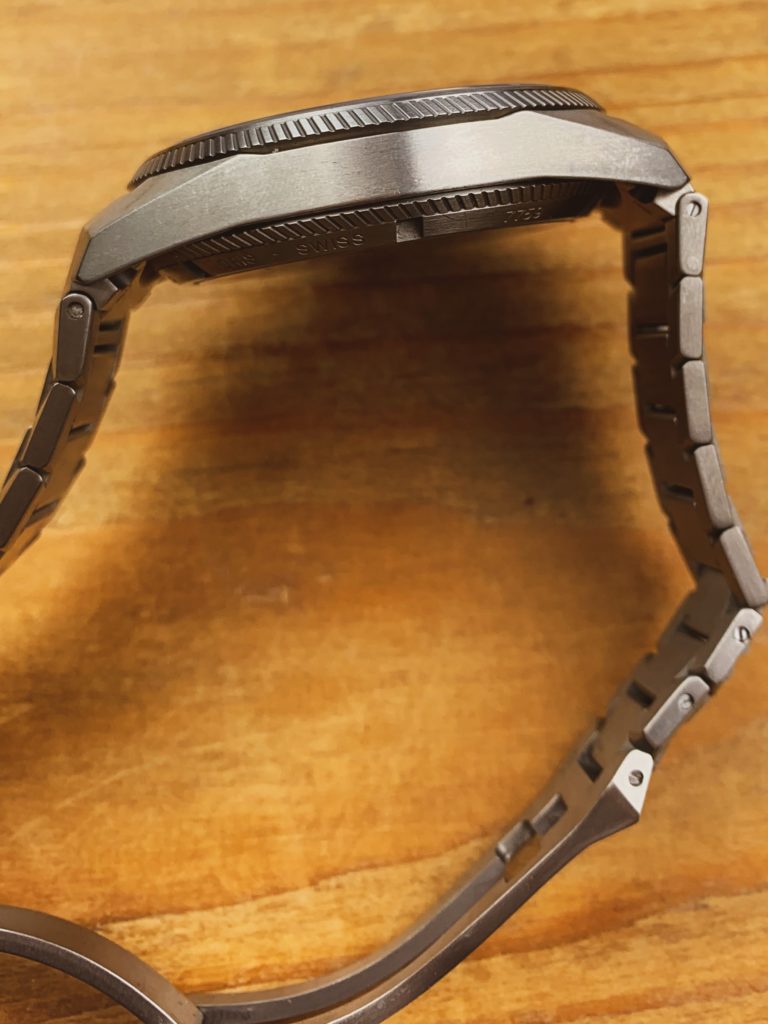 Its a marvel, a truly wonderful piece of engineering. The links look evil and they look angry, but they are incredibly smooth. The side links slightly slope off to the side from the main links that mean the bracelet hugs the wrist nicely and doesn't nip the hairs at all. Each link is removed via screws, no push pins here and the amount of links mean this watch can be accurately sized for perfect fitting.
The bracelet uses an aviation seatbelt inspired 'lift' lock system that I found myself clicking and un-clicking constantly to release the clasp. It's an incredibly smooth process and fills you with confidence that this watch is secure on the wrist and works exactly like aviation belts further reminding you that this is a pilots watch.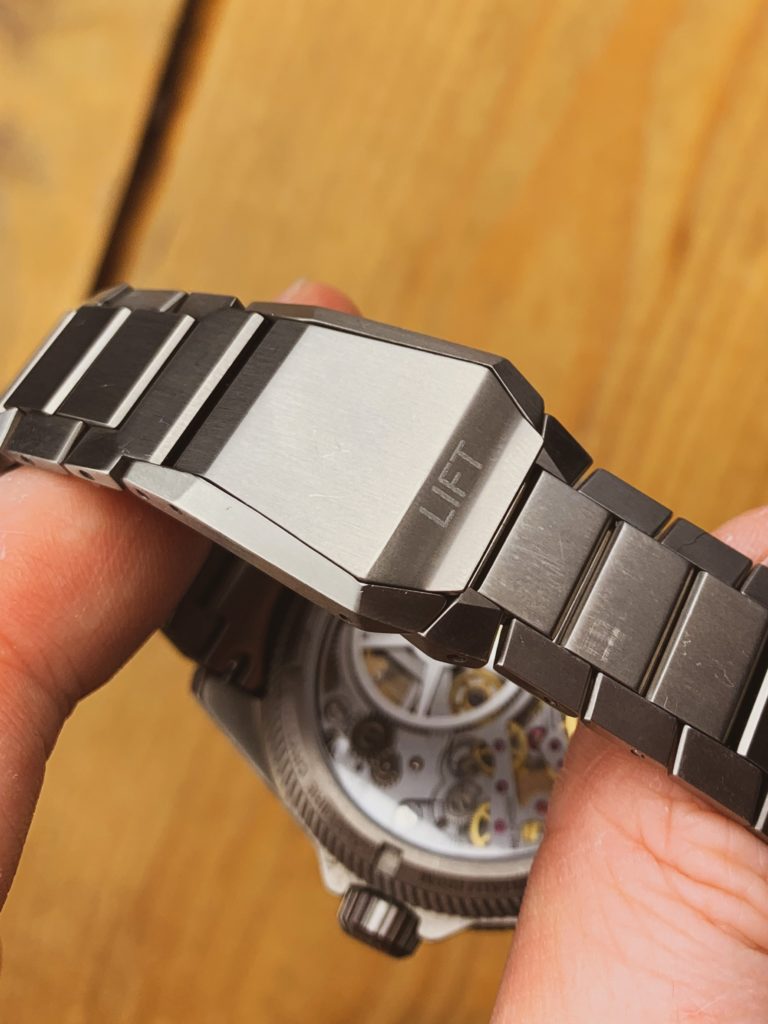 I cant ever see the need to change the bracelet out for a strap because of just how nice the bracelet feels and the incredible work that has gone into it.
Closing Thoughts
From the moment I picked this watch up out of the box and felt just how light it was I fell in love, I fell in love even more when I put it on the wrist. There is no denying this watch is absolutely incredible, it's Oris at its finest, they are showing what they are capable of and the work they have put in has really paid off.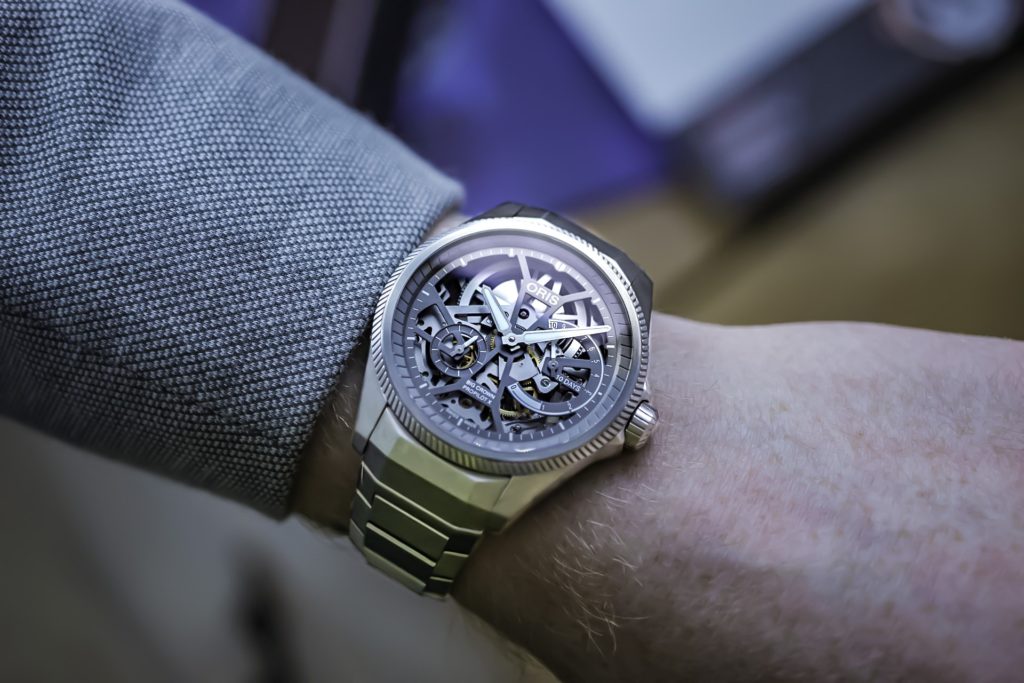 Skeltonised watches really divide opinions in the watch community, mainly due to the fact that most aren't legible enough to be considered. But Oris have done everything right and when it is coupled with 100M's of water resistance I feel that this watch can go anywhere with you and feel right on every occasion that you decide to wear it.
The only real negative I have with the watch is the price; coming in at £5,950 at retail its more expensive than a brand new Rolex Explorer. Whilst I completely understand why it costs so much I leave you with one question; would you buy this watch instead of a Rolex Explorer if you were given the chance?
To have look at more specs and to view the entire Oris lineup visit their official website here.