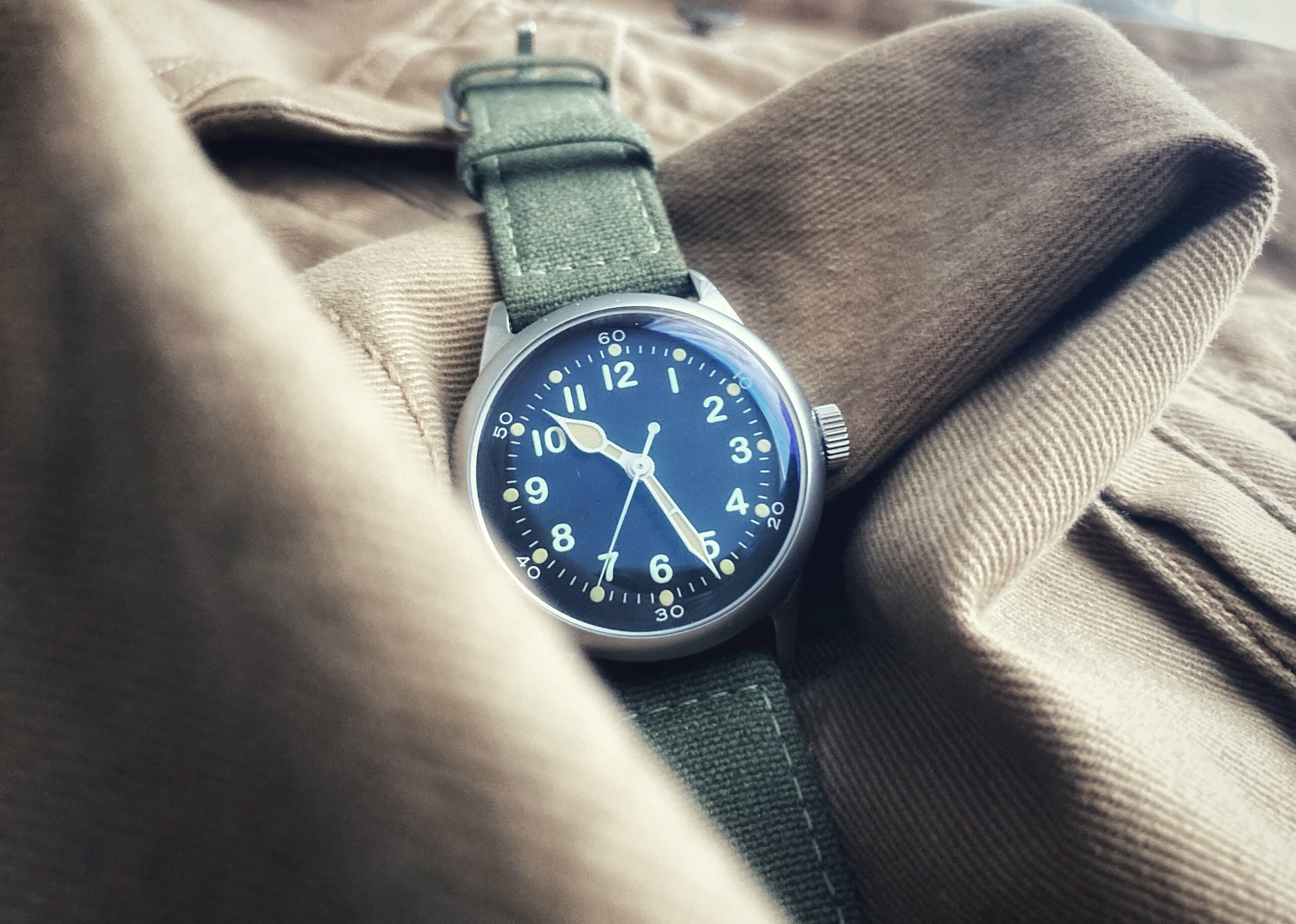 The wars fought by our grandfathers and great-grandfathers by the very nature of time seem to slip further outside our collective consciousness. Though wisely, days of commemoration have been established that we may honor the bravery and sacrifice of our fore-bearers that we might not loose sight of both the great evils of this world and the heroism and sacrifice required to quell them.
Nearly 80 years ago World War II was raging, hordes of young American men (including my own great-grandfather) gave their lives on countless European battle fields fighting for freedom. Armed with conviction, bravery and a small assortment of Mil-Spec'd weapons and tools the A-11 among them.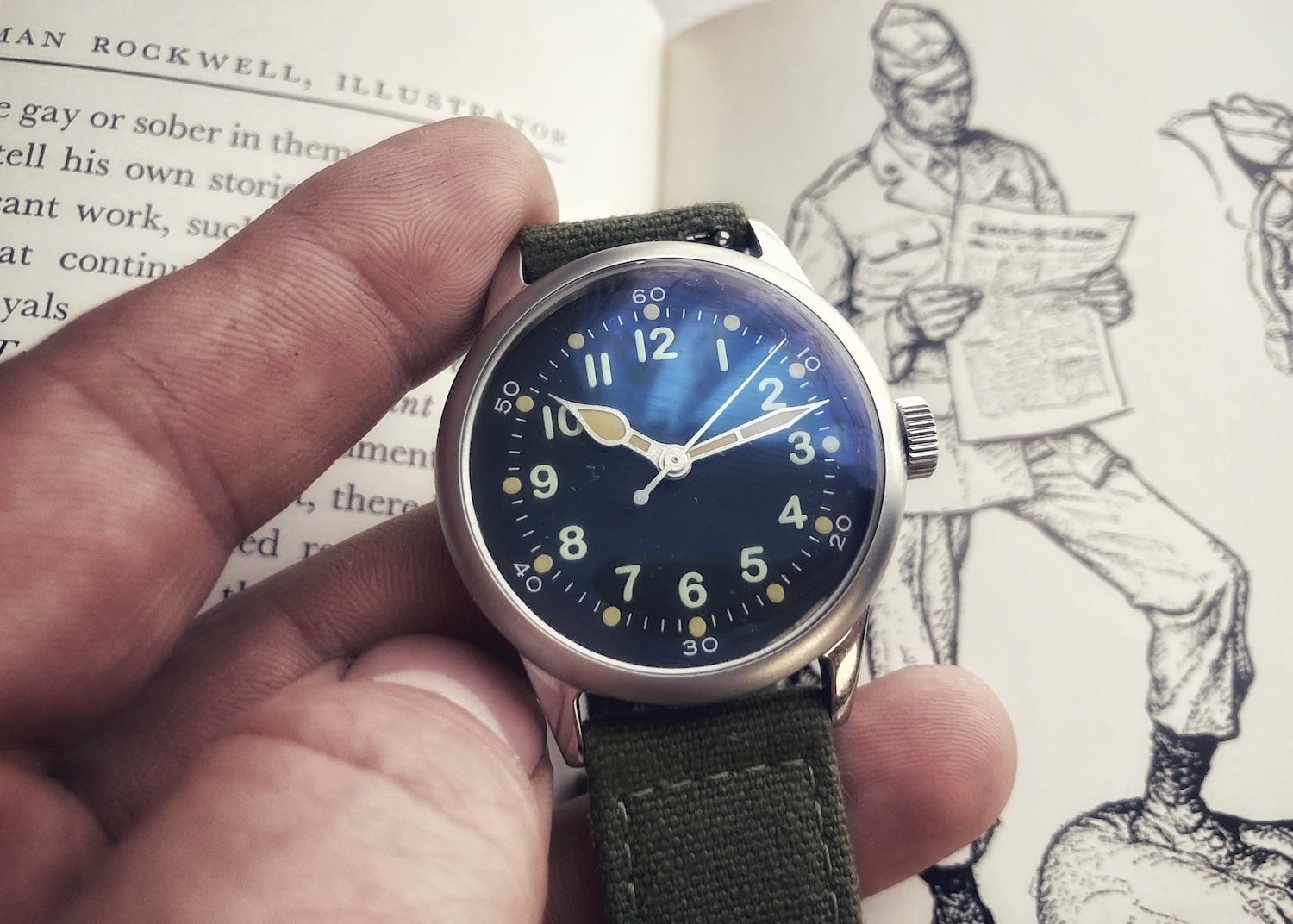 Those diminutive war torn watches of the era served their owners well, and while the majority of those tested tools escape our collective consciousness, perhaps a commemorative place holder may better fill the void for modern men (watch wearers).
Redesigned A-11
Praesidus endeavored to fill that void, paying homage to Tom Rice of the 101st Airborne Division with their reimagined A-11. Tom Rice though legendary, is only one of many that could be held up as exemplars, and in this day and age there are far too few to which we might aspire. And so, maybe it is with symbols such as this that we become the hero and the warrior, the teacher, poet or father, that we need to be, we rise to the occasion. Maybe in the absence of great heroes around us, we become what we're looking for.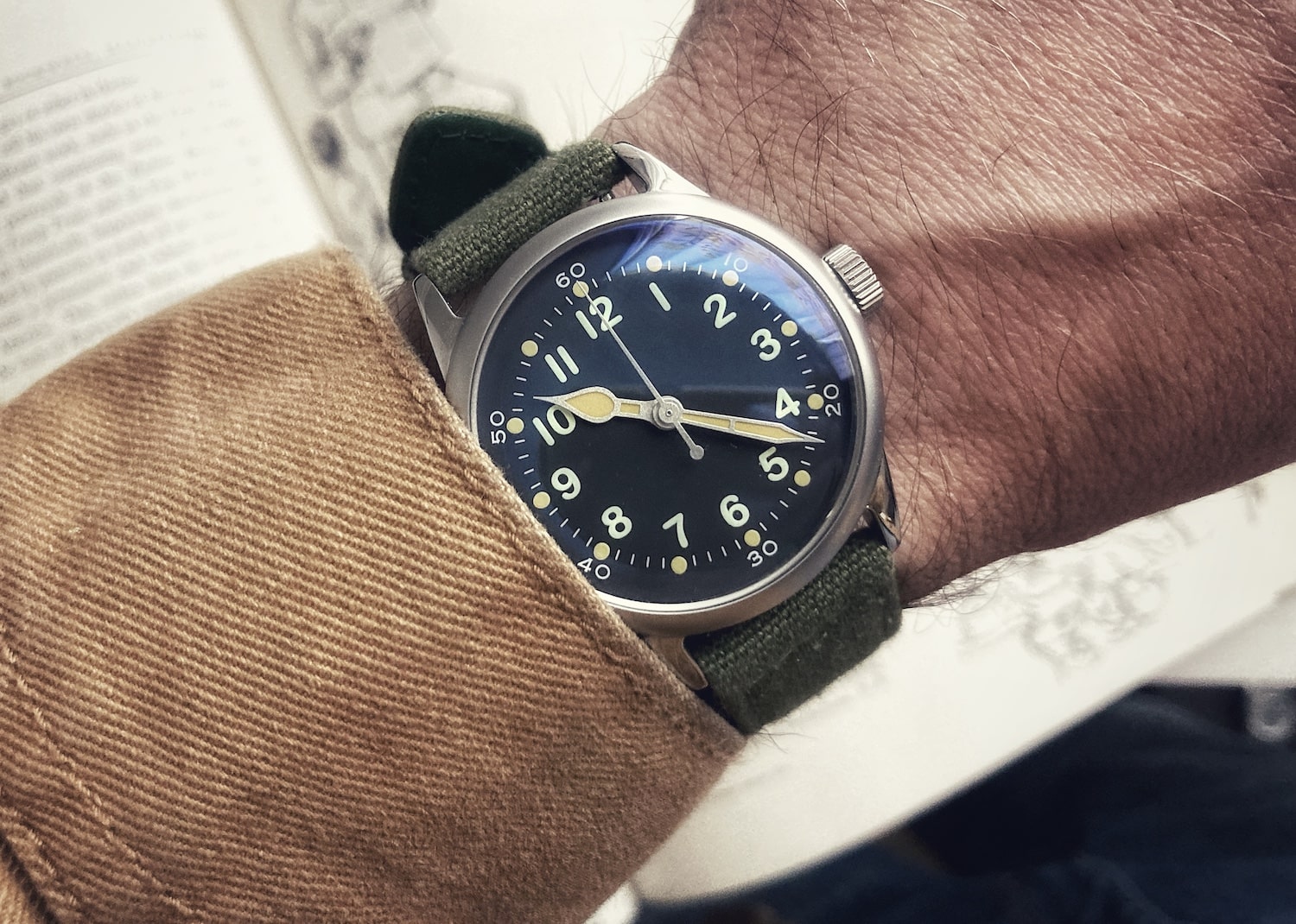 This slightly larger A-11 though reimagined was born of it's predecessor: a highly legible, hacking no-nonsense field watch. Its domed crystal smoothly slopes towards its downturned drilled lugs, lending to its aesthetic appeal. Beneath the crystal lies a smokey black dial that fades to a deep inky blue in peripheral distortion. Distortion however does little to detract from legibility except at extreme angles. Even so the painted numerals, dashes and dots are hardly obscured as its highly legible handset clearly points out.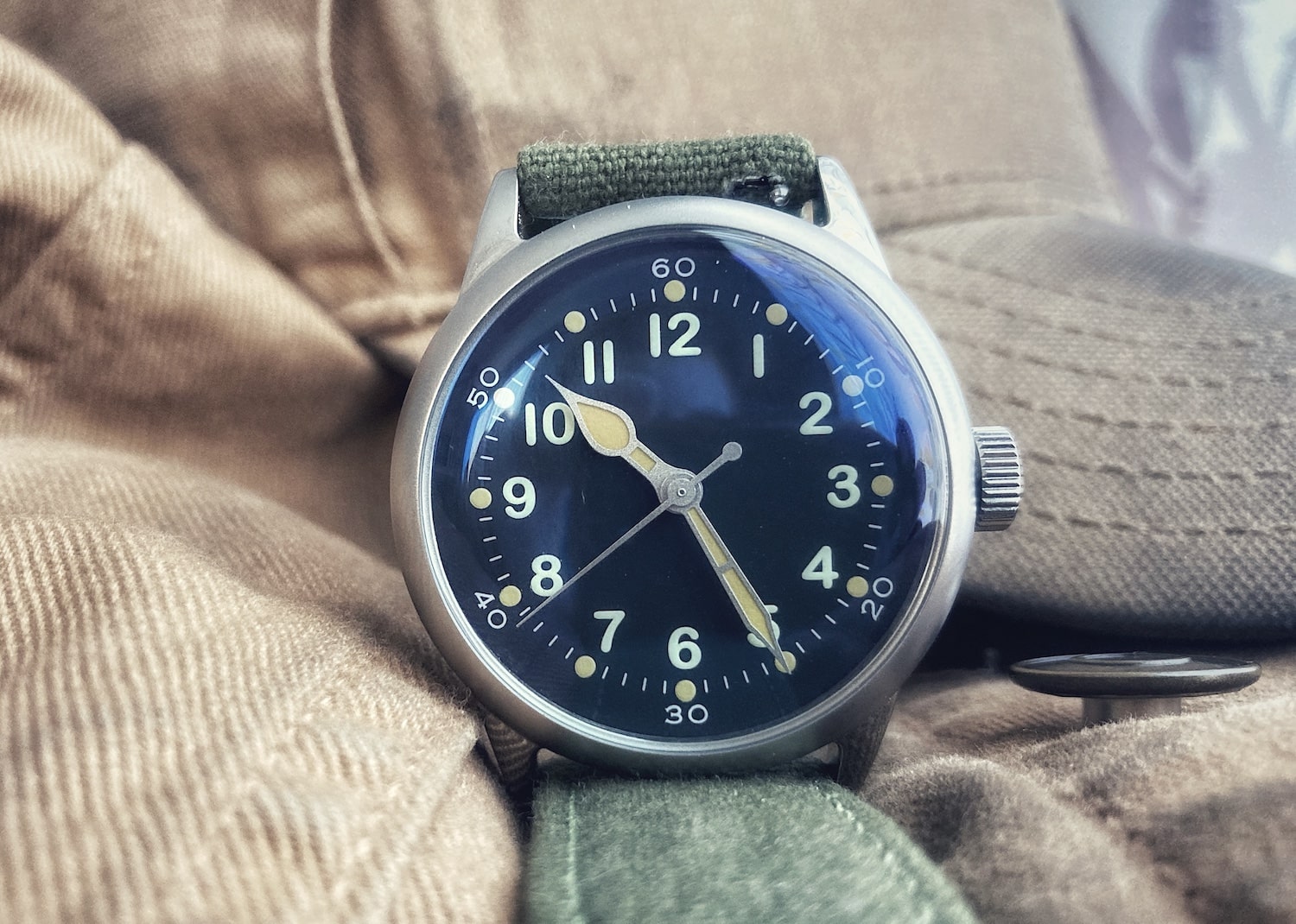 Light and comfortable on wrist this offering from Praesidus doesn't add to your daily burdens.
It's there when you need it to be, and some times that's all you can ask for from a watch. While far from flashy its needle like second hand hypnotizes the prolonged gaze. Among other things this may be one of its less obvious super powers, creating a calm amidst the chaos. And, maybe that's exactly what you need, a calm moment in time, a moment of clarity to regroup, to push forward and persevere, as those soldiers must have done in bygone battles.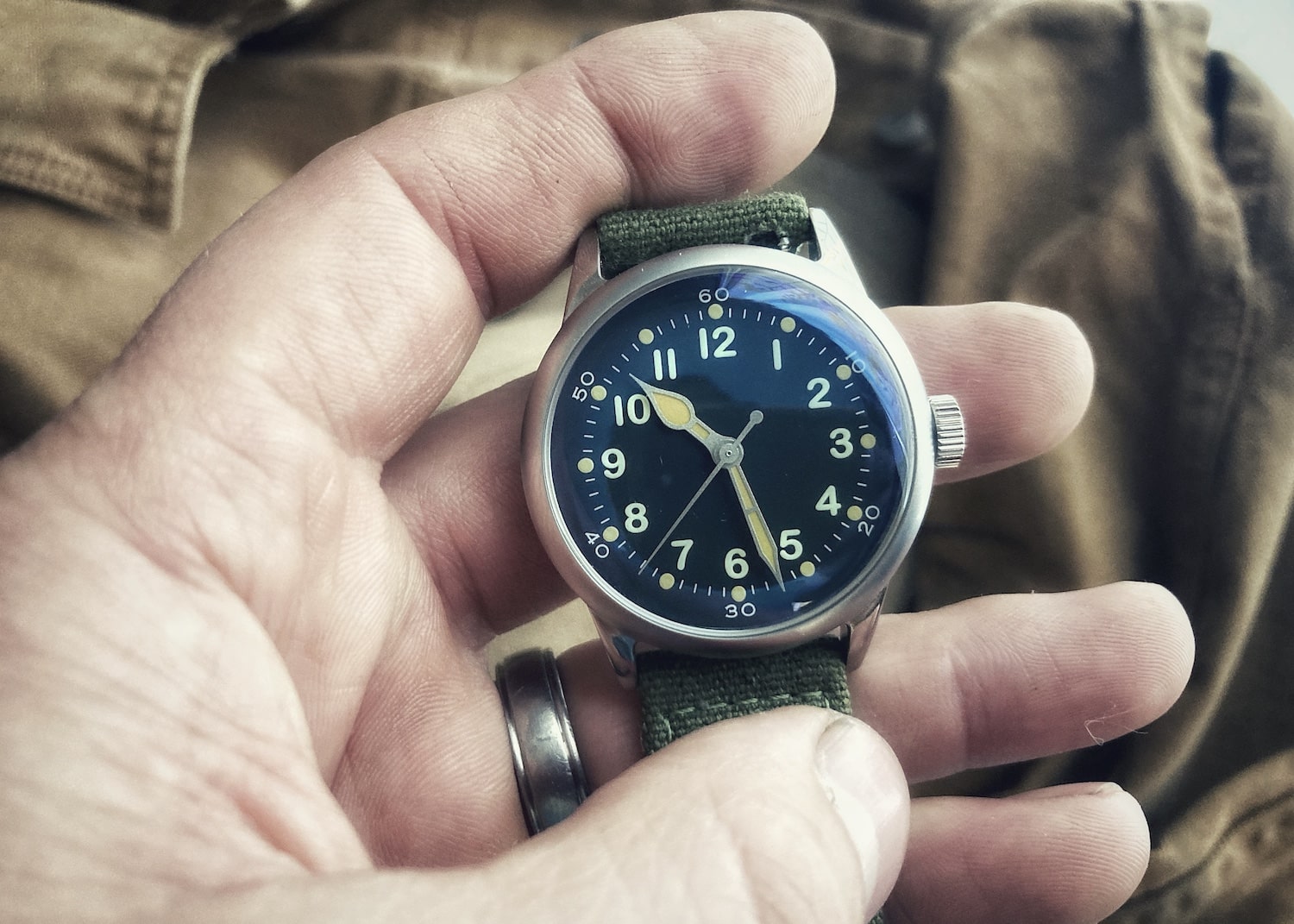 A-11 Symbolism
While most of those brave soldiers have passed from this earth, their memory lives on in story and symbol. The Tom Rice A-11 from Praesidus reminds us of both. It reminds us of what's important, it reminds us that it was ordinary men and women that became extraordinary fighting for something they believed in. In some ways the A-11 is an incredibly ordinary watch, but it just might be the symbol, the story the tool that you need on your wrist to help you become who you want to be, to accomplish what seems impossible, to conjure the hero within.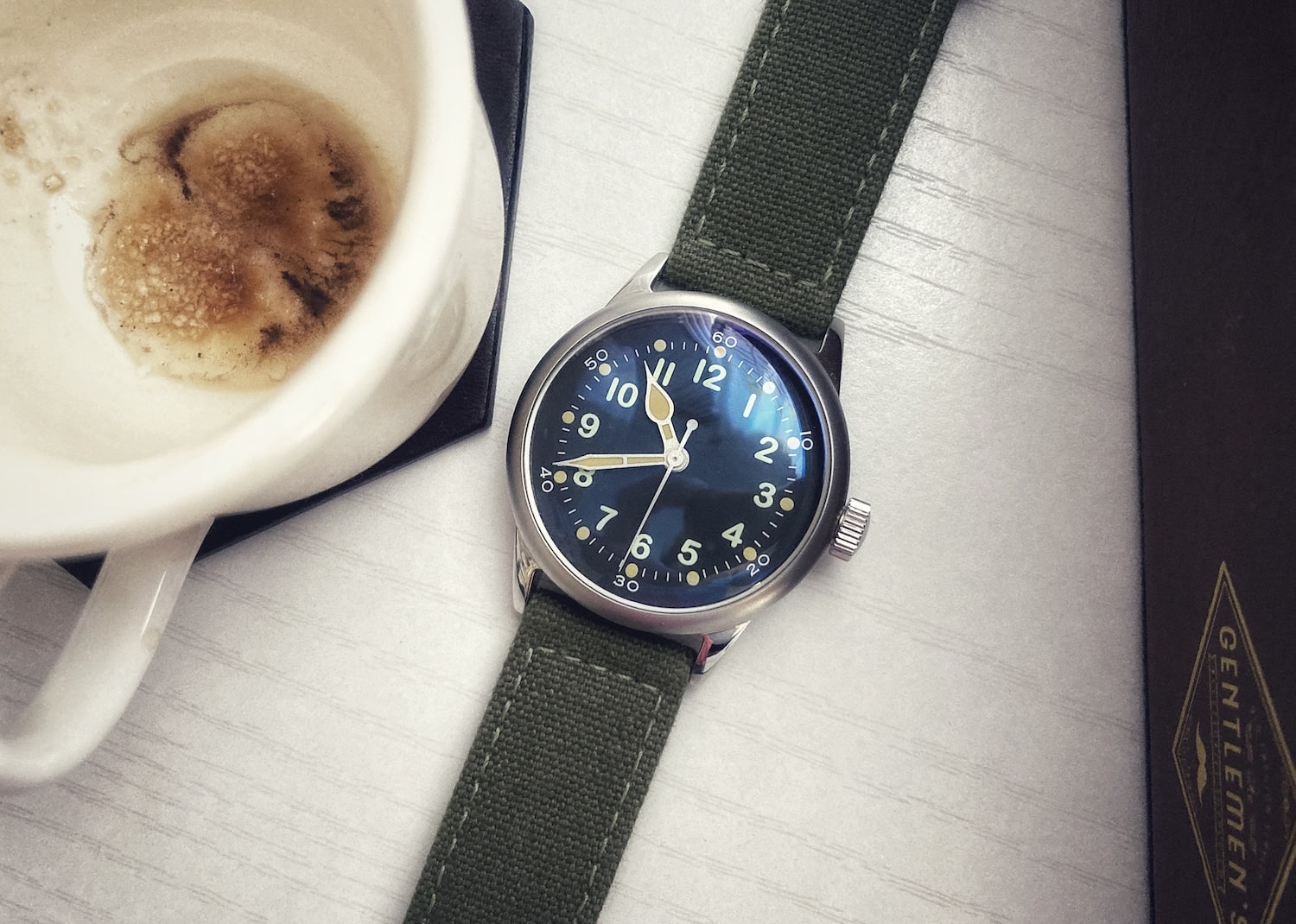 In my opinion this Mil-Spec inspired watch is far less about the specs, though they stand on their own two feet, or even about the design though it may speak to many. For me it's all about the story and the symbol, it's a watch that gets the job done but reminds you thatyour job isn't done, that you have more to offer, to dig deep, and to pay homage to those that gave everything so that we could be here today, free, to dream, to create, to pursue.
Specs & Details
The 38mm Tom Rice A-11 is powered by the sturdy Seiko NH35 movement. Dimensionally similar to a Seiko SARB the A-11 will wrest comfortably on most wrists. You might like the A-11 for its simple midcentury aesthetic, but my guess is that most will make this purchase, because of the story, and the symbol. To pay homage, to dig deeper and discover more within themselves. And on top of all that, this American story brings it full circle and is proudly assembled in the U.S.of A.
Specs:
Case Size: 38mm
Lugs: 20mm (Drilled)
Height: 12.5mm
Movement: NH35
Crown: Push/Pull + Hacking & Hand-winding
Crystal: Domed Saphire
Lume: Super-LumiNova
Band: Canvas on Leather
Water Resist: 5ATM
If the Tom Rice A-11 has intrigued you, be sure to check out its limited edition sibling the D-Day Martson Mat Dial. This special edition is limited to roughly 100 pieces and is set apart from the Tom Rice in 3 major ways First, its dial is made from the reclaimed and repurposed metal landing pads that were manufactured in Marston North Carolina and used during WWII. Additionally this limited edition is equipped with the Soprod P024 Swiss Automatic Movement. And, finally increased Water Resistance of 10ATM
For additional information visit the official Praesidus website here.
Finally if interested in learning more about Tom Rice there are a number of short documentaries and news stories about him and the 101st Airborne Division that can be found on Youtube.