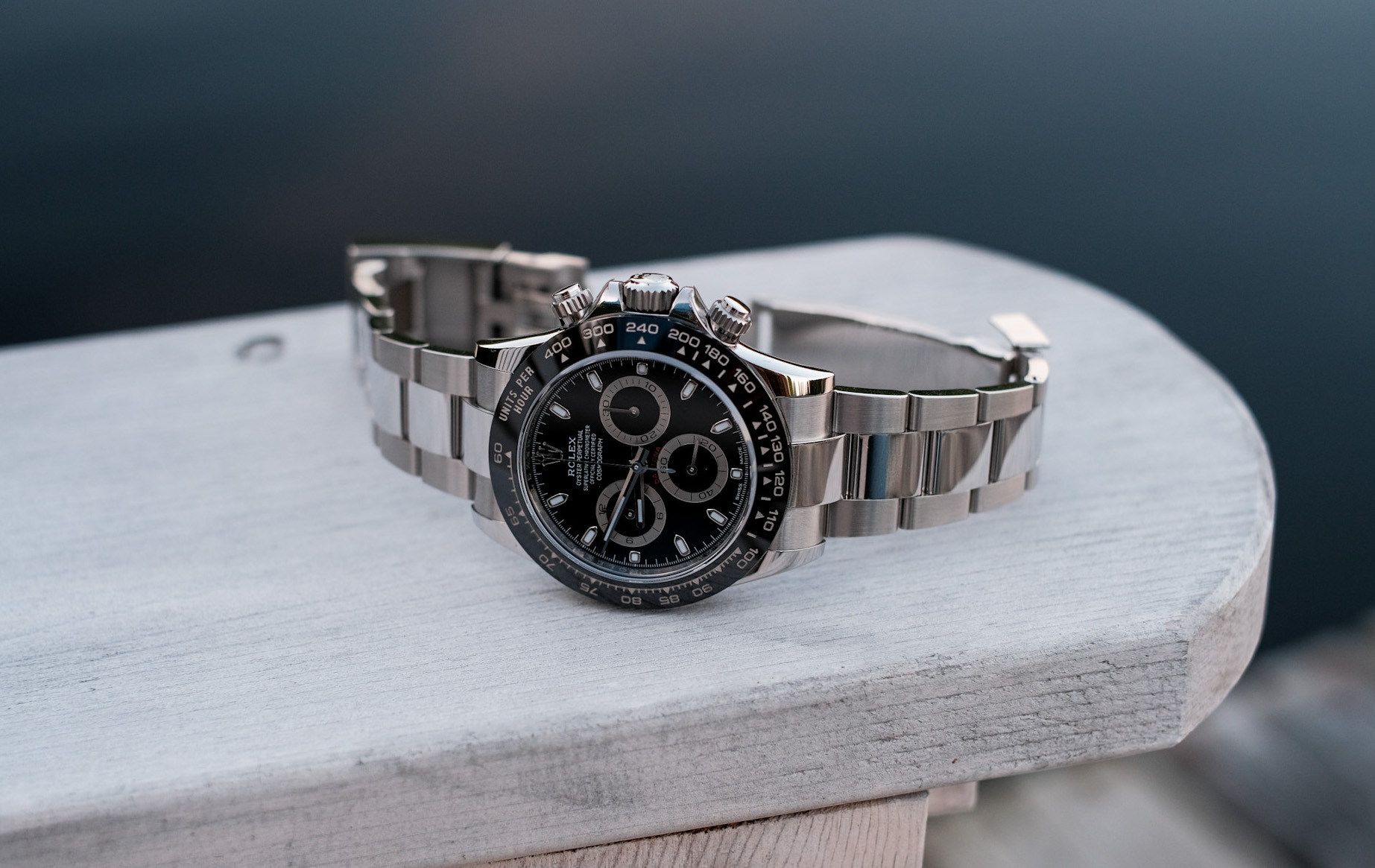 This is the one watch review I've been dreaming of writing for years, I can probably say I've been wanting to review and own this watch since the founding of the Watch Review Blog back in 2015. Well, the day has finally come.
Let me introduce you to my very own Rolex Daytona 116500LN with black dial – my personal ultimate grail watch. Forget about all the haute horology pieces from Patek, Audemars, and Lange just for a moment, as this specific Daytona reference is the one that trumps them all for me.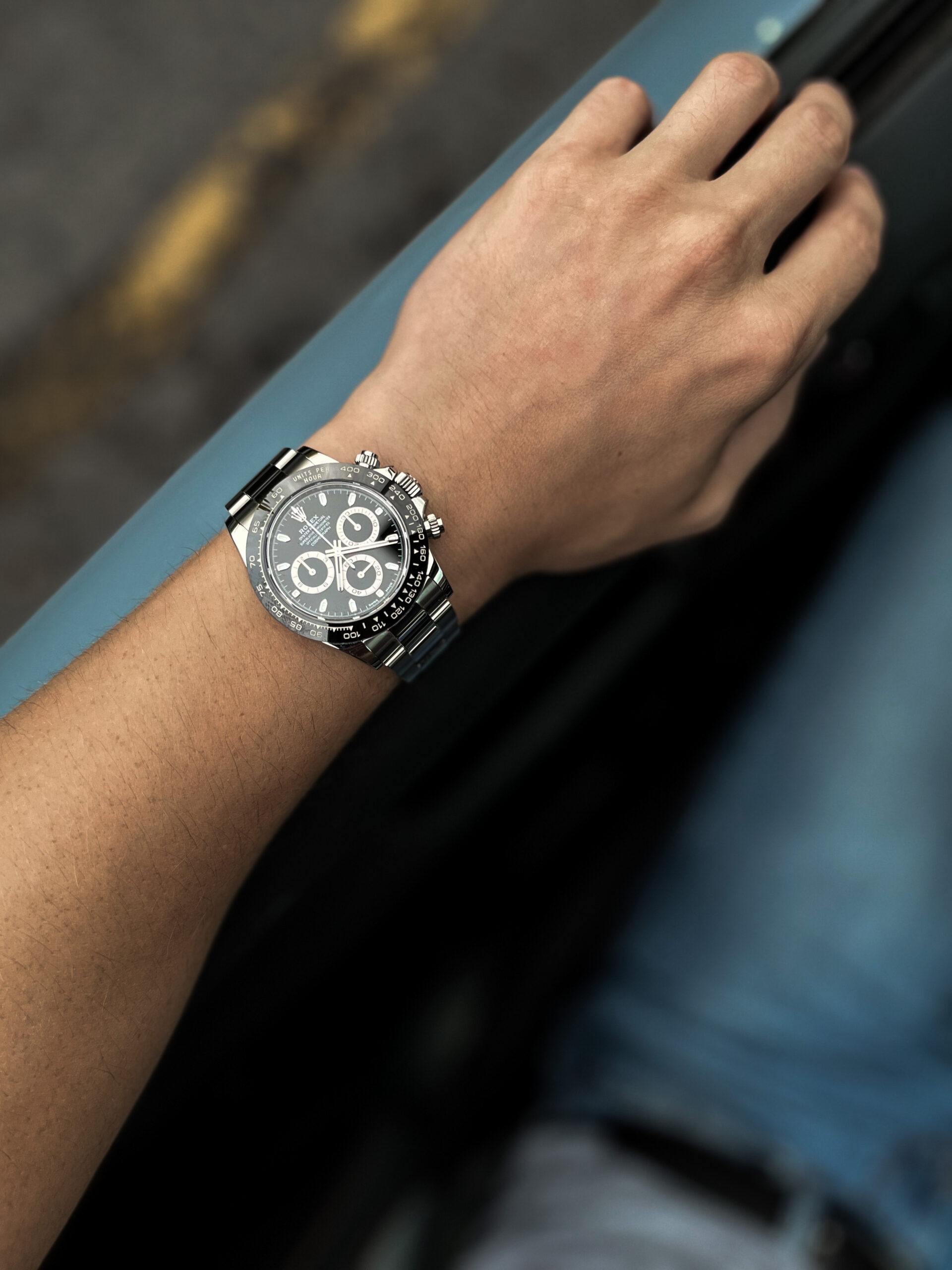 The Rolex Daytona 116500 is a watch you can wear every day in nearly any situation and dress attire. It's sporty, as robust as all Rolex watches are, it has absolutely perfect size and weight proportions, it looks stunning brand new and ages gracefully as you wear it. Actually, I can't think of another watch that executes on these points as well as the stainless steel Daytona.
The 116500 Acquisition
If you follow the WRB closely you may have noticed a lull in content creation for the last few months, that's because we've moved into a new office space which took some time to setup and get acquainted with. This is the first time I really sit down and dig into a meaningful review of one of my personal watches, let alone my lifelong grail that I've just recently acquired.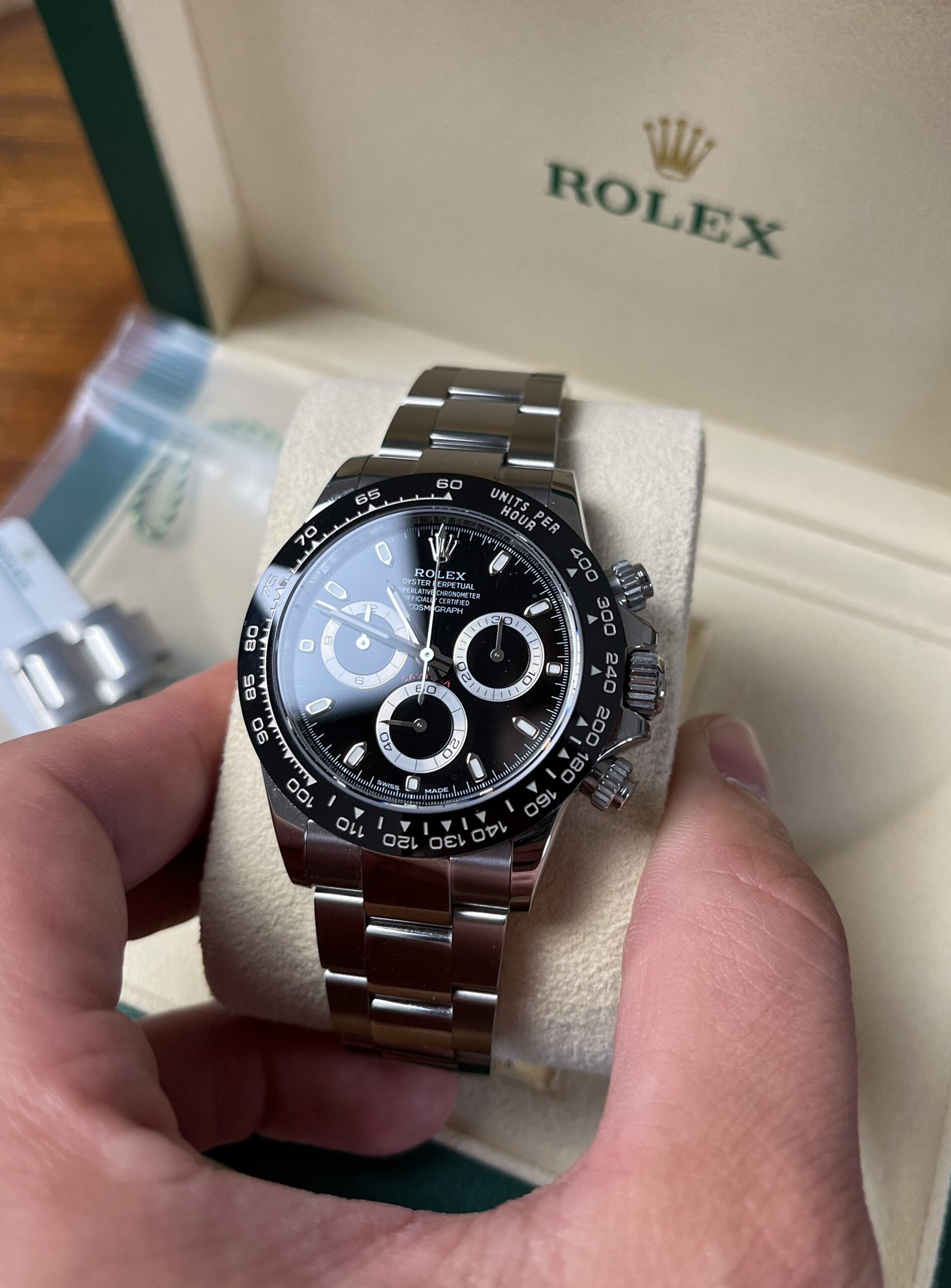 The good news here is that I've had around 3 months to spend with the watch before beginning my review. My heart skipped a beat near the end of May this spring 2022 when I received an incoming email from my favourite Rolex Authorized Dealer, the watch of my dreams was allocated to me and ready to collect. I couldn't quite believe it, this was a watch I thought I may never be able to purchase – at least at retail price. I confirmed pickup of the watch for the next day and began to arrange for the 6 hour day drive from Montreal to Toronto. I want to give a special thanks to Royal De Versailles, especially to the owner of the store and manager who helped make this happen.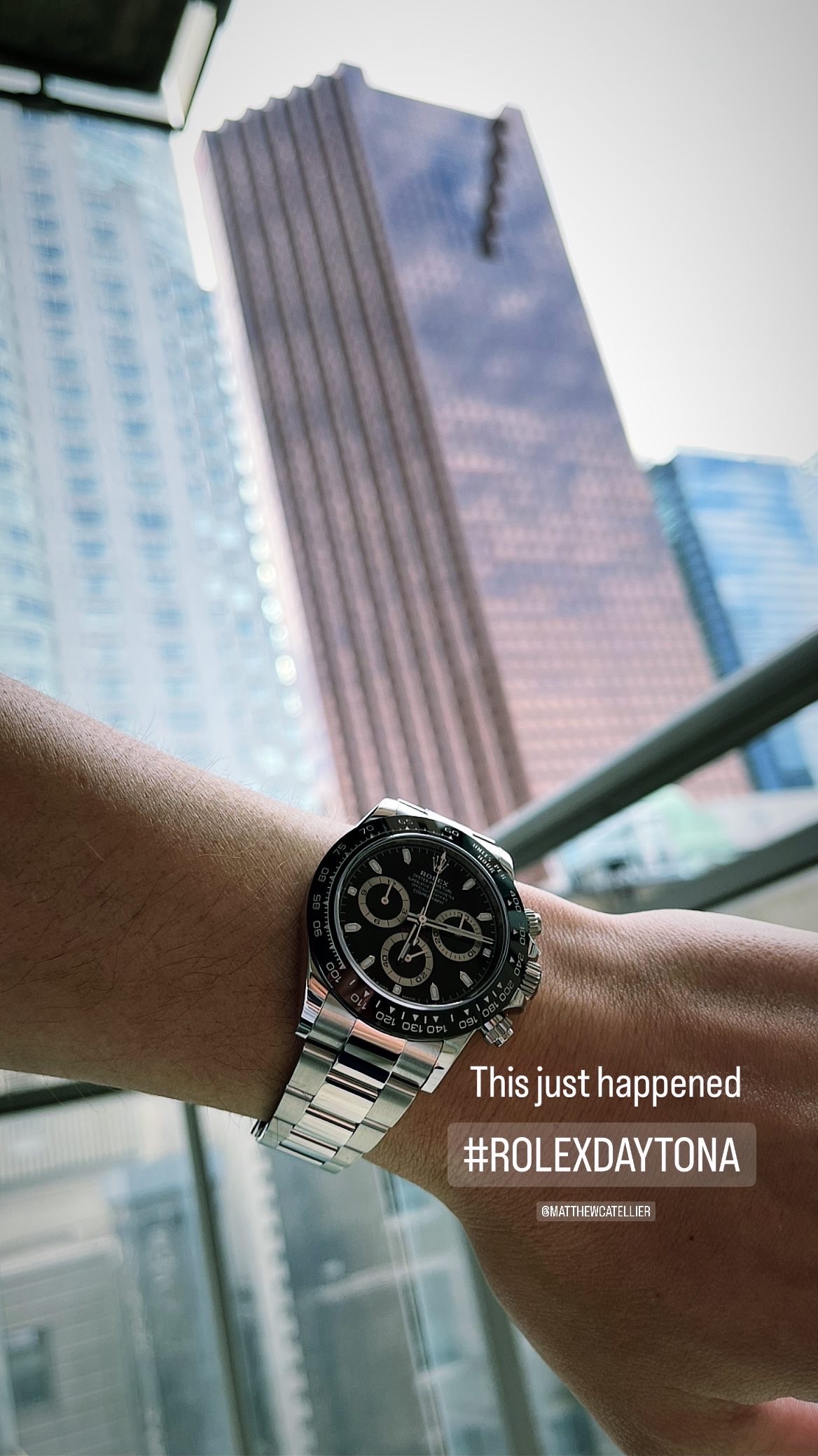 When in Toronto the next day, actually picking up the watch and having it sized was quite surreal, watching the sales representative casually stroll from the back of the store to our sizing desk holding the Daytona in the box was 10 seconds that felt like 10 hours, a tiny blip of time that's now permanently ingrained into my memory. The watch was sized and all stickers removed, the payment was complete and I was now part of the official Rolex Daytona owners club. Most of our readers already know I buy my watches to wear, the new 116500 didn't leave my wrist for a few weeks after buying it, my Submariner 114060 and Air-King 114200 sat lonely in their proprietary Watchpod® cases.
Time Tested Thoughts
Let's fast forward 3 months to today, I now have a very solid collective of experiences and memories wearing the new Daytona. I'll say that this watch is hyped for a reason, it's perfection – period. We can dive into the details of this watch and compare it to other chronographs and sports watches all day long, it simply comes out on top and aces all categories. You're getting profound water resistance where the Speedmaster cannot deliver, a slim case where 99% of all automatic chronographs cannot deliver, a watch that just looks incredible on the wrist no matter what you're wearing and a movement with a fascinating history and the list goes on. What you're getting with this watch is the perfect package, and after owning it for three months now it explains the inflated aftermarket prices, it's just too much of a bargain at its current retail price.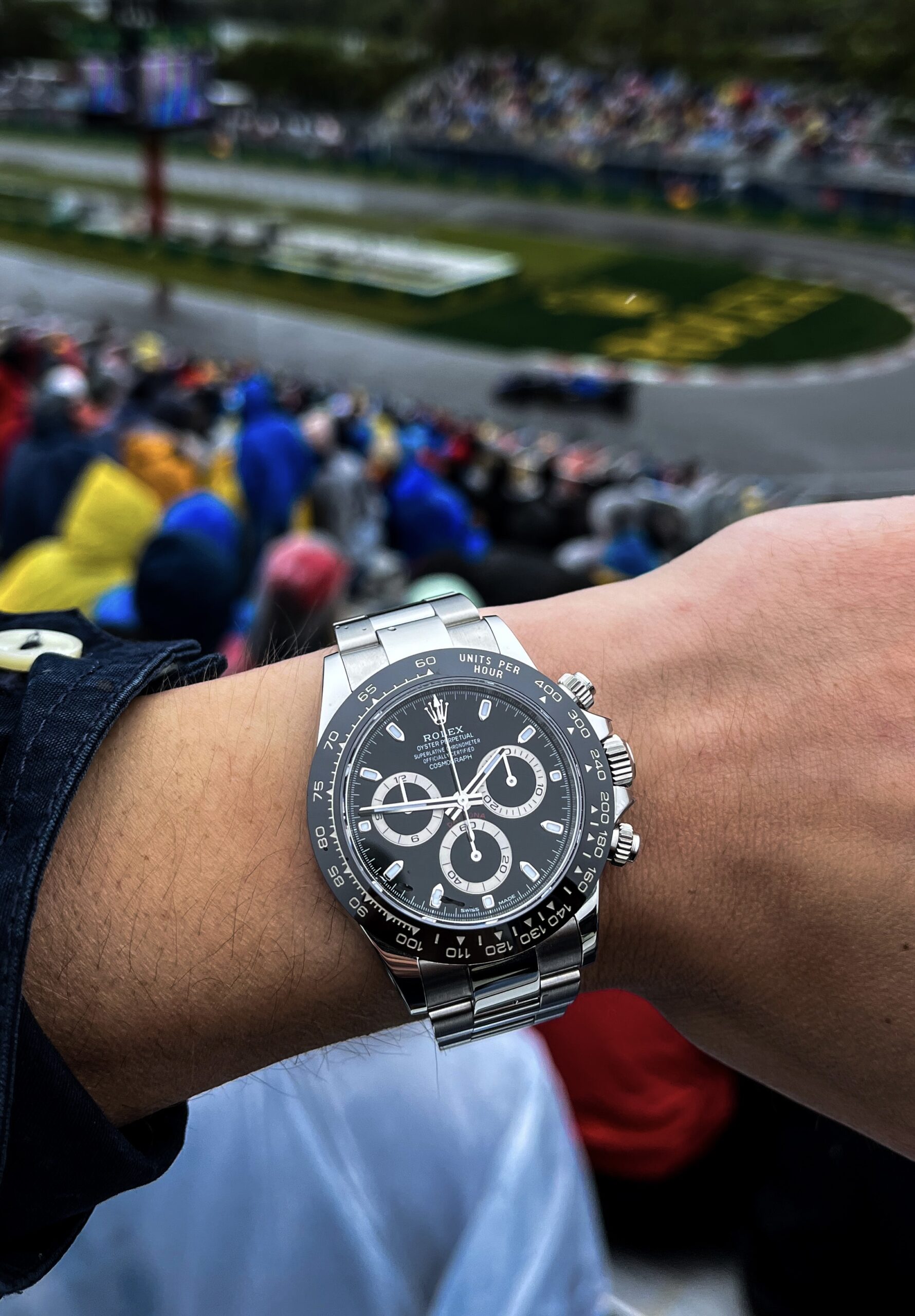 The one thing I noticed beyond the aesthetics, specs and history of this piece was simply the clout that the Daytona name carries. This is the first watch I own that really made me feel quite subconscious of my wrist, I was immediately more aware of who was looking at my wrist and quite a bit more careful in general when wearing it. It's not a loud watch by any means, especially the black dial version but it's very recognizable due to its chronograph shape. If someone knows what the Daytona is, they are surely not going to miss it when they see one.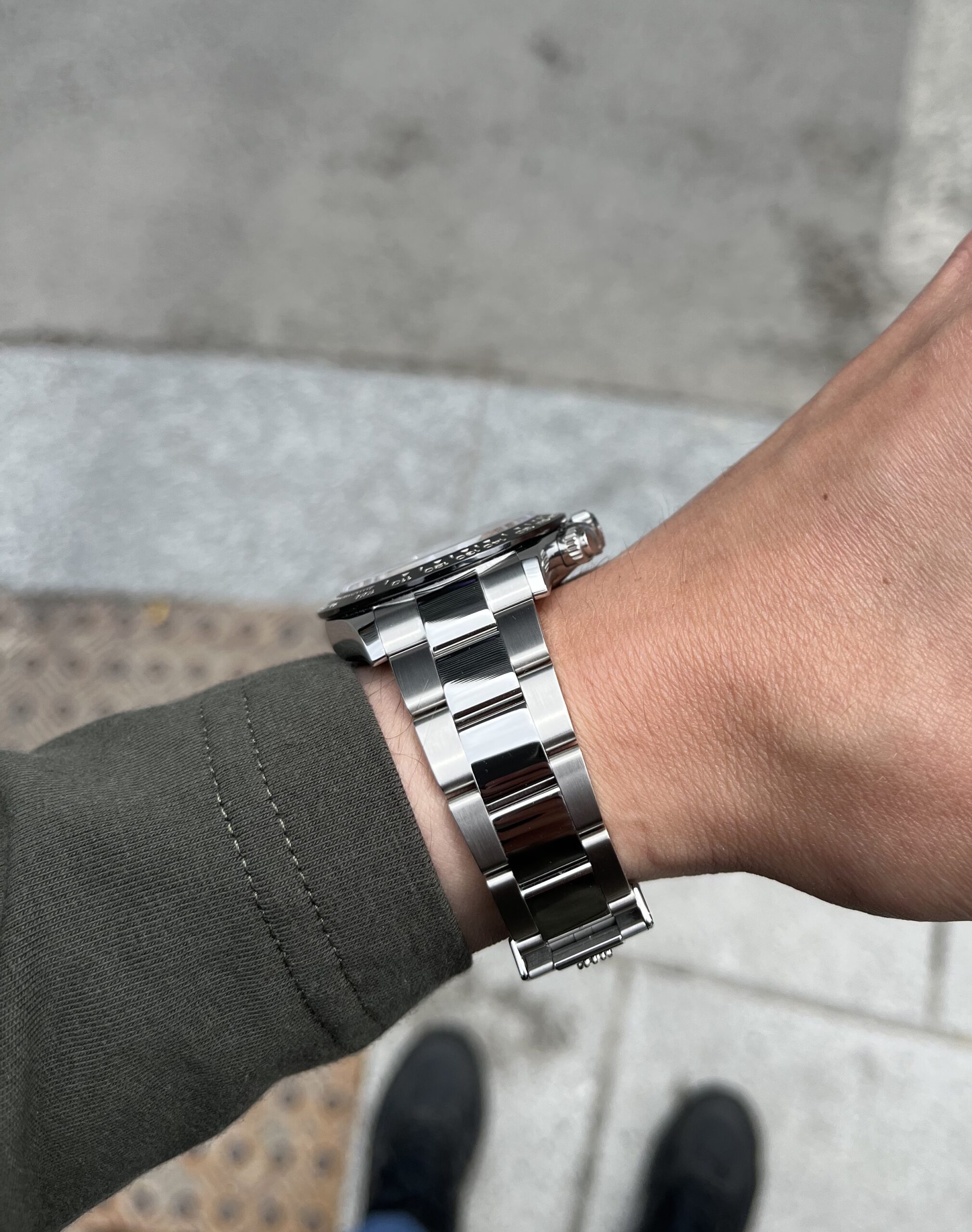 Another big difference for me was how easily the polished center links scratch compared to the brushed links like on the Submariner, I had very fine hairline scratches on the bracelet after only the second day of use. After a few weeks this all kind of evened out and is less apparent now than it initially was.
Wearability and Aesthetics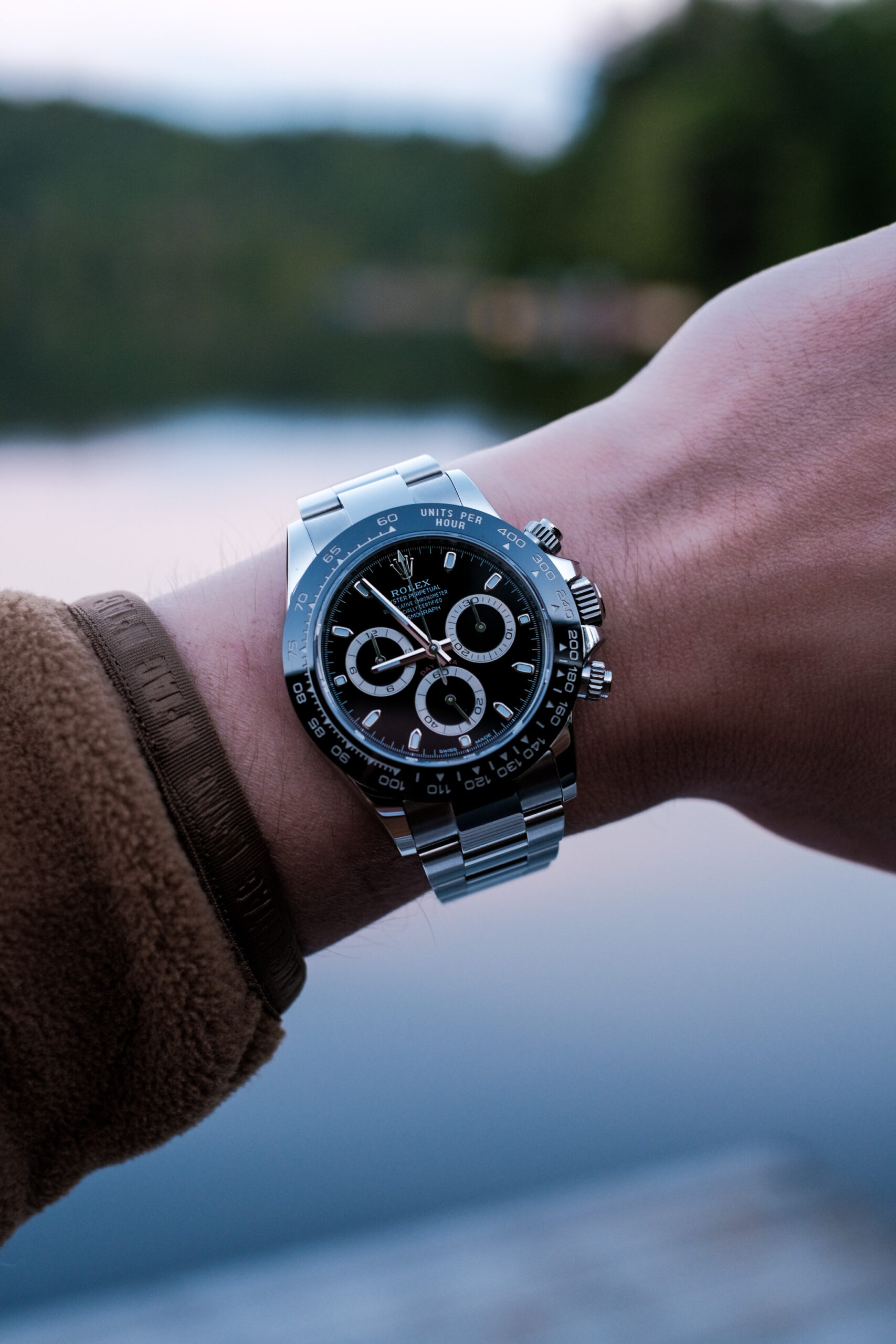 Comfort on wrist is 10 on 10, it's fairly lightweight in this steel variation. As mentioned before the sizing is also perfect and the watch has all the curves and bevels in all the right places, it feels extremely elegant but at the same time sporty. I don't know why but I get a cool Hugh Heffner hot tub vibe from this watch, it feels like the cover of a magazine on the wrist, and when you take it off and place it down for a moment it begs to be worn. I'm looking forward to testing out a jubilee bracelet and maybe a leather band or two which can really switch up the personality of this watch.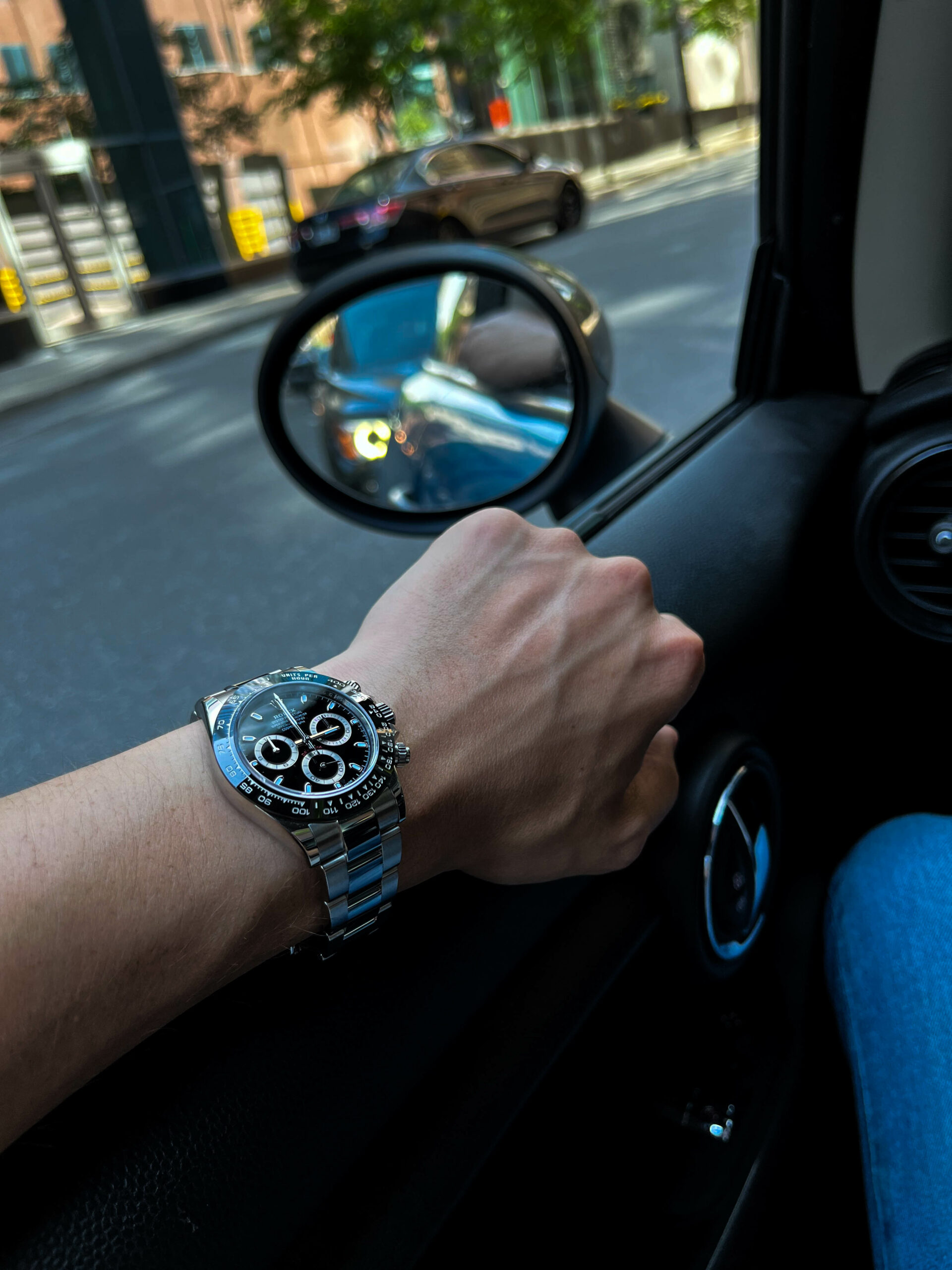 The bezel and dial are inky black, with the bezel appearing slimmer in person than it does in most photos. The conical slope of the bezel is also more apparent in reality but can occasionally be captured in a well timed photograph. The watch can feel busy at times due to the complex engravings on the bezel and full dial consisting of the three sub-dials and multiple lines of text. No room has been spared on the dial, but it's done in such a way that it works and is just part of the charm of this modern variation.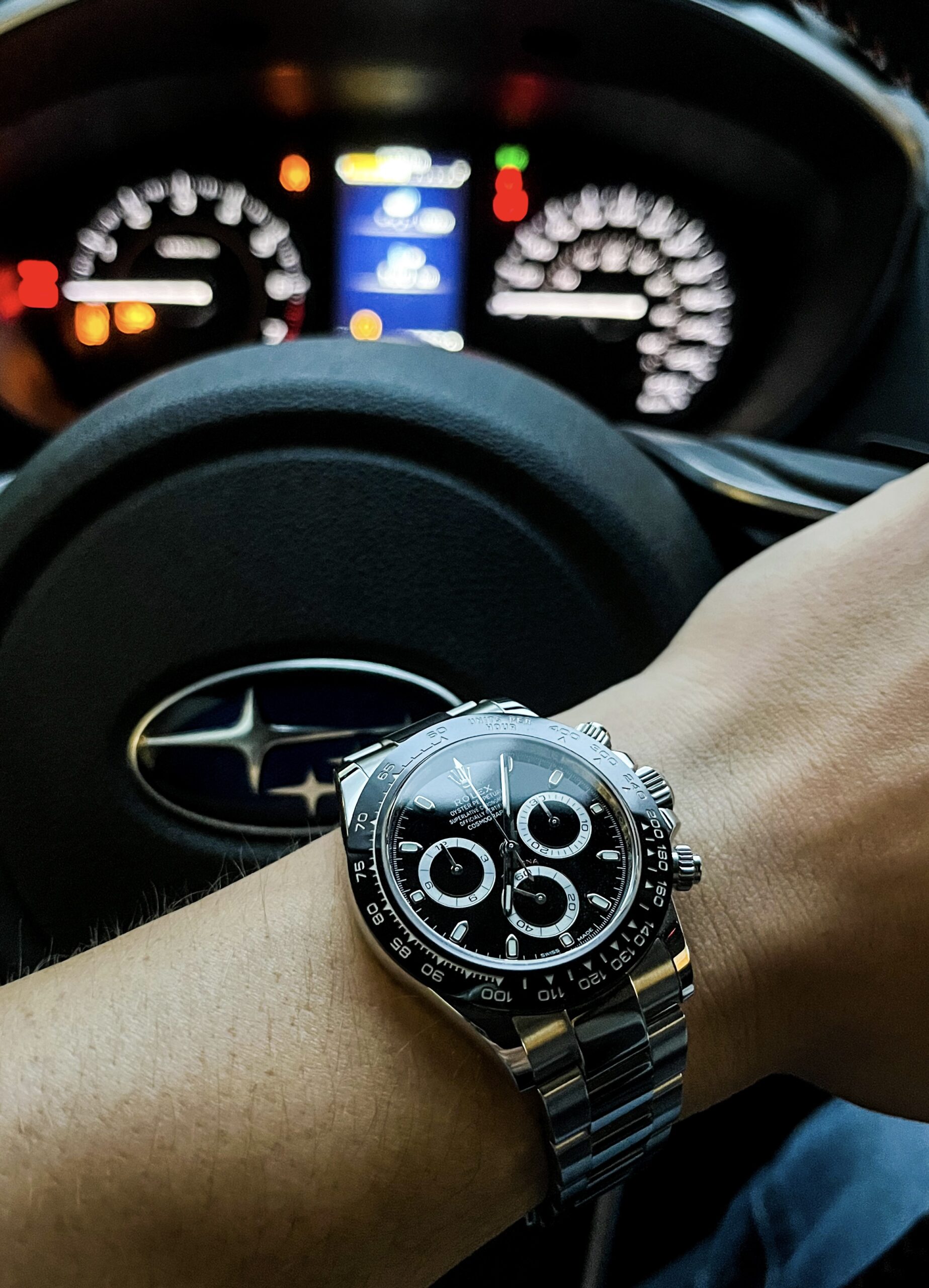 The Daytona is quite unique in the Rolex lineup in that it's one of the few models left that's retained the classic case shape without transitioning to the super cases as seen on the blocky Submariner and GMT Master II variants, while also sporting the Zenith style hour and minute hands at the same time. It has a stated 40mm size that actually measures in at 39mm allowing it to wear smaller than most other sports watches in the Rolex catalogue. There's just so much happening with the Daytona that I catch myself taking it out of the drawer just to gaze at and admire it at complete random, it's design execution at its finest that's just so intriguing.
Movement and Function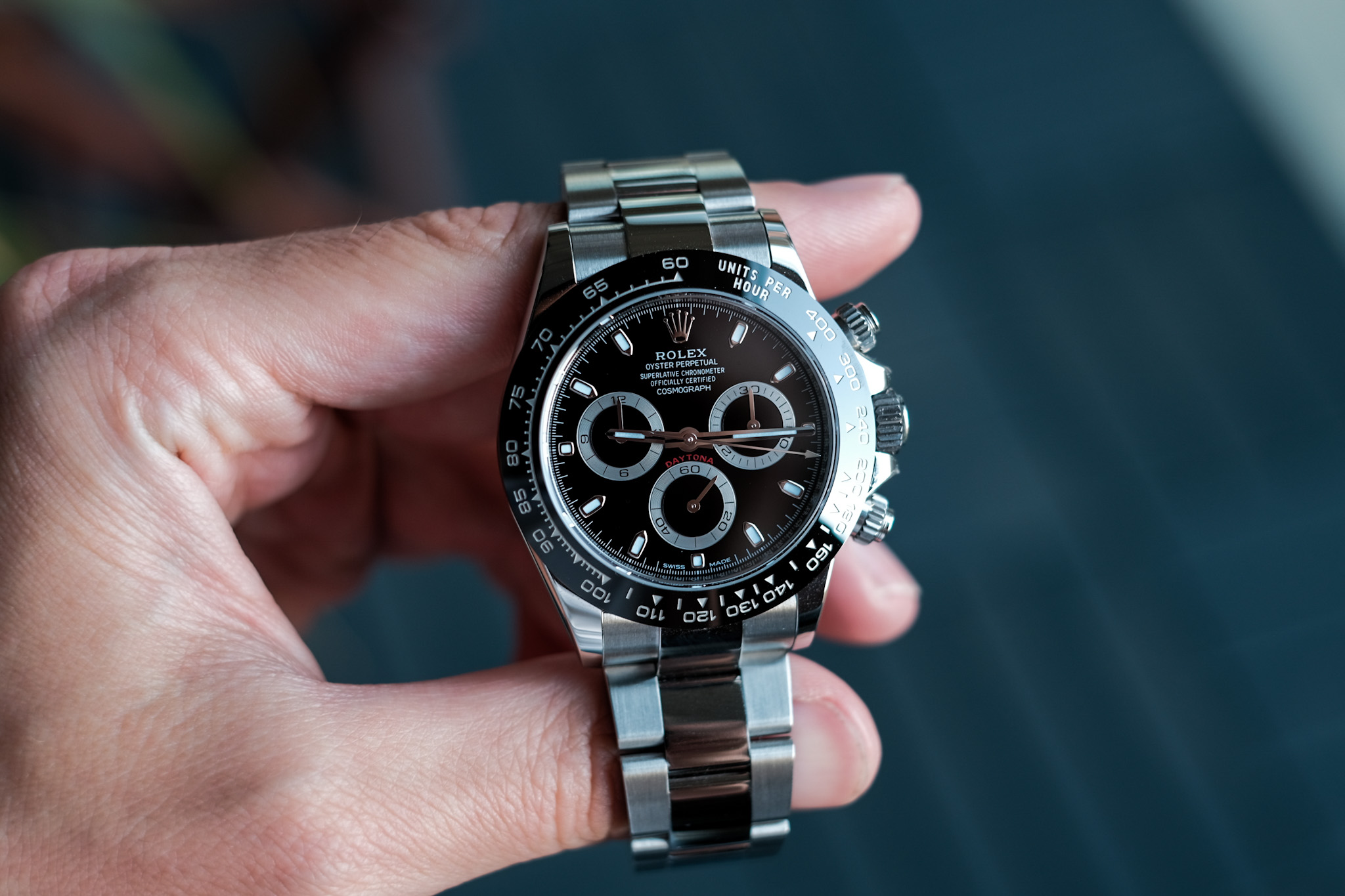 Many of you are already aware of the racing history behind the Daytona and its association with Paul Newman so I won't bore you on that front. The movement in the 116500 has quite the story to it, with it originally using Zenith movements and its final transition to an in-house Rolex movement with the current one in this variation being the calibre 4130 with 72 hours of power reserve. The 4130 is sporting a paramagnetic blue parachrom hairspring oscillator, with the chronograph function being accurate to an astounding 1/8th of a second! Let's be honest here for a moment, for your average watch collector the chronograph function probably won't be used very much, I've used mine only a handful of times in the three months since owning it just to watch the central chronograph hand glide across the dial.
Conclusion
Guys, I think you understand that I'm on cloud nine with this watch as most owners are. It's such a shame that it's so difficult to purchase from the Rolex Authorized Dealer, but I would advise you to keep trying if you also love this watch. There are many watches that can act as temporary replacements but you will always gravitate back to wanting this iconic chronograph.
I'll be updating this review with photos, video and new feedback as I continue to wear my new favourite watch in the collection – the Rolex Cosmograph Daytona 116500LN with black dial.