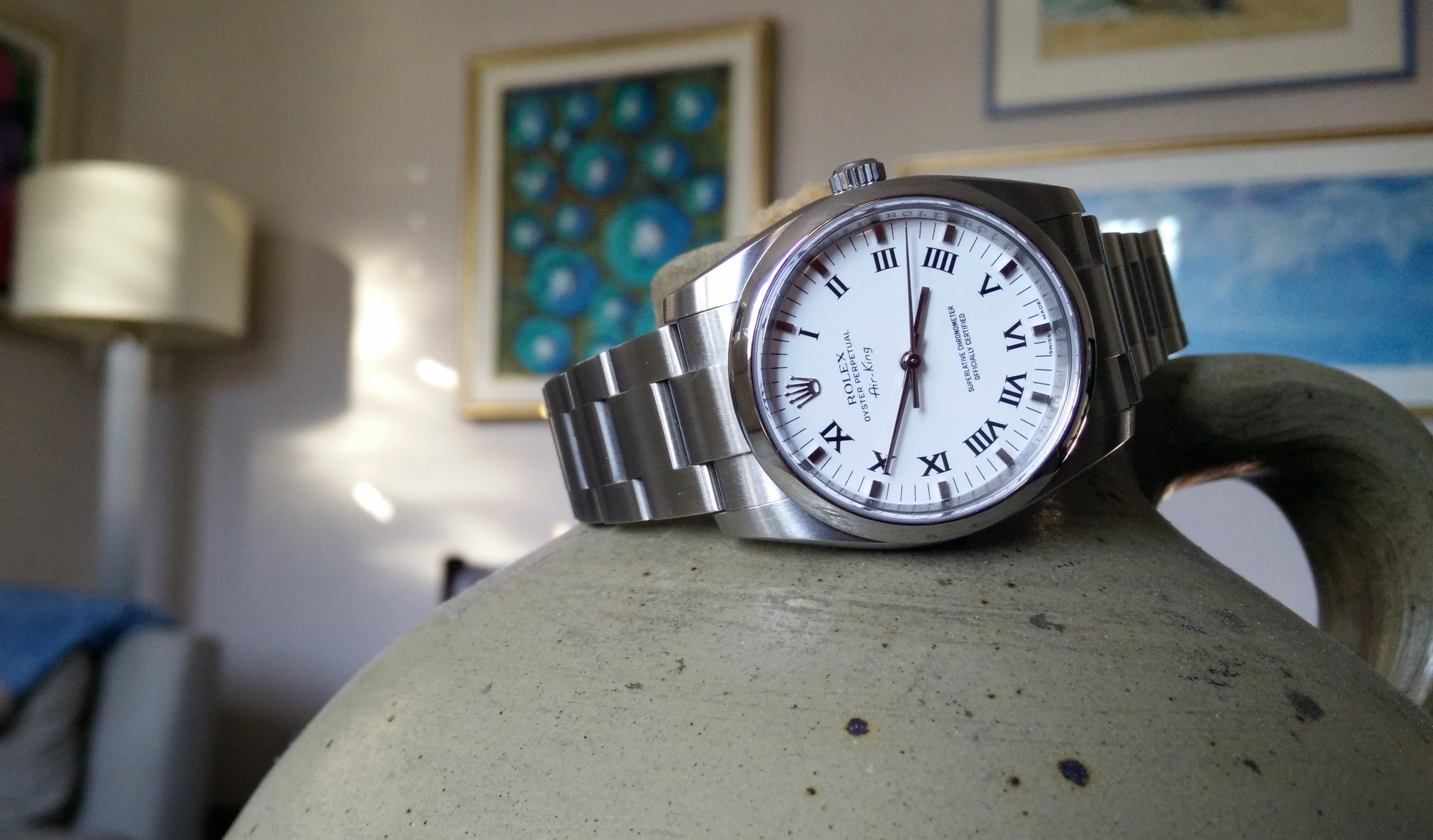 As we all know, Rolex is the number one, most influential luxury watch brand in the world. The brand itself has a huge history that started in London, dating back to 1905. They eventually moved their headquarters over to Geneva, Switzerland. Each one of their models has a story to tell, and a real purpose behind it's engineering and design.
Today, here at The Watch Review Blog, I'm creating a review on my personal watch that I've been wearing for the past 4 months, the Rolex Air-King 114200, with a white roman numeral dial. This specific watch was released in 2015, which is the last year Rolex produced the Air-King with a 34mm case, before discontinuing this style, and introducing a new style with a 40mm case size.
I truly love this watch, so let's dive in to the full review and see why!
Up Close & Personal
114200 Style and Build
In a few words, the style of the Air-King 114200 is understated, classy, and versatile. Your average person will not look at this watch on your wrist and say "nice Rolex", chances are they are not suspecting it's a Rolex at all. This is the kind of watch that flies under the radar, but also emits an unbelievable aura of class.
You can wear the Rolex Air-King 114200 with virtually any outfit, from super casual sports wear, to a full formal suit. This watch will complete the outfit, with no doubts in mind.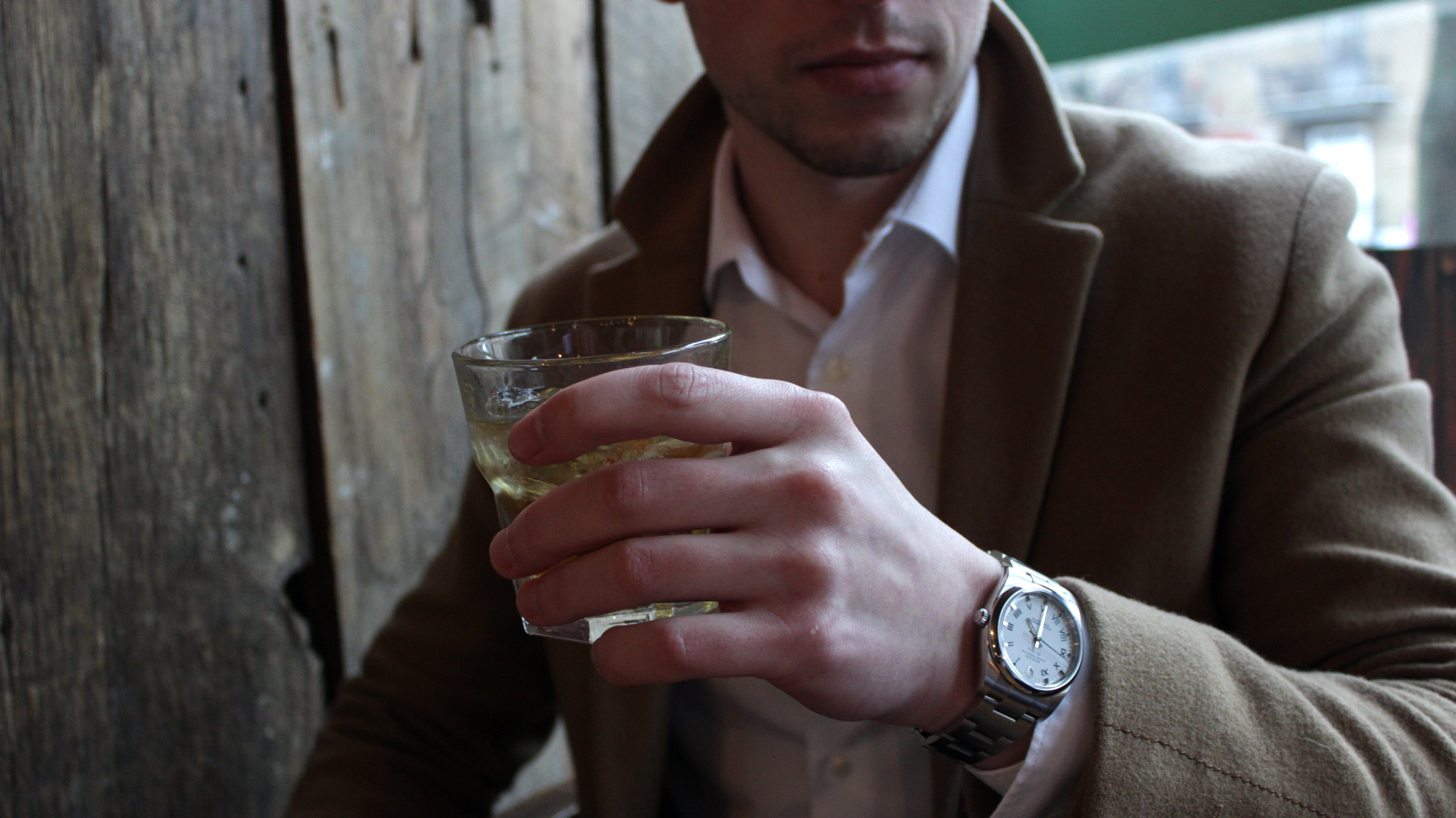 > > > Click here to see ratings, reviews, specifications and prices on Amazon < < <
There are a couple of stand-out reasons as to why this watch is so visually powerful, without actually screaming for attention:
The case is small at 34mm
The bracelet is small, matching the lugs
It's constructed entirely of high-grade stainless steel
The dial is basic, with no date feature
The sapphire crystal is flat
The dial has timeless roman numerals
The overall appearance is simple and not busy
The Rolex detailing, and final touches on this watch are exquisite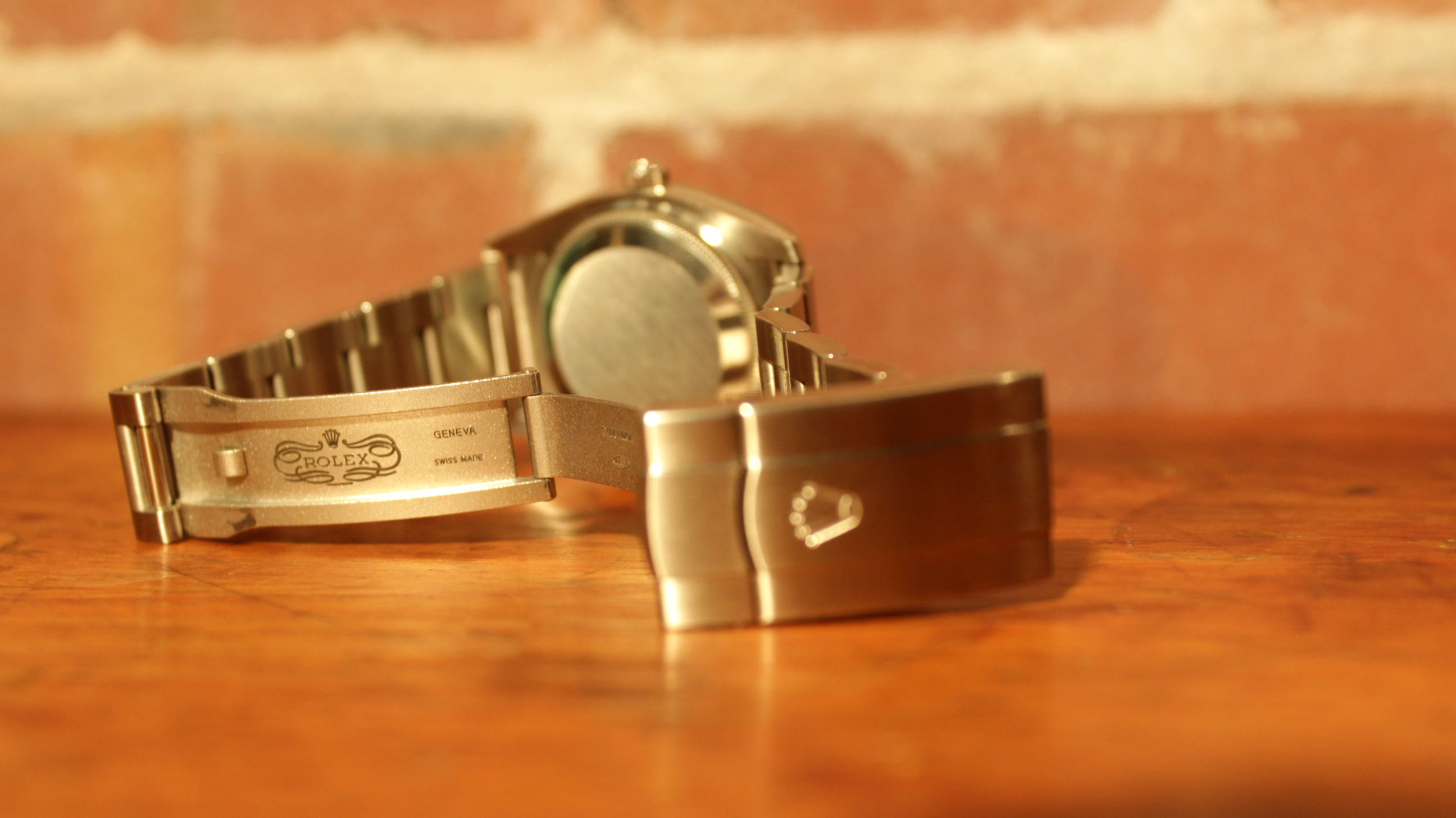 Bracelet
The bracelet on the watch is made from 904L steel, and closes with a folding oyster clasp, and the links are lightly brushed on the top and high-polished on the sides, making for a gorgeous combination. This oyster bracelet is also less flashy than its counterpart "jubilee" style. When fastening it to your wrist, you will hear a very comforting "pop" sound coming from the clasp, which is distinct to this type of bracelet, and truly signifies luxury.
Case
The case is also lightly brushed on the top, and highly-polished on the sides, giving it a very subtle but distinct look. This "Oyster" cases design process is patented by Rolex. They carve the case from a solid piece of metal, rather than soldering multiple pieces together. This insures it's robust strength, and helps with its water resistant capabilities.
Dial
The dial on the 114200 is simple, yet refined. It's a white dial with black roman numerals, and the Rolex crown at the 12'oclock position. There are white gold indices acting as hour markers, and are lined up with roman numerals for easy legibility. The black mini indices act as minute markers. The Rolex logo is also inscribed on the dial as usual, with "Oyster Perpetual" and "Air-King" also being inscribed under it. The term "superlative chronometer officially certified" is also inscribed on the dial above the 6'oclock position.
Hands
The hands are one of my favourite part of the Air-King 114200. First off, they are very visible against the white background. The hour hand is thick and stout, while the minute hand is a little longer and thinner, and the second hand is a brilliantly long thin needle style hand, that sweeps gracefully around the face. The second hand is a deal sealer, it's elegance is breathtaking when viewed up close. The second hand starts off thick, and then gradually fades into a pointy needle, unlike the Bremont ALT1-C which is hair-thin the entire way through.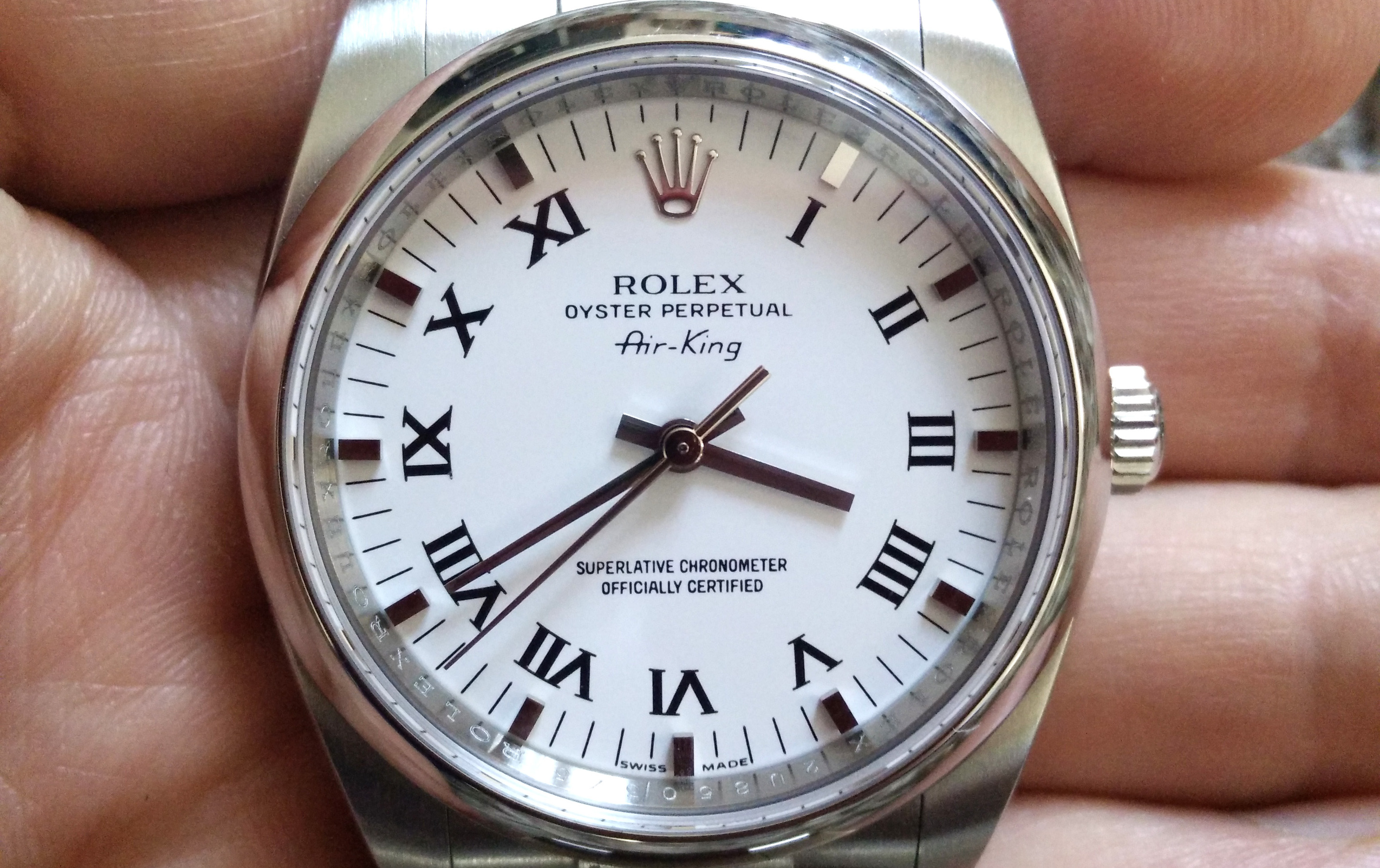 > > > Click here to see ratings, reviews, specifications and prices on Amazon < < <
Comfort
This is quite possibly the most comfortable watch I've ever worn, This is my personal experience, although it may not be the same for you. Therefore I always recommend you try a luxury watch on before you buy it.
Being an average sized guy, I have smaller wrists, no surprise there! I usually mention this in my reviews. Part of the reason why the Air-King 114200 is the watch you most often see on my wrist, is because of its 34mm case size. It sits perfectly centered on my wrist, it's not too heavy, and the design is relatively slim as well.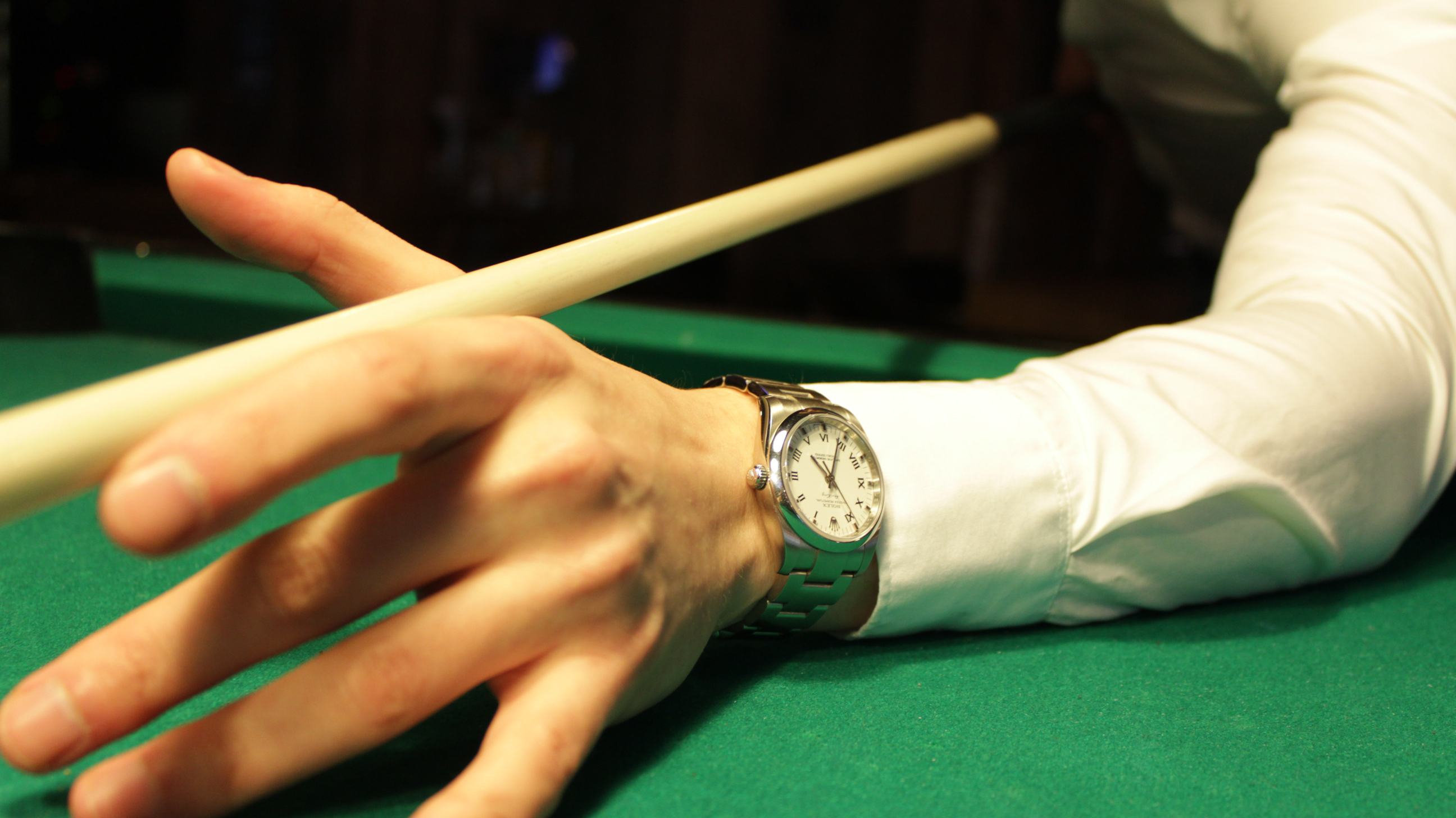 Movement
The 114200 is powered by Rolex's 3130 self-winding mechanical movement, which builds up a reserve of around 48 hours. This is also the same movement used in the Explorer models (they are also "no date") from the same year of production. The movement is of course highly precise and reliable, making it COSC certified.
For the first 2 months, I was little surprised, as I noticed that the watch was running a little faster than I expected, around +7 seconds per day. I did a little research, and noticed that there is a way to self calibrate this movement (slow it down), by simply laying the Air-King crown up at night. This small little tweak brought the watch down to an almost perfect +2 seconds per day! If you notice yours running a little fast, try this before bringing it in for inspection.
Conclusion
This is hands down my favorite watch to wear, whether I'm going to work, relaxing at home, or out on the weekend, my Rolex Air-King 114200 is on my left wrist. There are many things about this watch that just work for me. The size, the low profile, and it's classy style!
This is also an investment piece, one that will not drop too much in value after you purchase it. Chances are, it may even appreciate in its later years, as a sought after collectors timepiece.
> > > Click here to see ratings, reviews, specifications and prices on Amazon < < <