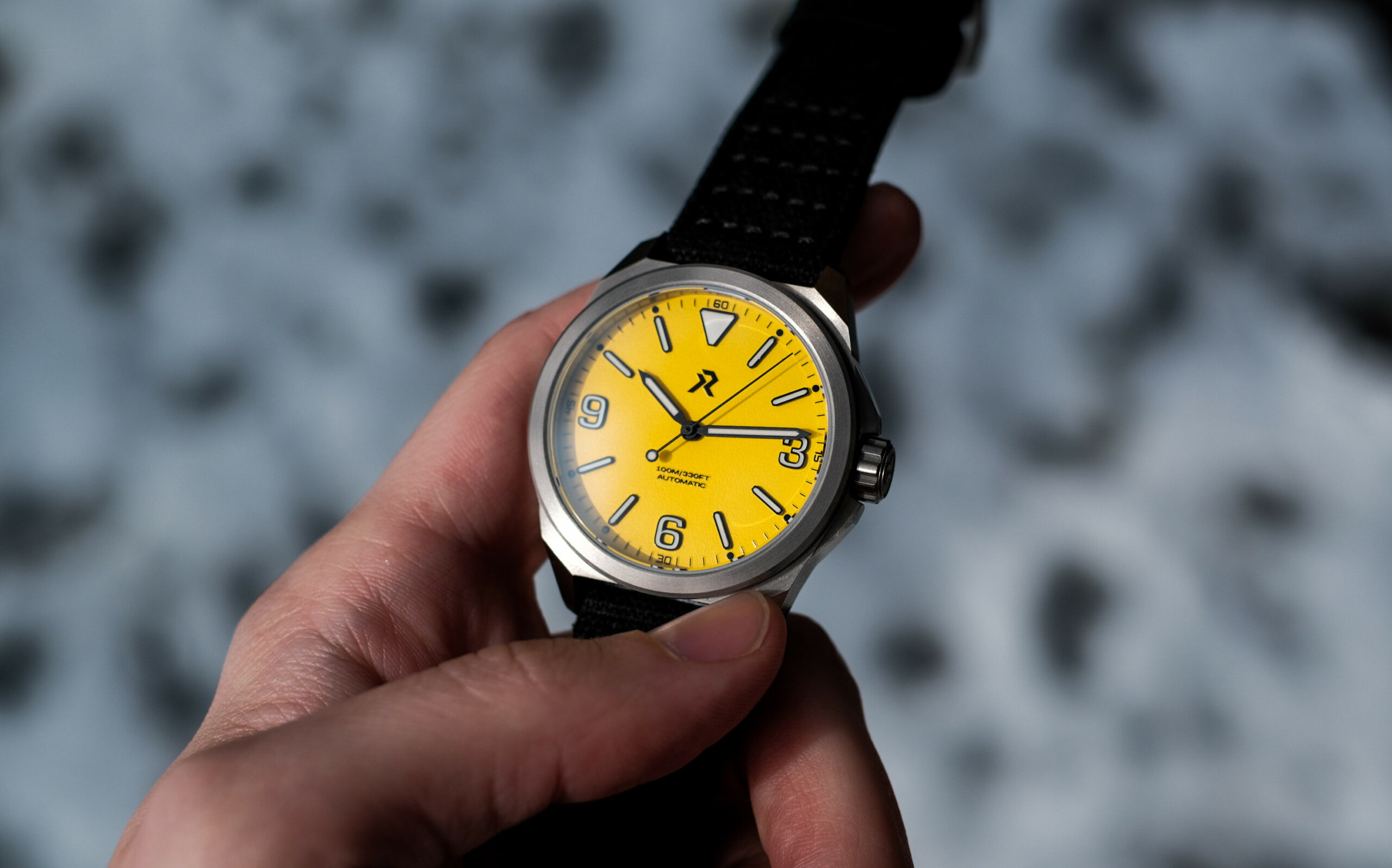 RZE's Resolute series of watches is popular with hikers, mountain climbers, spelunkers, and anyone else who loves the great outdoors. With its combination of rugged reliability and light weight, it's versatile enough to be worn under a variety of conditions. As a result, it's become known as a great all-around watch for work or play.
The new Resolute 2022, released in late March, is the latest incarnation of this iconic series, built with an updated movement and other tweaks and improvements. This is a more modern watch, but it still does all the things that made the original so iconic. But how well does it actually perform, and how does it wear? Here's what I learned.
A Simple, High-Visibility Dial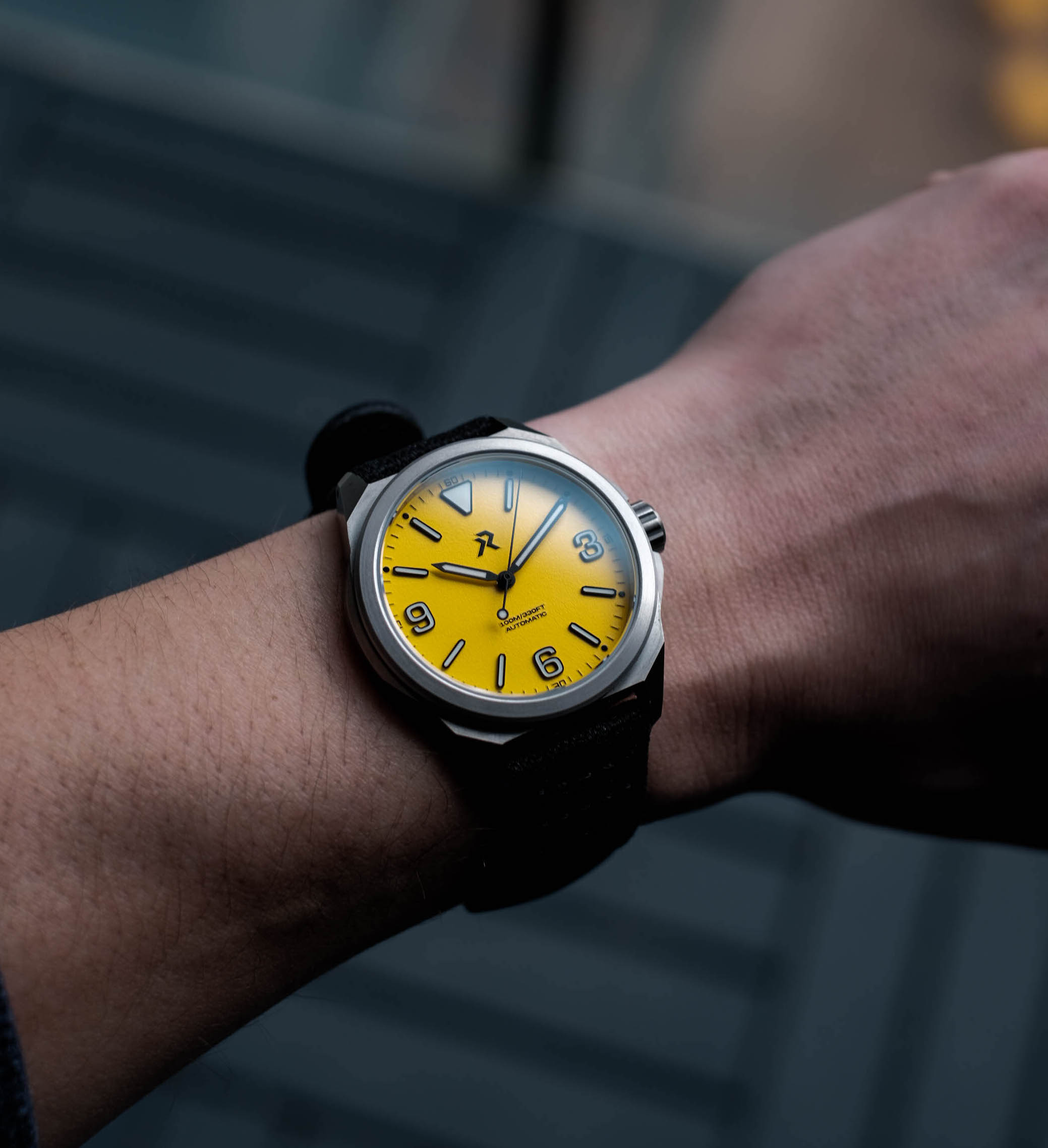 The RZE Watches Resolute 2022 comes in five different colors: Arctic Grey, Forest Green, Candy Pink, Medallion Yellow, and Full Lume. Most of these are self-explanatory, but for what it's worth, I have the Medallion Yellow version. That said, the Full Lume is particularly striking. This version has a white dial that's entirely luminescent, and it looks gorgeous in the dark.
The dial has a sunburst finish in your color of choice, fading from light to dark as you move from the center to the outside of the dial. In the top portion, there's a grey RZE logo. In the bottom portion, the words "100M/300FT Automatic" are printed in a small grey font.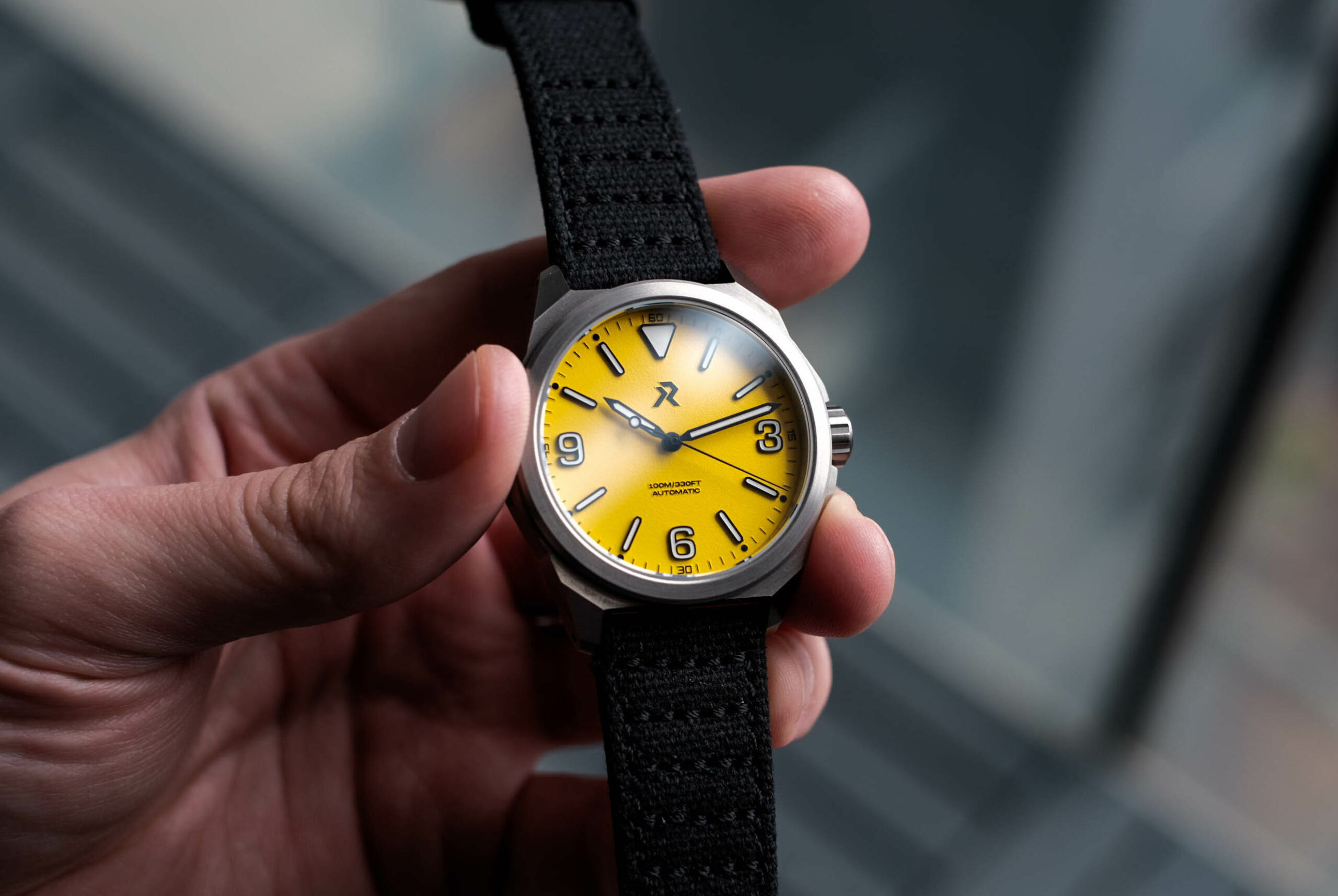 The outer index at the circumference of the dial has a series of tiny applied silver hashes at the one-minute positions. There are matching round lugs at the five-minute positions. There are even tiny Arabic numerals at the 15, 30, 45, and 60-minute positions. The font is so small you'd never realistically want to read it, but it's an attractive accent on an otherwise-plain outer index.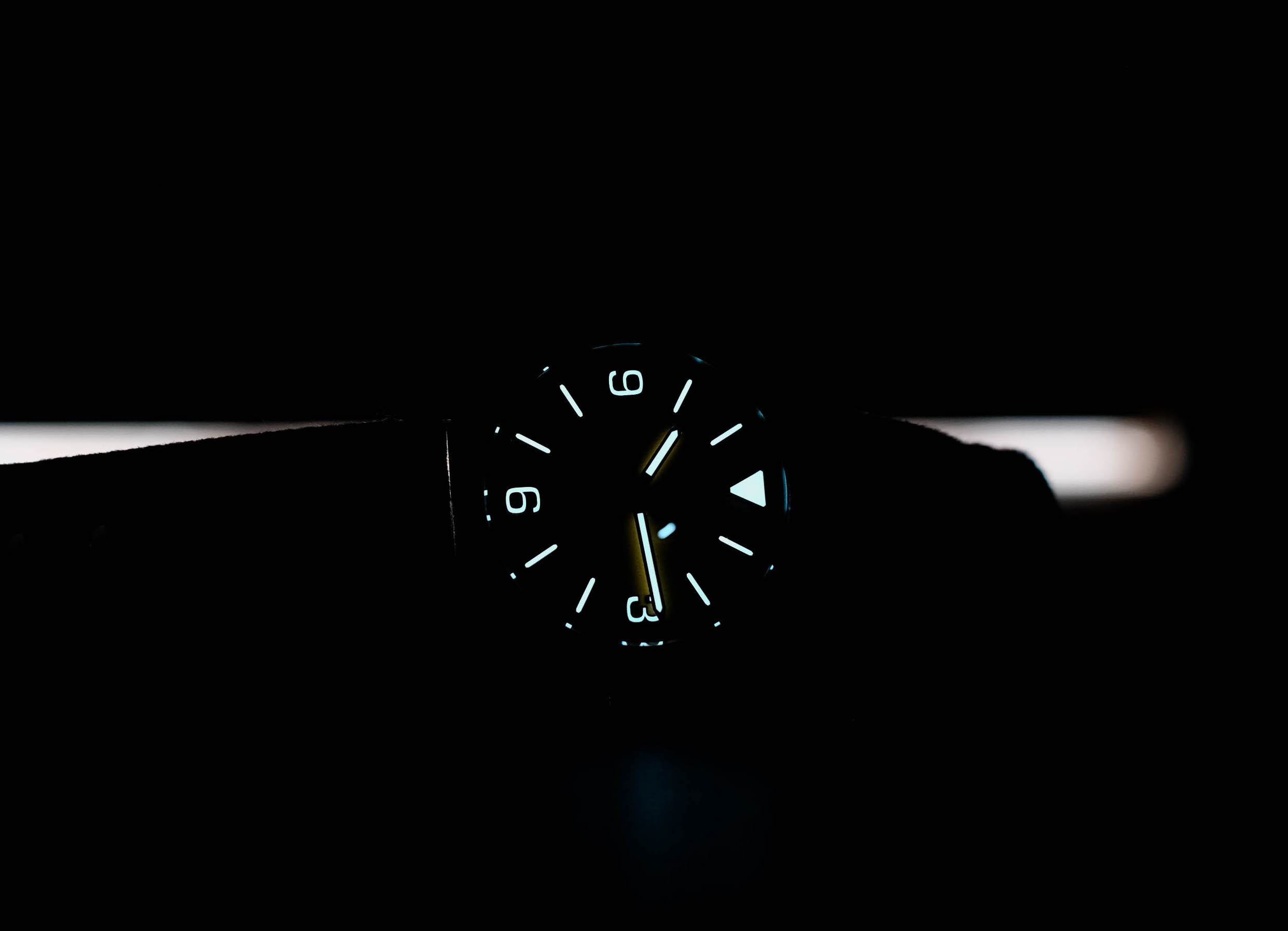 The inner index is also plain, but it's much more high-visibility. There are large, silver-bordered applied lume stripes at the five-minute positions. Meanwhile, similarly-colored Arabic numerals mark out the 3, 6, and 9-o'clock positions, with a broad, downward-pointing arrow at 12 o'clock. There is no date window, nor are there any other complications.
The hour and minute hands are silver and broadsword-shaped, with straight sides and pointed tips. Both have lume stripes down the center, and as you might expect, the minute hand is significantly longer. The second hand is long, slender, and needle-shaped, and reaches all the way to the outer index. There's a lume pip at the back end, which serves no practical purpose besides verification of its movement, but still provides a nice accent.
A Durable Case & Crystal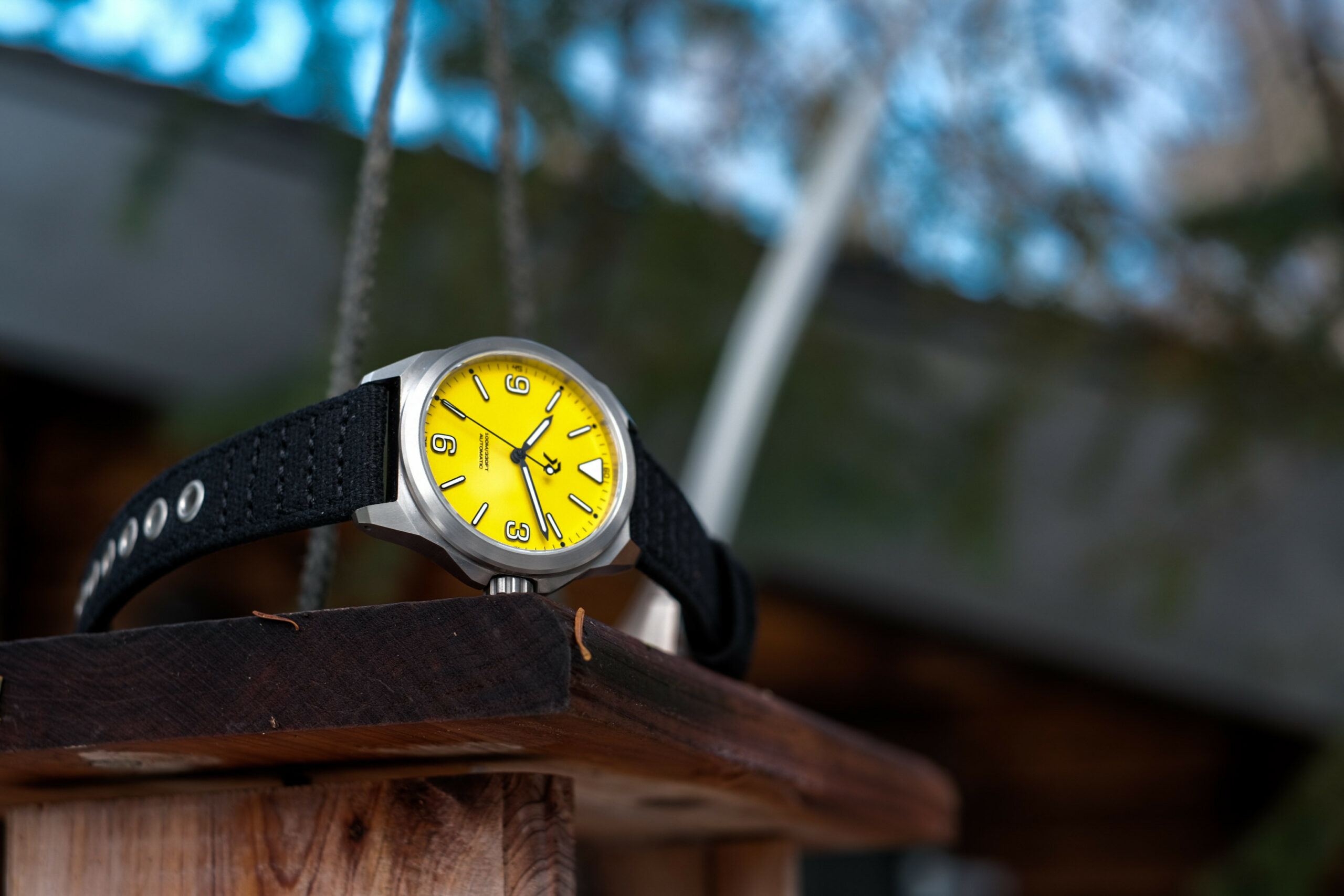 The Resolute 2022 has a durable case, constructed from titanium rather than steel. This provides superior strength, damage-resistance, and it's completely corrosion-proof. The brushed finish is easy on the eyes, and it's coated with RZE's proprietary UltraHex technology. This makes it even more scratch-resistant then ordinary titanium. As an added bonus, titanium is much lighter than steel, so it feels smaller than it is. At 40mm in diameter, it has a medium wrist presence, and the 10.5mm thickness keeps the profile incredibly slim, which was one of its standout features for me.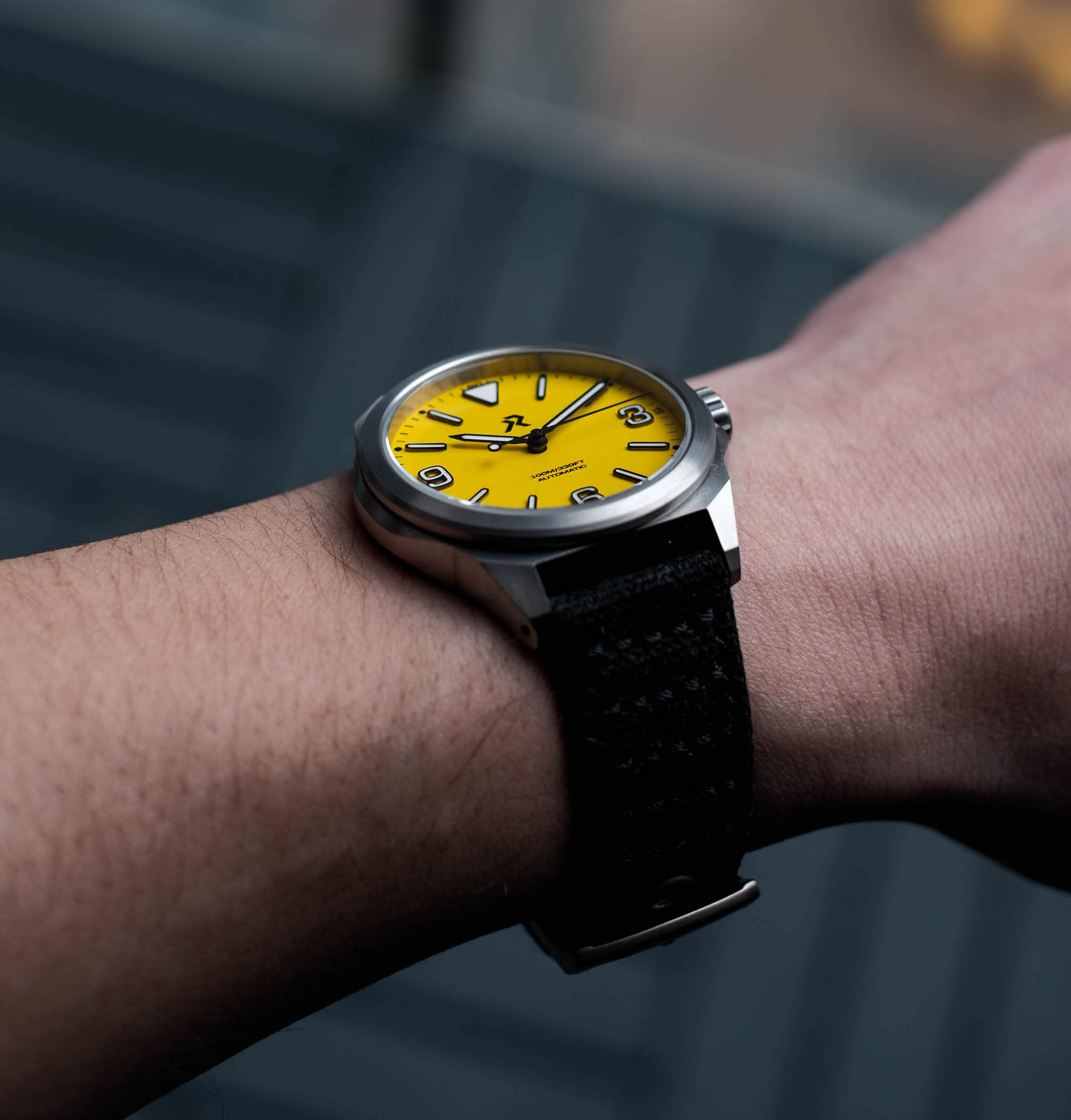 The 20mm lugs are thick and angular, and allow you to change the strap easily. You can order the Resolute 2022 with two different options. It can come with a canvas strap, which is metal-studded for extra strength and colored to match your dial. Or, you can choose the tri-link steel bracelet, which is very flexible as well as surprisingly tough.
This watch is rated for up to 100 meters of submersion. In practice, this doesn't make it a dive watch. But it's more than tough enough for swimming, showering, or even snorkeling.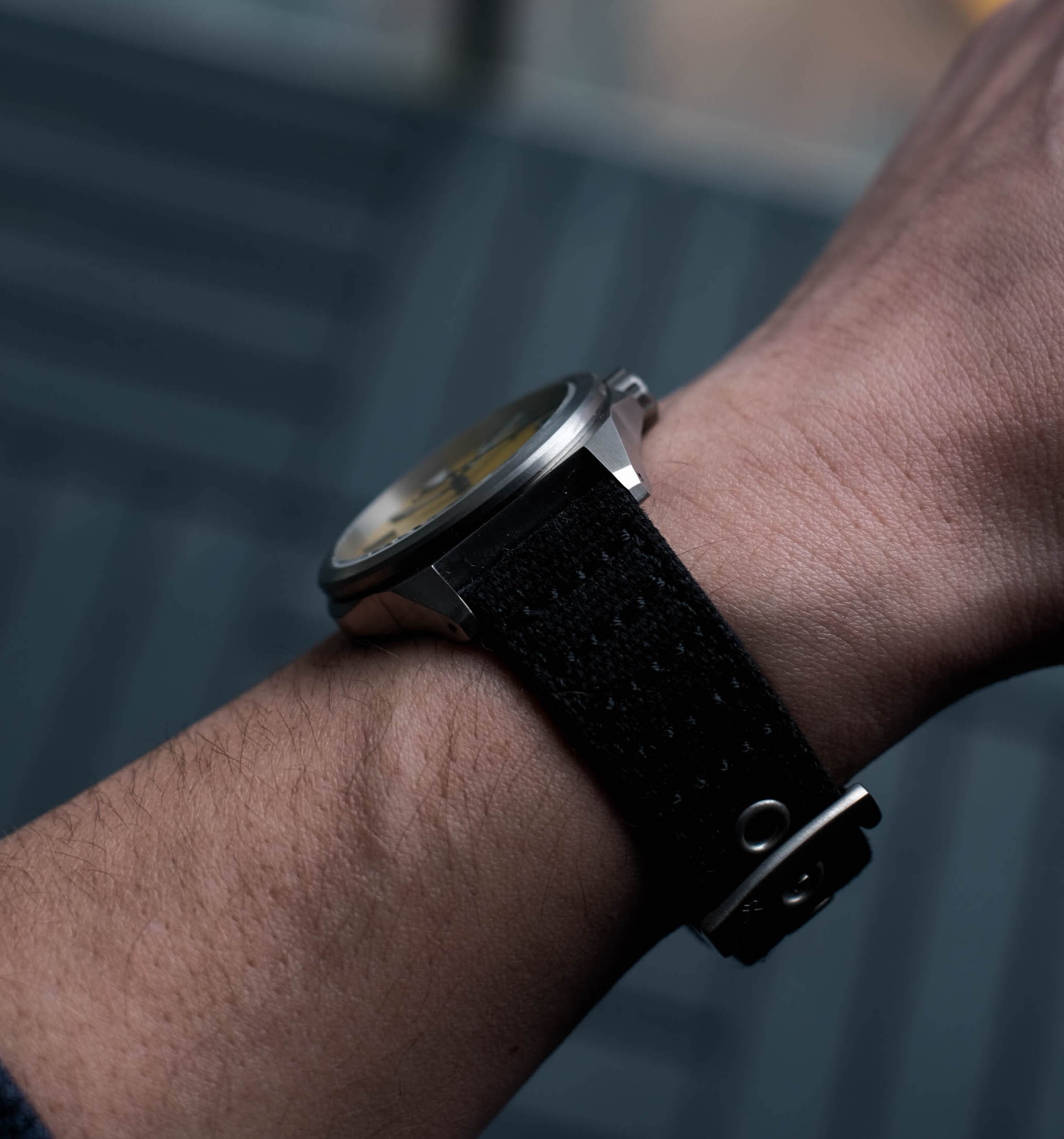 The sides of the case are shaped like an irregular octagon, with tall sides and a long top and bottom, and narrower edges cutting off the corners. The crown is protected on the sides, and has a screw-down design to aid with water resistance. There's an attractive embossed logo on the tip, and knurled sides to make it easier to operate.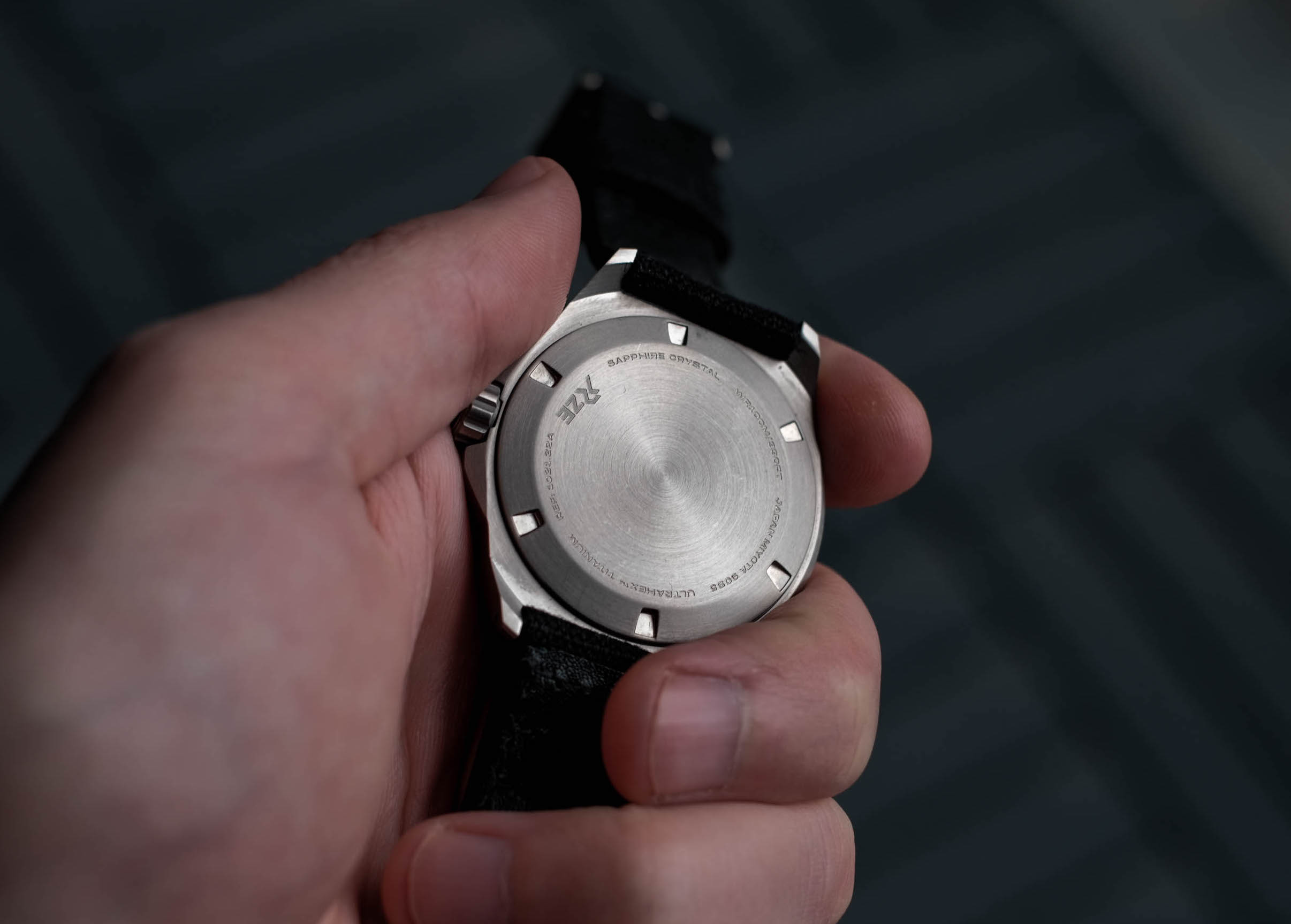 The bezel is round and smooth, with a flat surface that gives it a unique, industrial appearance. It surrounds a sapphire crystal, which is coated on the inside with an anti-reflective coating. It's slightly beveled around the edge, which creates a little accent, but without distorting the dial. The rest of the crystal is flat, so you get a clear view of the entire dial. The case back is solid titanium, and a screw-down installation that makes maintenance quick and painless.
Miyota 90S5 Movement
RZE has upgraded the Resolute 2022 with a Miyota 90S5 movement. At -10 to +30 seconds per day, this is far from a chronometer-grade movement. But it's still reasonably accurate, and it boasts a 42-hour power reserve. And with its hacking design, it's easy to adjust the time and keep it accurate.
To view all of RZE's watch offerings visit their official website here.