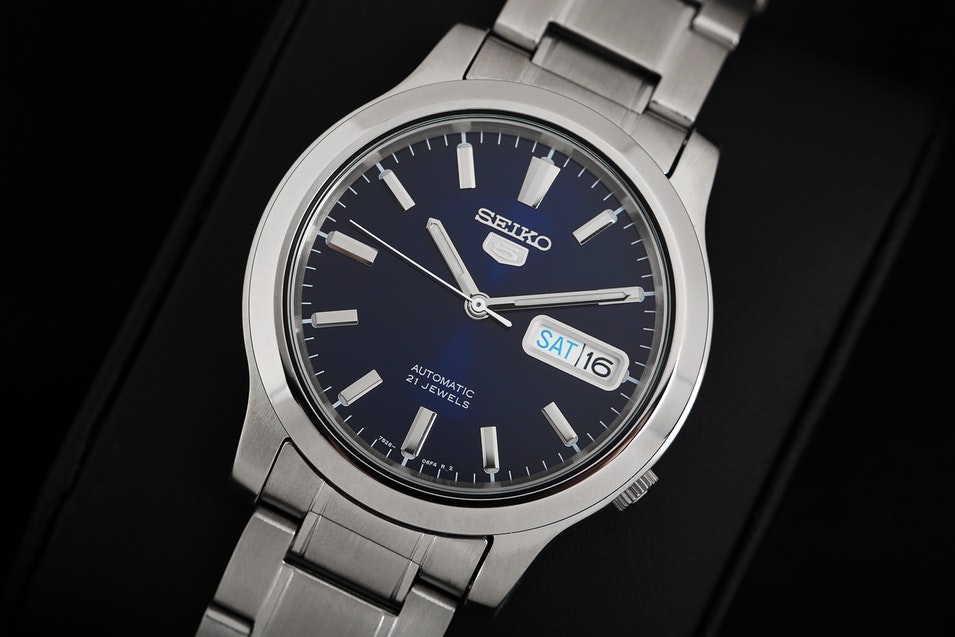 Kintaro Hattori is the founder of Seiko and he had his vision turn into a reality by becoming an innovative company who has been dedicated to the art of science and time for 125 years, passing down in generations. Seiko is a Japanese holding company who were established in 1881 and since then they have been building their reputation for supplying and manufacturing excellent watches that are known for being reliable and advanced in technology.
Seiko has been known ever since as a company that provides excellent time pieces to suit a range of different budgets, but never negotiate on quality. With every watch you find to choose your lifestyle and style choice, you can be sure to find one within your budget and provides you with exactly what you want in a watch.
SNK793 Design/Size
This Seiko 5 model is 36mm in diameter with a thickness of 11mm, which makes it a very decent sized watch and definitely not too big. The size makes it suitable for those with small to medium sized wrists. The 36mm casing is stainless steel and has been protected by a Hardlex crystal dial window that is an incredible scratch resistant material. Hardlex crystal is well known for being brilliant for minimizing signs of wear and tear such as scuffs and scratches from daily wear.
> > > Click here to see ratings, reviews, specifications and prices on Amazon < < <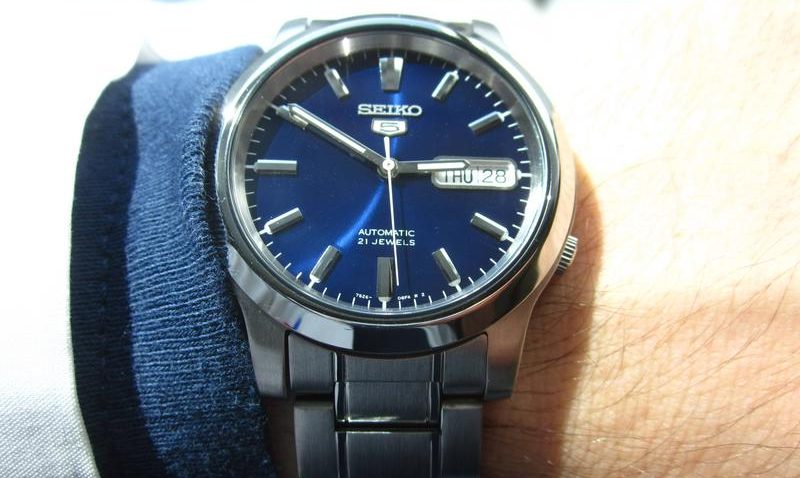 On the left hand side of the watch is the crown which operates the day and date window. The day/date window is located on the left hand side of the dial at the 3 position. Within the day window, you can display the day of the week in two different languages, which can be changed by turning the crown when you alter the day. The choice you have for languages are English and either Spanish, French, Arabic, German, Kanji, Roman Numerals, Danish and Chinese.
The stainless steel, silver toned bezel is fixed which means that it cannot be rotated. The bezel has 3 hands – hour, minute and seconds, that are luminous which makes it perfect for seeing in the dark. Not only are the hands luminous, but so are the hour and minute markers that are situated along the outer rim. The larger minute markets are set at every 5 minutes, with the smaller markers being at every minute in between.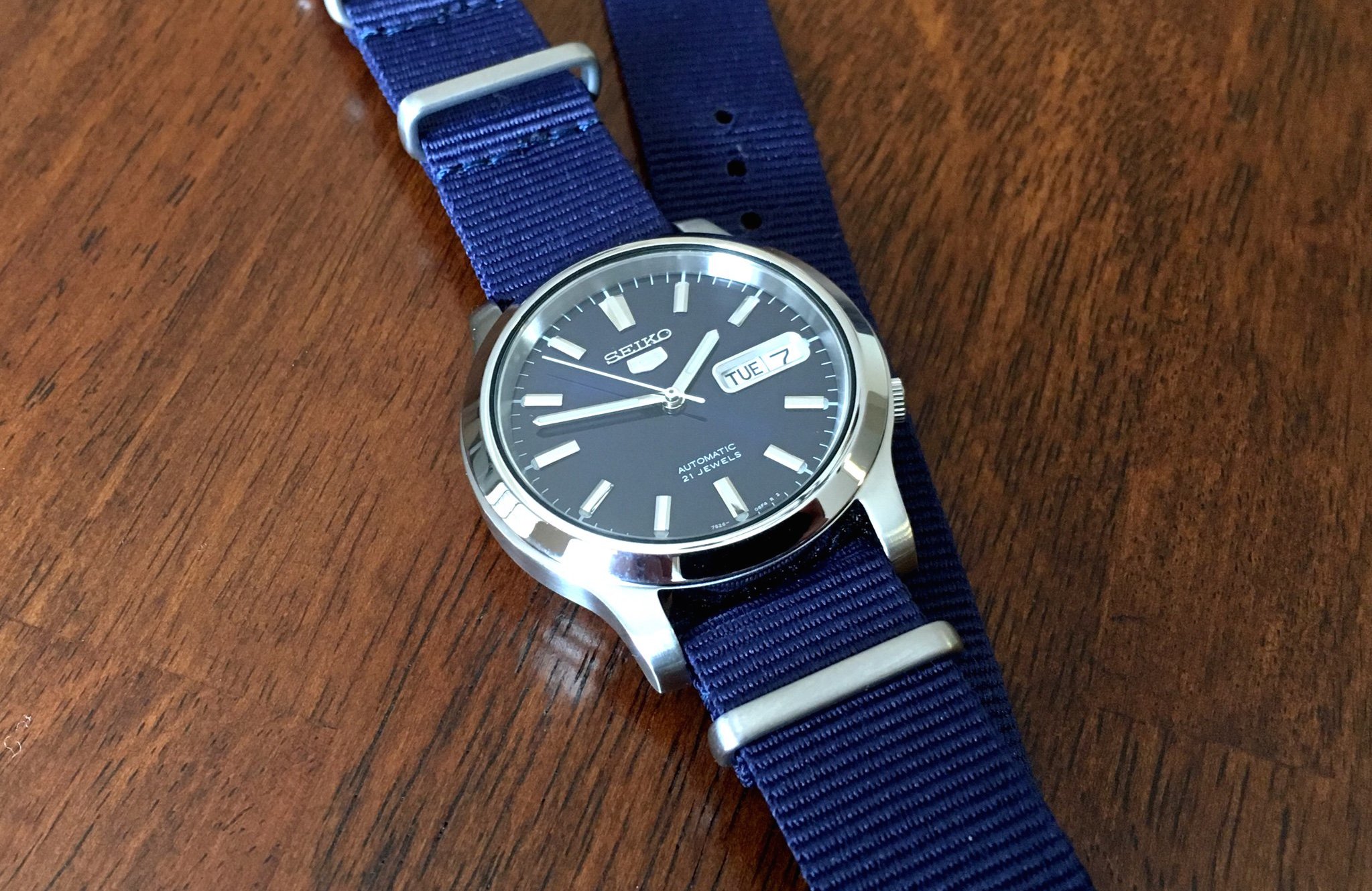 > > > Click here to see ratings, reviews, specifications and prices on Amazon < < <
The gap between the lugs of this Seiko 5 watch is 18mm and the stainless steel bracelet band can also be adjusted to fit your wrist by using a simple link removal tool at home. This Seiko watch cannot be manually wound, which means that the second hand does not stop once the crown has been pulled out to alter the day/date window. The watch will self-wind when it is being worn and moved and once it has been fully wound it should keep running for up to 43 hours at a time.
This model is also water resistant for up to 100ft (30m) which is designed to be suitable for swimming as well as snorkelling but some people say that it is only best to use in splashes and rain. The watch is definitely not considered suitable for diving and may end up damaging your watch beyond repair.
Movement and Bracelet
The Seiko SNK793 has an automatic movement with analog display, that represents exactly what Seiko is all about. This superb Seiko 5 timepiece comes with 21 jewels and uses a 7S26 caliber self-winding mechanical movement that cannot be manually wound.
The silver tone, stainless-steel bracelet features a push button deployment clasp that looks great for casual wear. This particular model comes as part of a set of eight other watches that are all identical to each other except for their colour and bracelet. This Seiko watch ticks 6 times per second which gives the wearer a much more smoother movement than Quartz watches which only tick once per second.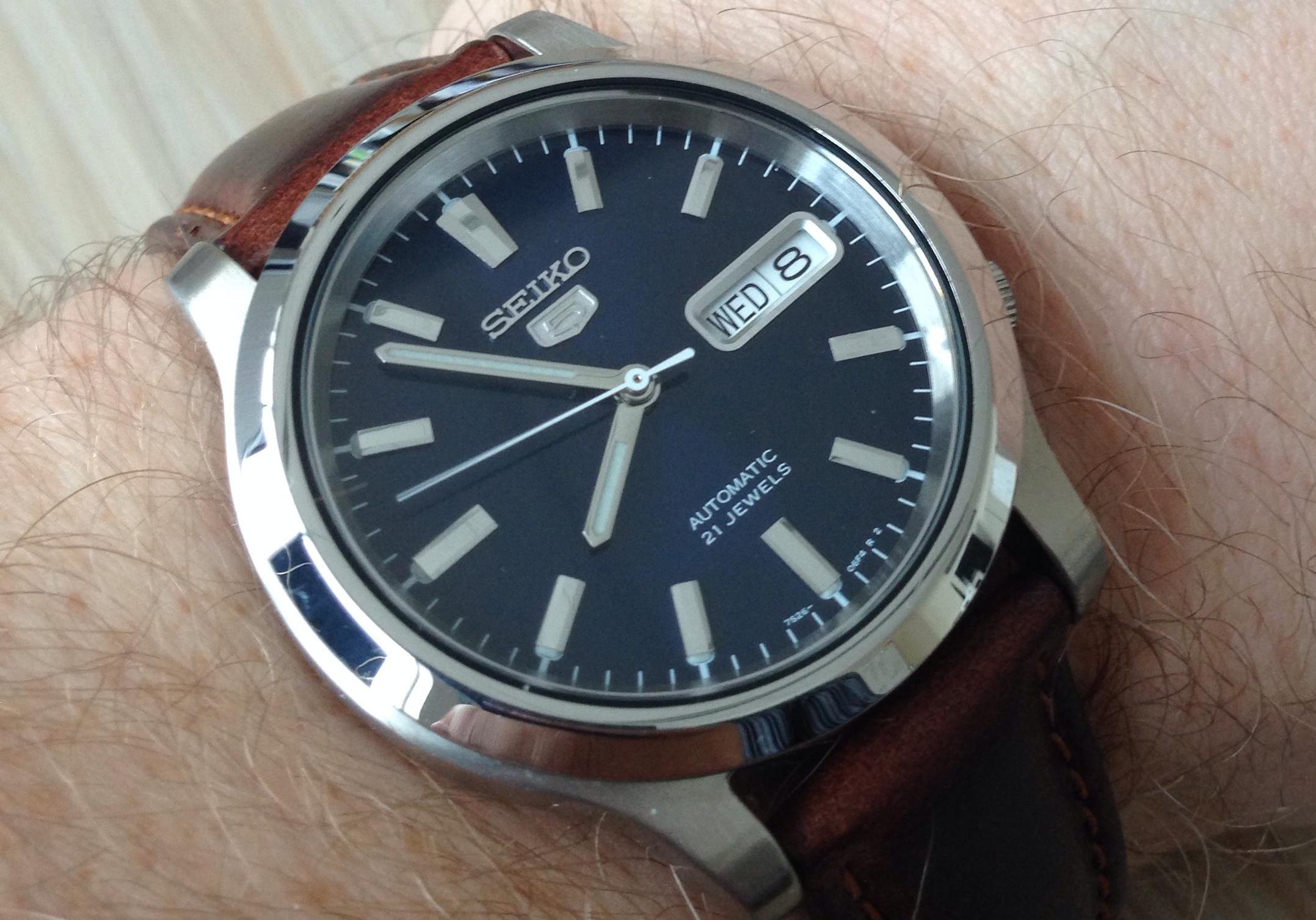 Conclusion
If you are looking for that perfect watch for your everyday casual wear, whether that is for plodding around or even work, then I can highly recommend this particular model of Seiko. This Seiko 5 model comes without any fuss and remember comes in a set of eight other identical watches, which makes it brilliant for those who like having a choice to suit their personality and style choice. So, if you would like to consider having a different coloured bracelet, then shop around for a variety of other colours that are on the market.
This particular Seiko model has absolutely everything that you could want in a watch for your daily wear, and what makes it better is that it is all for just $60. For this price, you cannot be disappointed and you will be getting a high quality watch with a superb movement and design.
> > > Click here to see ratings, reviews, specifications and prices on Amazon < < <