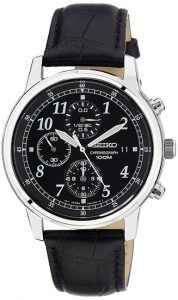 With their first quartz watch released in 1969, Seiko has been bringing quality watches to the masses that are affordable and functional. Seiko has been a leader in watch technology from their beginning and has been a part of the forefront of timepiece design. Kinetic watches followed in 1984 with huge success for Seiko and watch collectors worldwide are impressed with the growth of this watch company.
Seiko has over the years, released many chronograph watches with different features and designs. The Seiko Men's SNDC33 Chronograph Watch holds all the necessities and design elements needed for a stand out watch with a reasonable price tag. Style reigns supreme on this watch from the Arabic numeral indices to the well-placed subdials. If you are in the market for a budget conscious watch that is both eye catching and functional, the SNDC33 Chronograph might be exactly what you are looking for.
> > > Click here to see ratings, reviews, specifications and prices on Amazon < < <
Good Things in Small Packages
The Seiko SNDC33 Chronograph Watch has a smaller profile than many men's watch on the market today. Yes, the large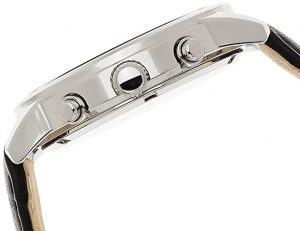 dialed timepieces are magnificent and on trend, but having a smaller counterpart in your collection is always a smart choice. This watch has a stainless-steel 39mm casing that is 10mm thick and comes with a men's standard size 20mm wristband made of calfskin. The closure is a buckle stainless-steel design that closes efficiently.
This wristband does have a more economical feel to it, so if you are looking for a luxurious strap, you will have to replace the original. It situates nicely on the wrist and isn't overly bulky or obtrusive. With a lug width of 20mm, the strap is easily changed if the black calfskin band is not your style or you are looking for something that is a little posher.
SNDC33 Strength and Durability
Seiko has developed Hardlex, which is stronger and more durable than traditional mineral dial windows. It resists scratches and scuffs and gives the wearer peace of mind. The Seiko SNDC33 Chronograph Watch is comprised of Stainless-Steel and the Hardlex mineral dial window. These two components are a great combination that gives the watch strength and durability. Although the dial window is not flush with the stationary stainless-steel bezel, the overall construction is still up to standard for Seiko design.
> > > Click here to see ratings, reviews, specifications and prices on Amazon < < <
Functional Design
Chronograph features are a popular choice for many watch enthusiasts. The three subdials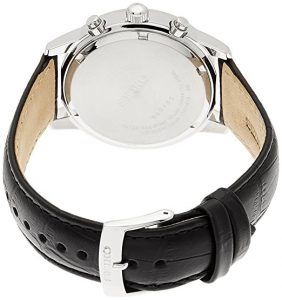 are placed on the left side of the dial, and 2 of the dials are rimmed with a silver band for added detail. There is a stopwatch counter, a minute counter for the stopwatch and the third dial is the actual seconds counter for regular time keeping. The hands do have a much smaller profile than hands on some other chronograph watches and can be difficult to read. The SNDC33 also comes with a calendar feature located at 3 o'clock which is small but does the job intended.
If you are a water sports enthusiast, the SNDC33 is rated at 100m/330ft for water resistance. It works well for most water activities but is not recommended for prolonged immersion or scuba diving. This watch has a sporty feel but is definitely classed as a dress watch, so you will be able to wear it comfortably in most scenarios.
It's in the Details
The Round dial shape is filled with added details. The Arabic numeral indices give a classic look to this watch, and the silver hands inlaid with luminous detailing are easy to see at night. These luminous hands are paired with glow markers at 3,6,9 and 12. The dark black dial is well balanced with the white detailing for stylish contrast. Seiko has added a raised moniker close to the calendar window and an engraved logo on the back of the dial. The overall look is timeless and traditional. With its Japanese quartz movement and quiet ticking of the hands, this watch is a great buy for anyone who does not want to spend a fortune on a timepiece but still wants practical and simplistic yet classy details.
This battery operated Seiko watch comes with all of the components that you need in an everyday watch. The overall design is classic and is a great fit for individuals that are looking for a smaller profile timepiece. Overall this watch performs accurately with only losing approximately 1-5 seconds per month, is easy to set (both date and time), and is reasonably priced. Seiko has been producing watches that last, and the Seiko Men's SNDC33 Chronograph Watch should live up to the challenge.
> > > Click here to see ratings, reviews, specifications and prices on Amazon < < <