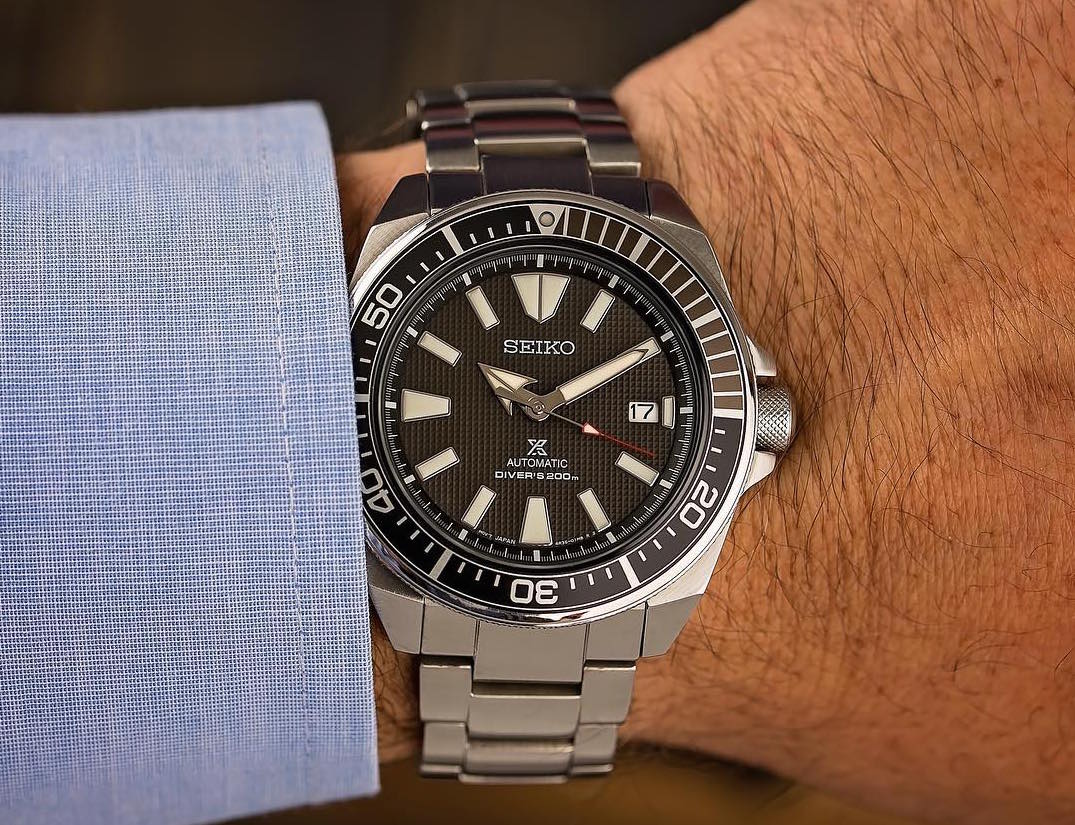 For all its capability and panache, the coolest part of Seiko's new line of dive watches might just be their nickname: Samurai. There are a lot of Seiko models that have been given sweet nicknames, but I don't think any can match this one for sheer awesomeness. That's not all this watch has to offer, though, so let's not end the review just yet.
Seiko first introduced the Samurai in 2004, but only made the watch for a few years before halting production. Seiko diver enthusiasts have been clamoring for a new Samurai ever since, and Seiko is finally obliging. The re-imagined Samurai was teased earlier this year with a limited-edition model in a "Blue Lagoon" color scheme. Only 6,000 Blue Lagoon Samurais were offered to the public, and they sold out quickly. Well, now Seiko has released a full line of Samurais and they will let you buy as many as you like. Let's explore the finer aspects of the current line of Samurais to see if all of the hype is justified.
> > > Click here to see ratings, reviews, specifications and prices on Amazon < < <
Design
The new Samurais borrow heavily from the design of the original, with some subtle-yet-tasteful updates. 4 variants of the Samurai are currently available, including a blue dial/blue bezel, black dial/black bezel, a blue dial with a "Pepsi" bezel, and a striking gold-on black design.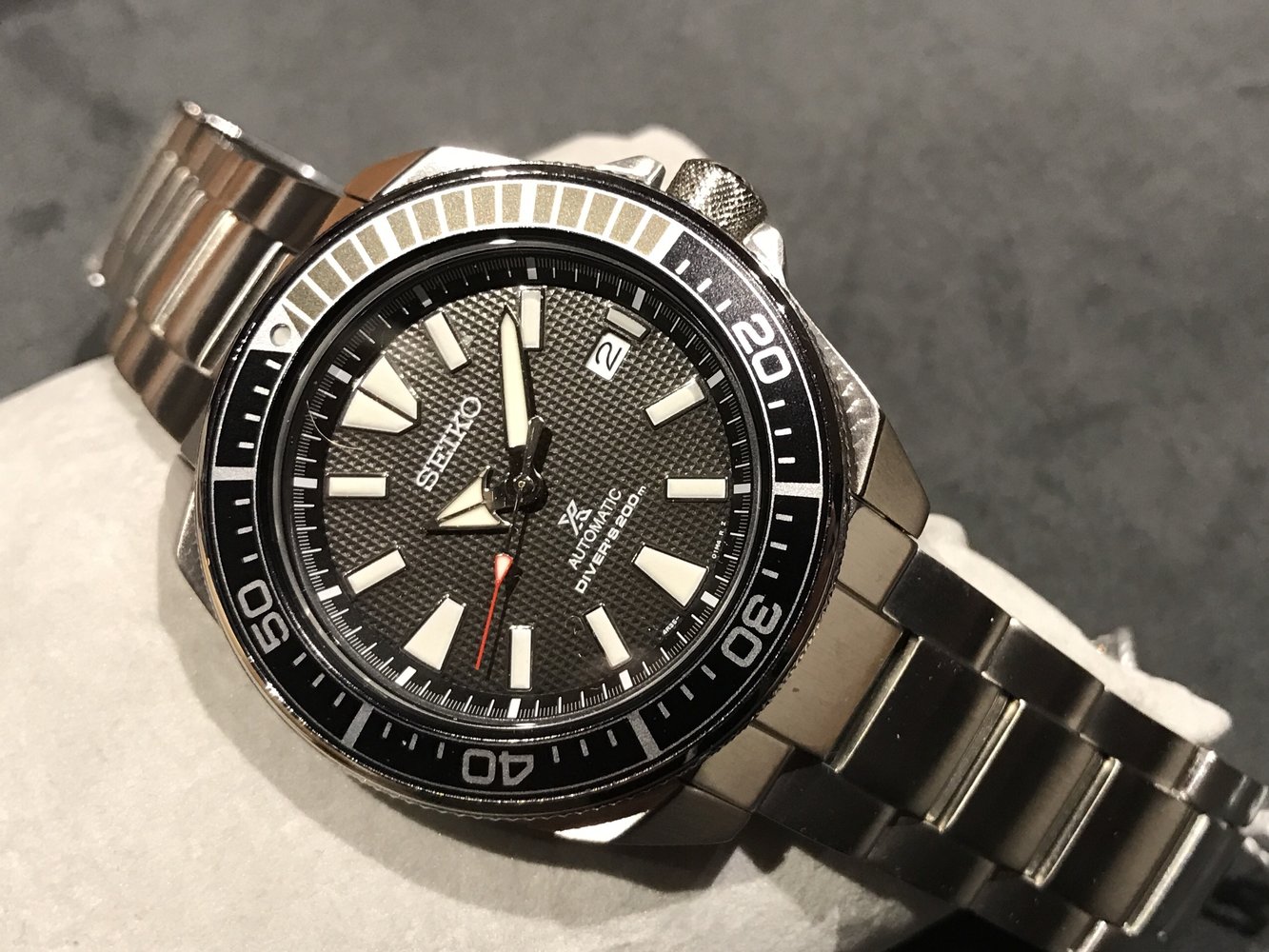 Right off the bat, you'll notice the Samurai has a more angular case design than the popular SKX line of dive watches. The crown uses a very attractive and technical-looking diamond texture pattern instead of the more common ridge pattern seen on most Seiko divers. Compared to the bezel on the SKX007, for example, the Smaurais' unidirectional bezels have a sleeker profile and use finer, crisper markings.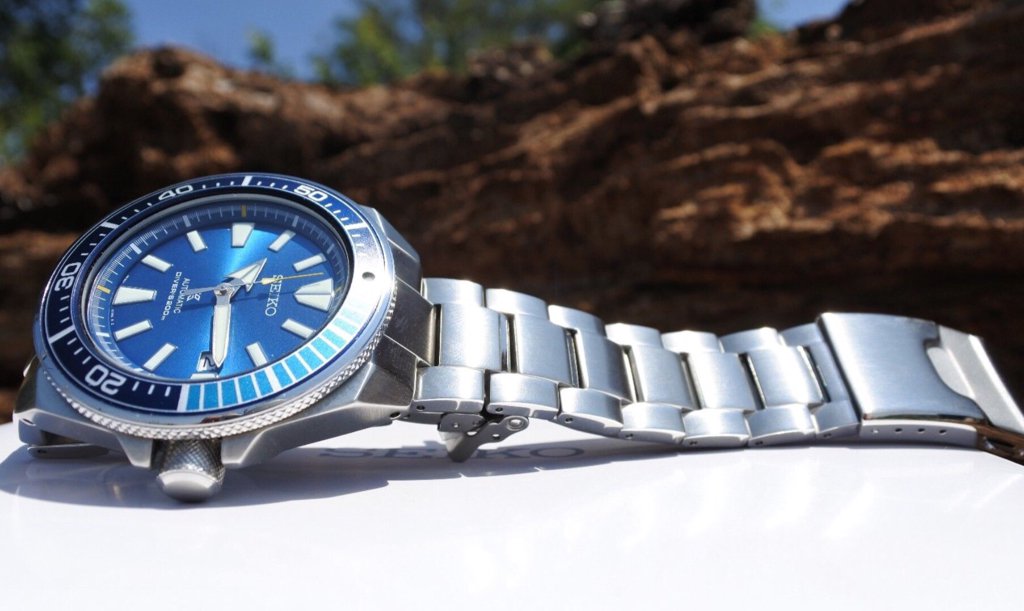 > > > Click here to see ratings, reviews, specifications and prices on Amazon < < <
Just as with the bezel, the dial features intricate markings, including sub-second hashmarks on the outer chapter ring. A crisp and intricate grid pattern, called Clou de Paris, gives the dials a technical, almost three-dimensional characteristic. The Prospex "X" is featured on the dial as well, so that those in the know will recognize that this isn't just any old entry-level Seiko diver. No sir, this watch is a very capable tool made to be used by professional divers. I love the huge hour hand, one of the new design touches compared to the original Samurai. This arrow-shaped hand has a nice, hefty feel to it as it consists of about 90% tip and 10% shaft. I know where your mind went on that last sentence, too; straight to the gutter, but I assure you that those are real arrow terms.
You really can't go wrong with any of the 4 styles; each one uses a cohesive and attractive color combination. With such a classy design, few divers in this price range are better suited for use as a dress watch.
SRPB51 Functionality
The Samurai is part of Seiko's Prospex line: Watches designed to be so capable that professionals can use them in the field. We aren't talking about professional accountants here, either. No, Prospex are designed for professionals who whose "field" is either underwater, in an airplane, or on the summit of a mountain, so you know these watches will survive pretty much anything you throw at them.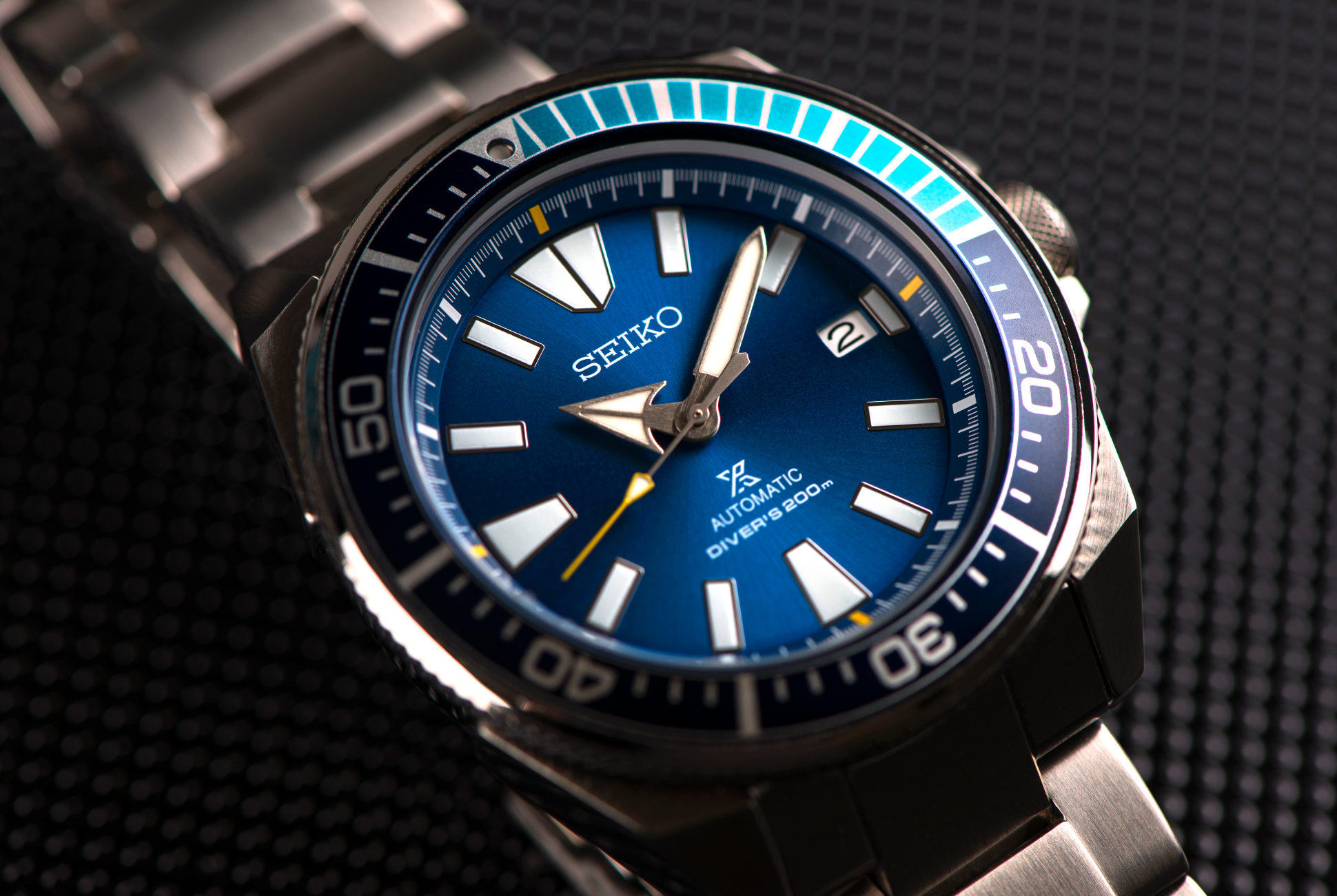 The Samurai uses Seiko's caliber 4R35 automatic movement, which beats at 21,600 vph. This movement also incorporates 23 jewels into its design and boasts a reasonable 41-hour power reserve. Features In addition to the date function, the 4R35 also gives the watch hacking and hand-winding capability, placing it a notch above lesser automatic movement.
Like oh-so-many Seikos, Samurais use Hardlex for their crystals. Superb lume on the hour markers, hands, and bezel pearl makes the watch readable from across a dark room.
A screwed-down case back and 3 o'clock crown help give the watch a 200-meter water resistance rating, which should be plenty sturdy for just about any recreational or professional diving. The Samurai tends to wear slightly smaller than its nearly 44-millimeter wide specification, so don't let that turn you away. Stainless steel for the case, and either stainless steel or silicone for the bands. Unlike the old versions of the Samurai, there is no Titanium option for the case.
Final Thoughts
With an MSRP hovering around $500 (a little more or a little less, depending on the model), the new Samurai line is sure to attract plenty of attention. I have to say, I can't blame anyone for pulling the trigger on one of these watches, either. Defined by its combination of sophisticated design and sturdy mechanicals, the Samurai promises to be a force to reckon with in its mid-tier diver category. In striving to be as objective as possible, I have scoured these things to find any faults, and I must confess that there really aren't any apparent issues with them. I guess this isn't a surprise, as Seiko has such a long history of making fine diving watches and at this point they really know what they are doing.
> > > Click here to see ratings, reviews, specifications and prices on Amazon < < <