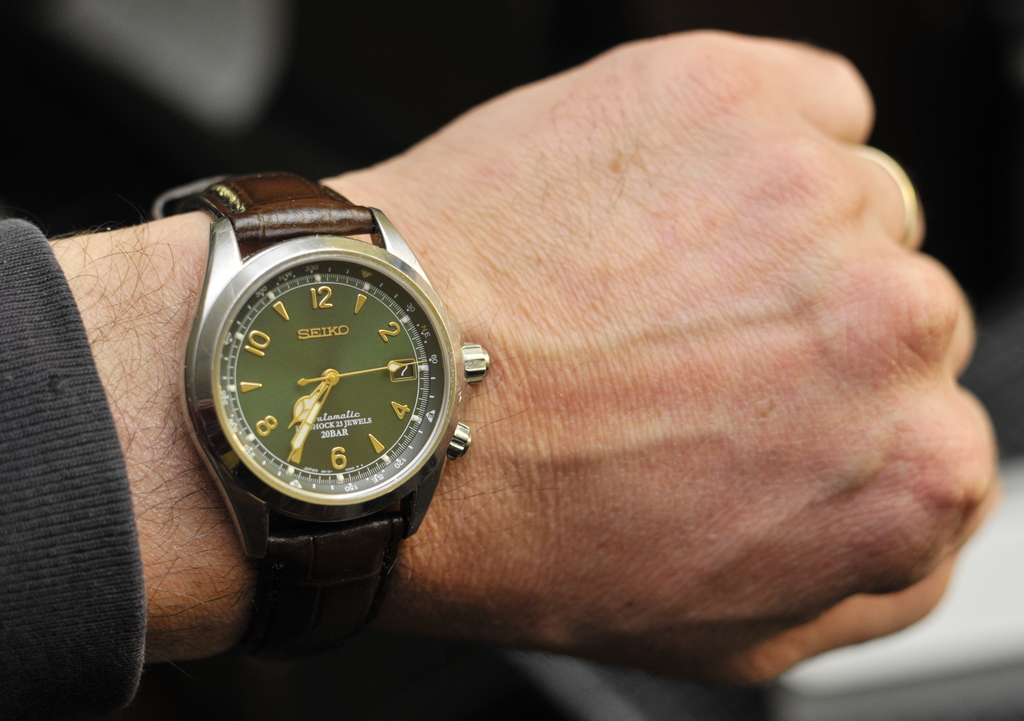 With just a single glance it is easy to see that Seiko are returning to their Alpinist roots with the Seiko Men's SARB017. This particular model seems to have taken into consideration the classical details of Alpinist watches that customers loved, while completely avoiding features that did not sit as well with customers, like the Cyclops lens. There has been a lot of talk about this specific model being discontinued, but it's not actually phased out yet.
The Alpinist collection as a whole has always been created with Japanese alpinists in mind, as up in the mountains they need products that they can thoroughly depend on. Having accurate timekeeping while out in the wild is essential, as the night can come a little bit quicker than you expect it to. The additional compass also makes their lives easier, as they then do not have to carry a separate traditional compass. The 50-hour power reserve also has Japanese alpinists in mind, as most will go away for a weekend at a time.
> > > Click here to see ratings, reviews, specifications and prices on Amazon < < <
If you do find yourself glancing at this watch in the dark, then you will notice the traditional Seiko amount of lume. Seiko understands that as watch wearers we do occasionally need to view our watches in dimly lit environments, and each of the gold markers on this watch features a lume pip. You might even find yourself viewing this watch in the murky depths, as it has an exceptional ability to handle a water depth of up to 200m.
Case & Dial
This particular model of Alpinist watch features a 38mm diameter, and that alone makes it suitable for a wide variety of wrist sizes. It isn't too big, and it isn't too small. The actual attention catching feature of this timepiece is the beautiful, sunburst green colour of the dial, which appears to be a different shade when viewed from different angles. Unfortunately, it is difficult to capture this beauty in photographs, so you do have to see it to believe it.
The dial alone draws attention to the watch, and to add to the effect the dial features both gold numerals, and gold hands. The appearance of green and gold together gives a classical feel to the watch, and it gives off a very 'dressed up' appearance. The hands add to the classical appearance of the SARB017, as the hour hand is Mercedes shaped while the minute hand is distinctively sword shaped. Alone the idea of differently shaped hands might not sound like much, but added to the classical appearance of the watch it makes the watch stand out when surrounded by competitors.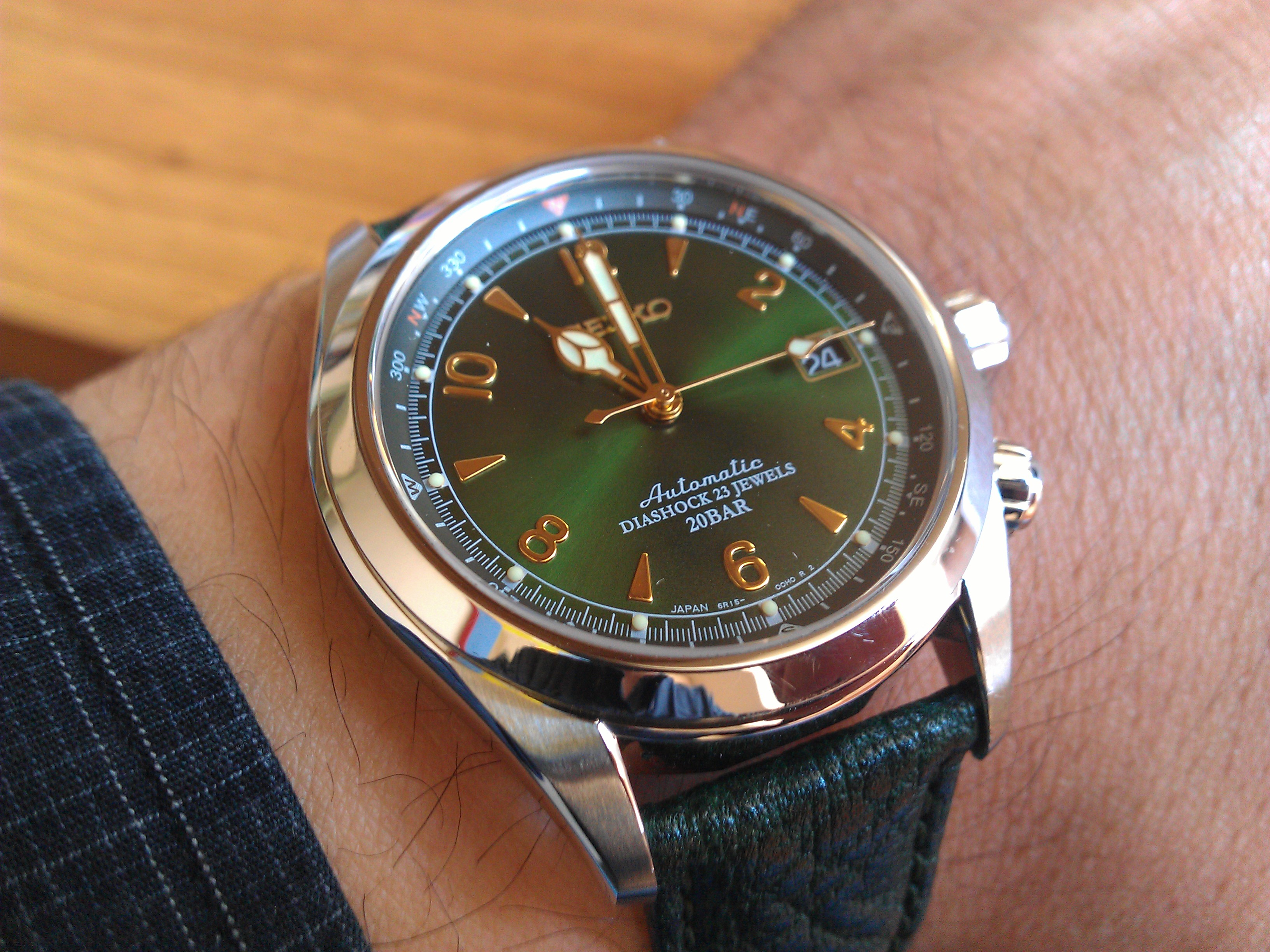 > > > Click here to see ratings, reviews, specifications and prices on Amazon < < <
The stainless steel casing of the watch consists of both brushed and polished surfaces, adding a layer of contrast to the timepiece. On the back of the stainless steel case sits the actual Alpinist emblem, which is carved deep enough to see, but not deep enough to distract you from the overall appearance of the watch. Around the logo the stainless steel has been brushed into smooth circles, similar to those that you would see in an actual Japanese garden. There is also a smooth and simple rotating bezel, which leaves you with no need to unscrew or pull out the lower crown on the watch.
Seiko are known for their ability to manufacture durable timepieces, and this particular model is no exception to that. It features a highly scratch-resistant sapphire crystal, and to get a watch with a sapphire crystal at this price, and with this level of craftsmanship, is quite unusual. Seiko first started releasing Alpinist watches more than five decades ago, and unfortunately the risk of hitting your watch with a rock has not reduced in that time period. Durability really is the second key that makes this product worthwhile, the first key would be the classical colour scheme.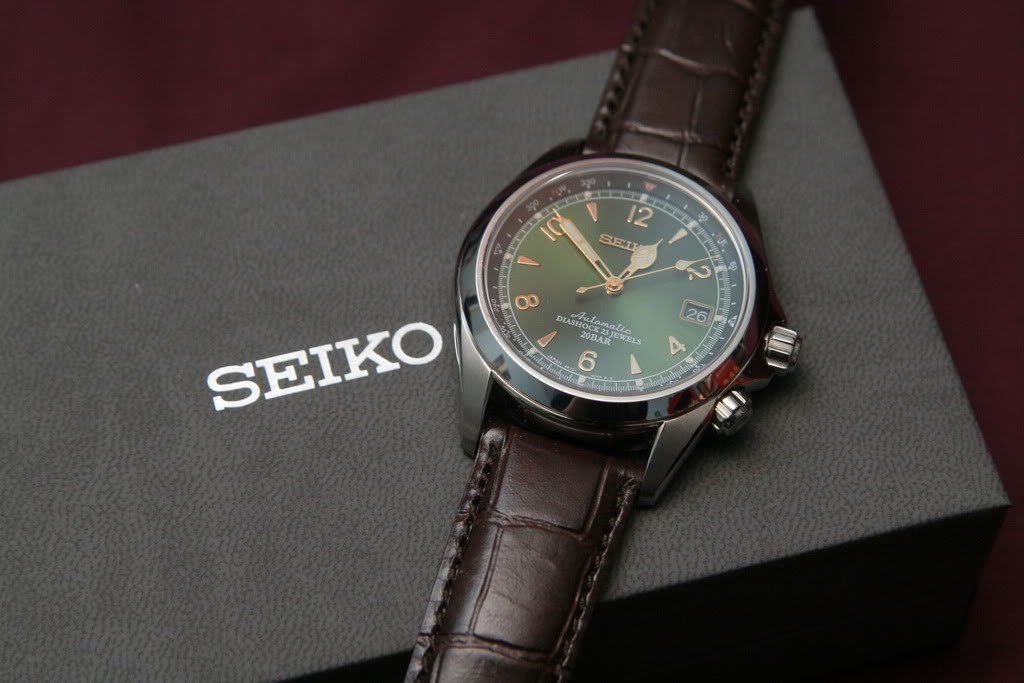 SARB017 Features
The Seiko SARB017 features Seiko calibre 6R15 automatic movement, and it can be manually wound up. The full power reserve of the watch is known to last for around 50-hours. This particular timepiece also features a date display directly on top of the 3 o'clock mark. A lot of watch enthusiasts don't appreciate the placement of the date display, as it means losing out on one of the lovely gold markers.
As with the majority of Alpinist watches, this watch also features a compass. The overall design of the compass feature is incredibly tasteful, and well thought of, as it is not immediately obvious at first glance. The simplistic design of this compass ring means that the watch has successfully attracted a lot of attention from watch enthusiasts with no interest in the feature. For those enthusiasts that are interested in the feature, it works perfectly.
This watch also features a classical crocodile-grain, brown leather strap, a sought after feature among most of the watch enthusiast community. Unfortunately, the closure is a simple buckle closure, we would have liked to have seen a deployment clasp for additional security. The strap itself can be changed to another if you would prefer a different colour, or perhaps a different material of strap.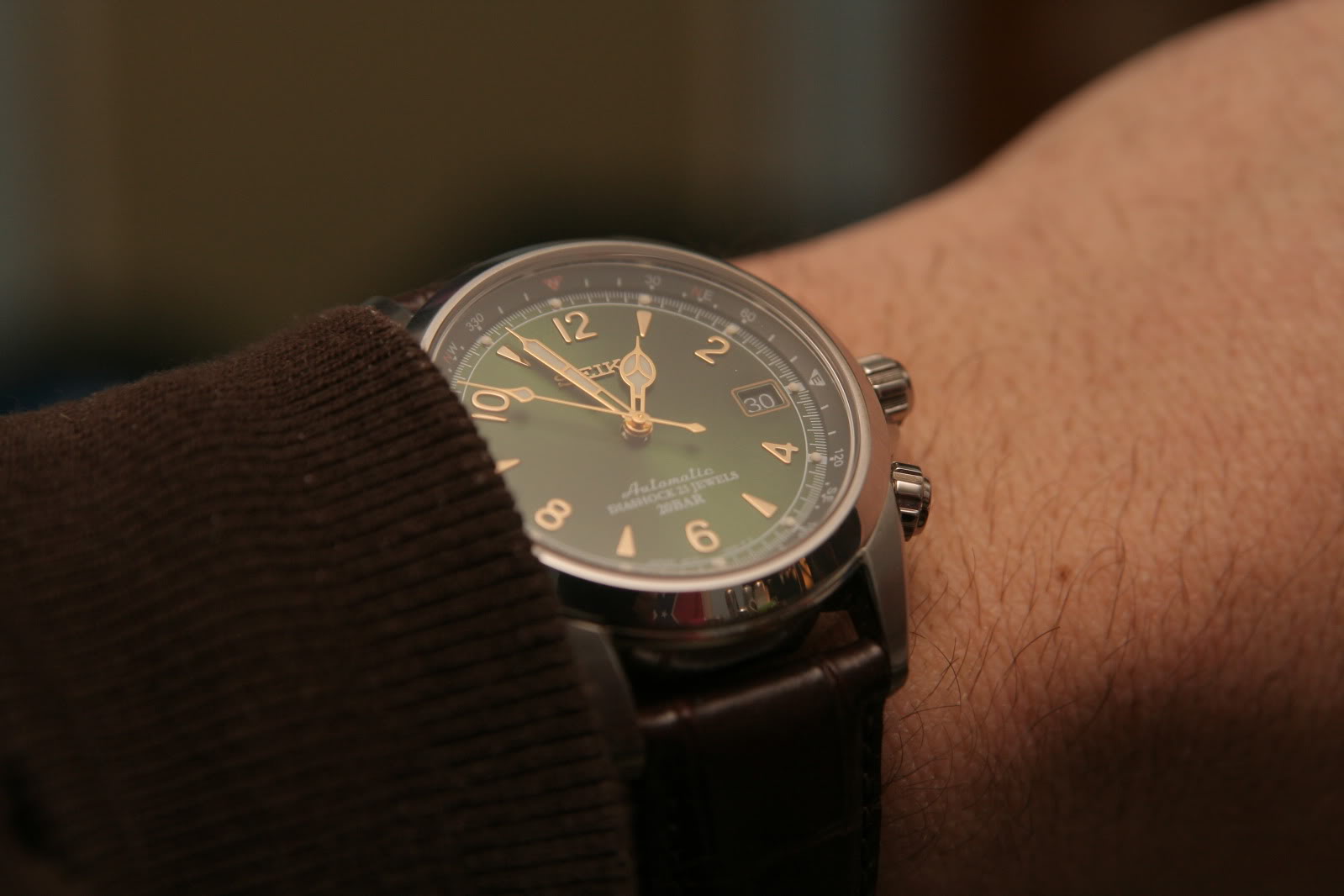 Final Thoughts
Distinctive colour choices are commonplace in the world of watches, but unluckily a lot of the color choices simply do not compliment the appearance of the watch correctly. Seiko have hit the nail on the head with the SARB017 Mechanical Alpinist, as the green and gold colour scheme is beautiful to say the least. It offers consumers a classical appearance that somehow manages to stand out perfectly, meaning that you could use this particular watch in a variety of scenarios. It could be either dressed up, or dressed down to match your outfit, or an event that you could be attending.
The unique design that this watch offers, especially with the two contrasting hand styles, has attracted the attention of watch lovers on a wide scale. It isn't too shocking that Seiko got this particular watch right. More than five decades of knowing what does, and what doesn't work in an efficient Alpinist watch went into this product, and Seiko rarely disappoint with their eye catching and yet durable designs.
> > > Click here to see ratings, reviews, specifications and prices on Amazon < < <