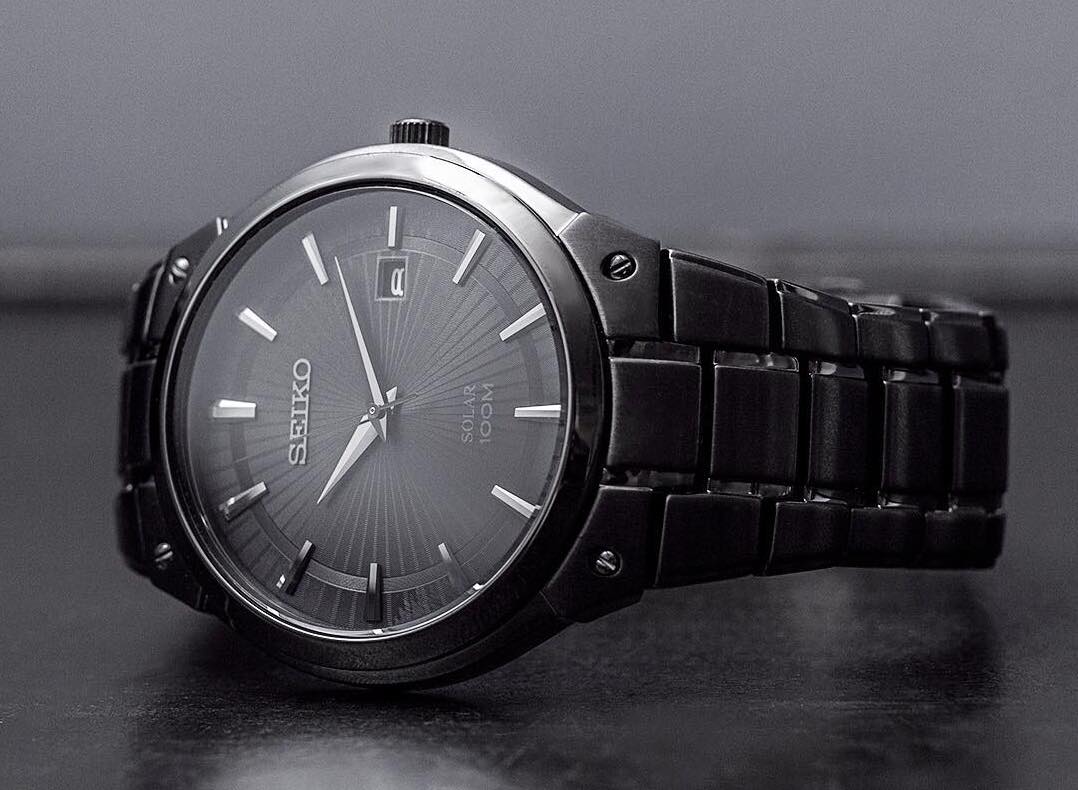 It could be said that every watch under the Sun has one purpose – to tell time. Yet, ironically, there is a solar watch that might put you through a bit of struggle when trying to see what the time is. The Seiko SN325 features a very unique color pair on its dial that makes it hard to tell the difference between the face and the hands – black on black. Some might find it fancy or minimalistic from a design point of view and they are right; the dark gunmetal finish truly has a modern look to it. Others will prefer a more legible timepiece and that is fine too. All tastes aside, one thing is for sure – this watch is a risky move from Seiko but it seems to be have been well accepted, judging by its popularity.
> > > Click here to see ratings, reviews, specifications and prices on Amazon < < <
A Heavyweight Division Watch
Our hefty examinee has a 41 mm-wide case diameter but the stainless-steel strap is not the reason for its surprising weight of a whopping 138 grams. In this case (no pun intended) the reason is the housing of the watch itself that makes it so heavy. It's a bit of a mystery as to why it weighs so much, especially considering other Seiko Solar watches weigh half the amount. Could it be because it is a first-generation model?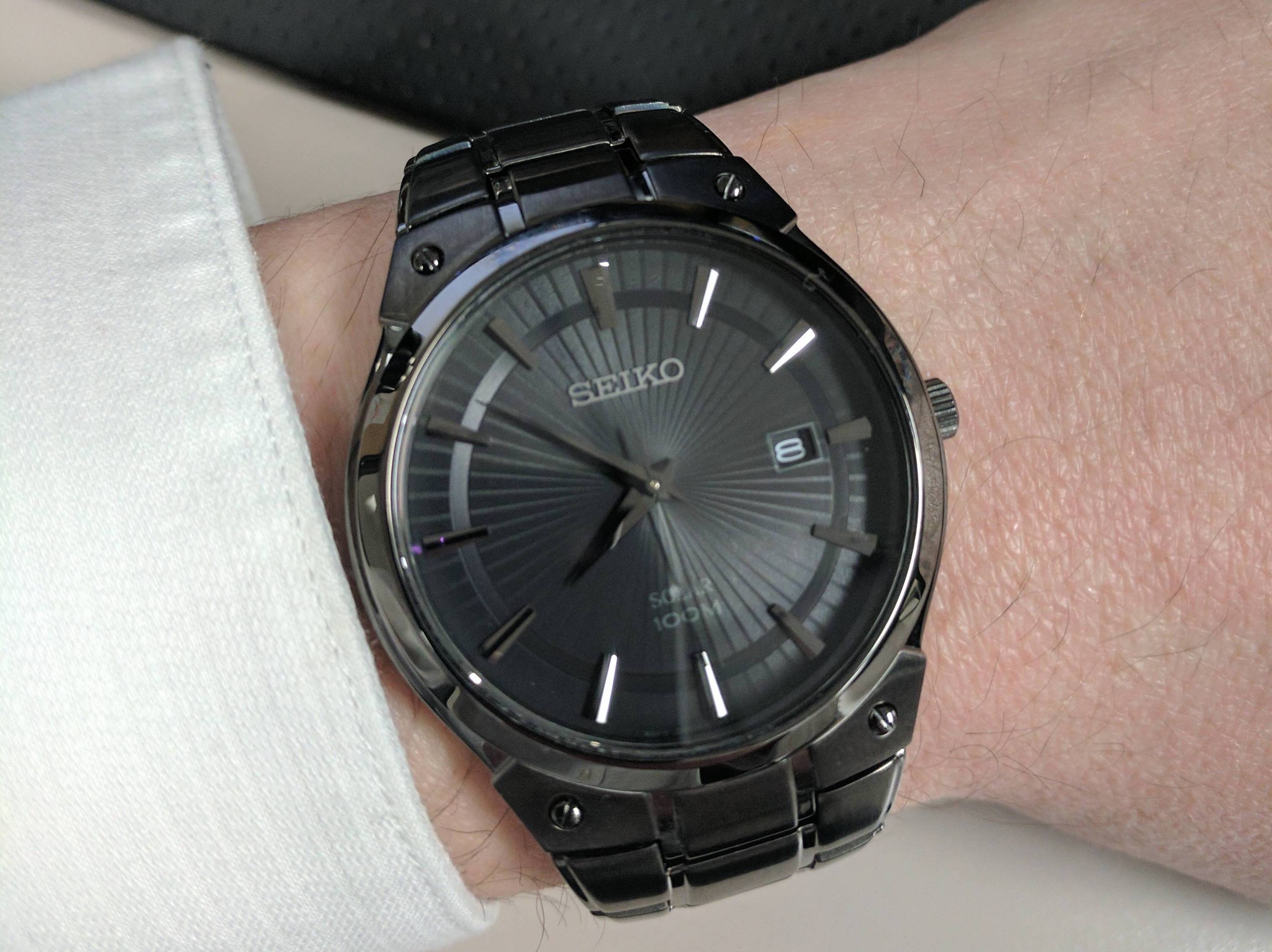 If you feel comfortable with a chunkier piece on your wrist (think Rolex and Tag), this might be the pick for you. A lot of people go for the heavier watches as they are commonly synonymous with better build quality. If you're in the market for a lighter solar watch, there are models from Seiko such as SNE124, 176, or 125 to choose from.
SNE325 Design
The overall design of the watch is very simple but is by no means boring. It has that tough, modern feel to it but preserves class and elegance. This means it can be worn as a compliment to almost any outfit. I find it hard to think of an occasion this watch would be inappropriate for. Whether it's paired with a suit for your office activities or worn with a hoodie and sneakers, the clean lines of its case somehow just make it work.
The Dial
The smooth black dial on the SNE325 features black markers and hands and, as mentioned, doesn't facilitate easy reading of time but has its advantages. As soon as you see this watch you can tell the watch is finely crafted and well-built. It reflects light effectively which means it only takes a slight wiggle of your wrist to reveal the position of the hands, even in minimum ambient lightning.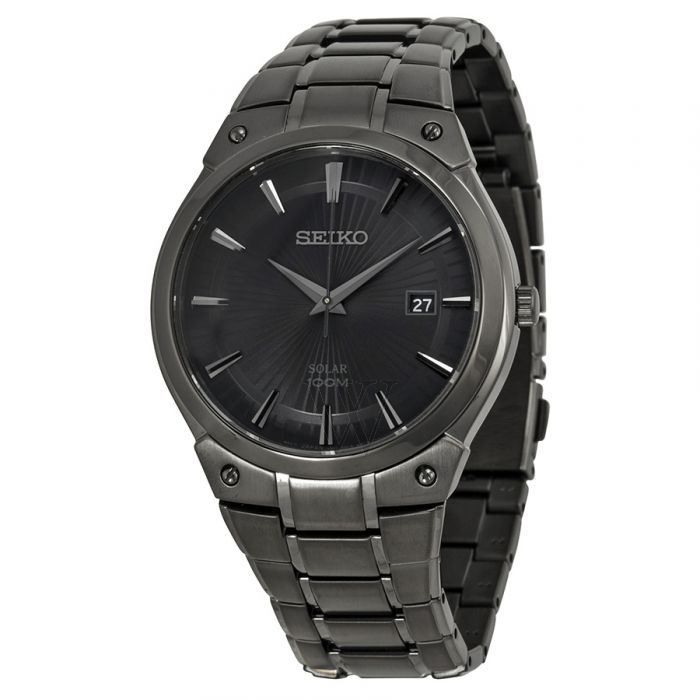 > > > Click here to see ratings, reviews, specifications and prices on Amazon < < <
The date complication features a rectangle box with white day numbers and is positioned at 3 o'clock. The hands and markers are bulgy and thick, a very modern affair indeed. The housing is enclosed in Hardlex – a mineral made from heated barium and sodium which is known to fall in the lower price range but can withstand impact well. It might not be as scratch-resistant as sapphire but it will guard your glass better against heavy bumps due to its increased flexibility.
The Strap
The stainless-steel strap is gorgeous. The gunmetal shade is shiny but not overly flashy. It gives the right amount of shine as it's all-steel but doesn't look too shiny as it hasn't been polished entirely. This is probably better as it means there will be fewer fingerprint marks, smudge, and scratches. The only part that has been polished is the center of the strap, which gives it a bit of a stick-out. Sharing the same color with the case, it makes this watch a solid piece of jewelry. The only drawback is that it's quite big and might require removal of several links depending on the size of your wrist.
The Movement
To ensure precise and low-maintenance timekeeping, Seiko has built in a Caliber V157, a Japanese Quartz solar movement. The charge, which comes from the Sun and any other light source, is supposed to last you some staggering 10 months before it needs a refill.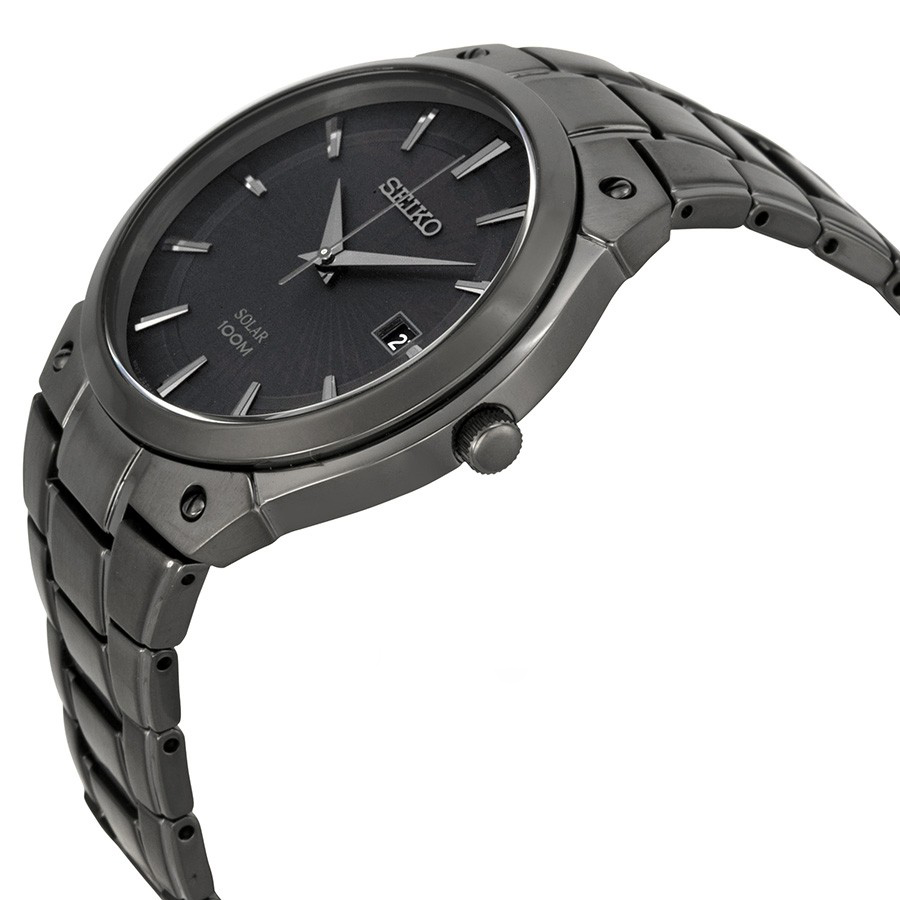 It's always great to have a movement that doesn't depend on batteries but there is something so intricate and charming about the automatic watches that skyrockets their price range.
Final Thoughts
All in all, Seiko SNE325 is a solar powered watch that will have you think twice before buying. It brings along plenty of upsides and has a look that hits the jackpot but there are drawbacks to keep in mind. It is definitely not the lightest solar on the market and the strap often needs reducing in size. Also, the dial is more difficult to read than any other Seiko watch out there. Still, it's a watch that comes with a low price tag but offers great styling options, reliable and low-maintenance timekeeping, and superb build quality.
> > > Click here to see ratings, reviews, specifications and prices on Amazon < < <