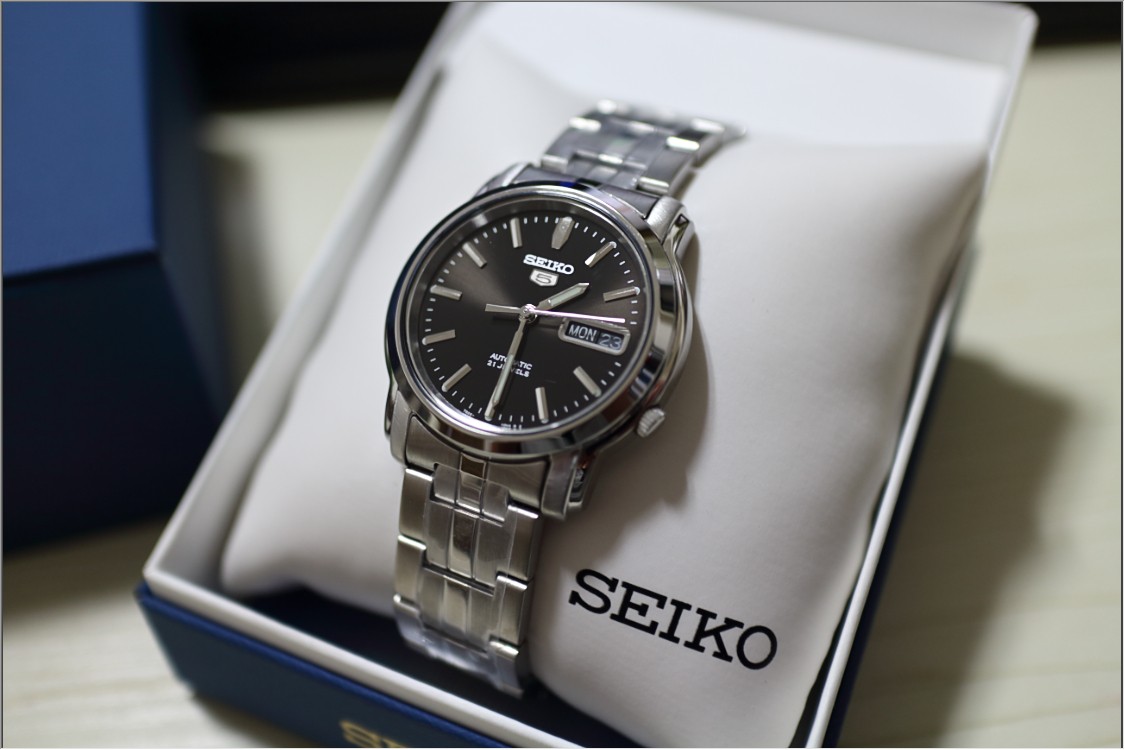 With a lineage dating back to 1963, Sieko 5s have come to be renowned for their pristine workmanship at a very low cost. I honestly believe that Seiko could charge two to three times more than they do for these watches, and loads of people would still buy them. Instead, they choose to grace us with this excellent piece of craftsmanship for around $100. As such, 5s appeal to a wide range of shoppers, including seeking an entry-level automatic watch, a gift for someone who loves watches or is just hard to shop for, everyday beater watches, or even collectibles. So many people have bought Seiko 5s, in fact, that backup parts are cheap and easy to find.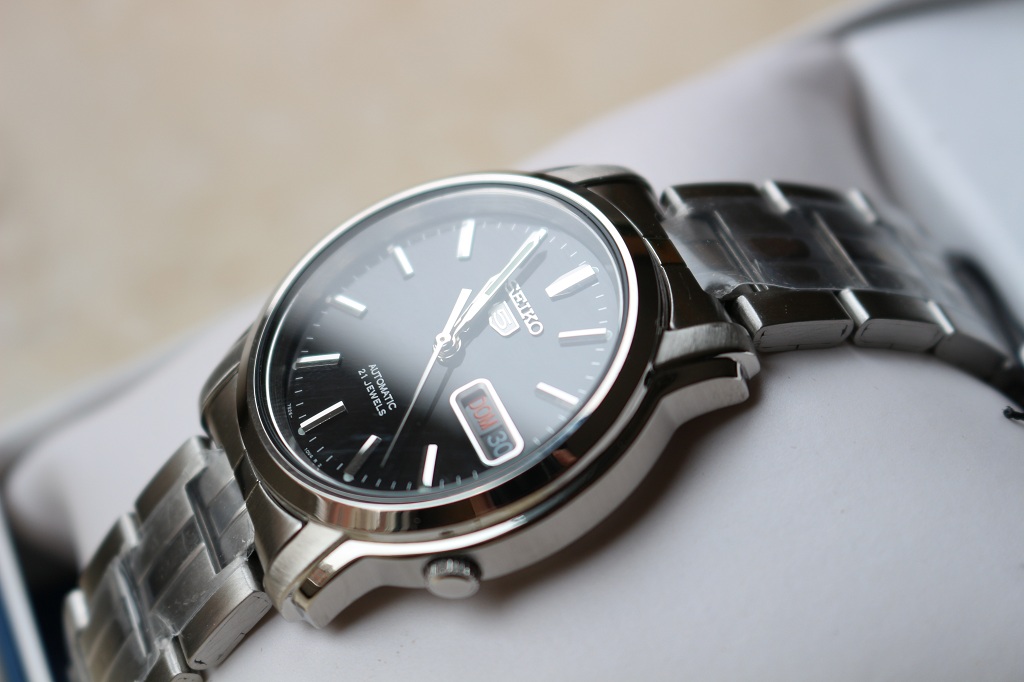 > > > Click here to see ratings, reviews, specifications and prices on Amazon < < <
The SNKK71 we are looking at here is a simple but elegant dress watch that comes standard with everything that has made the Seiko 5 collection so famous. Taking into account the affordable price tag, there are few reasons to complain about it, but there might be some reasons this is not the right fit for you. Read on for an in-depth tour of the SNKK71.
Clean Simple Dial
The analog dial uses a very humble silver-on-black arrangement: simple index-style hour markers, unassuming hand design, and a straightforward date display. Instead of flashy design elements, the appeal of this dial lies in the flawless execution of each component, matching the quality of much more expensive watches. The dial is recessed several millimeters from the Hardlex crystal, creating a real sense of depth on this watch. The brushed silver chapter ring sits at an almost vertical angle to the dial.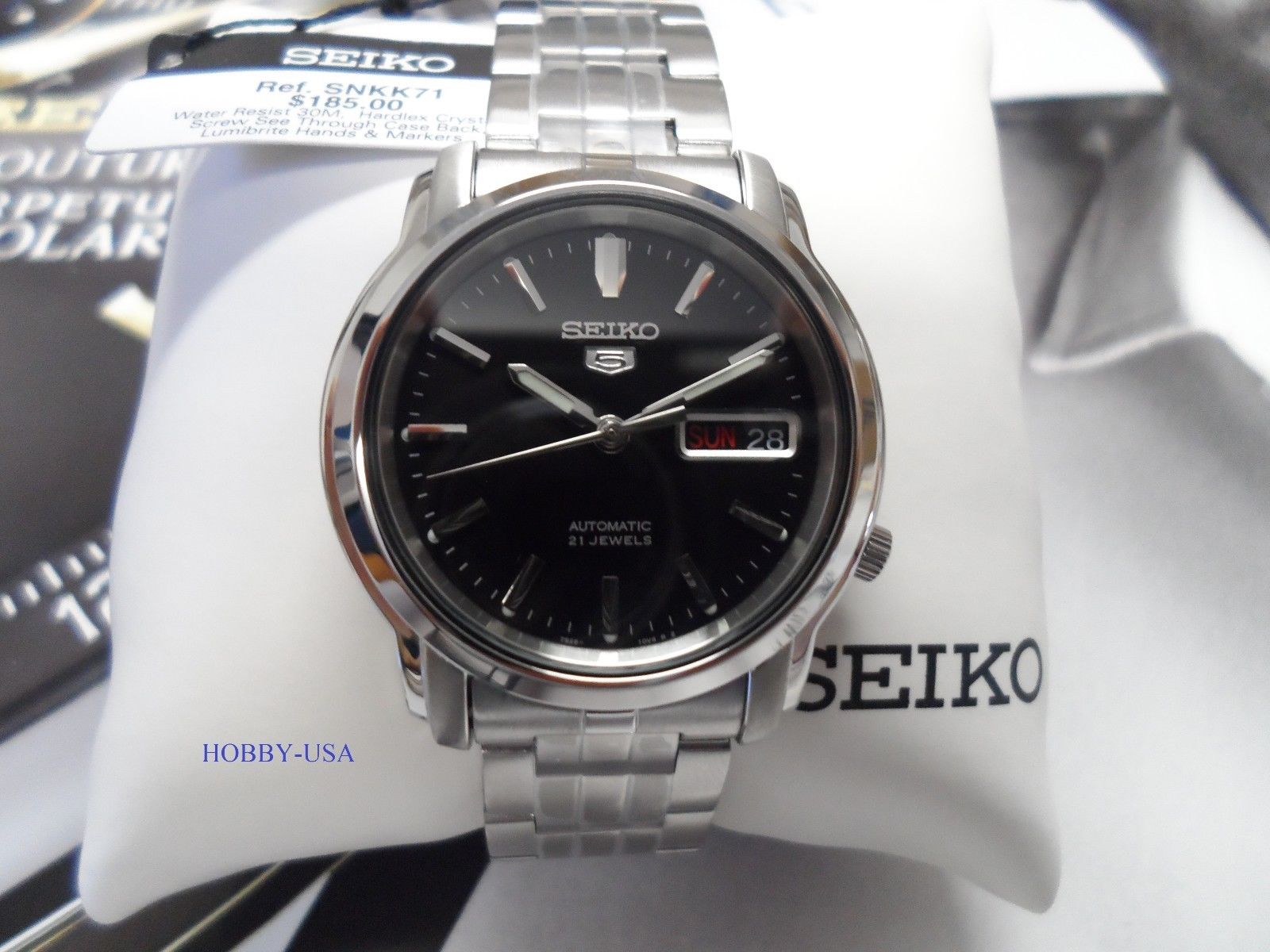 The applied silver hour markers have a crease in the middle, with a slight downward slope on either side for a subtle touch of sophistication. Also imprinted on the bracelet clasp, the Seiko 5 crest is displayed under the brand name, which sits below the 12 o'clock marker. Hours and minutes are tracked by simple silver-finished hands with an index-style design. The plainly styled second hand's main draw is its smooth movement, discussed further down. Lume has been applied to the minute and hour hands and tips of the hour markers so this watch is still functional in dark or dimly lit places.
Case
The stainless-steel case measures 37 millimeters wide, with 18-millimeter lugs. The steeply angled bezel, combined with that even more steeply angled chapter ring is probably my favorite design element on the SNKK71. Best appreciated from an angle, the sharp rise and fall of these metal surfaces create some drama on this otherwise conservative watch.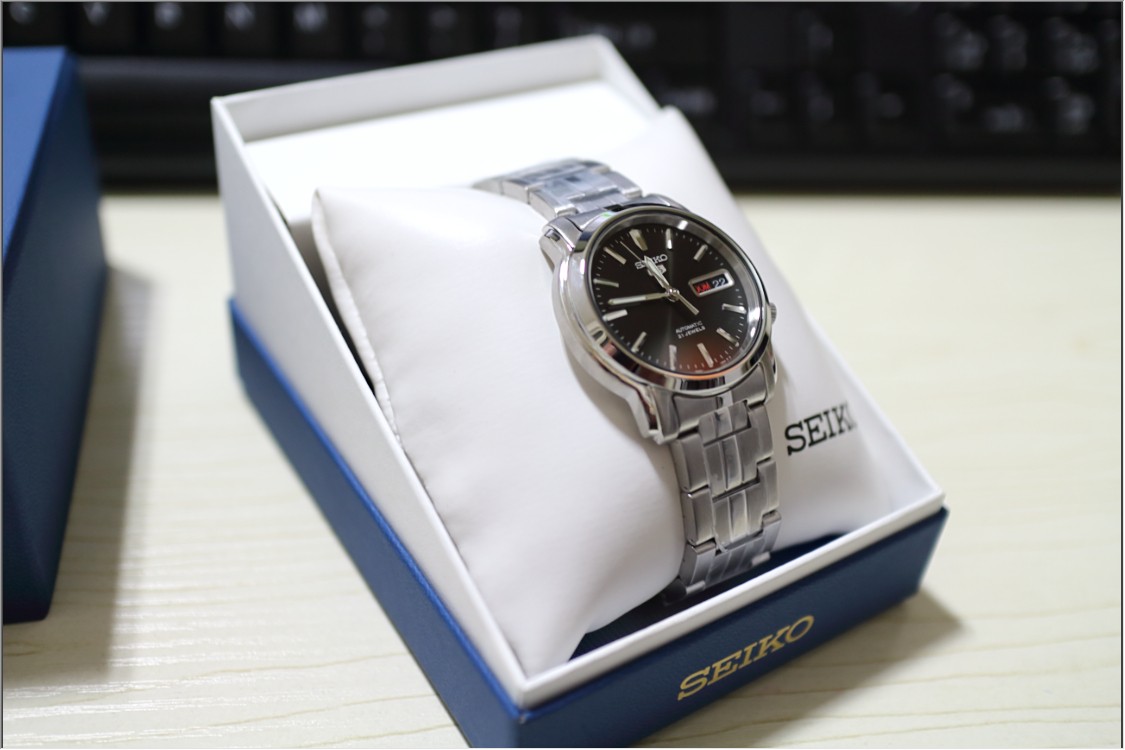 > > > Click here to see ratings, reviews, specifications and prices on Amazon < < <
The exhibition back reveals the automatic movement, with some black text detailing various features of the watch printed around the edge of the crystal. The small crown sits 4 o'clock, recessed into the case in the Seiko 5 tradition.
SNKK71 Movement
If get out your magnifying glass, you might be able to read the tiny text at the bottom of the dial stating that the SNKK71 uses Seiko's 7S26 automatic movement. With 21 jewels to damped vibration, this movement is renowned for its reliability and accuracy at a very reasonable price. Just like everything else on the watch, this movement uses a simple design focusing on dependability and performance at a minimal cost. As you can see from the skeletal caseback, it is not a beautiful movement, but one still worth studying. Beating at an impressive 6 ticks per second, this movement gives the second hand a buttery smooth sweeping motion.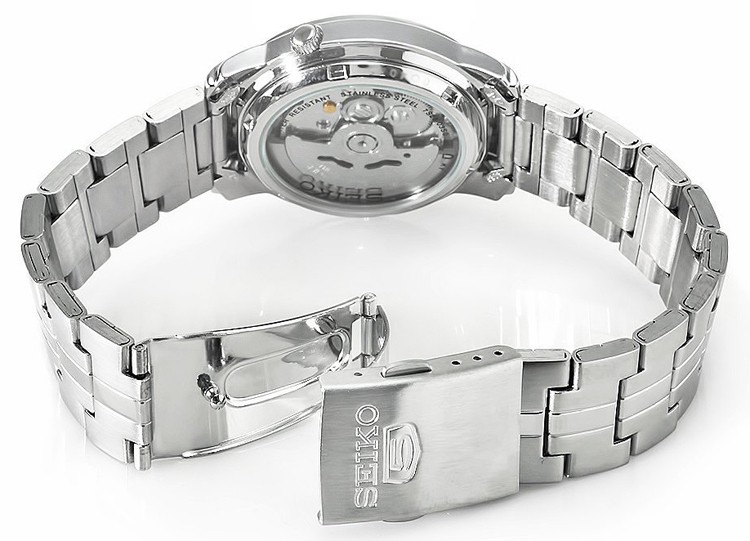 Once fully wound, the 7S26 uses a 40-hour power reserve. Keep in mind this movement cannot be manually wound, so you must wear it for a significant amount of time each day in order to keep it fully wound. Another downside is that the second hand cannot be hacked, so setting this watch for exact synchronization is a bit tricky.
Bracelet
The stainless-steel bracelet uses a modern design, with wide links taking up the entire width. Speaking of width, this is a slightly narrow band at 18 millimeters, so if you are planning on buying a replacement band, your options will be somewhat limited compared to more popular sizes. A subtle polished silver line runs down the center of the brushed links. A fold-over clasp cinches everything up and sports the Seiko name and the "5" crest.
Final Thoughts
Summed up, the Seiko SNKK71 is a simple, impeccably made watch with a reliable automatic movement. With everything mentioned above for well under $100, few would balk at value proposed here. Downsides are few and far between, but include the movement's lack of manual winding and hacking capabilities. Also, the watch is smaller than some of the most popular designs today, so especially if you have large wrists, you might prefer to find a larger watch. While it's not the flashiest or most luxurious watch out there, it makes for another solid entry in the Seiko 5 family.
> > > Click here to see ratings, reviews, specifications and prices on Amazon < < <