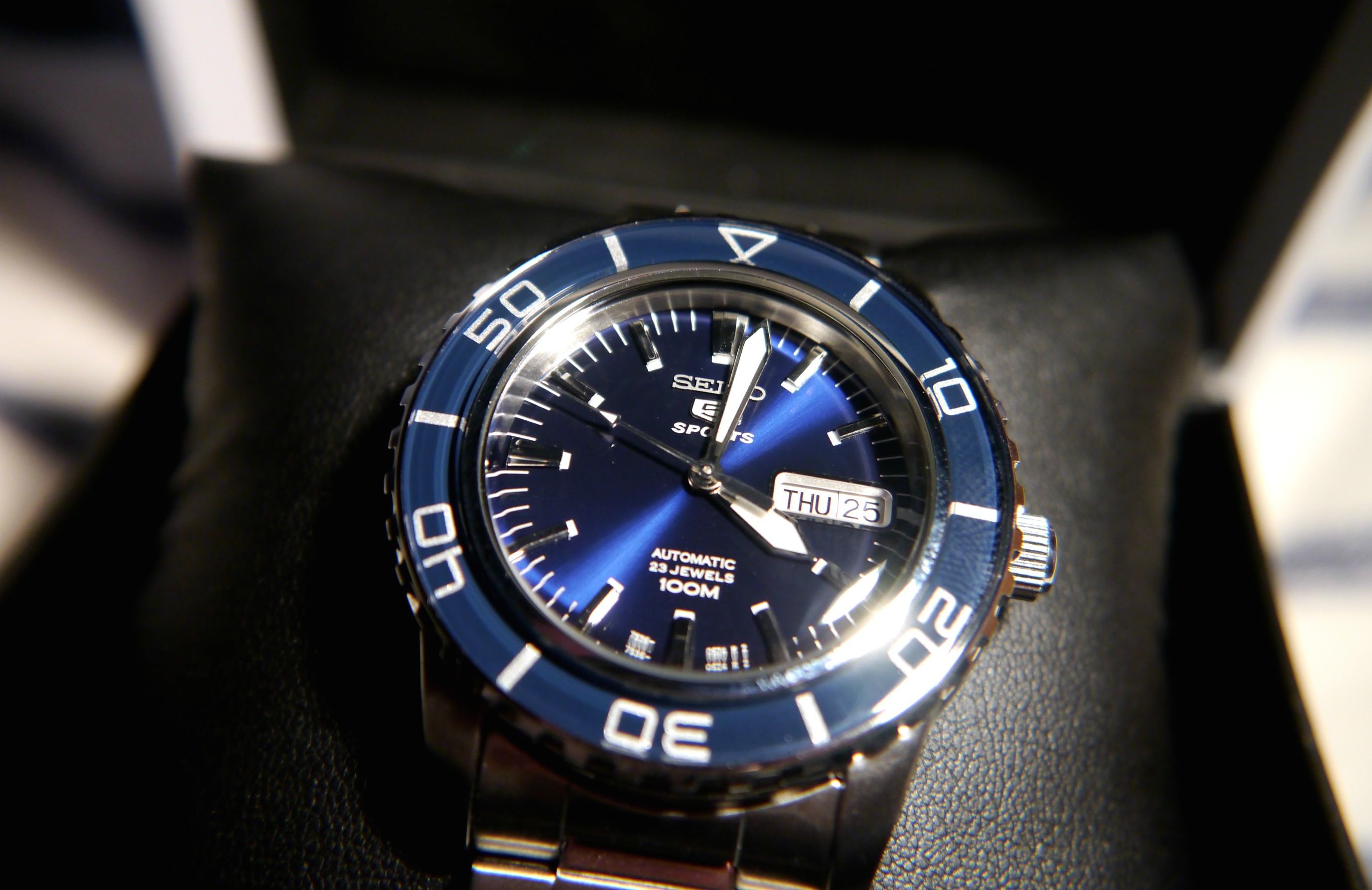 One thing that is immediately worth noting about the Seiko Men's SNZH53 Automatic diver watch is that words cannot express how important the color scheme is. It features a dark-blue dial that almost appears to be black in dimly lit spaces, and yet as soon as the sun hits it that changes, it begins to shine the way that you would expect a gemstone to. The dimly lit blue is replaced with a blue that could only be described perfectly by someone that could see it at that exact moment.
> > > Click here to see ratings, reviews, specifications and prices on Amazon < < <
Against the deep blue color are a set of silver-toned, sword shaped hands. Both the hands and the minute markers are luminous, and in the dark they create a ring of rectangles that is both classic in appearance, and impressive to see. Unfortunately, the watch does have to be manually charged to have the ability to do this, but the extra layer of fascination that it adds is worth the hassle.
For those of you that do not like the appearance of silver on blue, there is another option. Seiko created another color scheme for this particular model in the form of the SNZH57, which features a black and gold color scheme.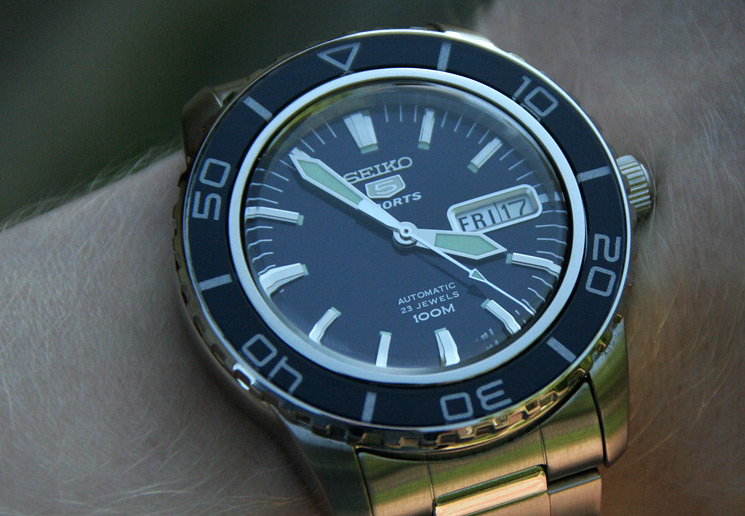 Bezel-ing Around
One of the most important features that you can find on any diver's watch is the bezel, it has to stand out in a minimalistic way. The bezel is actually an absolutely crucial part of the design, and it cannot afford to be flawed in any way. It needs to be easy to move, while being hard enough to move that you do not accidentally knock it to one side. Sometimes it can be hard for companies to achieve the right balance, but Seiko have done so perfectly with the SNZH57.
The bezel on this watch is a 120-click unidirectional bezel, and when you turn it you will hear a rather satisfying clicking sound. Rather than featuring Arabic numbers that read every quarter-hour, you will find that this watch features Arabic numbers that read every ten-minutes. Something about the bezel will catch your eye, and you may not immediately notice what it is. In my opinion it is the font, as it is slightly different to the font found on standard dive watches. It is ever so slightly elongated, and manages to draw attention to your watch.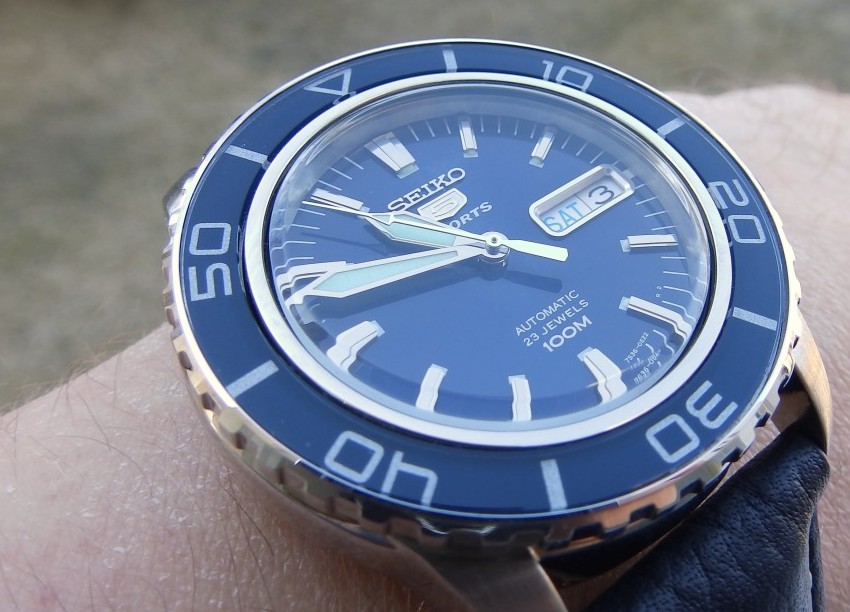 > > > Click here to see ratings, reviews, specifications and prices on Amazon < < <
SNZH53 Features
This particular diver's watch features 23-jewel Japanese automatic movement. This means that you do not have to worry about ever having to purchase batteries for your watch, instead it is powered simply by the motion of your own arm. It won't run out of charge as soon as you stop moving either, as it has a back-up reserve that can last up to 31 hours.
Traditionally diver's watches have been recognisable because of their appearance, as they are usually designed to be quite chunky and obvious on the wrist. This chunkiness could be ideal for two different types of consumers, those that want the aesthetic appeal of the watch, and those that want a watch that has the ability to withstand water pressure. Luckily the SNZH53 has the ability to withstand up to 100 meters' worth of water pressure, making it ideal for certain water sports.
You also will never have to worry about the quality of the crystal that protects the dial of this timepiece from smashing on impact, as it is made out of an incredibly durable type of Hardlex crystal. Hardlex is similar to Sapphire Crystal in a lot of different ways, but it does have one key difference. Where Sapphire Crystal would shatter on impact, Hardlex will crack instead. If it doesn't withstand the impact that is.
The actual Hardlex crystal is around 29mm in diameter, and it sits nestled in a well-sized 42 x 13mm stainless steel body. The actual stainless steel body of this watch looks classic, as it has been polished to perfection. It has the same appearance as an expensive vintage watch. Yet, while most of the stainless steel has been polished, the lugs have only been lightly brushed over. This gives an aesthetically appealing contrast.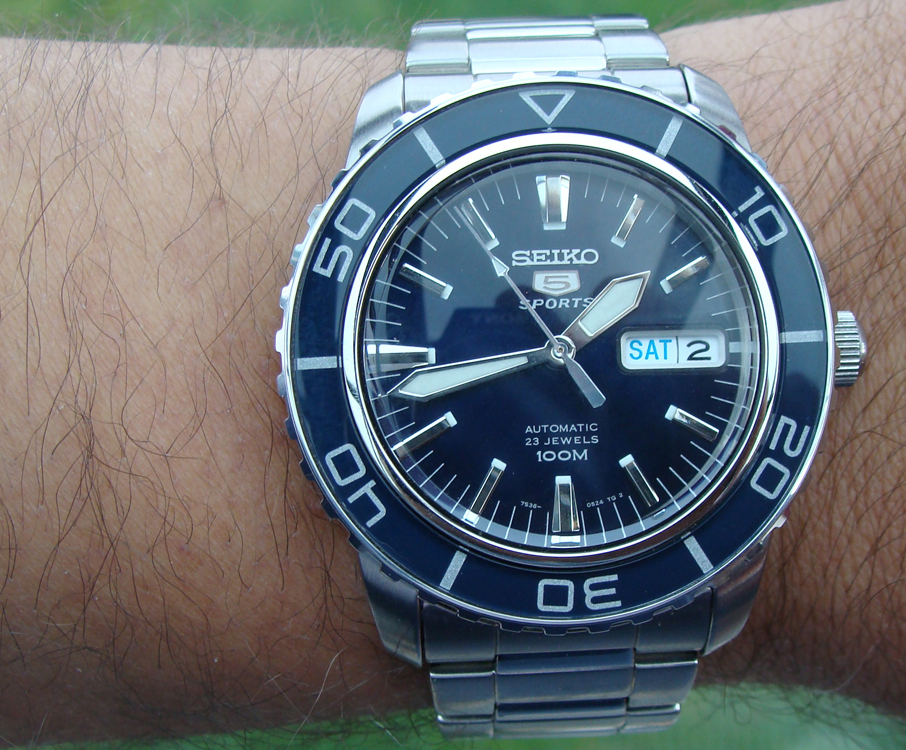 Versatility
One of my favorite things about this particular model is the versatility that it can offer to the person wearing it, as the SNZH53 could easily be matched with almost any color of strap and still appear to be aesthetically appealing. The actual strap that it comes with is a brushed and polished stainless steel link bracelet, and it closes with a push-button fold-over mechanism. The only problem with this is that a lot of consumers have found that it proves to be too heavy for their wrists, especially if they are wearing it for longer time periods.
Another example of the SNZH53's versitility is it's simple appearance. Naturally diver's watches are considered to be staples that are used for day-to-day use. Whereas this particular watch features unique curves that are not usually featured on diver's watches, as if Seiko have tried to add a little bit of the future into a classical design. This small touch means that this watch could also easily be used as a dress watch.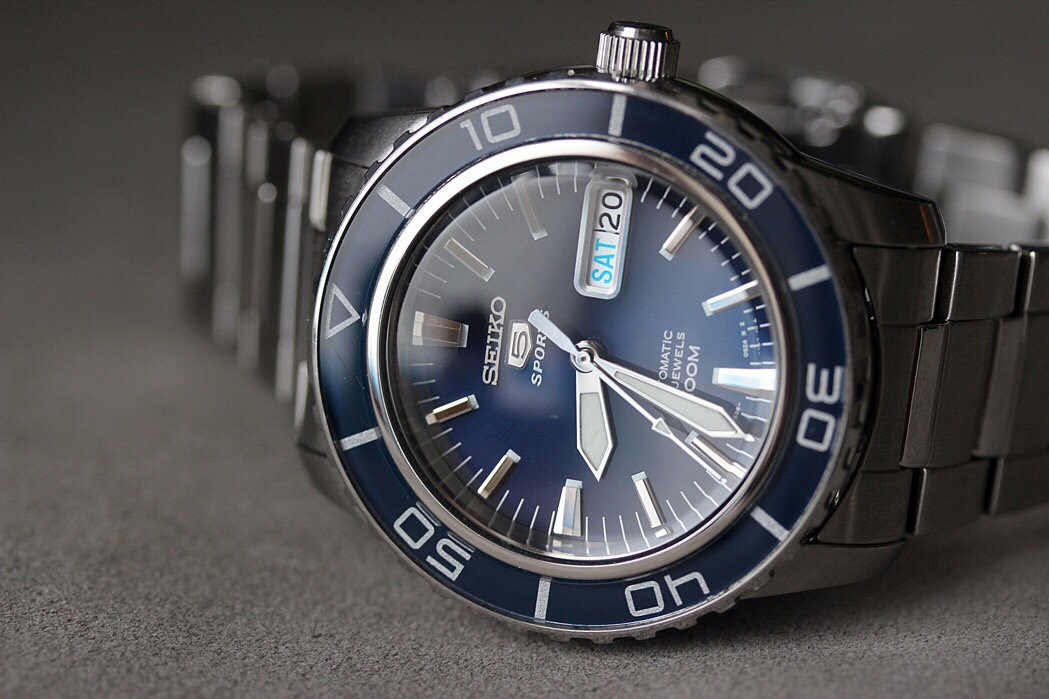 Final Thoughts
So, if you are on the hunt for an affordable diver's watch that can offer you both durability and versatility, then I would highly recommend the SNZH53. It has the durability to handle both water pressure and impact, and a look that can be ideal for numerous situations. One thing about the appearance of this watch that will be down to personal taste is that the minute markers are slightly longer than the minute markers on standard watches. Some people will find that this makes the watch face appear to be cluttered, while others will find it highly appealing.
Attention to detail has been engrained in the Seiko 5 SNZH53 Automatic Diver Watch, and a small but yet appealing feature is actually located on the bezel. The unidirectional bezel has been inlayed with an incredibly small, blue acrylic insert that features silver-toned markings, adding to the appearance of this beautiful timepiece.
> > > Click here to see ratings, reviews, specifications and prices on Amazon < < <