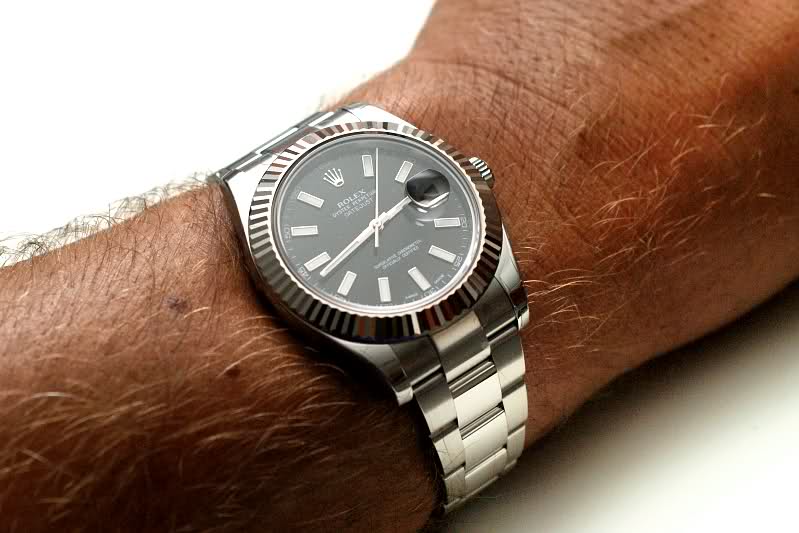 These days, watches come in every style, color and shape imaginable. Whichever watch you chose to wear, there's no doubt that it's a personal statement. Some people prefer wearing the same watch for a year. Others chose to change their watch daily, depending on the outfit or occasion. Whatever your watch wearing preference is, there's no disputing that there's a suitable watch for just about any occasion.
In the watch community, there's one seemingly simple question has been disputed and debated for some time; should you wear your watch loose or tight? The obvious answer is whatever is most comfortable for you. If you're chuckling right now, reconsider. Wearing your coveted timepiece incorrectly can result in unwanted, unnecessary wear and tear on your watch, not to mention weakening its longevity. So, there are other factors you may want to consider before you find yourself wearing an ill-fitting watch:
Comfort – Of course comfort matters! Not to everyone, but to most.
Watch Type – Seems obvious at first thought, but important.
Occasion – What's the occasion? Are you going to work, to a gala or hiking in the woods?
Dress – What type of clothing are you wearing?
Season – Is it the dead of winter and 20 below, or 95, hot and humid?
Think: Comfort & Style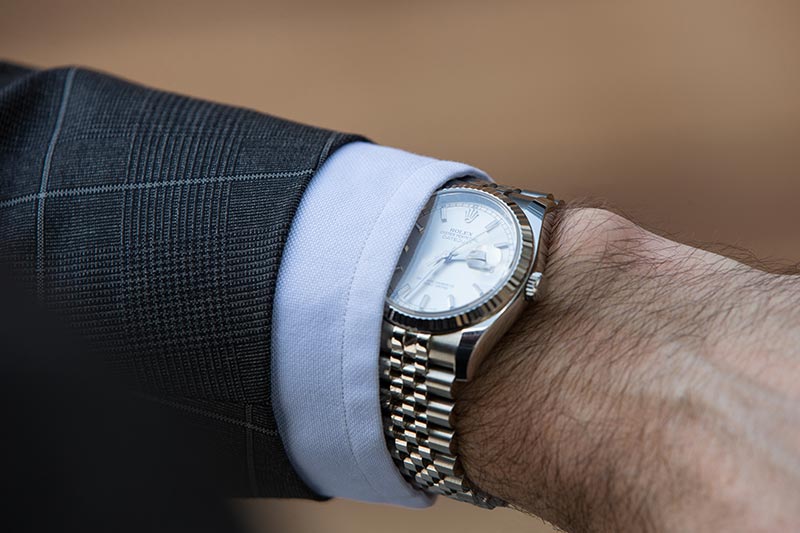 More than a handful of individuals with any sense of style will sacrifice just about anything to look dapper, including comfort. For most of us though, comfort matters. After all, why tote around something on your body that doesn't feel good?
The first time you try on your timepiece, engage yourself in a few different tasks so you get a good feel for how the watch feels on your wrist. For example, if you purchased a watch with a bracelet and you do a lot of writing throughout your day, you will likely want to wear it on your non-writing hand with a somewhat snug fit. Wearing a 45mm Rolex loosely on your wrist could get cumbersome when you're reaching for your produce at the grocery store.
Whether you wear your watch loose or tight will oftentimes depend on the watch itself. Are you wearing a larger bracelet watch, or a timepiece that's more simplistic with a soft leather band? Is the case of your watch round, or smaller and rectangular? These characteristics matter when you're deciding to wear a watch loose or tight. For example, it's a special occasion and you've decided to pull out your Rolex Yacht-Master II Oyster Perpetual watch that has a 44mm case. This is not the kind of timepiece you want to wear loose. Not only will you look ridiculously awkward, it will likely be cumbersome for you while moving around. On the other hand, if you decide to go somewhat understated in an effort to not draw an abundance of attention to yourself, you chose your Hamilton Men's Khaki Action Chronograph. This is a timepiece you can wear tighter than you would your Rolex.
Does the question seem as simple now as it did a couple paragraphs ago?
When trying to decide whether to wear your watch loose or tight, consider the clothes you plan on wearing. If you're sporting a suit with long-sleeved dress shirt, the watch community agrees that your watch should be visible only when your arm is bent. And, if you didn't get the memo, don't wear your watch on top of your shirt cuff. There's simply no excuse for that in my opinion.
Season – Band Type & Adjusting
Another consideration to toss around when determining whether to wear your watch lose or tight, is the season. Wearing a watch that has a leather band snug to your wrist while hiking in hot and humid weather, will undoubtedly leave an imprint on your wrist. This is a situation where it makes sense to wear your timepiece slightly loser.
If you have a watch that you feel is too loose or tight, visit your local watchmaker or jeweler. They can remove links if it's a bracelet watch. If you have a watch with a band, they are likely to have a selection of replacement options that fit you better.
Clearly, there are no written in stone rules on how you should wear a watch. It ultimately depends on personal preference and comfort. With this said, within the watch community, there are decrees that are followed with respect to wearing a watch. Your watch should not be worn too tight. This can act like a tourniquet for your wrist and result in unwelcoming impressions. Your watch should not be worn too loose (see paragraph 6).
In short, despite all the controversy (this article included), there is no "correct" way to wear your watch. At the end of the day, your watch is your personal property and no one should tell you how to wear it. After all, who would tell their girlfriend or wife how to wear their purse? We all know the answer to that question!