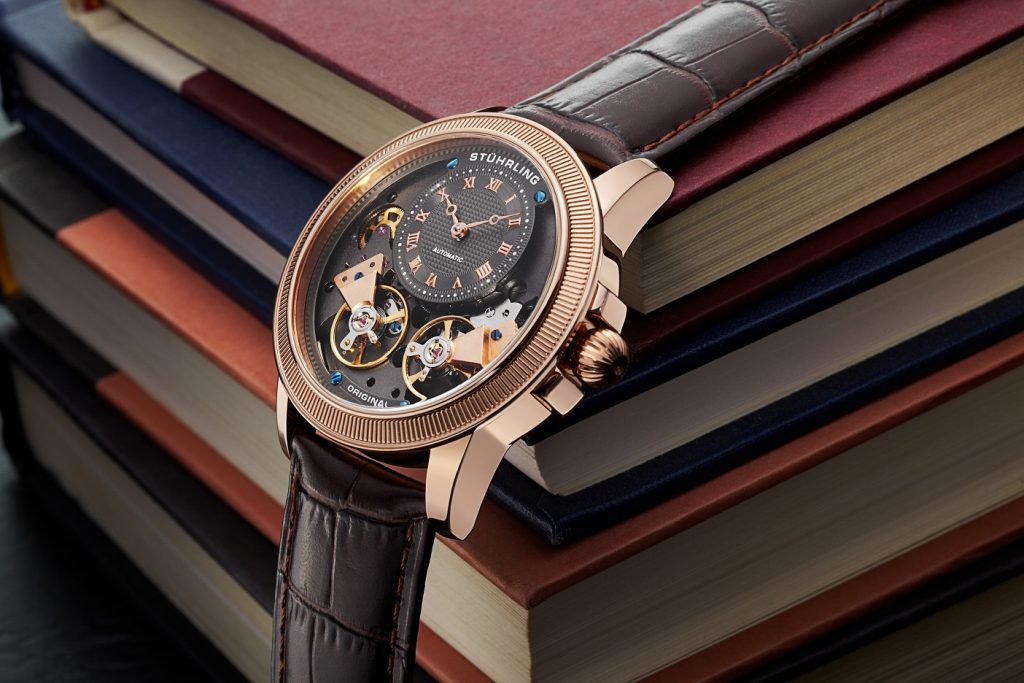 Although tourbillons are becoming increasingly common, it is still uncommon to find a good-quality, tourbillon watch for under 5 figures. As the name suggests, the Stührling Original 541.331X2 Tourbillon Aureate watch offers just that. (In case you´re wondering what the fuss is about, a tourbillon is a rotational device that was designed to counteract the effects of gravity on mechanical-movement watches. It´s also often a hallmark of the most luxurious watches.) For many buyers, that is enough reason to snap up this limited-edition watch now. However, we know that some of you will have a few more questions, so don´t worry- we´ll still review everything else too.
> > > Click here to see ratings, reviews, specifications and prices on Amazon < < <
About The Brand
Stührling is a long-established Swiss watch brand, known initially for their reasonably-priced but nonetheless good-quality watches. Although they have since moved into the luxury watch market, they have retained their reputation due to offerings like this tourbillon watch. Although not as well-known as some leading brands, they have a long tradition in Switzerland and make for an interesting alternative to the more expected choices.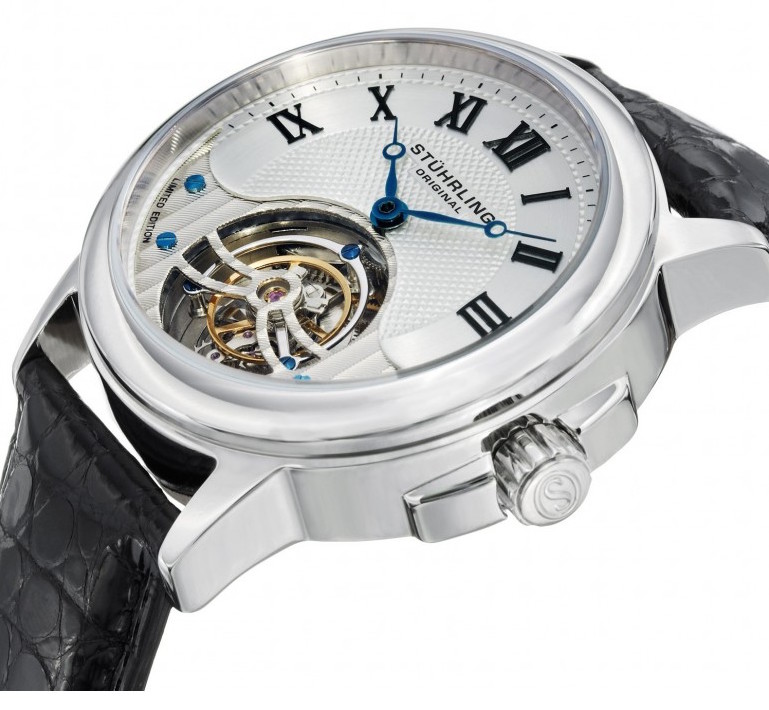 > > > Click here to see ratings, reviews, specifications and prices on Amazon < < <
541.331X2 Build Quality
This focus on quality is clearly visible in the design of the 541.331X2. As is expected, the tourbillon mechanism is exposed on the dial, where it covers the entire lower half. If you want to show off that you have a tourbillon watch then rest assured, it´s very visible. However, that is not the only interesting design feature. The texturing on the dial is attractive and leaves the watch looking luxurious, whilst the simple black, white and blue color scheme makes an ideal background to show off these details. The face is slightly over-sized to show this design features off, although not excessively so (42mm.) Finally, the 541.331X2 has an exhibition-case back so that you can watch the movement of your timepiece at work.
Comfort
Moving on to use and wearability, the alligator leather band is somewhat unusual though comfortable, and it looks good dressed up or down – the only thing to note is that it may not last as long as a metal bracelet before it needs replacing. Then there is the question of water resistance. Although the 541.331X2 watch has a screw-down crown, it is only water resistant to 50 meters – enough to guarantee it against an accidental soak or splash or even a swim, but evidence that the watch is not designed for sustained or intensive water exposure. If you´re looking for something to swim with regularly then there are more practical choices out there, although not with a tourbillon. Last but not least, as the price suggests, the screen is coated with sapphire glass to protect against scratches.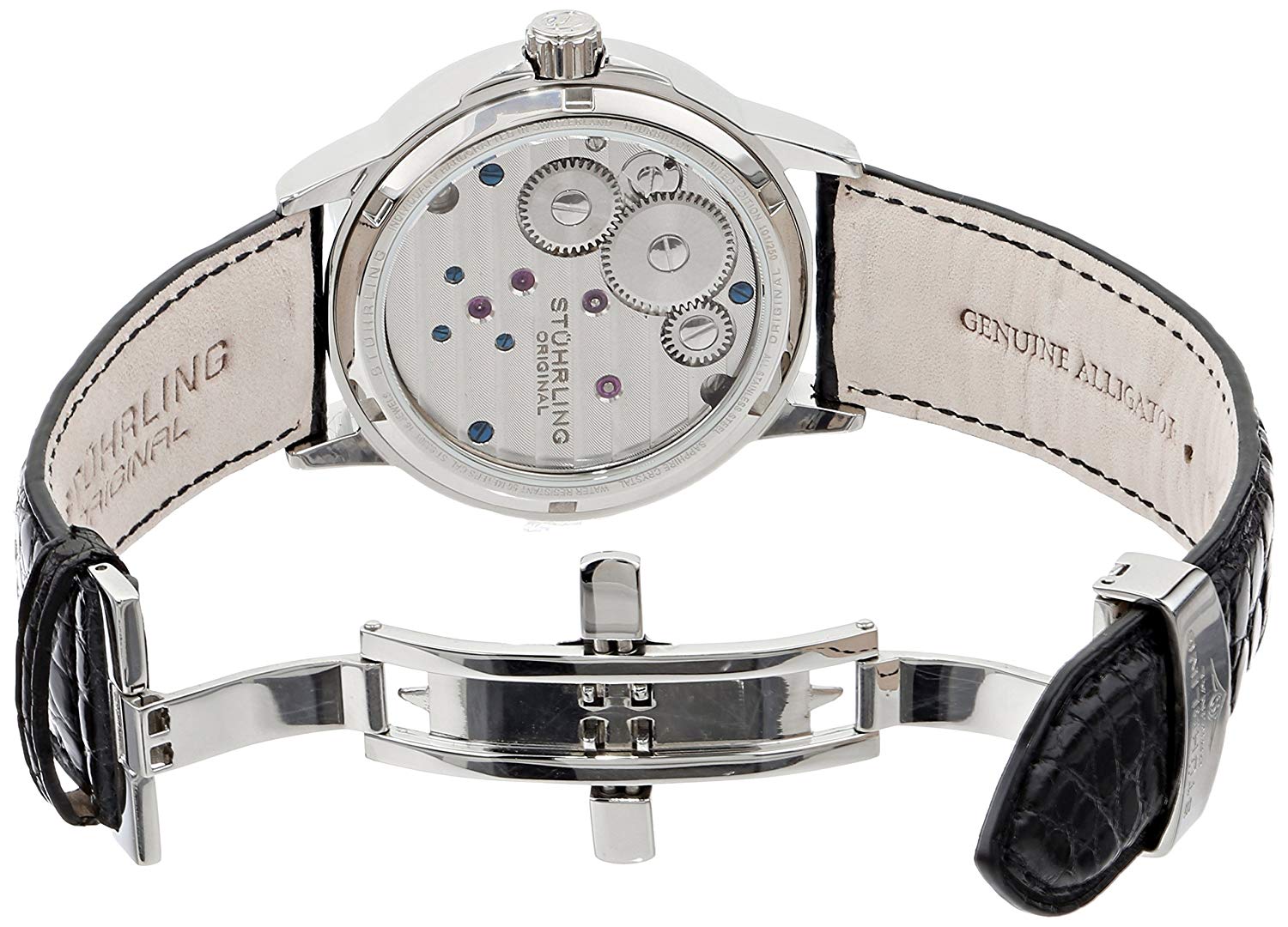 Luxury On A Budget
If you want a tourbillon and a quality watch, then the Stührling 541.331X2 Tourbillon Aureate watch is an ideal choice for anyone whose budget does not run into 5 or more figures. The rest of the features are all somewhat secondary, although the textured dial affirms the watch´s luxury feel, and the color scheme and spade hands complement the exposed tourbillon design. Ideal for looks, or if you´re fascinated by the magic of watch mechanic… but the question is simply: do you want a tourbillon for a low price, or are other features a priority?
> > > Click here to see ratings, reviews, specifications and prices on Amazon < < <