Hong Kong-based watch manufacturer Undone is known for their collaborations with other companies. Last month, I wrote about their collaboration with Simple Union, a leatherworker headquartered in Japan. That watch, Undone x Simple Union Urushi, has become a major success. In fact, its companion, the limited-edition Sometsuke, is already sold out.
Today, I'll be looking at another Undone collaboration watch, this time a partnership with Staple Pigeon. Staple Pigeon is a New York-based fashion brand, founded in 1997 by world-renowned designer Jeff Staple. Along with their own in-house sneakers, they've worked on partnerships with Nike, Puma, and several other major brands. Now, Jeff Staple has designed his first watch.
This watch, the Undone X Staple Pigeon Yin-Yang Watch, is a 300-piece limited edition that's sure to catch the eye of many collectors. Here are my thoughts on this timepiece, which just debuted earlier this month.
A Dualistic Dial Design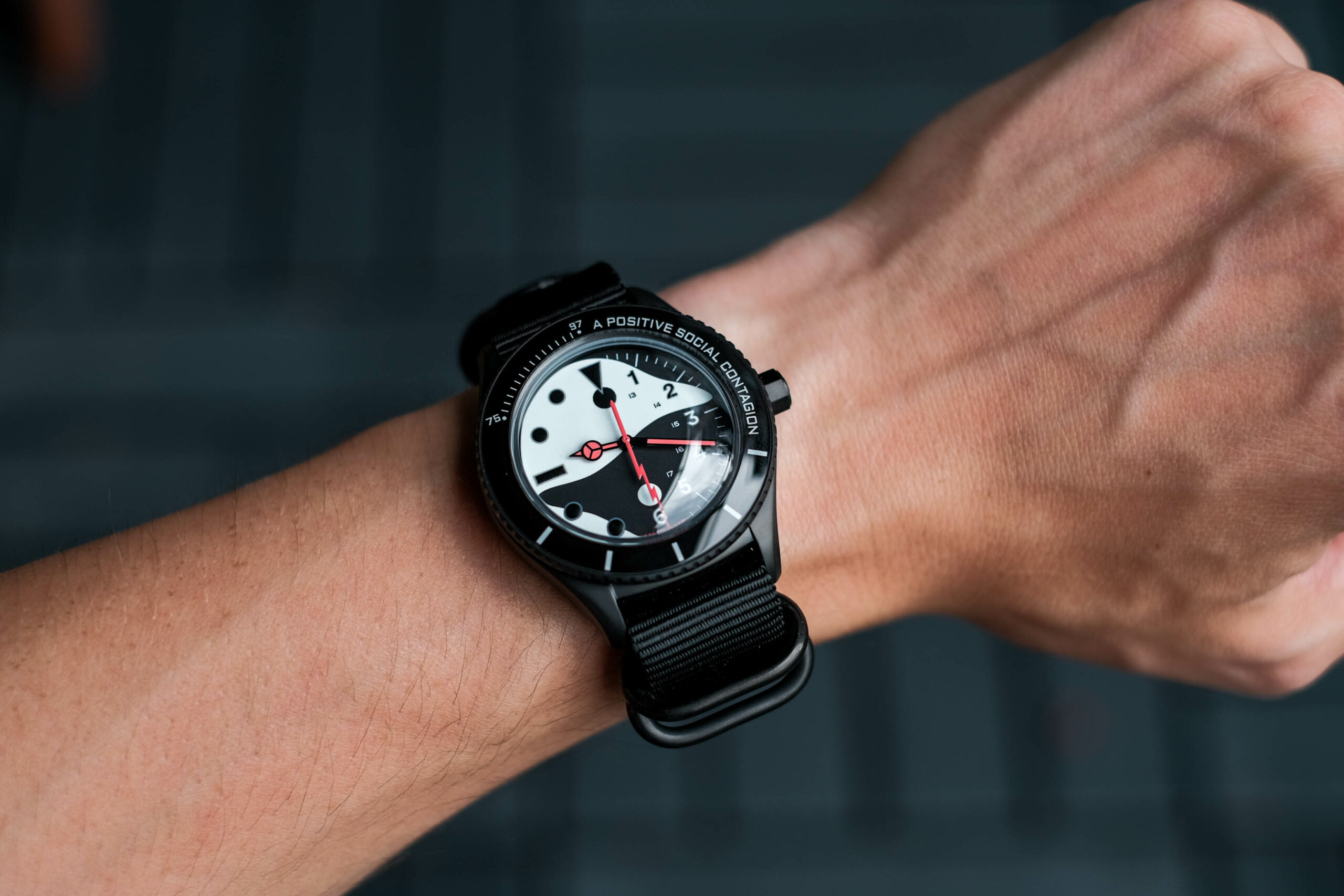 The main conceit of the Yin-Yang is the duality between light and darkness. On the Undone X Staple Pigeon Yin-Yang, this is married with the image of a pigeon – the company's mascot. The resulting dial is truly one-of-a-kind, one of the most eye-catching I've see. Numbers are marked by Arabic numerals from 1 through 6, and by dots from 7 through 12.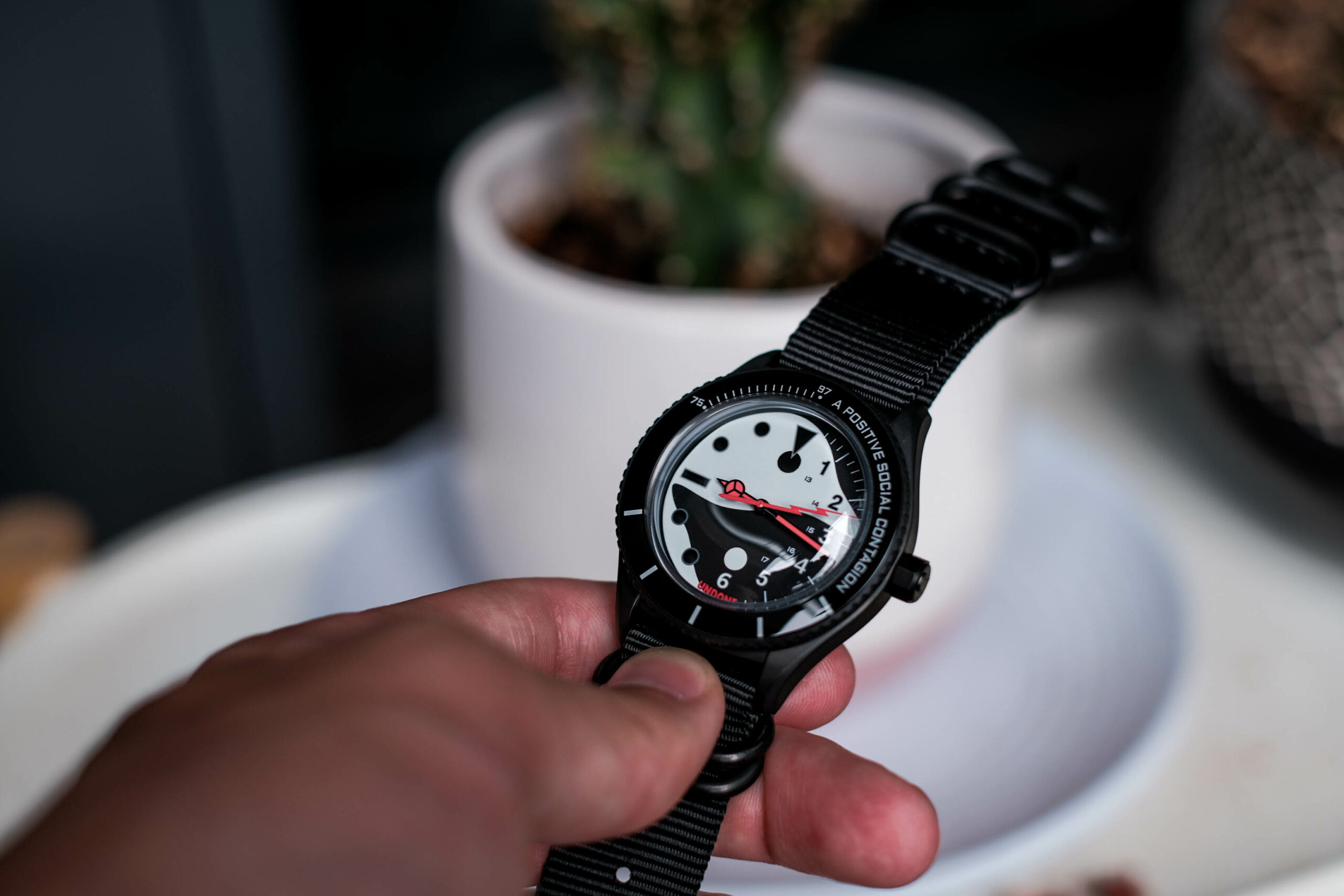 The lume pattern is also unique. The white half of the dial has a lume finish, with black markings over top. The black half, on the other hand, does not have a lume finish. Instead markings on this half are themselves painted with a lume finish, so half of the dial is white-on-black, and the other half is black-on-white.
The hour hand is short and round, with a red finish and a peace sign etched into the surface. The minute hand is longer and more slender, with a red stripe down the center and a black tip. The second hand is particularly unique. It's all red, it's shaped like a lightning bolt, and it skips across the dial in a very satisfying way.
Chunky Case and Bezel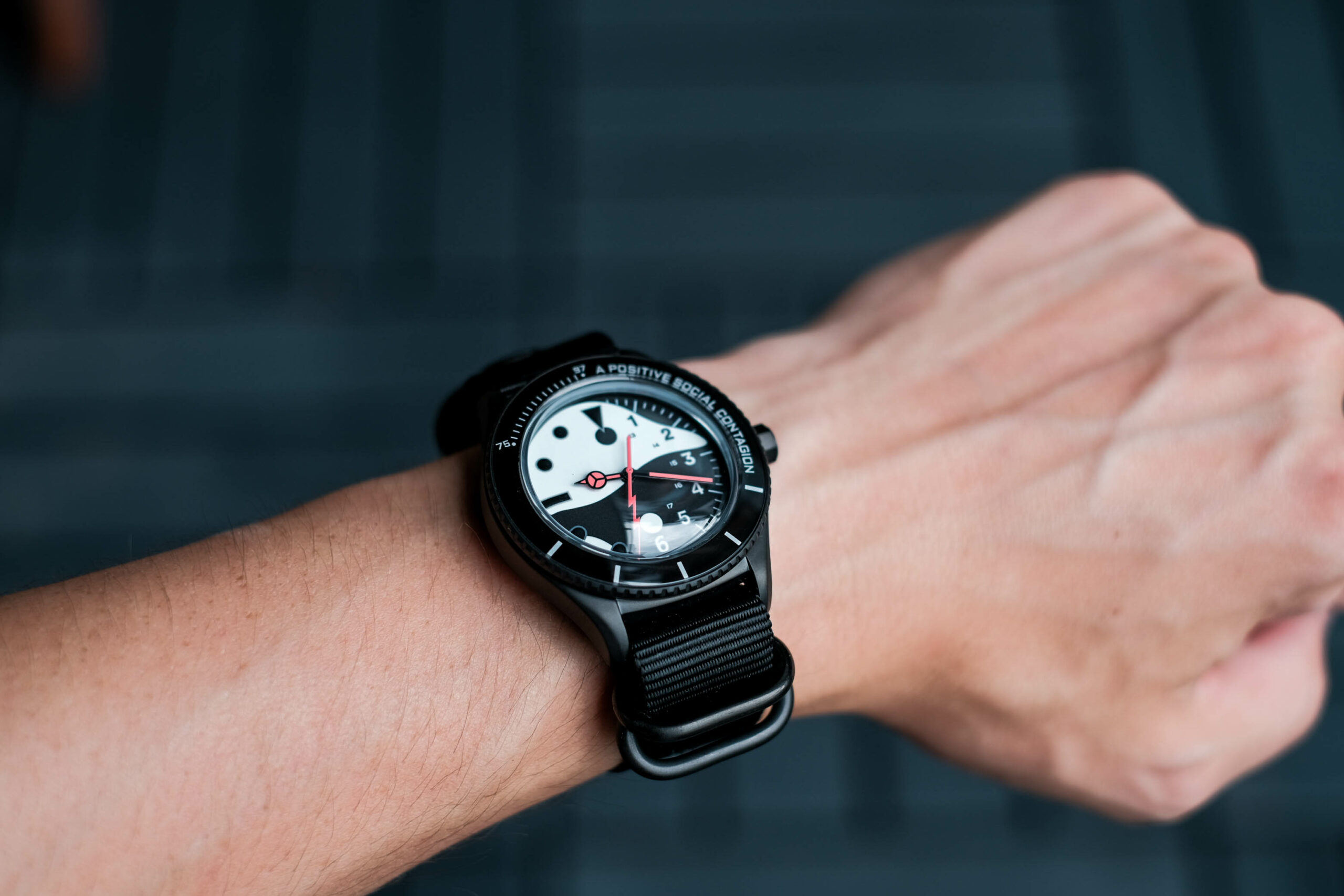 The mid-sized case is constructed from black steel, with a diameter of 40mm and a distance of 48mm from lug to lug. It's water-resistant to 100 meters, sufficient for swimming on a regular basis. I particularly liked the screw-down crown, which is octagonal, like a hardware nut. This makes it easy to grip, as well as to pull.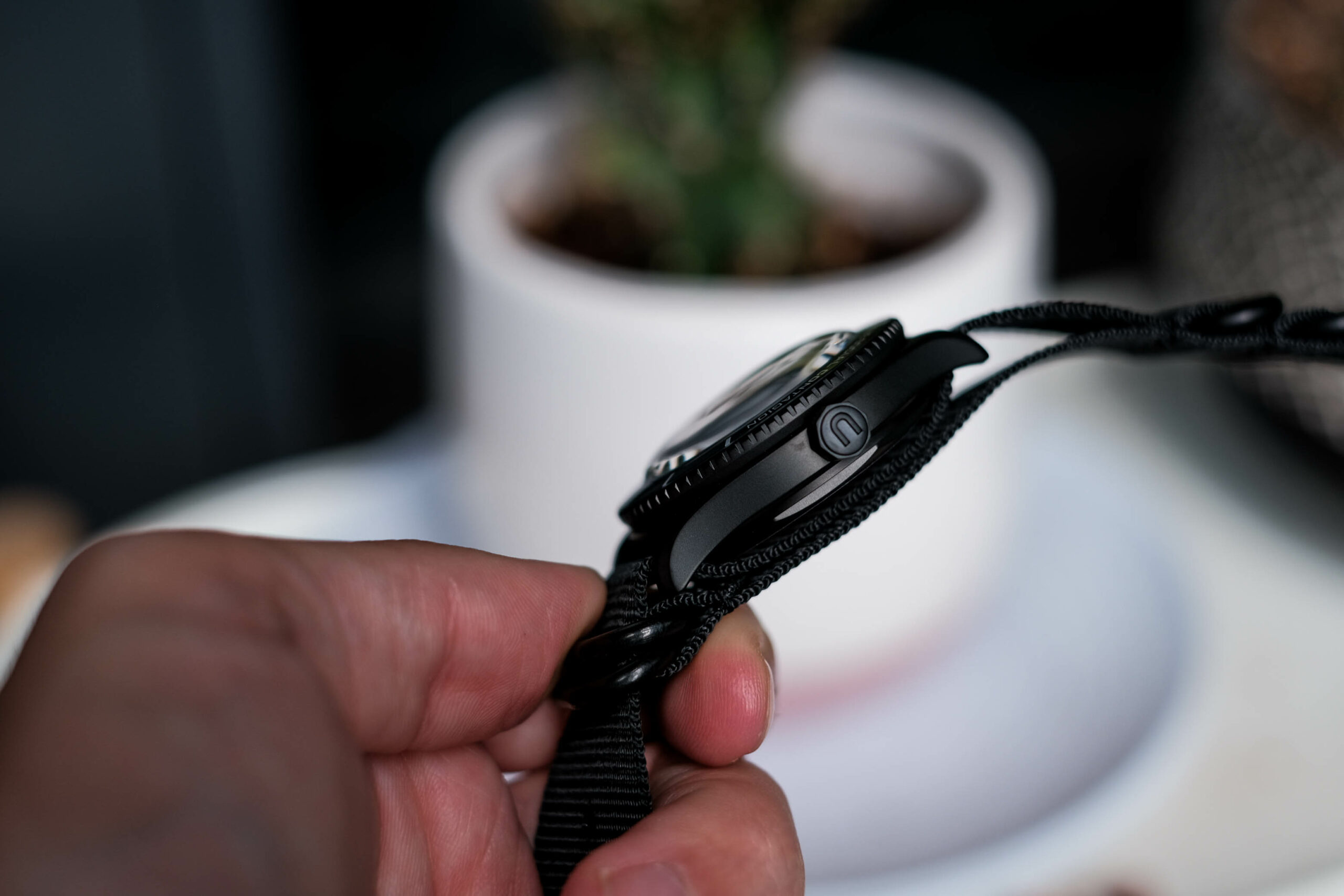 The top crystal is a bubbled Lexan polycarbonate, which is exceptionally shatter-resistant. The display back is made from a similar material. However, that area has actually been printed with a semi-transparent red pigeon outline. It creates an attractive silhouette on the movement back, without adding too much unnecessary decoration.
The top of the case sports a rotating bezel with a knurled outer edge for a better grip. Unlike a lot of rotating bezels, though, you won't find a ton of numbers. The only numbers are 75 and 97 at the corresponding positions, to indicate the years 1975 and 1997. These correspond to the year Jeff Staple was born and the year he founded his company. Along the top right of the bezel, you'll also see Staple Pigeon's motto: "a positive social contagion."
The Movement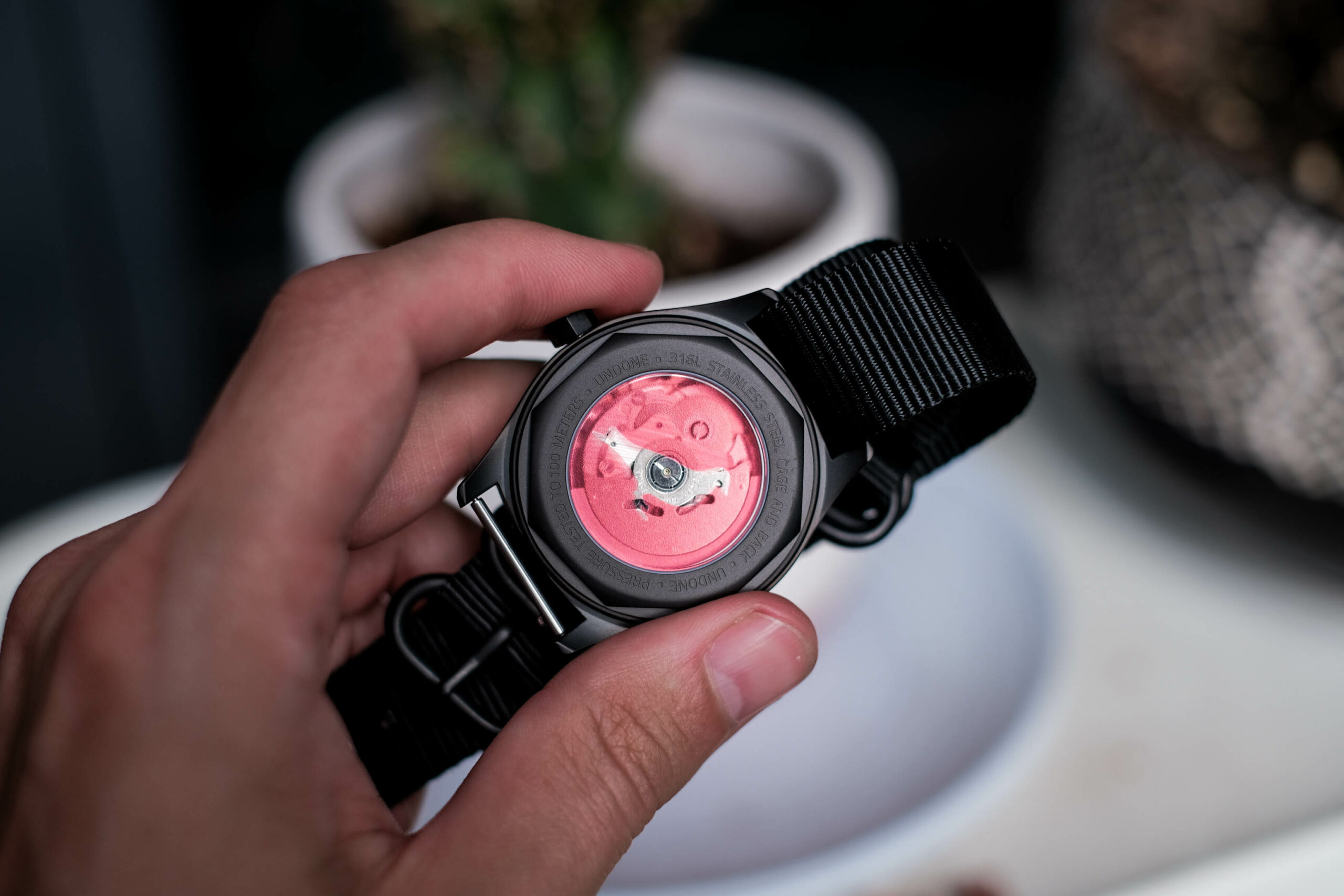 The Yin-Yang is powered by an NH35A automatic movement, which is available in two variants: Japanese and Malaysian. Of the two, the Japanese Seiko variant is generally considered the more reliable, and that's what you'll find here. The movement is only accurate to -20 to +40 seconds per day, so it's not exactly chronometer grade. That said, it comes with a 41-hour power reserve, good enough to last through a weekend of disuse. It's also both hacking and hand wind-able. As a result, it's easy to reset the time or resume operation without fiddling around. Yes, more accuracy would have been better. But all in all, I was pleased with Undone's choice here.
Four Distinct Band Options
Like many quality watches, the Yin-Yang comes with more than one band option. However, instead of just two, it actually comes with four different choices. The first is a black canvas band with the word "STAPLE" printed in bold white text. This mirrors the two-tone image on the dial, and is comfortable enough for workouts. A second, plain black canvas band is also included. The other two options are leather and metal respectively. The black leather band is smooth on one side, but left unfinished on the inside, giving it a soft touch. This band is reinforced with red stitching at the corners, an attractive aesthetic touch as well as a functional one. Finally, the metal band is black steel, a perfect match for the case. You'll likely need to have it fitted by a jeweller, but it looks really sharp in a more formal setting.
To have a look at Undone's full range of watches visit their official website here.