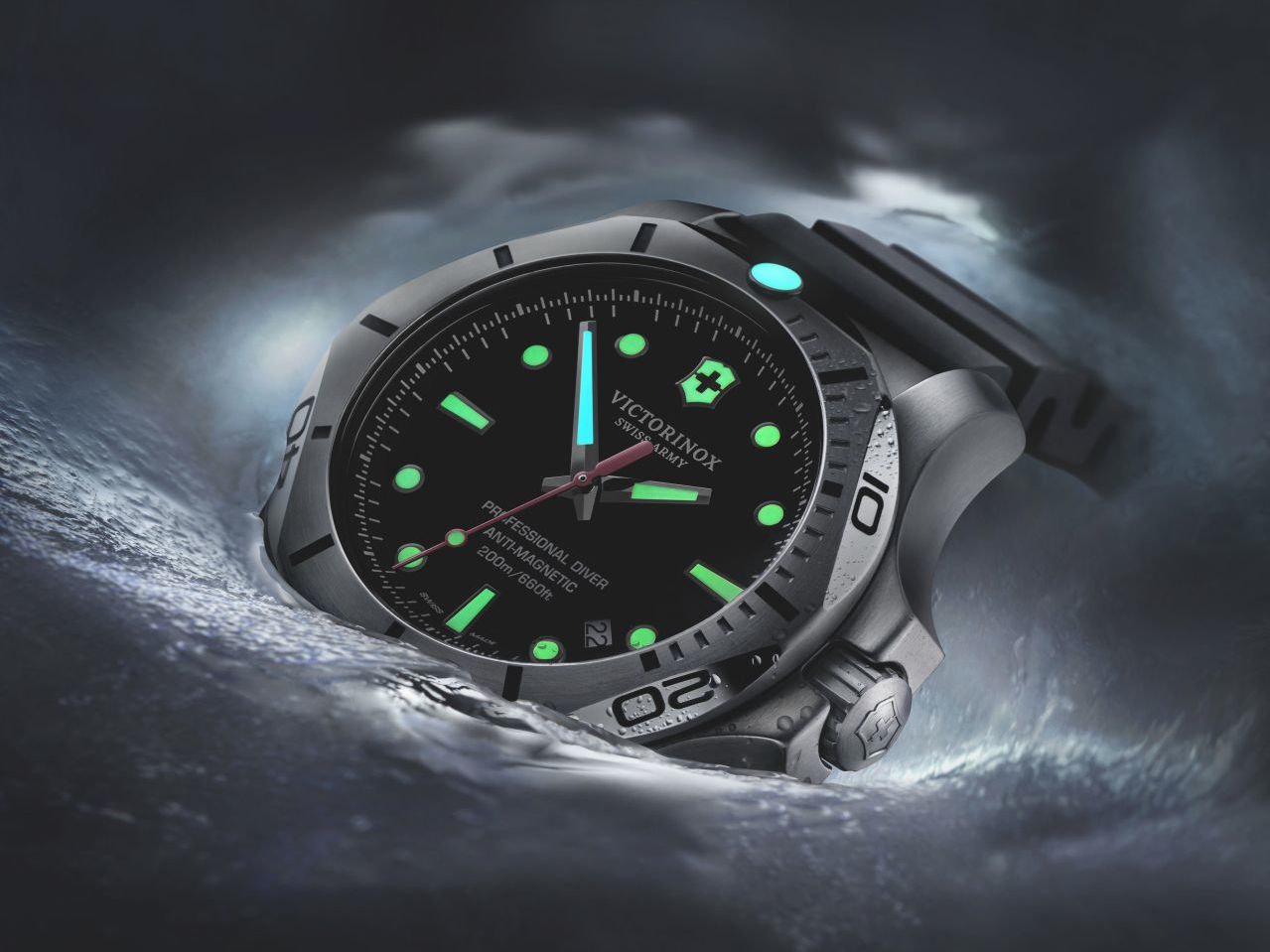 Strong, sturdy, and reliable. These are the 3 words you think of when you see or hear about Victorinox. Around for 120+ years Victorinox is known for making high quality, durable, and long lasting products. They have a range of products from backpacks, to knives, to watches.
I.N.O.X: The Details
A modern take on the diving watch, the I.N.O.X professional diver combines strength and robustness with the tools that divers rely on. The watch has a 45mm width, and is also much thicker then many watches you will find. It has a brushed stainless steel case. This case weights in at 8.1oz. It feels Like a block of steel, almost unbreakable. The edges on the case give the watch a more complex and distinct design, making it different from many other divers you will find on the market.
> > > Click here to see ratings, reviews, specifications and prices on Amazon < < <
The watch has a very large bezel. It features a count up scale and has Arabic Numerals every ten minutes. At the top of the bezel you will find a luminous arrow. The bezel is unidirectional and has 60 clicks or rotation points. I am very appreciative of this very uniquely designed bezel. With every rotation, a click can be heard notifying you that it has been rotated. You can feel that the bezel is very secure to the watch. Every ten minutes you will also find small cut outs, almost like it was sanded down. These cuts allow for easier grip.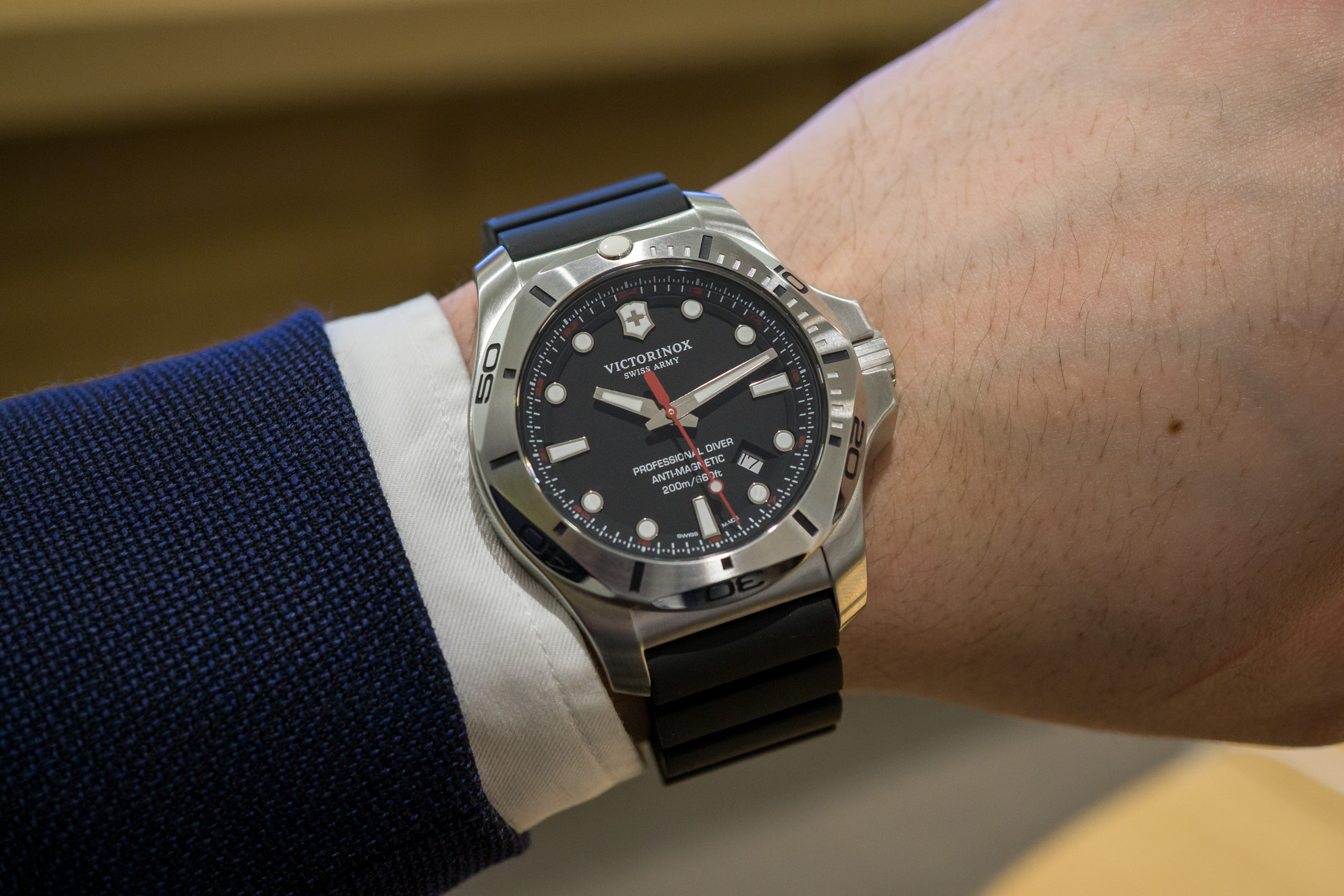 The watch features an anti-reflective sapphire crystal. You will also find a screw in case back. The crown, displaying the Victorinox logo, is a screwdown type and contains 2 ridges for added protection.
Dial
The dial on the Victorinox I.N.O.X is available in 4 different colors. I chose a black dial with contrasting silver hour/minute stamped indexes.. On the dial at 12-O'clock you will see the Victorinox logo. Peripherally around the dial, above the markers you will find red numbers 13-24. This allows for reading military time. Between each hour/minute marker you will also find 4 smaller markers for minutes. indicator. The date indicator is black on a white marker and is located between 4:00 and 5:00.
Hands
The hour and minute hands are both silver. They look like elongated diamonds. They both have strong lume to allow you to see deep underwater. The hour/minute markers all have lume. The second hand is a vibrant red which offers nice contrast against the black dial. Near the end of the second hand you will find a small dot which also glows. All of this illumination is very helpful if you are going to be using this as a normal diving watch, you will be able to see deep underwater.
> > > Click here to see ratings, reviews, specifications and prices on Amazon < < <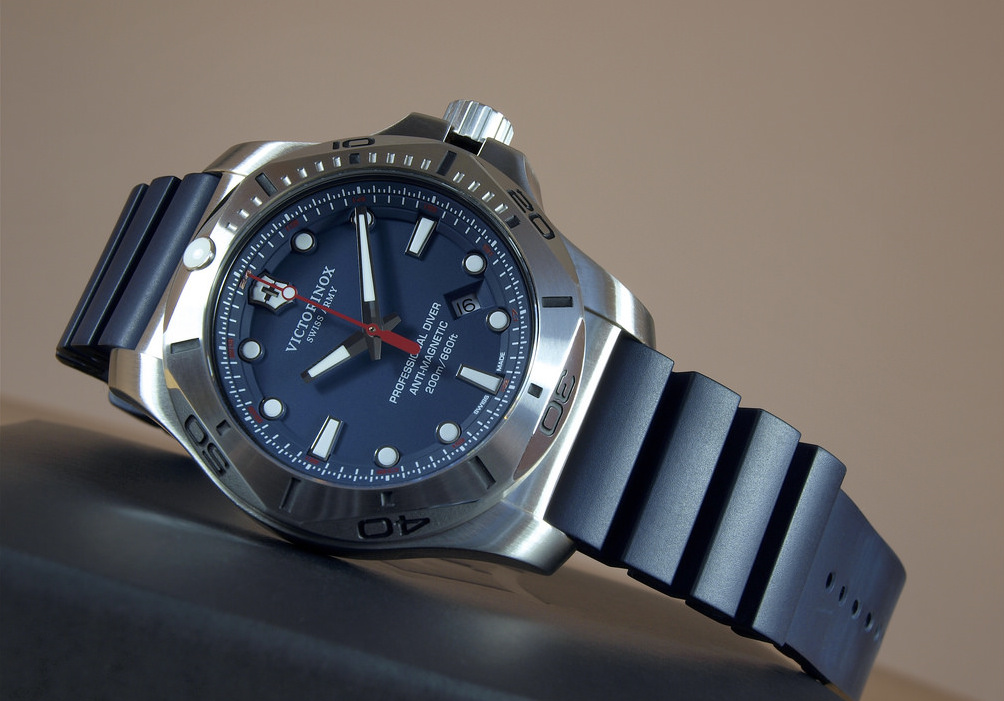 Band
There are 2 different types of bands you can get with the INOX. The first is a stainless steel band. This band features a folding buckle as well as an extension element that allows the watch to be worn over a wet suit. This band is definitely worth the $100 upcharge. It is extremely comfortable, it stays cool, and the clasp is nice and tight and doesn't move around.
The second band is a genuine rubber strap. I have not yet tried this strap. This strap comes in multiple colors to match with the dial.
Movement
This watch features a Swiss made quartz movement. This allows for greater accuracy and durability the an automatic movement. This movement is used as it is able to withstand Victorinox's 130+ tests they perform on the watch. One feature I was surprised to find on the watch was hacking. Hacking is when the second hand stops when you pull out the crown. The watch also features a date counter.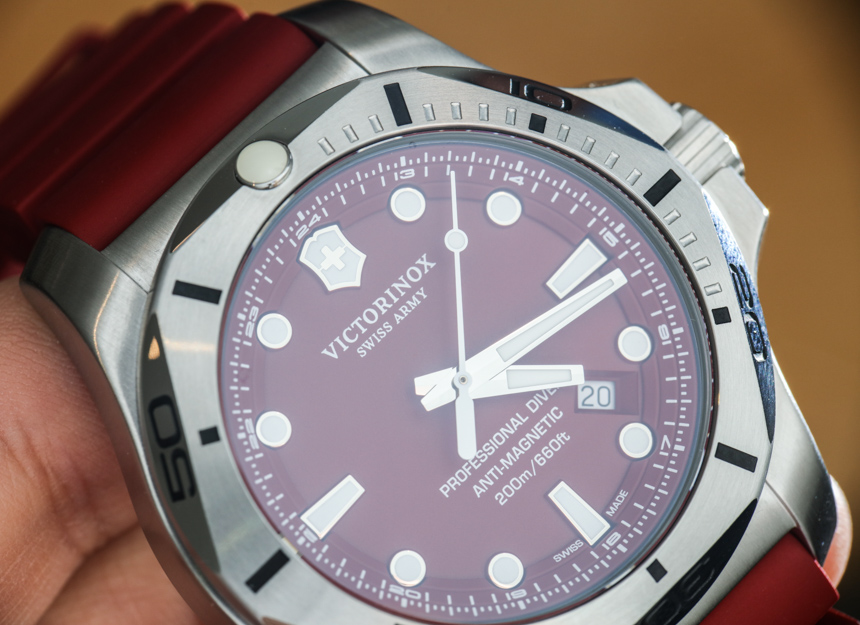 Other / features
The I.N.O.X professional diver is ISO 6425 certified. It can go to a depth of 20 ATM or 200M. Some features that Victorinox added is an end of life indicator, they also made it anti-magnetic. For extra protection Victorinox also included a Clear coated rubber protective cover. This cover can be used for diving or for normal protection. It protects all of the case that is exposed. They also add a magnified cover onto the bumper to allow you to see the face much better under water.
Opinion
If you are looking for an accurate, robust and durable watch I would definitely choose the I.N.O.X professional diver. You are getting the weight, strength, durability and accuracy of an upscale diving watch as well as military time, a protective bumper to keep your watch free of scratches, and an very good quartz movement which features hacking.
> > > Click here to see ratings, reviews, specifications and prices on Amazon < < <