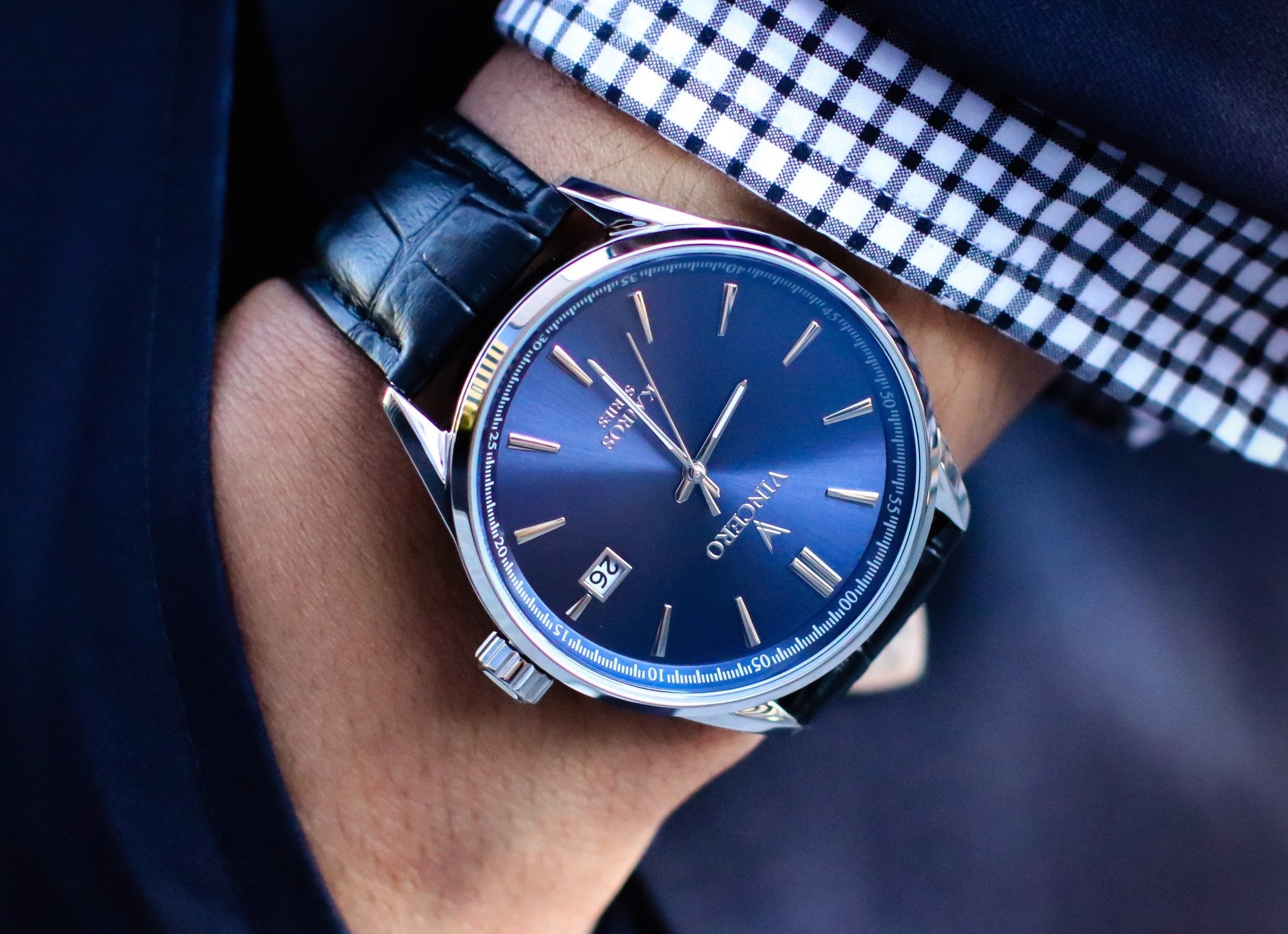 If you are in need of a stylish dress watch that won't break the bank and you don't mind sporting a brand that most people probably have not heard of, pay attention to this review. Today we bring you a new line of watches from a young Seattle-based company that promises to appeal to shoppers who place equal emphasis on style and value.
The Kairos Collection is a line of dress watches that adhere to Vincero Collective's ethos of high-quality watches at a reasonable price. A modern design with more than a couple classic dress watch style cues, the Kairos lineup consists of 6 combinations of dial, case, and strap colors. Any option you choose is easily identifiable as a Kairos as they all share identical case shapes and dial designs.
> > > Click here to see ratings, reviews, specifications and prices on Amazon < < <
Thin Case
The Kairos uses a nice, elegant stainless-steel case with a crown planted at 3 o'clock. At 42 millimeters wide, this is a fashionably large watch, but still a very reasonable size for everyday use. Even though it isn't really intended for rough use, Vincero has designed the Kairos with 10 atm (or about 100 meters) of water resistance, so no need to remove the watch for all but the most intense of water activities. Sapphire-coating helps protect the mineral crystal, a nice touch for a watch of this price.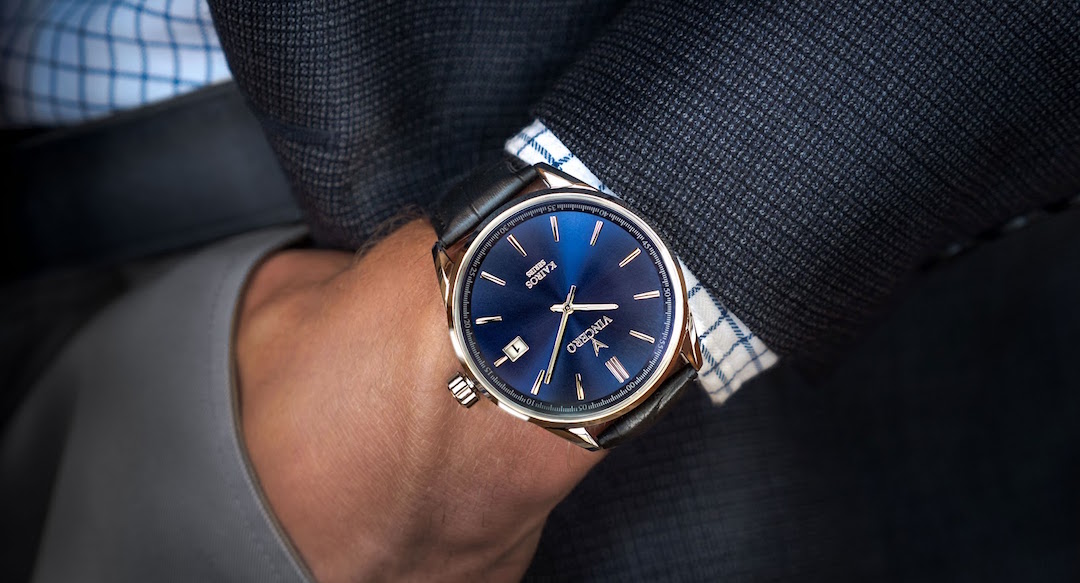 > > > Click here to see ratings, reviews, specifications and prices on Amazon < < <
An engraving on the caseback proudly states "Veni. Vidi. Vici," the famous Julius Caesar quote meaning "I came. I saw. I conquered." I'm not really sure what this saying has to do with a relatively inexpensive watch, especially considering that "Kairos" is a Greek word. That's not the most interesting aspect of the caseback, though. That honor goes to the small piece of marble placed in the center of the case. Vincero claims this chunk of Italian stone is a reminder to "Build Your Own Legacy." It may be for someone, but I think I would just probably just end up using it as an excuse to show off the back of my fancy new watch.
Elegant Dial
The Kairos line is offered in 3 dial colors: a rich blue sunburst, jet black, or a simple white finish. My favorite of the bunch is probably the black dial that uses rose gold hands and marker, all set in a silver-colored case. This unique combination of finishes is pulled off extremely well and looks quite stunning on the wrist. I can't find fault with any of the other designs, however, as there is not an ugly or awkward watch between them. Luminous hands aid your time-telling efforts in the dark, although it lacks luminous hour markers. Each of the 3 hands are delicate and simple in their design.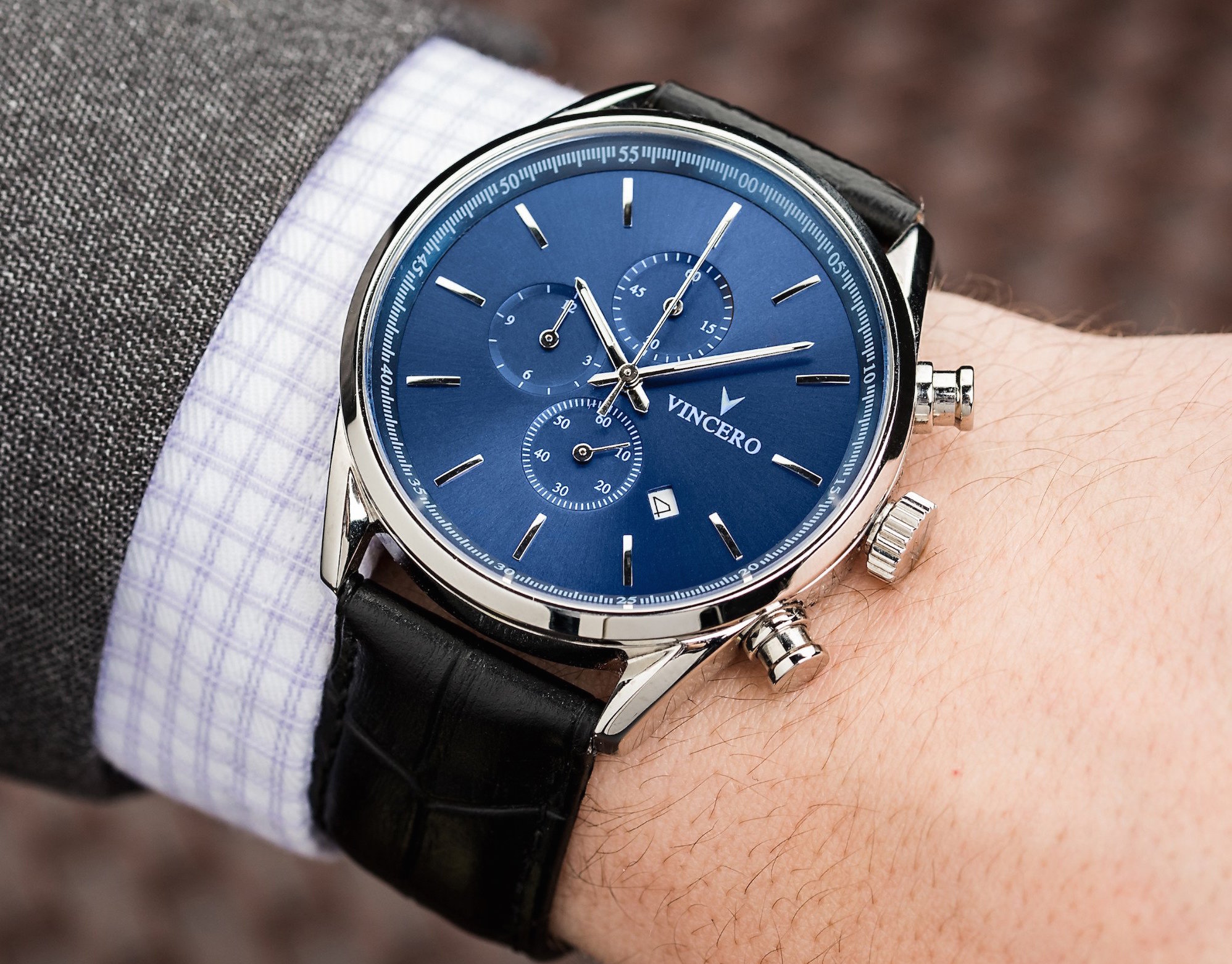 The steep angle of the outer chapter ring tends to make the minute markers scrunch up a bit when viewed top-down. Angle the watch, however, this aspect of the dial adds some nice interest to the watch. An antique-looking font used for the very small minute markers that sit atop each silver-colored index hour marker keeps things from getting too modern. The quality of the font's application isn't exactly top-notch, with some noticeable irregularities when examined closely, but nothing out of the ordinary for this price range.
A black-on-white date field takes the place of the inner half of the 3 o'clock hour marker. While it is easily legible, the bright white background on this window is slightly too jarring of a transition when set against the blue dials, but somehow works well with both the black and white dials.
Croc Band
The black crocodile-patterned Italian leather band uses black stitching with a contrasting tan underside. Measuring 22 millimeters wide, it seems to be a decent strap. However, one of the very few complaints people have been giving the Kairos is that the band is too short for those with larger wrists. I wouldn't know anything about that as my wrists are tiny, so I'll have to take their word for it.
Kairos Movement
Vincero has chosen to use a Miyota quartz movement for the Kairos line, a solid choice that matches the philosophy of the watchmaker: high-quality at a reasonable price. A middle-ground movement that punches above its price point, Miyota quartz movements have proven to be as reliable as the Swiss ETA movements that cost around 3 times more.
Final Thoughts
Regardless of the color combination, each Kairos carries a $139 suggested retail price. Don't go looking in your nearest retailer, though, as Vincero watches are only sold online so as to minimize overhead and drive costs down. Vincero says they have reinvented the classic wristwatch with this one, although I wouldn't go nearly that far in my assessment of this watch. Wheat I see instead is a watch that won't blow you away with any one feature (other than maybe the chunk of marble integrated into the case), but there are few if any weak points in the entire package. Considering the low price, the Kairos is a smart choice for a well-made dress watch at a sensible price.
> > > Click here to see ratings, reviews, specifications and prices on Amazon < < <