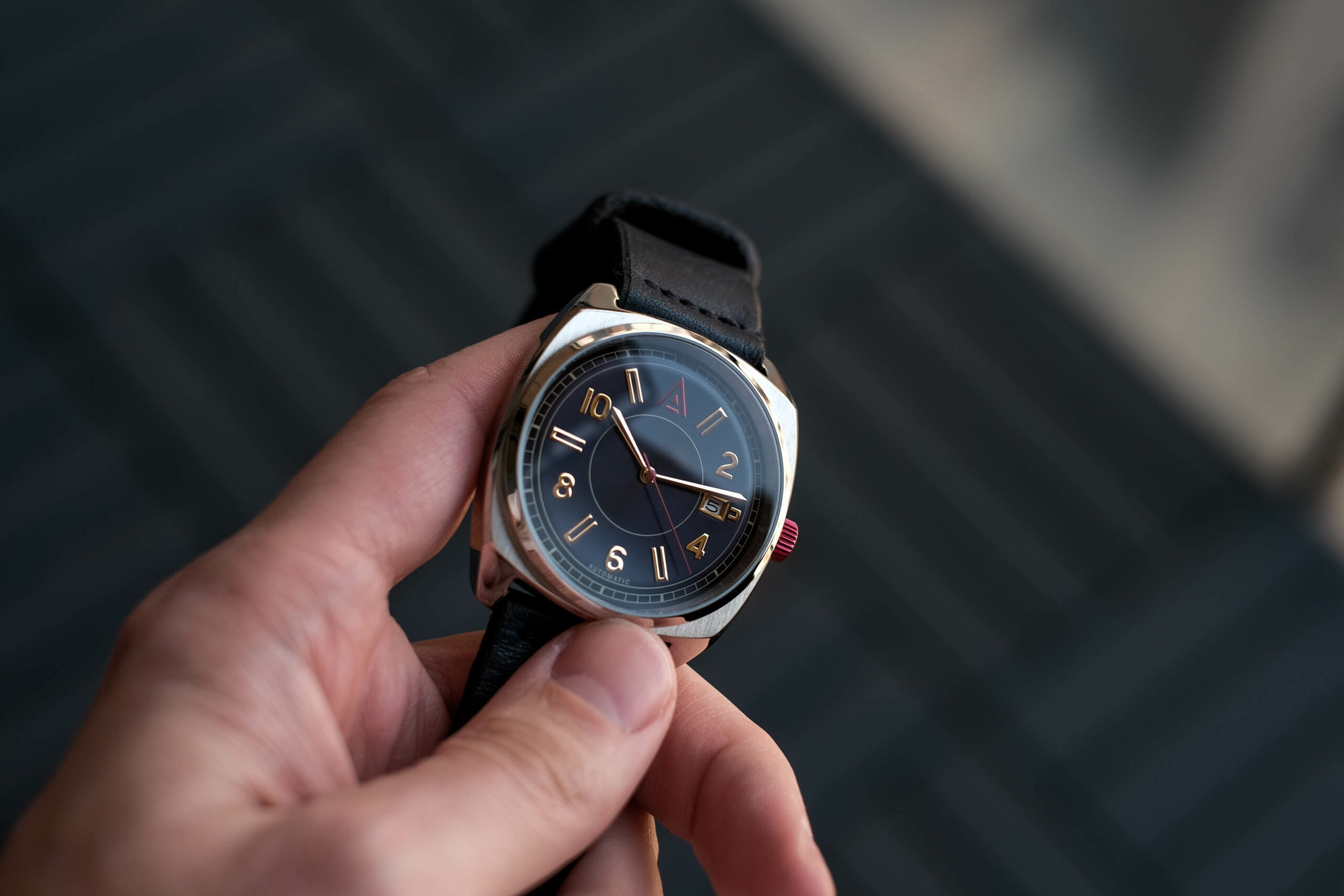 As my regular readers will know, I'm a sucker for a good quality microbrand. One of my favorites is W.T. Author, a newer watchmaker based in Shropshire, UK. What makes W.T. Author special is the way they make their watches. Instead of mass-producing their watches in a large factory, every timepiece is assembled by hand in their small workshop.
This has given W.T. Author a strong reputation for quality. Over the course of 45 different releases in seven different collections, they're well-known for their meticulously designed watches. Because of their strong track record, I was excited to get my hands on their the N˚ 1934 Automatic.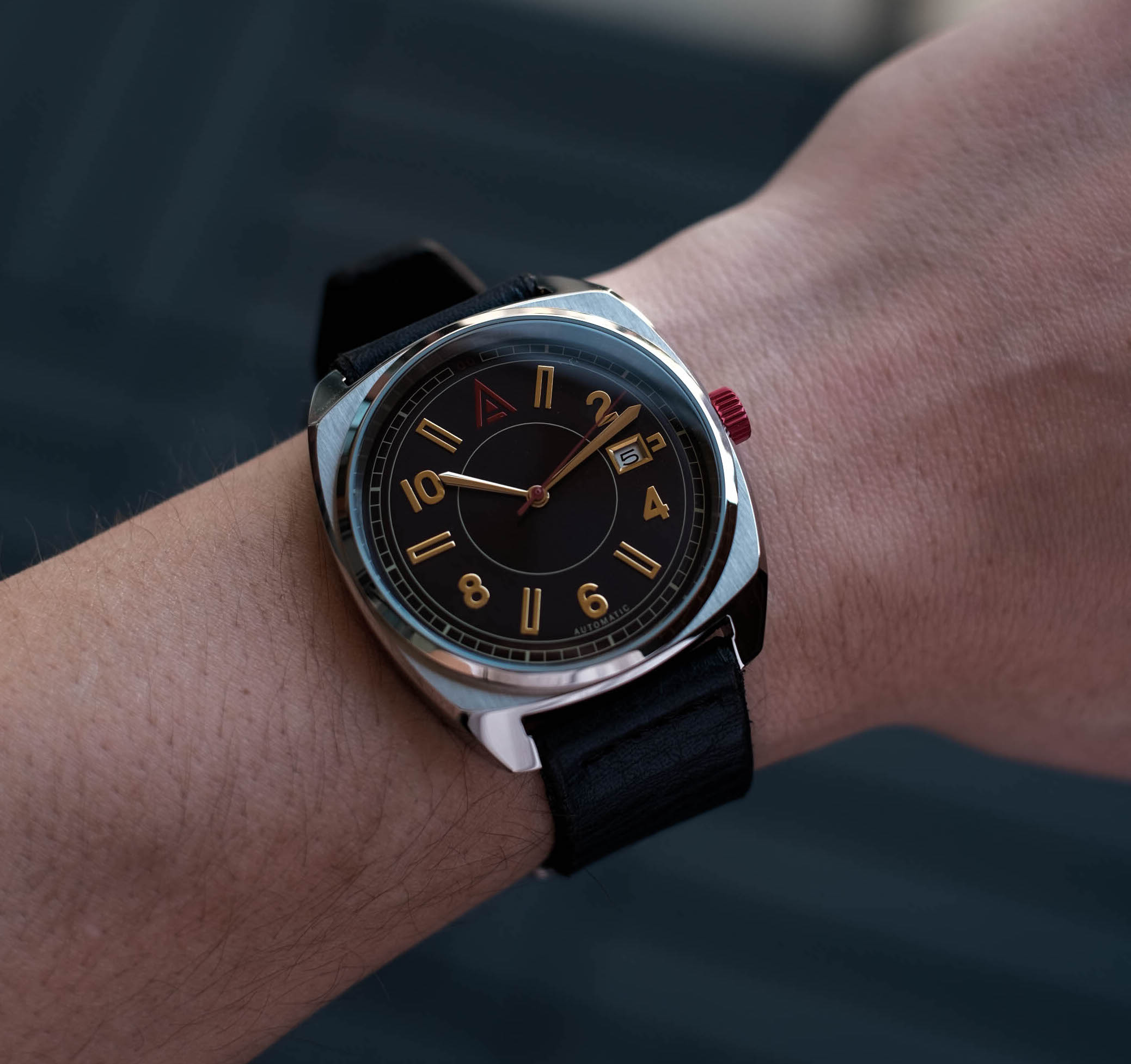 This watch comes in five different color variants. You can choose from black quartz, blue, cream quartz, or white quartz. The green quartz variant has already been sold out, and there's a good chance the others won't be far behind; each color is limited to a run of 100 serialized pieces, which are built to order.
I have the blue version, but the only difference between it and the others is the color and movement. The case, and all the other features remain consistent from color to color. Now, let's take a closer look at this watch!
A Broad, Quirky Case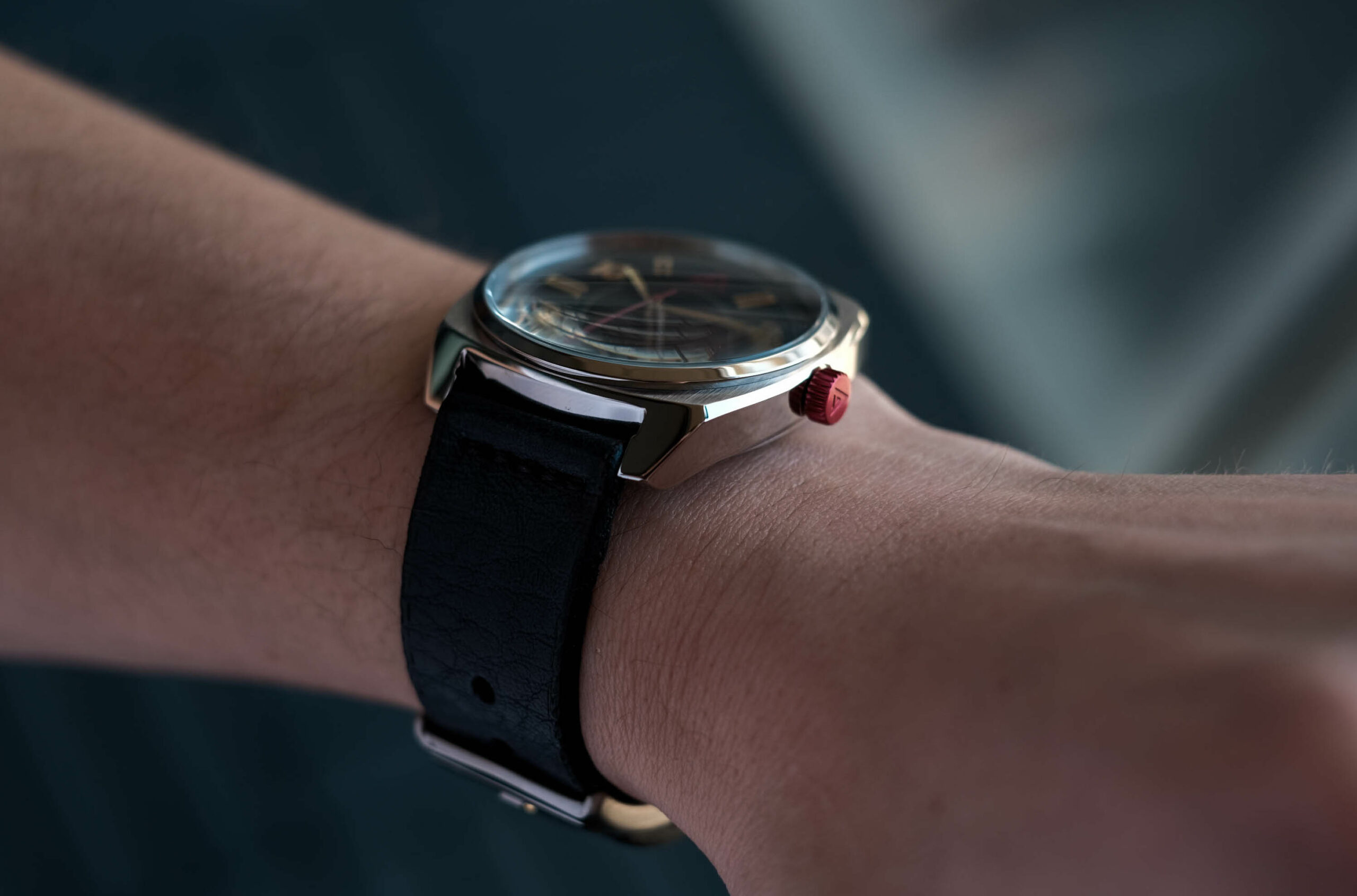 The first thing you'll notice about the N˚ 1934 Automatic is the retro case design. Instead of a round, or even oval-shaped case, this one has a distorted square shape, with sharp corners and bowed out sides. The total width of 41.5mm gives it a medium-large wrist presence, although at only 10.5mm thick, it's also fairly slim, and surprisingly light for the size. The 22mm lugs are on the wider side, but still within established standards.
The bulk of the case is crafted from 316L stainless steel, one of the most corrosion-resistant types of steel. The sides and lugs are glossy, but the front surface has a brushed finish. The bezel is round, smooth, and slopes upwards towards the crystal. At 3 o'clock, you'll find an anodized aluminum knurled crown that's bright red to match Author's logo color.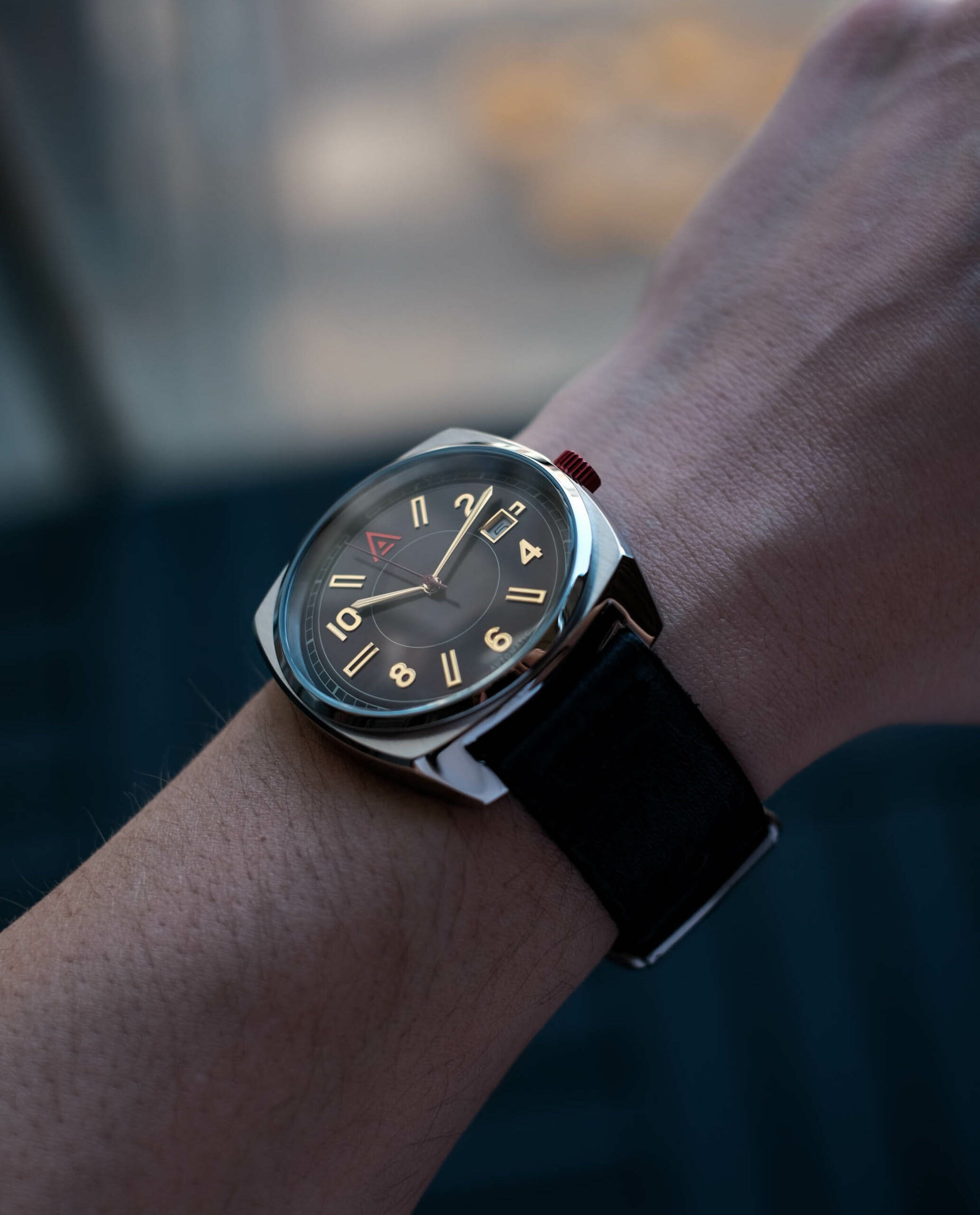 This watch has a water-resistance rating of 10 bars, or 100 meters. That's sufficient for showering, swimming, or even snorkeling. Unless you're a scuba diver, you'll never need more water-resistance.
The sapphire crystal has a slight bevel on the edge, which distorts the outer edge of the dial, but not enough to ruin visibility. It's coated for scratch- and glare-resistance, and provides a clear view under any lighting conditions. The exhibition case back is made from a similar sapphire, and allows you to see the workings of the movement. The effect is somewhat marred by a large red W.T. Author logo, which is stamped in the center. Just underneath, you'll also find your serial number engraved into the glass.
Each watch comes with a hand-stitched Italian leather strap, which is comfortable, durable, and attractive. Mine is dyed blue, but each variant's strap is made to match the dial color.
If that's not enough, you're covered by a 24-month warranty in the event of premature failure.
A Reliable, Shock-Resistant Movement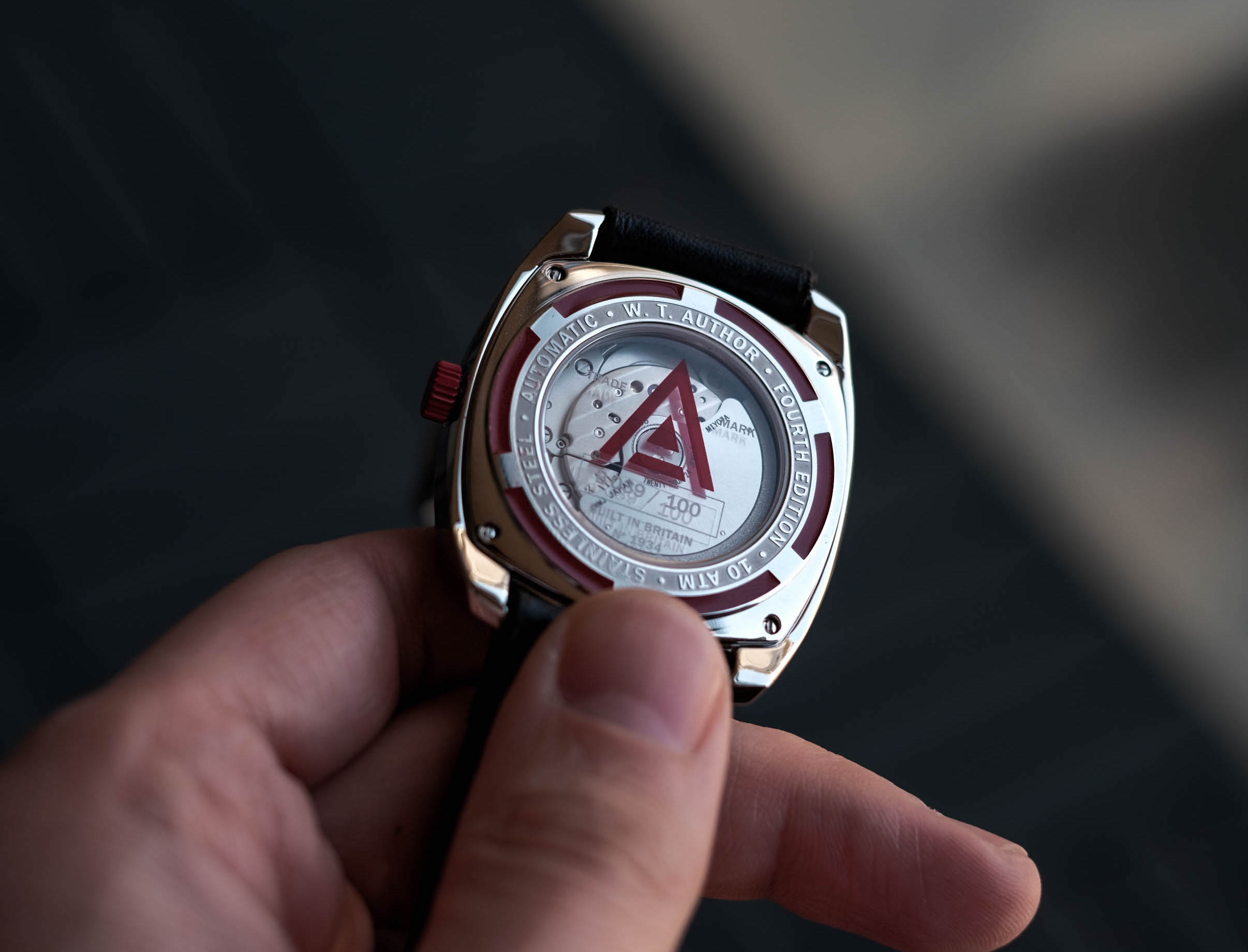 The N˚ 1934 Automatic utilizes a Miyota Caliber 9015 movement. This movement is actually manufactured by Citizen, although it's a traditional automatic, not a solar-powered movement like many of Citizens' offerings. Even so, it performs as well as you'd expect from a movement of that pedigree. It can be hand wound, and it includes a quick date setting function that saves you a lot of hassle when the month is less than 31 days. With 42 hours of power reserve, it can last through a couple of days of disuse. Moreover, it has an advanced anti-shock system, which is useful if you lead an active lifestyle.
A Beautiful, Retro Dial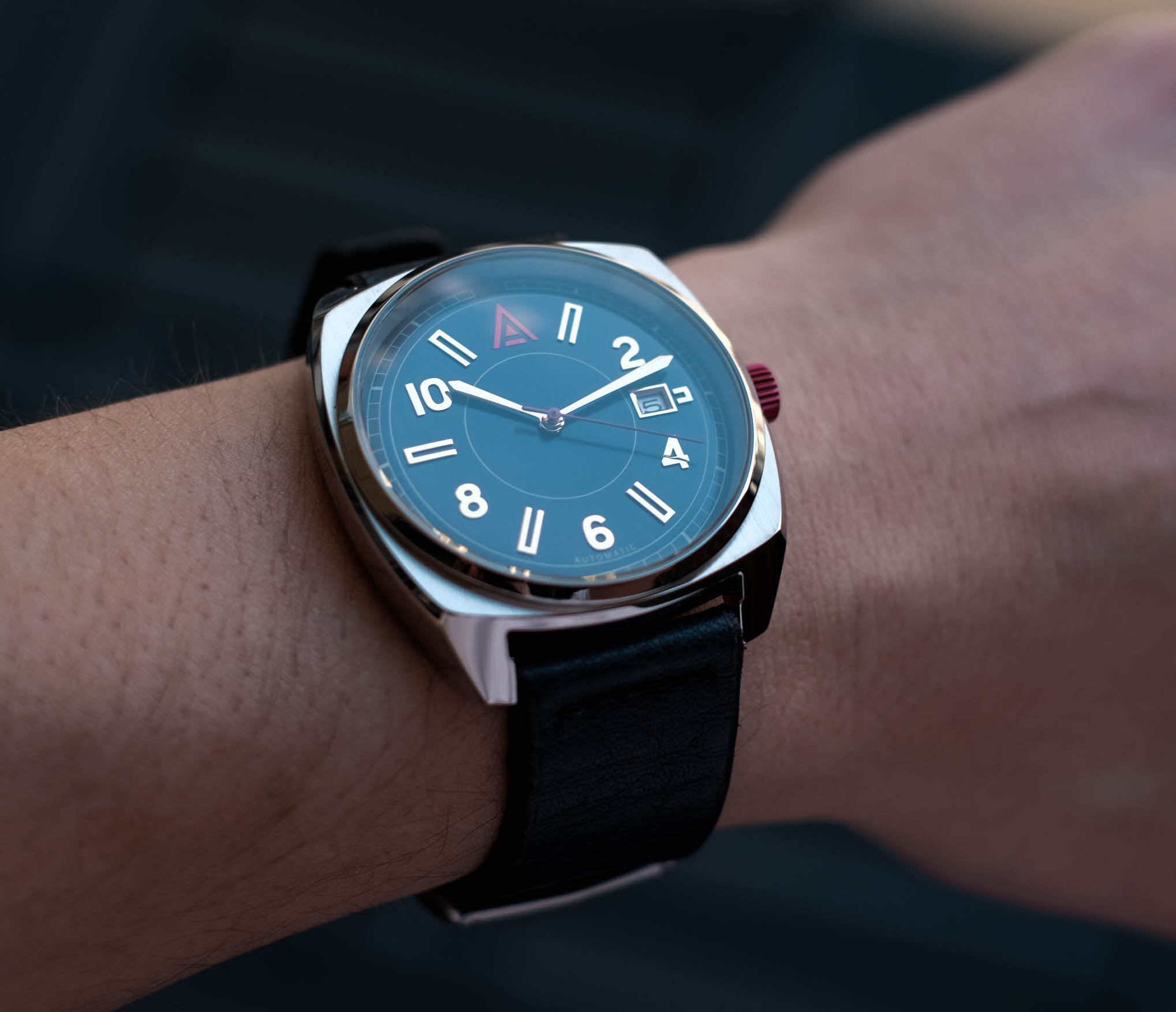 The center of the dial has a metallic blue finish, which naturally draws your eyes to the center. The outer portion, meanwhile, has a matte finish, which makes the indices and numerals pop. At the far outside edge, with a white ladder index that has thin hashes at the minute marks, and fatter hashes at the five-minute marks.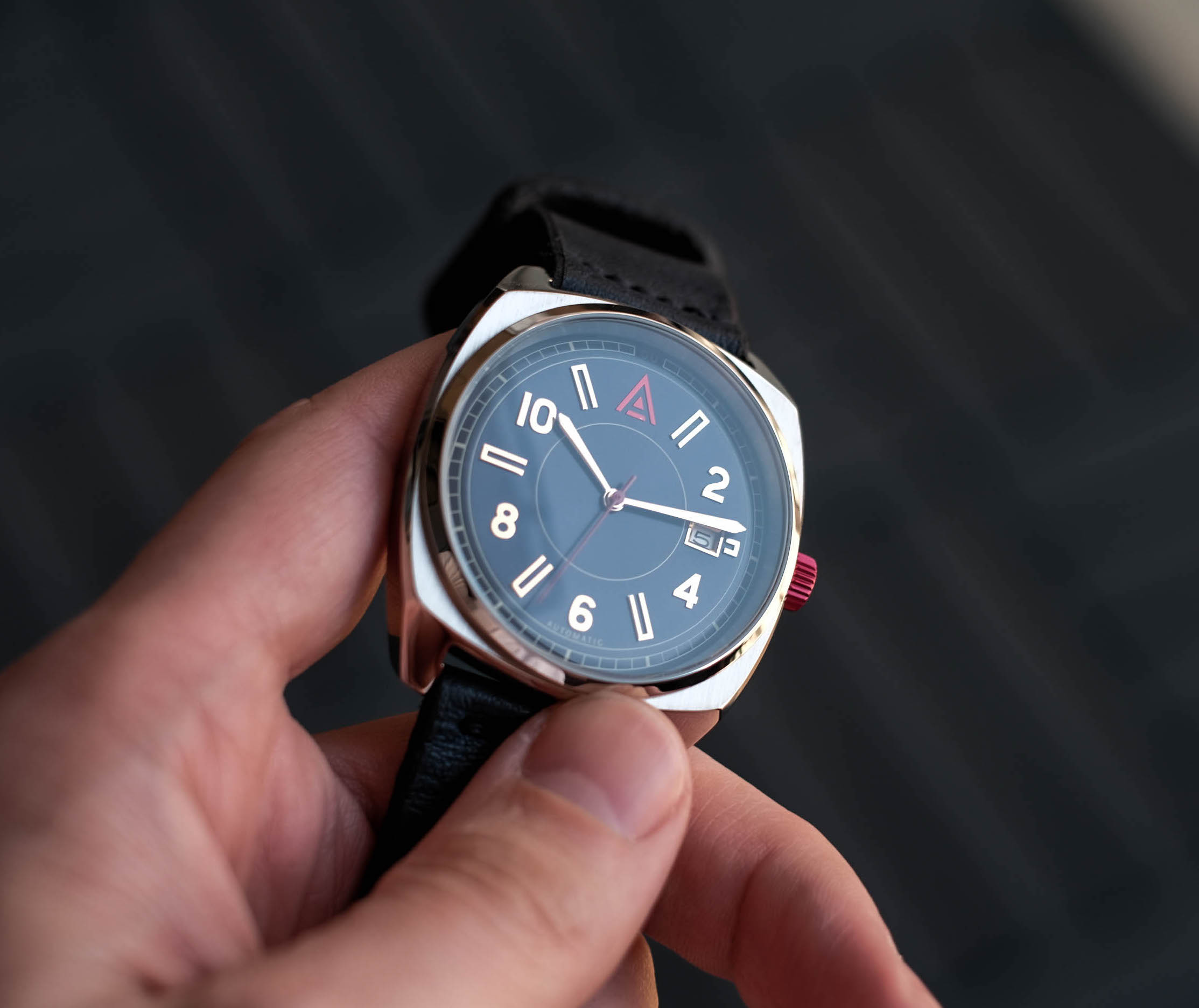 Inside of this, there are large, gold applied Arabic numerals at the even-numbered hour positions. At the odd-numbered hour positions, there are gold double-hashes, which are linked at one end to look like stylized magnets. At the 3 o'clock position, the hashes are cut off, and there's a gold-bordered white date window with black Arabic numerals. At 12 o'clock, in place of another numeral, there's a red metallic W.T. Author logo.
The hour and minute hands are shaped like long, wide spruce needles, narrow at the base and broader at the tips. They're bright gold, which provides a nice match with the gold-colored numerals. The second hand is a bright metallic red, with an ultra-narrow profile.
To view all of W.T. Author's watch offerings, visit their official website here.