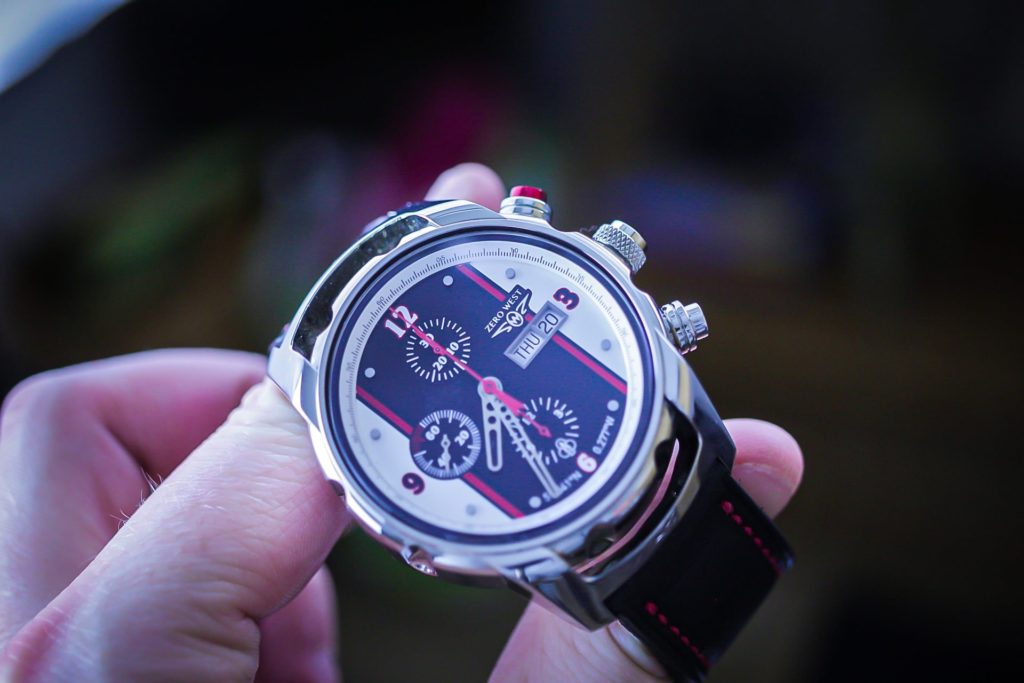 Graham Collins and Andrew Brabyn set up Zero West around 4 years ago and have a very rare combined skill set. Graham's who's background in military and aerospace engineering design and Andrew's in graphics, typography and branding have allowed them to create a watch company that's a desirable alternative to many of the bigger brands.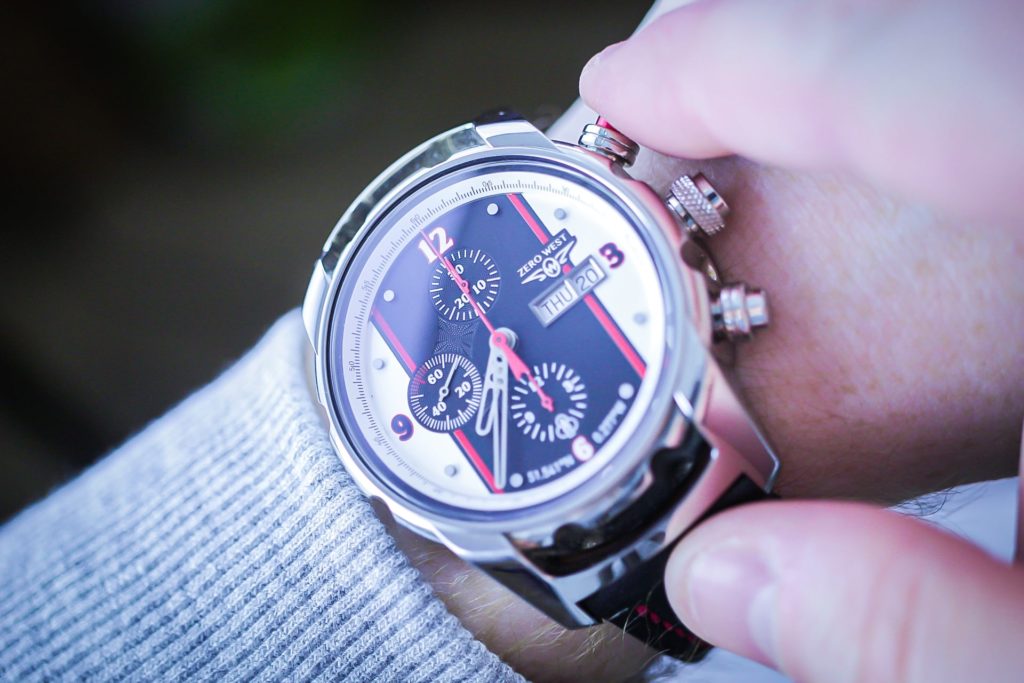 Zero West is a coordinate, the main line of Longitude also known as the prime meridian that runs through Greenwich. It's where east meets west, where time starts. All Zero West watches have a date code and latitude and longitude coordinate on them. So each watch is chronologically and geographically linked to a moment in history giving further relevance to the name and strap line "There's a time and place for everything".
The watch I'm showing you today is the CR-1 Cafe Racer 1950s chronograph and the coordinates link this watch to the Ace Cafe, a popular rendezvous for rock n roll, bikers and classic car lovers. Cafe Racers embodied a mix of carefree rebellious youth fuelled by the new free rock n roll movement. The urban bike scene was borne out of the riders who frequented London's Ace Café.
This watch is a beast, make no mistake about that. But it's no ugly beast, it's a piece of art on your wrist, an exquisitely built watch made with passion and care. The 316L stainless steel billet machined case is 44mm in diameter, I was hesitant of the size as I tend to like 40mm and under watches on my 7inch wrists but this fits well on the wrist without being overpowering.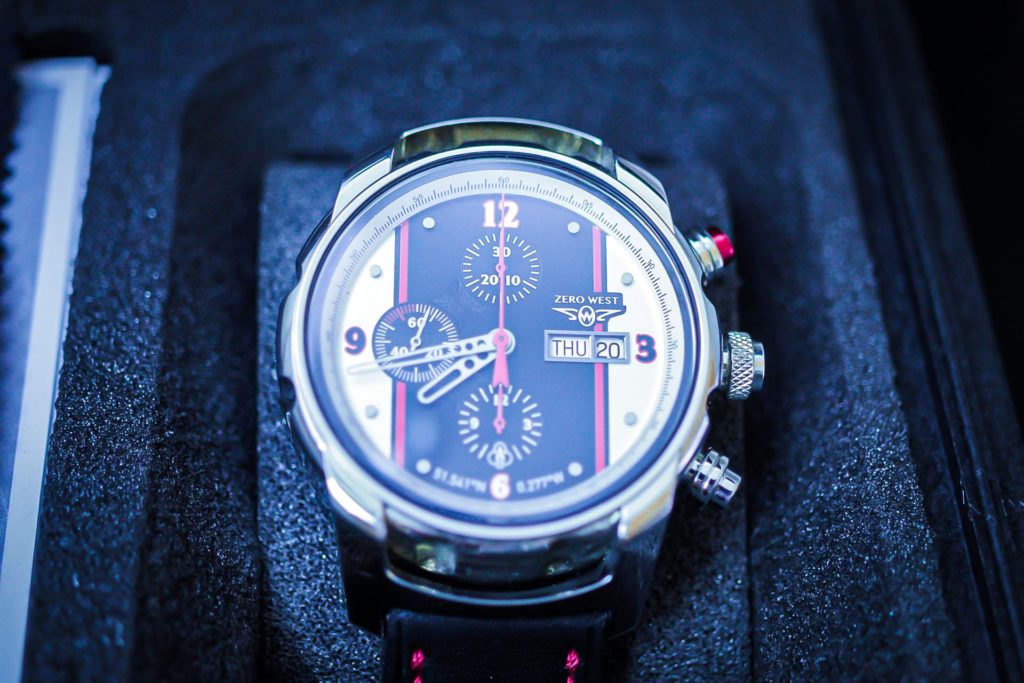 The case is highly polished and gleams in the light, it has ridged sides and at either end and adds a beautiful texture to the case, that almost makes the case seem slightly slimmer in diameter than it actually is. The case reminds me of exactly what the team want you to be reminded of; the front of the fairing on a motorbike, designed to reduce air drag and this case certainly looks aerodynamically pleasing, it evokes memories of classic road races in the Isle of Man.
The matching polished DSL lugs are fully machined to aerospace standards from billet 316L stainless steel and aren't like standard lugs at all, again evoking memories of classic motorbikes, this time reminding me of the handlebars, a real theme occurring here, almost taking me back to my childhood when I was obsessed with bikes.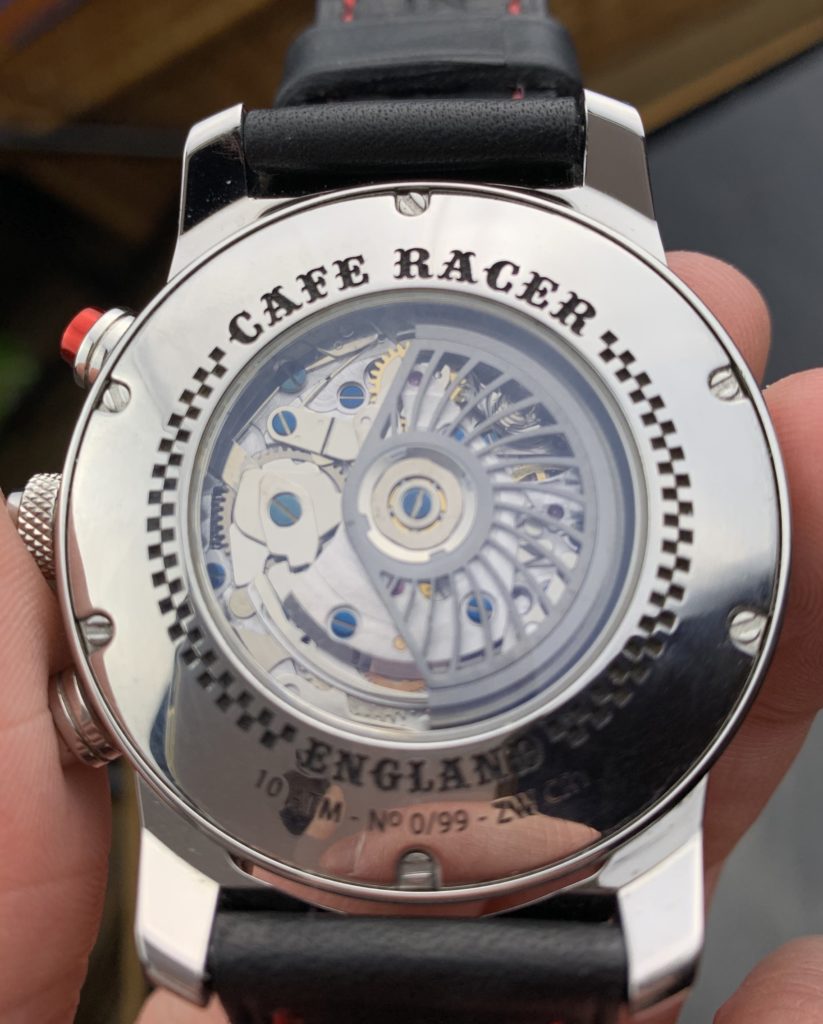 This watch is 16.3mm thick and that's thanks in part to what's inside it; the Valjoux 7750, a movement that has been around for over 45 years and features in many high end brands due to the classic appeal and its reliability. We wrote an in-depth article on the history of the Valjoux 7750 here on the WRB. The movement is also very easy to service and is easily able to reach COSC standards if required. The version inside this watch is the 13.25 calibre that beats at 28,800 vibrations per hour, has 25 jewels and has a power reserve of around 48 hours. It's visible through the sapphire crystal coated case back and there you can also see the beautiful custom skeletonised rotor that covers it. A chequered flag surrounds the case back further evoking racing memories and the gorgeous font used makes the case back a thing to behold.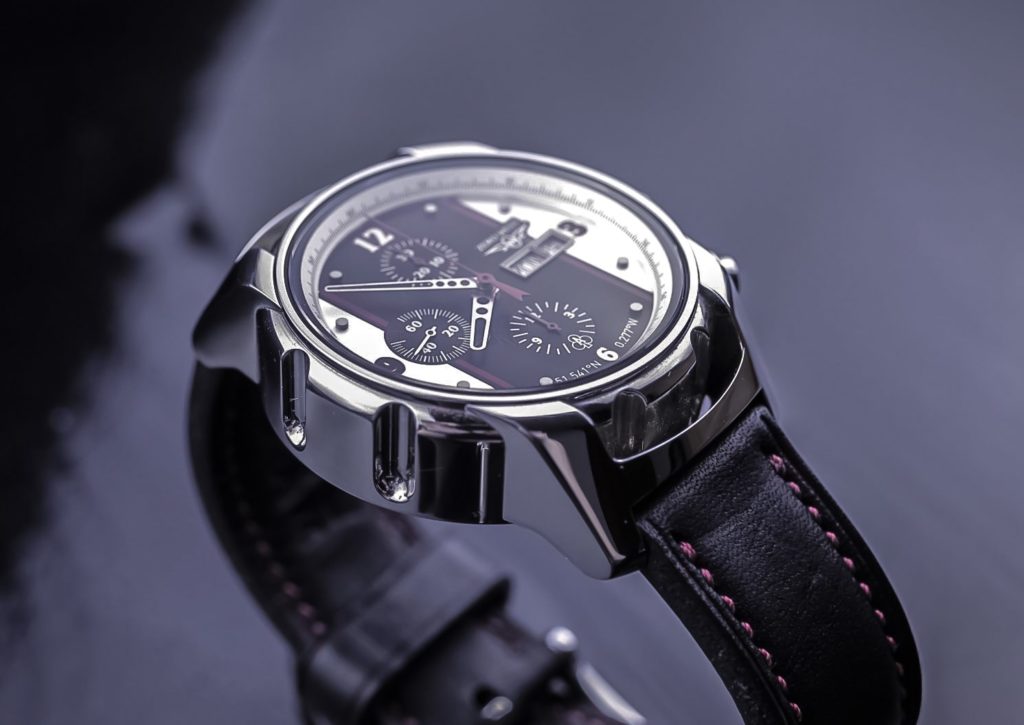 The gorgeous steel embossed dial is covered by sapphire crystal and the team have balanced a vintage design with a contemporary feel magnificently. A satin steel index ring frames the dial which also features skeletonised and drilled steel hands. I've had one experience with skeletonised hands before and I found that I struggled to read the time sometimes, but absolutely no problems here. The hands read beautifully against the coloured dial. The red, black and white dial embodies the classic TT racers of the era that dominated the scene. The design is certainly out there but it is heavily influenced by classic bikes and you can definitely see this design on the front of a classic racer. The dial features 3 sub dials, at 6 is the hour counter for the chronograph feature, at 9 is the normal seconds sub dial and at 12 is the hour counter for the chronograph feature. As well as this it features a beautifully vibrant red large seconds hand that starts sweeping around the dial once you start the chronograph. It also features a colour matched day and date window. Giving that this was my first hands on experience with a chronograph I must admit that I didn't full understand fully what each sub dial did.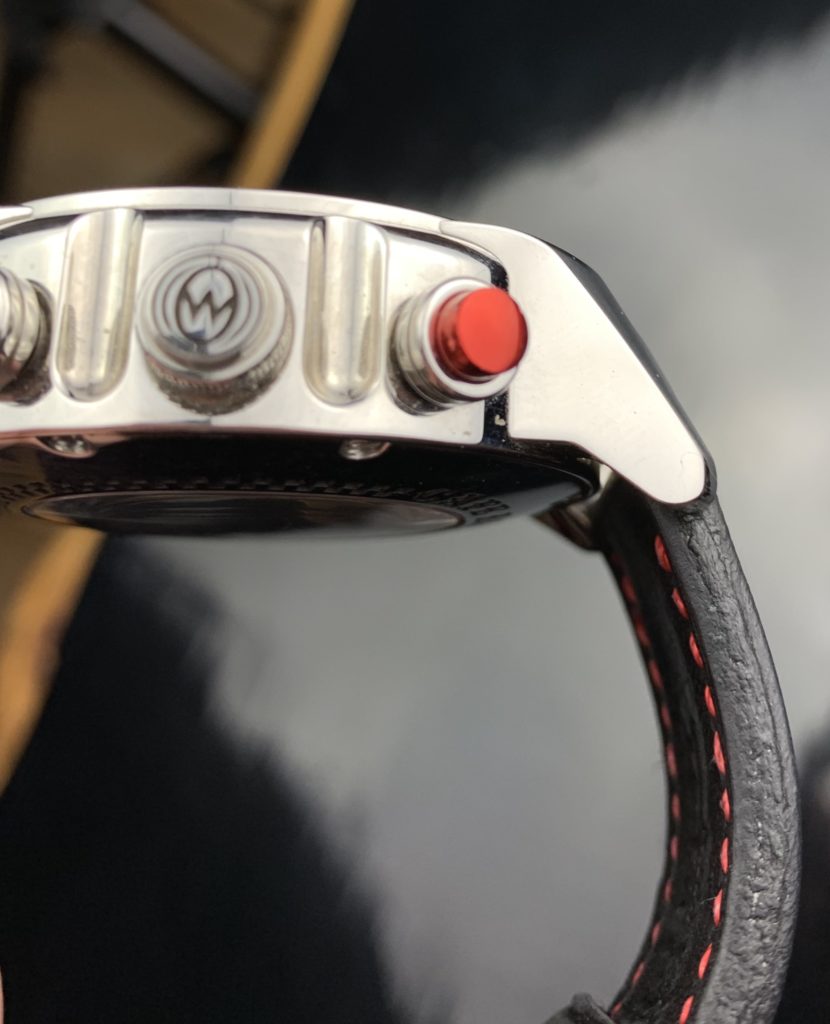 So I pushedthe red PVD coated, sprung and double sealed pusher at 2 o'clock to start the chronograph features and let it run. I looked down at my wrist and noticed the 12 o'clock sub dial nicely ticking over as each minute passed and eventually the 6 o'clock sub dial slowly crept round as I approached 10 minutes. To stop the features you simply push the red pusher again then to reset you push the polished stainless steel pusher at 4 o'clock, like magic everything flies back to it's starting position in a smooth and effortless manner. The main crown at 3 o'clock is a screw down crown giving this watch 100 metres of water resistance and is diamond knurled and polished 316L stainless steel with triple seal technology, at the first position turn clockwise to adjust the date and anti clockwise to adjust the day, second position is to adjust the hour and minute hands. Even on a somewhat minor feature such as the crown you can see how much effort has went into it, it's beautifully done and expertly finished, it's a real pleasure to look at.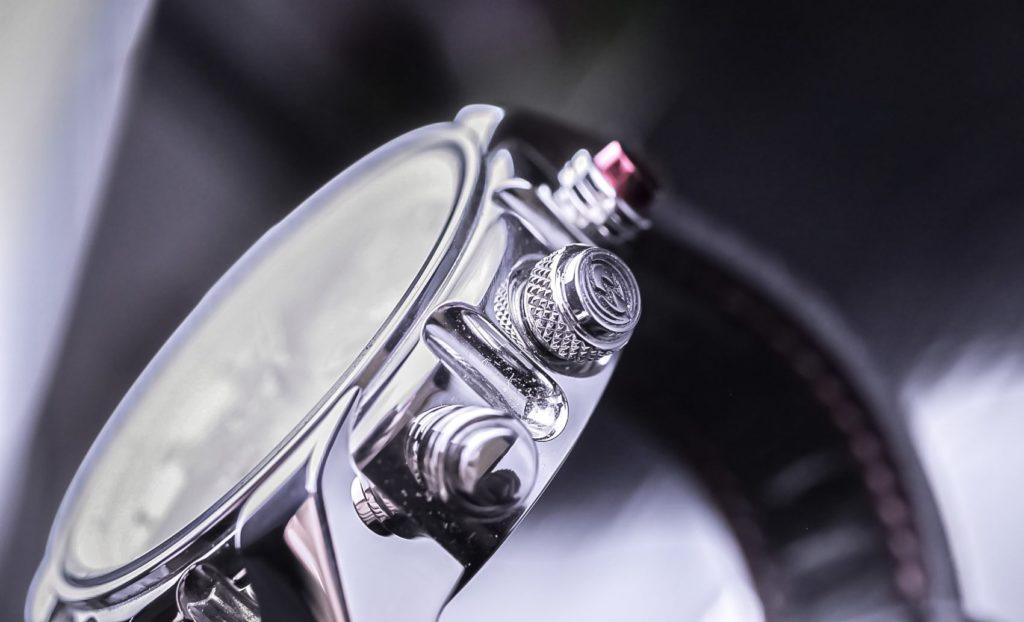 The strap on the CR1 is a vintage minimalist burgundy horween strap with waxed hemp stitching and is totally custom made by the team, another excellent and personal touch from Zero West. All the straps are edge burnished and formed from a single piece of leather.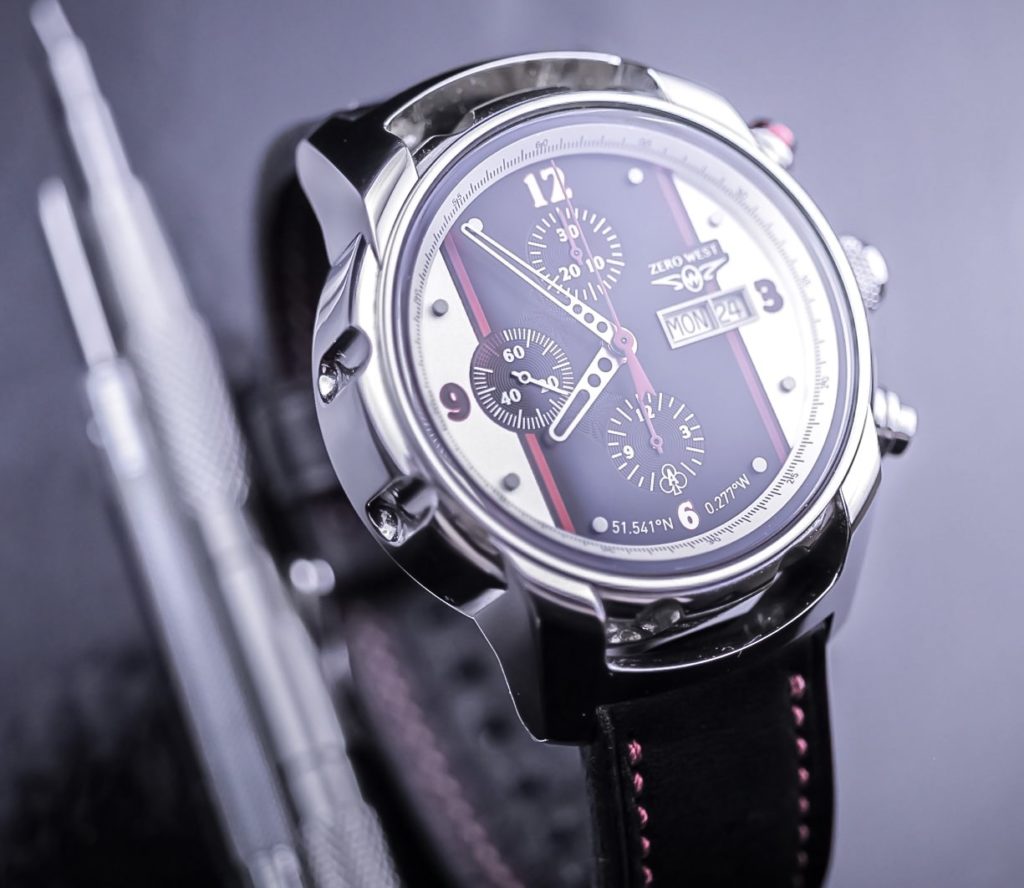 The buckle is laser engraved with the company logo and compliments the watch so well. I found the 22mm strap to be extremely comfortable and a perfect match, feeling no need to change it at all.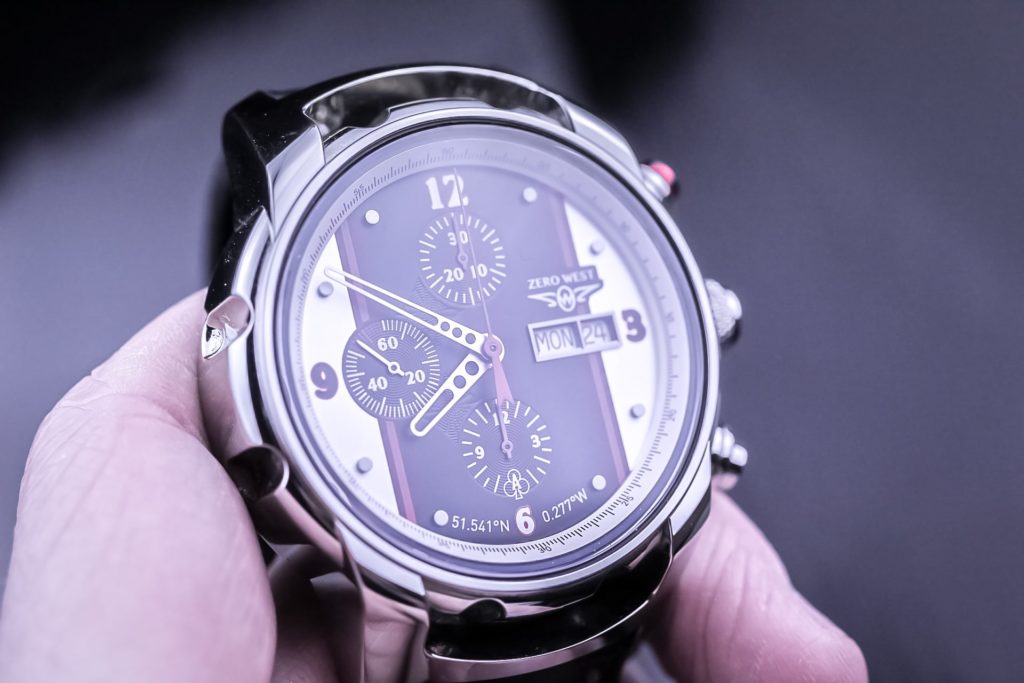 This watch is expensive, make no mistake about that and when it's priced as it is, very close to some established brands with the same movement inside it had to be special. And wearing this watch for a while I feel that it is pretty special, it's expertly finished and you can almost feel the passion that the team have put into it. It's a piece of engineering art on your wrist, but would you spend £2995 on a micro brand? I'll leave that up to you.
To have a look at this watch head over to Zero West's official website here.