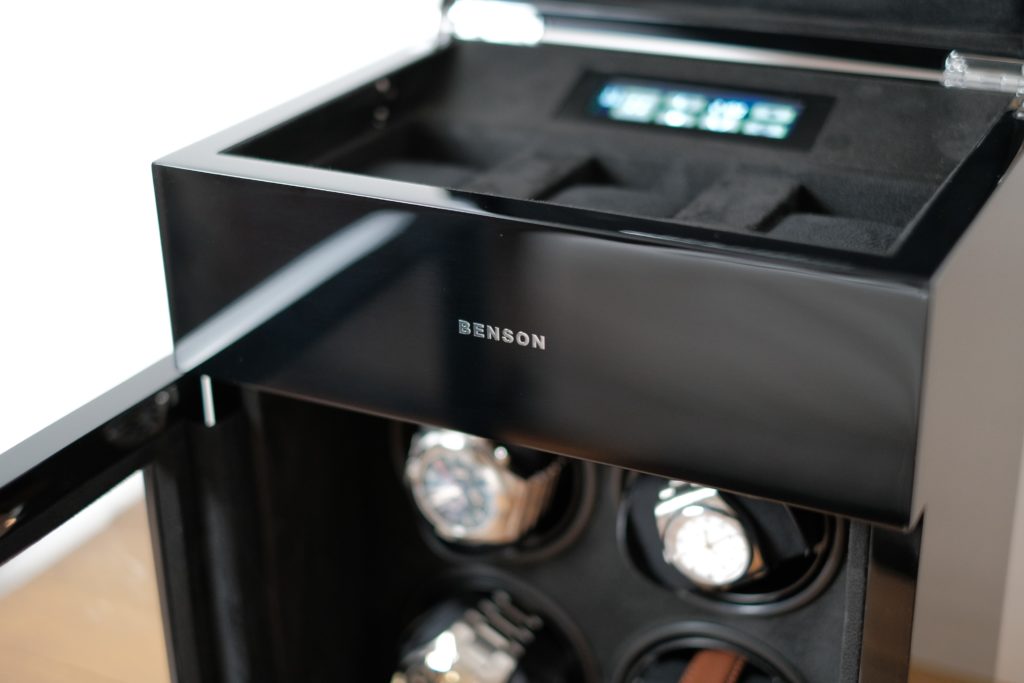 Here at the Watch Review Blog we specialize in hands-on watch reviews, but we also receive the occasional opportunity to review accessories. Today we have with us a Benson Black Series 4.16 Watch Winder.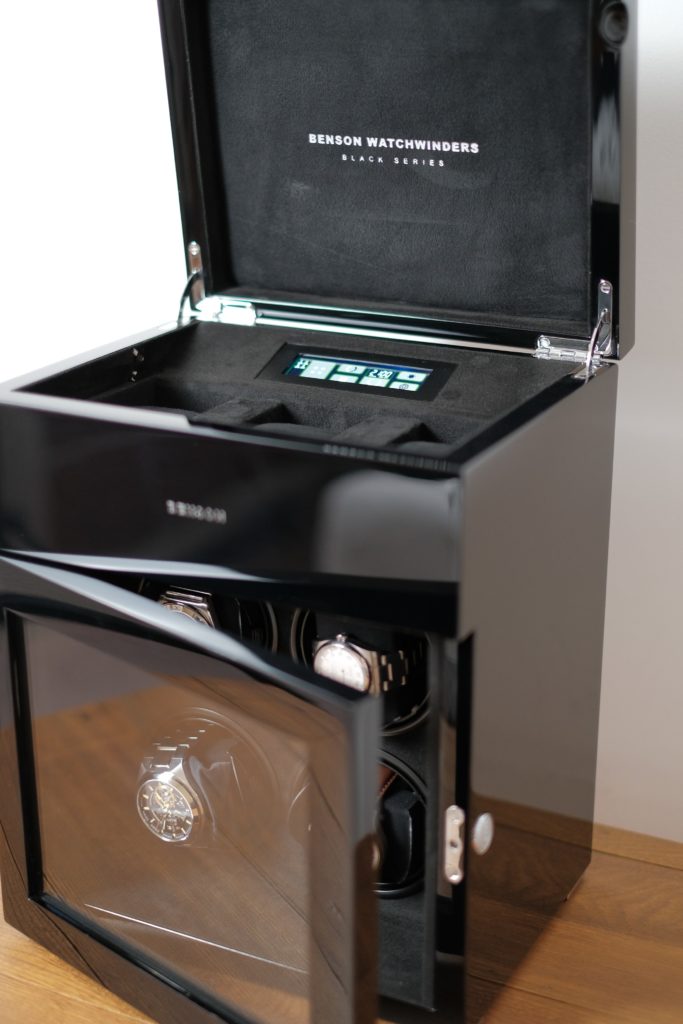 This is an elegant black on black winder for 4 watches, it also has an upper compartment for storing 3 watches. I have to say this is one of the nicest winders I've personally had the chance to use.
Style and Quality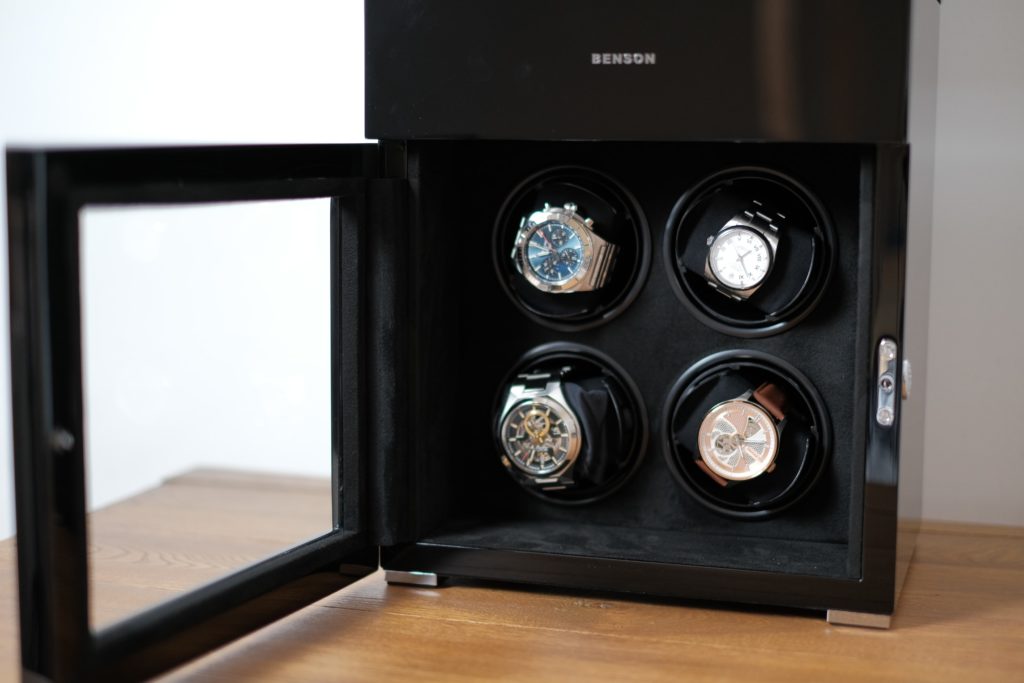 The Benson Black Series 4 watch winder is compact and discreet with a high gloss all black lacquered exterior. The winder is cube shaped and can easily be tucked away into small spaces for a more integrated look, allowing it to easily blend into your homes furnishings. Its also elegant enough to be a prominent piece of equipment on display at home somewhere visible.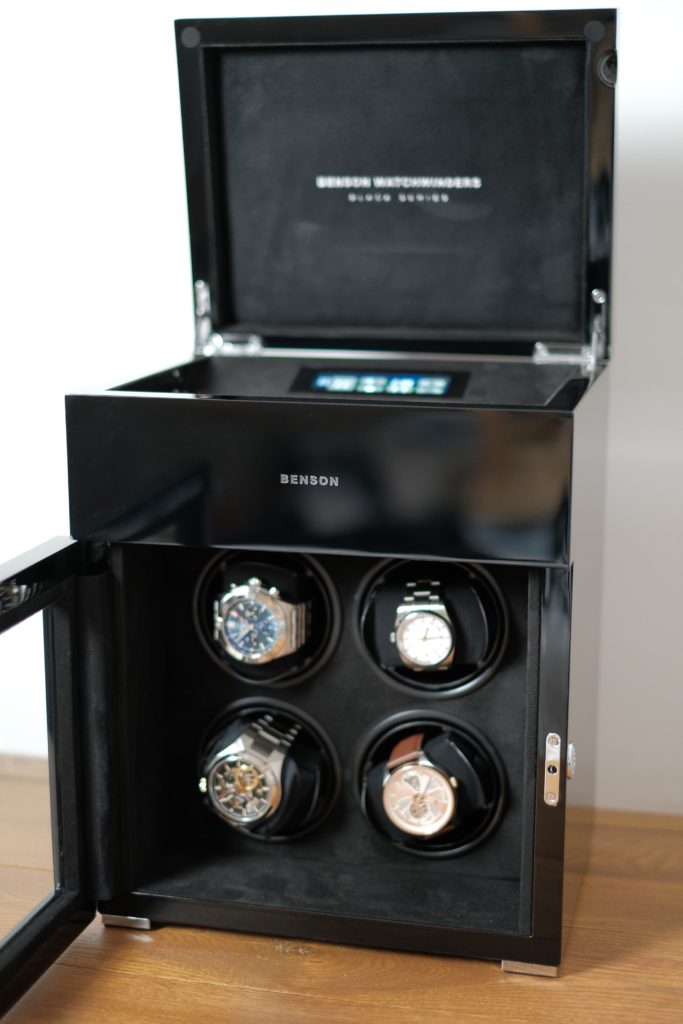 The front of the winder displays the 4 winder compartments. The watches can be placed inside and are easily visible as they rotate. The front also has a closing door with a window, this can either be left open or clicked closed. The Benson logo is stamped at the top of the door in small font.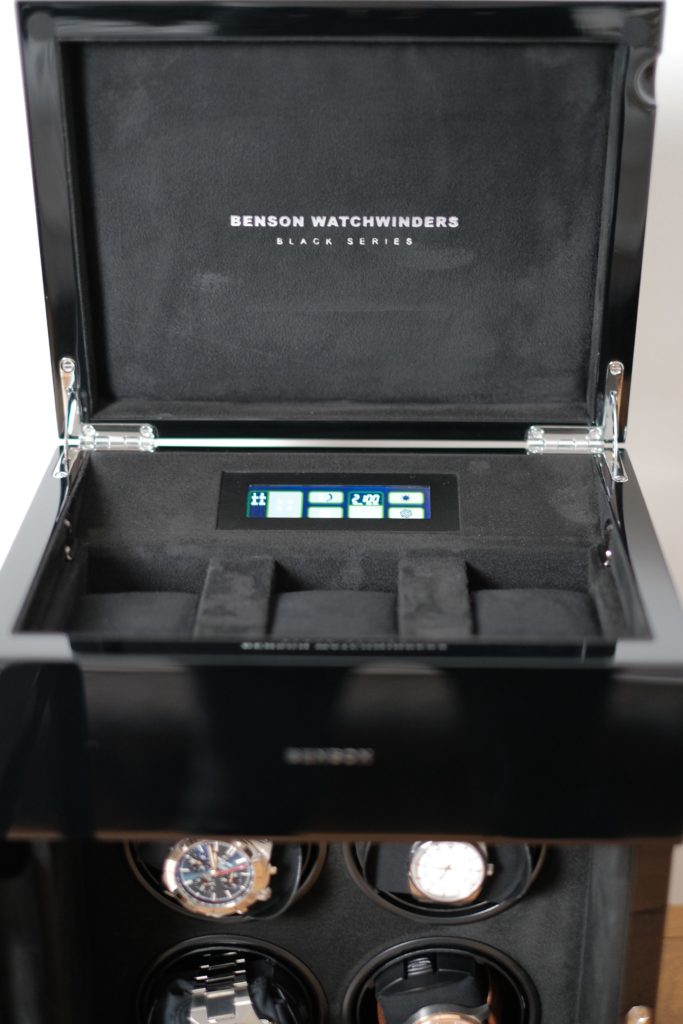 The top of the winder has a very handy storage compartment for 3 watches, this is just a basic storage area as the compartments don't wind like the front. This little upper compartment is an excellent idea, you can store hand-wind watches or quartz watches here that don't require an automatic motion. The upper area is also large enough to store a couple extras if needed, like rings or small pieces of jewelry. The upper storage compartment is also where you will find the main controls for the winders, which are displayed on a modern looking touch screen.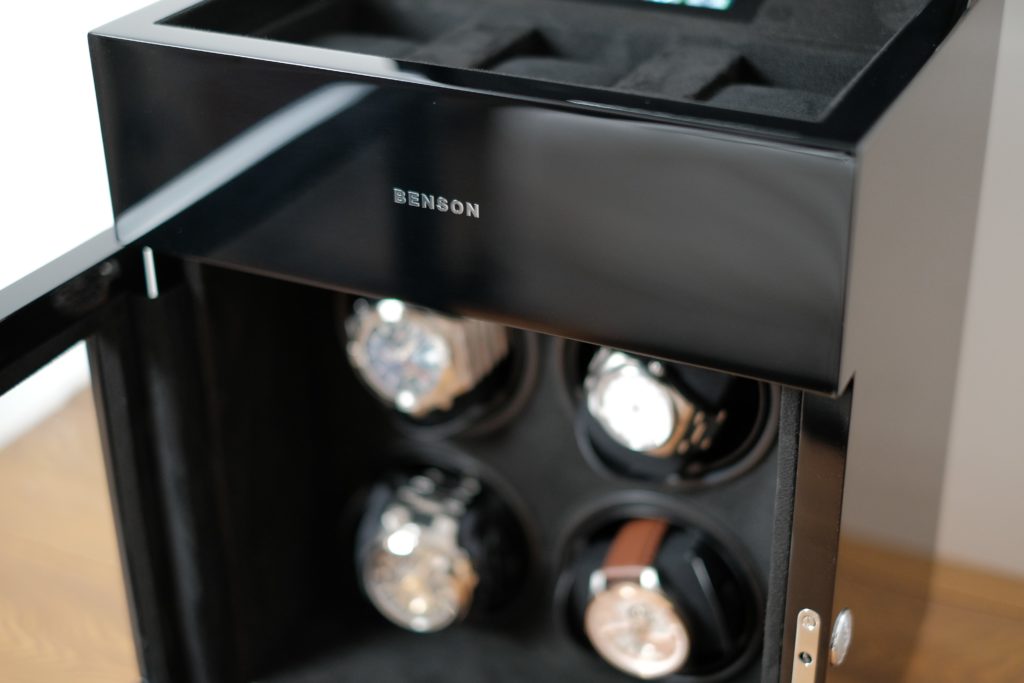 The overall feeling and quality of this winder is exceptional. It has a nice heft to it making it feel substantial, it sits very stable on-top of a table or wherever you decide to place it. The finish of the exterior is very glossy and almost mirror like, it can collect fingerprints quite easily but this is quickly remedied with the wipe of a microfiber cloth.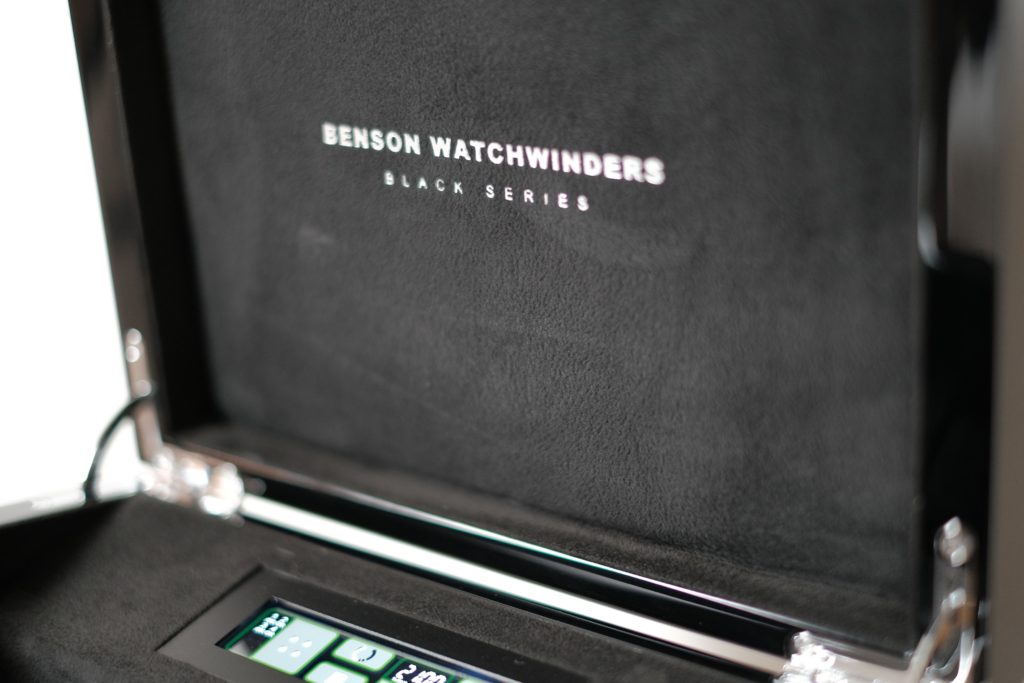 The hinges, latches, and buttons are all very solid as well. Everything has a nice smooth action to it, it's quiet and easy to operate. When the winder is turned on and moving it's very quiet even with the front window open. You should be able to place this in a bedroom with no audible noise whatsoever.
Functions
Working the winder is straight forward, the LCD display was logical enough that I didn't need to read the instructions to operate it. Simply tap buttons 1, 2, 3, and 4, choose whether you'd like uni-direction or bi-directional movement.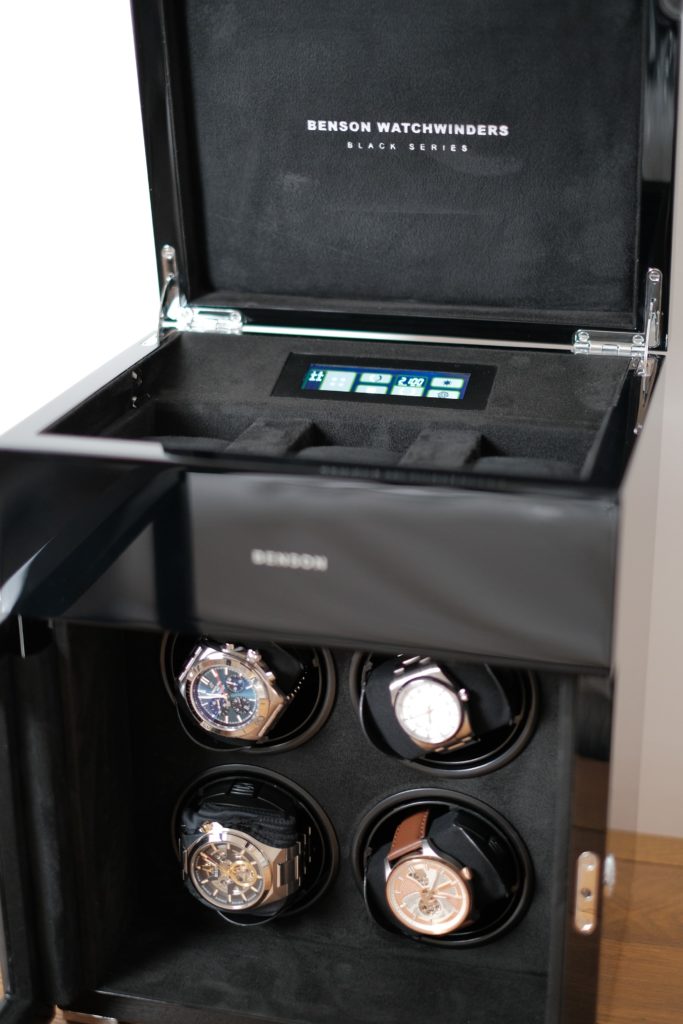 You can choose to have some winders moving while some are stopped and each individual winder compartment can be programmed to have its own settings.
Final Thoughts
If you're in the market for a 4 watch winder this unit should definitely be one to consider. It checks all the boxes in terms of style, quality and functionality, and even gives extra with the upper storage and modern control features. Because Benson is a fairly new brand they've come in at a reasonable retail price of 659 euros, or $1195 cad.
Benson also makes a selection of smaller and larger winders, all available in different colors and finishes.
To view the their entire collection visit the official Benson Watch Winders website here.