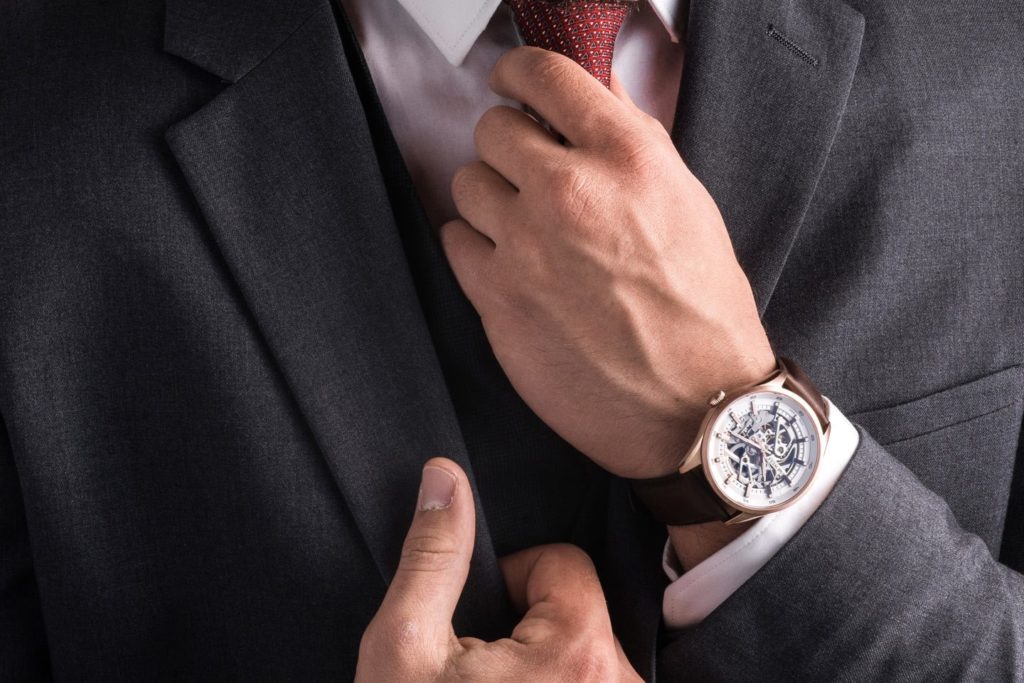 Often times, a gentleman, and sometimes, even a woman, will have to wear a suit. It can be during formal or semi-formal events such as weddings, corporate parties, and sometimes for the teenagers, the prom. Regardless of the age, there will always be a time when you will need to don a suit.
When it comes to suits, there is a dress code that is almost a given when you wear one. This includes a blazer on top of a long-sleeved undershirt, sometimes a vest over it. Then you have your typical slacks and then black shoes. Then there are the accessories like the tie, some prefer to have a bowtie, handkerchief, and above all, a wristwatch.
There is something about the wristwatch that allows a person to exude class. Unfortunately, this is lost among the youth today. All they care about now are there smartwatches and smartphones that gives them the same function as a watch, and even more. Also, they are very expensive, and that is why, you might as well optimize their use. In addition, with either of them going for a ton of money, it is difficult to make room for more purchases, most especially an expensive "luxury" such as a watch.
However, there are watches that are not too pricey. There is a misconception that timepieces that go along with a suit are normally expensive, which they normally are, but that is not always the case because budget watches can easily go well with a suit, and here are some options that you can choose from.
Comparison Chart
Watch
Size
Band/Bracelet
Movement
Price Point
Seiko Presage

Check Price
40.5 mm
Metal Bracelet
Automatic 23 Jewels
$$$
Mido Baroncelli

Check Price
38 mm
Leather Band
Swiss Automatic
$$$$
Bulova 96C125

Check Price
39 mm
Metal Bracelet
Quartz
$
Frederique Constant FC-303MC4P6

Check Price

40 mm
Leather Band
Swiss Automatic
$$$$
Hamilton Jazzmaster Thinline

Check Price
42 mm
Leather Band
Japanese Quartz
$$$
Seiko Presage Automatic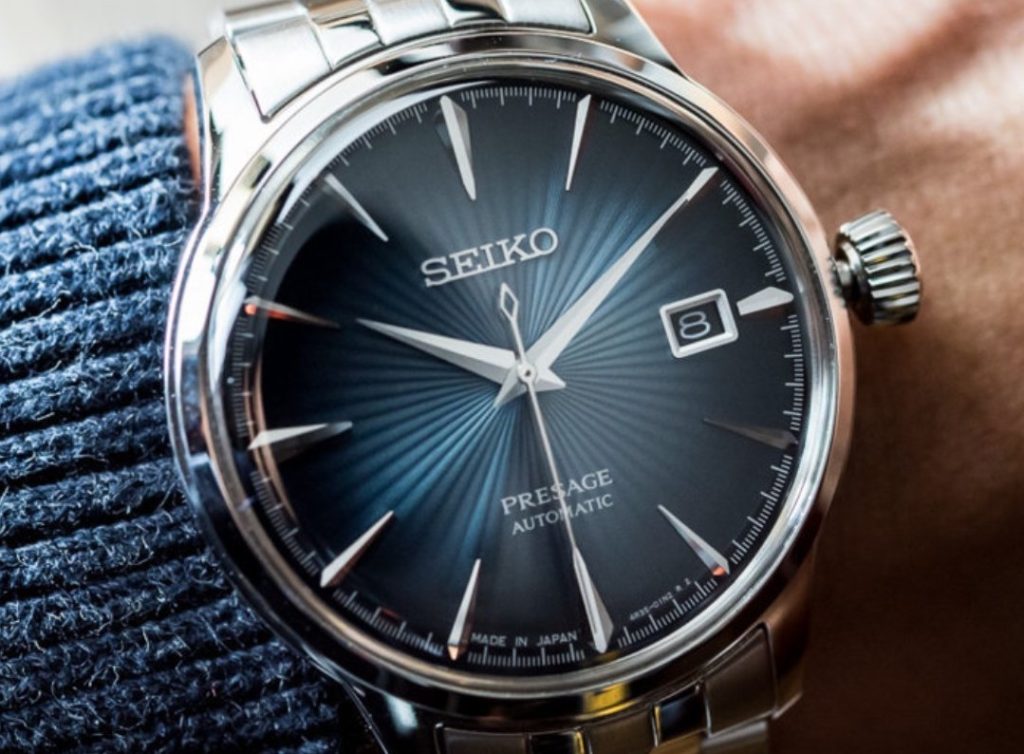 The Presage from Seiko is made of stainless steel. From its case to its band, including the crown at the three o'clock demarcation. This is proof that the company was thinking of durability when it was design, preventing rust from forming, making it last longer.
What catches anyone's eye would to the Presage is its dial with its electric blue color with streaks of faded white, giving it a classic accent. Also, the larger indices are shaped like elongated diamonds which further highlights its elegant nature. The hands of the timepiece are similarly shaped, although longer. What it does not have are the markers of the times, although, it is safe to assume that everyone already knows that by the time they wear a suit. In addition, the secondhand can be hacked, which is a feature that Seiko boasts in this model.
It only has one complication, a date window, in the same location of the push down crown, devoid of any sub-dials, which works for the best in this instance.
This wristwatch runs on an automatic movement, and with 23 jewels powering it. Although, it only has a 50m water resistance rating, which is serviceable for a party that requires a suit.
Mido Baroncelli M86004268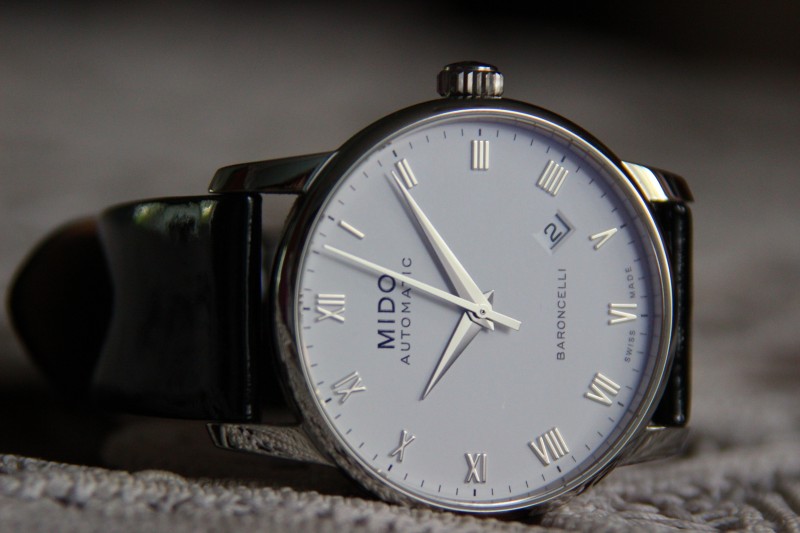 The Baroncelli from Mido looks simply, and that is why it works perfectly as an accessory to a suit. It has a stainless-steel case with a white dial in the middle. Its brand and the model are reflected at the 12 o'clock and six o'clock demarcation, respectively. Moreover, a date window is placed in between the four o'clock and five o'clock marker which we still find peculiar, but in this case, it works. All this being further highlighted due to the brown color of the leather strap that it comes along with, and because it is a leather strap, the lugs become more prominent.
In addition, its indices only show minute markers, and unlike the previously mentioned watch, it does not have all the fuss that those indices in between them create, although it does work well for the timepiece above. This one works perfectly for the Baroncelli making sure that it has a clean design to it. Also, Mido used roman numerals to indicate the hour on its timepiece which is a nice touch of class.
It is powered by a Swiss automatic movement with a water resistance rating of 165 feet, which is equivalent to 50m. This means it is only suitable swimming, but only for a short period of time.
Bulova 96C125 Classic Watch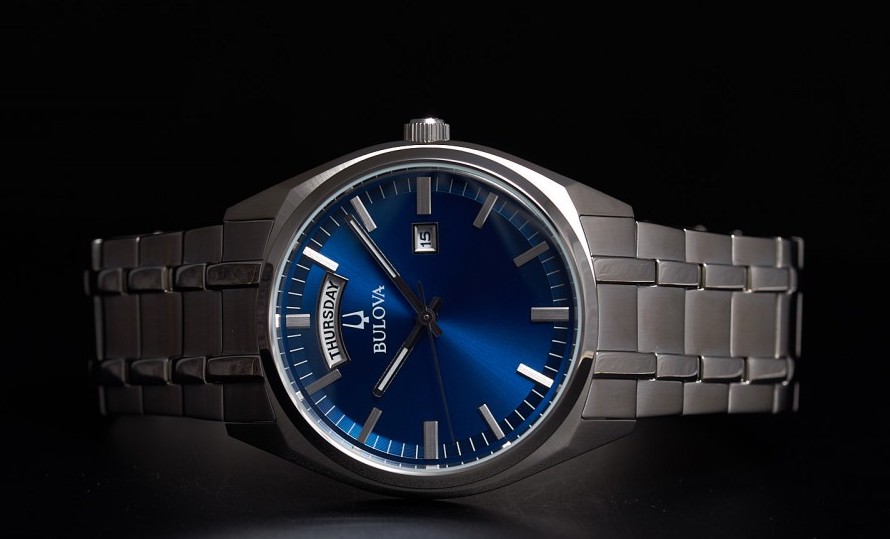 This timepiece from Bulova truly reflects what it is – a classic.
It is a watch that is made out of stainless steel, from its casing down to its band which has a fold over clasp, and to further secure it, a double push safety button. Being made out of the material it is made of, this ensure durability and longevity. As long as you take care of it well, you are guaranteed to have a timepiece that could last a good lifetime.
Going to its dial, the deep blue hue makes it stand out especially that it looks glossier than it should. This ensures that even when it is dark, it could still stand out, which is normally the case for events which requires you to wear a suit – they are normally dark. Moreover, this color makes the hands stand out in all its silver glory.
What interests me, which you do not normally see in other timepieces, is how aside from the date window that you find at the three o'clock marker, they also added another complication at the 12 o'clock demarcation – a window that tell you what day it is today which is quite unique if we say so ourselves.
The wristwatch is powered by a Quartz movement, which means that it is ran by a battery and that it will continuously tell time regardless if you are wearing it or not. Of course, this will depend if you pull out the push down crown which normally stops it from running. Additionally, it has a 30m water resistance rating which only allows for splashes of water.
Frederique Constant Automatic FC-303MC4P6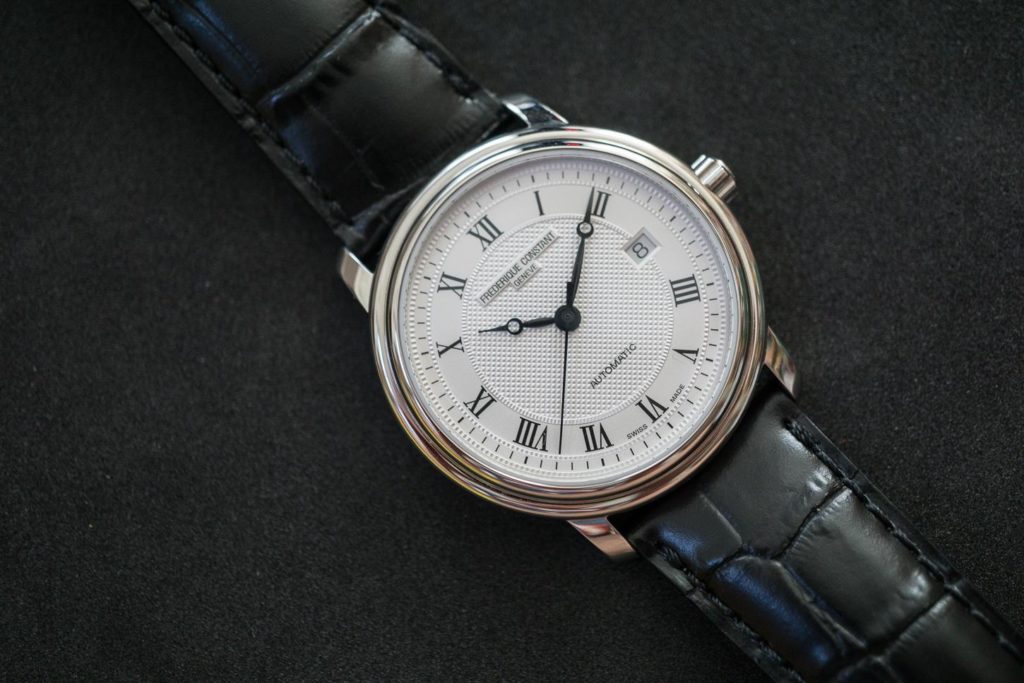 This time piece is highlighted with its white dial, and its center is Clous de Paris which gives you that texture at the middle. This helps highlight the Black pomme hands that point to the current time on your timepiece along with a thin needle like second hand. At the three o'clock demarcation is the date window and the push down crown. Its neatness is furthered by the small indices that that serves at the minute markers, and just like the previously mentioned timepiece, without the indices that creates the fuss in between.
Also, they also use roman numerals as its hour markers which adds to its allure.
This model's lugs are also prominent due to the use of calfskin leather as its band which is designed with a buckle clasp.
What is interesting is how its dial window is made out of sapphire, which is the highest quality you can get, but also, it is infused with an anti-reflective material that allows the user to still see clearly even when the day becomes too bright furthering its neat and simple design.
The timepiece is powered by an automatic self-winding movement and it was designed to withstand recreational swimming, but nothing deeper or worse than that.
Hamilton Jazzmaster Thinline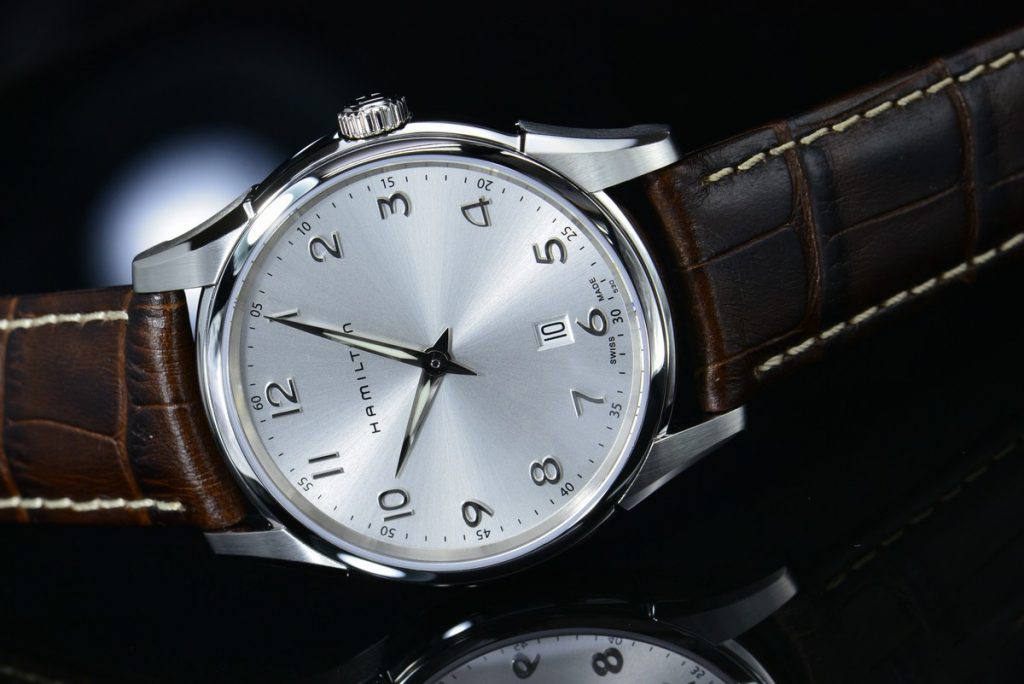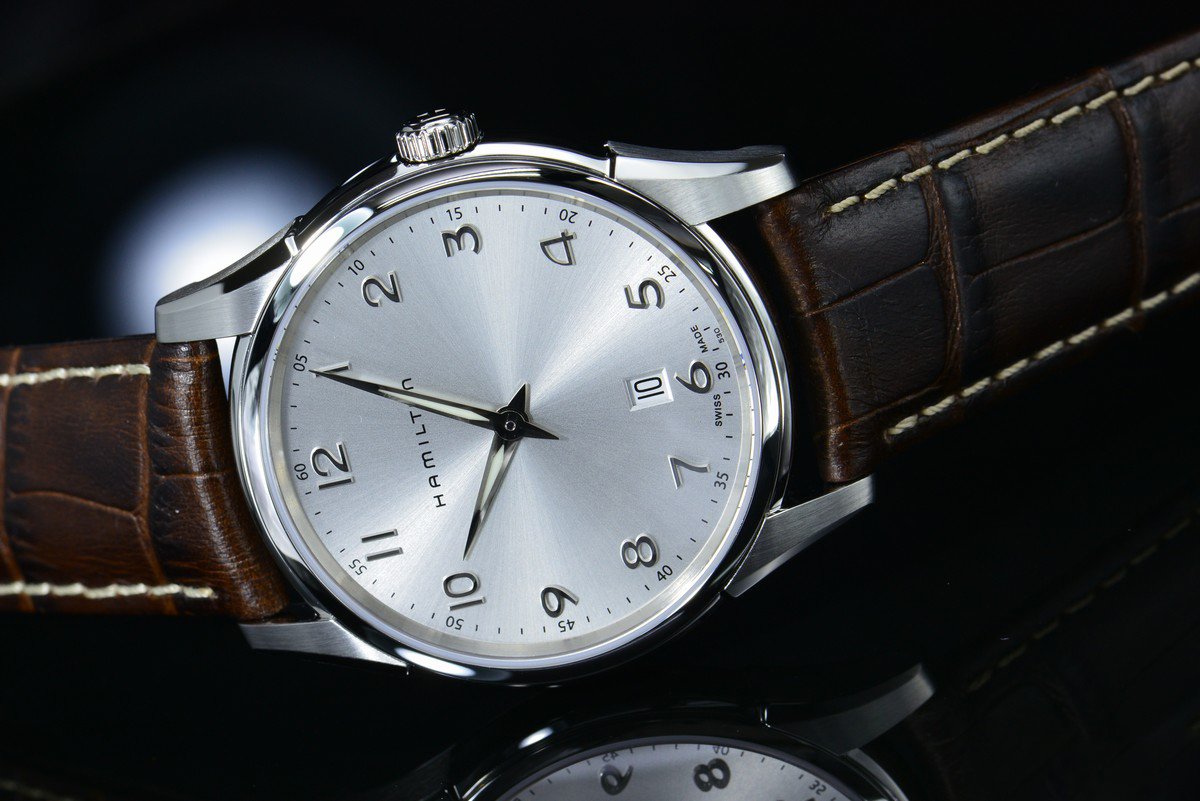 The Jazzmaster Thinline boasts a clean look with a stainless-steel case along with a silver colored dial and silver hands that is shaped like elongated diamonds with a pinpoint tip for precision. What it does not have is a second hand, however, do not fret because it is running. In addition, the dial also features a date window which is located at the six o'clock demarcation.
Its indices are small, which shows the neatness of the dial, but every five minutes is a break because numbers are reflected to indicate the minutes instead of indices, and directly below it is the corresponding hour marker which is embossed silver making it clear in spite the similar hues.
Its band is made out of leather, which again highlights the lugs that connects the pieces together.
This watch from Hamilton is powered by Japanese quartz movement ensuring that the timepiece continues running even when not wound or worn unless the battery gives out. In addition, it has a 165 feet water resistance rating, which gives the user permission to do short periods of recreational swimming.
If you noticed, one common theme that goes for all these watches is how their water resistance rating is always at the 50m mark. Just something to keep in mind.
There will always come a time in a man's life that they are required to wear a suit, and again, there is somewhat a hidden dress code that needs to be followed. Accessories included. It is just a shame that people tend to forget how a watch is important in an overall ensemble. This could easily be traced back to how expensive a wristwatch is, but, with these options available in the market, there is no more excuse.