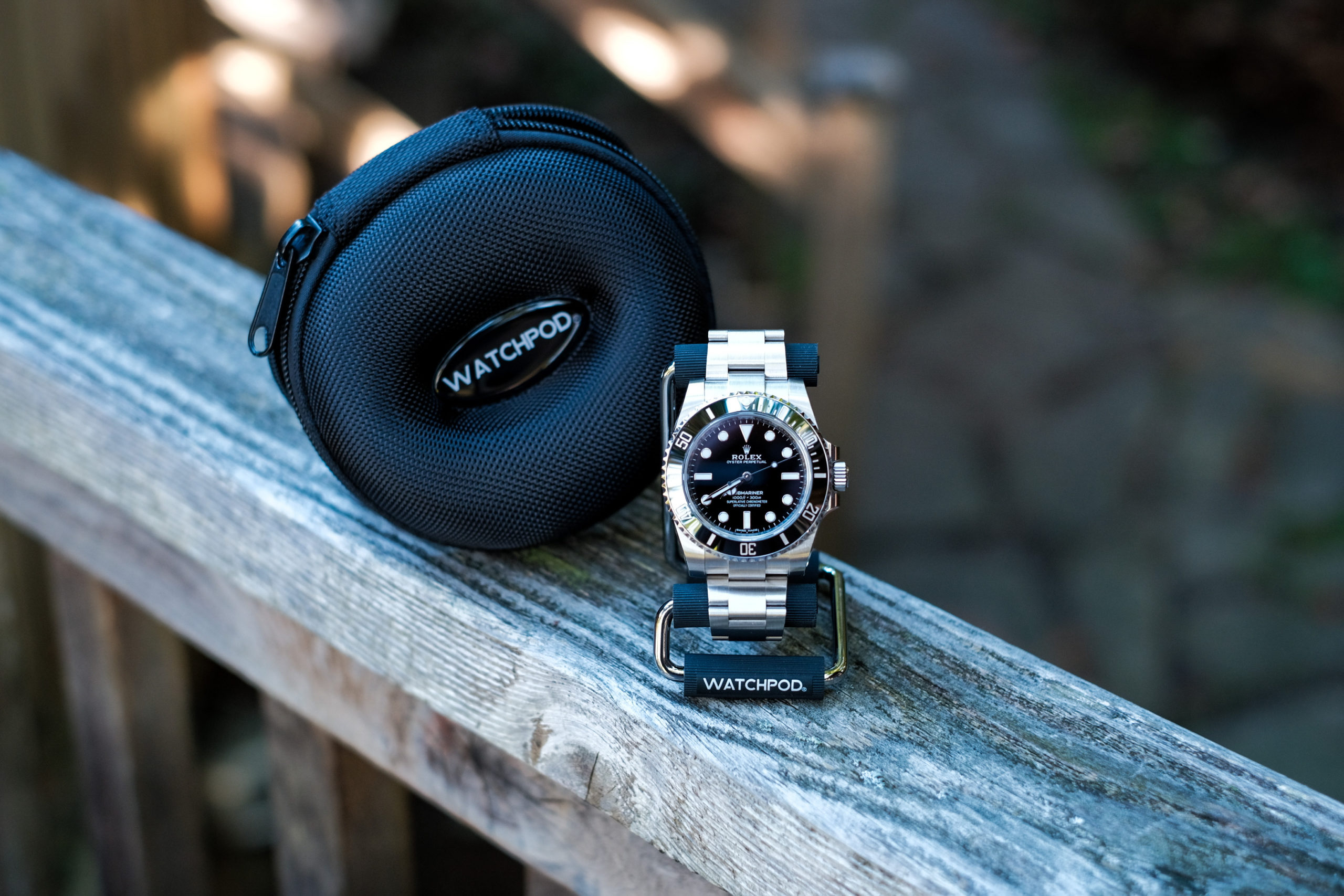 I don't just write about watches; like you, I genuinely love my watch collection. But when I started my collection, I ran into some problems that should sound familiar to any watch collector. Most travel cases have a little bit of extra space inside, which allows the watch to shift when the case is handled. You put your watch in the case, stick it in your luggage… and when you take it out, your bracelet or crystal is scratched.
As a novice collector, I was willing to put up with this. If we're being honest, I didn't have a choice. Fitment is a universal problem with affordable travel cases, and if I wanted to spend money on a more expensive case, it would set me back on my next watch purchase!
But when I bought my Rolex air-king in 2015, I knew I had a real investment piece. This watch required a reliable travel case that wouldn't scratch the crystal or case. That's why I founded WATCHPOD® – a watch accessories brand specializing in the safe transportation and storage of watches.
Of course, there are many other companies producing their own watch cases. Here are my thoughts on the best.
1. WATCHPOD® Travel Cases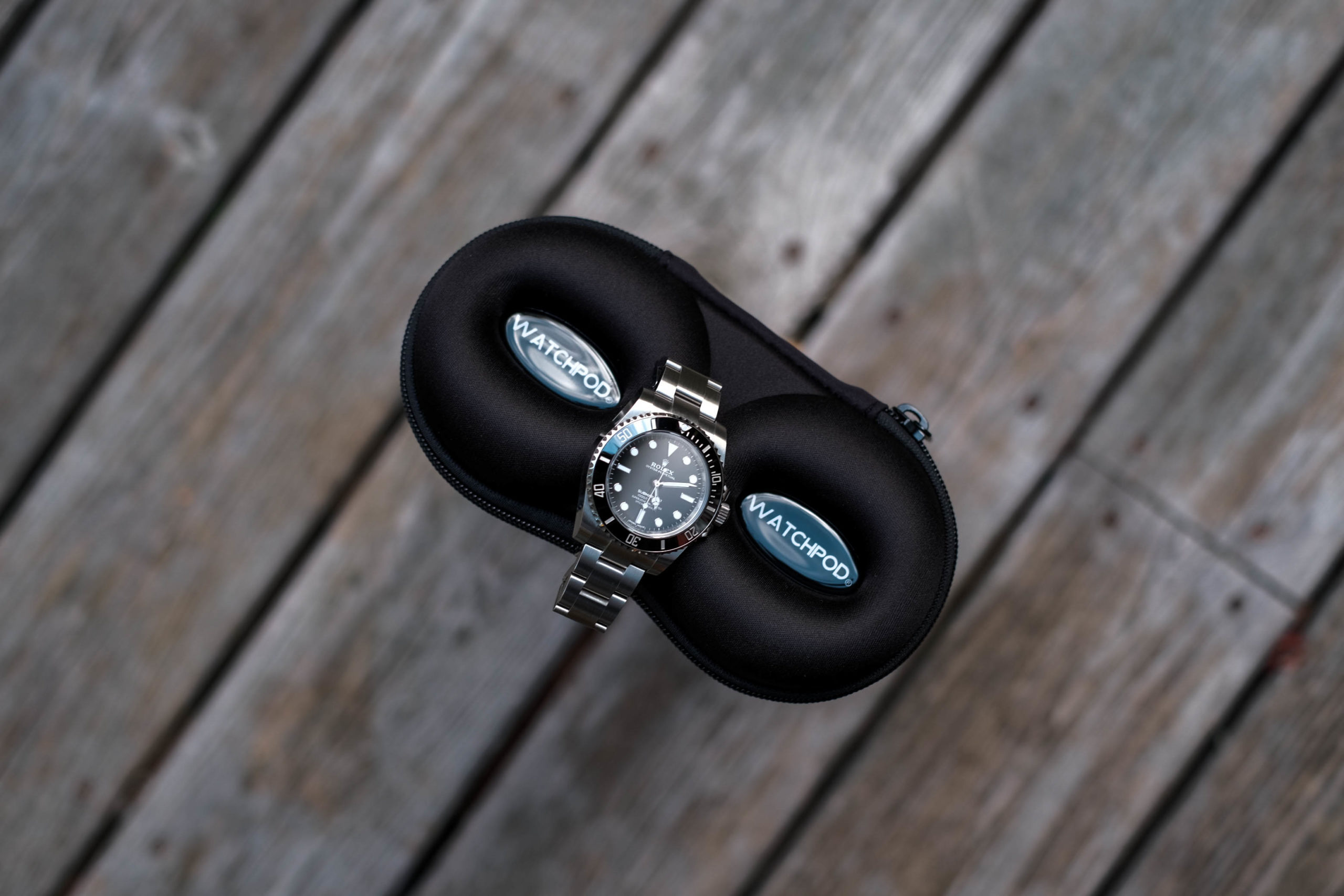 Obviously, I'm biased. But I personally think WATCHPOD® Travel Cases are the best on the market. They're designed by the team here at watchreviewblog.com, and are already used by collectors from around the world. But don't take my word for it. WATCHPOD cases have been featured in the New York Times and Quill and Pad, and were ranked #1 by Gear Patrol.
What makes WATCHPOD cases unique is their design. Traditional travel cases are built like display cases. There's a padded roll or block where you affix the watch as if you were putting it on your wrist, and a cover closes down over the front. To better protect your watch, a WATCHPOD case is shaped like a flat donut. The outer shell is rigid, and the inner surface is entirely padded. The top and the bottom are cushioned with soft, thick foam, and there's a zipper closure on the outside.
The concept is simple. Instead of putting your watch inside like a display case, you lay it on its side. When you zip the case shut, the foam in the top and bottom entirely surrounds your watch. This allows you to use it with any watch of any size. Even tiny, jewelry-style watches won't shift around when the case is handled. At the same time, the foam is accommodating enough to fit even the largest of watches.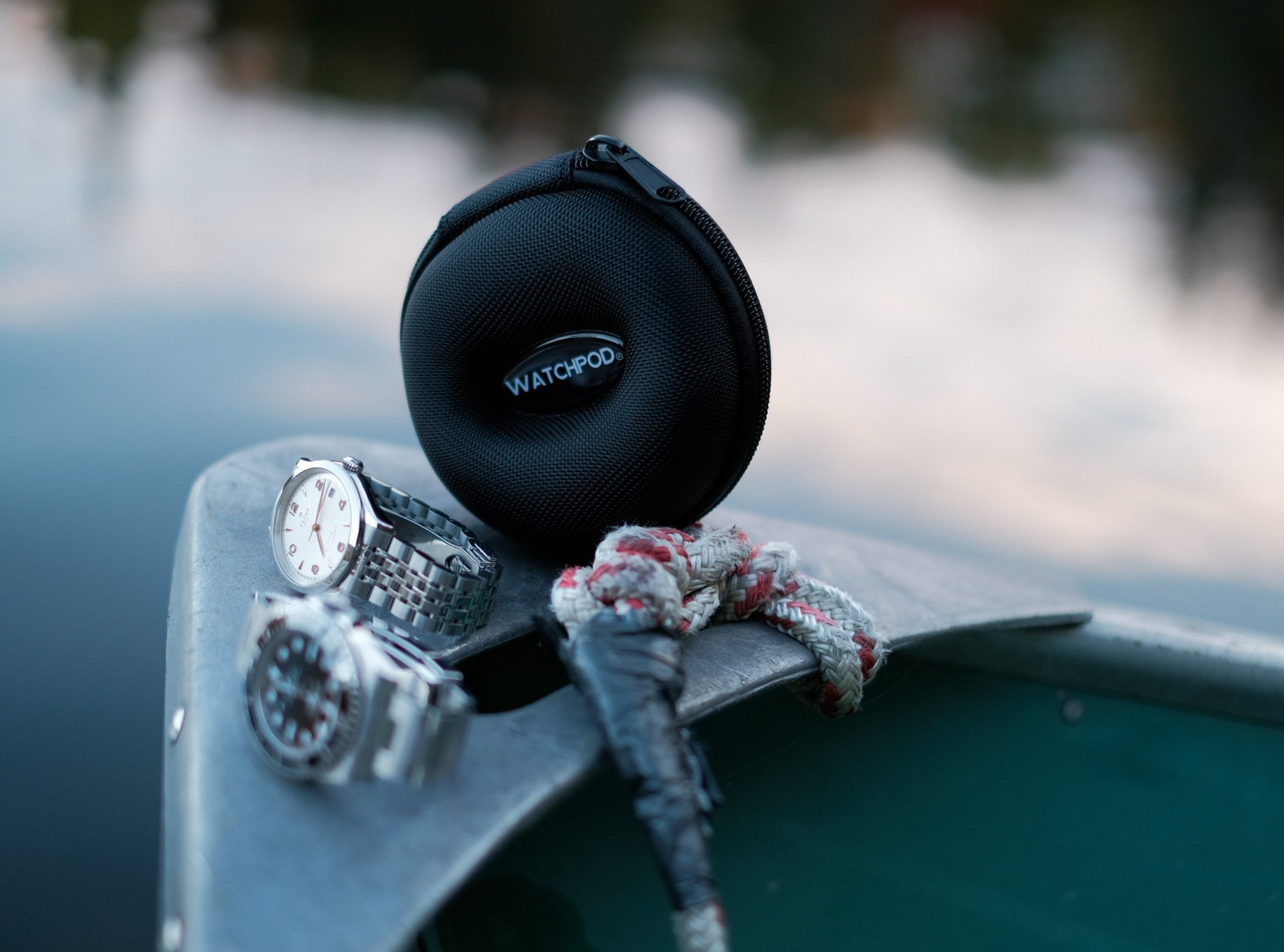 Here's the thing; a travel case is not a display case, and they don't need to share the same design philosophy. A display case is designed for displaying your watch at home. You want it to look nice, especially if you enjoy showing off your collection. Since it's not going to get jostled around a lot, protection is a secondary concern.
A travel case, on the other hand, is designed first and foremost to keep your watch safe. It doesn't matter how "nice" it looks if your Rolex gets scratched inside. Besides which, it can be wise to avoid a luxury leather travel case. Those cases scream "expensive," and can leave you vulnerable to theft.
To that end, WATCHPOD travel cases are designed to look as nondescript as possible. The stiff outer shell is made from plain black 1680 denier nylon or brown faux leather. At a glance, it looks like an oversized earbud case – not exactly a juicy target for thieves. That said, the material is all but slash-proof, and would be very difficult to cut intentionally, much less by accident. It's also water-repellant, although water will soak in if it's fully immersed.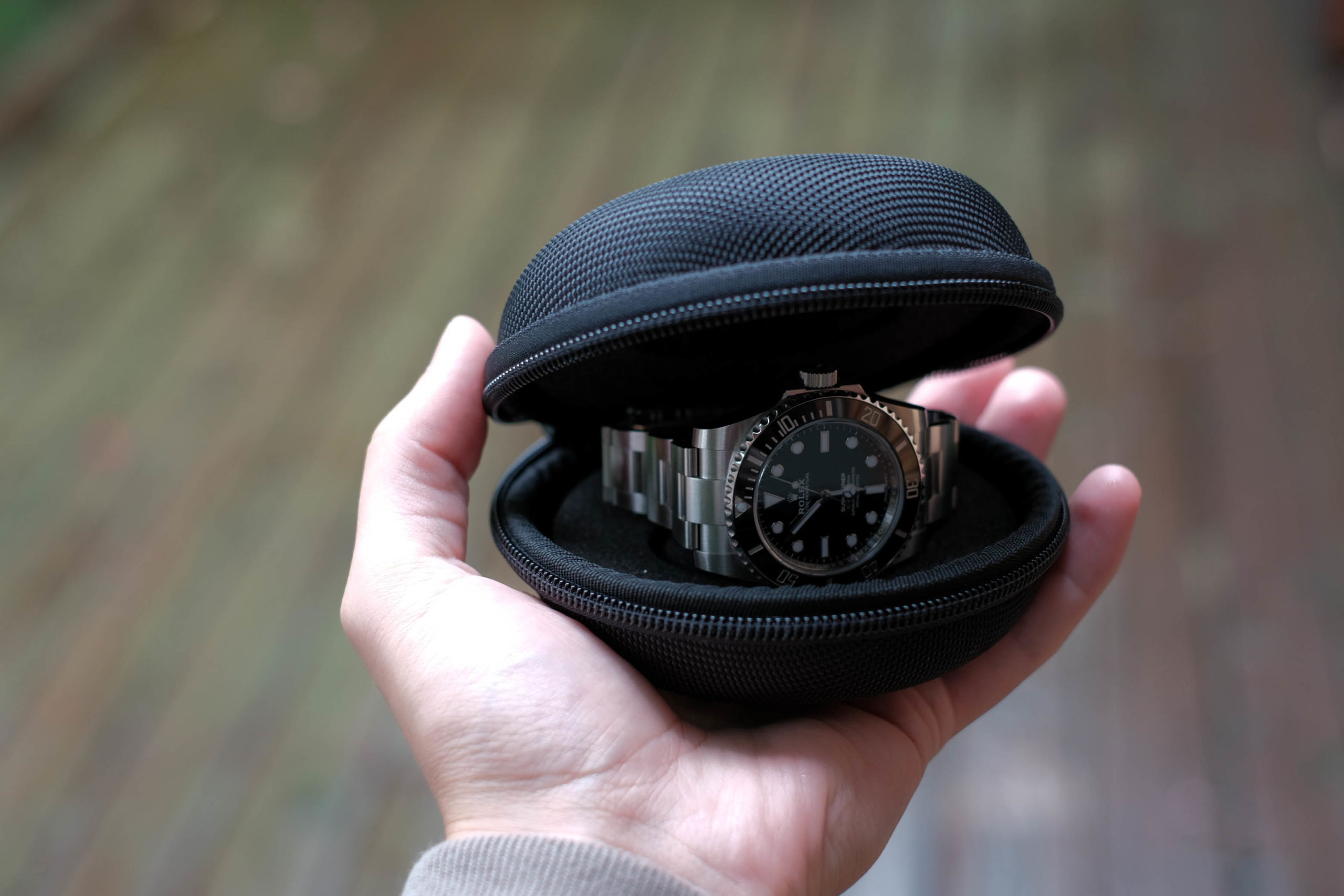 The best thing about this material, though, is that it's crush-proof. You don't have to worry about damaging your watch while you shove it into your overstuffed suitcase. Meanwhile, the soft interior is as gentle as a polishing cloth.
The original WATCHPOD was designed for a single watch, but we've now created larger 2- and 3-watch versions. These versions are only available in black for now, but stay tuned!
All in all, this is the best choice for Rolex collectors because of its superior protection. Your watch won't move around inside the case, and the hard shell will keep your investment safe. It's compact, it's portable, and it costs less than you'd spend on lunch at a restaurant. And with its discreet design, it's unlikely to attract thieves.
That said, I've listened to my customers, and apparently watch collectors really, really like leather cases. To that end, WATCHPOD will be rolling out a new premium line with the same basic design but a suede or leather shell. Unfortunately, supply chain issues have put this on hold for the time being.
Incidentally, WATCHPOD also makes a metal display stand. It's designed for nightstand use, with a peg where you can easily put the watch on and remove it again. WATCHPOD accessories are available for purchase from our official online store here, as well as through Amazon USA, UK, and Canada.
2. Bosphorus Leather Cases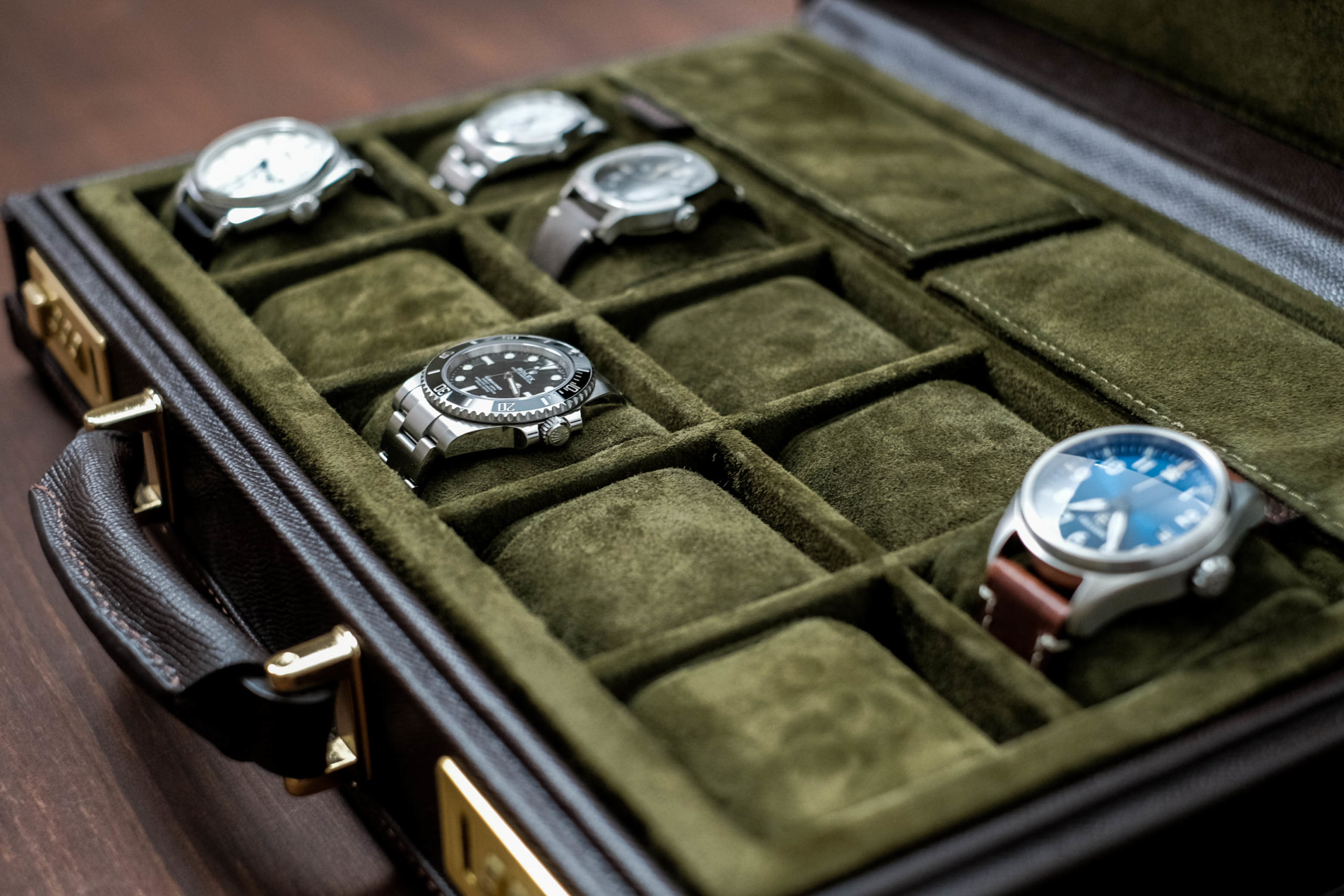 Bosphorus Leather is well-known for their premium, handmade leather cases. Founded by master leatherworker Adam Arslan, all of their cases are made by hand by seasoned artisans. As you might expect, these cases are anything but cheap! But any time you buy something that's not mass-produced, you can expect to pay a premium.
Bosphorus Leather manufactures a variety of watch cases, from single-watch travel cases to large display cases. Not long ago, I reviewed their Saffiano Dark Brown case, which holds a whopping 10 watches. You can order the same case with up to a 15-watch capacity. But most people will want one of Bosphorus' smaller cases when they're going on the road.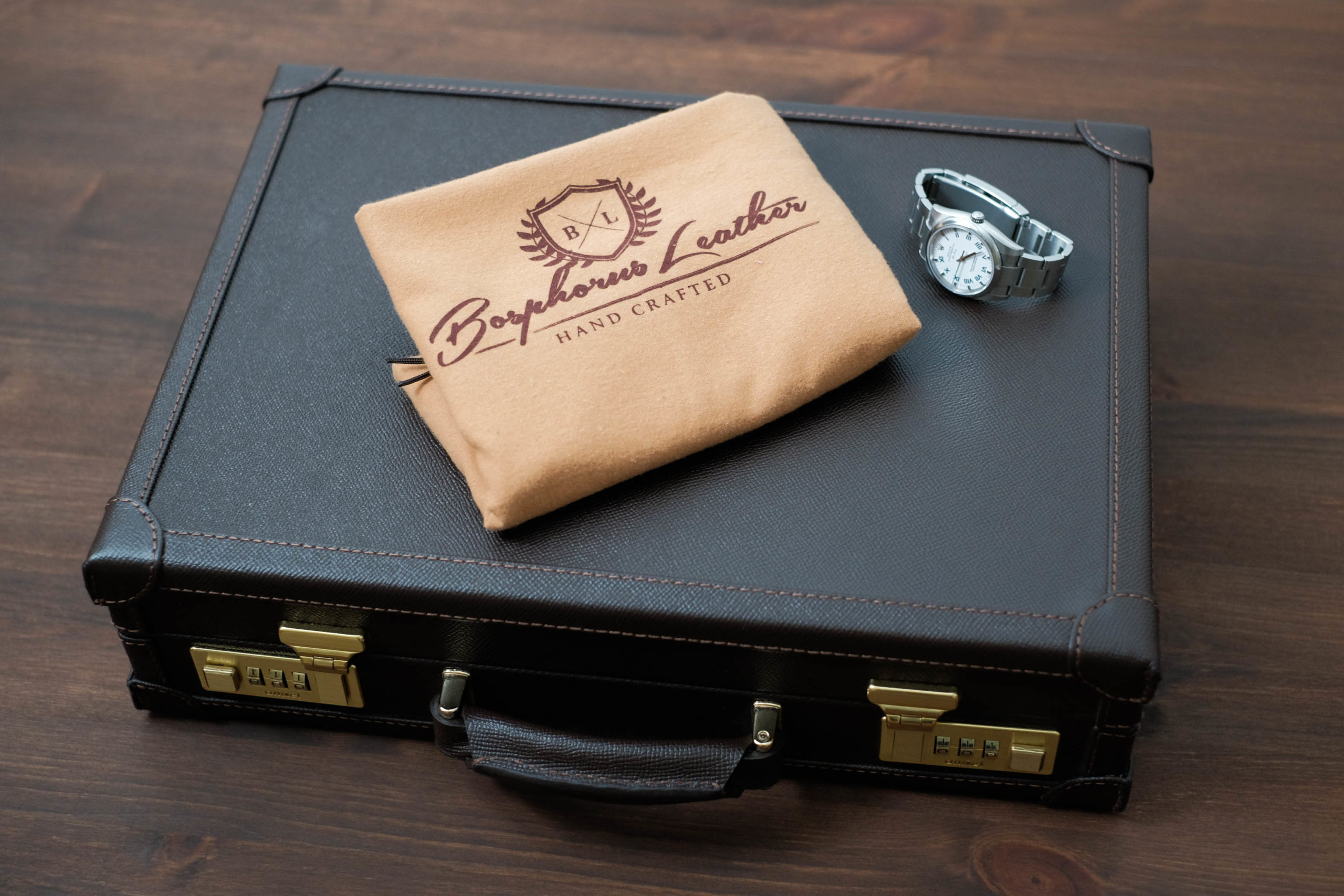 Make no mistake; these are premium cases. The craftsmanship is outstanding, and you can order multiple colors and designs. The cases also mostly bridge the gap between display cases and travel cases, since they won't allow your watch to wiggle around. Then again, there's a major downside; they're expensive and obvious, making them a target for theft when traveling.
3. Wolf Watch Rolls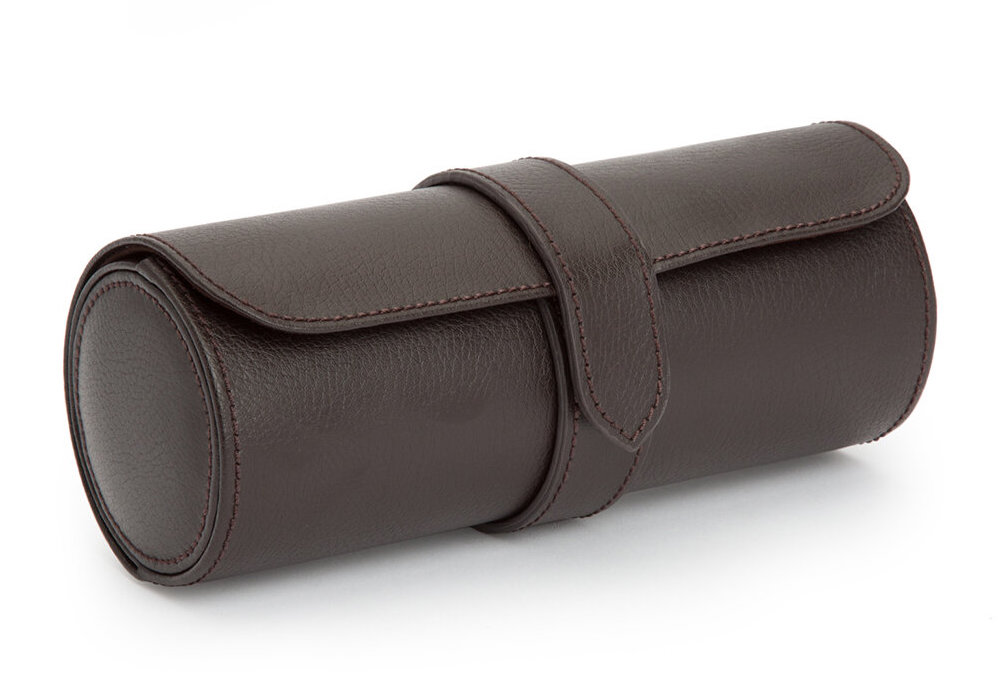 Wolf Watch Rolls have a more conservative design. These are traditional leather luxury cases that come at a more affordable price. They're crafted from high-quality leather, with very soft Ultrasuede inner lining and secure chrome-finished snap closures. Better yet, you can order them for one to three watches, so you're not limited to taking just your favorite.
This is classic luxury at a reasonable price, but it does have a couple of downsides. While the design isn't "fancy" enough to attract thieves, it's unimaginative. The cases are literally cylinders, with no extra features or flourishes. Furthermore, the closures aren't very intuitive. If you somehow manage to get them wrong, your watch can wiggle around and end up getting scratched. If you're going to go this route, make sure you're familiar with the closure before you actually use the case.
Final Thoughts
For my money, the WATCHPOD Travel Cases are the best of the bunch. They're protective, they're discreet, and they're easy to use. This makes them the perfect companion for your Rolex.
But what works for me might not work for you. Choose the travel case that best fits your tastes and lifestyle.