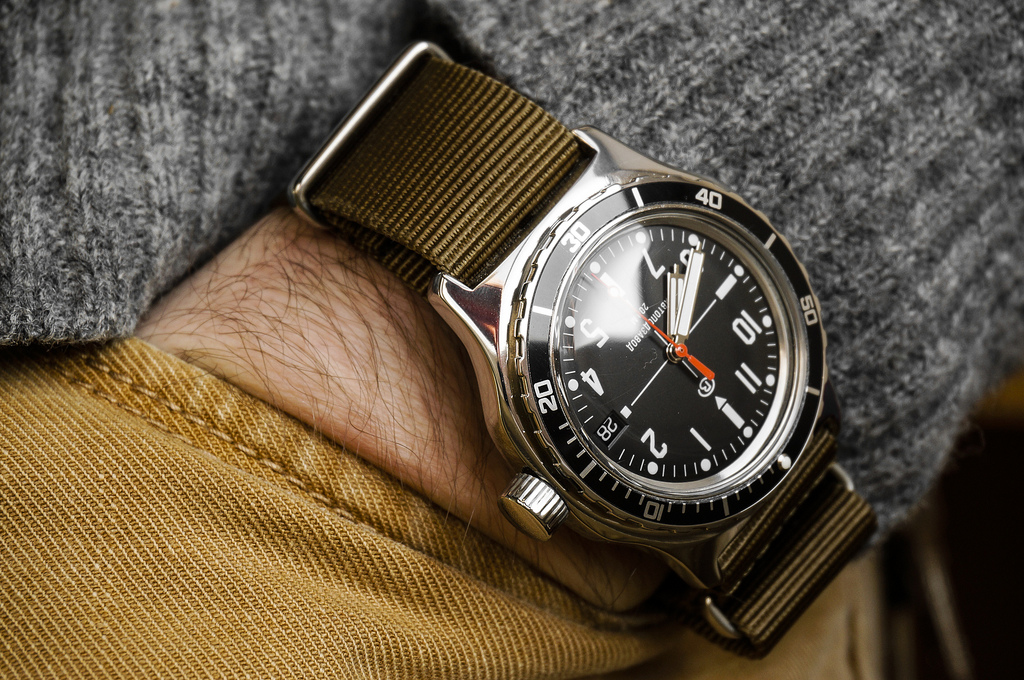 It seems like NATO straps only keep increasing in popularity, and it's easy to see why. Originally designed for military use, these straps are affordable, more secure than most other types of straps, and often prove to be more comfortable than the original strap included with the watch. Also, because these thin straps simply feed through the existing spring bars without having to remove them, it is common for people to own several different styles that can be switched out in a flash. That said, not all watches are going to complement the NATO's rather informal, rugged appeal, so here is Watch Review Blog's short list of the best affordable watches to pair with a NATO strap. We find that divers and military watches lend themselves particularly well to the NATO's utilitarian theme, so most of the watches we have chosen share some attributes with one of those styles of watches.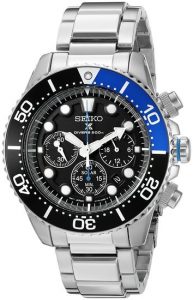 Seiko's SSC017 Prospex is a beautiful and practical dive watch. It is easy to see why Seiko's divers have such a loyal following, with so many great features offered for only $239. At 43 mm across and 14 millimeters thick, the Seiko is a fairly large watch, but they are nevertheless some of the best-looking watches you can pair with a NATO. The Prospex even uses drilled lugs, so it will be no problem to swap out the included stainless-steel bracelet for the NATO of your choosing.
The SSC017's dial and case include several blue accents, from the insert on the bezel to the chronograph hand, to the line around the crown, so any NATO strap that incorporates some blue in it would look fantastic with this watch. Sitting underneath Seiko's exclusive Hardlex crystal window is a black dial featuring 3 subdials at the 3, 6, and 9 o'clock positions, as well as intricate minute markers on the outer rim of the dial. This sporty-looking arrangement lends itself well to the NATO's athletic vibe.
The SSC017 uses a quartz movement with solar charging; a hassle-free arrangement with no winding or battery changes to fuss with. A stout 6-month power reserve should prevent the watch from dying while you aren't wearing it. By all accounts, Seiko's quartz movement is absurdly accurate and should prove to be a reliable timekeeper.
Once you have your chosen NATO strap in place, you can rest assured that this Seiko is as rugged as it looks. The crown and both pushers screw down to safeguard against leaks while underwater. The watch is also rated as water resistant to 200 meters and is ISO 6425 certified, providing extra assurance that this watch will hold up to underwater duty. Because it weaves through both spring bars, a NATO strap will provide extra assurance that the watch will stay on, even if it ends up getting snagged on the extreme types of adventures this watch is just begging to go on.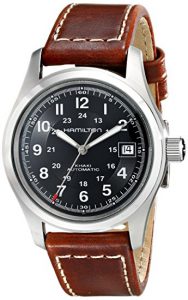 Hamilton's HML-H70455533 is a great entry-level Hamilton field watch. Rugged, dependable, and small, it makes for a perfect candidate for a NATO strap. This watch is not trying to be overly technical or posh, it's just a simple, casual design that looks gorgeous and will hold up to everyday use, which is a great match for NATO straps. At 38 mm wide and 11 mm thick, this Khaki Field watch's brushed stainless-steel case is certain not to overwhelm a thin NATO strap. You can also wear this watch confidently, knowing that the 38-millimeter diameter is the traditional size for a military field watch, so it is not only attractive but historically accurate.
The rather simple black dial includes crisply detailed white Arabic numerals and three hands. A small red tip on the second hand is the only color aside from black, white, or silver. This simple design means that just about any NATO strap would look wonderful on this watch, but some of my favorite options are a straight black, military green, and any strap that includes a couple red accent stripes to go with the red on the second hand.
The brushed stainless-steel case is 11 mm thick, fairly thin for an automatic watch. The crown can be used to wind the watch if the automatic movement needs a little boost. The substantial lugs curve gently towards the leather band. A simple fixed bezel is neither inconspicuous nor ostentatious, but it looks great and complements the vibe of this watch well, plus it doesn't draw much attention to itself, so you can get pretty wild with the colors on your NATO strap without creating a monster of a watch/strap combination.
As you can see through the large sapphire crystal window on the back of the case, this Hamilton uses an ETA 2824 automatic movement. This is a time-tested design that has proven to be superbly accurate and reliable. It uses 25 jewels to keep vibrations to a minimum. Meanwhile, a 100-meter water resistance rating provides reassurance that this watch will hold up to pretty much any water encounter short of scuba diving.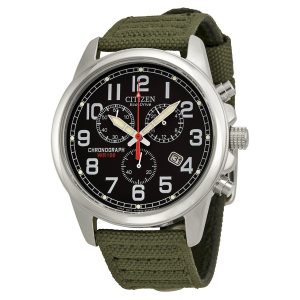 Another military themed watch, Citizen's AT0200-05E is uber practical, with a dependable quartz movement that is charged by any type of light and plenty of useful features. Citizen includes a 21-millimeter military green canvas strap. Many owners complain that it is an overly stiff and uncomfortable band, and a sizable number end up changing it out. Luckily, the AT0200E-05E's white-on-black dial looks great with a strap of just about any color, so it would be a perfect candidate for customization with a wide variety of NATOs.
It's hard to imagine a better daily wearer than the AT0200-05E. Unless you need a dressier watch, this one should provide just about any function you would use on a regular basis. There's the luminous hands and hour markers, which means you won't be bothered by dark situations, the 100 meters of water resistance, a date function, and the 3 subdials. These small dials provide measurements for the seconds and the chronograph, as well as a 24-hour dial.
The Japanese quartz movement allows for a slim design, with the case measuring in at 11 millimeters thick. The 41-millimeter-wide case is water resistant to 100 meters, as is noted in red text above the 8 o'clock numeral. In keeping with the practical military theme, all of the hours are marked with large white Arabic numerals, none of which have been replaced by another function. The date window sits at an angle, just inside of the "4," with a black-on-white display. The hour and minute hands are large, legible, and sword-shaped, white the chronograph hand, which doesn't move until you command it to, is a nice bright red. In all, the AT0200-05E represents a nice, clean design that is just yearning to be customized with your favorite strap. And for about $130, it should leave room in your budget for a few NATOS.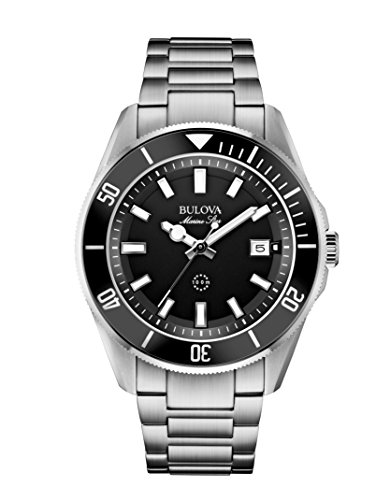 Part of the "Marine Star" line, the Bulova 98B203 gives the impression of a dive watch crossed with a dress watch. The subdued, classy black and white style is somewhat relaxed by the large, unidirectional bezel. Even though it already looks great on the stainless-steel bracelet that comes with the watch, NATO straps take the watch in a sportier direction and really change the vibe of the watch. I find that the gray-and-black striped straps look exceptionally good with this watch, but the simple black-and-white design could match just about any strap out there.
Measuring 43 millimeters wide and 10 millimeters thick, this Bulova doesn't quite have the same heft or thickness of most dive watches. The stainless-steel bezel is also a bit smaller than comparable divers from Seiko, Orient, etc. So this really is a middle ground, stylistically, between an ordinary dress or casual watch and a true diver. Don't be fooled by the appearance, though, because although it shares some design elements with dive watches, its 100 meters of water resistance, while decent, is not in dive watch territory. The crystal is of the mineral variety, rather than sapphire, but that's not entirely surprising at this price point.
The dark black dial and bezel use bright white markings, making for an exceptionally easy to read watch. Large, luminous hour and minute hands match the dial's clarity. Besides the hour, minute, and second hand, the only function provided is the date display, which sits at the 3 o'clock position. The hands and hour markers are luminous. The Japanese quartz movement means that this watch shouldn't give you any problems with accuracy or reliability. Although prices vary from retailer to retailer, it is not difficult to find one for well under $300.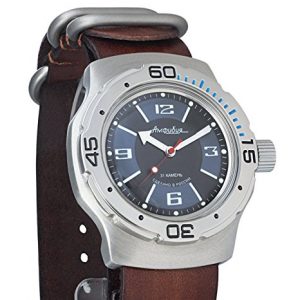 Now here's a really unique piece. The Vostok Amphibia line of watches were created for Soviet military use, with durability and low cost being key objectives. What resulted was an innovative dive watch with a simple but effective design, offered at an absurdly low price. With most examples ringing up well under $100, the Amphibia's appeal is hard to resist. As an added bonus, the included leather strap is easily swapped out for whatever style of NATO you prefer.
Without all of the super-precise Swiss watchmaking tools at their disposal, the Soviets were forced to come up with a novel solution to making their watches survive military dives. The solution employed on the Amphibia revolves around a two-piece case back that actually clamps down harder the greater the water pressure, so the lower you descend, the tighter the seal becomes, which is something even the most expensive Swiss designs couldn't boast. The result is a 200-meter water resistance rating, impressive for the time it was designed and still impressive today, considering the price. The movement is a Vostok-designed automatic that features a hand-winding option, anti-shock balance, and 31 jewels. Those are some highly impressive specs for such an inexpensive dive watch!
The stainless-steel case is 40 millimeters wide, and houses an acrylic dial window, one area where the watch's inexpensiveness becomes apparent. The unique dial design is sure to attract some inquisitive looks, mainly due to the Russian writing, but also because of the bulky case and retro font used for the 12, 3, 6, and 9 o'clock markers. Lume has been applied to the hands and hour markers, so the fun doesn't stop at sundown. While the minute hand is a standard index style, the hour hand is a chunky arrow-shaped design. The dial itself makes use of two different shades of blue, with a lighter blue used to mark off the first 15 minutes on the large bidirectional bezel. The case features large overhangs at the top and bottom, with the spring bar housed underneath, obscured from the front view of the watch. A large crown sits at the 3 o'clock position, unprotected by crown guards. If you love off-the-wall, unique timepieces, this is the choice for you, and the fact that it's the cheapest watch on the list only sweetens the deal.