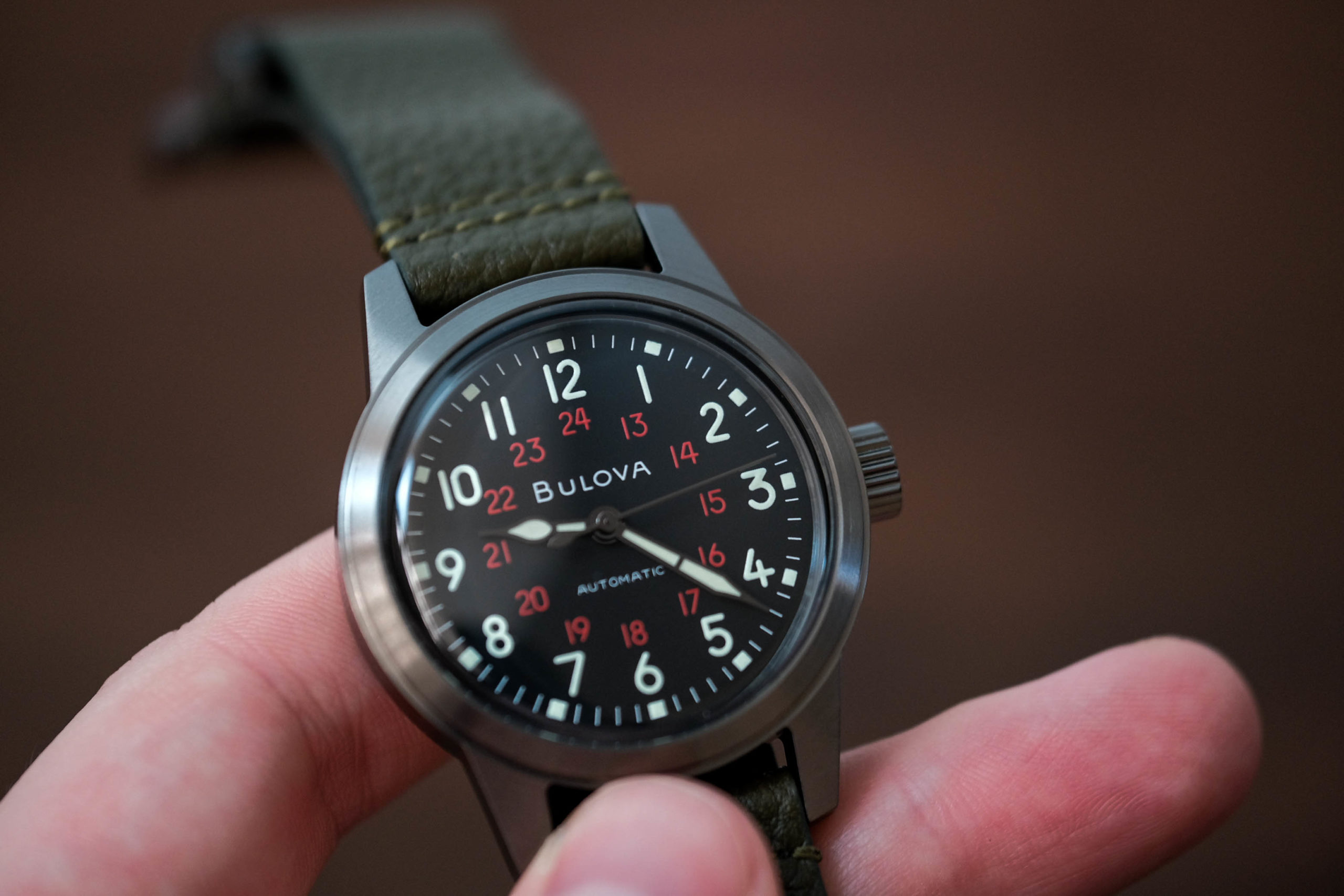 Inspired by military watches of the 1960s and 70s, the Bulova Hack Watch Archive Series is a near-replica of those classic designs. But as you'd expect from a contemporary automatic watch, it also comes with an up-to-date movement and a few other modern amenities. Even so, Bulova has kept the price very reasonable.
This is an infantryman's watch, not an officer's watch, and it's built for function rather than gorgeous looks. That said, many people like the "stripped" look of a more plain dial. I count myself in this category, so I was thrilled to get my hands on one of these timepieces.
No-Nonsense Military Dial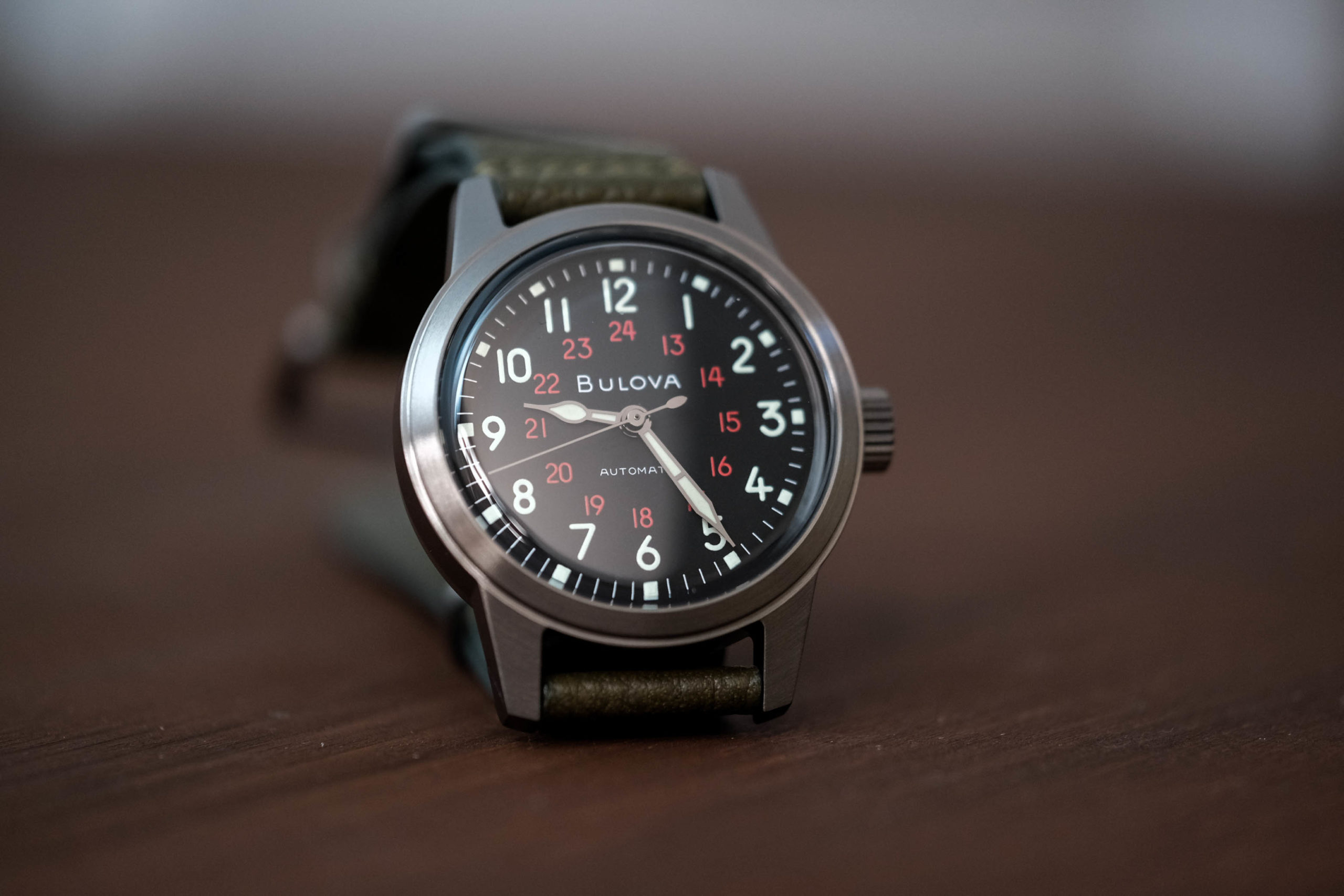 The first thing you'll notice about the Bulova Hack Watch is how uncomplicated the dial is. There are no subdials, nor even a date window to take your eyes off of the time. That said, this is a true military watch, so 24-hour time is a must. Bulova accommodates with two sets of Arabic numerals. The outer numerals, numbered 1 through 12, are applied in a cream-colored lume paint, so they're easy to see in the dark. The inner numerals, numbered 13 to 24, are red in color to distinguish them from the outer numerals. The paint here doesn't glow in the dark, so these inner numerals can be harder to read in low-light conditions.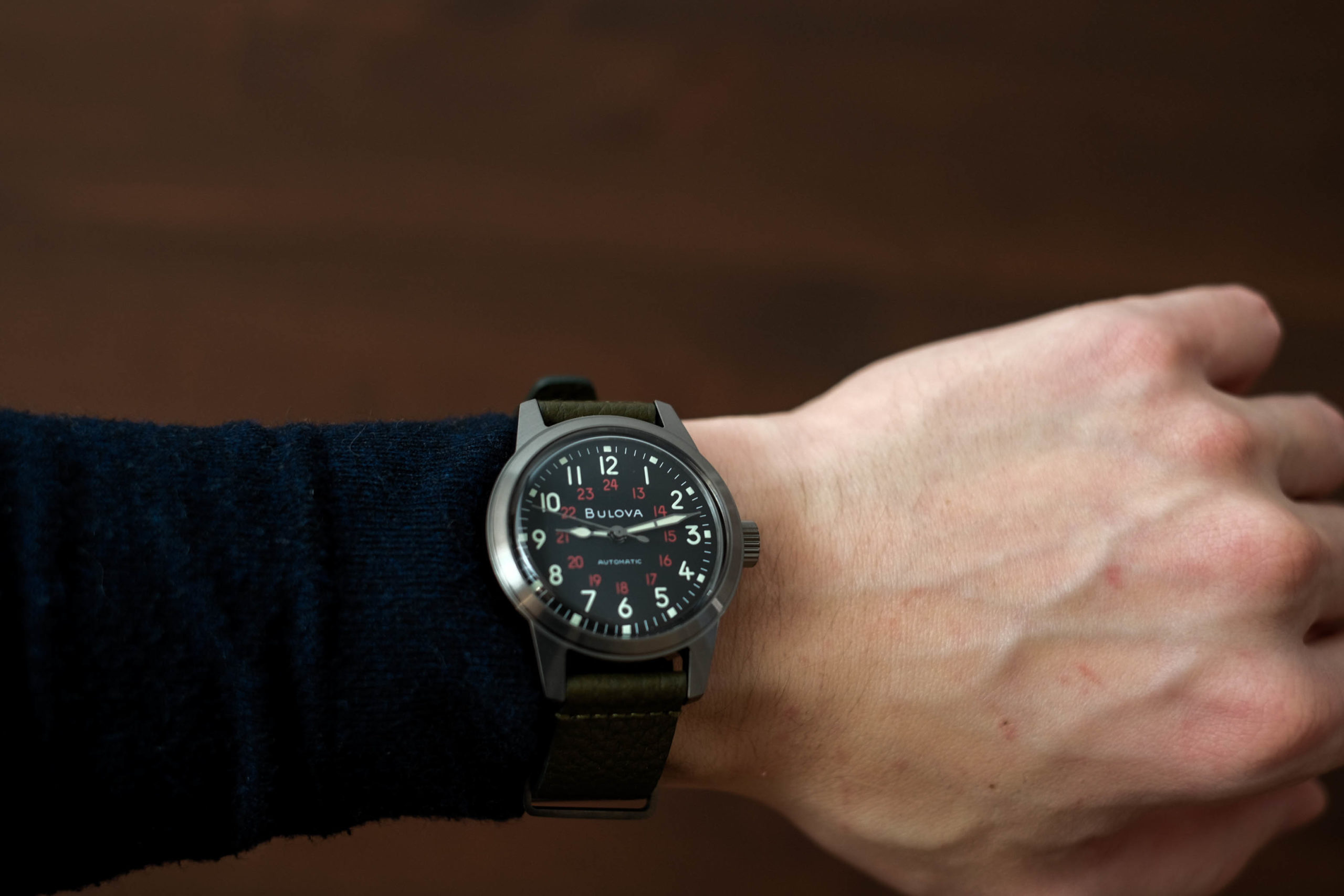 For a bit more precision, there's a standard index around the outside, with fat hashes at the five-minute marks and finer hashes at the single-minute marks. These hashes match the outer lume numerals, and make it easy to read time in the dark, right down to the minute. The only other decoration on the dial are the words "Bulova Automatic" in the center.
The hands are both fairly broad, with a bright lume finish. The hour hand is a bit shorter, with a spade-shaped tip. The minute hand is longer, and tapers at the tip more like a sword. The second hand is a fine silver needle, with a small nub on the back end to balance out the weight. It doesn't have a lume finish, but that wouldn't be practical on such a slender hand.
Tough Stainless Steel Case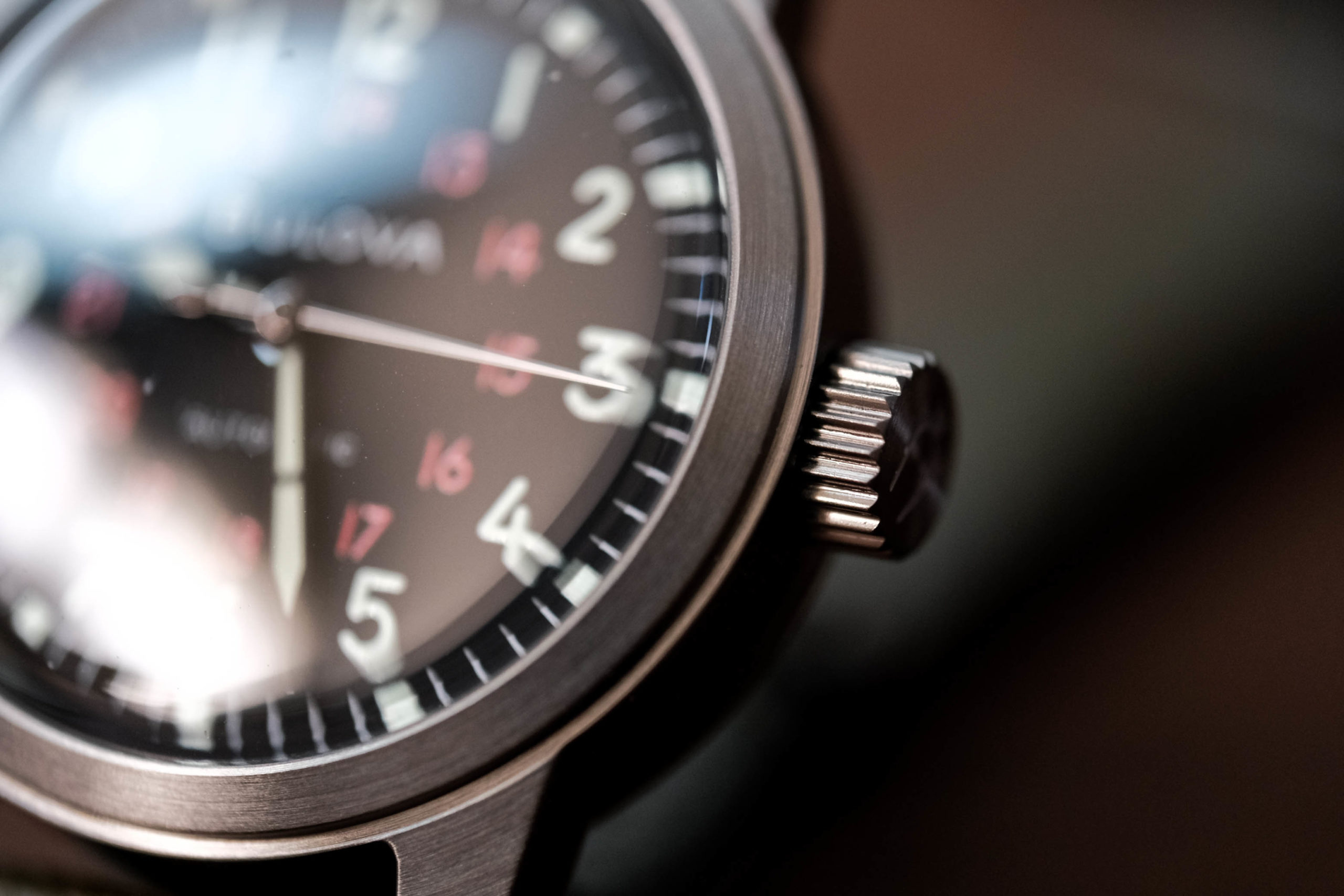 The Bulova Hack Watch has a stainless steel case, as you'd expect from a tough military watch. It measures 38mm in diameter, so it's slightly smaller than most watches. That said, at 13.45mm thick, it's beefy enough that it feels more mid-sized. It also has plenty of wrist presence for the size. The bezel is narrow and flat, not decorative at all, much like the dial. This design draws all your attention to the dial, with the case as more of an afterthought. The stainless steel also has a dull, brushed finish. As a result, it's not as shiny as many steel watches. Oddly enough, despite the Hack Watch's workmanlike appearance, this dull finish actually makes it a worthwhile choice for more formal occasions.
The case has a solid back, so you can't see the movement. That said, a display back would have been needlessly expensive for such a barebones watch. Instead, Bulova puts your money where it will actually do some good. The Hack Watch is waterproof to 30 meters of depth, or about 100 feet. It's not a dive watch by any stretch of the imagination, but you can wear it in the shower or the swimming pool.
The mineral crystal is well-finished, with a double-domed design that won't distort the dial. It's also scratch-resistant. You don't have to worry that this watch will get scuffed up from everyday wear and tear.
Modern Miyota Movement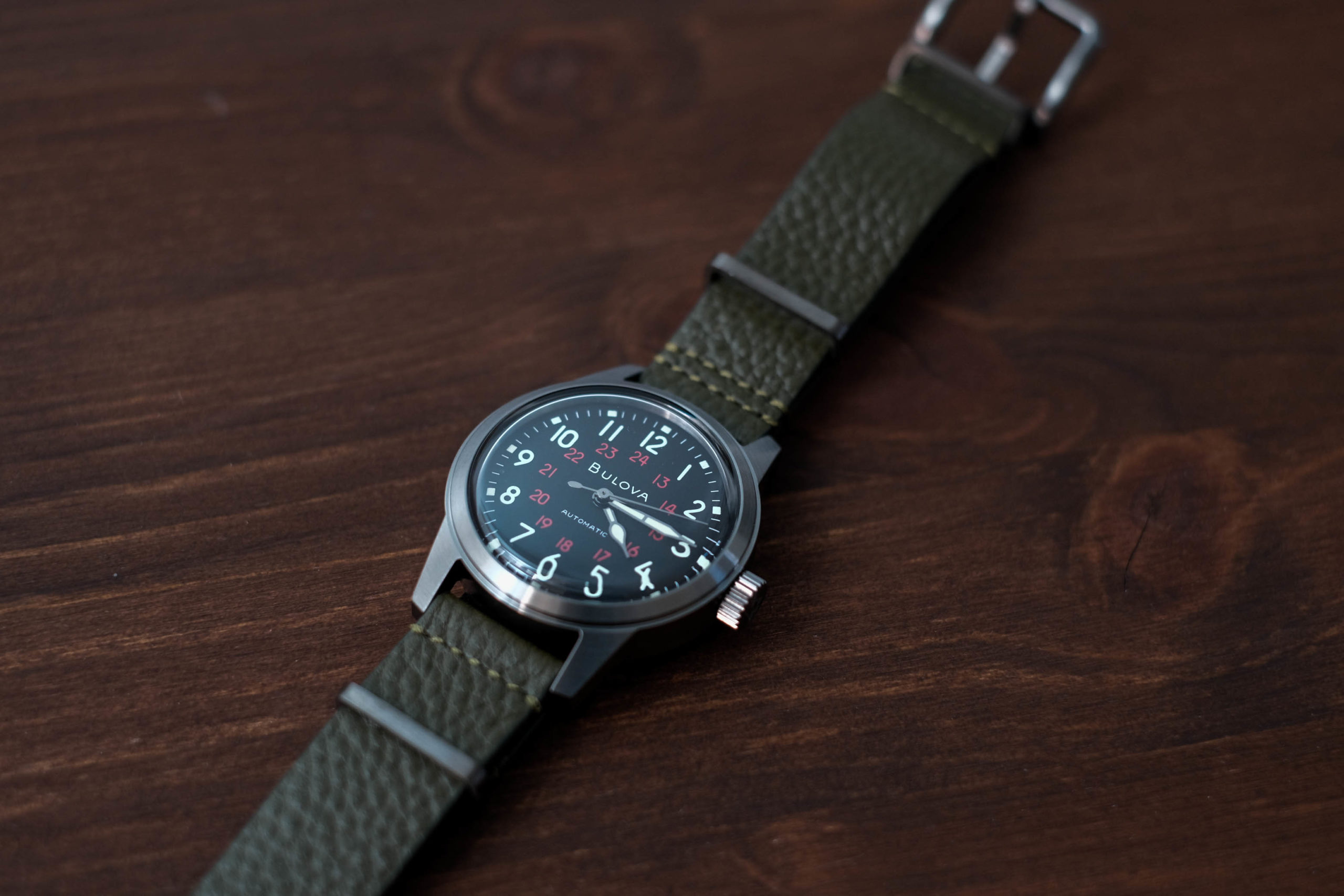 The beating heart of the Bulova Hack Watch is a Miyota Caliber 82S0 movement. This is a basic, 21-jewel movement that boasts a 42-hour power reserve. That's a long reserve for an affordable movement, enough to take your watch off for almost the entire weekend. It's less accurate than some pricier movements, at -20/+40 seconds per day. That's still more than good enough for most people, though.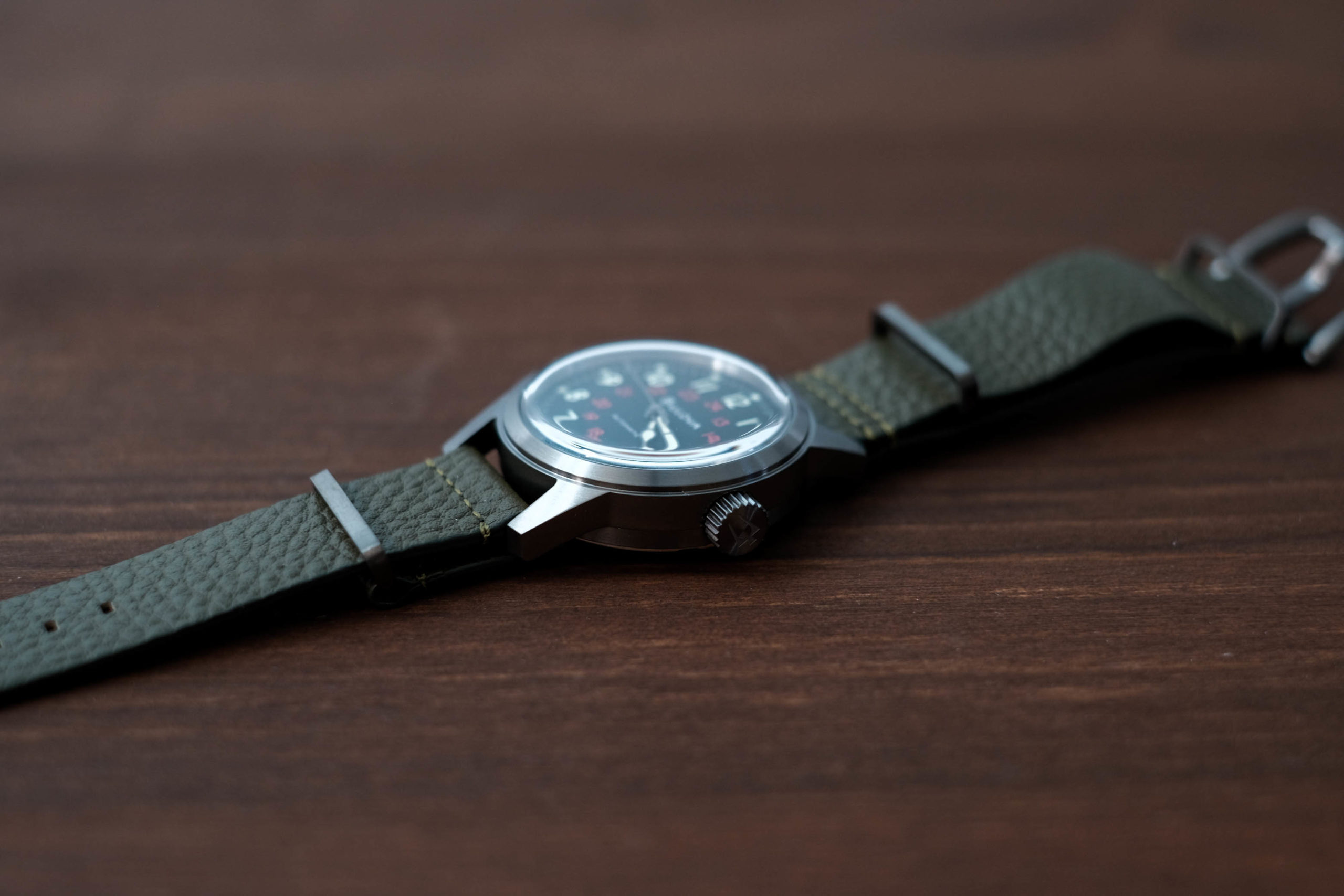 One criticism of earlier 82S0 movements is that they were non-hacking. The Bulova Hack Watch lives up to its name, and uses the newer, hacking version of the 82S0. This means you can stop the seconds hand simply by pulling out on the crown. It's a great feature if your watch is running a few seconds fast. Just stop the seconds hand until it's accurate, then restart it.
A Durable NATO Strap
The Bulova Hack Watch ships with an olive green NATO strap. It's made from supple leather, and feels comfortable on your skin. The design is a classic NATO, with part of the strap running behind the back of the watch. Not only does this make the watch appear thicker, it also provides some comfortable padding. That said, if you want to dress this watch up, you may want a more formal strap.
To view all of Bulova's offerings visit their official website here.