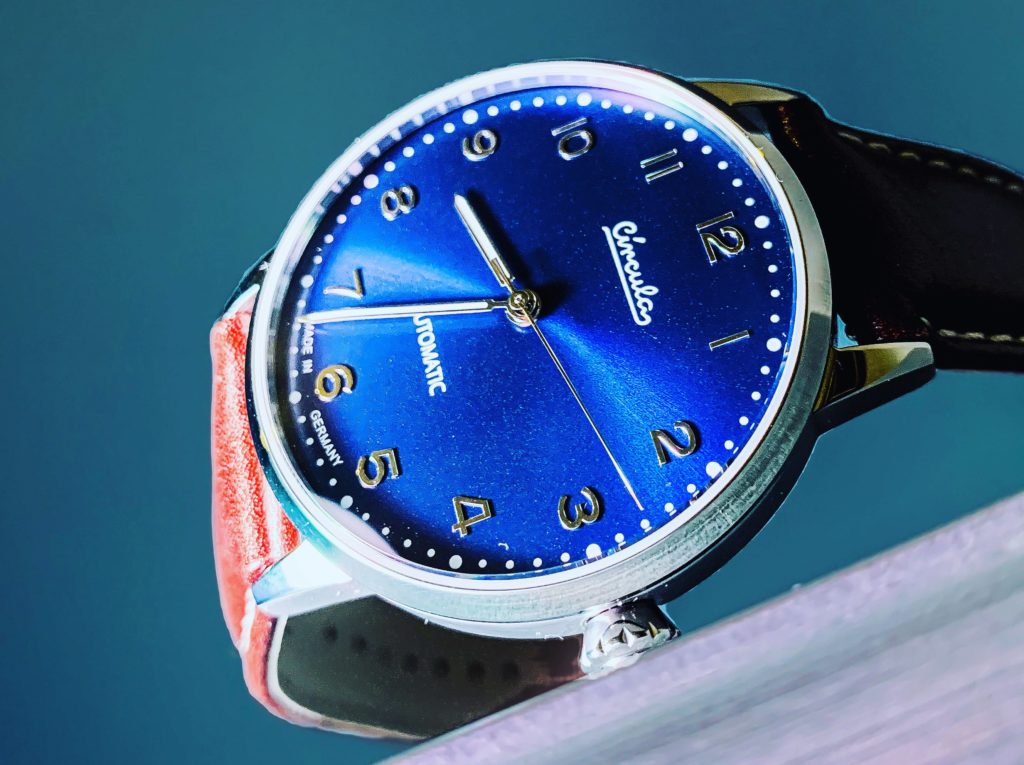 I was delighted when Matt reached out to me and said that he might have a review model for me from a brand that I've kept a close eye on over the last few months, a micro brand from Germany called Circula.
So I gleefully accepted his offer and Cornelius from Circula was happy to send me a piece for review. The watch sent to me is a prototype, with some differences to the final piece. But only small details will change in the final product.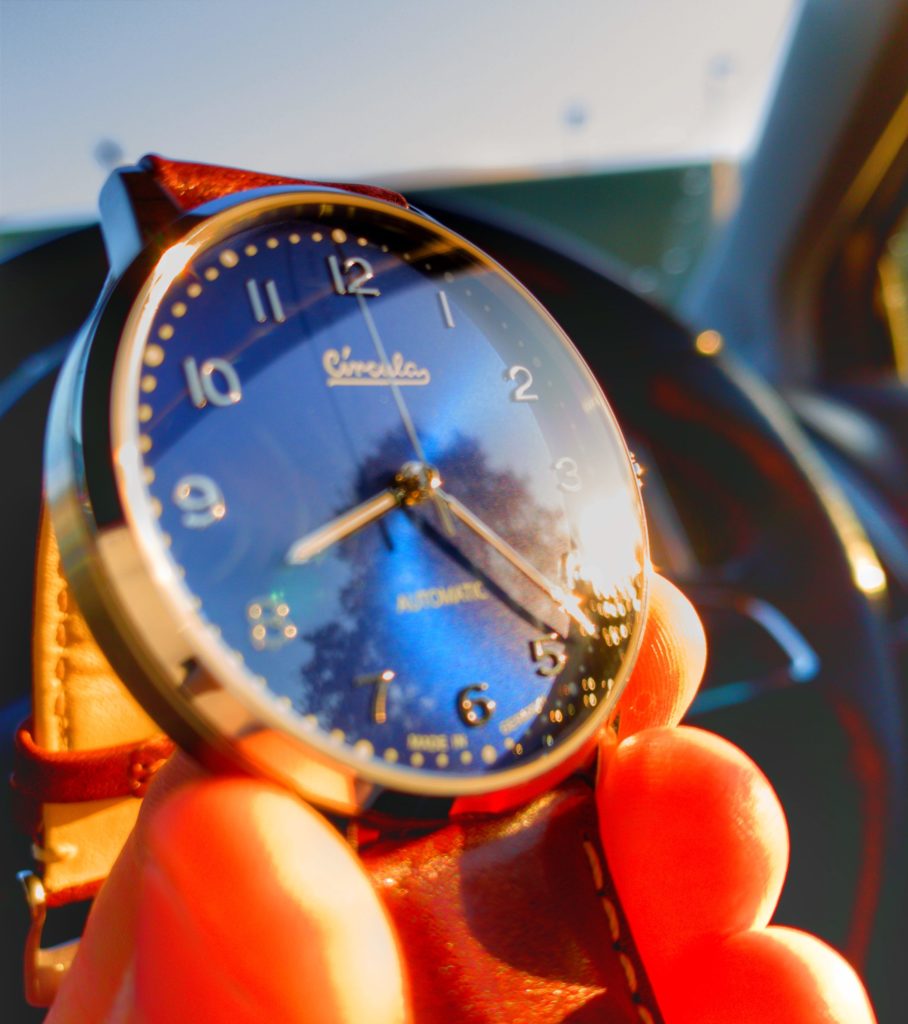 Circula was initially founded in 1955 by Heinz Huber in Pforzheim, in the heart of the Black Forest. The name Circula comes from the circulating of the balance in the mechanical movements.
Fast forward to today and Cornelius Huber has revived Circula to build on his heritage. In homage to the founder and the brand name, a balance wheel is embossed on the crown and all watches are made by hand in Pforzheim.
The Heritage Automatic is presented in a solid black box with Circula branding on top, open up to reveal a soft cushion holding your watch and under that is your warranty card and a cleaning cloth. This makes no difference to the watch, of course, but I love when brands gift a cleaning cloth with the watch. It's the little things.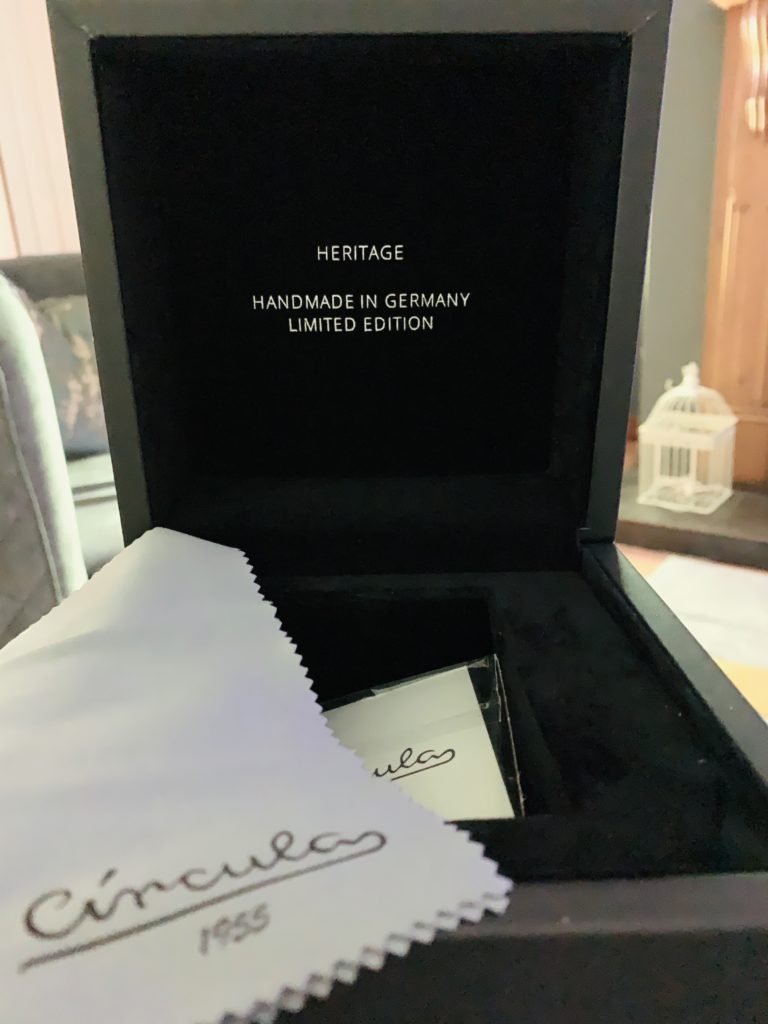 The watch is a perfect fit (for me and my 7inch wrists) 41mm in diameter, a thickness of only 11.5mm and a lug to lug measurement of 48.5mm. These measurements combined make for a great fitting watch and a highly legible dial.
The watch comes on an excellent quick release leather strap with a lug width of 20mm.
P.U.W Movement
Much like my last review on the Laco Cuxhaven I have to start with the movement.
Inside this watch is the unique and very rare P.U.W. 1661s (new parts) from Pforzheim. I find it quite amazing that Circula were able to use never used mechanical movements from back in Circula's hay day.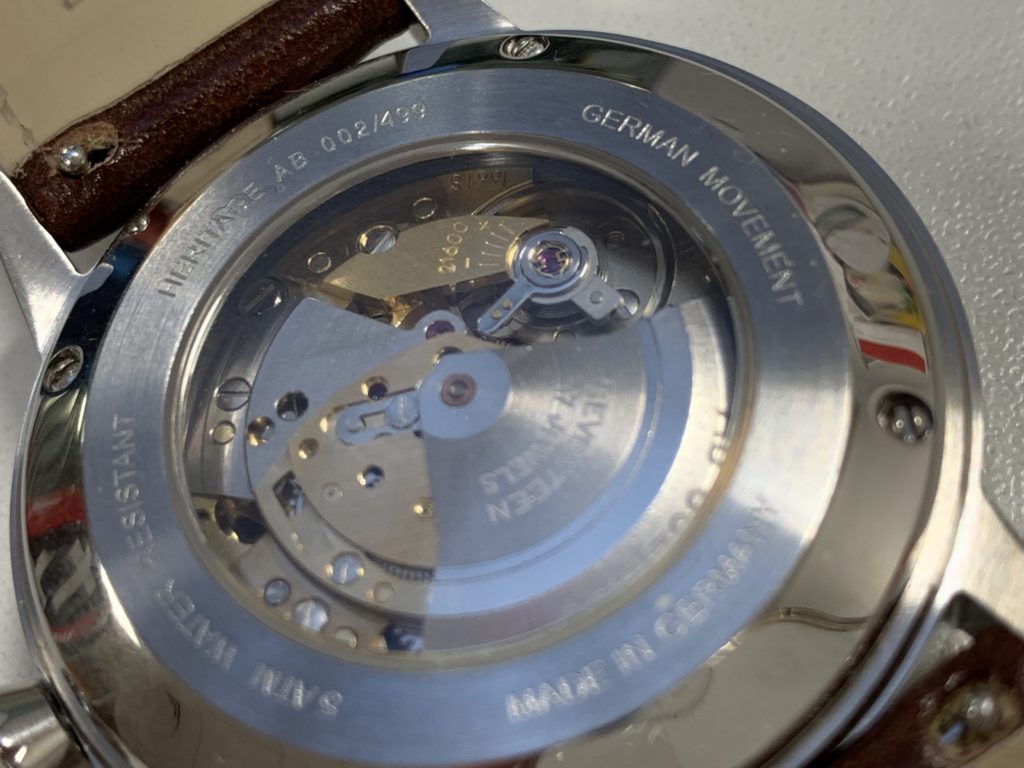 All parts were manufactured in the seventies entirely in Germany by P.U.W., the 'Pforzheimer Uhren-Rohwerke GmbH', mostly in Pforzheim, the home of Circula. During the quartz crisis they were safely stored in individual parts until Circula found them and restored them to their former beauty.
The watch ticks at 21,600 beats per hour or 6 beats per second, has a max power reserve of 40 hours, although I did find my power reserve to be less than that. As for the accuracy, it is stated at between -10 and +15 seconds per day and my watch was within those parameters. Which is very pleasing considering it's a vintage movement inside a new case.
The Heritage Case
The Circula case is in 3 pieces made from 316L stainless steel and has four screws on the case back it's a sapphire crystal opening to clearly see the unique movement inside.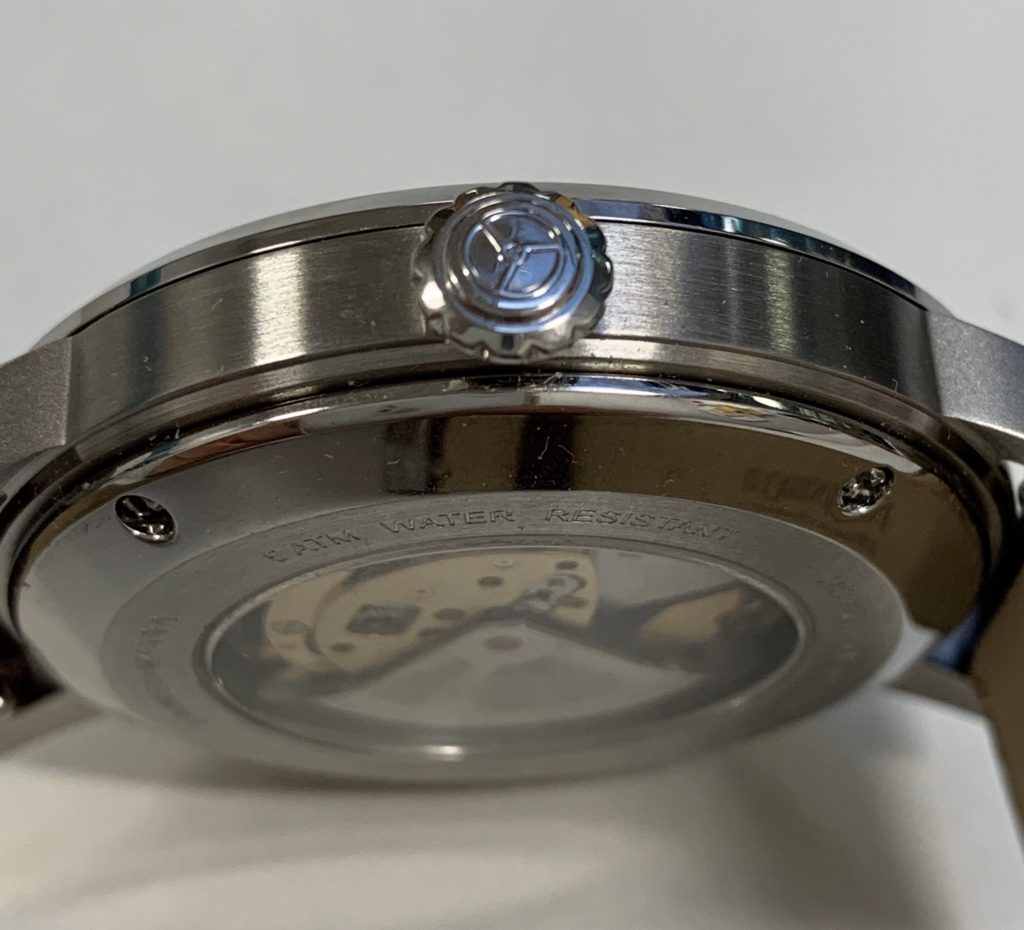 The finishing is expertly hand polished and brushed horizontally. The embossed crown has the balance wheel on it and this is where I find my first negative. The crown, for me was stiff and quite hard to wind. It felt quite jerky in movement and was hard to set the time precisely. As said before, I have a prototype so perhaps final products will be less stiff and therefore easier to wind.
The Dial
The 41mm blue matte sunburst dial is a pleasure to look at. Depending on the lighting the deep blue on the dial fans out towards the applied numbers in a beautiful manner and is an absolute delight to look at.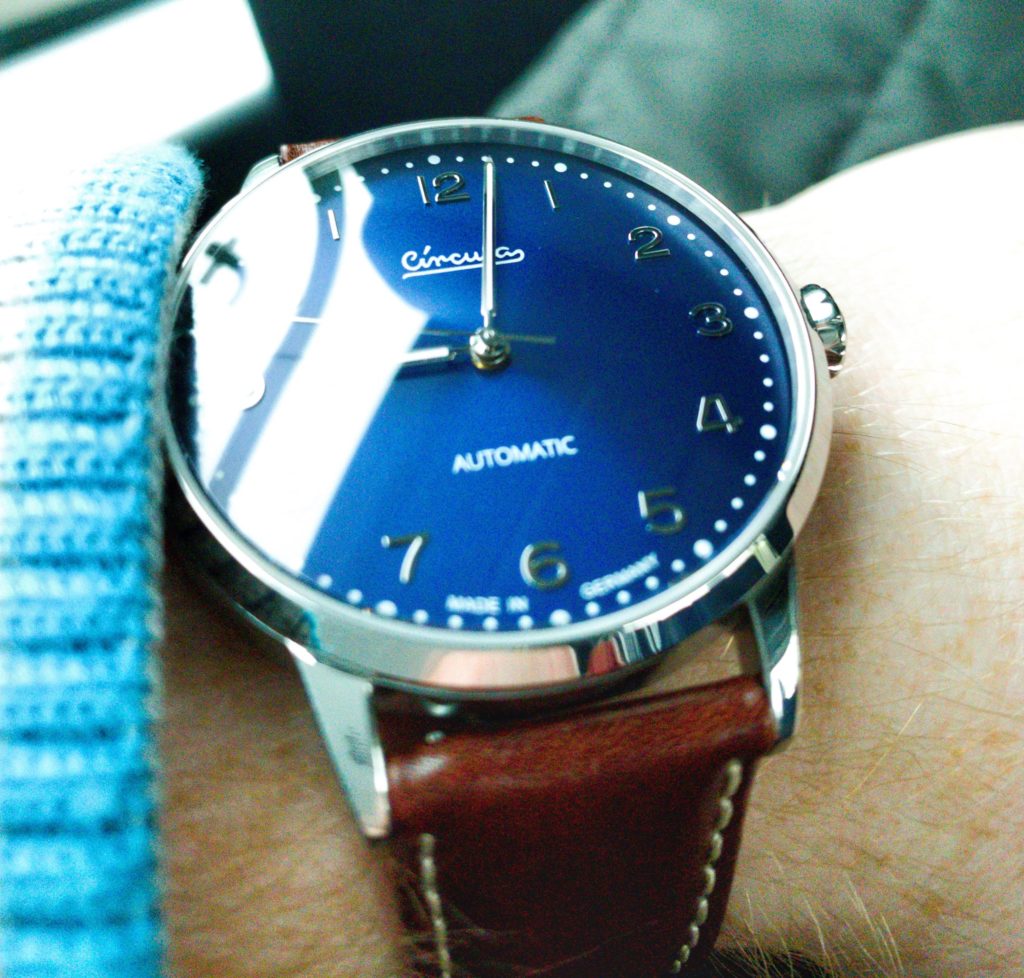 The silver polished hour and minute hands are filled with C1 Super-LumiNova, although the prototype I had didn't have this so it was hard to achieve a good lume shot.
The dial overall is simple but yet still very beautiful, with the Circula logo just below the 12, 'Automatic' further down the dial and a small 'Made in Germany' below the 6. This is where my second negative point about this watch comes in. I did find that because of the colour of the hour markers they sometimes merged into the dial slightly. Perhaps white or brighter hour markers might have suited this dial better.
Conclusion
This watch is a piece of history on your wrist, a unique a very rare piece of history. The story behind the reopening and reimagining of Circula is amazing and I'm very happy that Cornelius is able to build on what his grandfather started way back when. For anyone that loves vintage but doesn't want to buy a watch from the 1960s or earlier then check this watch out.
The two negatives that I raised in this review will hopefully be sorted by the time production finishes and the finished products are ready to ship. The issues don't take away from the exceptional hand finishing on this watch and the very beautiful dial.
The Circula Heritage Automatic comes in at €920, considering the bespoke in-house work that has gone into restoring these old movements, I feel it is quite fair, but I will leave that up to you to judge!
To take a closer look at the specs or to see more of Circulas' watches visit their official website here.