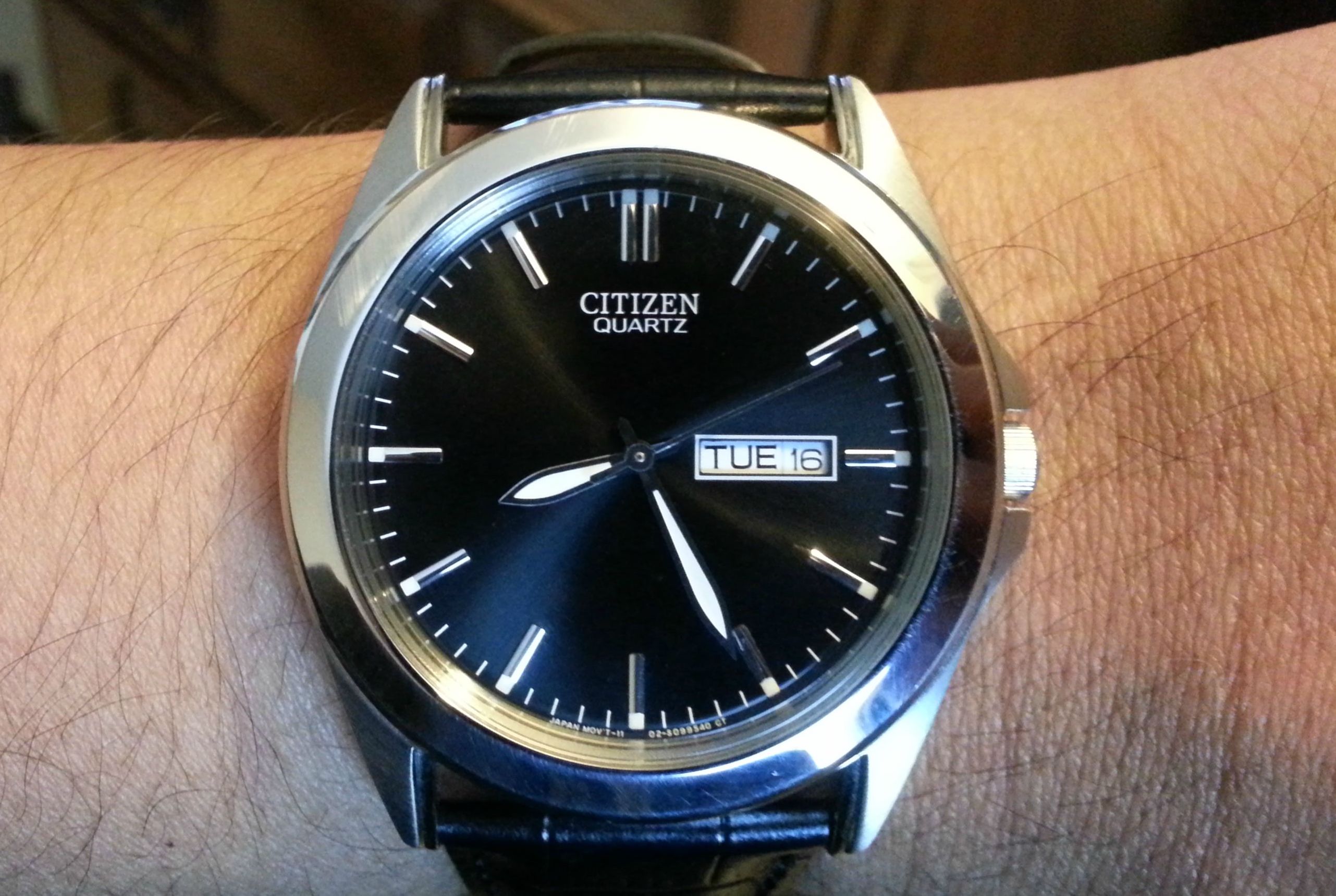 Today we examine a humble dress watch from Citizen. This quartz dress watch is so unassuming, in fact, that the Japanese watchmaker hasn't come up with a name for it, other than its model number' BF0580-06E. This is the way many watch buyers prefer it, with little in the way of glamour of prestige, yet packed with value and a reliable, hassle-free movement. Most buyers use the BF0580-06E for work settings, where the simple yet elegant design complements your standard business attire without drawing too much attention to itself. Of course, with a low entry price, it could also serve as a great travel and casual watch; one you won't have to worry about every little scratch and bump with. So, is this plain-jane dress watch the right one for you? Read on to find out.
> > > Click here to see ratings, reviews, specifications and prices on Amazon < < <
Sleek Case
The BF0580-06E's 39-millimeter stainless steel case is water resistant to 30 meters, which should be plenty of safety for a watch like this, which few people would feel the urge to wear swimming or snorkelling. Curiously, the Citizen BF0580-06E uses a sturdy-looking crown guard to protect the 3 o'clock crown. This is normally a feature of dive watches, meant to protect against unwanted crown manipulation when scuba diving or doing other similarly rigorous activities.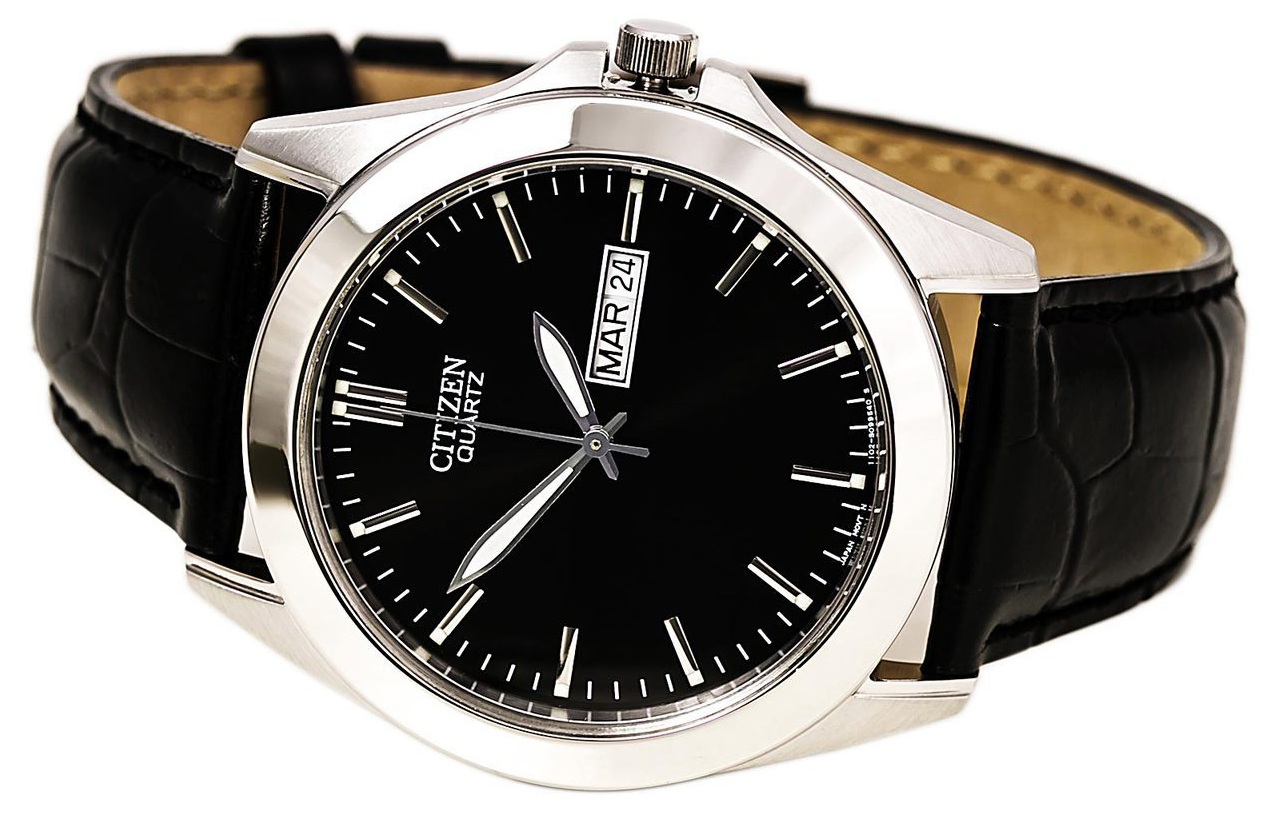 So you can see why this is a much less common element of dress watches, where violent crown snags are not as much of a concern. While the case is not thick at only 9 millimeters, its thick-for-its-size bezel gives it a sturdy appearance. This, combined with the severe black-and-silver theme makes for a very masculine dress watch. There is not much else to explore with the case – the back is uncommonly free from any embellishments.
Silver Sunburst Dial
The BF0580-06E's black dial shimmers gracefully in the light, thanks to the sunburst design. Lume fills the two big hands and sits behind the hour markers. We have some stick-shaped hour markers with a silver finish all around, and three hands circling the dial. "Citizen Quartz" is printed up top, of course, but on this watch it is a particularly good measure as there is a chance some owners might actually forget what kind of watch they have purchased; it's just that kind of watch.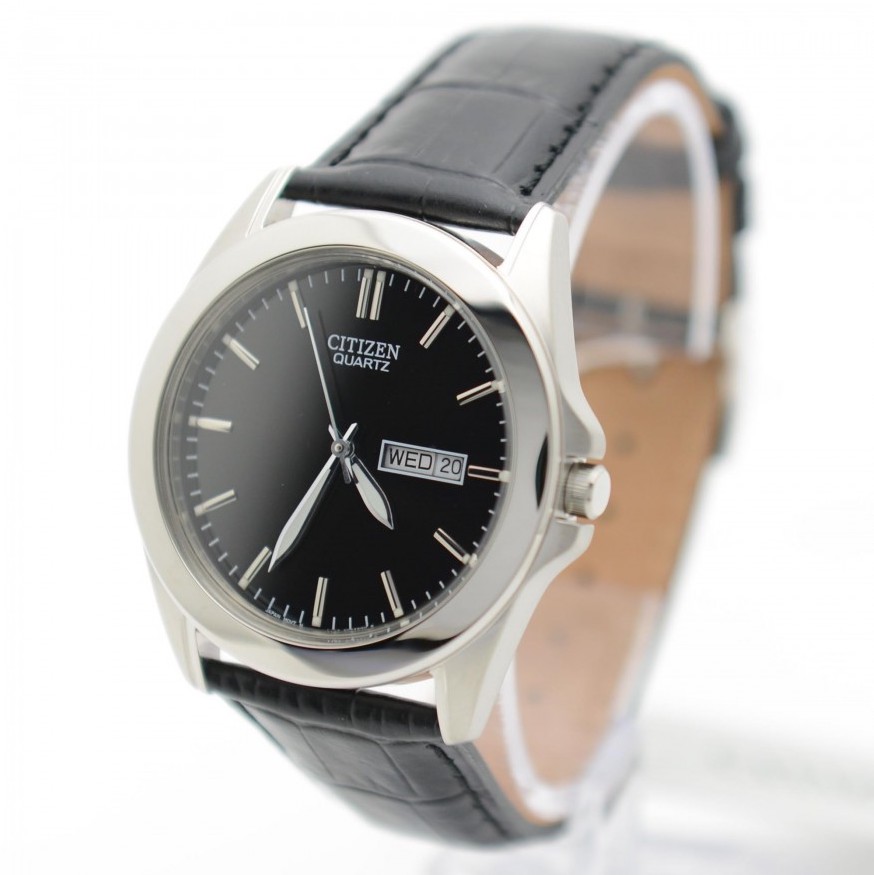 > > > Click here to see ratings, reviews, specifications and prices on Amazon < < <
A large black-on-white day and date window fills almost the entire space between the 3 o'clock hour marker and the center of the dial. Those with poor eyesight will appreciate the large, legible display, but it creates a stark departure from the classy black finish on the rest of the dial, definitely a function-over-fashion decision on Citizen's part.
Black Leather Strap
The croco-embossed black leather is a well-padded affair, with a very glossy finish. The band is a rather low-quality affair, not that you would expect much more considering this watch's price point. While many owners find it comfortable, the most common gripe is the fact that it is too small for many men's wrists.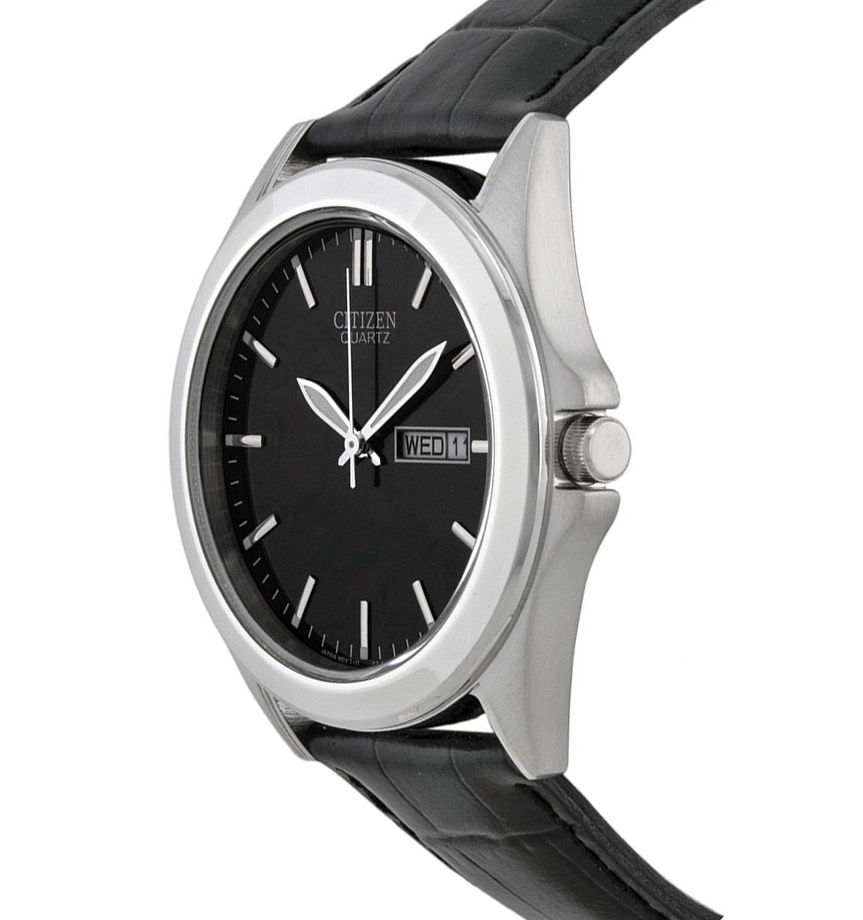 So if your wrists are even slightly above average, make sure you double check that it will fit before purchasing this understated Citizen timepiece.
BF0580-06E Quartz Movement
Budget shoppers should be happy to learn that this Citizen uses a Japanese quartz movement, known for their reliability and accuracy. The quartz movement allows the watch to stay thin and reduces the number of adjustment necessary to keep the watch on time versus a mechanical movement. I am confident that the movement used here will be one of the last elements of the watch to disappoint its owner.
My Final Opinion
Let's be honest; only people who find the design attractive will be tempted to purchase the watch, so I find that my biased opinion of a watch's appearance is largely unhelpful. I try to provide an objective description of a watch's styling without injecting too much personal opinion. I find it difficult, however, to inject as much enthusiasm into reviews of watches that I personally find unappealing. Unfortunately, this happens to be one of those watches. Considering the relatively low price of the watch, there is really nothing objectively wrong with the design, but I still find it unappealing according to my personal tastes. The day and date window is comically large, which is great for anyone concerned about not being able to see the script, but it sticks out like a sore thumb on the dress-style watch. In a similar vein, the case is large and bulky when I feel that a thinner design would look more elegant on a dress watch like this. Like I said, though, if you feel that I am completely wrong, there is little reason to dislike this watch, other than the small and flimsy band.
Citizen lists the MSRP at around $90, which makes this a very affordable timepiece. Citizen is known for its reliable an accurate watches that sport reasonable retail prices. The BF0580-06E sits at the very low end of Citizen's price range, so it is the cheapest way to buy into the brand, something I feel is always a good thing.
> > > Click here to see ratings, reviews, specifications and prices on Amazon < < <