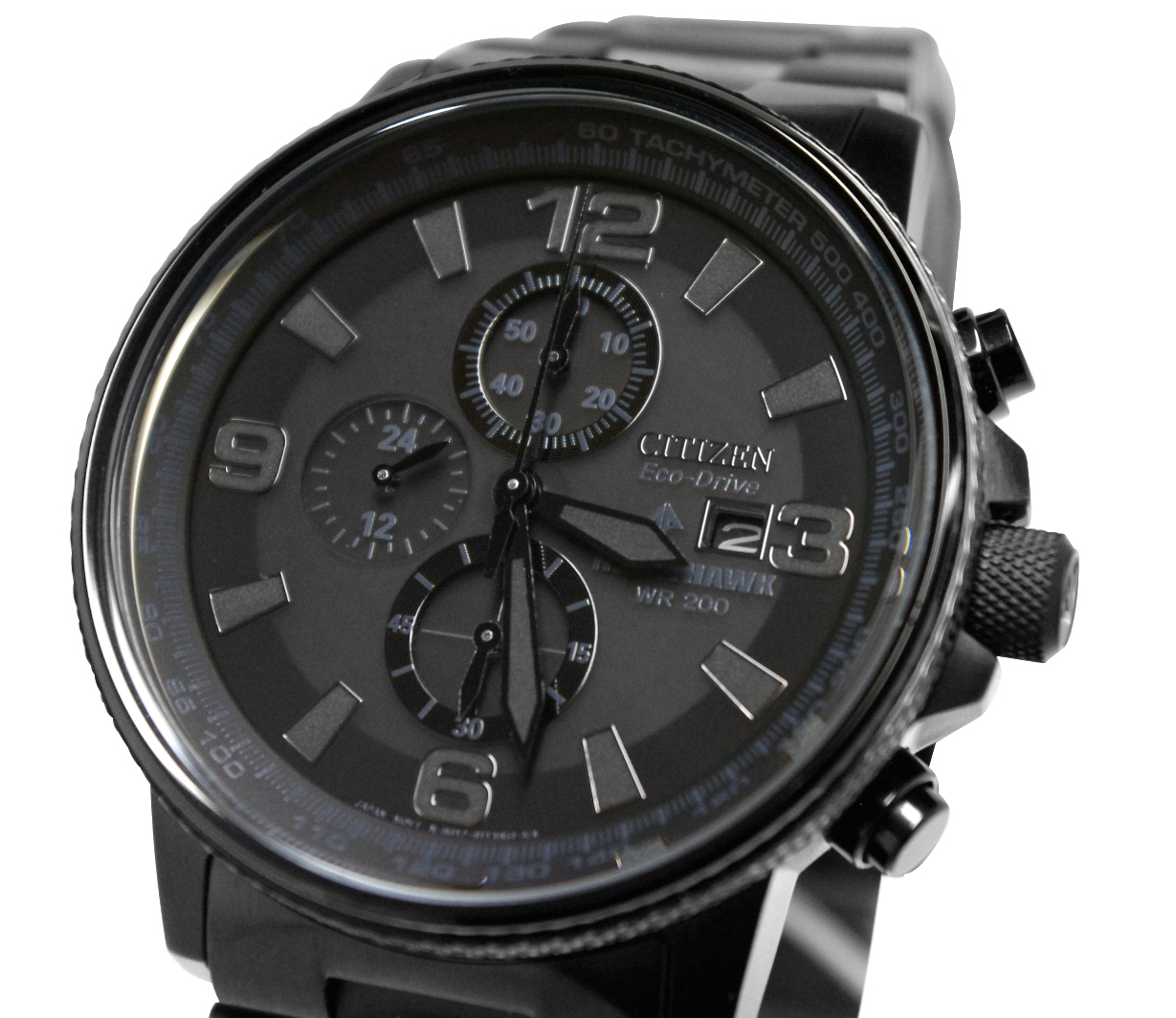 Citizen's model CA0295-58E Nighthawk is a unique watch with a stand-out aesthetic and bold design. The watch is entirely black and features a fully-functional chronograph, a Japanese quartz movement system, and an Eco-Drive system that is fueled by light and never requires a battery for power. This is a versatile watch that can be used for a wide variety of situations and embodies the term "jack of all trades".
> > > Click here to see ratings, reviews, specifications and prices on Amazon < < <
CA0295-58E Build Quality and Style
In terms of hardware, this CA0295-58E is a solid timepiece that was obviously constructed with both durability utility in mind. The ion-plated stainless steel body will ensure that the watch survives pretty much anything you throw at it. The body and band are both stainless steel, with the band featuring a traditional fold-over clasp that also has a double push-button safety function to ensure it never accidentally slips off your wrist. For all of the durability it has, it doesn't feel too bulky or overbearing and weighs just 6.08 ounces (.3 lbs), so it's very comfortable as well. It's great that Citizen was able to balance weight and comfortability without sacrificing build quality in the slightest.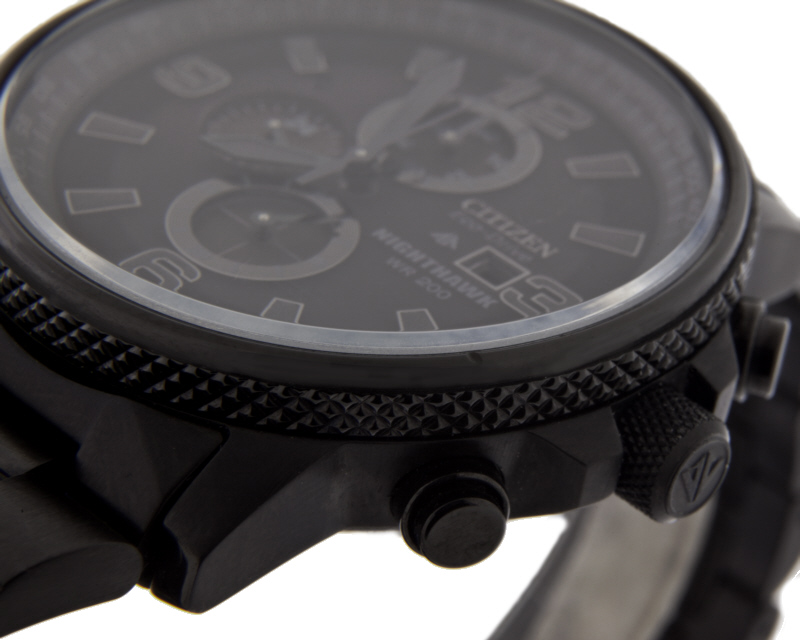 > > > Click here to see ratings, reviews, specifications and prices on Amazon < < <
Regarding the appearance of the CA0295-58E Nighthawk, I think it looks pretty nice. I'm not a fan of the all-black color scheme, but that's obviously a personal preference that many people might not have. The all-black style does give it a more discrete appearance, though, and I think many people will really love that about the watch. I personally found it a bit difficult to read the dial because of the black dial and black hands, so I think it does suffer a bit in the utility department in that regard. The chronograph has everything you'd expect in a standard chronograph, featuring a 3-dial system for hours, minutes, and seconds. Again, the dials and hands are both black, so I think it's difficult to read unless you're in the right light.
Efficient Features
Functionally speaking, the watch is pretty flawless. Every feature that I used worked without any problems whatsoever, though I do think the buttons around the crown feel a bit flimsy. It really doesn't take much to press them and they almost feel like plastic, but I think I'm probably just being nit-picky. The two-button safety system on the clasp is a nice touch that ensures the watch will stay securely on your wrist and I'm glad that Citizen included it on this watch. Since it's a bit pricy, I'm all for taking steps to ensure I don't accidentally lose it somewhere! I haven't taken it in the water anywhere (many of my watches never touch water), but it is supposedly water-resistant up to 200m (660ft) and I have no reason to believe it's not capable of it.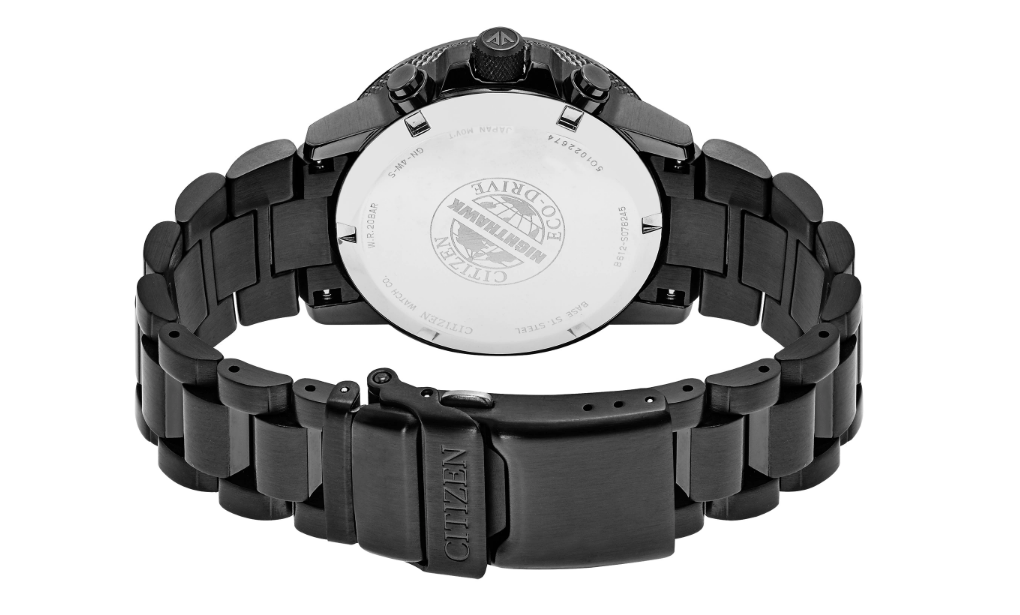 Final Impression
Overall, the Citizen men's CA0295-58E Eco-Drive Nighthawk is a very solid watch if you're looking for something in the high-end market without totally breaking the bank. The all-black color scheme will surely be divisive depending on what sort of style you want, but if that's your thing, then this watch is perfect for you. It's very well-constructed and comes with a fully-functional chronograph and the various features associated with it. I haven't had any issues with time-keeping or other functionality aspects, and I think the watch is very durable and well-constructed without being too heavy or bulky. This is definitely a great timepiece from Citizen.
> > > Click here to see ratings, reviews, specifications and prices on Amazon < < <