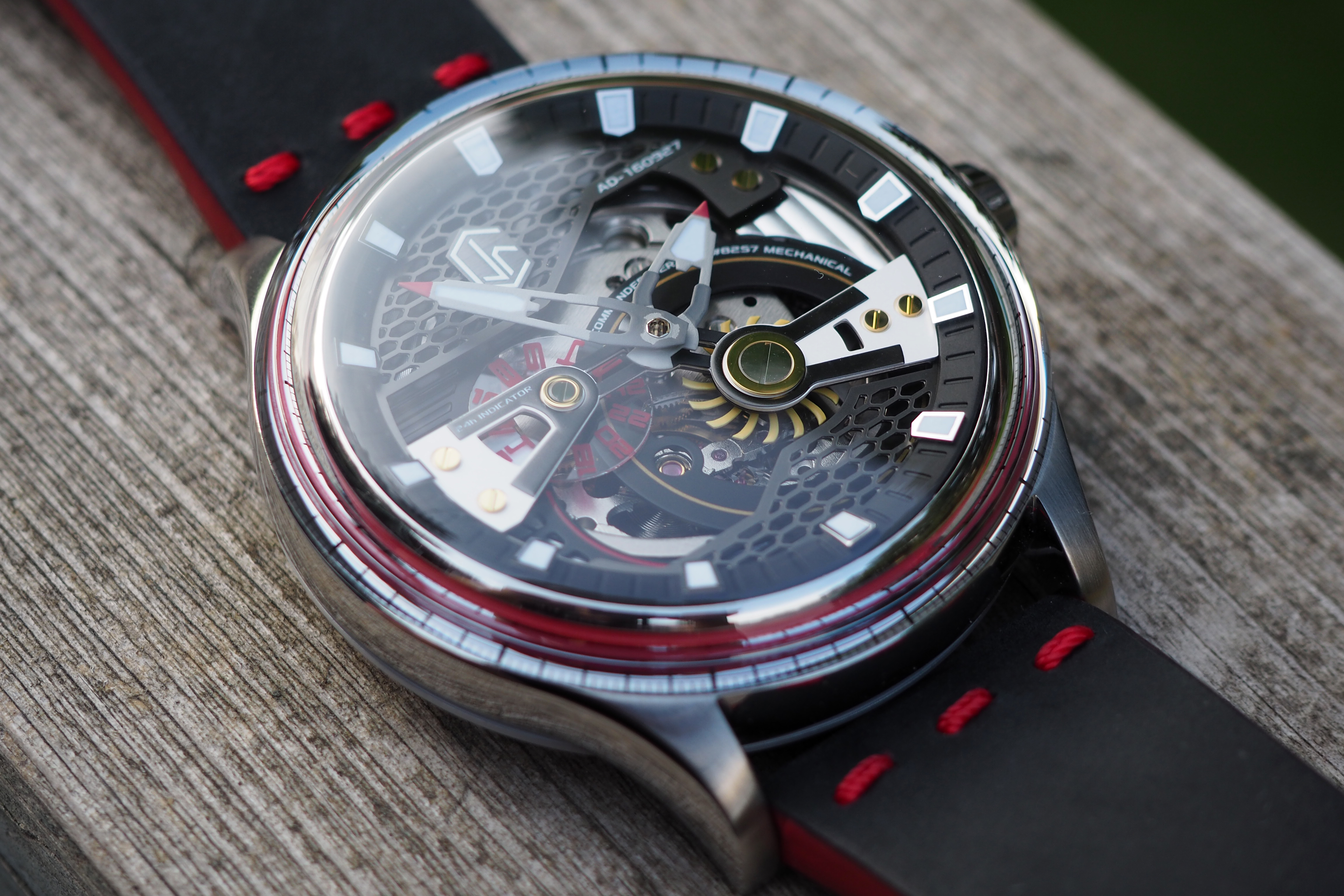 For those who are tired of the same old watch designs and manufacturers, today I present you with an innovative option from CJR Watches. The Commander Series is the third collection for the recently founded company, and its hallmark is an edgy design that looks as though it is made almost entirely out airplane instruments.
These watches are not available to purchase just yet, in fact, they are currently on display at the company's Kickstarter site. An introductory video that makes heavy use of the aviation theme and features swelling music shows off the watch, with plenty of close-ups of the skeleton dial and movement. Now, let's discover what makes this watch so unique.
Super Unique Dial
The Commander's mechanical-themed skeletal dial sits under a sleek, slightly domed mineral crystal meant to evoke thoughts of aircraft design, with exposed screws and mesh at the top and bottom.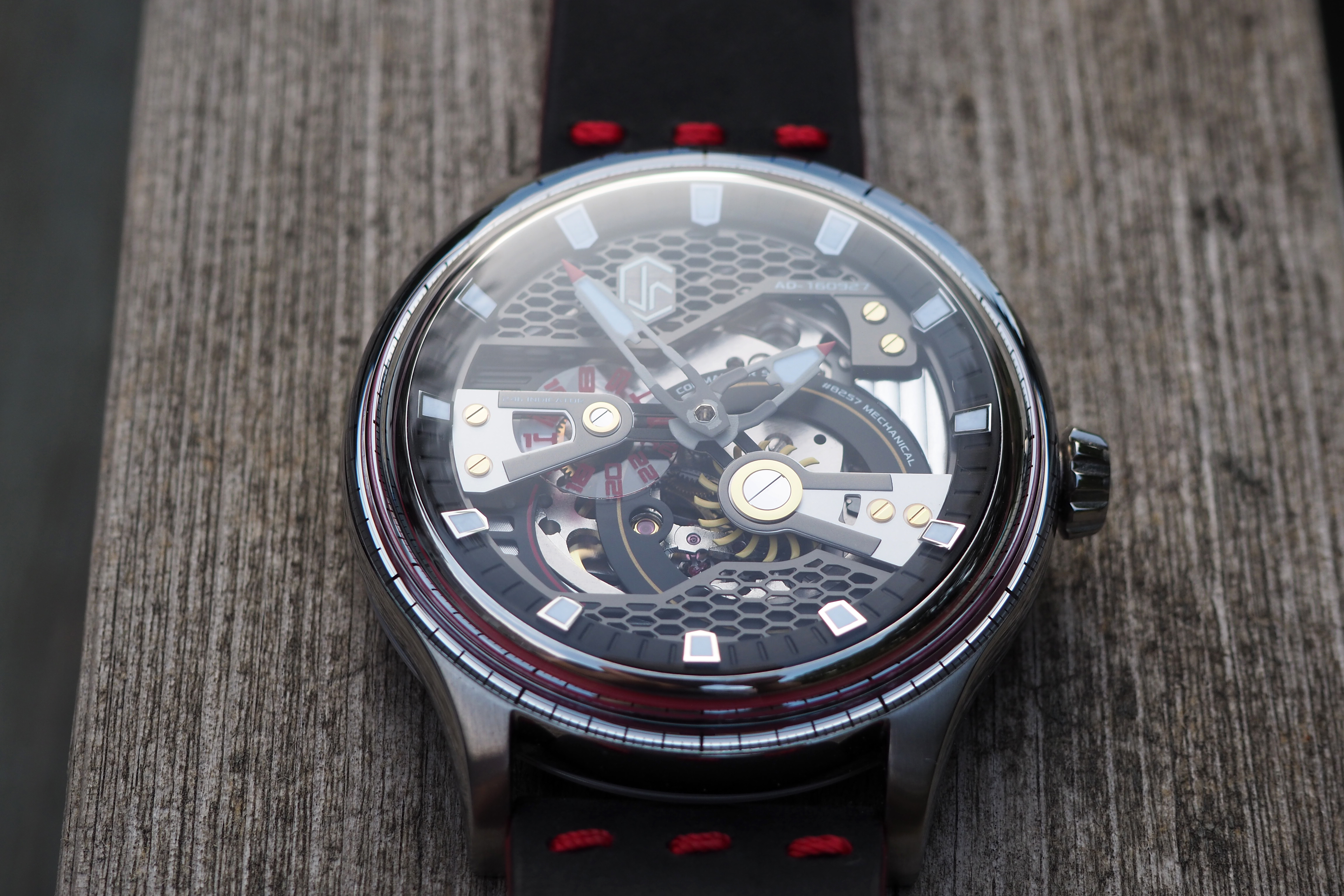 Several colors are currently represented on the Kickstarter page: the initial options of Molten Red or Jetstream Blue, plus the three new colors that were added when CJR reached their initial funding goal: Frost White, Storm Grey, and Sunset Bronze. These color schemes are well executed for the most part, all except for the Frost White: the white-and-blue hands are difficult to distinguish from the rest of the busy white-and-blue dial. I much prefer the Sunset Bronze color theme; it looks particularly good against the brown leather band.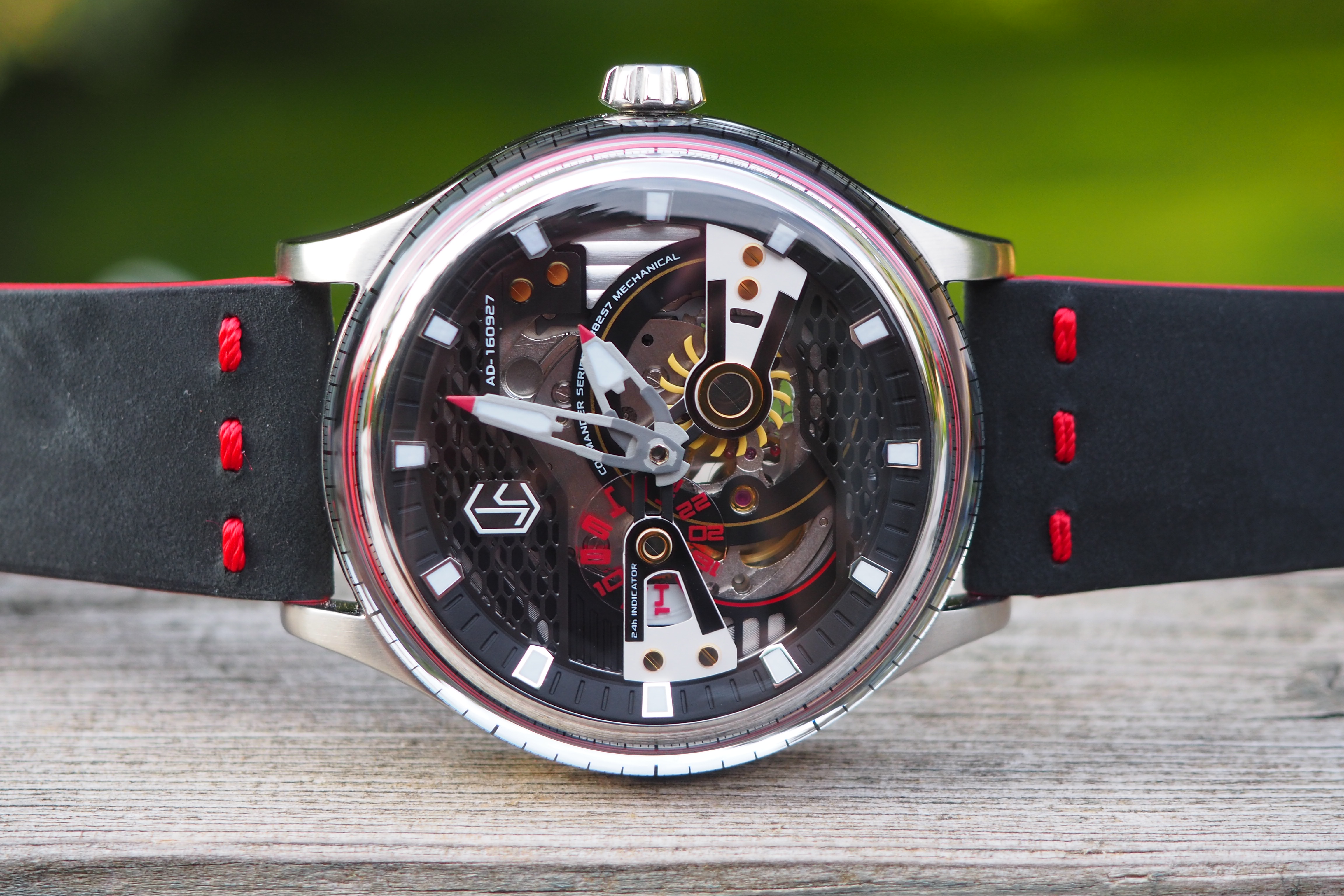 Striking, multi-colored skeletal hour and minute hands look great and fit right in with the mechanical/aviation theme. The hands and hour markers are luminous, and the tips of the hands use a contrasting color for clarity against the rest of the dial, to varying degrees of success. A nifty 24-hour indicator at the 9 o'clock helps the wearer track the passage of time when traveling between time zones.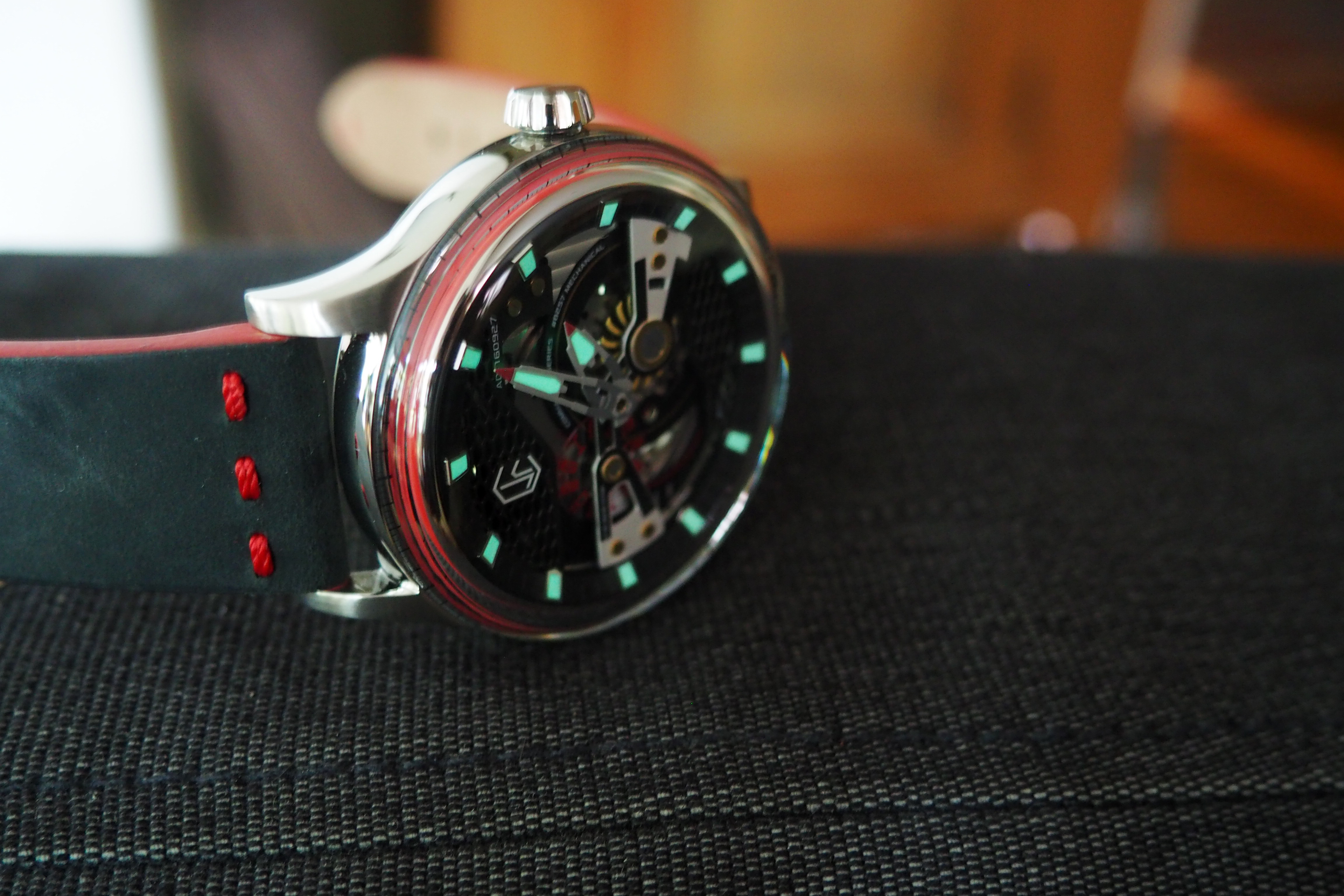 Now we come to my favorite element on these watches: Instead of a traditional second hand, the Commander Series use a second wheel. The wheel's design mimics an airplane turbine and is situated at the 4 o'clock position. Now, I can't speak to ease of use or how accurate this function is, but what a neat concept!
Case
With large skeletal crystals front and back, the Commander Series' cases mostly function to stay out of the way of the impressive dial, but what little exists of the case is an attractive round design with brushed silver or bronze finishes.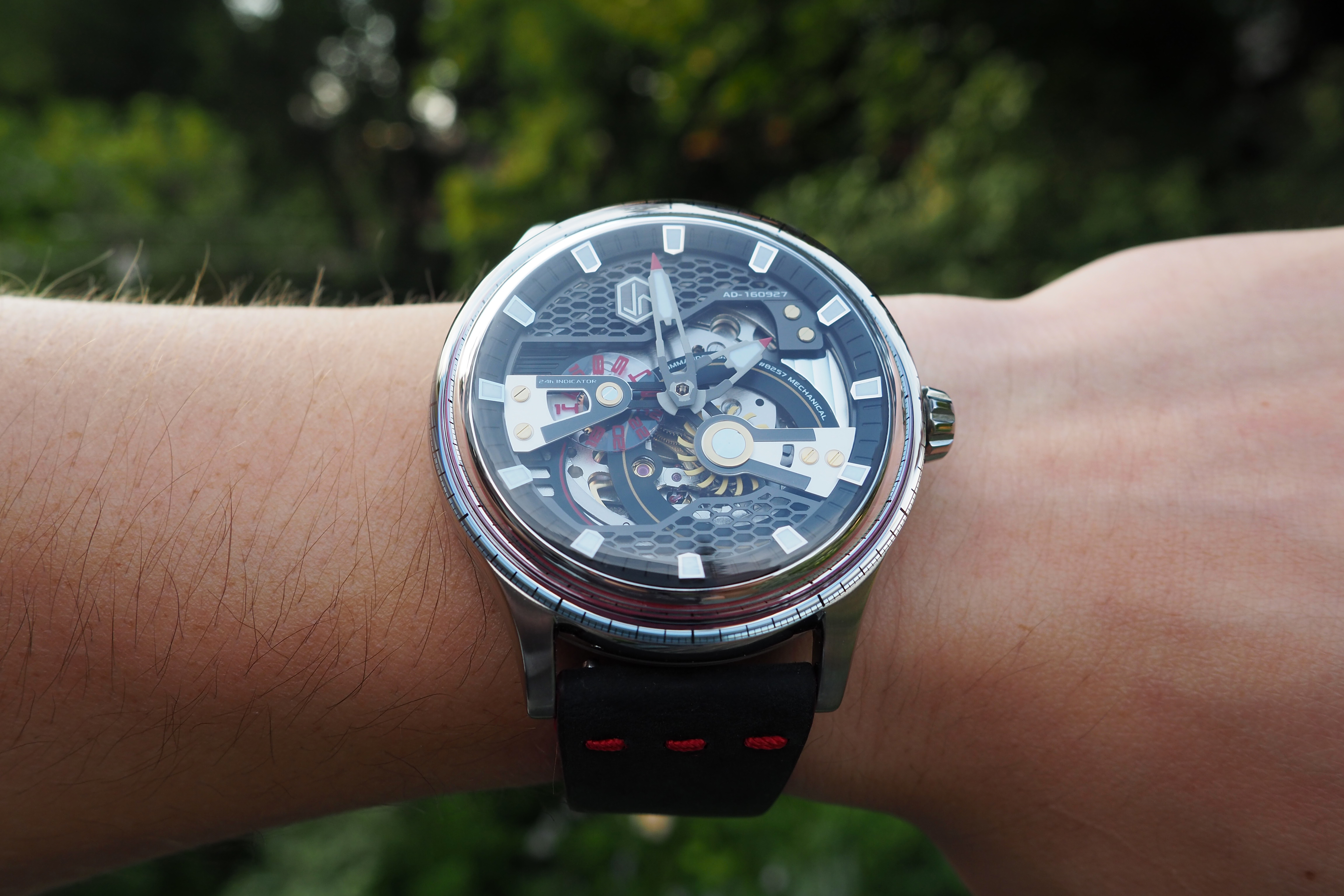 The thin bezel features tick marks on the inside and outside of its curved surface, suggestive of airplane gauges. A screwed-down back allows the wearer to self-service; this feature was included on the Commander line due to input CJR received on their previous designs. It's always nice to know that a company is receptive to feedback.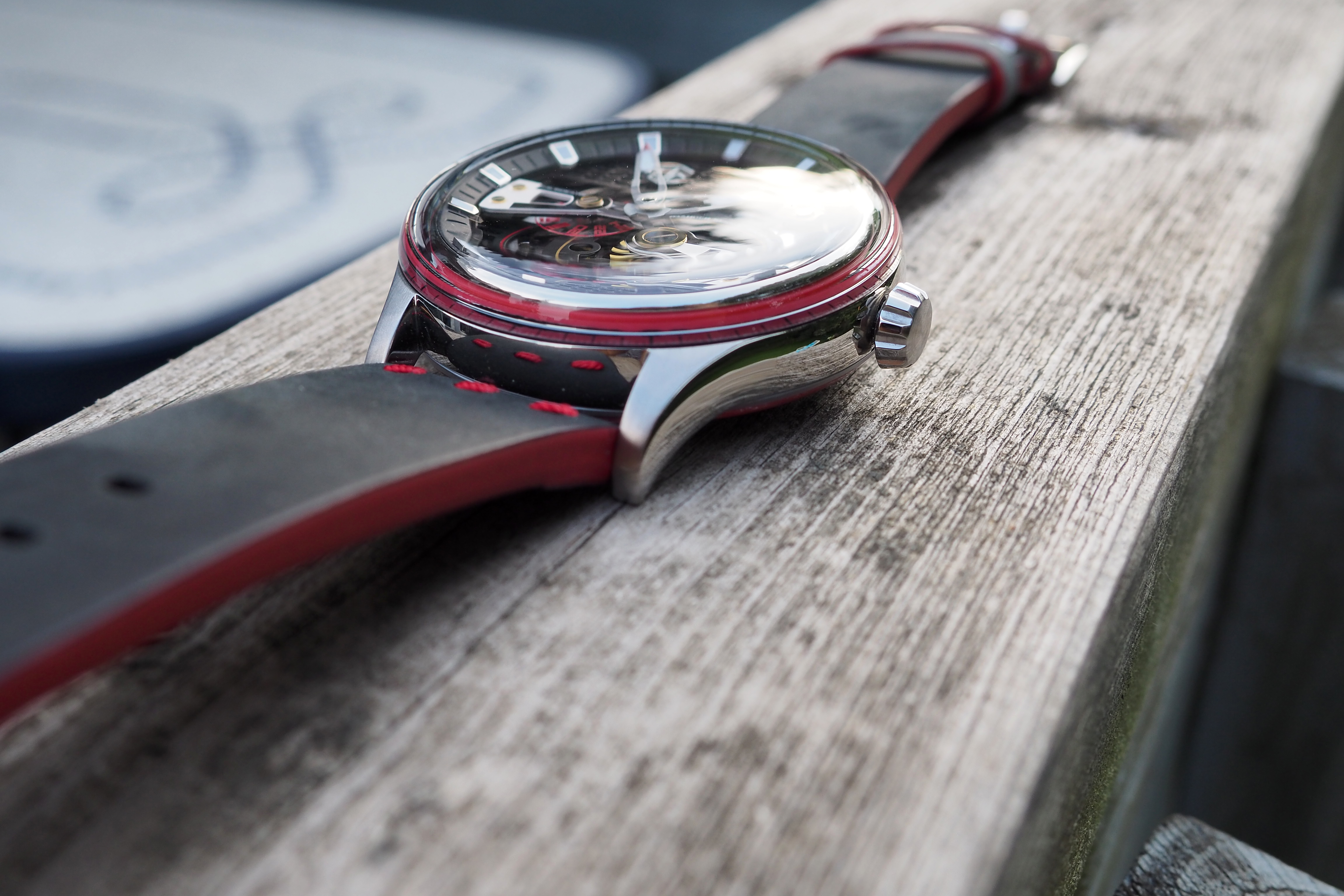 Like CJR's other collections, this is a big watch, measuring in at 45mm wide and 51 mm lug-to-lug. It is rated as water resistant to 300 meters, so it could plausibly serve as a dive watch in addition to an aviation watch.
Commander Movement
Sitting under the mineral crystal for all to see is the automatic skeletal Japanese Miyota 82S7 movement.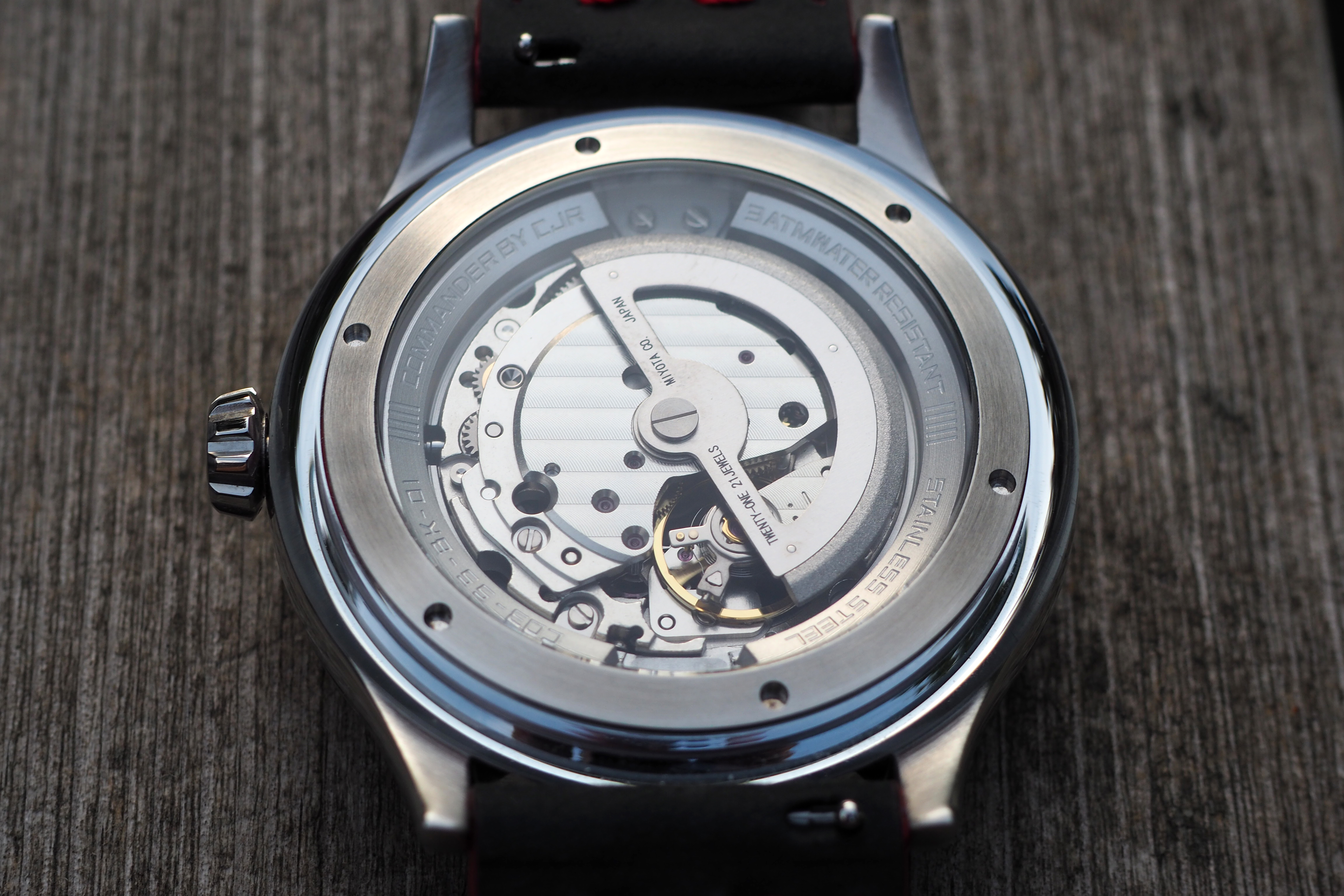 These movements are designed to be accurate, reliable, and easily serviceable, so an excellent choice to quell questions of reliability for a newer watch manufacturer. The 82S7 includes a 42-hour power reserve and 21 jewels.
Band
A variety of bands are available, including rubber, nylon, and NATO styles – some for a small additional fee above the minimum pledge required to receive a watch.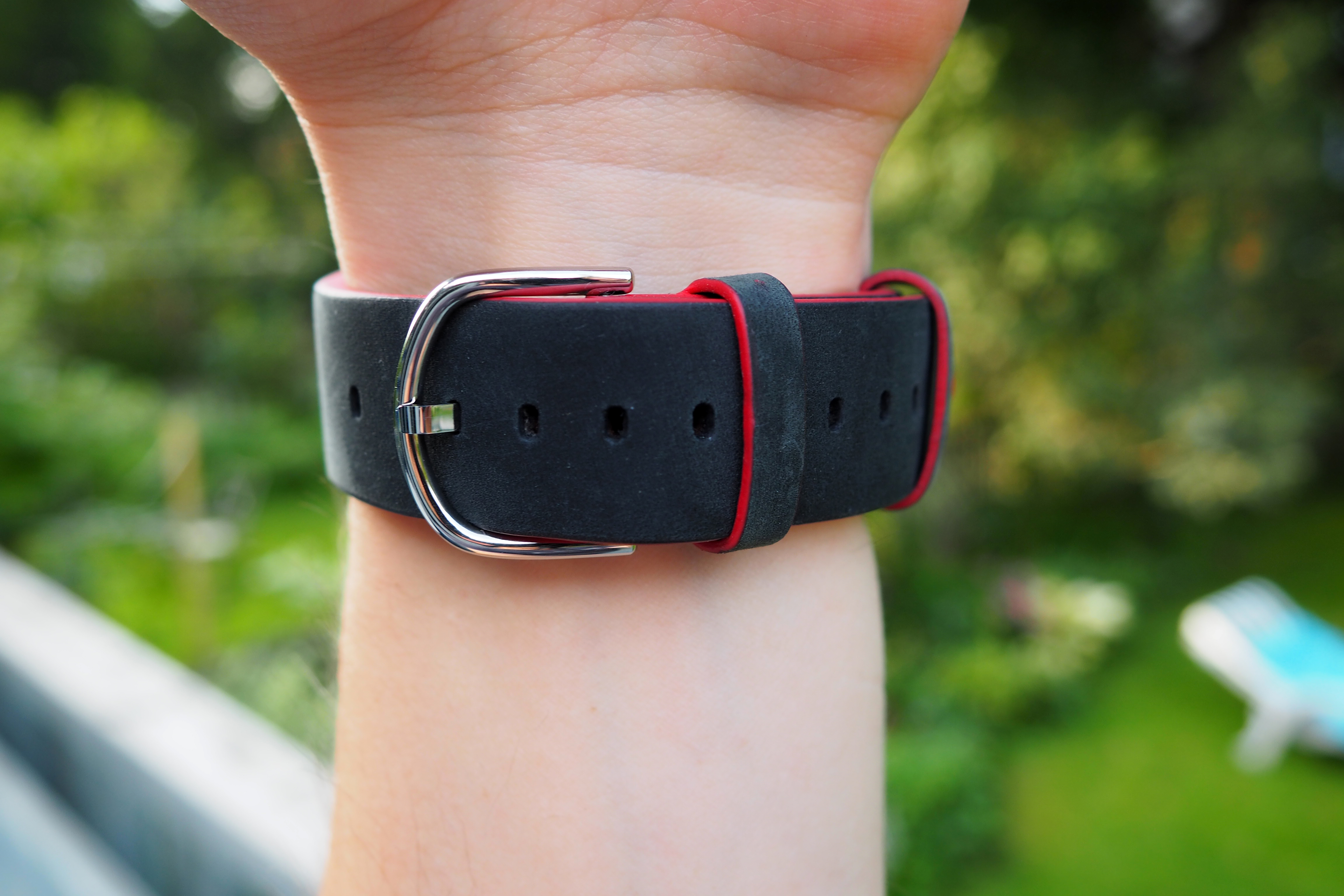 The leather straps feature contrast stitching and a line of color from the watch's theme along the sides. The bands are designed to be easily interchangeable, at 22 mm wide, so you can feel free to shop around for a different strap that fits your style.
Final Thoughts
The CJR Commander Series represents an exciting and novel approach to watchmaking. Plenty of people have already jumped onboard with this new collection, as evidenced by the healthy Kickstarter balance, and I can see why. If you are looking for something out of the ordinary, you can't get much more unique and innovative than this. With solid specifications and several design options.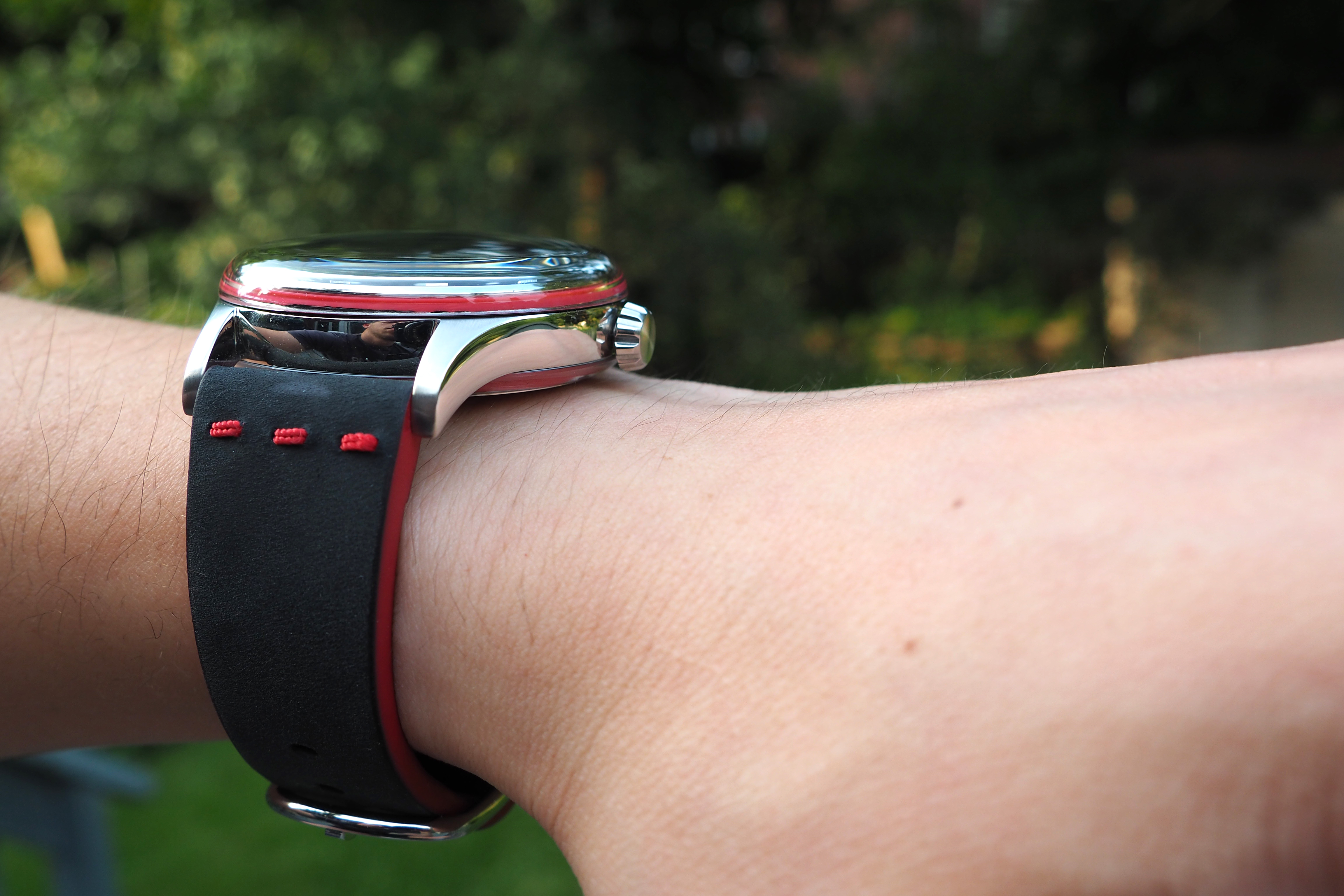 So how do you get your hands on one of these innovative timepieces? A $475 pledge to CJR's Kickstarter campaign nets you one watch, while a $1665 donation will get you four watches as soon as production starts, slated for January 2018, or possibly as early as December 2017. Once in production, the cost for each watch will almost certainly rise, so this is an excellent time to get onboard. All watches include a 2-year manufacturer warranty. Keep in mind the Commander Series is still a work in progress and some of the specifications mentioned here are subject to change – you can view the FAQ and comments sections on the Kickstarter page for an insight into some of the possible alterations the company is considering.