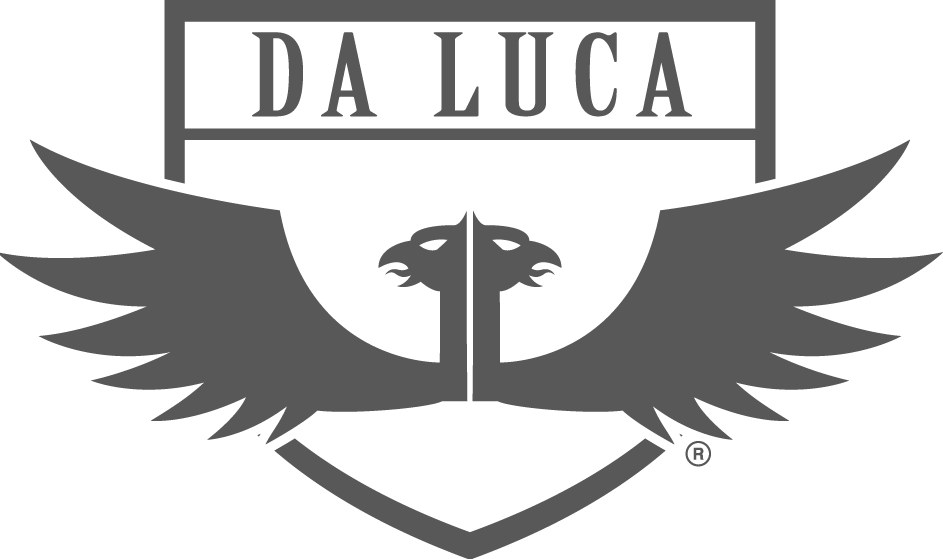 DaLuca Straps, founded in 2009 by Daniel Luczak, DaLuca is a high-quality, premium brand. They are known for their practice of handmaking straps and bands. They set a standard of high quality made very simplistic.
DaLuca has a wide variety of Straps and bands to choose from. They offer 6 different style bands. The NATO style gives you choices in Nylon, Leather, Vintage, Perlon, Rubber, Apple watch, and Bell & Ross specific bands. Each style has a wide variety of colors, designs and buckles which you are able to choose from. The two straps I am reviewing are the 1-piece NATO- Natural Dublin and the two piece Cinchy-Shell Cordovan.
The straps arrived boxed with each wrapped separately in small cloth bags and at quick inspection you can see and feel they are quality products.
1 Piece NATO- Natural Dublin: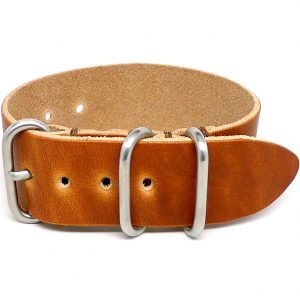 At Daluca you have the choice of various styles, colors, and buckles. I chose the 1 piece Natural Dublin as it seemed like a very sophisticated strap while being sporty with a casual look. This strap is available for 18mm-26mm lugs. The strap has a beautiful vintage brown with hints of red in it. After the first few times wearing the strap it began to reveal a lighter shade of brown with some fading as leather began to soften. This gave the strap a very nice and intricate pattern with a look that made it seem vintage.
Buckle
You will find 1 buckle and 2 loops on this particular strap. The buckles are covered with leather which is then stitched together to keep the buckle in place. The leather is sown tight enough to keep the loops from moving around yet, it still permits room for adjustments. The buckle comes in matte, pvd, or bronze. This allows not only the band to match your watch but also the right buckle to go with it.
Sizing & Comfort
Each Hole on the strap is carefully cut out and equidistant from one another. The 270mm length strap contains 9 holes making this an excellent choice for many people as it can fit small and larger wrists. The strap is very comfortable and barely noticeable while you wear it. I think it is my favorite.  As mentioned the strap is comfortable and breathable and even in the hottest weather there was no sweat on my wrist.
2 Piece Cinchy – Shell Cordovan: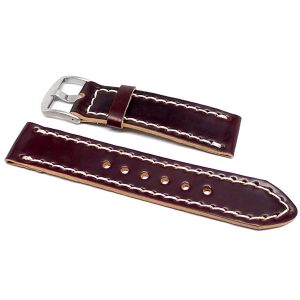 At Daluca you also get the choice between premade straps and Made to order straps. With made to order straps you have the choice to customize type, color, width, length, buckle, stitching, stitching color, and keeper.
I also chose the 22mm Cinchy as this strap is sophisticated with a casual look. The Shell Cordovan I received was a Very Dark brown. You are also able to get the strap in various colors such as Navy, Racing Green, red, mahogany, etc. These are then broken up into further categories where you can either get Horween, Rocado, and Shinki Hakiku. The leather is smoothed out and very soft. You can also get the strap with various types of stitching. You can get full body, top, bottom, or sides. These all come in different colors.
Build Quality & Fit
I am very fond of the stitching from Daluca. It is very strong and durable. It has not really shown any signs of wear. It really pulls the look of the whole strap together. This strap comes in any size able to fit 18mm-26mm lugs.  The strap was nice and snug when put on my watch. It had enough movement to be able to adjust it onto my wrist but enough that when it is off it would not swing around. The Shell Cordovan leather strap took about 5 days to begin to break in and like the NATO band, it began to fade slightly as the leather softened.
Buckle
The strap comes with one Buckle and 1 Loop. The buckle that is supplied with the strap is large to ensure maximum protection. A bigger buckle in my eyes is more protective as it covers more of the strap and locks it into place much better. When looking closely at the buckle you can see the Daluca logo etched in the metal. The strap has 6 holes for adjustability. They are spaced evenly and very wide apart. This is an inconvenience for small wrists as this band seems to be meant larger wrists.
Final Thoughts
In all, I was very impressed with the color, quality and feel of both bands. Since the band covers most of your wrist the comfort it provides is critical. While the spacing on the 2 Piece Cinchy – Shell Cordovan was somewhat wide, it was still comfortable on my wrist. I recommend Daluca to the sophisticated crowd who is willing to pay for premium quality.
To have a closer look, head on over to the Official DaLuca Website Here.