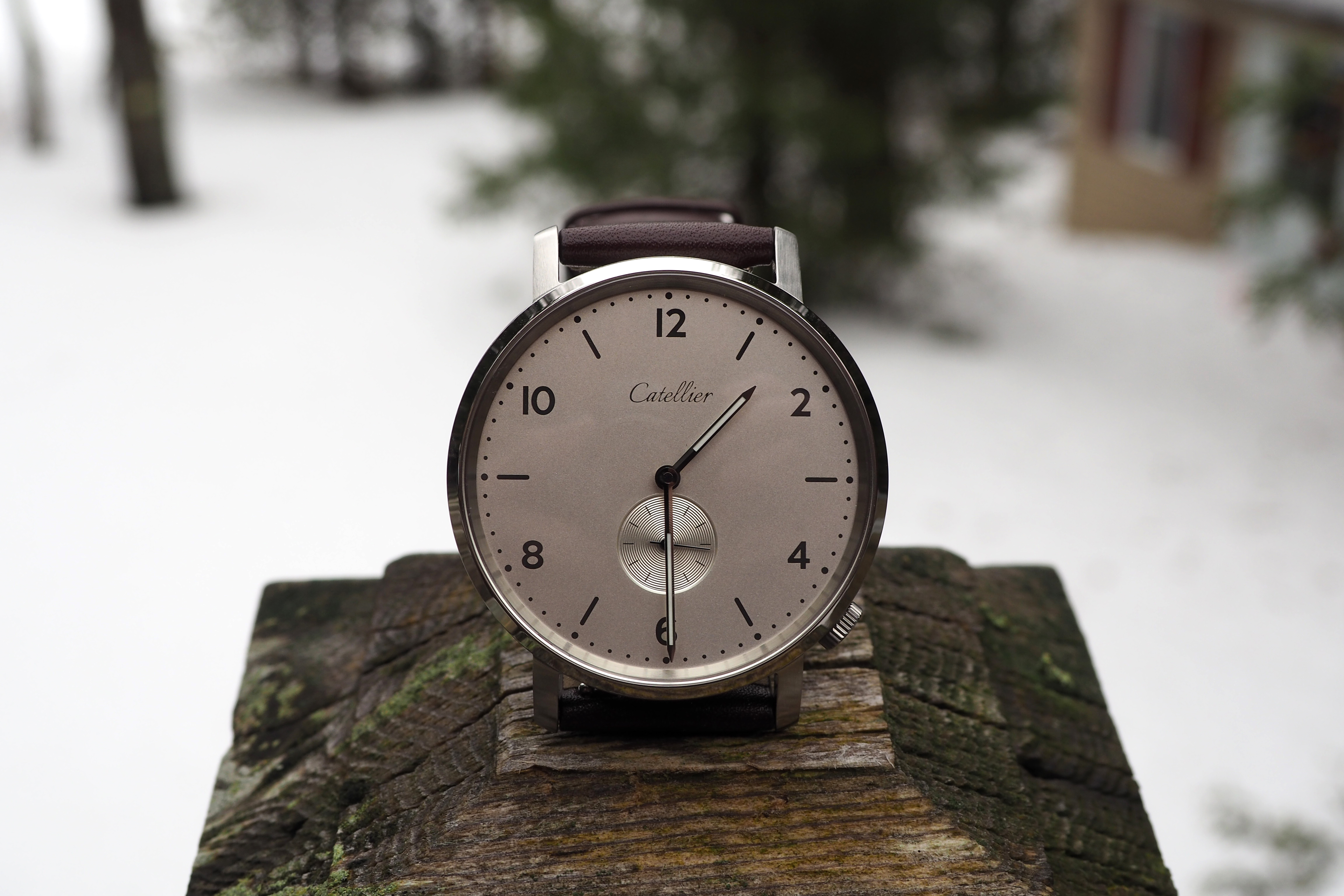 Every real watch collector at some stage needs to have that piece they can show their fellow watch aficionados that has characteristics built in with a personal touch. Having a timepiece with your name elegantly etched onto the dial has a special feeling to it. With Eoniq the final product is hardly the best part of the process, the journey getting there is what really counts. Eoniq offers exquisitely crafted hand-assembled custom made quartz and mechanical watches to suit any style, and today we will be taking a hands-on look at the Alster model.
Case
Thinking about the extensive process of designing this watch from scratch makes it difficult to pick a place to start when discussing it. I must say that having all this choice available makes it difficult to settle with your final design, you can easily spend hours designing your custom Eoniq Alster watch.
The Eoniq Alster case is made from 3 piece stainless steel with a combination of polish and brush finishes which come together beautifully. The 3 piece design makes the watch serviceable so you are able to keep this special timepiece in mint working condition. I liked the wide styled face with a thin bezel as it gives off clearer view of the dial that we will have a look at a bit later.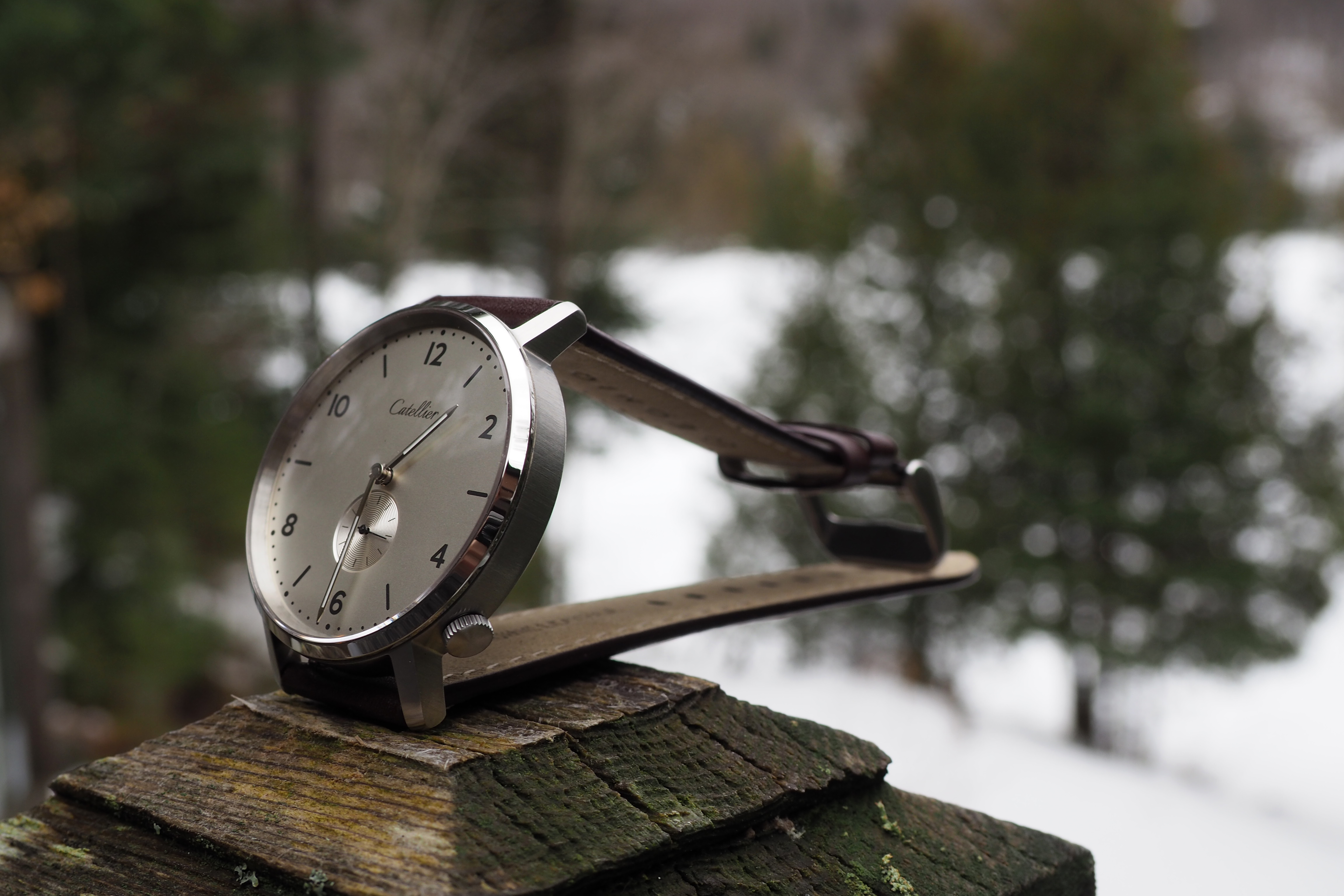 There is an exhibition case at the back that displays the inner workings of the movement. Eoniq allows you to place custom engravings on the rotor visible through the caseback window, and on our particular watch you will see an attractively placed engraving of the WatchReviewBlog website logo. On the other half of the exhibition case we see the balance wheel at work with its 21 jewel Japanese movement.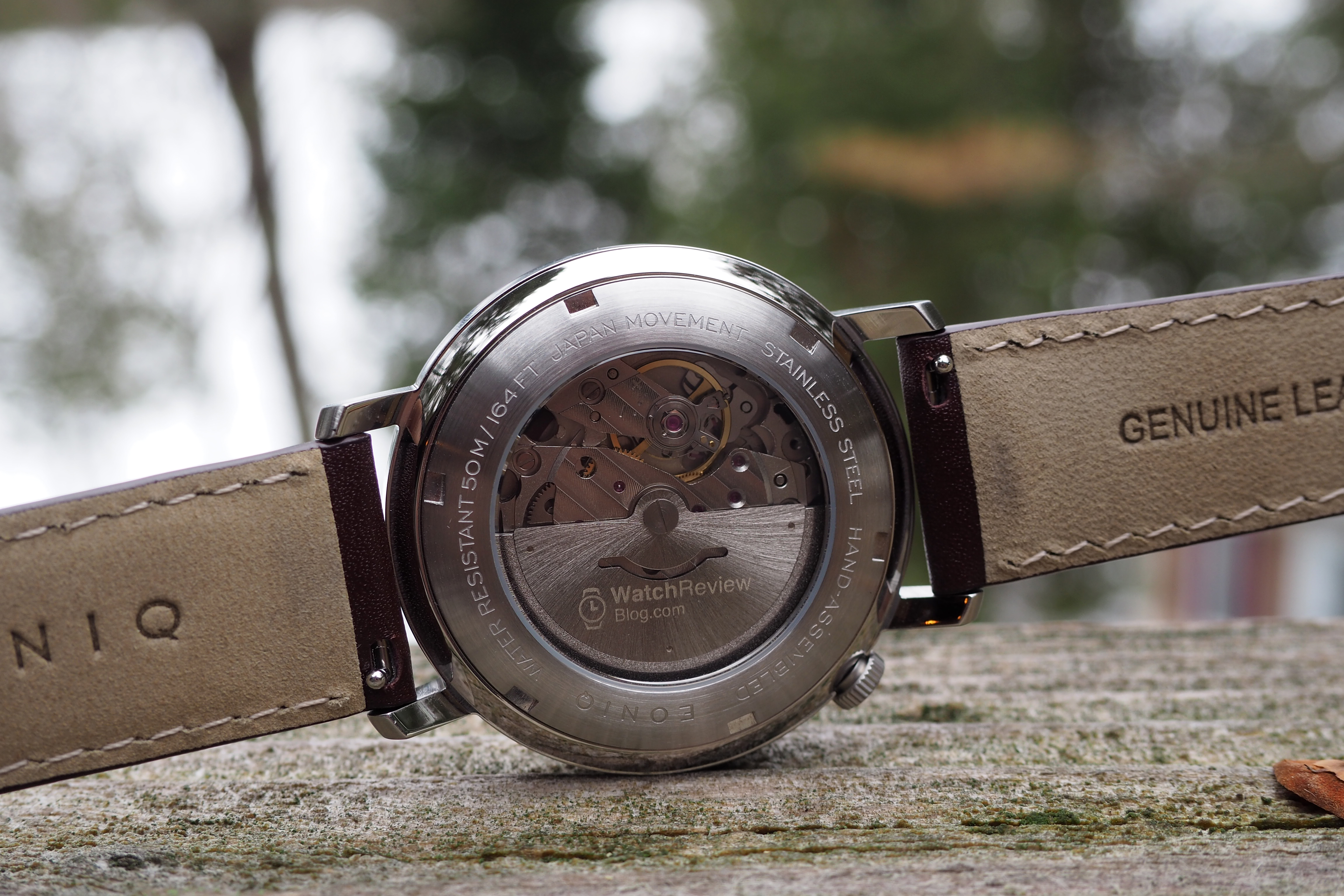 The crown sits at 4 o'clock and is a normal screw top. I wasn't too bothered by the fact that the crown didn't have any special antique look or stamp on the top because the rest of the watch makes up for it. It already shows off a high level of attention to detail, and in the case of the Alster less is more.
A while back I went through the Undone Custom watch process and even though I thoroughly enjoyed it I feel a bit more impressed by the Eoniq process. The finishings on the Eoniq are not as rough as the Undone piece and the design style of the Eoniq is a bit more appealing to the eye.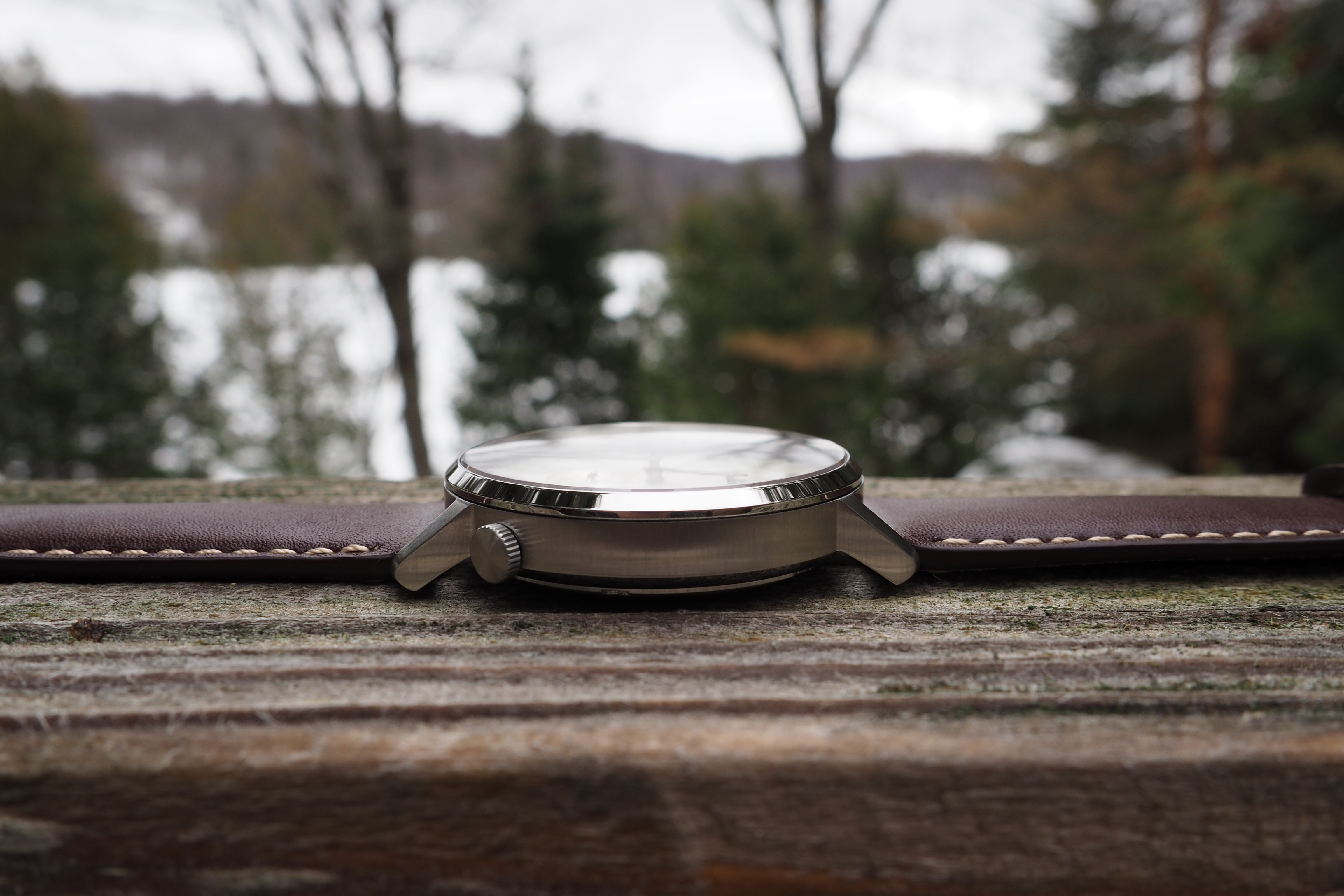 The protruding lugs have a genuine leather strap attached at about 20mm wide, there is a huge variety of straps to choose from when inside the Eoniq customizer. The two leather straps we chose are very comfortable with a high quality construction, they need a fews days to break in but after that they both feel perfect.
Alster Custom Dial
That small narcissist in each of us will enjoy having your name on the dial, it never gets old when checking the time. It makes it increasingly fulfilling when the dial is crafted as though it was a high production luxury watch which is the case with the Alster. The dial is a silver-plated pearl white, I went for a style that has Arabic indexes for the even numbers and normal line indexes for the uneven numbers which reminded me of some of the German made Nomos watches. I was actually very impressed with the over-all attention to detail on this watch, especially on the dial.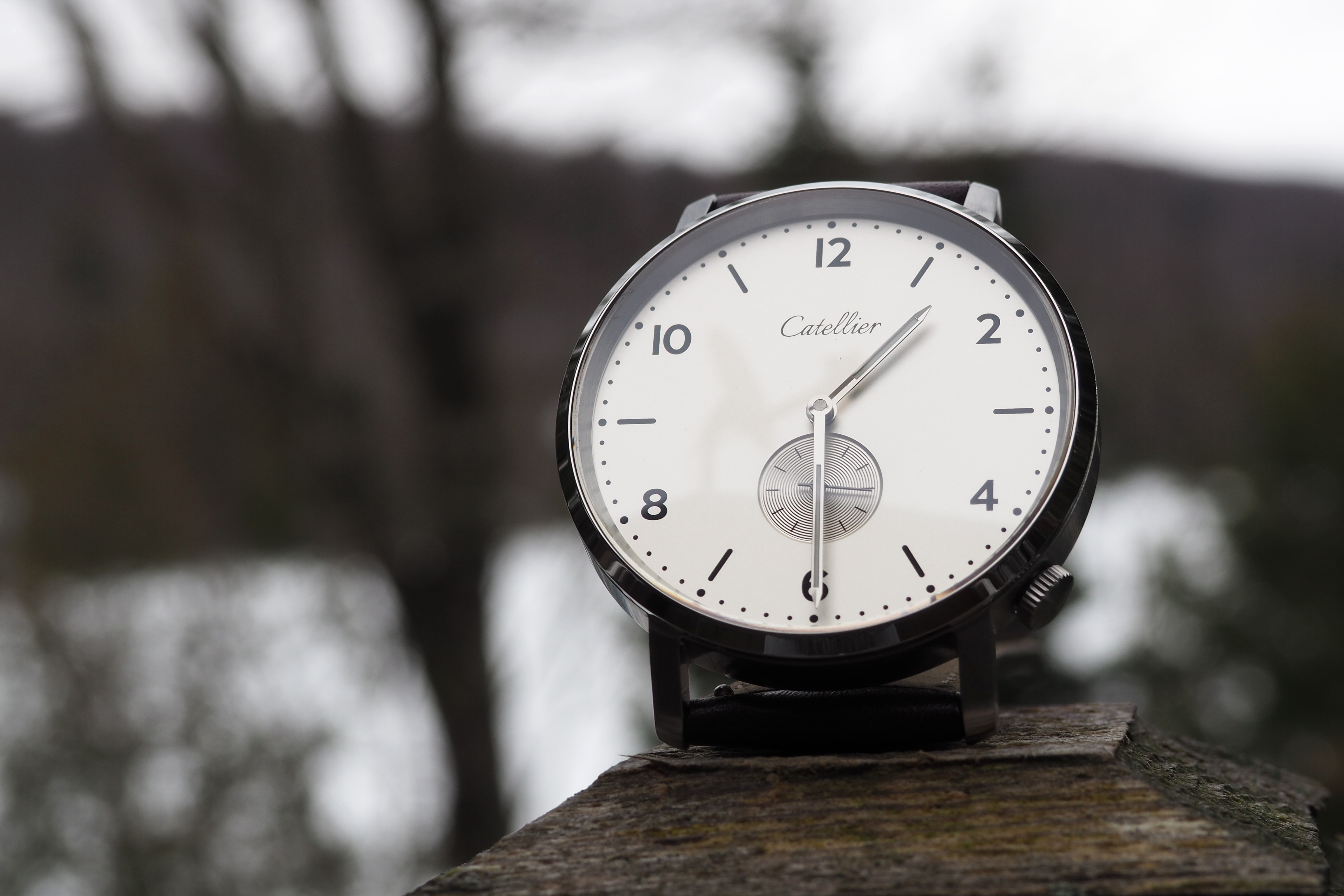 There was an option for an open heart dial that takes up the bottom left part of the dial but I found the complete dial to look a bit more professional. Just under 12 o'clock I have chosen to put my name in a calligraphy fashioned font which turned out to be extremely sharp looking and easy to read. There is a second sub-dial down at 6 o'clock with a nice sweeping hand. Eoniq offers an endless amount of possibilities when it comes to designing the dial on this watch, anything you think of can literarily be a reality for you.
Finer Things in Life
Custom designed watches are often a challenge in terms of cost because of the difficulty in planning ahead. Eoniq have got this balance right however and most importantly have not sacrificed quality for this balance. Their final product is a fine piece of craftsmanship and even with the variety of choices that you have it will be difficult to make something that doesn't look exquisite.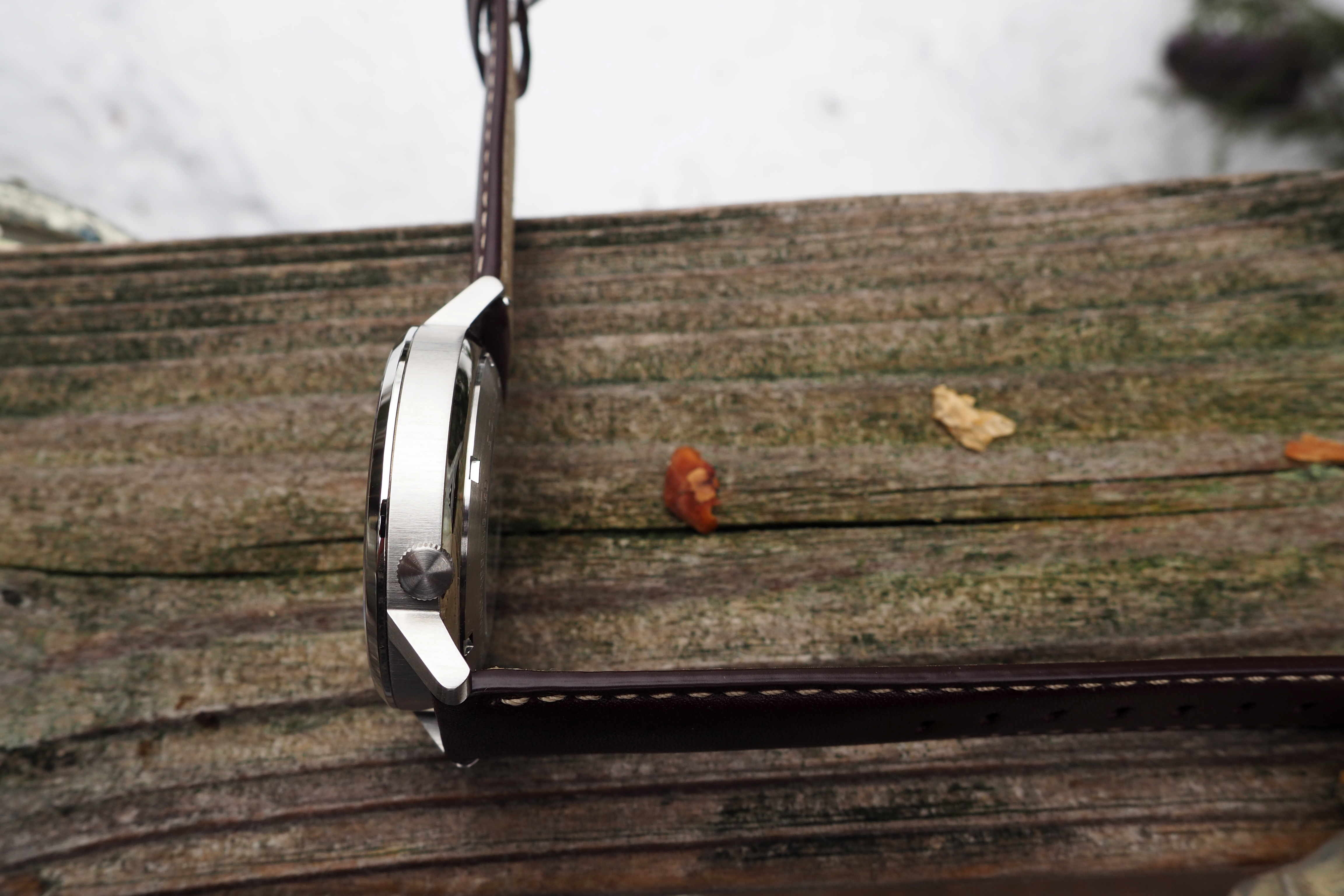 The water resistance is 50m so that it won't let you down in the event of daily or accidental water contact. When I put this together I was looking for a piece that I could put on every day without too much thought about what I might be doing or wearing that day.
Final Thoughts
The process of putting this timepiece together was more an activity than a task. With more choice often comes more concern about making mistakes or choosing something that you aren't as happy with in the end. I don't believe this will be a problem with the Eoniq because even though there is a variety of options, the team behind this custom process understands that certain steps should always be followed and their process guides you effectively and quickly.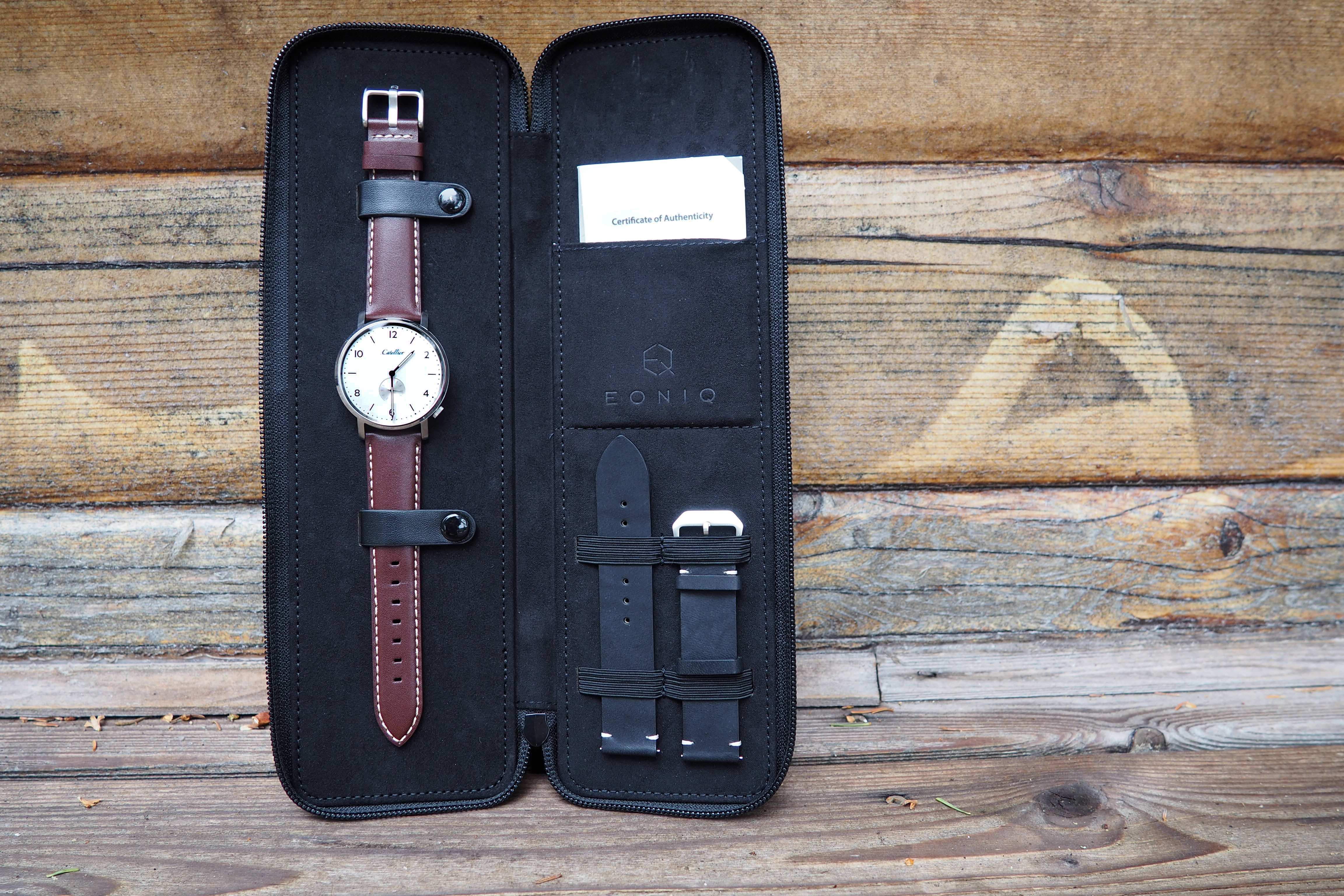 The idea of having a timepiece with my name on it is appealing because it creates a special memory and the experience of receiving something that has your personal touch on it is rewarding. It is also a high quality piece so this isn't at all just a novelty but something you can pass down to your children or gift to a family member.
In closing I think one of the best moves you can make with this watch is get it for somebody in a position of influence or somebody that you really appreciate because it would be impossible for them to forget you!
To design your own custom watch head over to the official Eoniq website here. To receive $20 off use discount code: watchreviewblog-only